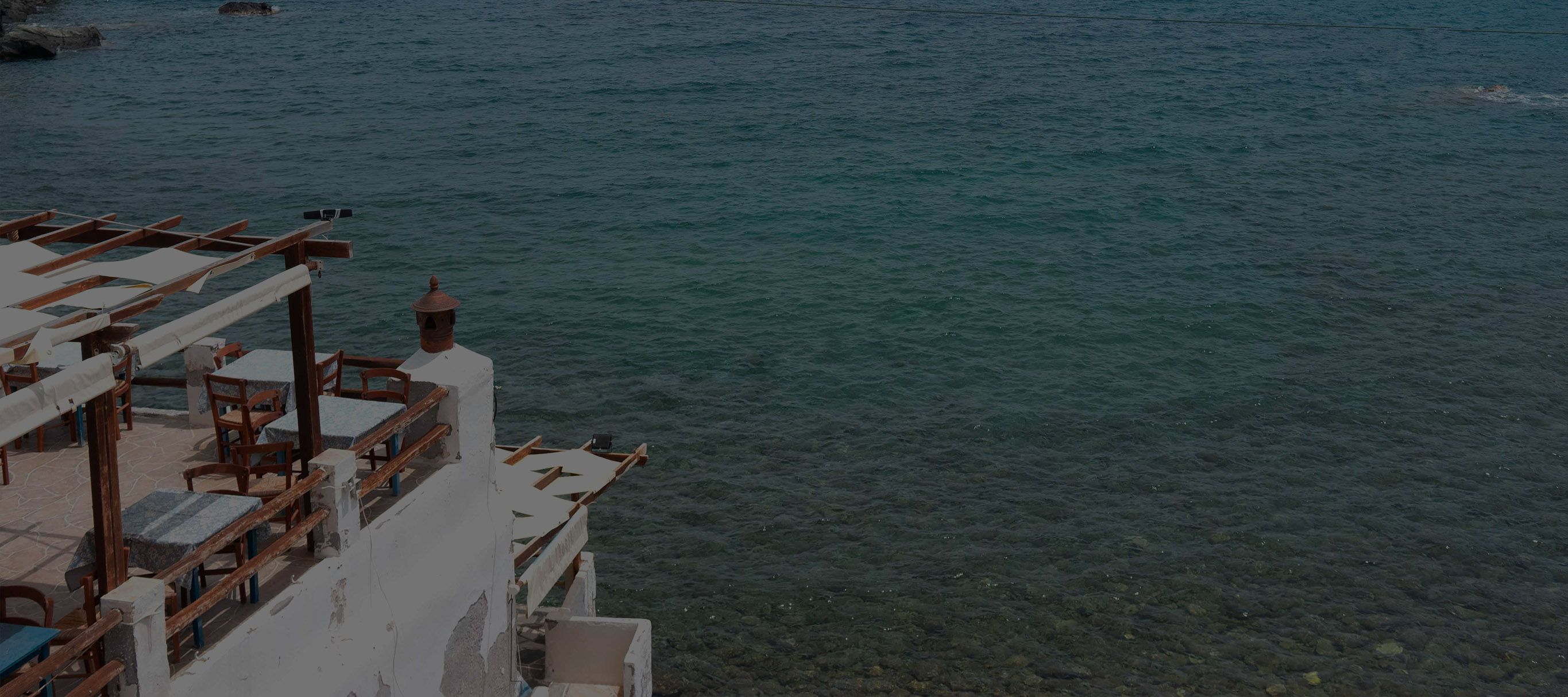 My Favourite
Restaurant
What makes a favourite restaurant? So much more than food
Words & images by Sofia Levin
After refusing to pick a favourite restaurant her entire career, food writer Sofia Levin has finally found one. But there's far more to what makes a favourite restaurant than what's on the plate.
When you write about food for a living, there's one question you're asked above all others: "Where is your favourite restaurant?" If you have my build, you also get asked how you eat so much and stay slim.
I used to be more accommodating, demurely declaring that I couldn't possibly choose just one. But I left small talk behind in 2022, after lockdowns and breakdowns rendered the fat of social niceties and left behind what's meaty and important. In my case, speaking up and never, ever wasting a meal.
Now when someone asks how I stay fit, I've dropped talking about being active in favour of admitting I have the DNA for it (thanks, mum and dad!). And when someone asks after my favourite restaurant, I point blank refuse to answer.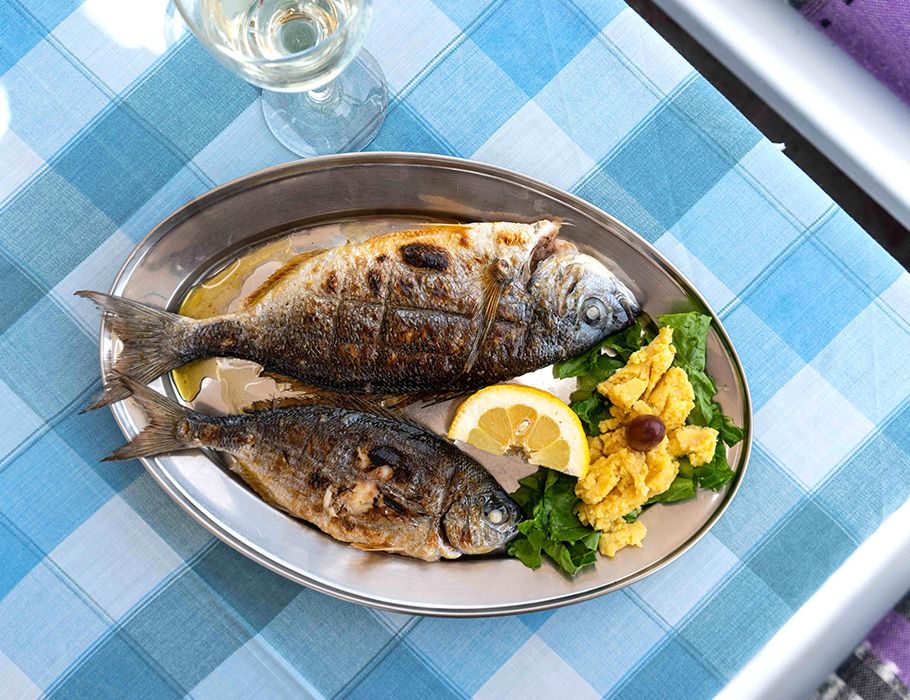 "Impossible," I shoot back before the query reaches its upward intonation. "I need a cuisine, neighbourhood, price point or occasion. Ideally all of the above."
If you want a better answer, ask a better question.
Ask me where to go for a Japanese meal on a special occasion (Minamishima).
Ask me where I return to the most (Gerald's Bar).
Ask me where to have a brilliant dining experience (I have a list of at least five Thai mookata hot pot restaurants).
I have go-to restaurants for BYO, groups, Vietnamese on Victoria Street and places to visit on a Monday when it seems like everything is closed – but I don't have a favourite restaurant. Or at least I didn't until very recently. But before we go there, it begs a new question: what makes a restaurant a favourite?
I put it to the people (and by people I mean friends and Instagram followers). The answers vary greatly: consistency, the chef, feeling part of a community, creativity, location, heart. The food has to be good, of course, but there are plenty of restaurants that tick that box. A truly great restaurant is always more than its food. As for what's on the plate, it can be as little as the absence of criticism. Ideally you'll go back for another mouthful, only to realise there's nothing left.
What a favourite restaurant needs is personality. When a venue tries to create that through aesthetic alone, they've already failed. If a space is an artery, the staff and energy in a room are the lifeblood. Good service is less about that which can be taught (holding a wine bottle from the bottom, folding napkins when someone excuses themselves, knowing where the calamari last swam, etc.), and more about, well, being hospitable. It's a balancing act. Being familiar, but not overly so. Correctly judging not only when to joke, but what sense of humour to use. Harmonising obligingness with involvement. And being prepared to write an entirely new rulebook for the next table over.
The key to what makes a favourite restaurant is something… je ne sais quoi. It's a mystical equation that's partly a restaurant's soul and partly yours, affected in turn by the company you keep and how those components interact on any given day.
So many elements must line up for a restaurant to be considered a favourite, but when you find one, a switch flicks. Every time that restaurant fulfils your expectation, it becomes increasingly indelible. Call it fate, luck or bias; a truly favourite restaurant is a favourite for life.
Mine is a little shy of 15,000 kilometres away from home. Setting plays a big part, but so does soul. Captain Sifakis is a family-run taverna on the lesser-known Greek island of Sifnos. It has an outlook across the Aegean that predisposes me to feel emotional, and food so simply delicious it makes me cry.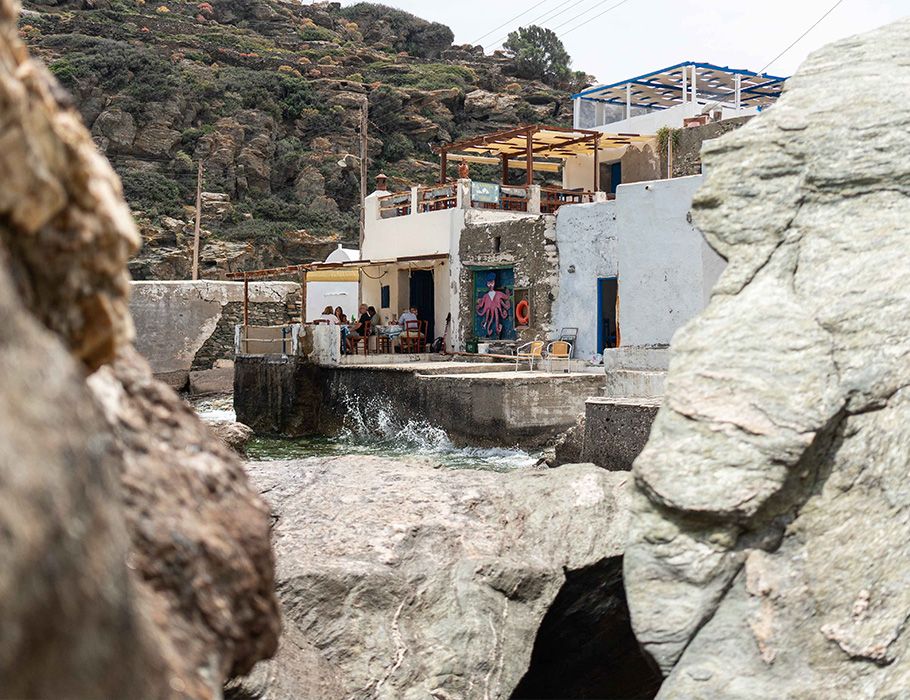 I visited multiple times during my first trip in 2019 and knew immediately I'd return. There wasn't another customer in sight at that time of year, just family members untangling yellow fishing nets by a staircase leading to a sheltered rooftop. I sucked the sweet flesh of sardines from their tiny skeletons and then gnawed on the bones. I marvelled at how the sunlight sparkled on a spoonful of whole, jammy cherries, served as a complimentary finisher.

I was by myself at the time, giddy with the sense of freedom that accompanies travelling to your own beat and letting your mind wander. I had time to kill between jobs and no deadlines to consider. I felt protective of Sifnos and this little taverna; a misguided sense of ownership. My secret. Still, I remember thinking that it would be better shared someday.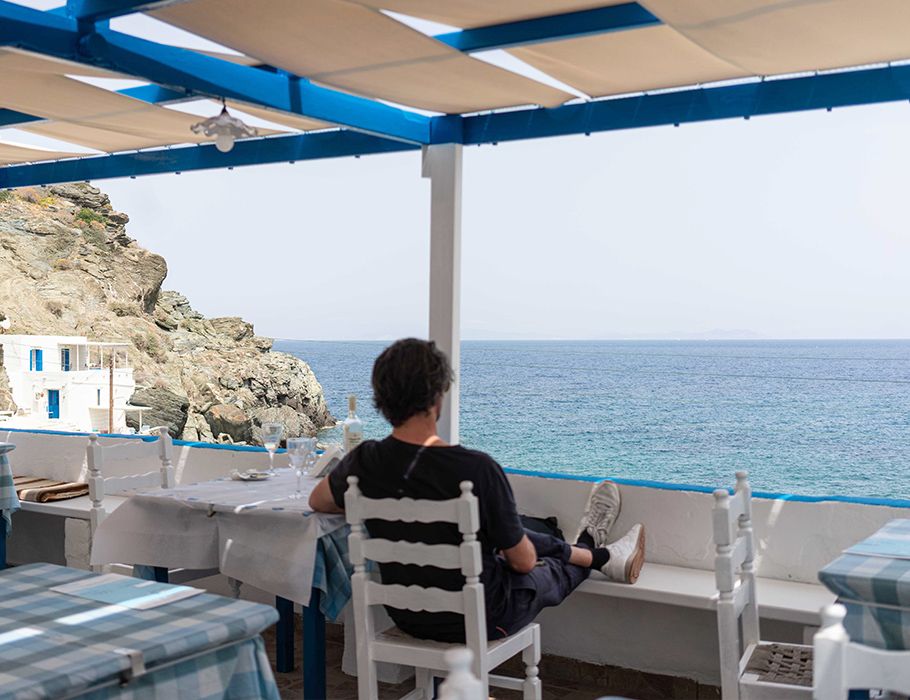 Four years later, as the ocean came into view at the top of that same staircase, I couldn't downplay how much I love Captain Sifakis. Eftichia, or Efi, the owner and cook, radiates as much warmth as her small kitchen (it wasn't until returning home that I found out her name means happiness in Greek). Efi's daughter-in-law, Eugenia, pulls back the lid on a refrigerated chest to reveal the daily catch, brought in by her brother-in-law, Christos, on his boat Panagia Chrissopigi, which is named after a famous church on a rocky outcrop on the island. Efi's other son, Eugenia's husband, Nikos, helps serve.
We ate the most memorable seafood salad of spindly, pickled octopus tentacles, sardines and anchovies drenched in olive oil with bursts of tomato, capsicum and onion. We nibbled revithokeftedes (fried chickpea balls) and polished off most of our bottle of moschofilero before Efi's suggested whole fish arrived – a second, smaller one added to the plate as an extra. There was moussaka with browned bechamel, molten hot from the oven, and orzo with squid ink, both cooked in the island's renowned clay pots. We sat longer than we usually would with nowhere to be, the comfortable silence broken only by the odd squeal of joy from yours truly.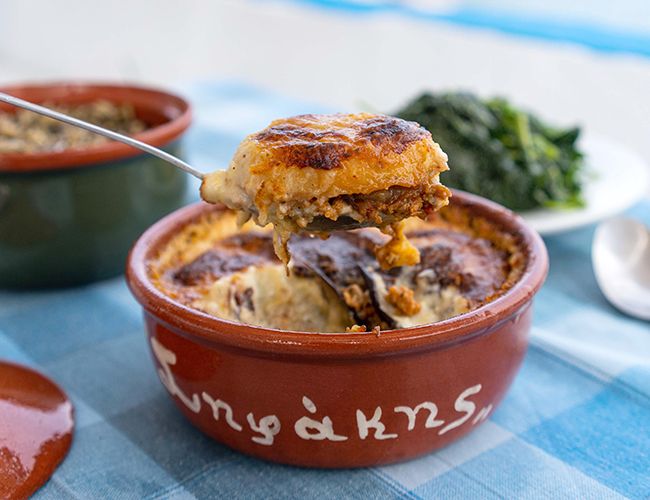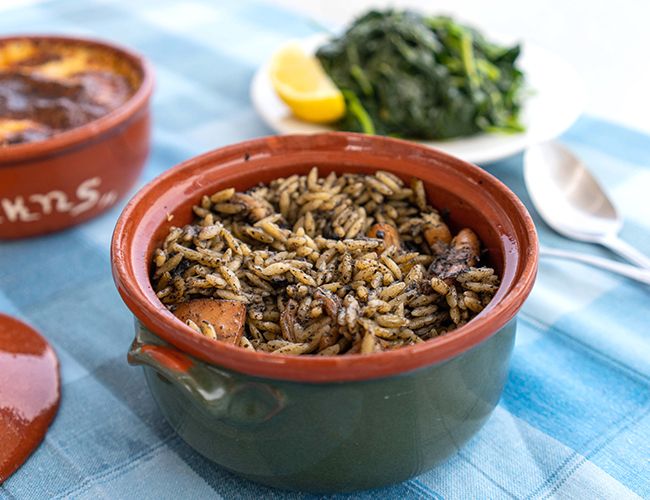 There are so many reasons Captain Sifakis qualifies as my favourite restaurant in the world. The food is incredible all over Sifnos, but there's something special about it being caught fresh by the same family who serves it with pride, the same way they would for each other. The simple fit out is little more than a viewing platform for the setting, a tiny beach called Seralia below Kastro, with a one other taverna, a cheffy new restaurant in an old kiosk off to the side and a handful of local homes. The ocean laps at the bouldered shore, propelled by invisible ferries and the odd sunbaker who's climbed down from a concrete platform.
Captain Sifakis will never have a Michelin star or a place on a World's 50 Best Restaurants list, but it is inherently and achingly beautiful in a way that most places could only dream of being, and almost always fail at recreating. My return visit took the magic out of the first, not because it wasn't magical, but because it cemented that the magic was real. My relief and joy that Captain Sifakis was as I remembered, compounded by sharing it with the person I most wanted to love it, moved me. Every detail, every feeling, every mouthful continuously proved my hypothesis. If that wasn't already more than enough, I was thanked twice on the way out: once for sharing it, and again after being pulled into Efi's bosom for a hug, simply for liking it enough to come back. I'm already looking forward to another mouthful of orzo, but next time I'll be the one initiating the embrace.
Around the World in 80 Lesser-Known Melbourne Restaurants
FREE food guide when you subscribe.