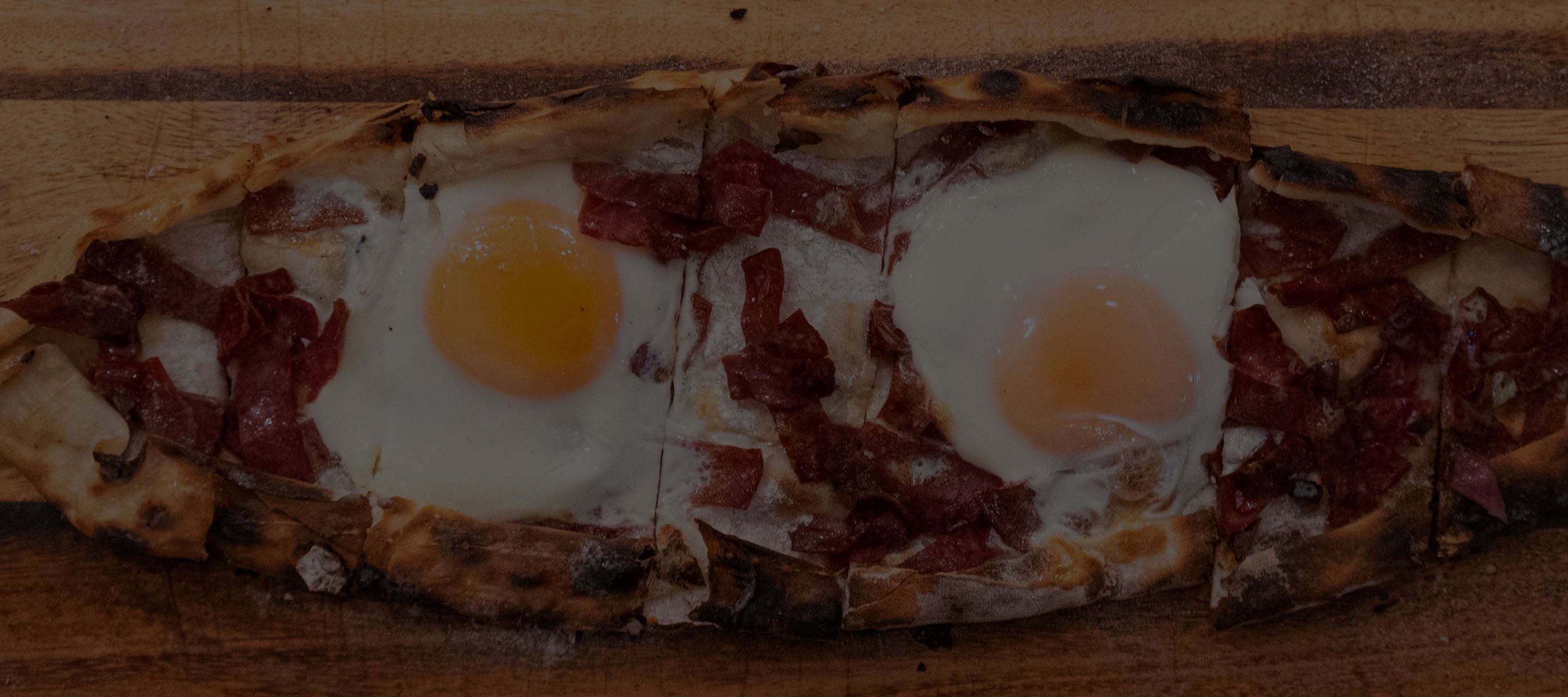 Yakamoz,
Brunswick East
Yakamoz Restaurant is a Father-Son Success Story
Words & images by Sofia Levin
Ali Atay and his son, Oğulcan, couldn't be more different, but their shared love of Turkish food has led to the early success of their second restaurant, Yakamoz Mediterranean.
Yakamoz opened at the end of March 2023. The name is one of those poetic, untranslatable words when trying to explain its meaning in English. Literally ­– and clumsily – Yakamoz translates to "the moonlight sparkle in the water at night with the movement of fish or rolling boats".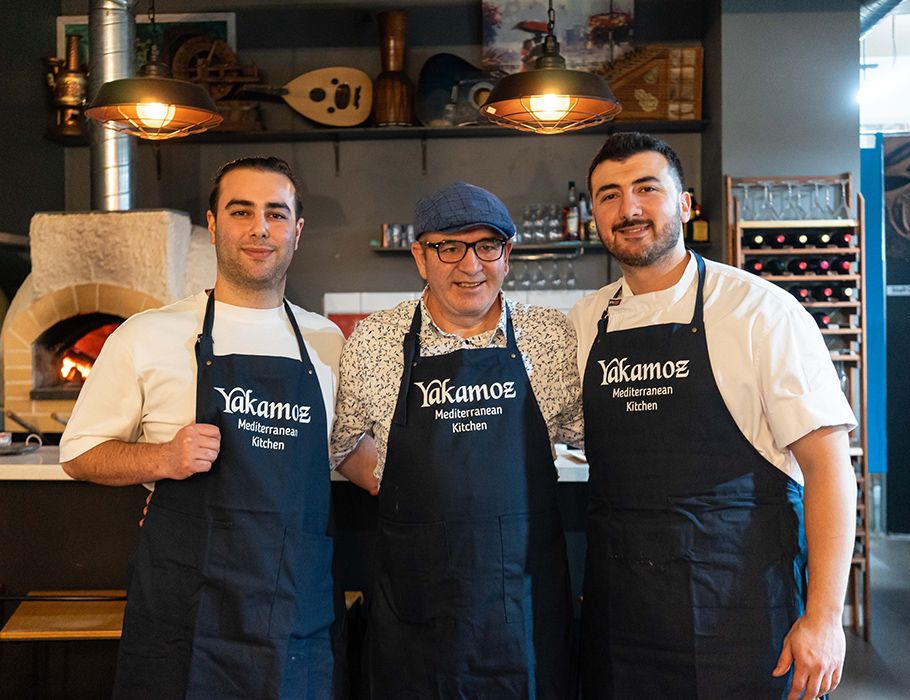 Once you've met both Ali and Oğulcan, it's obvious the former came up with the name.
"He's been like that his whole life," Oğulcan says of his dad. "An optimist and a problem solver. It's chaotic working together, a massive clash, but he trusts me and I trust him because he's got so much experience."
Ali moved to Melbourne from Sivas in central Turkey before Oğulcan was born. With English his second language, Ali transitioned from sales into running a cleaning business. Food was always his first love.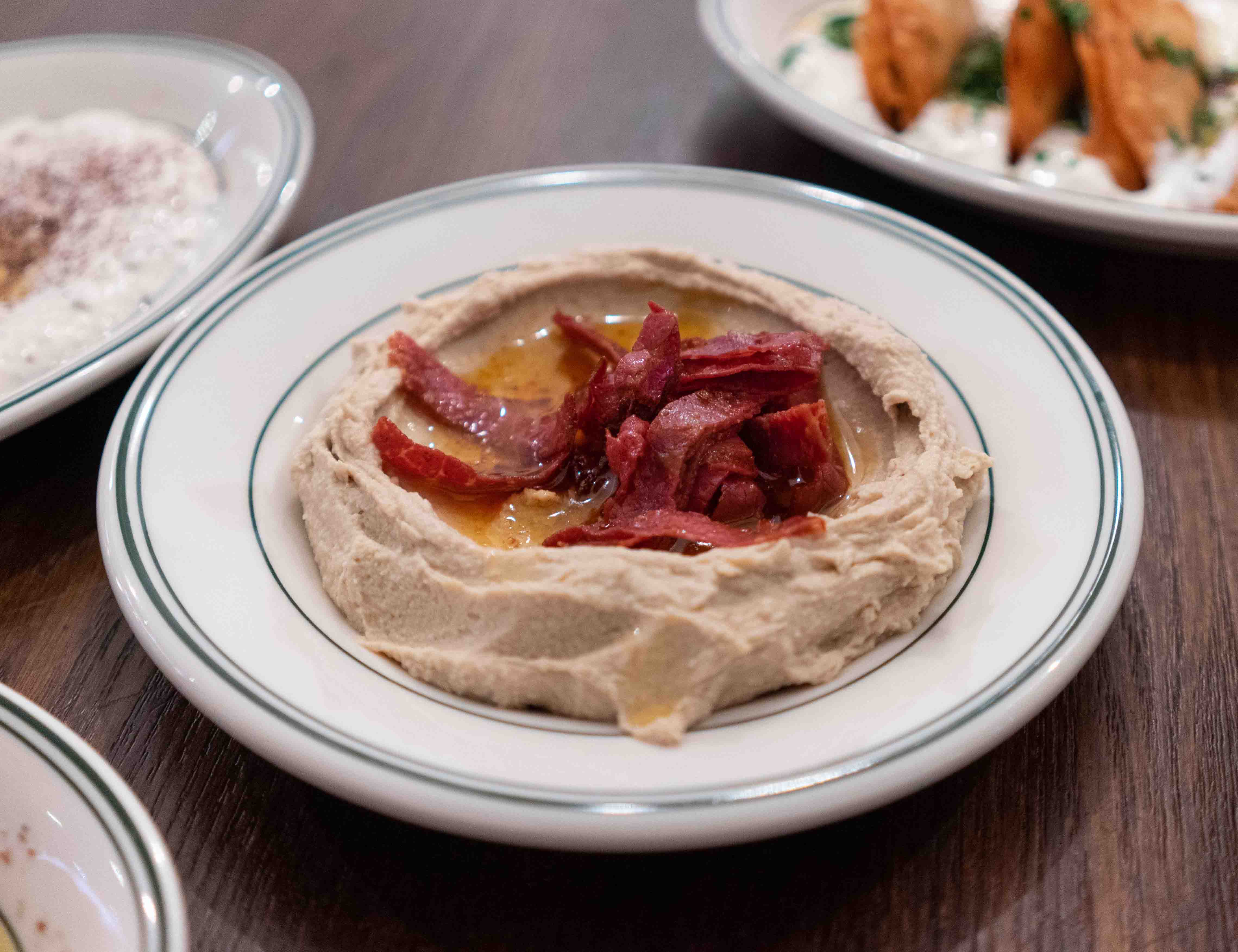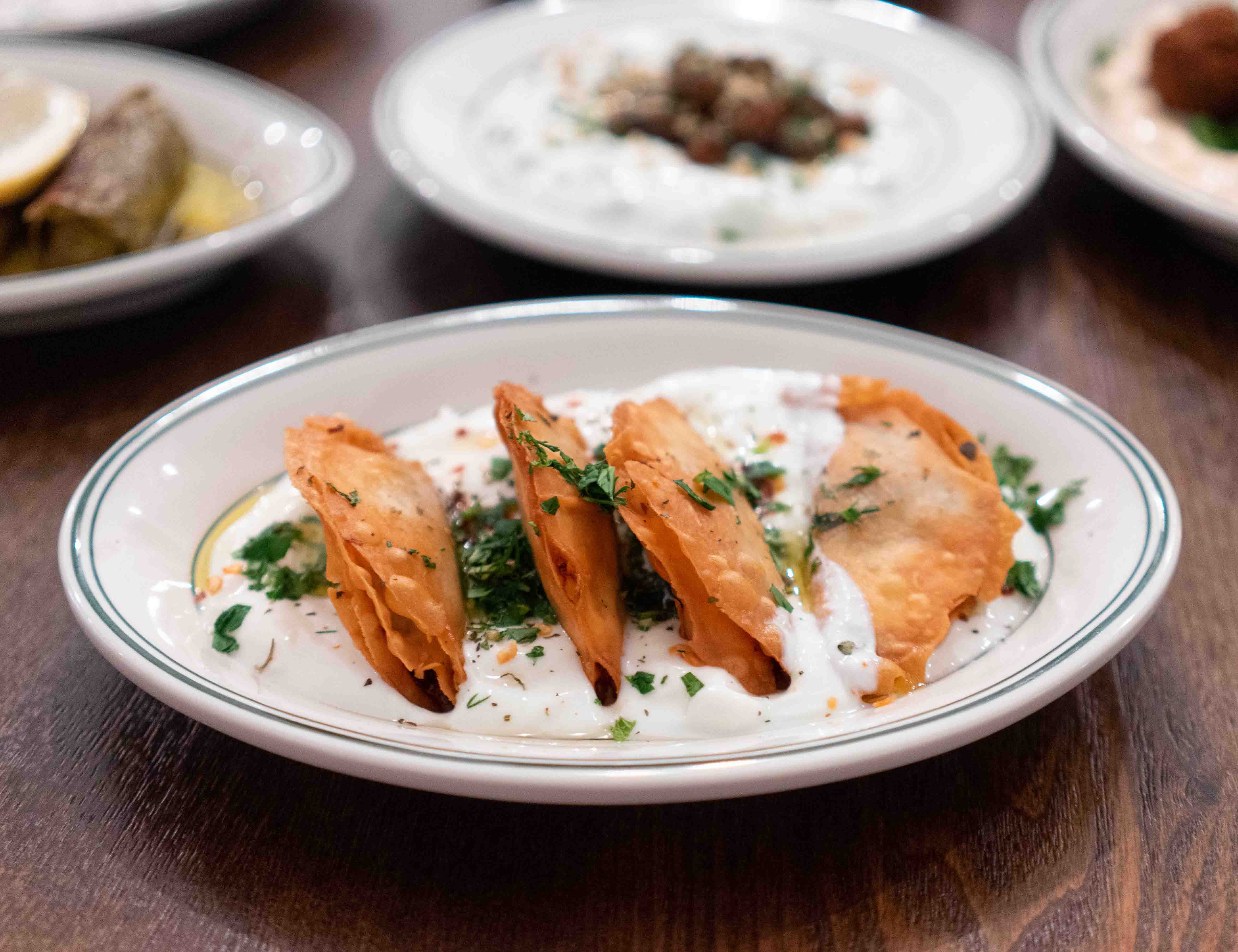 When Oğulcan was young, Ali would set up Turkish food stalls a few times a year at obscure events, such as the Dandenong Tulip Festival. Oğulcan would help his dad by serving customers, gathering food from the fridge and working the till.
"I didn't understand what was going on, I would just work with him and that's how I got into food without realising it," says Oğulcan.
"I've always been obsessed with food in general. I must have got it from him."
Later, when Oğulcan was graduating from drafting school en route to architecture, there was a niggling feeling that held him back from jumping straight in. Instead, he began project management around the same time his father opened his first food business: a caravan purchased off Gumtree marketplace, set up in a Carlton garage without running water.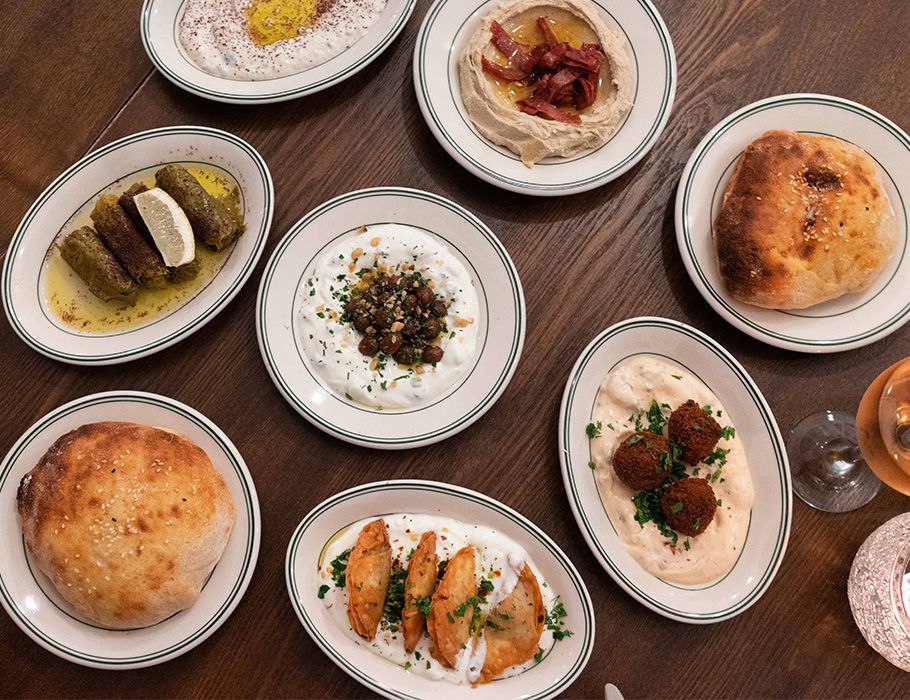 "It wasn't even a food truck. I found it at the back of the house and was like, what is this? That's just his character, he's very, very impulsive," says Oğulcan. "He's a very make-it-work type of person."
And make it work he did. Every day, Ali hauled gallons of water from home to the Carlton set up, where word quickly spread about his balik ekmek (Turkish fish sandwiches) and lamb kofte (meatballs with bulgur, onion, yoghurt, garlic and red pepper).
"It's insane; it was nothing – just an empty car park. People started coming to learn about Turkish culture, about Turkish food. He created a sense of life there. By the end of it, it was an extension of himself," says Oğulcan.
During Melbourne's 2020 lockdowns, Ali bought his first restaurant in Brunswick East on Lygon Street and called it Halikarnas. He replicated the atmosphere in the Carlton car park, fastening fish nets and oceanic paraphernalia to the walls and offering ikram, the Turkish practice of gifting small dishes such as chilli peppers and pickles on the house. He set up a grill outside the shop when dine-in was forbidden, luring people to cross the road with plumes of smoke from barbecuing balik ekmek and specials such as midye dolma (rice-stuffed mussels).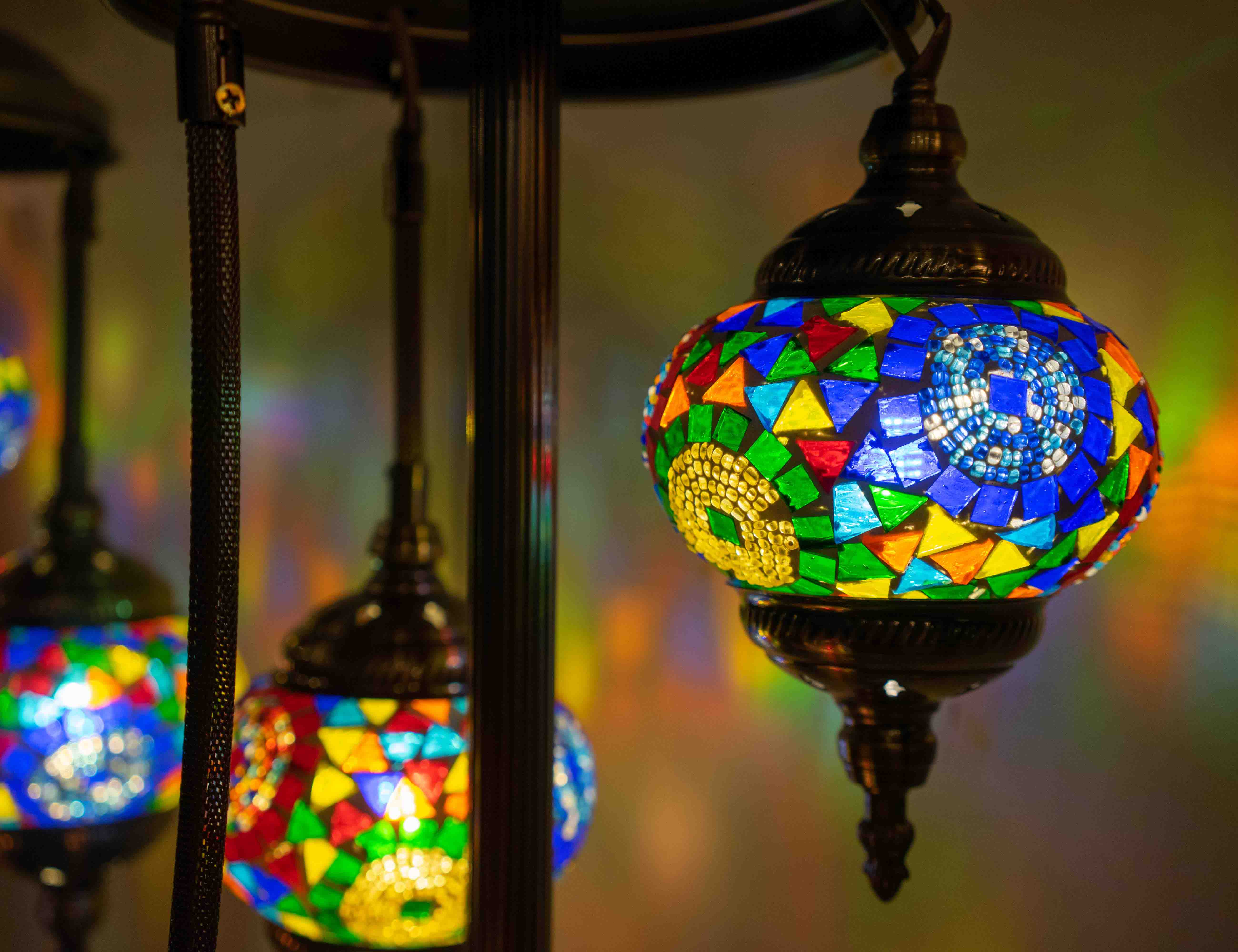 Just before the borders closed, Oğulcan left for London to help his aunt after the passing of his uncle. He intended to stay for a month but returned 2.5 years later, just as Ali was opening Yakamoz, almost directly across the road from Halikarnas. It took over half of iconic gelato store, Gelobar, which had previously reigned for 32 years.
"I always wanted to have a hospitality group, but I wanted to do it in Europe," says Oğulcan. "I said, alright, we will do it. We were really lucky that it was all aligned."
The Atays found their head chef, Çağri Ergin, who arrived from Istanbul just a couple of months before Yakamoz opened. Oğulcan followed his father's lead, making food and service a priority, with the interior design an ongoing process. It doesn't come easy for someone who studied interior design.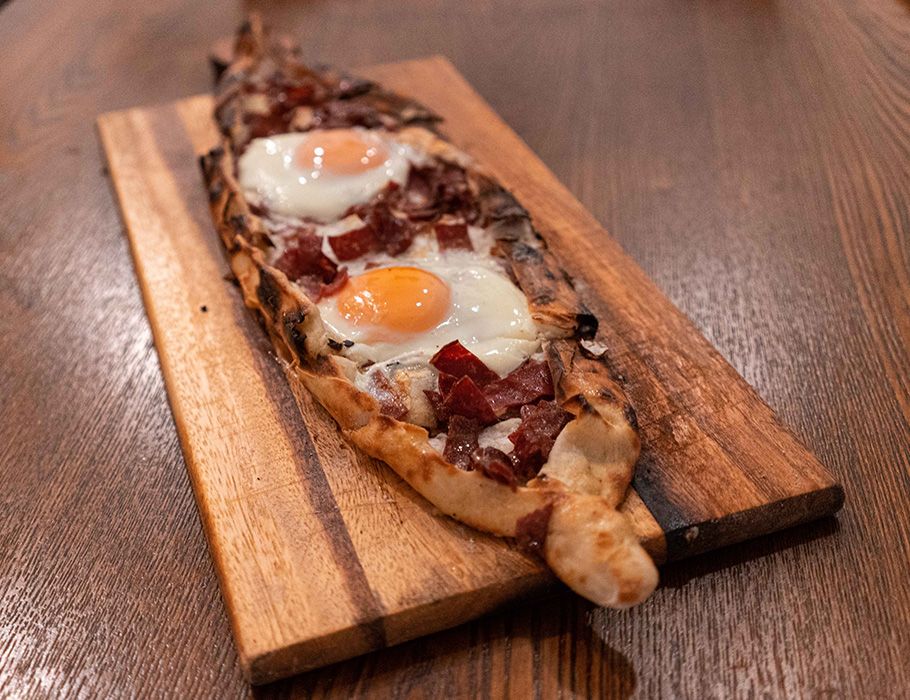 "I am really the opposite to my father in terms of how we do things. Even when I was younger, he would just hang up different banners, the chopping boards were different colours, one tablecloth was pink and another one was blue. I would get all this OCD watching him… but that's his style," says Oğulcan.
"Dad has this saying: people are going to come to eat your food, not your table."
So far, he's been right. In an area where diners are used to ordering pizza, the pide at Yakamoz has already become a signature. The elongated, football-shaped flat breads are baked in a wood-fired oven with toppings ranging from three Turkish cheeses with sumac, to pastirma dried beef with eggs.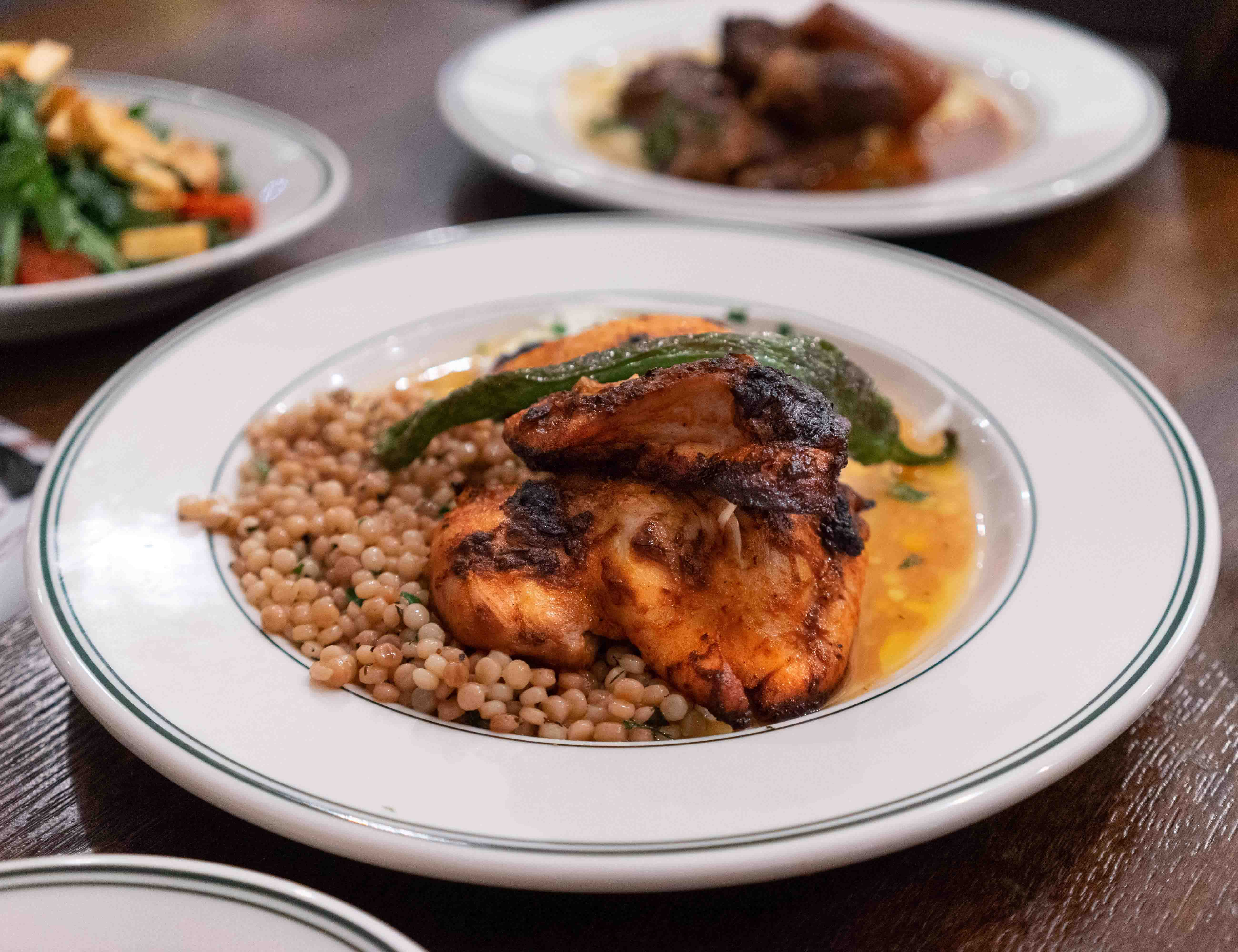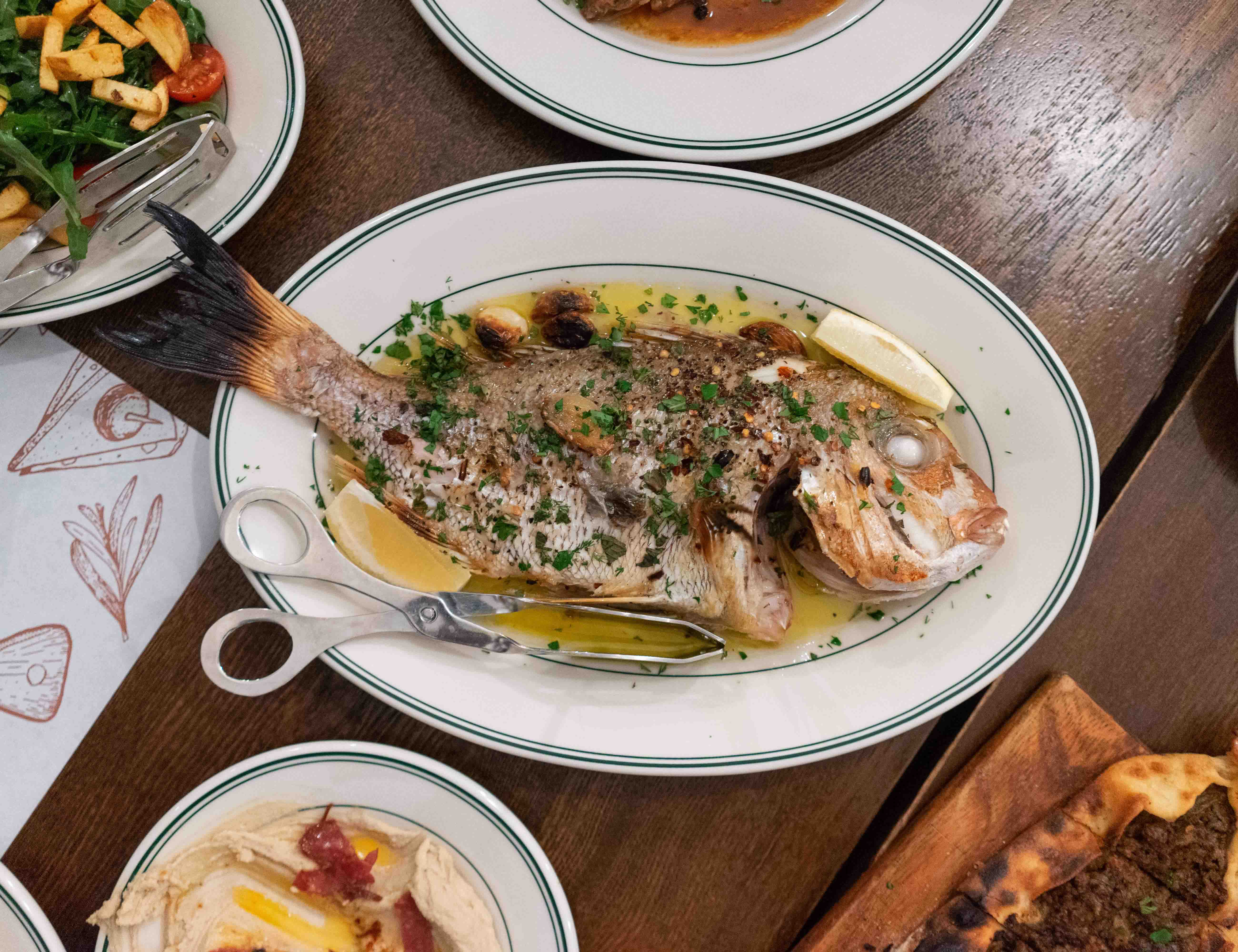 Yakamoz is ideal for groups. That way no one has to decide between Moroccan-spiced chicken on couscous with herbed yoghurt, clay pot beef or chicken served with pide, and the whole fish of the day cooked over charcoal with crunchy potatoes that would stand alone as a side.
"My dad has so many local regulars that come to Halikarnas and they want to support him, but I've also seen a lot more people involved in food, like chefs, coming to Yakamoz… it's attracting people who are working in establishments who are also creating menus. There's more curiosity around it," says Oğulcan.
The kitchen's creative license is best seen in smaller plates that respect Turkish traditions with a chef's touch, whether the juice of sour cherries imbuing stuffed vine leaves, manti-inspired fried dumplings stuffed with spiced mince, or a generous plate of sauteed seafood with mussels, calamari and prawns swimming in buttery white wine, garlic and chilli sauce.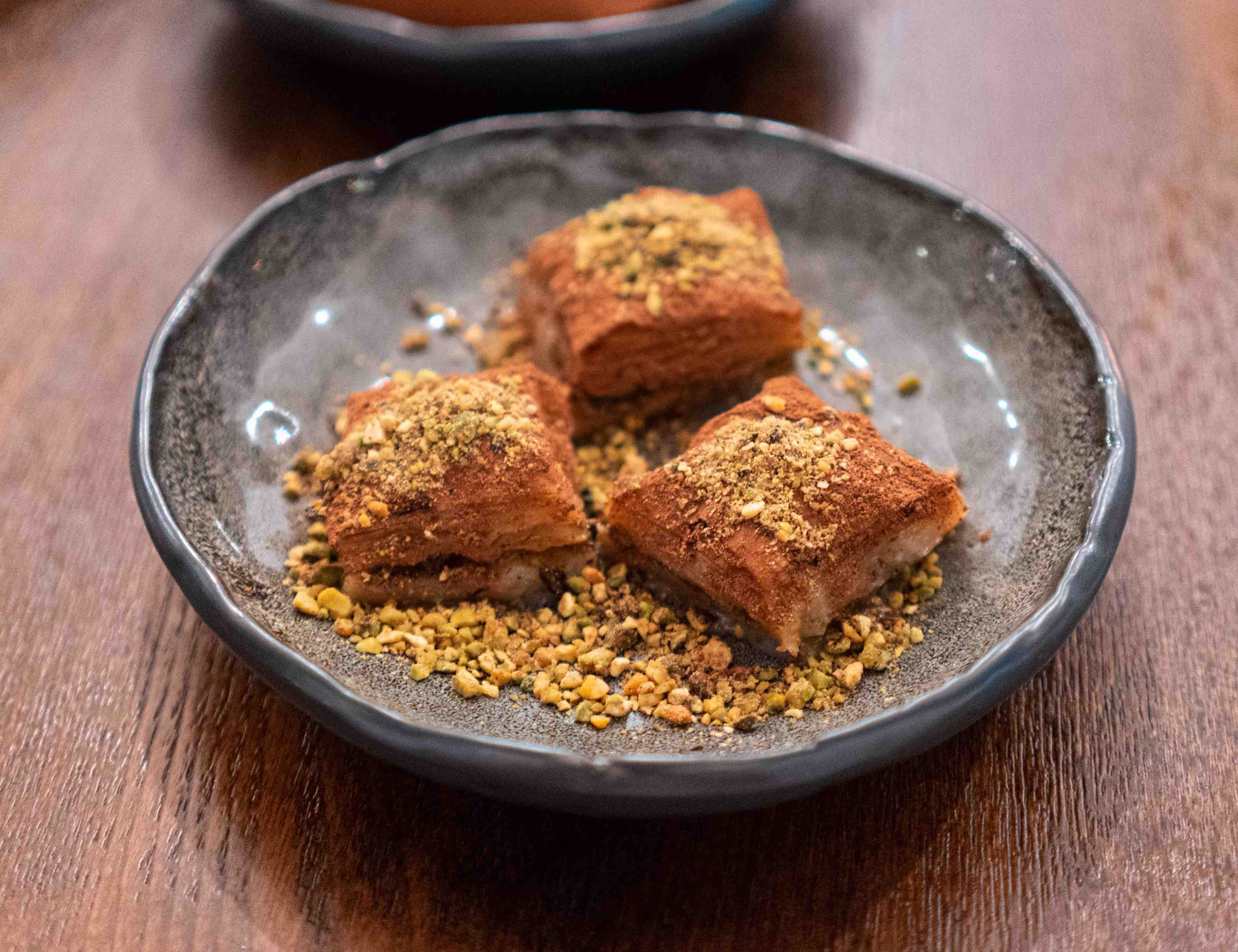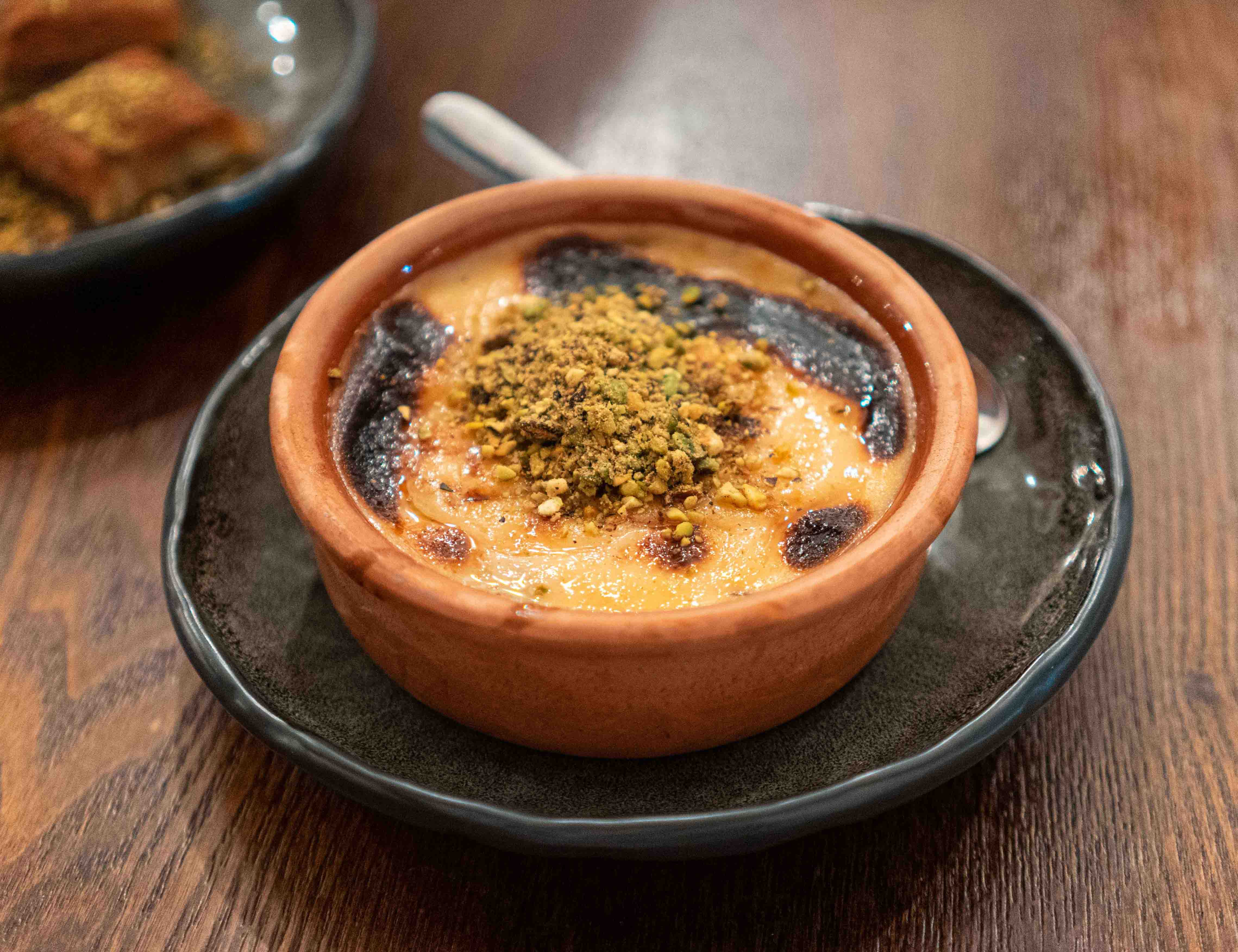 Yakamoz is also one of few Melbourne restaurants where you can find soguk (milk) baklava, a less syrupy take on the original that's lighter due to the use of milk and milk powder in place of honey. It's served cold, layered with pistachio ganache and dusted with enough cocoa to make you inhaling feel precarious.
There's also a little window down the side of Yakamoz on St Phillip Street signed, "Kebap Ali", which is open daily for takeaway. This literal hole-in-the-wall serves pide; doner kebabs; HSP over chips, rice or pasta; and a sizeable burger menu (try the "beef n beef" with a grass-fed patty, pastirma, cheese, tomato and roast pepper mayo). As for Yakamoz the restaurant, it's open every day except Tuesday.
"That said," adds Oğulcan, "you know my father – if someone comes and they're hungry, he'll probably open the kitchen to feed them."
Around the World in 80 Lesser-Known Melbourne Restaurants
FREE food guide when you subscribe.