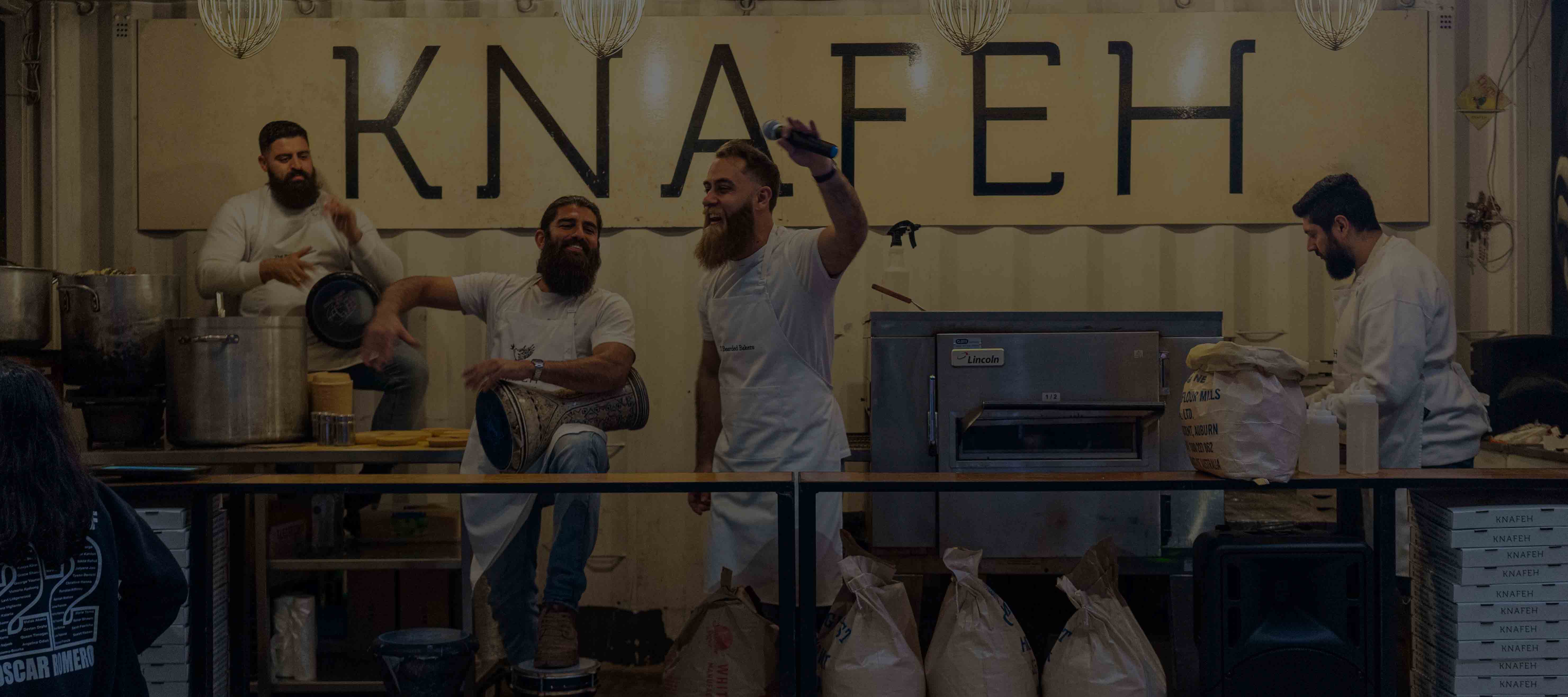 Knafeh Bakery,
melbourne
The Bearded Bakers Smash Stereotypes with Cheesy Middle Eastern Knafeh
Words & images by Sofia Levin
"Would you ever shave it off?"
I'm sitting across from Joey El-Issa of The Bearded Bakers. Every week on social media, they announce the location of their Melbourne, Sydney and New York shipping container pop-ups, Knafeh Bakery.
"Yeah," he says, not missing a beat, "a million bucks for charity, nothing less."
Joey is arguably more attached to his beard than it is to him (indeed his Instagram handle is @joeyandhisbeard). It's a powerful part of the Bearded Bakers brand, but Knafeh Bakery is greater than the sum of its beards.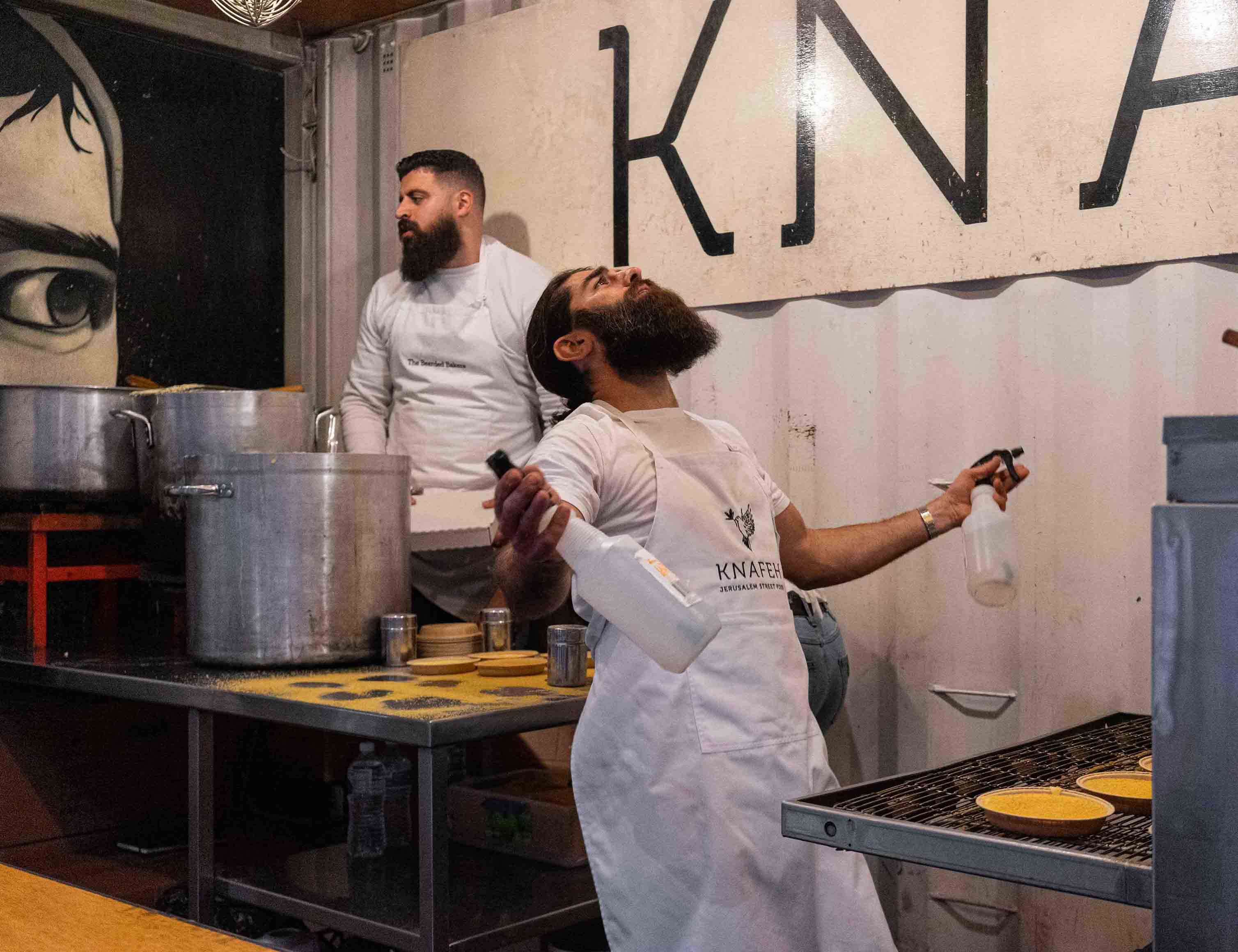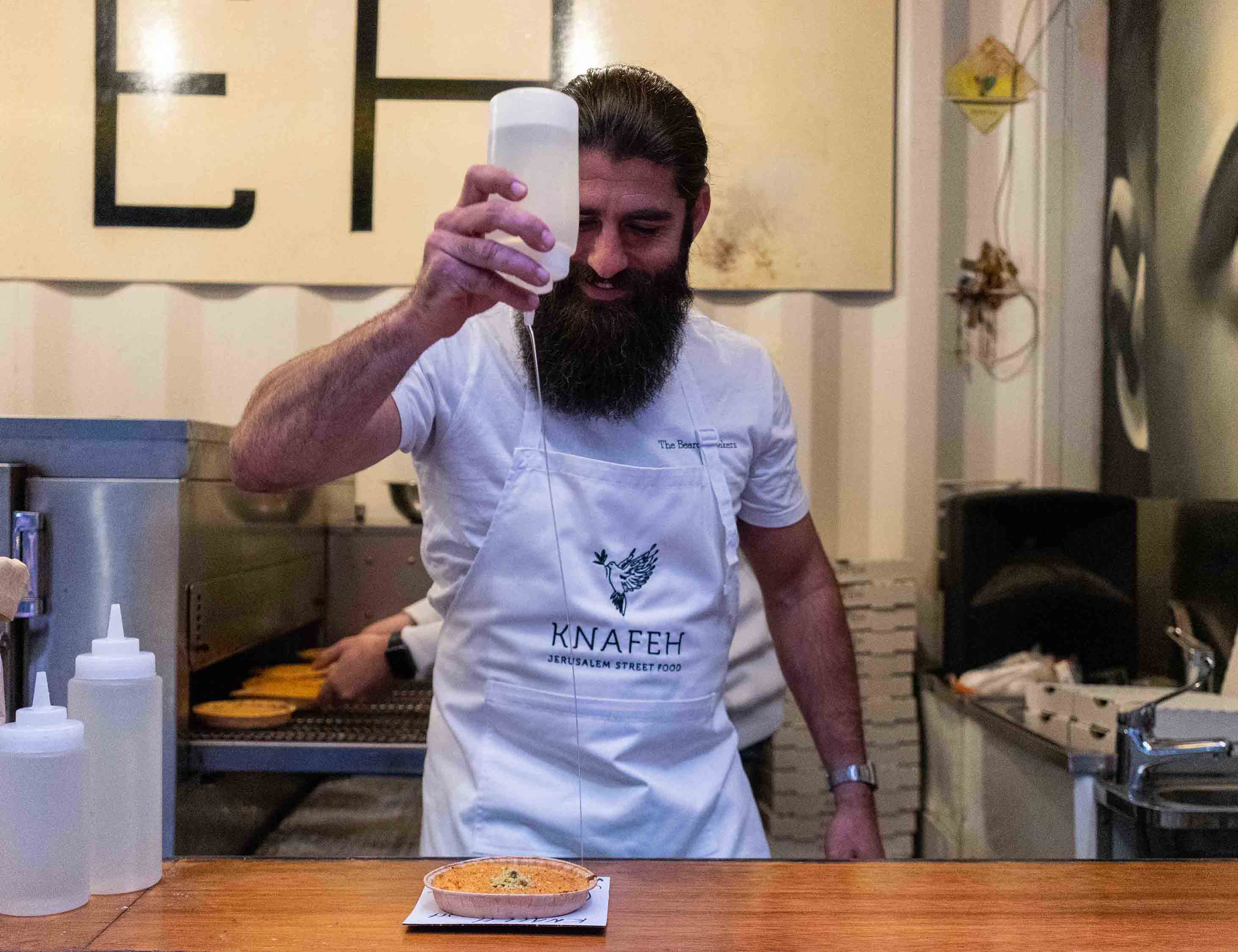 "All nationalities and religions share the beard. Hipsters have them. Ned Kelly had a beard. We never felt like anyone owned the beard," says Joey.
He launched Knafeh Bakery in 2014 alongside his brother, Ameer, and sister, Mouna. Joey describes knafeh as a sweet cheese and semolina pudding; similar to a warm creme brulee but sprinkled with pistachio and drizzled with sugar syrup. When they started selling knafeh, The Bearded Bakers jumped at the opportunity to simultaneously change the conversation around their Palestinian heritage.
"Ten years ago, men with beards weren't really portrayed in a positive way," says Joey. "We thought it'd be a good opportunity to showcase a talking point; for people to say, 'look at these guys singing, dancing, entertaining' – projecting positivity around something that had a negative connotation."
When Knafeh Bakery is open for business, you know about it. After our chat, Joey returns to the shipping container, which has set up outside a Melbourne shopping centre for the weekend. There are four other Bearded Bakers ladling the warm cheese and semolina mixture into round containers, sprinkling them with a special crumb mix and spraying them with sugar syrup before each rolls into the conveyer oven. I ask how many knafeh they make a week.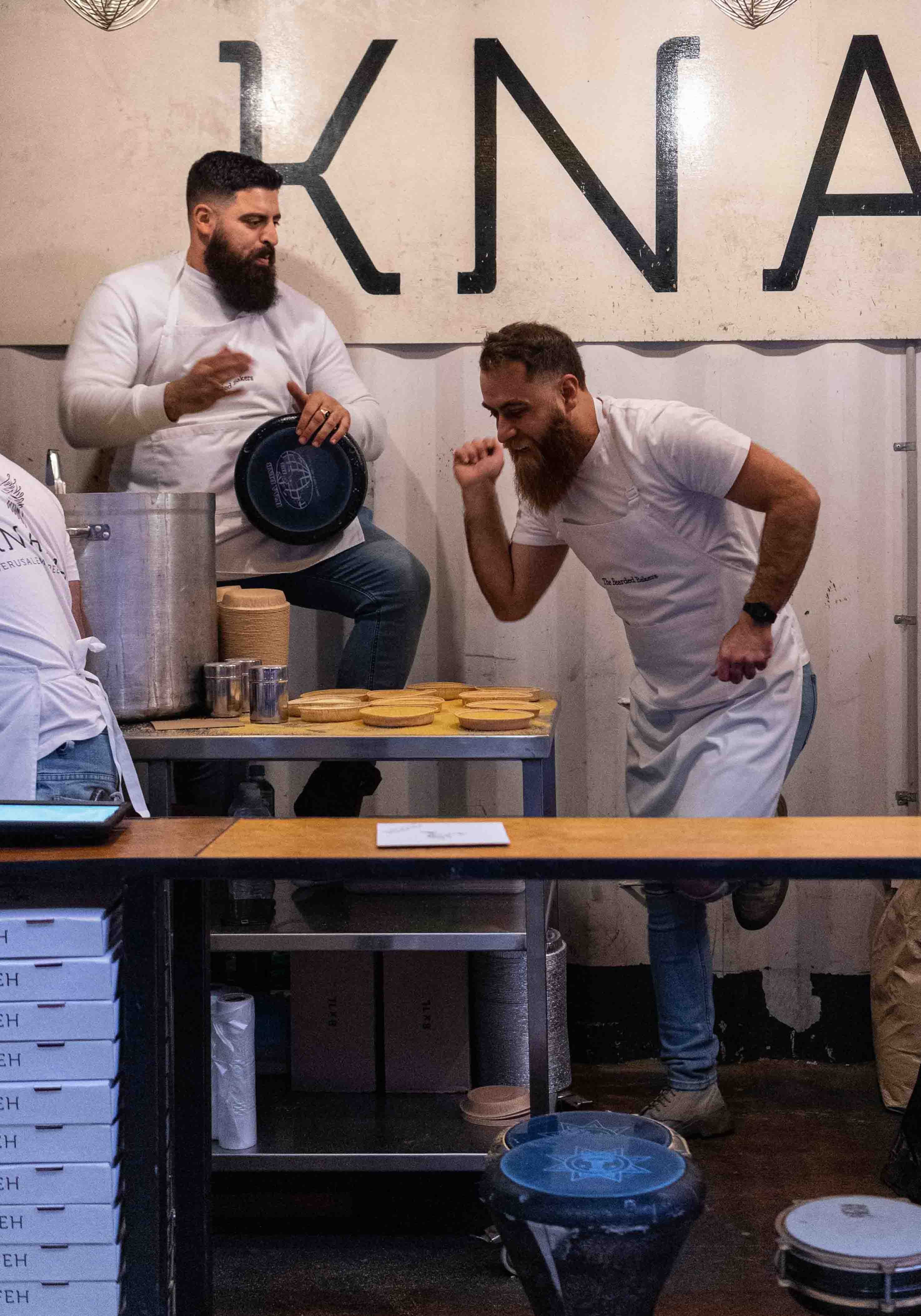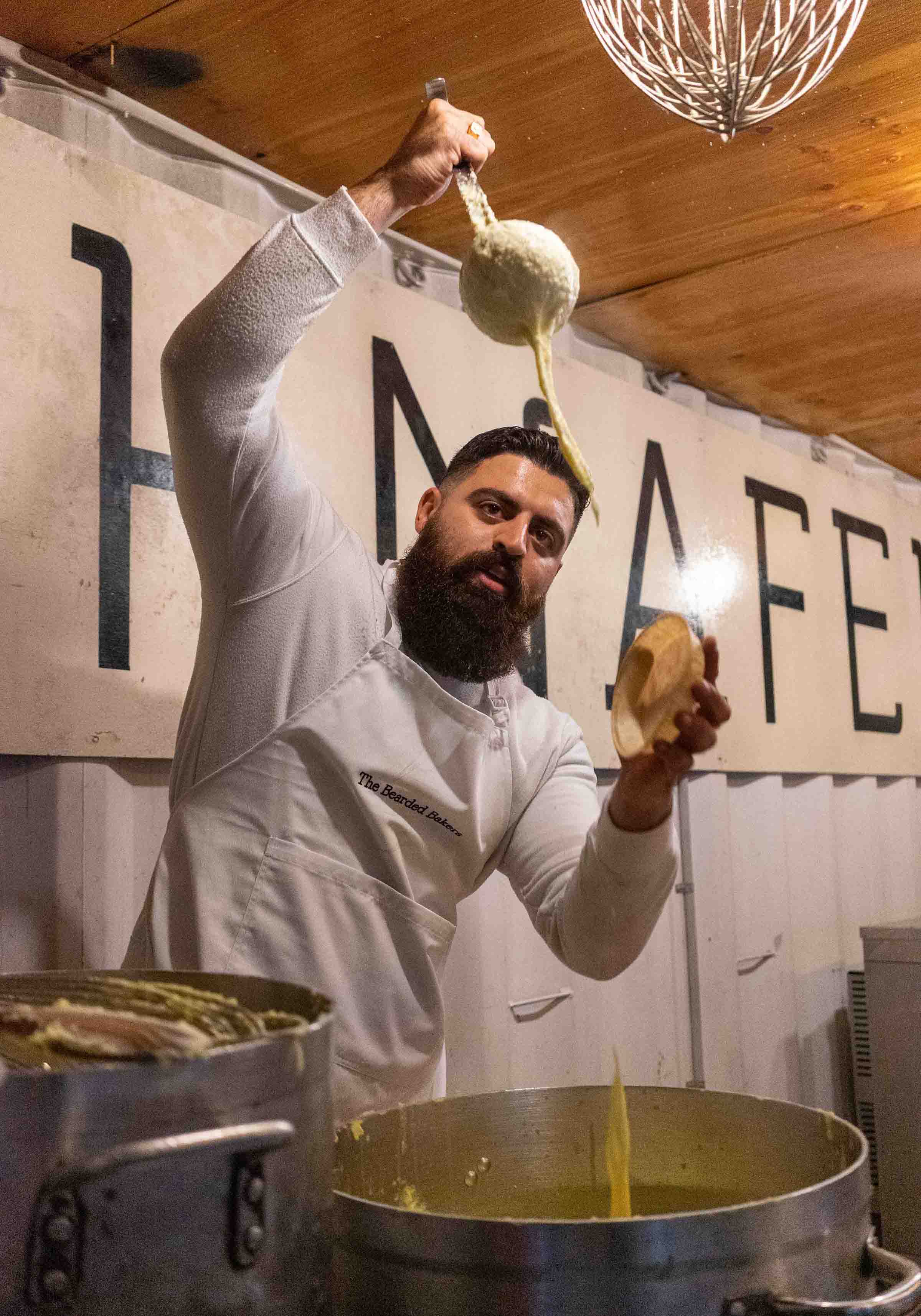 "We always tell people we stop counting after a thousand," says Joey.
He grabs a cordless microphone and, with a flawless radio announcer voice, declares to everyone within earshot that Knafeh Bakery is open for business. He flicks a button on his phone and upbeat Middle Eastern music blares from the speakers. The Bearded Bakers begin to shimmy, stomp and slap goblet drums. All the while, they never stop making knafeh.
"The core ingredient – well my mum would always say it's love – but it's the cheese," says Joey. "We use a locally-made cheese but we put a bit of a twist to it. I can't go into detail, but it's closest to mozzarella."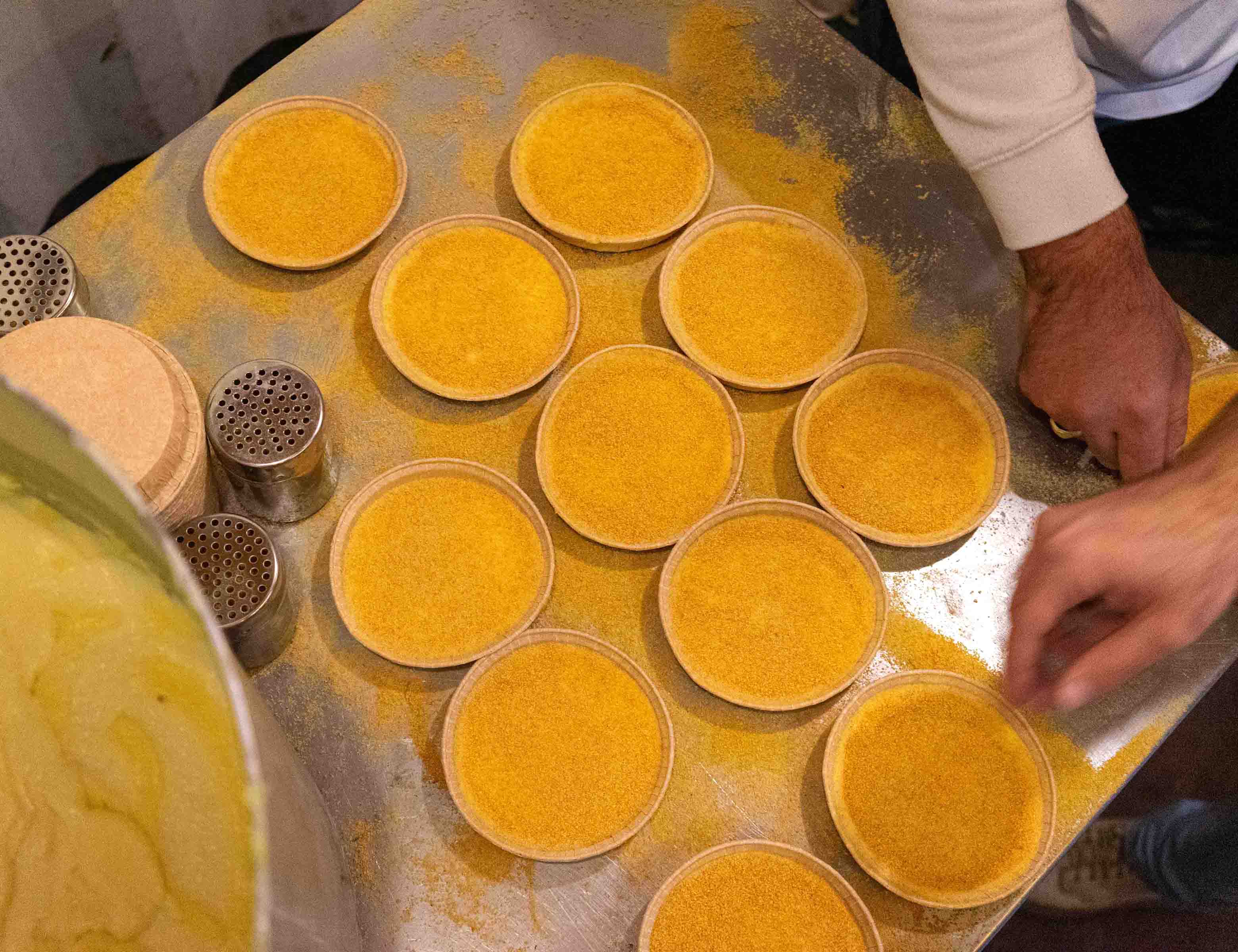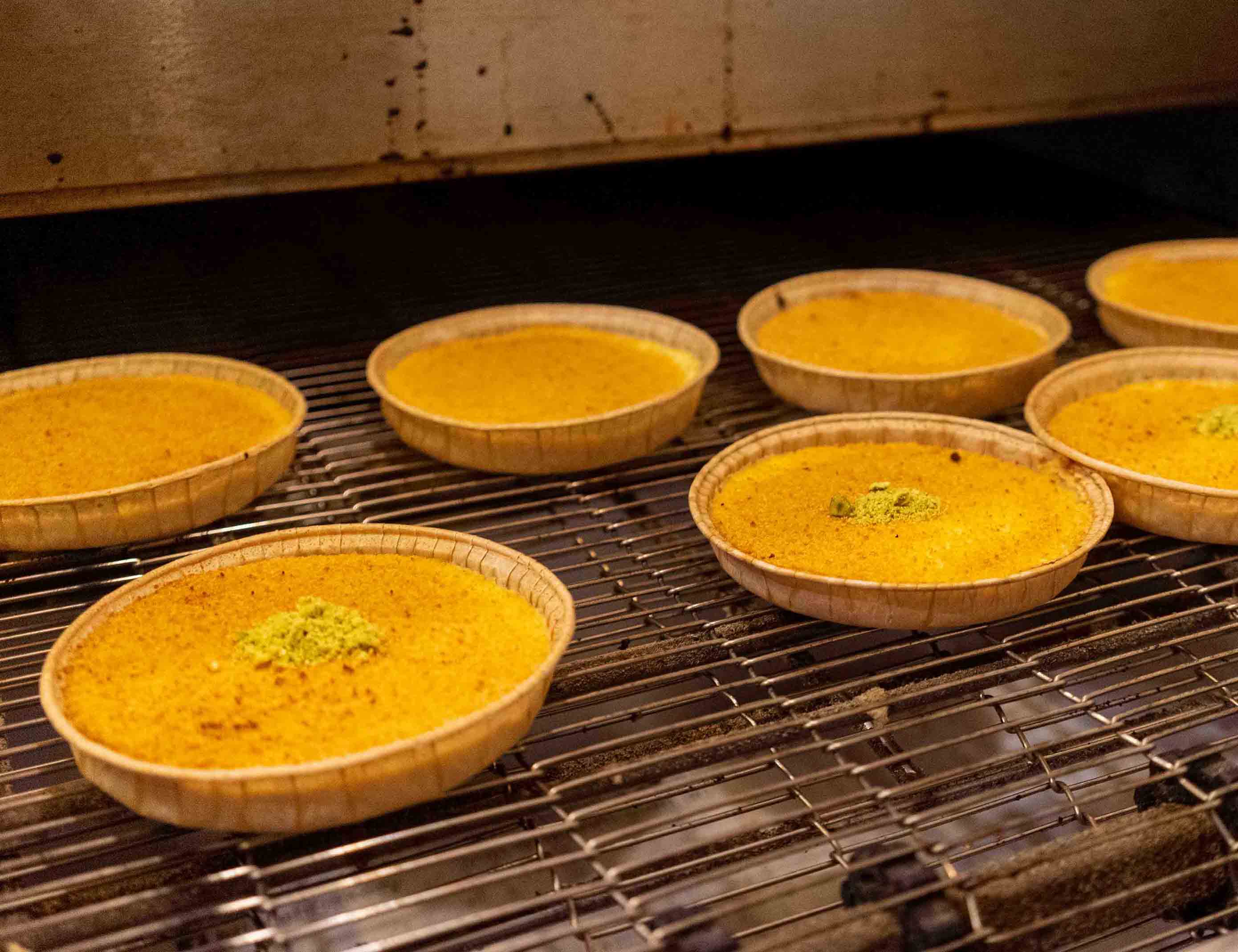 With their father born in Jerusalem and mother in Jordan, the El-Issa kids always gathered in the kitchen and around the table while growing up in Sydney.
"We always had a passion for people and food through mum and dad being hospitable. Mum always cooked all this amazing food and people were always coming over to our house," says Joey.
The brothers got their start in cafes and restaurants, opening Bar Biscotti in a former biscuit factory in North Strathfield, Sydney, in their early 20s. From there they opened a restaurant, but their chefs always became frustrated – no matter what they made, people only wanted a taste of their mum's knafeh. That's when the idea for Knafeh Bakery was born.
Now there are about 50 Bearded Bakers working at Knafeh Bakery travelling shipping containers in Sydney, Melbourne and New York. Another is coming soon to Dubai, where a lot of Australian dairy is exported. It makes all the difference to the end product.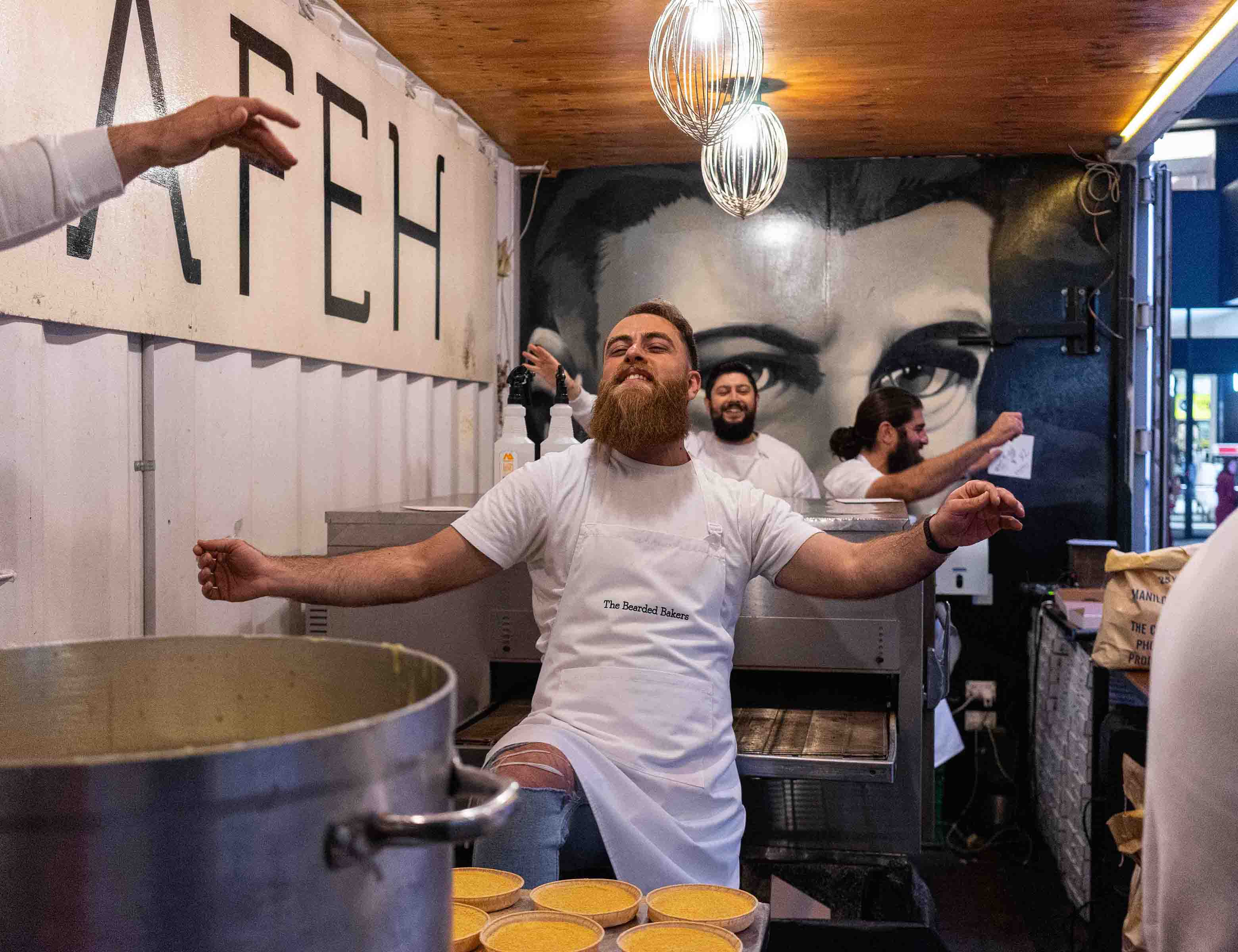 "When it comes to dairy, meat and poultry, Australia definitely has the best. We're very blessed," says Joey. "We have a lot of respect for Australian farmers and the dairy industry. We take pride and care with the product that we use, because people are working really hard on the farms to make that for us. Without them, we can't make knafeh."
Aside from their clandestine cheese recipe, The Bearded Bakers will tell you that the secret to their success is love. But from where I'm standing, behind a crowd with their iPhones set to record who can't help but sway to the Middle Eastern music, I'd say it's creating an environment where joy is contagious, and all are welcome. Beard or no beard.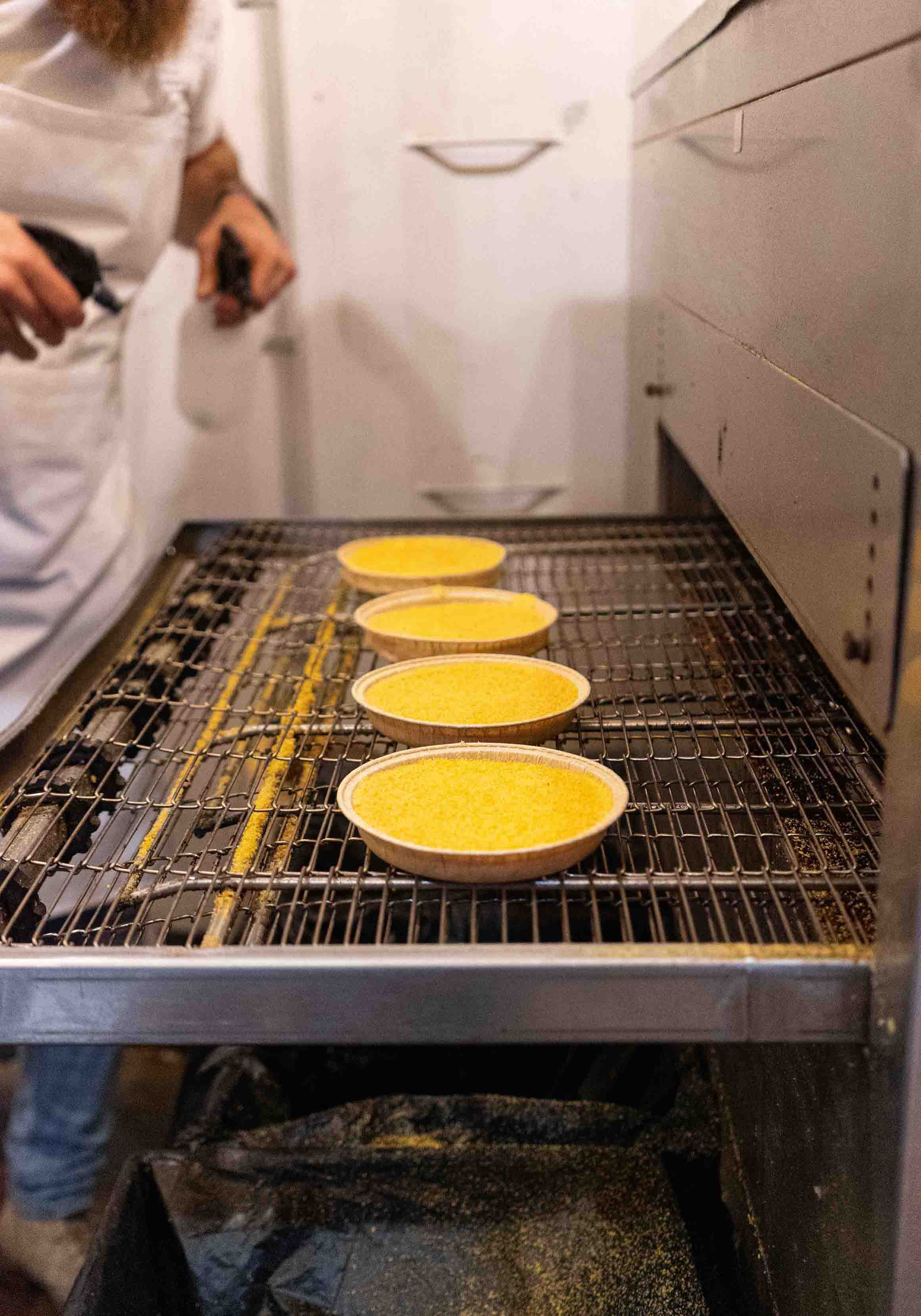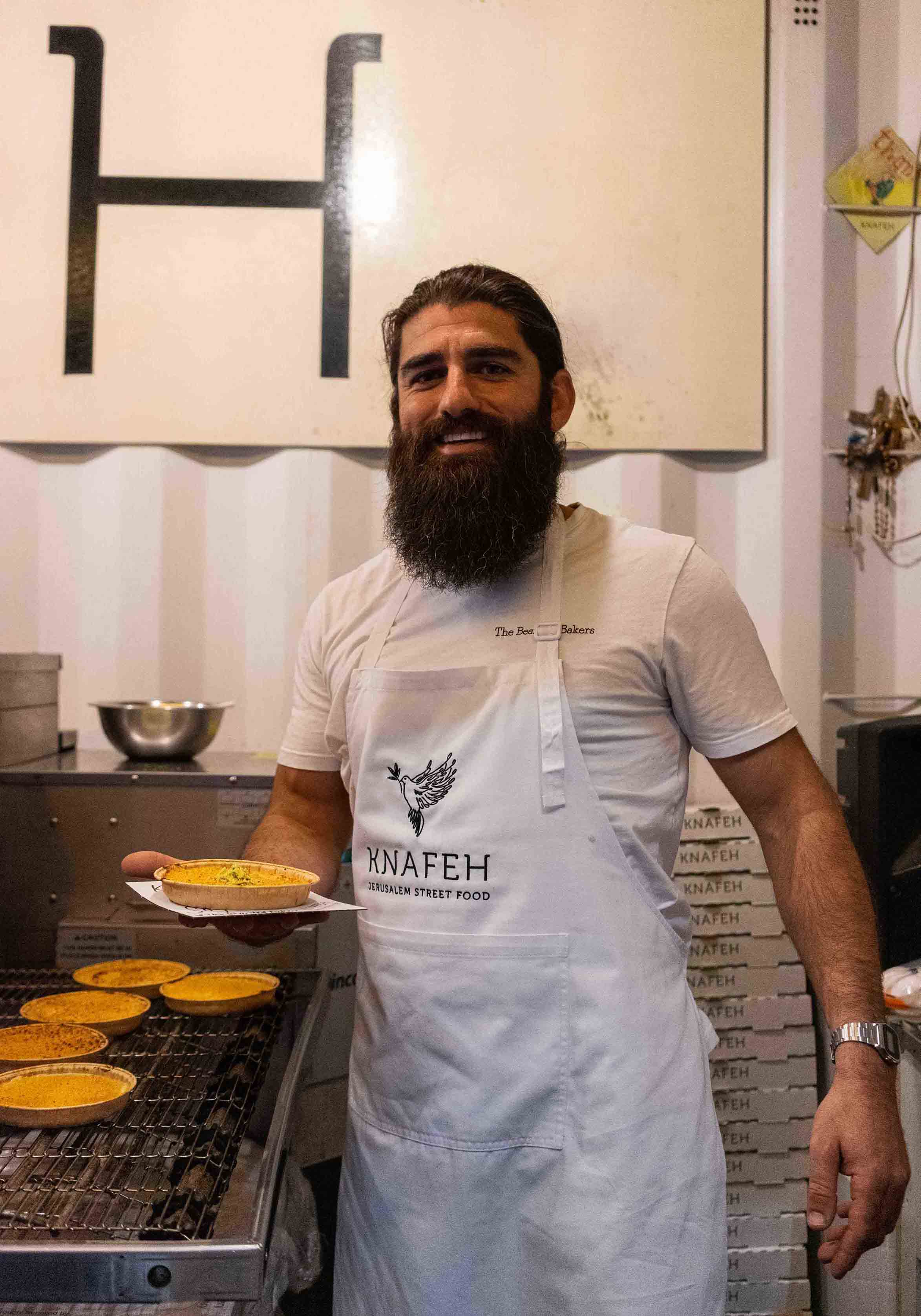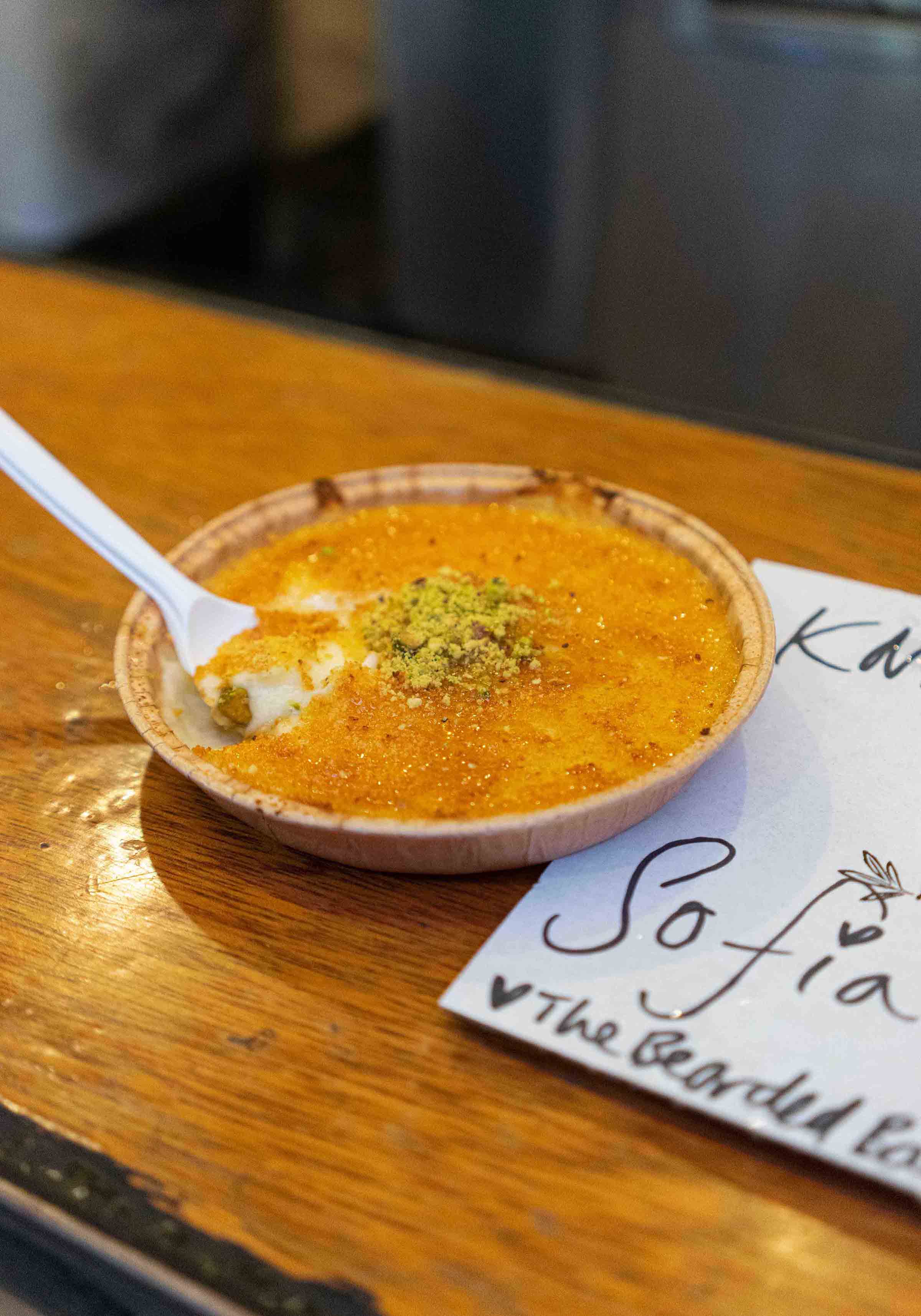 Proudly produced by Seasoned Traveller in partnership with Dairy Australia.
Around the World in 80 Lesser-Known Melbourne Restaurants
FREE food guide when you subscribe.