Persian Food: Royalty to Racism
Persian Food Doesn't Get Enough Credit
Words by Sofia Levin
Images supplied
When you feel like eating Middle Eastern food, what cuisine springs to mind? Maybe you default to Lebanese, or perhaps you lump Middle Eastern countries together like one, big delicious falafel. But Persian food is unlike anything else.
Unsurprisingly, it was western geographers who coined the term "Middle East". The central part, then called the Near East, referenced the region closest to Europe stretching from the Mediterranean Sea to the Persian Gulf. During WWII the British military stationed in Egypt was dubbed the Middle East and the term stuck.
When Joseph Abboud opened Rumi in 2006 in Melbourne, it was one of few restaurants offering Iranian food, despite his Lebanese heritage.
"Through a bit of research I realised that Persia was the birthplace of what we consider Middle Eastern cuisine to be. The fact that people didn't know anything about it was one of the reasons we chose to highlight it," he says.
Fifteen years later, a general lack of differentiation between Middle Eastern cuisines still irks Joseph.
"I can't help but feel that it's a reflection of the way people see Middle Easterners and the lack of respect that Middle Eastern food gets, that it can't be sophisticated."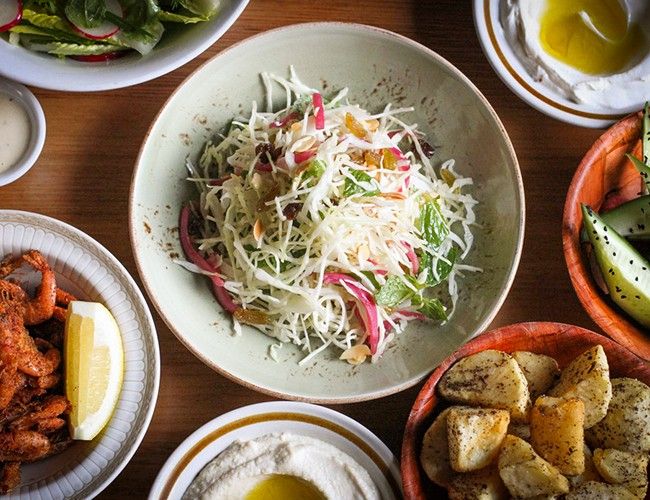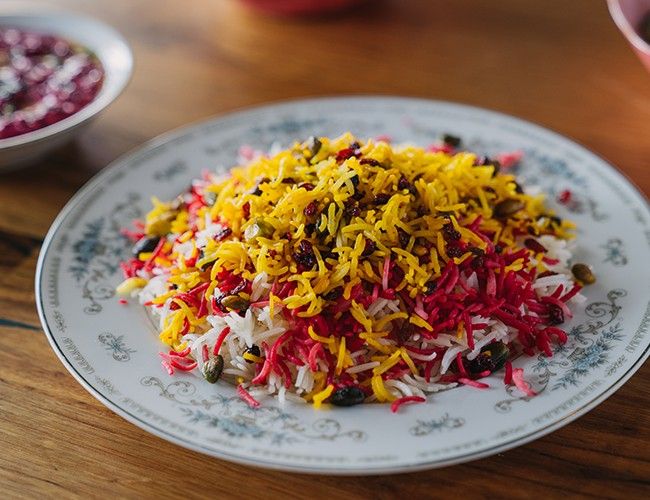 Iranian food swings between robust and delicate, seducing with fresh herbs and rosewater and surprising with sourness from pomegranate molasses, yoghurt and dried lime. On the plate, it resembles Indian and Pakistani cuisine as much as Middle Eastern, with rice at every meal and ample use of spices like fenugreek, coriander, cumin, cinnamon and saffron. Many dishes and cooking techniques we associate with Middle Eastern food can be traced back to Persia, which is what Iran was called until 1935. Persia took ingredients like rosewater and saffron from India to Egypt during the 6th century and traded with China and India for rice, spice and noodles via the Silk Road. Even South American ceviche is credited to an obsolete Persian dish called al-sikbaj, a stew cooked in vinegar, which made its way to Spain during the Arab invasion and evolved into escabeche, before making its way to South America following Spanish invasion.
Persian food was developed in royal courts, resulting in dishes far more elaborate than other cuisines associated with the Middle East. Rice jewelled with fruit and studded with meat became a specialty during the Safavid empire at the end of the 16th century, positioning the grain as a staple in wealthy homes.
"The rice dishes in Lebanon are very simple by comparison… rice was never part of Lebanese culture, you would make a pilaf with burghul. Rice was considered only something rich people could afford," says Joseph.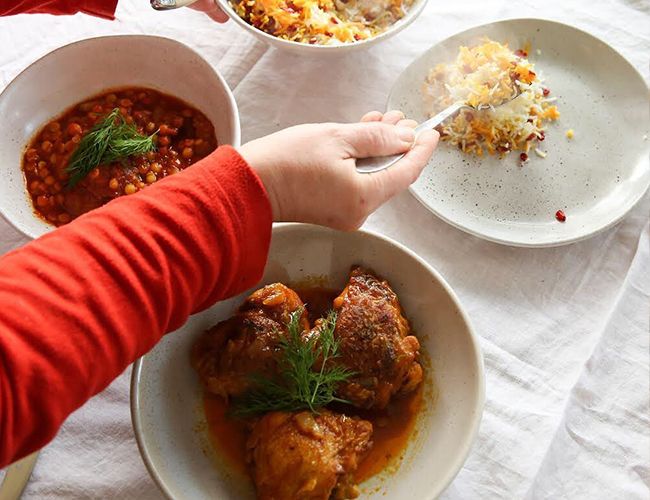 Other parts of the world have also influenced Persian cooking. In Iranian homes, families still boil Russian borscht, beef stroganoff and vaavishkaa, a hangover from the Anglo-Soviet Invasion of WWII.
"Russian soldiers who came to Iran, they brought some of their culture and some of their food and people are still enjoying it," says Mahshid Babzartabi, who worked as a cooking teacher with Free to Feed and helps run support group Australian Friendship with Asylum Seekers.
"Vaavishkaa is served in northern part of Iran and people in north part of Iran, they think this is their own traditional food but the background is from Russia," she adds with a giggle.
Mahshid loves nothing more than sharing her culture through food, and we have a lot to learn.
"Australian people are not much familiar with Iran food, they all know about Chinese, Lebanese, Turkish; but Persian food is a little bit between all of them. It is a food that gives you comfort," she says.
For those trying Iranian food for the first time, Mahshid recommends zereshk polo, chicken with aromatic barberry rice – she worries her favourite dark green herb stew, ghormeh sabzi, won't appeal to people who "eat with their eyes first".
"People say in Iran, if a woman can cook ghormeh sabzi, she can cook everything else," says Mahshid.
Joojeh, an Iranian chicken kebab marinated in lemon juice and saffron, makes an appearance on Rumi's menu, except Joseph swaps chook for quail.
"Sometimes we have Iranian people come in and say, 'that's not joojeh'. I tell them I'm not trying to do a traditional version, in fact I'm not even necessarily trying to make a modern version; I'm just trying to make that connection back to a cuisine that people don't even think about, let alone acknowledge as fundamental in the world cuisines," he says.
Whether the Middle East or beyond, we're quick to find similarities between cuisines around the world, yet cultural difference is paradoxically and repeatedly used as an excuse for impertinence. Food, according to Mahshid, is the ultimate uniter, a cure for human intolerance.
"I believe that food has a magic in it," she says. "We are living in a world full of violence and war, but the only thing that brings reconciliation to the people is food. If someone hates me, my race or my beliefs, if they sit at a table and we try eachothers' food, he cannot say he hates my food."
Around the World in 80 Lesser-Known Melbourne Restaurants
FREE food guide when you subscribe.