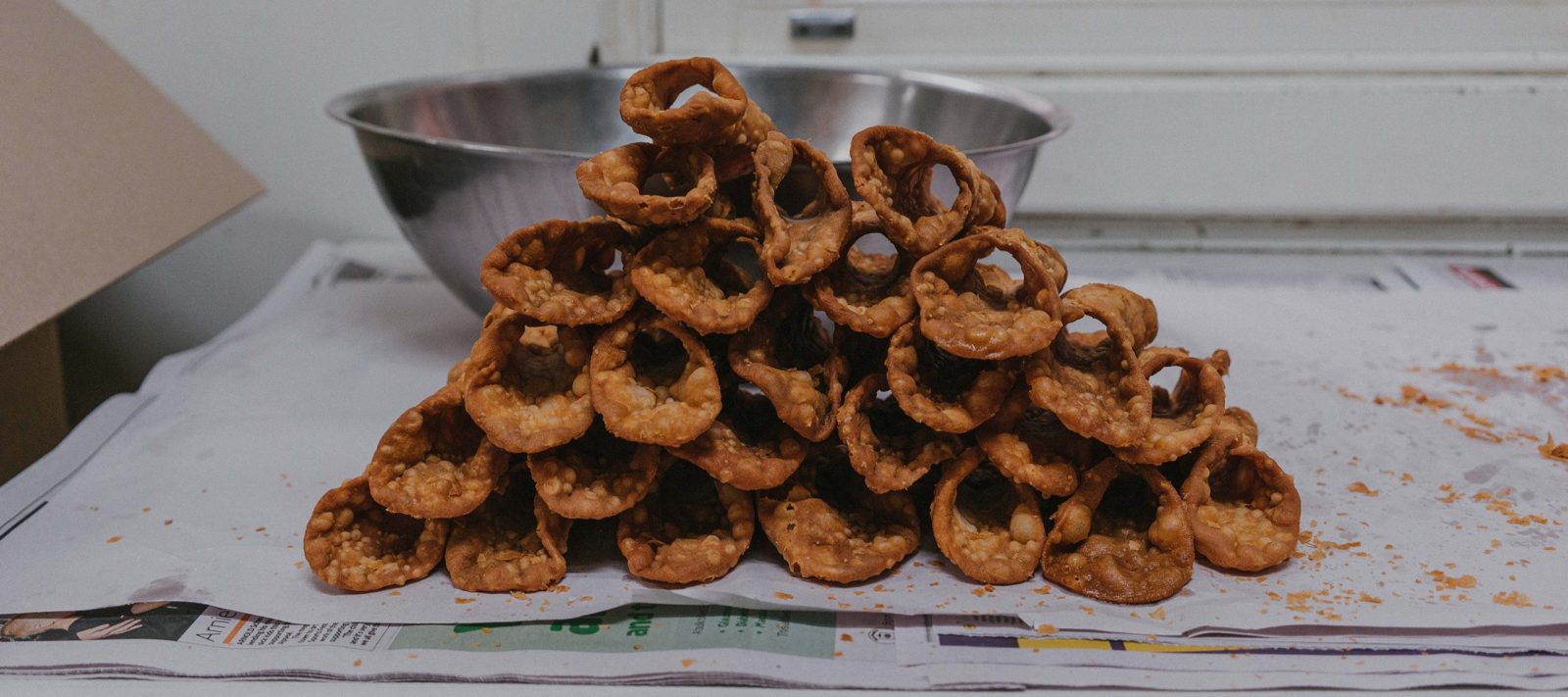 Melbourne's Cannoli War: Don't you Dare order Chocolate Cannoli
Words & Images by Sofia Levin
If you're looking for the best cannoli in Melbourne, you have to pick sides: stick to tradition or offend your relatives with innovation.
"If you ask for a cannolo in Sicily, they bring you a ricotta cannolo. Some of those flavours, salted caramel or whatever, you try and get those in Sicily and they'll throw you out the door."
Third-generation pastry chef Tony Cavallaro is the first to admit he's a traditionalist when it comes to cannoli. He runs T. Cavallaro & Sons in Melbourne's west alongside his brother, their wives and children. Tony's parents, Tommaso and Sarina, opened the Footscray pasticceria in 1956 shortly after they immigrated.
The only cannoli available, aside from traditional ricotta, are chocolate and vanilla custard. Ricotta wasn't readily available when the family moved from Sicily, so the cannoli were piped with ingredients used in their continental cakes. The word "cannoli" comes from canna, which means cane in Italian and refers to the bamboo sticks originally used to make the dessert.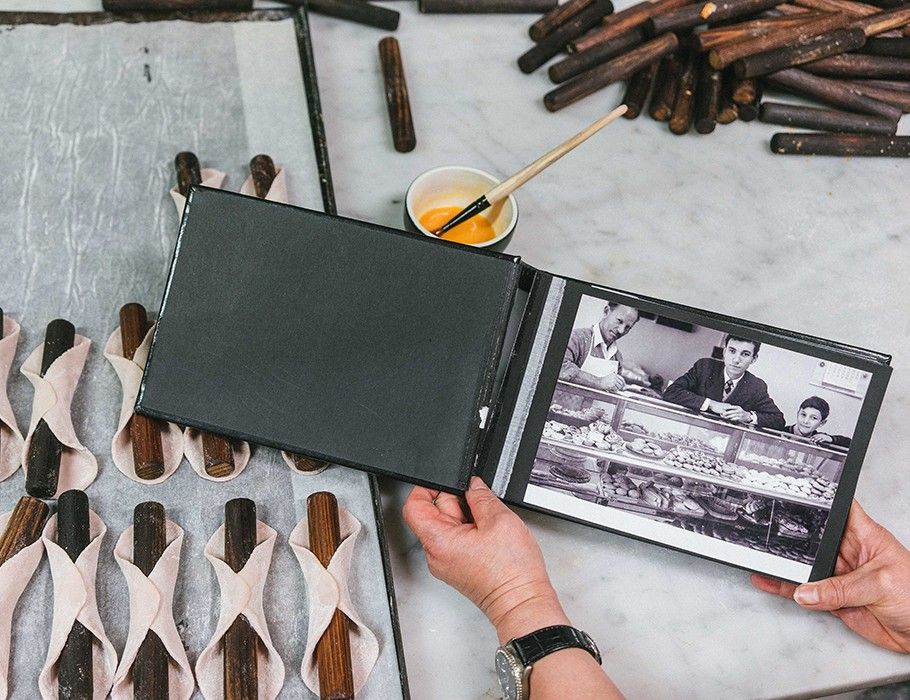 Since 2018, there's been a new wave of cannoli shops across Melbourne, including Eat Cannoli in Preston, Cannoleria by That's Amore and Cannoli Bar in Avondale Heights. Each has moved beyond classic ricotta cannoli, transitioning into new territory with flavours ranging from Bounty to apple pie.
Carlo Mellini from Cannoli Bar arrived in Melbourne when he was 10 years old. Before that, his Sicilian family lived in Rome and ran the family cake shop. When they arrived in Australia, Carlo's dad worked at Grossi Florentino, Gradi Group and Brunetti's before Carlo, at that point a draftsman on his way to becoming and architect, had another idea.
"I decided to follow the family tradition," he says. "Dad said I was crazy, because people wanted more variety, and I said, 'alright, let's do different varieties.'"
In 2018, the family opened Cannoli Bar in an old Avondale Heights milk bar. Since opening two years ago, Carlo estimates they've created 30 different flavours of cannoli.
"My dad's been doing it since he was 13 years old, so for him it's really about his art and experience. All I did was put it in the context of modernising the art. We do something different that accommodates everybody, but when it comes to our classico flavour, ricotta, we're as traditional as going back to my grandfather's recipe," says Carlo.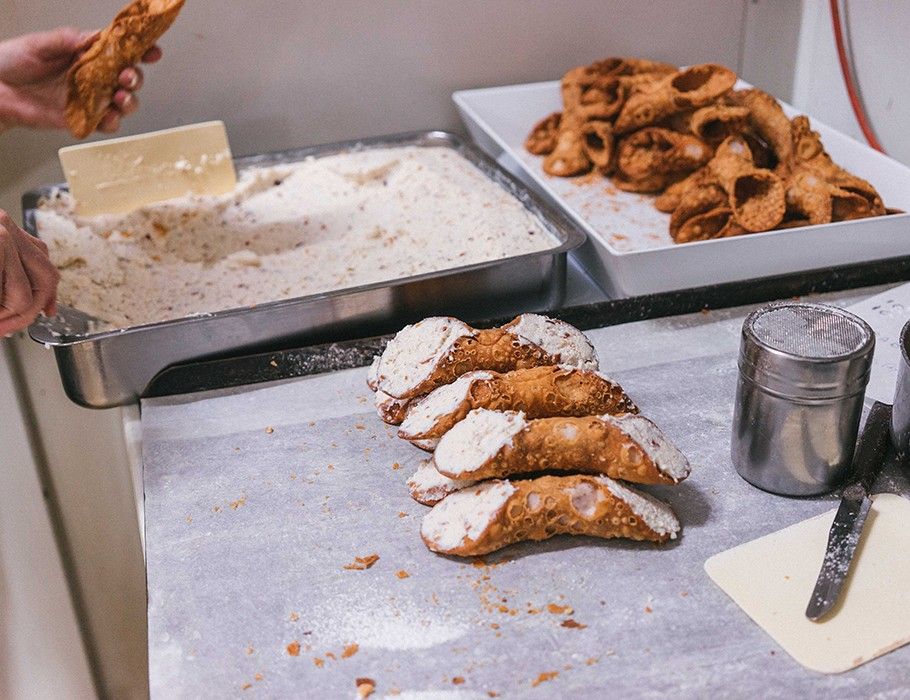 Tony, who is older than Carlo's dad, also uses his grandfather's cannolo recipe, which dates back to the late 1880s. He insists that ordering anything other than a ricotta cannolo is like asking for a soy mochaccino at Melbourne institution, Pellegrini's.
When visiting touristy Taormina on Sicily's east coast, Tony has been somewhat disappointed by the pre-piped, lacklustre cannoli. But in his father's hometown of Lipari is L'Officina del Cannolo.
"They are really good," gushes Tony. "They have goat's milk ricotta from the island of Vulcano, which is visually stunning but stinks like crap because it has very high sulphur content. That ricotta is really different from anything I've ever tasted. It's more acidic; it's very different to cows milk."
In Footscray, Tony is tight-lipped about what makes his cannoli so good, though he reveals that his family uses a blend of two ricottas, one for texture and the other for flavour. According to Tony, a good cannolo shouldn't be dry, but also shouldn't feel like biting into a piece of ricotta. Instead, the filling should be smooth and creamy ("not whipped like a lot of people would lead you to believe"), and the shell bubbly, crunchy and light. Most importantly, they should be filled-to-order and eaten within the hour.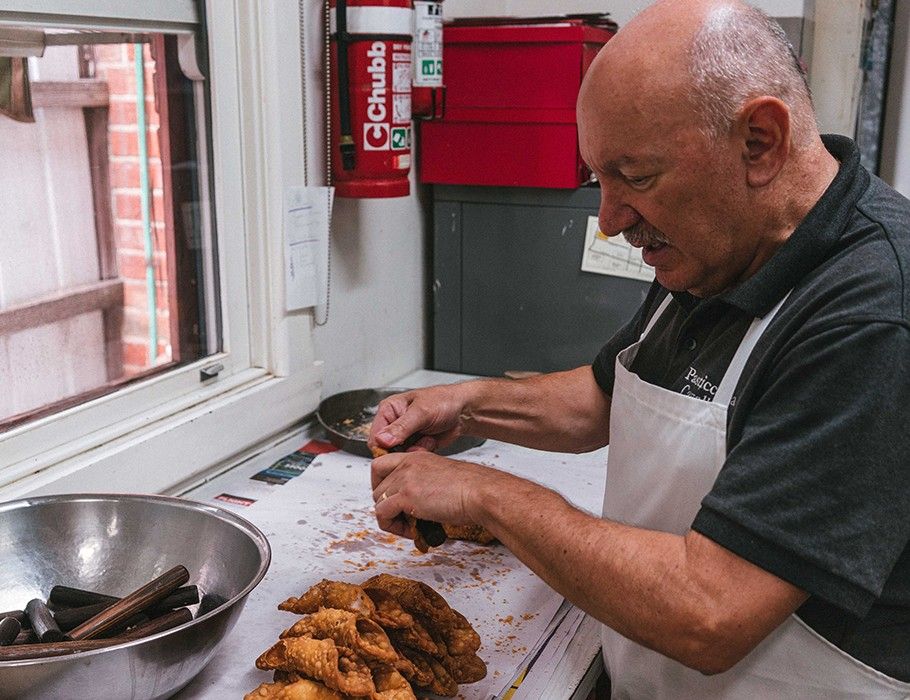 When T. Cavallaro opened in 1956, Tony estimates that 95 per cent of customers were Italian. As the suburb of Footscray has morphed from mostly European, to mostly Asian, to a little Ethiopian and now is en route to gentrification, the business has remained unchanged. Today, only 60 per cent of Tony's customers are Italian, but 100 per cent don't want new-age flavours.
"When you're a business like us, and you've got your clientele, and people know what they're getting, you've got to focus on what you do. That's my modus operandi," says Tony. "The people that come to us are the kind of people who don't want that kind of stuff, they want ours."
When Sicilians like Tony visit Cannoli Bar, Carlo doesn't bother to ask if they'd like the cheesecake, lemon meringue or chocolate-covered, pistachio-studded cannoli.
"There is no thing other than a ricotta cannoli. If someone Italian walks in and asks for vanilla or chocolate custard, they're not Sicilian," he says.
Cannoli Bar's flavours change with the seasons, annual occasions like Valentine's Day and Easter, and "what's fun or trending." Carlo admits they've copped criticism for steering away from tradition, even offering vegan and gluten free options. I'm curious to know how his father feels about what most Sicilians would consider outrageous flavours.
"He's a traditionalist, but he embraces change, but at the end of the day it was me who told him to put on more varieties. If it were up to him he would have said just two flavours of cannoli is not enough," says Carlo. "Sometimes it's a bit of a war in the kitchen because mum and dad think of traditional stuff and I think of what I believe people will like, but lately we involve our staff members and customers."
Even so, Carlo estimates that 80 per cent of the products sold at Cannoli Bar are traditional flavours. Given the figures, perhaps Cannoli Bar could have been successful simply sticking to tradition.
"If I'm not Italian and I'm just into desserts, I'm not going to travel to Avondale Heights for a cannoli, but I'm going to travel to Avondale Heights for a cannoli if there's a Ferrero Rocher cannoli, because I love Ferrero Rocher," says Carlo. "I feel like a lot of people have just been appealing to the Italian crowd and what we've done is unite the crowd."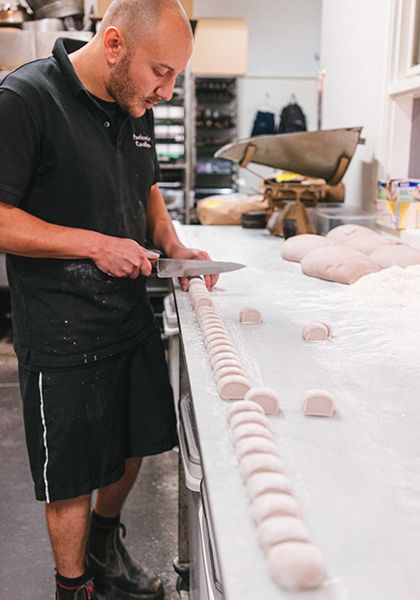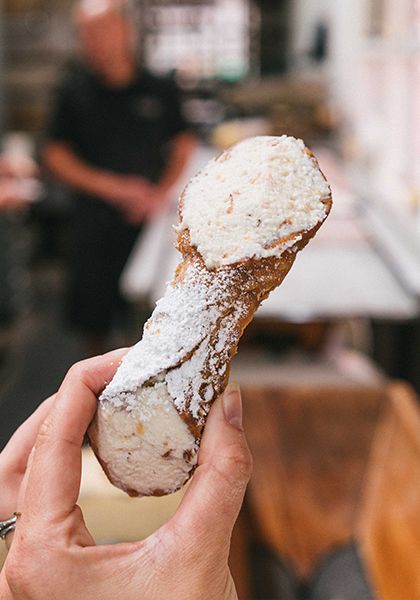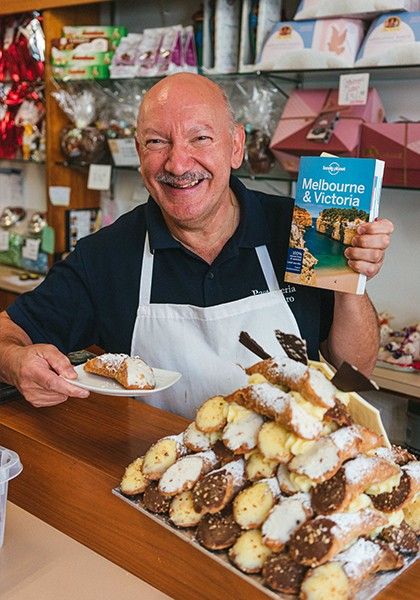 Customers can rely on Cannoli Bar for innovative flavours as much as they can rely on a taste of tradition at T. Cavallaro and Sons.
"There are a lot of place popping up now," says Tony. "Cannoli are not a trend for us because that's been our trade for the last 65 years, even longer before that in Italy. I know that our cannoli have stood the test of time. Pistachio cannoli or tiramisu cannoli or whatever – whether they're going to last the test of time, I couldn't tell you."
The classic ricotta cannoli we eat today can be traced back to the Arab rule of Sicily (829 to 1086). Supposedly, Islamic concubines living in Caltanissetta ­– then called Kalt En Nissa in Arabic or Castle of Women – cooked desserts to please the emir. They were the first to sweeten and flavour ricotta with ingredients from the east: sugar, almonds, honey and cinnamon. Once upon a time, perhaps Sicilians questioned the sweetened ricotta cannoli the same way they do Carlo's Ferrero Rocher version today.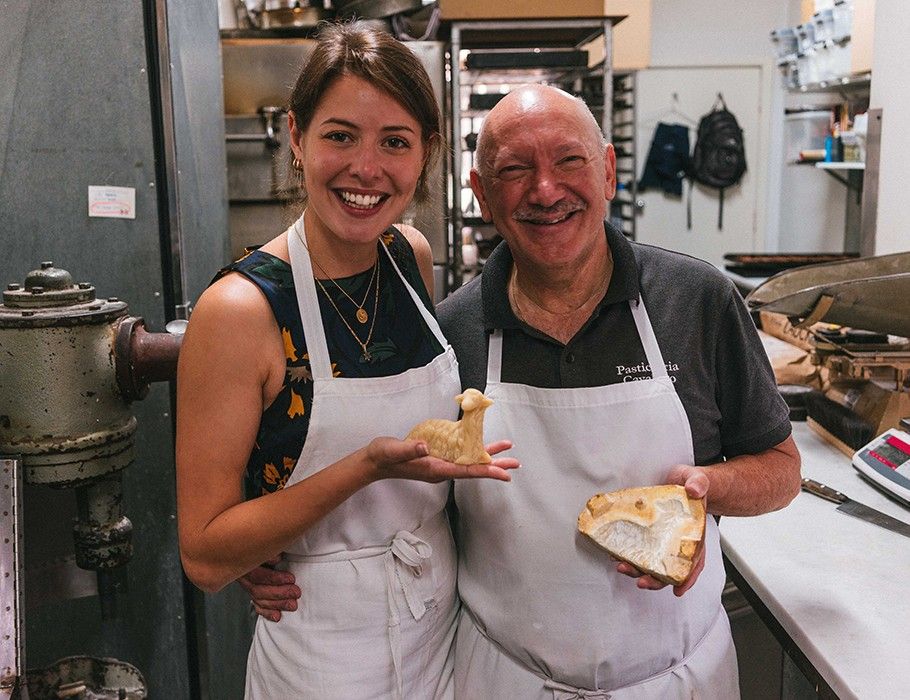 Details:
T. Cavallaro & Sons, 98 Hopkins Street, Footscray, Melbourne, 03 9687 4638
Cannoli Bar, 23 Riviera Road, Avondale Heights, Melbourne, 03 9337 7049
Around the World in 80 Lesser-Known Melbourne Restaurants
FREE food guide when you subscribe.