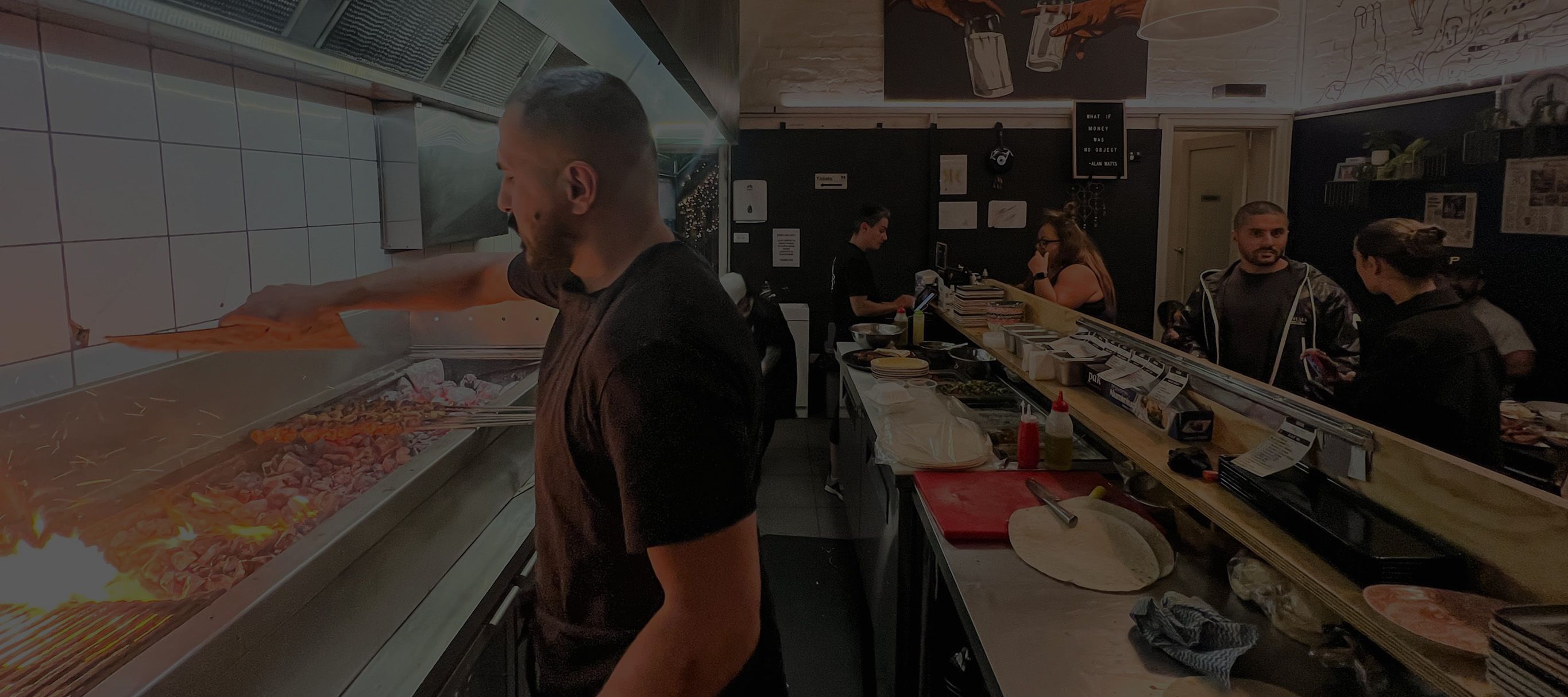 Kömür
Ascot Vale
Kömür grills Melbourne's best Adana Kebabs. Now the whole world knows.
Words & images by Sofia Levin
One day you're barbecuing adana for locals in your father's legacy, the next YouTuber Mark Wiens tells 10 million people, "Kömür was one of the best meals and best restaurants I ate at in Melbourne."
I've never seen one man receive as many dinner invitations as Mark Wiens. At nearly 10 million YouTube subscribers, he's one of the most famous food vloggers in the world. So you can imagine the surprise on locals' faces when he walks into Kömür, a Turkish barbecue shop with no more than 20 seats.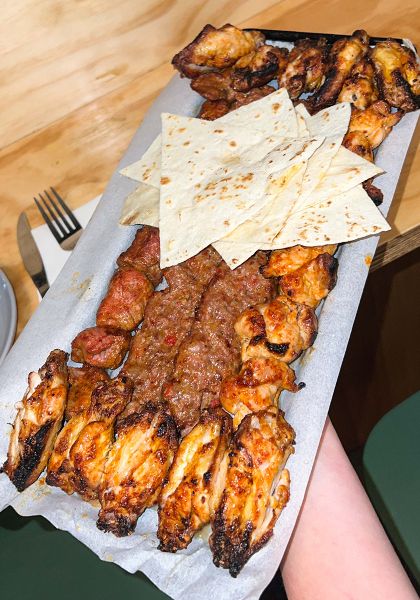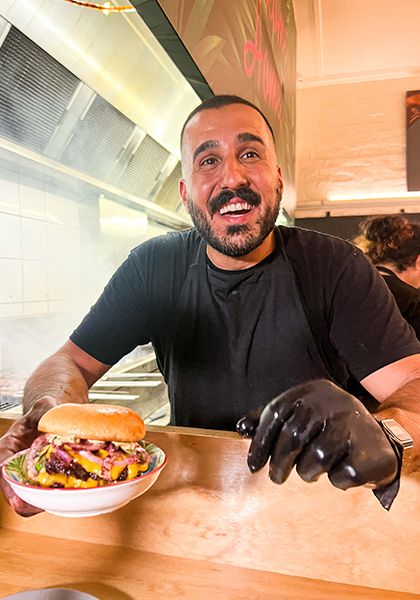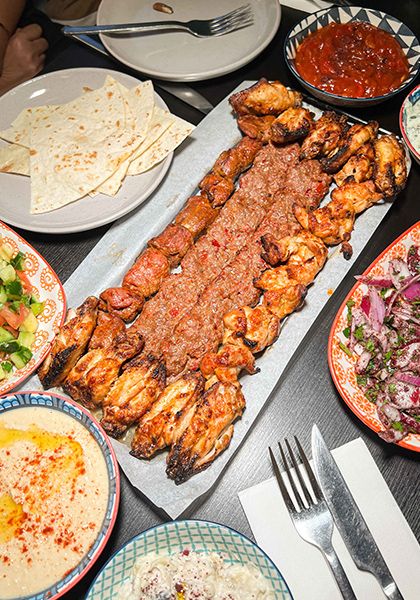 Kömür (it translates to charcoal in Turkish) is in the unassuming suburb of Ascot Vale, across the road from a gargantuan commercial liquor store and surrounded by horse racing clubs and a tollway. It's only about six kilometres from Melbourne CBD, but hit peak hour traffic and you'll be driving for 40 minutes.
When Mark and I first started chatting, he sent me a list he'd researched of Melbourne restaurants, cafes and bars. He was eager to eat an adana kebab (ground lamb) at Katik Turkish Takeaway in Campbellfield, an hour north of the city in traffic. It would have meant cutting out another venue to fit it in, and we only had a day. Besides, I told him, Sabah Ukur, the original powerhouse behind Katik, retired years ago. He passed his adana recipe on to his son, Emir. And Emir just so happens to make the best adana in Melbourne at Kömür.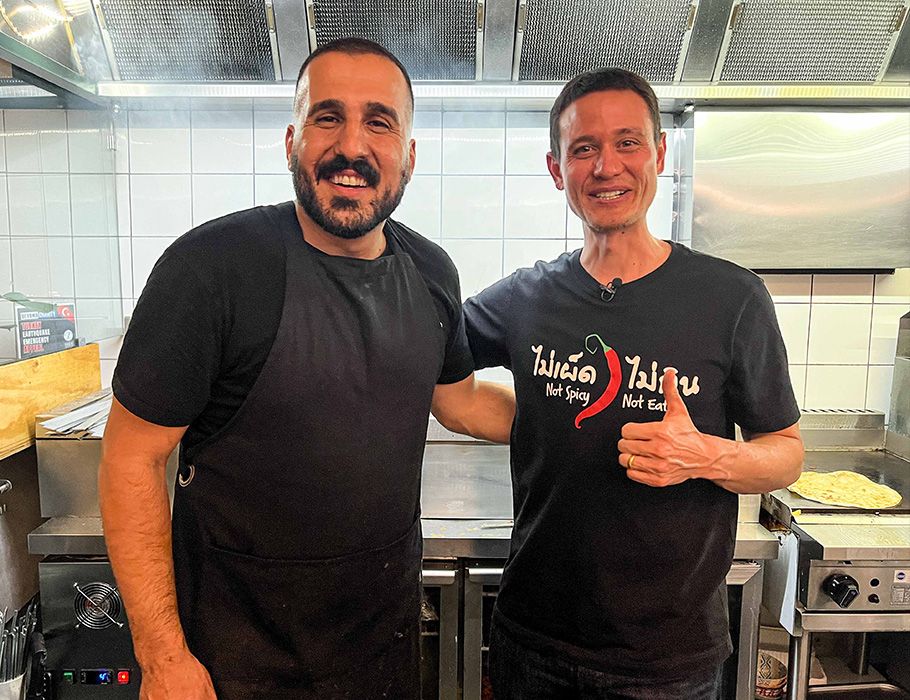 "You can get adana anywhere, but what's important is the actual barbecue itself: the heat, how you cook it, how you squeeze it. I've been doing it for so long, I can just touch the meat and I know how it's going to turn out for the day," says Emir. "It's hard to explain, I'm just in the zone."
We smell the meat juices spluttering and evaporating on hot coals before opening the door. It's like you see in old cartoons; a seductive smoke arm curling vaporous fingers around your nostrils and dragging you towards the source. Emir has started to load up the barbecue before the Sunday night rush.
"Sit down, sit down. I'll be with you in a minute," Emir gestures to two tables pulled together in the window. Later, he tells me he was nervous.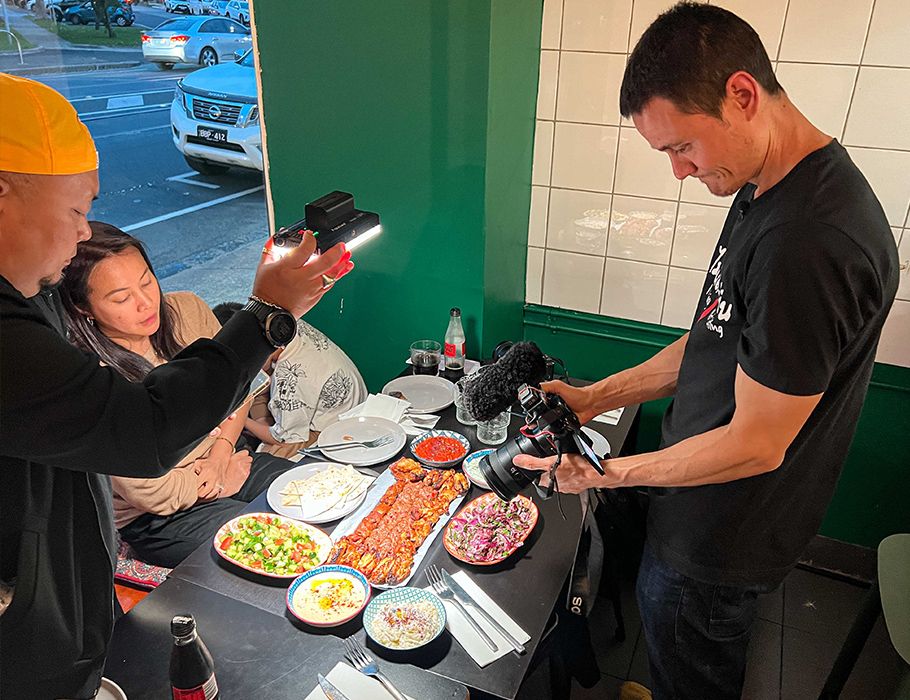 "I knew (Mark) was popular, but I've never really been around anyone that popular before, so it was definitely an eye-opener," he says over the phone. "I was nervous at first, but I found him to be a very, very nice guy. Why else would you be doing that job?"
The same can be said of Emir's dad, Sabah. He arrived in Melbourne in 1983 and worked at the Ford paint shop before opening Katik a couple of year later. Emir would initially load wood into the oven as a young boy and then worked Saturdays in the shop as a 12-year-old. He was full time by age 19. Sabah is renowned in Melbourne's Turkish community, so much so that Emir's childhood memories consist of cooking 300 skewers for up to 90 guests during casual, mid-week barbecues in their garden.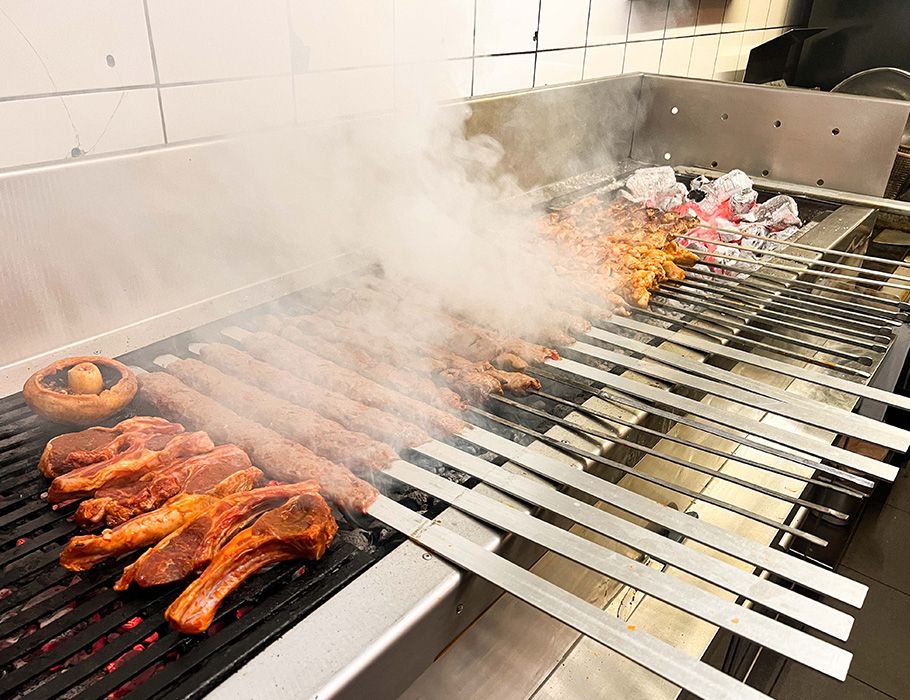 "My dad loved putting on a show. He would have bottles of alcohol flying around everywhere… he still does it today when he has the energy, even though he's almost 70," says Emir. "My experience didn't just come from his shop; it came from growing up in that family home. My goal with Kömür was to bring that atmosphere into the shop."
After Sabah retired, and with encouragement from Emir's partner in life and business, Funda Yildiz, Kömür opened in July 2019. They had been searching for the right spot for two years and were juggling a mortgage, their first baby also on the way.
"When I first leased the business, I took dad in and he said, 'It's too small, I don't like it.' Now he sits back and says, 'I'm so proud of you for what you've achieved.' I actually cried when he first said it, because my father is a hard-headed old Turkish man," says Emir.
Kömür opened eight months before COVID forced restaurants to close, but there was a silver lining: the five-kilometre travel rule meant that instead of Emir's usual Turkish customers from the outer north-western suburbs, Ascot Vale locals came to try his food. And they kept coming back.
These same locals now approach Mark for a handshake as he dusts sumac onto chunks of liver and lamb tail fat, scooping up raw purple onion and depositing the package into his mouth. They provide unprompted restaurant recommendations as he bites into a forkful of juicy adana, leaning back before exclaiming his signature, "Oh-ho-ho-ho, wowww". Multiple people invite him to their homes for a meal, chuffed that their local now has the international Mark Wiens' stamp of approval.
"There's a saying in Turkish: eventually the apprentice passes the master," says Emir. "I still say no one can make adana like my father. I've taken what he's taught me and grown off his shoulders… It makes me the happiest person in the world."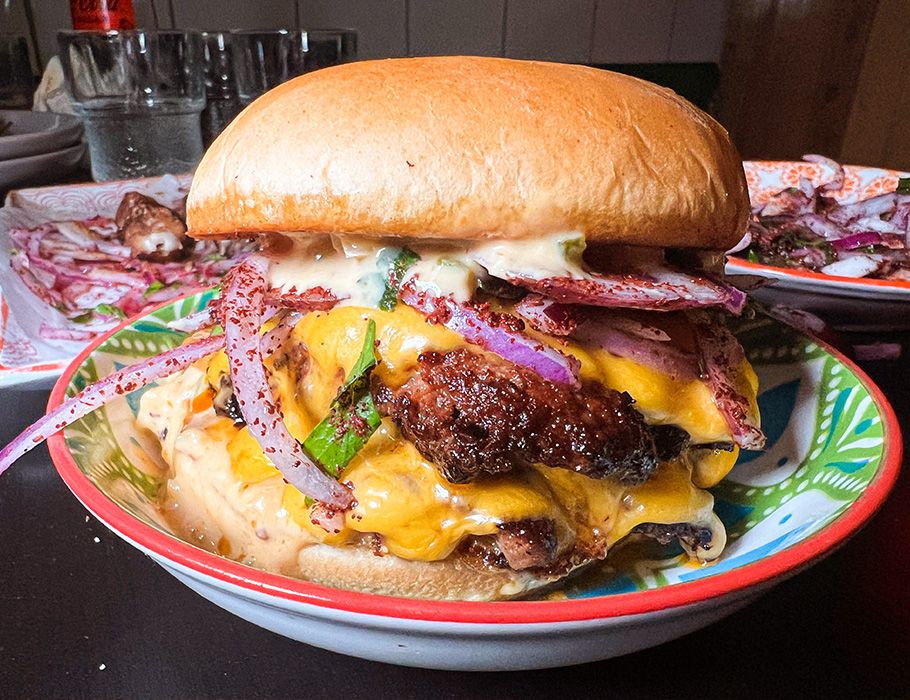 Emir had never heard of Mark Wiens until last year. He was deep-diving into American food on YouTube and came across his Philly cheesesteak video. It was this same interest that propelled Emir to put a US-style smash burger on his menu in 2021: two coarse adana patties, cheese, sumac onion salad and homemade burger sauce on a potato bun. He dubbed it the McKömür. It was an instant hit (only 35 to 50 are available on Wednesdays).
In the last six months, Mark has published YouTube videos on Japan, Taiwan, Vietnam, the Philippines, Georgia, Trinidad, Tabago and Saudi Arabia. At the time of writing, it's been three days since the 10-minute segment on Kömür went live at the end of a 50-minute video.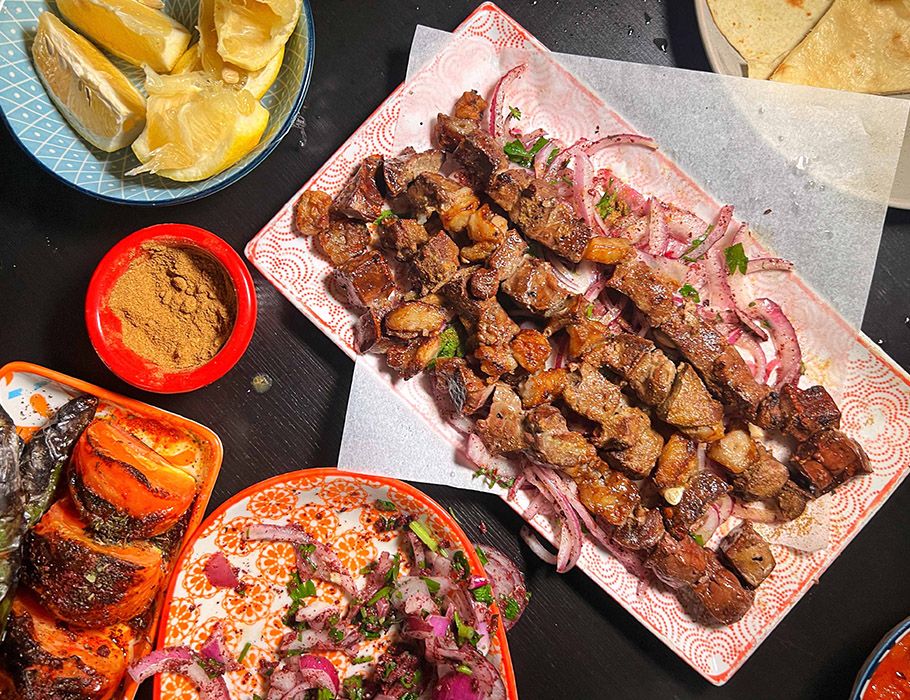 "I was almost full, but stepping in here, I've never been so excited to eat…" says Mark's recognisable American accent over b-roll of charred chicken wings and minced lamb flecked with red pepper, "literally everyone we've spoken with... everyone says this is the best Turkish food, the best kebabs in Melbourne, and you would not doubt them."
The effect of Mark's video was immediate. Kömür's Instagram following swelled and the venue went from mostly walk-ins, with the exception of a sprinkling of group bookings a day or two in advance, to taking reservations two weeks ahead.
"I'm a very simple guy," says Emir. "I thrive on genuinely loving what you do, because life goes by so quick. I chose this path and I said to myself, if no one comes, that's okay, but do your best. Eventually, someone's going to like it."
446 Mt Alexander Road, Ascot Vale, fb.com/komurmelbourne
Around the World in 80 Lesser-Known Melbourne Restaurants
FREE food guide when you subscribe.