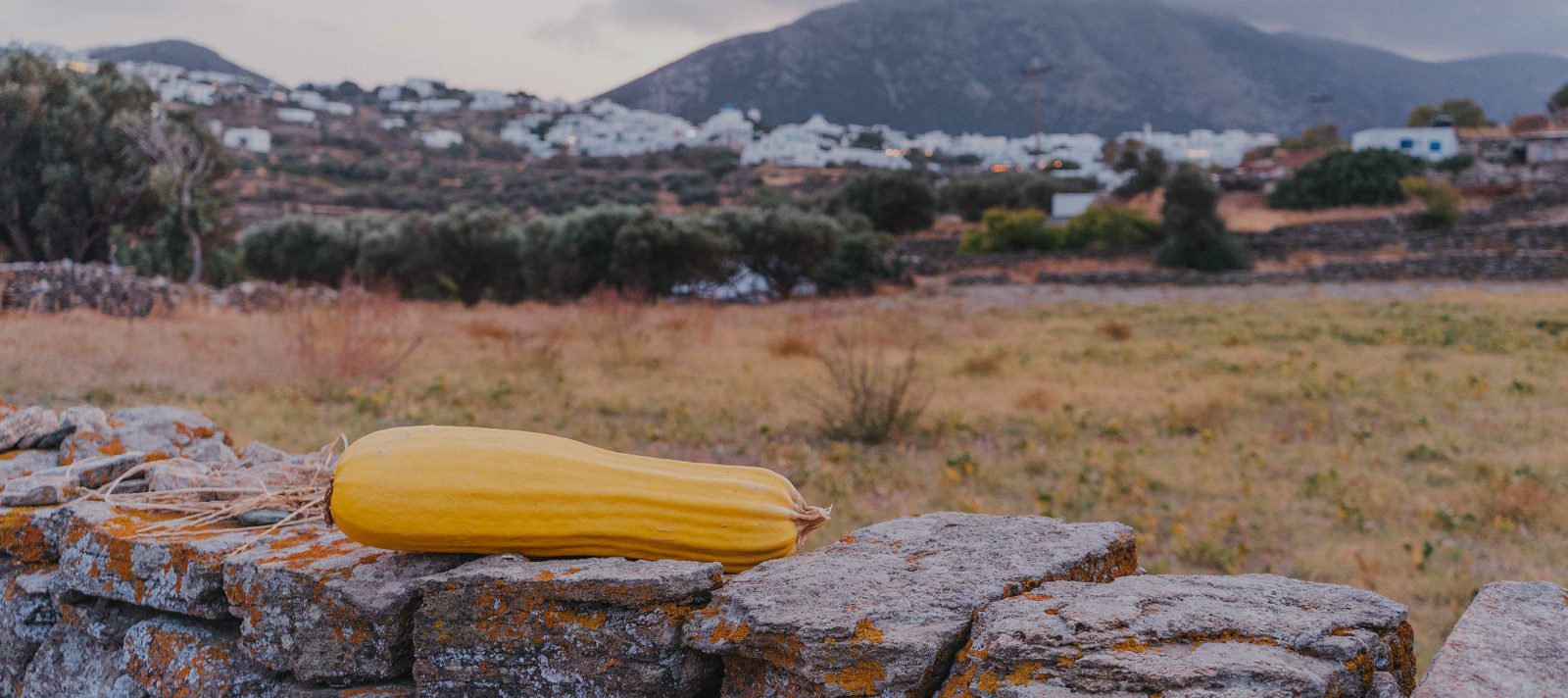 I left my heart on Sifnos Island
Gourmet Sifnos has Ruined every other Greek Island for me
Words & images by Sofia Levin
At just 15 by 7.5 kilometres, tiny Sifnos in the Cyclades is a blip on most people's radars compared to Santorini and Mykonos. It's also home to the best food in the Greek Islands.
Idyllic Sifnos swells with craggy hills dotted with blue-domed churches and whitewashed villages, each moments away from a turquoise cove or seaside taverna. There are fewer than 3000 residents. George Narlis, born on Sifnos in the 1950s, is one of them.
George runs Narlis Farm, where he hosts cooking classes and grows watermelon, melons, okra, potatoes, beans, chickpeas and more without a drop of water. Over an afternoon I learn five traditional recipes in a small, subterranean room that used to be his pappous' house. The original oven and volcanic stone hand mill are still in use. As he cooks, George shares tips (grate unripe melon into yoghurt in place of cucumber to make tzitziki when the latter isn't seasonal), eventually pulling mastelo from the oven that releases the intoxicating scent of meat slow-cooked in wine with lots of dill.
During the demonstration I ask about revithia, a traditional Sifnian chickpea stew. Although fewer people attend church than they used to on Sifnos, revithia remains a Sunday dish, made so people don't need to worry about cooking the same day they go to mass. Baked in traditional earthenware called skepastaria, revithia is intertwined with the island's reputation for pottery, which dates back to 3000 BC.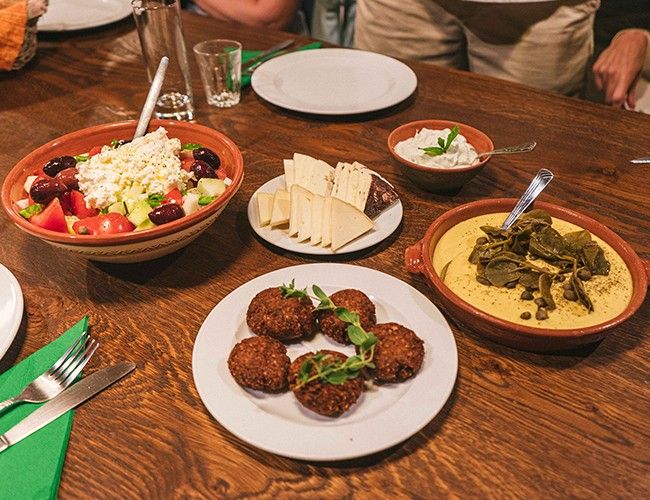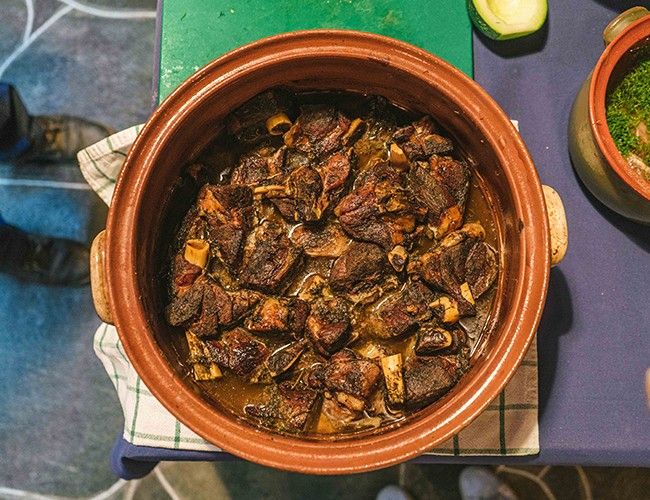 According to George, there used to be upwards of 50 pottery workshops on the island, but following the Second World War that dropped to two. Now there are around 15 workshops, thanks to interest from international buyers and visitors, including one on Narlis Farm where you can try your hand at Sifnos' famous ceramics. Local pottery is still made with Sifnian clay, and revithia doesn't taste the same unless you bake it in a wood-fired stone oven in a skepastaria, a bulbous ceramic pot that holds revithia.
When the cooking demonstrations finish, we gathered around the table and sigh at our first bites of melopita, a ricotta honey pie with a biscuit base that's all the best parts of cheesecake and custard combined. As we eat, George explains that every village in Sifnos has a communal oven, tilting his head to the one at the end of the table. Every Saturday between 5pm and 8pm, locals drop off pots of revithia to be cooked in it. My eyes must light up, because George invites me back the following day to see it.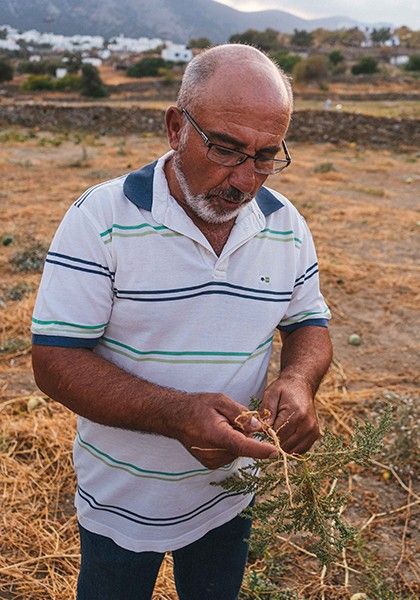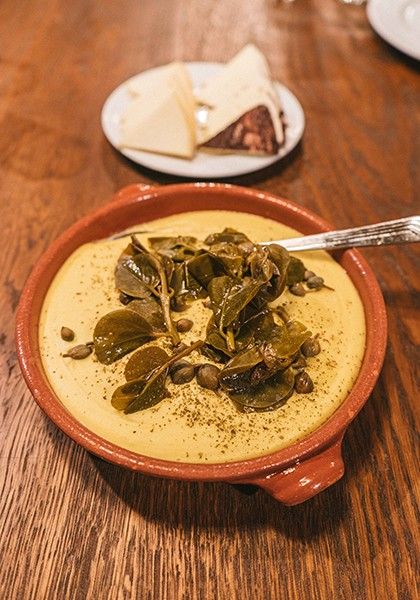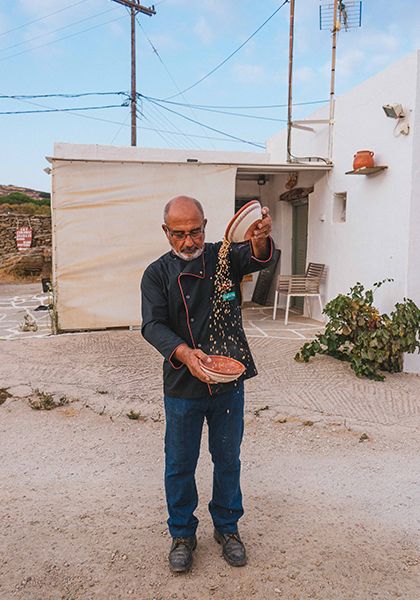 The next morning I decide to work up my appetite. I lose count of how many steps there are up to Agios Andreas, the ancient Mycean Citadel (at the top, I realise I could have driven there). I visit the Chrisopigi Monastery that juts out into the ocean and join locals in my birthday suit, sunbaking on the flat rocks around the bend. I stop in at the island's only coffee roaster behind Apokofto Beach and eat seafood in the sand at a tiny taverna called Symposio on Vathi Beach. When I check my watch for the first time that day, I still have a few hours to burn before 5pm back at Narlis Farm. I decide to visit to George's son, Alexandros.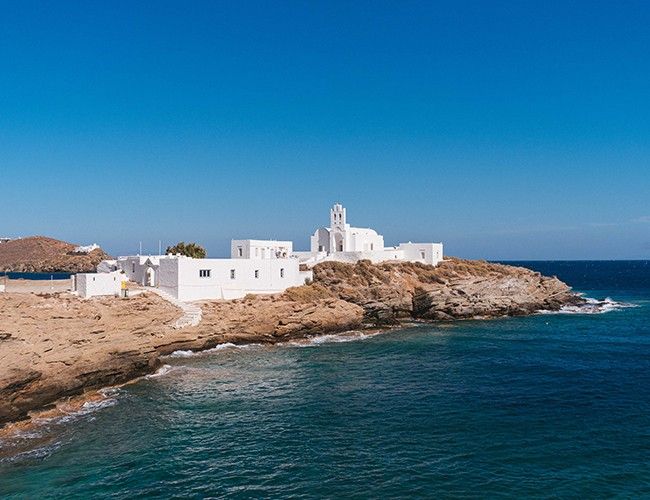 In 2014, 27 years after George first opened Narlis restaurant in popular Platious Giats, his son rebranded it NUS. Prior to that Alexandros was a chef in London. After saving up to eat dinner at Skye Gernell's Spring restaurant, he wrote three pages of notes during his meal and then applied for a job. It was at Spring that Alexandros honed his appreciation for produce, which carries through to his dishes at NUS. The name translates to mindfulness and references his experience learning to make bread in Skye's basement. Alexandros' food takes his experience in top European kitchens and applies them to his family's traditional recipes. The only exception, he tells me, is revithia. That should never change.
I sit at the terrace table closest to the beach, watching passers by who watch me as dishes emerge: caramelised okra, figs wrapped in pancetta with wild sage, a charred octopus tentacle beside a pile of perfect lentils in chamomile vinegar and wild goat on barley risotto scattered with crystallised preserved lemon, parsley and a greenish-yellow film of olive oil. The food is perfect, altering traditional recipes enough to excite a new generation, without losing that all-important sense of place, family and identity. I ask Alexanros what his father makes of it all.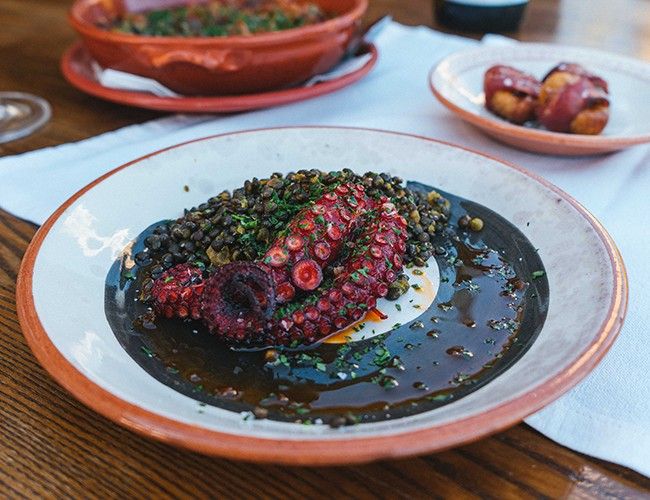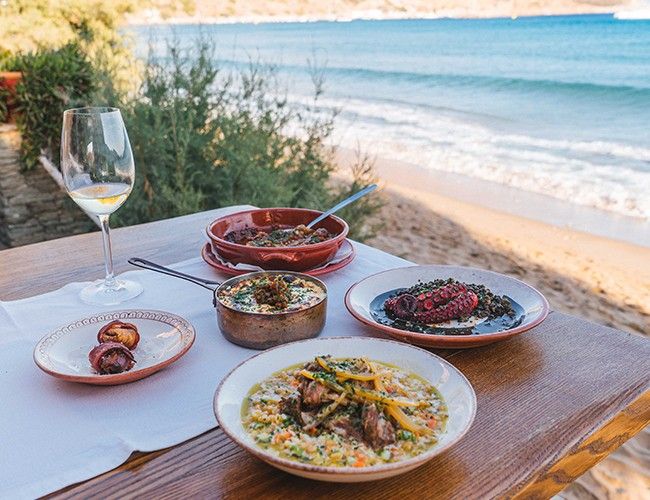 "Some things my father will never understand. When I first explained to him what I'm doing, I said, 'father, I don't ask you so you tell me yes or no, I tell you so you say I love you son, I respect you and I'll support you no matter what' – and he does," he said. "But you know, when he comes to eat here, he's always asking, 'How do you do that?' How do you do this?'"
Between father and son, Alexandros and George cater for all who visit Sifnos. Both are living examples of how food can evolve across generations without losing touch with where their roots. But as more people discover the island, change is inevitable. At the time of writing, there is talk of building an airport (currently the only way to get here is by ferry). Alexandros doesn't want that, despite having two months of work during peak season but paying rent and tax the whole year.
"Some years you might just break even, but we don't want many more people coming here, or to build an airport to make it easier to come here – we just want the people to come who respect the island."
I thank Alexandros and promise to return – something I find myself doing a lot here. Narlis Farm is a 15-minute drive north from Platis Gialos, zigzagging up and around the hills that overlook Chrisopigi Monestary, along the main road that undulates past olive trees whose leaves shimmer silver as the wind reveals their undersides. I pass clusters of white houses through Apollonia, veering right towards Kastro and onto Narlis Farm. Half a dozen skepastaria are already on the wooden table where we ate less than 12 hours ago.
Dina, George's wife, serves raki, fried chickpea balls and manoura cheese matured with sediment from red wine barrels, while people let themselves in with cries of "kalispera" and "yassou" and add their skepastaria to the collection. George places olive wood on the fire, waiting for it to turn white and the thermometer to read 450°C. Then he inspects the pots, blackened from use, and grimaces. Dina peers over as he lifts the lids. Greek chatter ensues, as well as headshakes – someone has added tomato to their revithia, which is apparently akin to blasphemy. George lifts the lid of another pot and adds water.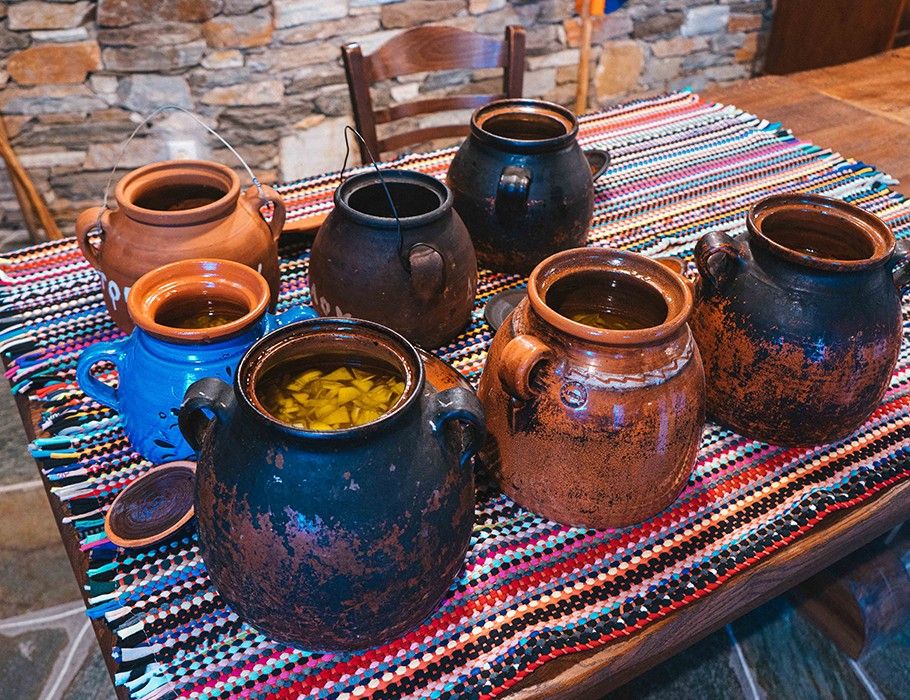 "Every week I tell him it needs water," he says of the pots owner, "and he says no water, and then when he leaves, I put water. The next day he opens the lid and he says, 'See, no water!' And I now I put in every time!" George shrugs and flashes a cheeky smile.
Around 8pm he starts loading the skepastaria into his grandfather's oven with the help of a friend who's arrived for a drink. George pushes the pots into the oven with a long stick blackened from use. Sometimes there are up to two dozen cooking at once. They stay in the oven until 10am the next day, with pick up after church before 1pm. George closes the stone lid of the oven, places another stone in front to hold the door shut, and seals the edges with damp maroon cloths. In an hour the temperature will drop to 250°C. By morning it will hover around 110°C. For now, George slumps in his seat and turns to me as he lights a thin Mehari's cigar.
"I don't smoke much, only four to five cigars every day," he says.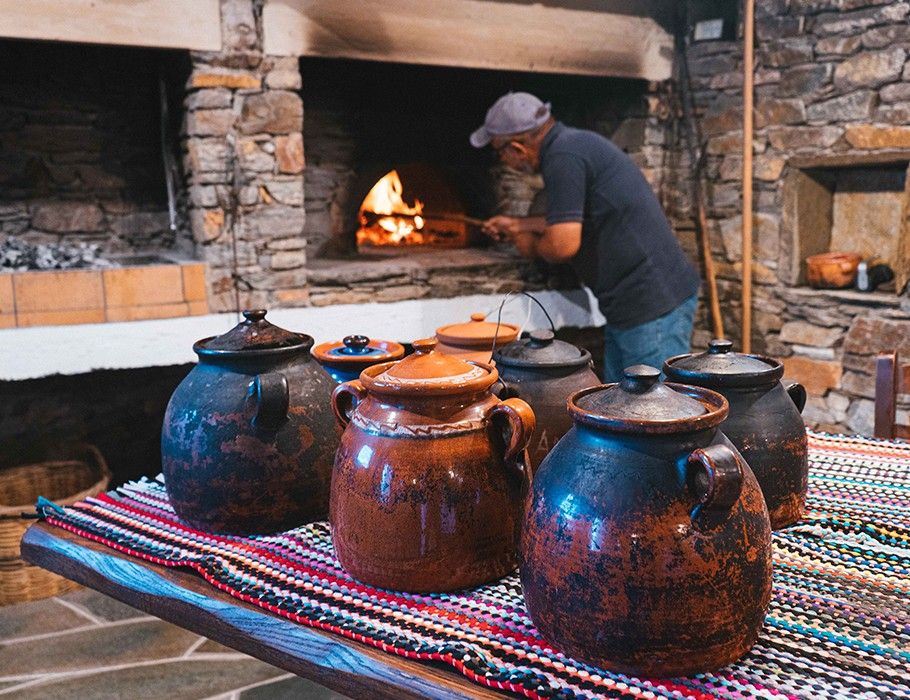 George tells me how different the island used to be, explaining that prior to 1995, the only ingredients imported to Sifnos were sugar and rice, while Sifnos exported its much-lauded cheese and olive oil.
"Thirty years ago the island grew 100,000 kilograms of potatoes a year, and now maybe 4000 kilograms a year. Now I go to the market and the potatoes are from France, Cyprus. For me this is the Greek crisis: nothing grown, everything imported," says George.
He offered to grow organic produce for people on the island, assuring them there would be enough for every restaurant over summer, but it was cheaper to buy it in from Athens. With produce more readily available from elsewhere, Narlis Farm started to struggle. One year, after wild goats and sheep destroyed the crop, George lost everything. He began to regrow crops without water, saving on both labour and water. George realised that the more he watered his plants, the more they relied on introduced moisture to grow, and vice versa.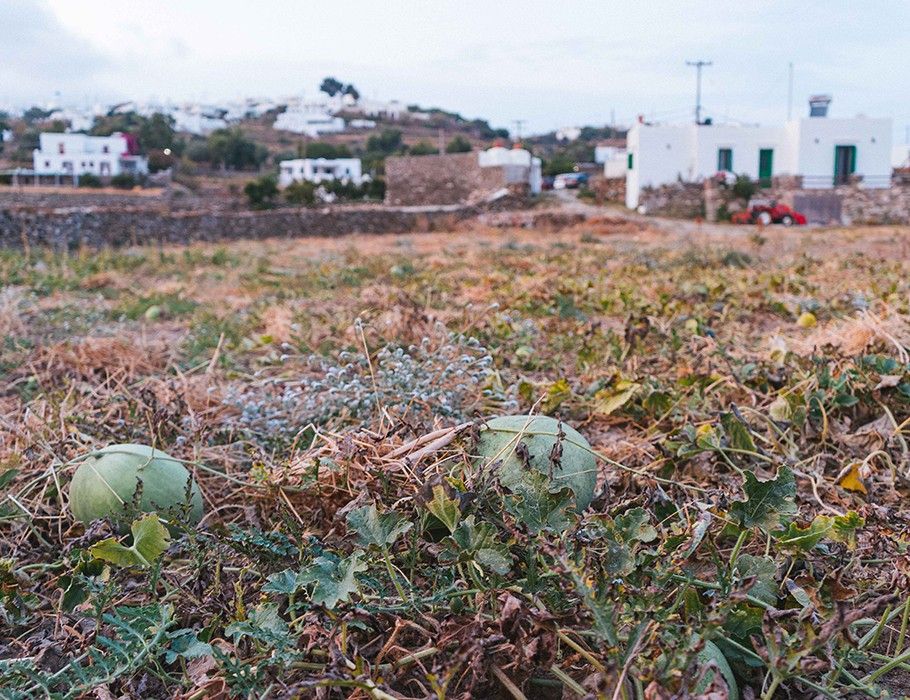 "When you give more, you lose something, and we lost the taste," says George. "I say to my wife, I am rich because I have the recipes."
As his crops regrew without water, they started to taste like distilled versions of themselves. In 2014, he introduced summer cooking classes. During the first summer he gave 10 lessons. Now he runs two lessons a day, morning and evening between March and October.
"By the end of September I cannot speak. I'm speaking 10 hours every day. I go to Athens and stop speaking," says George, though I find it hard to believe. "My grandfather died 101. My grandmother died 99. My father died 95. My mother died 88. People on Sifnos live very good life, long life, but they work hard."
As we wrap up the evening, George asks if I'd like to return the following day to try revithia. On Sifnos island, where invitations to stay for a coffee, a drink, a little more food are handed out as eagerly as parking fines at home, I've quickly learned it's foolish to make plans.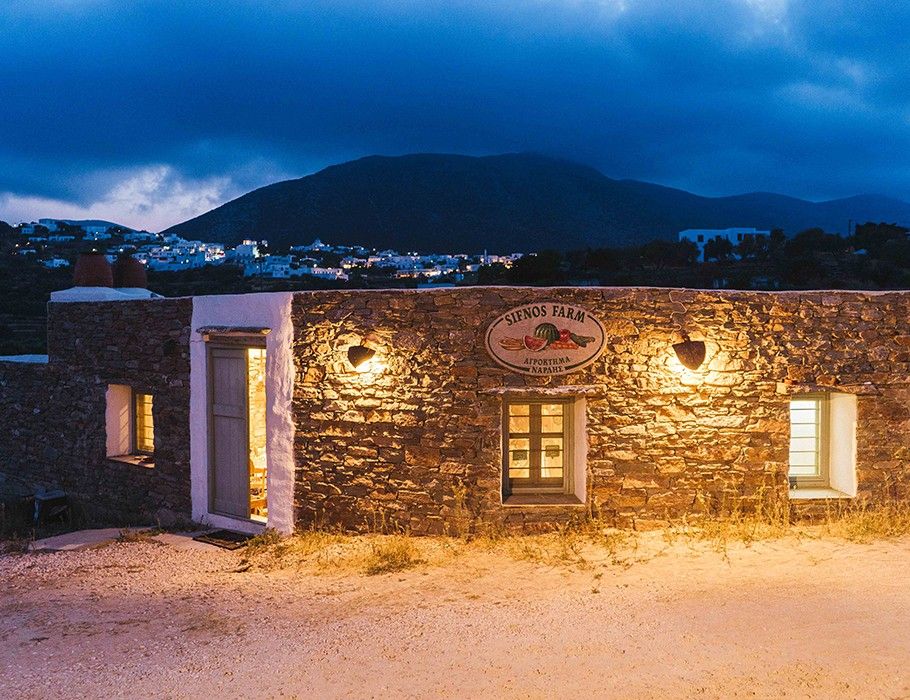 On Sunday morning I head out in search of traditional Sifnian pottery. I start with bougatsa and Greek coffee at a local patisserie called Gerontopoilos in Apollonia, which has been around since 1950, before driving to Cheronnisos. Giant wind turbines come into view over the hills, giving the coastal landscape a sense of otherworldliness and instilling a feeling of insignificance that arises when surrounded by beauty. Cheronnisos is stunning – a cove with a single church, white houses that creep up the hill, a couple of seafood tavernas on the water and Kostas Depastas' pottery workshop.
Kosta, who must be in his 80s, is one of the island's last original potters. He perhaps takes a little too much of a liking to me, inviting me to his humble home for a bitter concoction of stale bread soaked in water flavoured with dry sage. When I try to leave, he offers to buy me a seafood lunch. I do my best to explain that I'm on my way to eat revithia, and when he finally concedes and we part ways, he gives my right boob a "friendly" goodbye pinch, which does little to make me want to stay.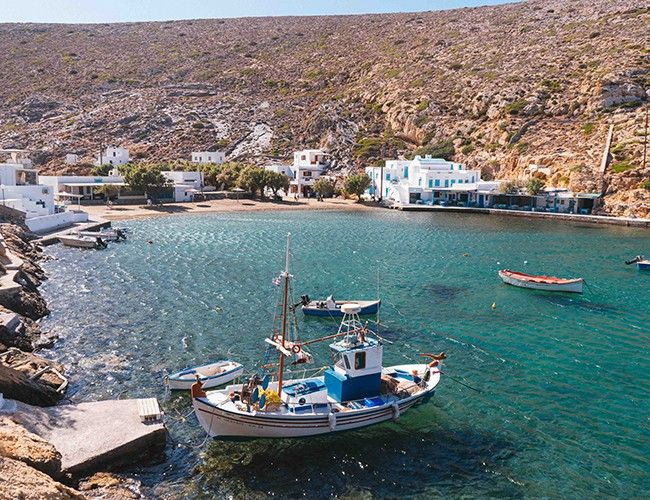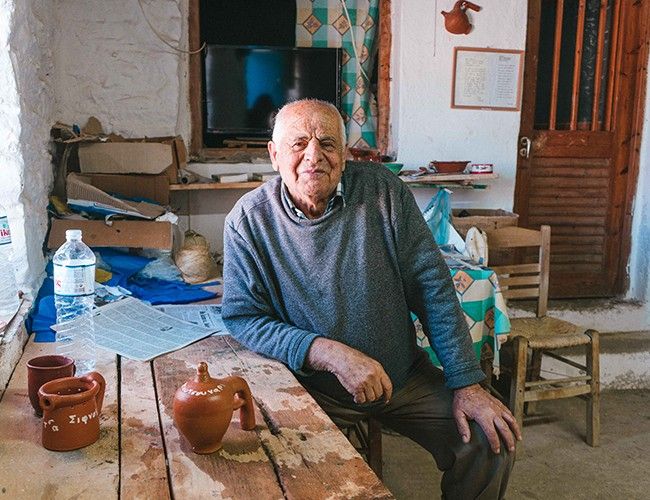 On my way back to Narlis Farm I stop in the pretty village of Artemonas, where blue windows and hot pink bougainvillea pop against white buildings and the air smells of cinnamon. I chance upon Patisserie Grigoris and buy some amigdalota almond cookies rolled in sugar to take to George and Dina. I also stop at Theodorou for disks of soft, honeyed nougat sandwiches by thin rice paper wafers called halvadopita to take home. Back in Australia, I'll wish I bought more.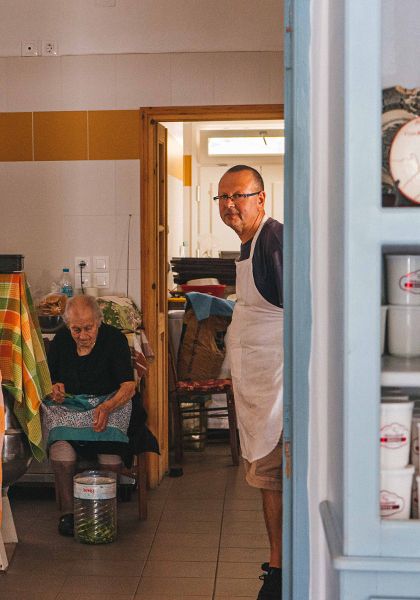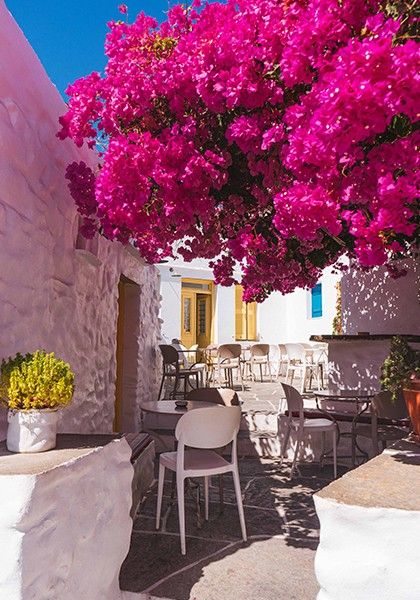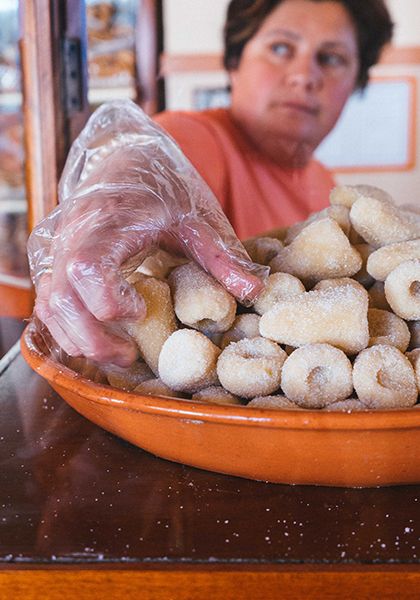 Pulling up a seat at George's wooden table for the third time in as many days feels like home. I'm surrounded by a dozen people twice my age, and each wants to know what I think of Sifnos, of their island's food. My glass is never empty and ceramic bowls of revithia are ladled straight from the pot resting on the lip of the oven. I'm instructed to squeeze lemon juice over the chickpeas, which have softened and mixed with the other ingredients to form an earthy, creamy puddle. It has the smokiness and depth of meat stock, despite no animal ingredients in sight. It tastes like tradition, one that's never been mine but where I can bask in the warm buzz of a language I don't understand, my belly as full as my heart.
"What time do you leave Sifnos tomorrow?" George asks. "You can come back, have breakfast?"
I apologetically tell him I won't have time before my ferry leaves, but promise once again to return to Sifnos – and always on a Sunday.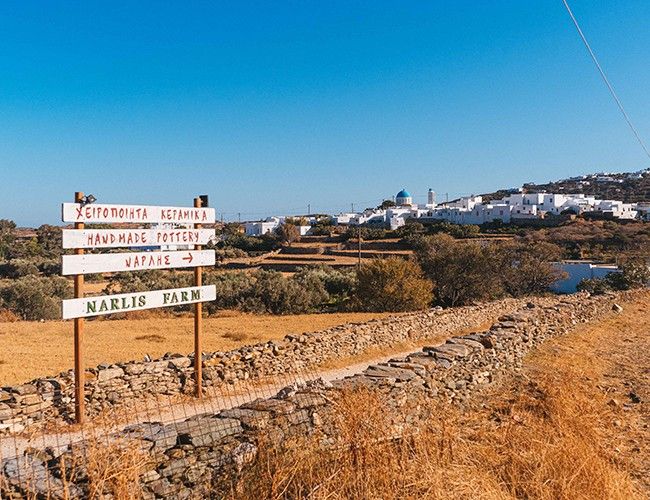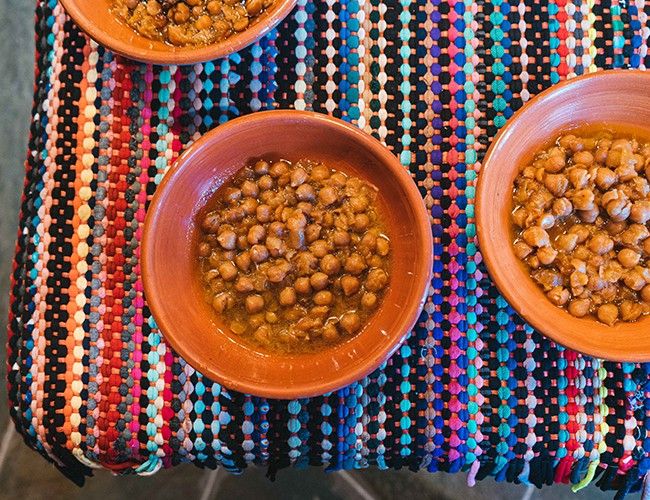 Around the World in 80 Lesser-Known Melbourne Restaurants
FREE food guide when you subscribe.