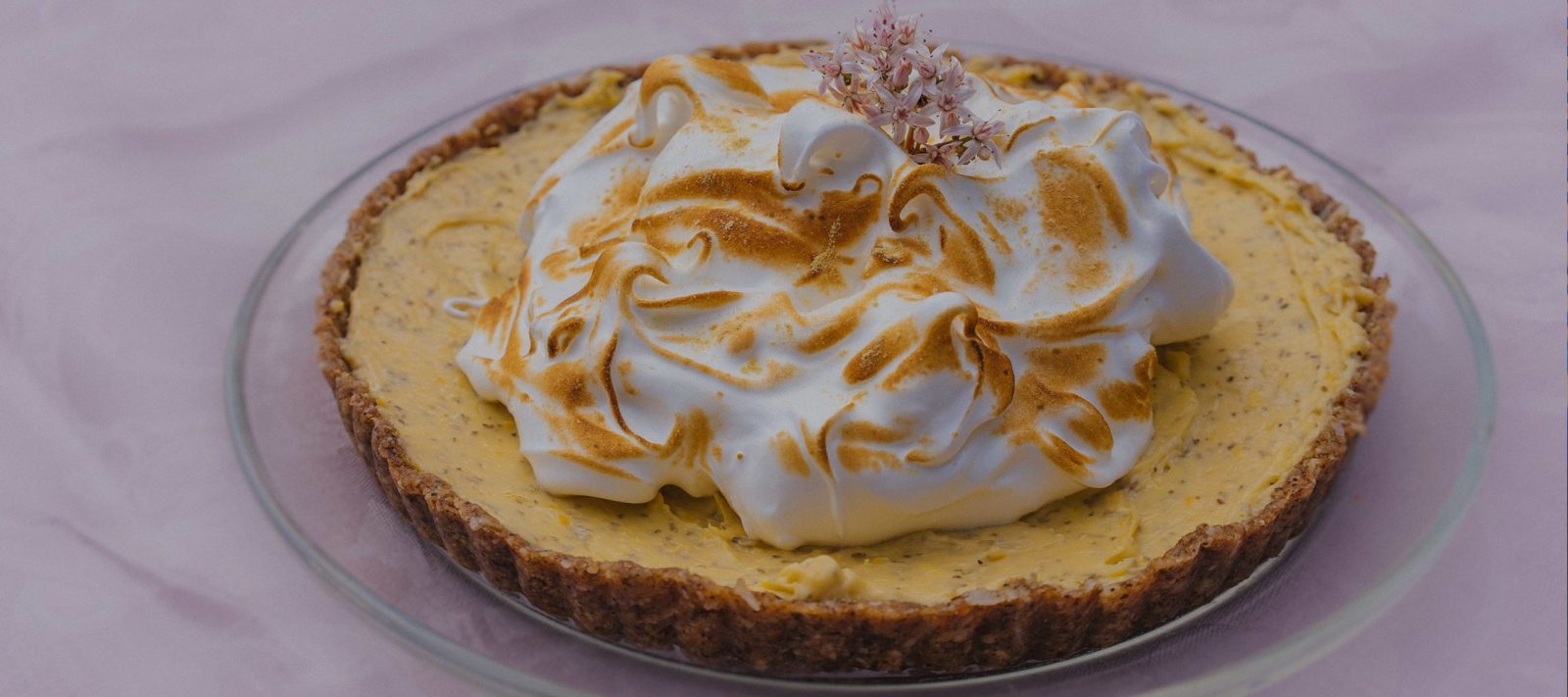 Recipe: Aussie Meringue Pie
RECIPE » Lemon Myrtle Meringue Pie with Wattleseed & Macadamia Nut Base
Words & images by Sofia Levin
Just a sprinkle of native ingredients gives this classic lemon meringue pie recipe a true-blue taste of Australia.
A little bit of a native Australian ingredient goes a very long way. Lemon myrtle has a slight eucalyptus or menthol flavour and is great wherever you use lemon (dressings, baking or on chicken and fish), while wattleseed smells straight up like biscuits; toasty and nutty with chocolate and coffee notes – perfect for baking or rubbing on red meat.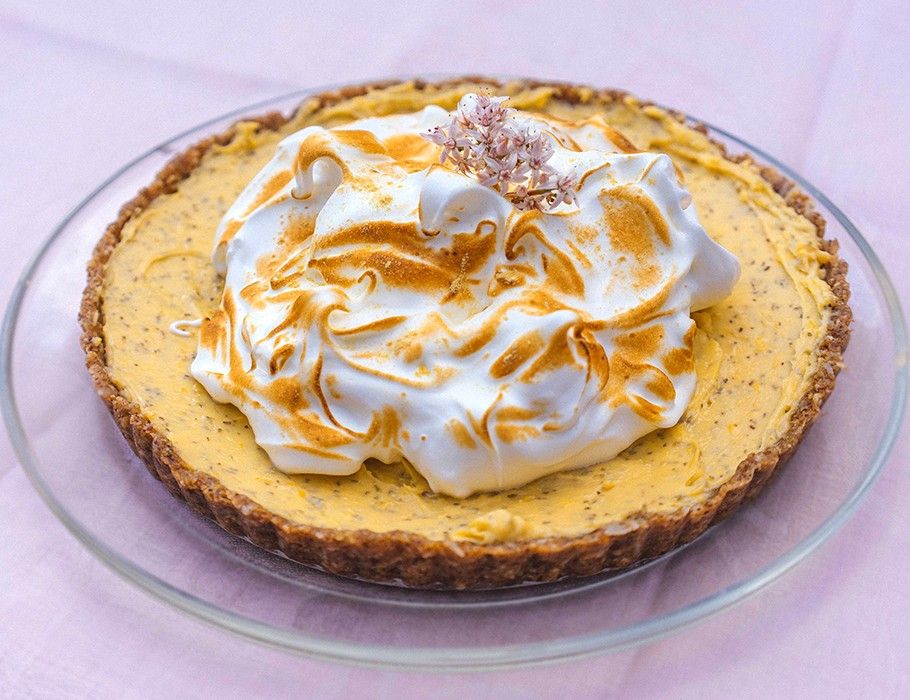 Lemon Myrtle Meringue Pie Recipe With Wattleseed & Macadamia Nut Base
Feeds 6-8
Ingredients to make the base
1/2 cup macadamia nuts
1/2 cup almonds (or other) nuts
1 cup shredded coconut
1 cup almond meal
6 moist dates (or soak 8 dry dates in hot water)
3 tsp wattleseed powder
1 tsp sea salt



The filling
2 tsp dried lemon myrtle
Zest from 2 lemons
Juice from 2 lemons (120-140mls)
100g caster sugar
2 tbsp cornflour
90g butter
3 yolks
1 egg
The meringue
5 room temperature egg whites
200g caster sugar
Garnish: lemon myrtle or kakadu plum powder
Method
1. Combine the macadamia nuts and almonds, 1/2 cup shredded coconut, dates and salt in a blender or NutriBullet and blend until smooth, like a thick paste.
2. Place mixture in a bowl and gradually knead in the remaining coconut, wattleseed powder and almond meal.
3. Grease a 20cm tart tin with a removable base and press the mixture in with your fingers. Cover and refrigerate.
4. To make the curd, add 100g caster sugar, lemon zest and lemon juice to a pot. Cook over low heat, stirring constantly until the sugar melts. Add 2 tbsp cornflour and whisk until smooth.
5. Remove from heat and whisk in butter, an egg and 3 egg yolks (save the whites for the meringue). Return to the heat, add lemon myrtle, and whisk for a few more minutes until thick. Make sure it doesn't curdle.
6. To make the meringue, whisk egg whites in a large bowl until peaks form, then slowly add the caster sugar a few spoonfuls at a time. The meringue should be glossy and luscious with stiff peaks.
7. Assemble by spooning the curd into the base, and then spooning or piping the meringue on top.
8. To brown the meringue, either use a kitchen blow torch or place under the grill in the oven on 180°C until just brown (keep an eye on it!).
9. Sprinkle with lemon myrtle or kakadu plum powder to finish. Serve cool or at room temperature.
Around the World in 80 Lesser-Known Melbourne Restaurants
FREE food guide when you subscribe.