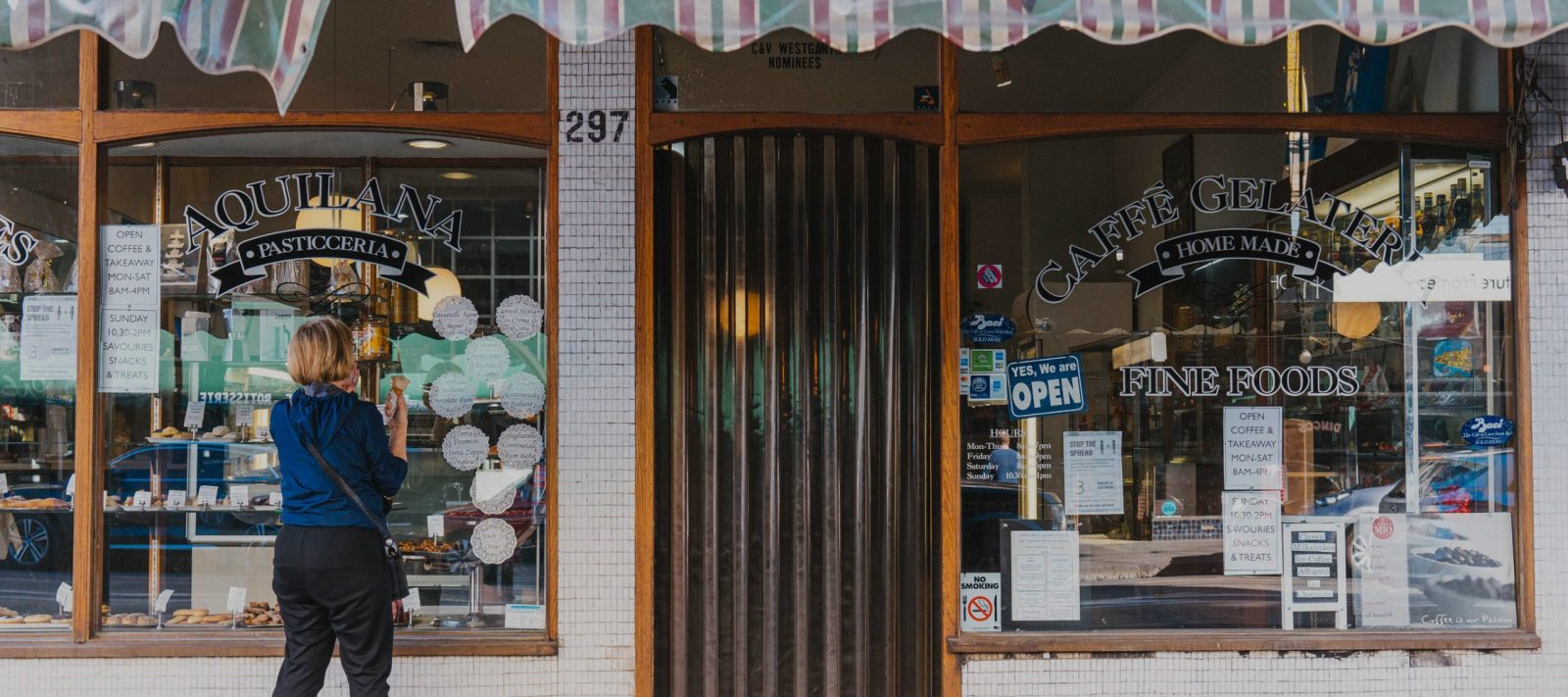 Smith's Cakes & Aquilana Pasticceria
This Sicilian Pasticceria has been hidden in plain sight on Smith Street since 1972
Words & Images by Sofia Levin
Melbourne's Smith Street has become gentrified with restaurants, bars and boutiques over the years, with the exception of this Sicilian cake shop that's remained unchanged for nearly 40 years.
If you frequent Collingwood cafes and restaurants on Smith Street, chances are your pace slows as you pass the window at Smith's Cakes & Aquilana Pasticceria. The wooden-framed glass is embellished with timeless vinyl lettering and paper doilies displaying Italian cake names in Monotype Corsiva. Faces smoothed with youth and creased with life press up against the cold glass for a closer look. On the other side of the Sicilian baked goods and jars of pastel sugared almonds, Rosa Darro is dressed in a long black skirt, matching vest and white shirt. She's worked in the family business alongside her four brothers since she was an eight year old reaching for the coffee machine on a milk crate.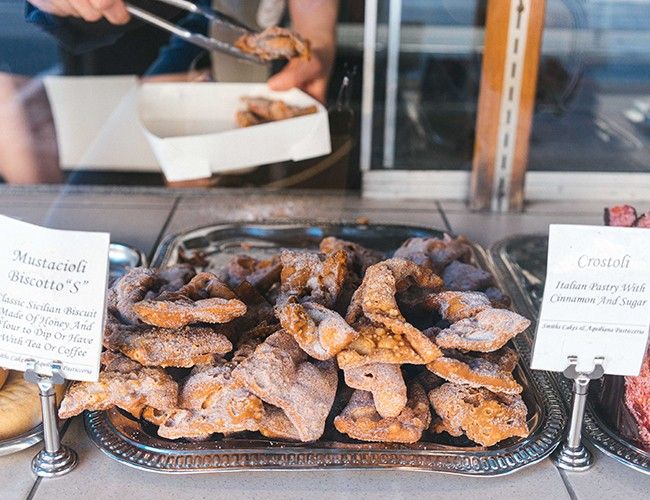 "Our customers change. We get the generational thing happening, you know, the kids become adults and they get married and their kids come and then their kids come. We get to see everyone," she says. Rosa's father, a Sicilian pastry chef, opened the pasticceria in 1972 and still makes everything from scratch. Now 72 years young, he moved to Melbourne with Rosa's mother in the late '60s, working for a decade before saving enough to buy the shop. Stepping through the PVC curtains in 2020 is like stepping back in time. A cafeteria-style cafe with dated tables and cabinetry; here it's what's on the inside that counts.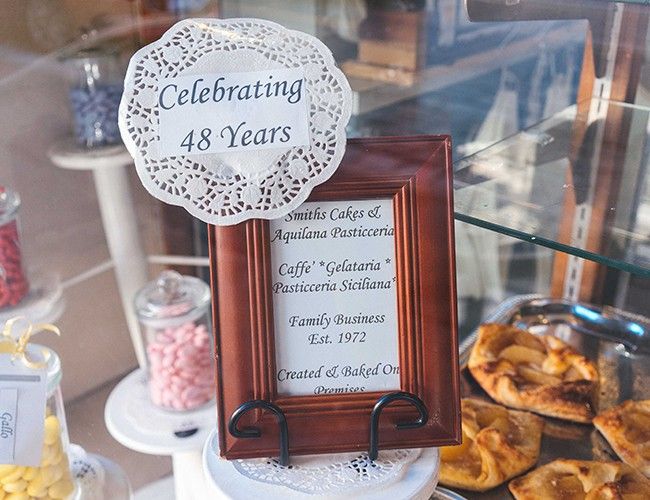 Wooden cabinets exhibit traditional marzipan sweets, like mini fruits and vegetables called frutta di martorana and agnelli pasquali, Sicilian Easter lambs. Black and white photographs and Italian posters haphazardly decorate the walls, interspersed with typed price lists cut from A4 sheets of paper. There's even a glass case housing a sizeable Carretto Siciliano model, an ornate donkey-drawn cart introduced to Sicily by the ancient Greeks. It's a conversation point for customers, who Rosa says are increasingly curious about traditional sweets, too. "Customers ask a lot of questions. Maybe they've seen something on the Internet or a cooking show and they'll walk by the window and say, 'oh, I saw that, I'll try it.' People are becoming more worldly."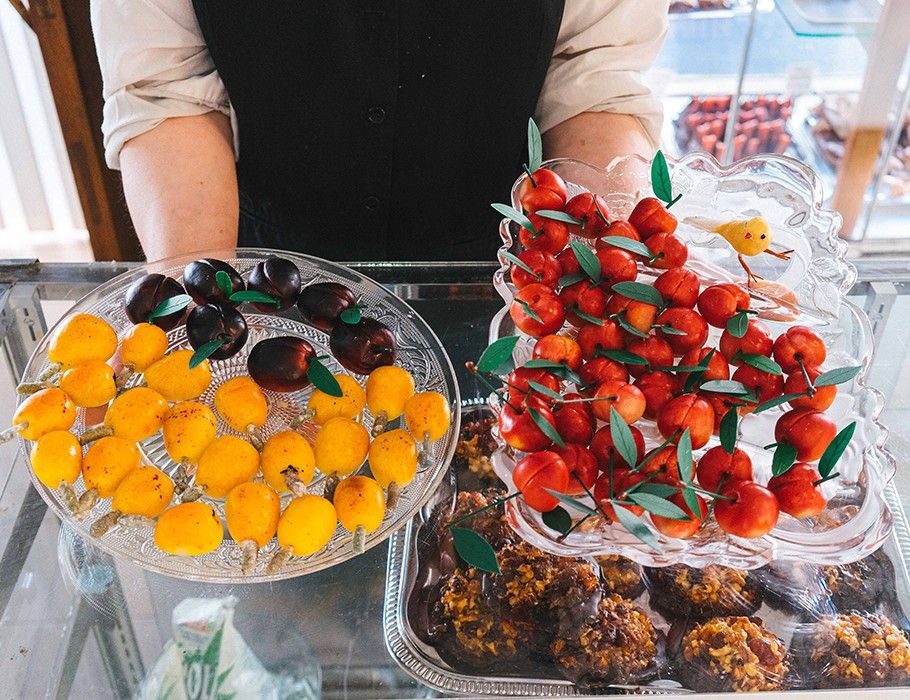 That front window is kryptonite for sweet tooths. It's stocked with chewy florentines, brilliantly-named brutti ma buoni "ugly but good" cookies, Cherry Ripe slices, trays of biscotti and amaretti, orange and almond 'nzuddi biscuits, biscotti di mandorla soft with almond meal and egg whites, brittle ribbons of cinnamon-dusted crostoli, ciambelle Italian doughnuts, ricotta and chocolate-filled cassatelle and more. Gelato, made out the back, is available year-round in cones or brioche, while granita stars when the weather warms. "It's a trend now to make everything in house, but we've always made everything," says Rosa. Her pick is the classic biscotti, dunked in espresso. "I try a bit of everything," she tells me. "I'm quality control here – someone's got to do it."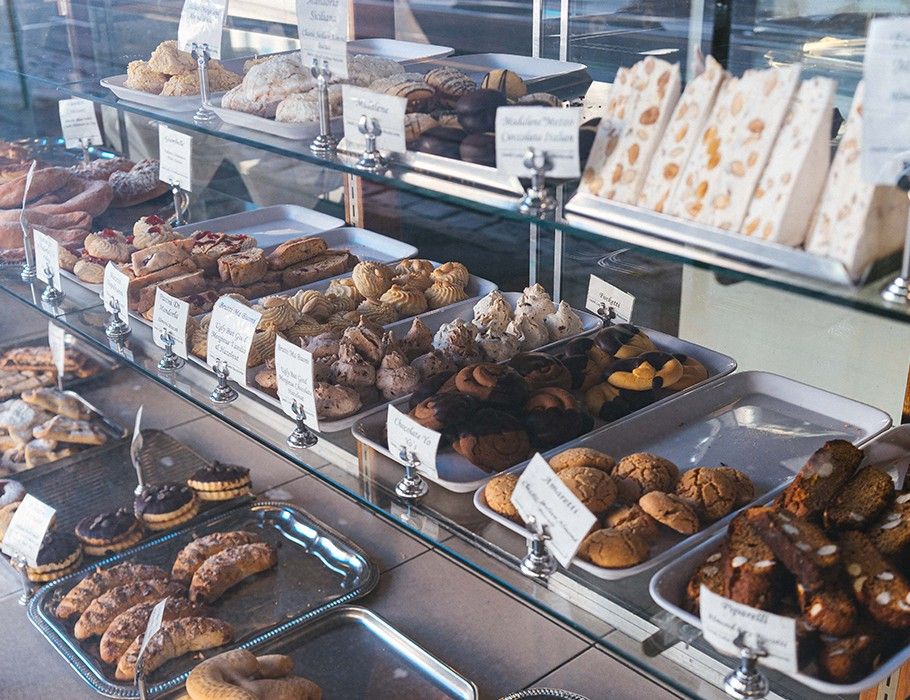 The pasticceria's neighbours include a vintage furniture store, fashionable ramen restaurant, organic wholefoods grocer and boutique butcher. Some of the city's most lauded cafes and restaurants are minutes away on foot. With the shop's 50th year approaching, I ask Rosa how the business has survived on one of Melbourne's trendiest streets, unchanged, for so long. "Obviously we can't please everybody, but we've lasted a long time. We keep the prices fair and reasonable," she says. "These days it's all about trends, but we've kept away from that. We've survived because we've kept it traditional."
Details
297 Smith Street, Fitzroy, 03 9419 4351
Around the World in 80 Lesser-Known Melbourne Restaurants
FREE food guide when you subscribe.