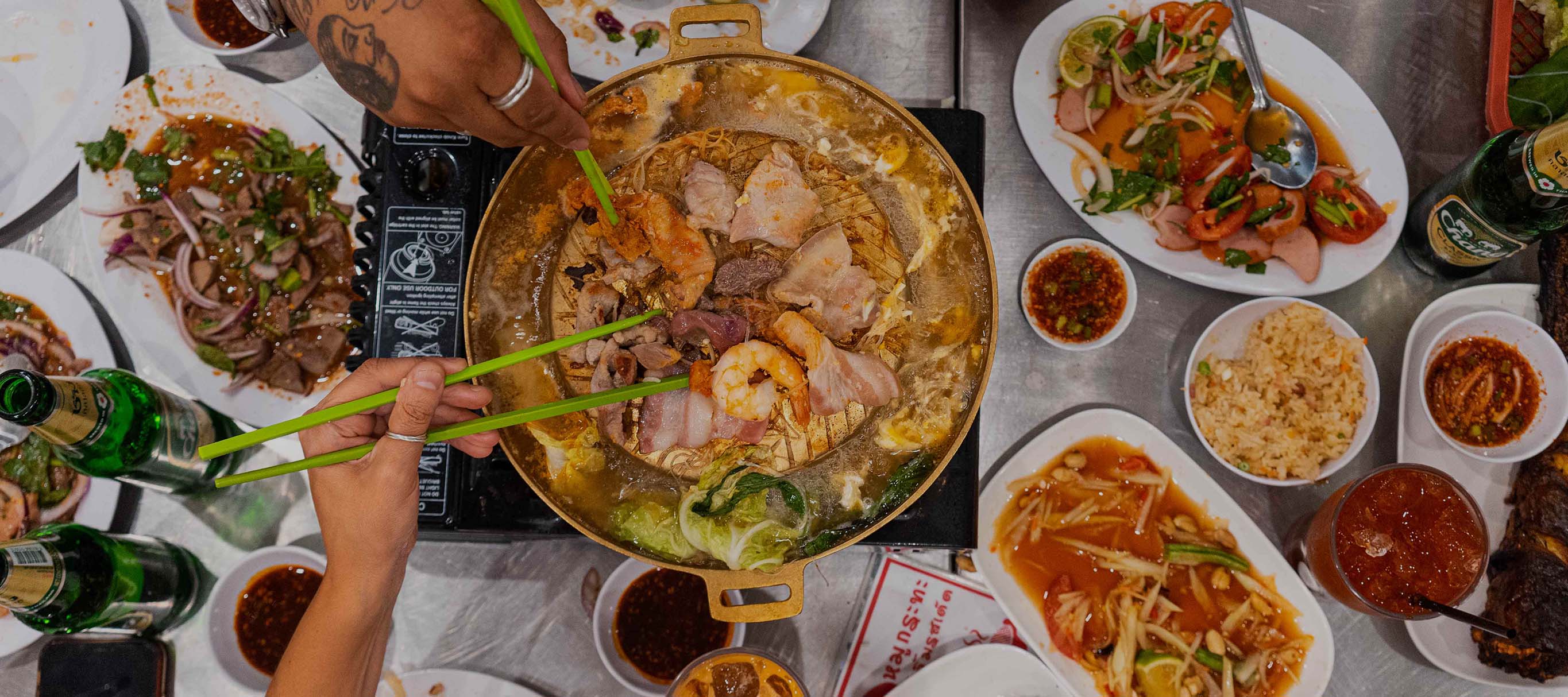 Nana Mookata
Thai BBQ & Hotpot, Melbourne
Melbourne's first mookata Thai hotpot restaurant has lines out the door at midnight
Words & Images by Sofia Levin
Nana introduced Melbourne to mookata, a Thai hotpot that barbecues meat and boils soup simultaneously. Every night the restaurant is filled with tables of Thai customers, but it welcomes all who crave a real taste of Thailand in the middle of Melbourne CBD.
Melbourne's best Thai restaurant isn't what you're used to, but it's the Thai restaurant the city was missing. Nana Mookata Thai BBQ & Hotpot first sprung up in the evenings around the corner at Soi 38, a hidden boat noodle restaurant within the Wilson car park between Bourke and Little Collins Street. Nuttanan "Mint" Lohayanjaree was working there when she overheard her boss say he was looking for someone to take the night shift. When no one else came forward, she took the space with her business partner, chef Panta "Wan" Thanapasian, originally from Northern Thailand.
They decided to introduce Melbourne to mookata, a particular kind of Thai hotpot where a barbecue grill is surrounded by a moat of soup. The hotpot with just soup is called moojoom.
"The more popular one in Thailand is mookata. You'll get it everywhere, all over Thailand, even in a homestay or hotel, and accommodation in the countryside," says Mint. "They all have it, but we are the first Thai hotpot and barbecue in Melbourne."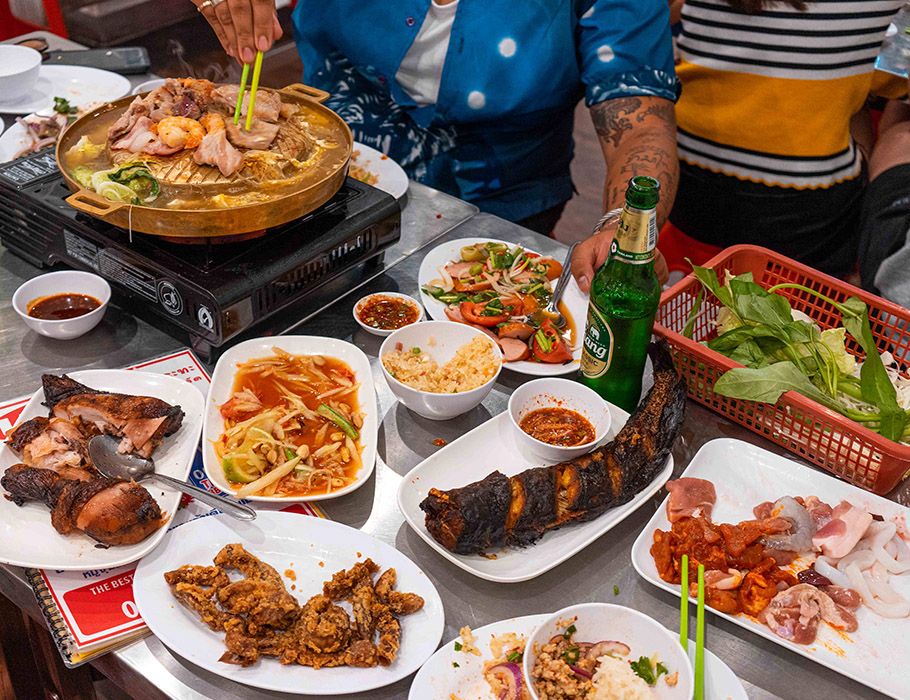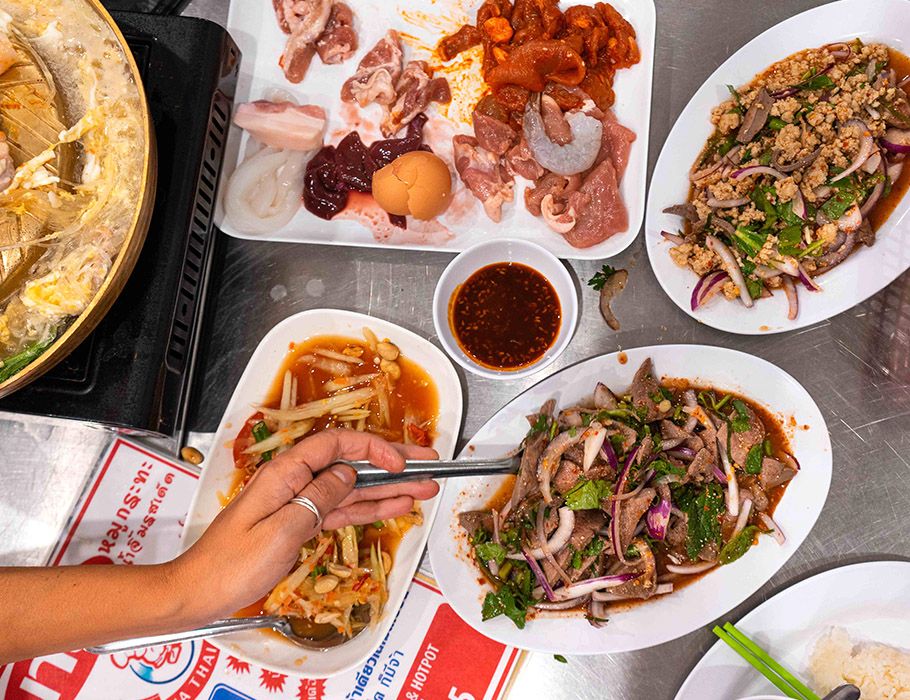 Nana Mookata quickly outgrew the car park, thanks to rave reviews from the Thai, Chinese, Vietnamese and Cambodian communities. By March 2020, Mint opened her hotpot restaurant on Bourke Street. Spending most of the year closed with COVID restrictions didn't affect Nana Mookata's popularity – visit today and you'll join the end of a queue.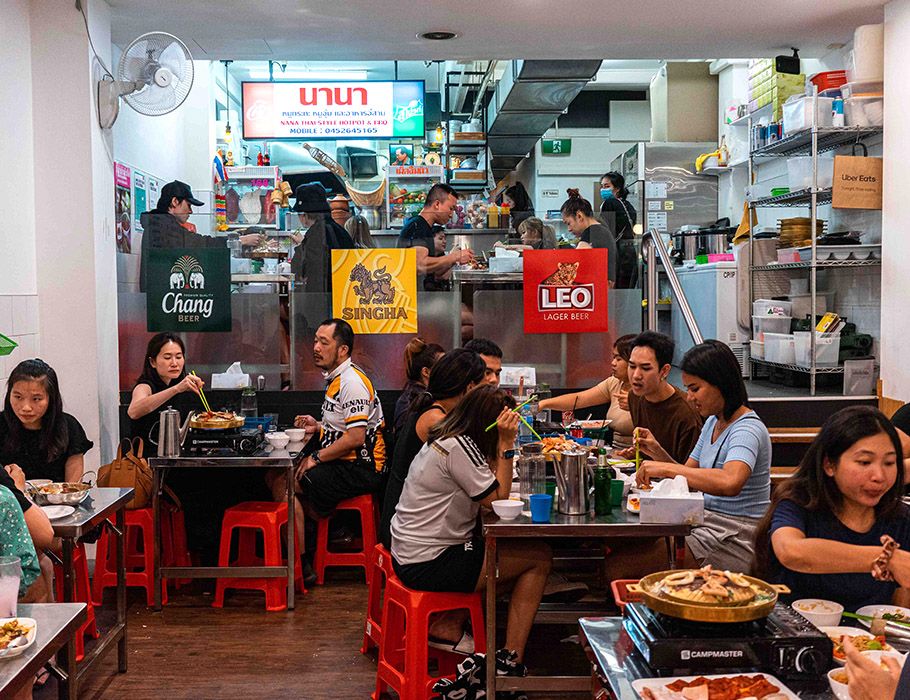 Nana stays open until 1am every day, with the kitchen firing until midnight. The room stretches back past stainless steel tables and red plastic stools, all imported from Thailand, to a mezzanine with a few more tables and high-energy kitchen. There are light boxes, posters and colourful plastic tissue box holders fastened to the white-tiled wall. The buzz and energy alone are worth a visit, but it's the food that makes regulars come back as often as three times a week.
"Other Thai restaurants might cook Thai food in another way to attract Western people, but I was focusing on cooking for Thai people with original taste and traditional process," says Mint. "Like the papaya salad, we still using hand to cut it."
There are a dozen som tum green papaya salads on the menu, ranging from the simplest version with tomato, snake bean, roasted peanut and dried shrimp, through to others with salted egg, fermented fish and raw blue crab. Order at least one, along with garlic rice, to complement your mookata hot pot.
If you're new to mookata, refer to the laminated instructions on the wall. They direct you to grease the grill with pork fat before cooking the meat, and encourage adding a cracked egg, noodles and vegetables to the soup. A two-person Thai barbecue set is $35 and comes with a meat medley of pork neck in two different marinades, pork belly and liver, bacon, prawns and calamari, as well as noodles, Asian vegetables and an egg.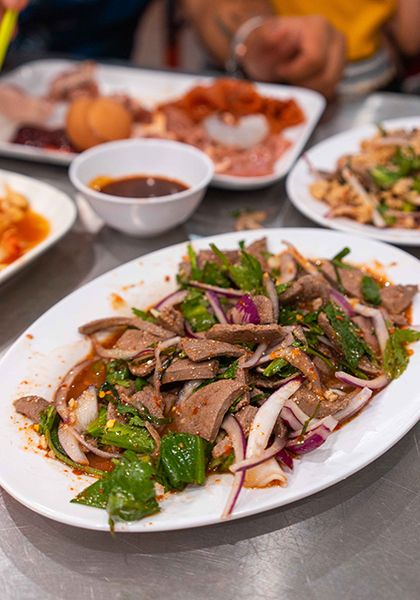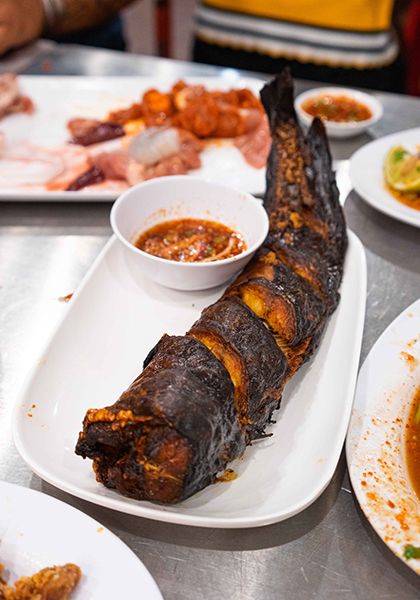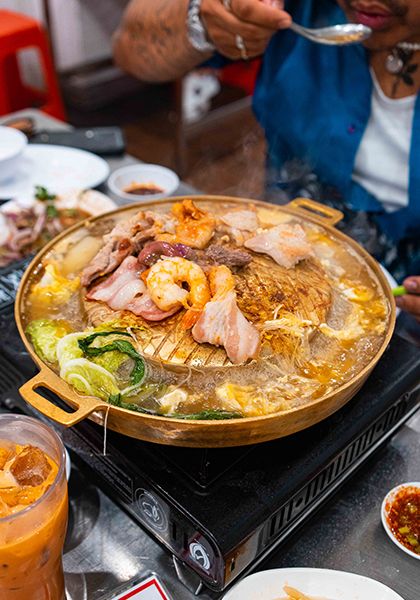 Other highlights include pork liver salad, served medium rare with red onion and mint that cut through the offally richness; spicy sausage salad, a surprise favourite of sliced franks with Chinese celery that soak up sweet and spicy dressing made from fish sauce, chilli, lime juice and sugar; and pla dook yang, grilled catfish served whole but headless with blackened skin and lemongrass-stuffed flesh. As far as Mint is aware, Nana Mookata is the only place you can find the latter. The same goes for her raw prawn salad with fermented fish.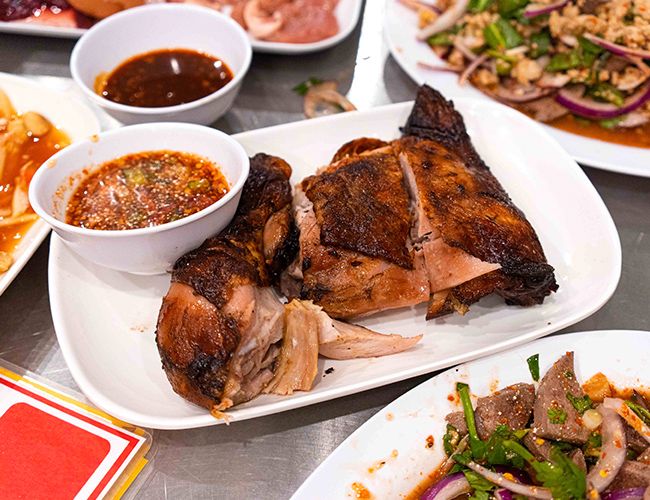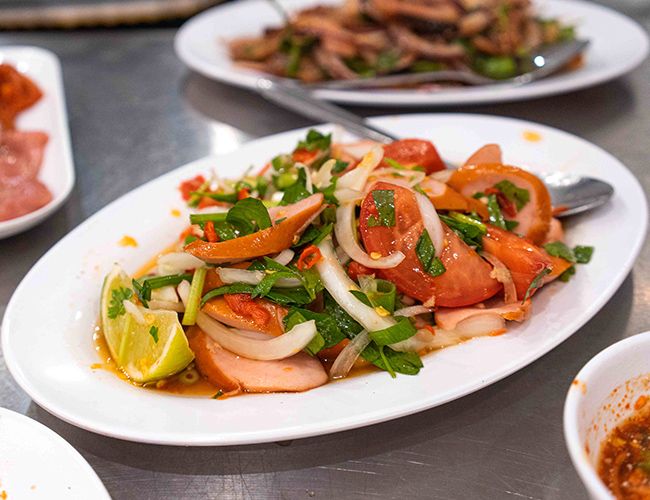 "I was scared when Western people come in, because I'm not sure they will be able to have the food because most of it is spicy," she says. "But I was surprised; there are so many Western people who can have fermented fish, and they know how to eat it as well. They use hand to have sticky rice and fermented sauce."
Mint moved to Melbourne from Bangkok in 2011 to study. Having completed a Master of Supply Chain and Logistics management at RMIT University, she never expected to be running one of Melbourne's most popular Thai restaurants. Still, Nana Mookata remains under the radar for many non-Thai people, and Mint has a message for them:
"We would like you to try us. We are selling authentic Thai food that you can't find in the other restaurant. Even the process of doing dishes, we still using traditional Thai process. If you're looking for very authentic Thai taste, let us look after you."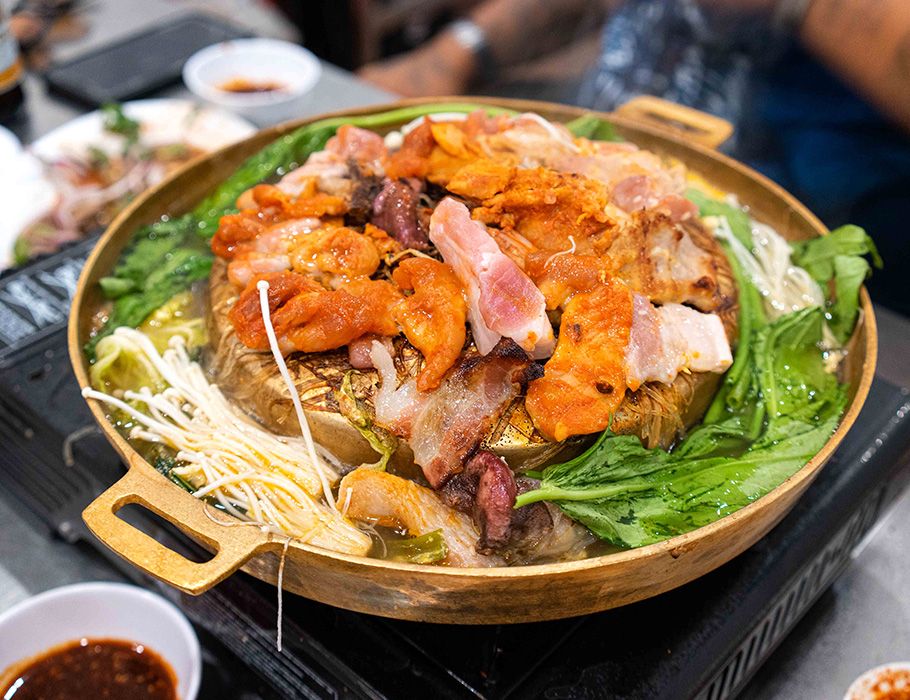 Around the World in 80 Lesser-Known Melbourne Restaurants
FREE food guide when you subscribe.