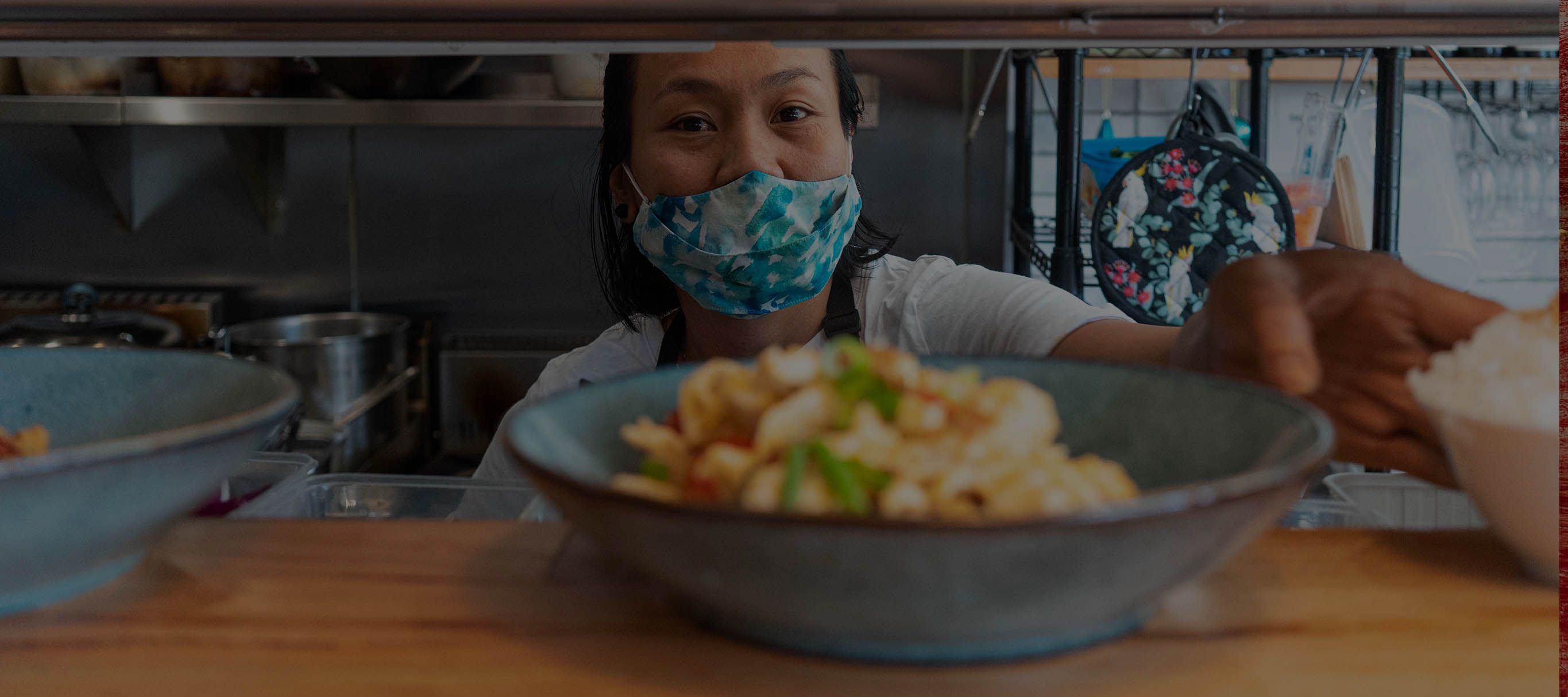 My Asian Neighbour, Reservoir
My Asian Neighbour is a Sulawesi cafe born from tragedy & resilience
Words & images by Sofia Levin
My Asian Neighbour serves Manado cuisine from North Sulawesi to Reservoir locals, but those who stop to chat to owner Lily Lilak will be inspired by far more than her Indonesian cooking.
Lily Lilik is in tears.
It's been less than two minutes since I sat down opposite the owner of My Asian Neighbour at her Reservoir cafe in Melbourne's north. "I'm crying because I'm happy," she reassures me.
"I call my sister this morning because I just bought a brand new car for my parents. I call my sister every day because I just want to see my dad's face."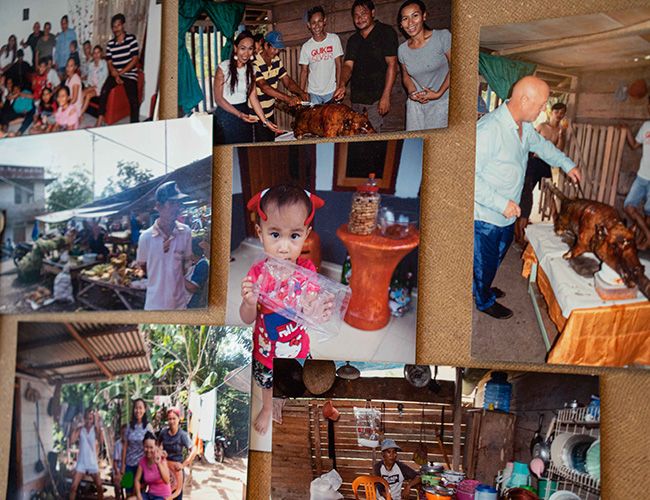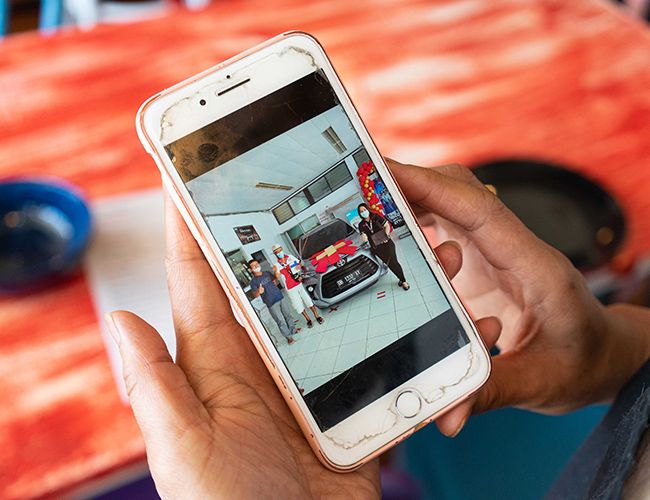 Lily's father lost his parents when he was young and spent his childhood going from kitchen to kitchen. begging for food. Her upbringing wasn't much easier.
"When we were little, we live with nothing. I can say we come up very, very poor. We eat once a day, the rest we just drink water and fall asleep," she says.
Lily was born in Uuwan Village in Northern Sulawesi. When she was nine years old, her three-year-old sister tragically died because the family couldn't access basic paracetamol. She ran away from home to work three years later, determined to send money home to her family.
"I tell myself, I don't want anyone to die just because we can't afford to buy Panadol. I will do something to make sure it won't happen again," she says.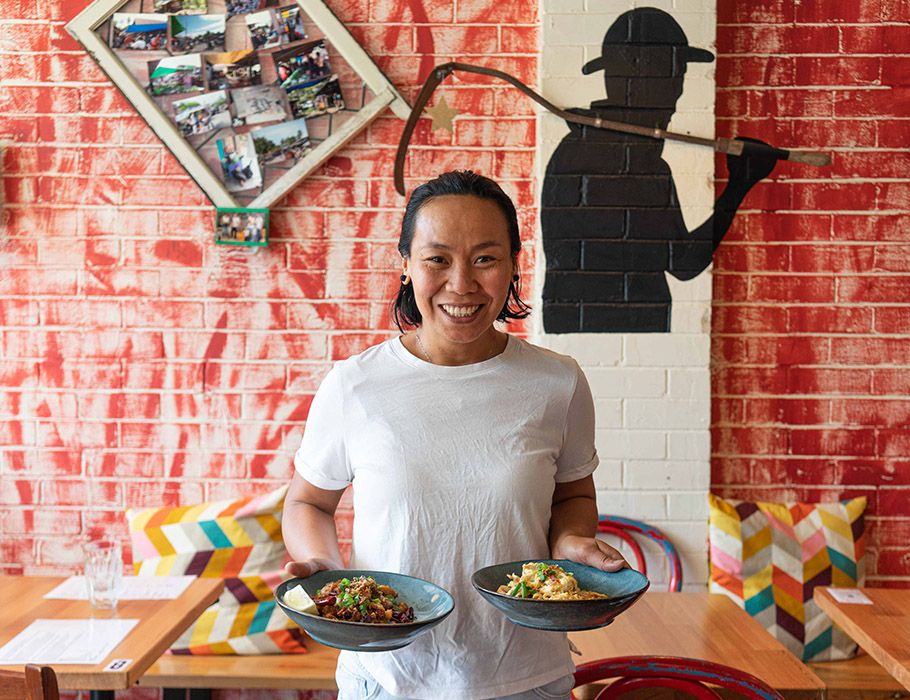 Lily was looking after the grandchild of her father's boss when she overheard that he needed someone to accompany his daughter to study in Jakarta. He asked for Lily's older sister, but their mother refused to send any of her children away.
Lily pretended she had permission to leave, but said that it had to happen quickly to avoid upsetting her siblings. After six nights on a boat, she arrived in Jakarta, where she spent the next four years.
From there she spent five years working in a shopping centre in Singapore, before switching to nannying. She went to Korea, Japan and split a decade between nannying jobs on an island south of Singapore and then Hong Kong.
"I didn't go back home for 13 years," says Lily. "When I left, we were only five sisters. When I go back, we were 11."
Lily kept some of the money from her final nannying contract to open a warung in Bali. It was during this time she met an Australian man, got married and moved to Melbourne, where she would beg him to bring people over so she could cook for them. While job hunting, one of his friends took her aside.
"He said don't sell your talent, don't find another job," recalls lily. "Here's the money, you go and get your own kitchen."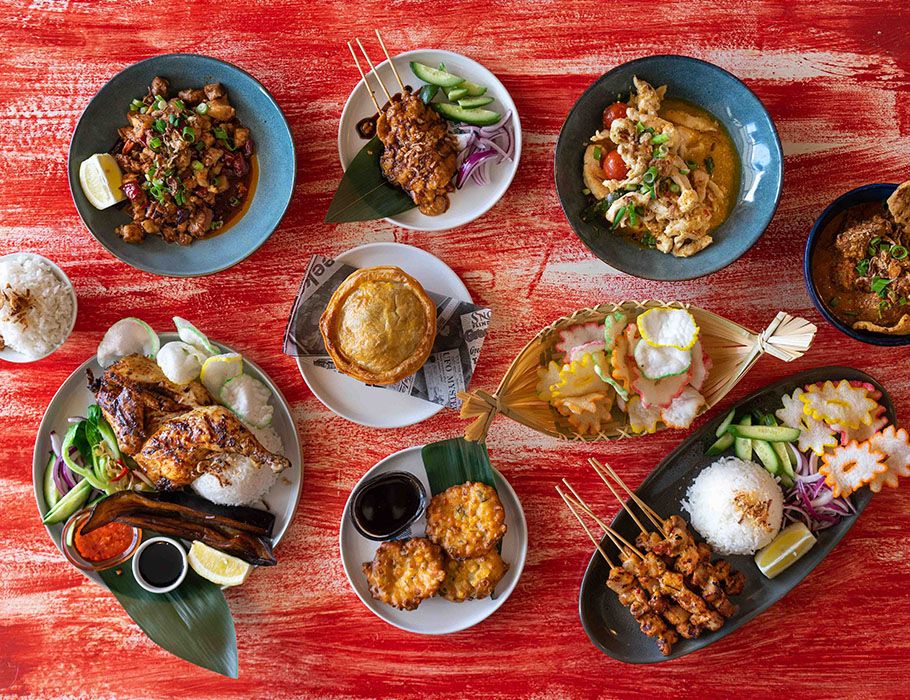 She opened Lily's Asian Kitchen and Bar in Pakenham, but left her dream behind when her marriage ended.
"I had to leave everything behind because my ex wasn't that good. The hardest thing that I had when I was little; I thought that was over, but when I come here that was really hard. I was so much depressed and everything else, so I left everything behind," she says.
In 2018 Lily was working at a cafe when she met Wayne Hancock on a dating site. He had never eaten Indonesian food before, but Lily recalls exactly what she cooked for him that first time.
"It was a satay and grilled fish and green curry. When I start to move in, I just love to cook. Sometimes he'd say, 'Stop, there are only two of us!' but I'd make so much, so we invite all the neighbour to come over," she says.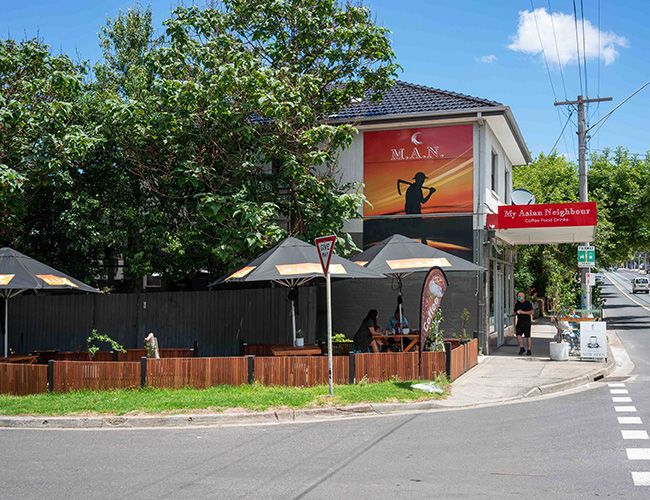 Lily is now "My Asian Neighbour" to all of Reservoir. When the cafe opened in early 2021, it had but a few weeks of dine-in before yet another Melbourne lockdown. The locals kept the business afloat.
My Asian Neighbour occupies the downstairs level of Lily and Wayne's Reservoir home. It's fitting that guests eat in what used to be their living and dining rooms.
In the morning gado gado and chilli scrambled egg-stuffed croissants arrive at tables. There's a brioche egg and bacon breakfast burger, but she also replicates the omelette her grandmother used to cook in a giant wok over a wood fire for all the grandchildren, served with chilli, spring onion and garlic on rice with sambal.
"When I go to school in the morning my grandma would cook this one. I love the smell. Every morning when someone order this special food, it brings me back to when I was little," says Lily.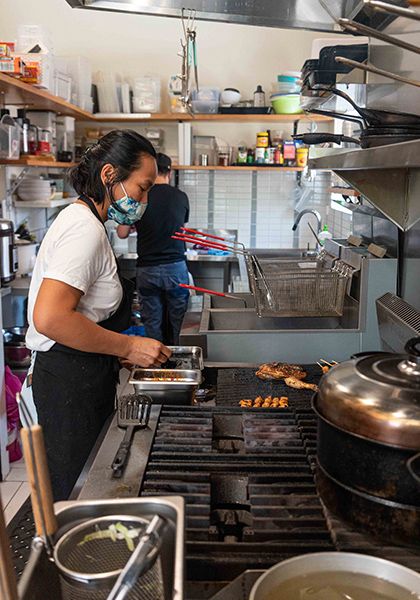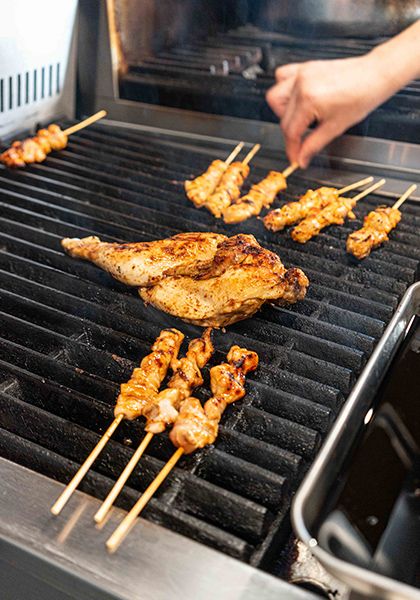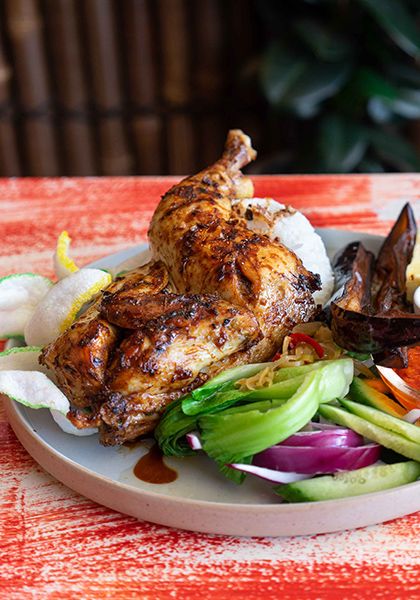 The lunch and dinner menu are one and the same, though by dinner My Asian Neighbour has usually sold out of Lily's rendang pies, which she describes as "Indonesian on the inside, bloody Aussie on the outside."
Although there are Indonesian favourites such as the house satay skewers, nasi goreng and slow-cooked beef rendang (of which Lily sells some 50 to 60 kilograms per week), her signature dishes are Manado cuisine, from the Minahasan people of North Sulawesi.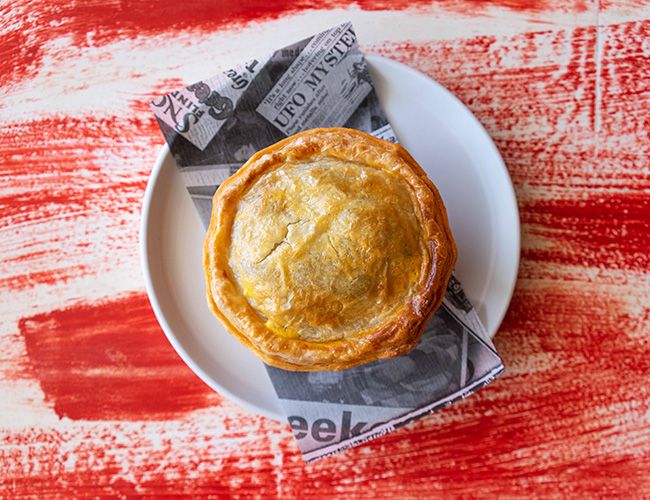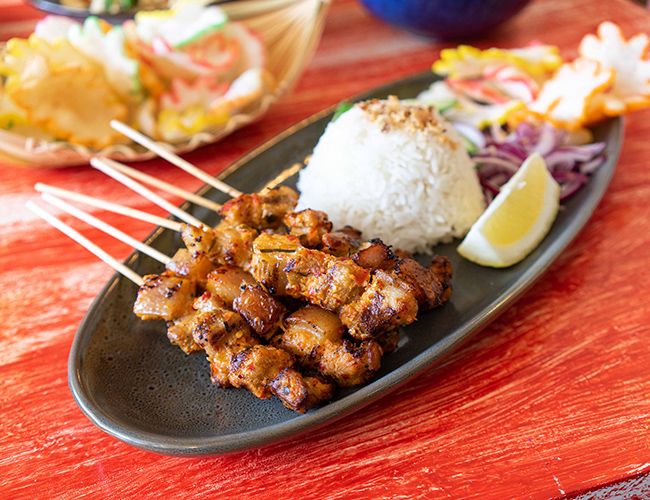 Babi rica rica sees pork, prawn or a combination of the two stir-fried in a sizzling wok with lemongrass, ginger, tamarind, galangal, makrut lime, tomato and chilli. Ungke is Lily's take on her father's favourite dish, where twice-cooked pork belly is marinated in garlic, chilli, ginger and cinnamon. Then there's ayam woku, a celebratory dish in North Sulawesi.
Lily stir-fries chicken in homemade curry paste bursting with pandan, makrut lime, and candlenut, the latter of which gives it a rich and creamy macadamia-like sweetness. Lily makes everything from scratch, shopping locally at Preston Market and getting through 60 kilograms of chilli each week. When her customers started asking for extra chilli, she danced in the kitchen.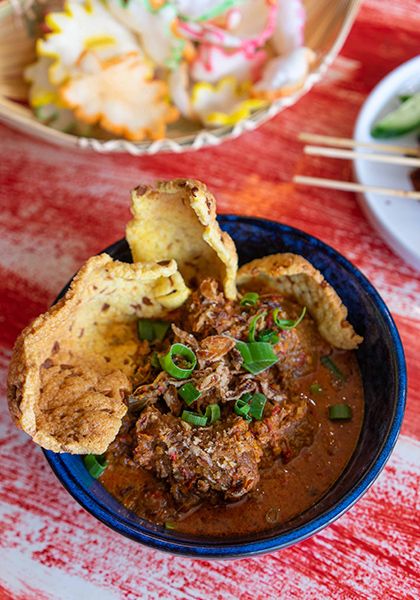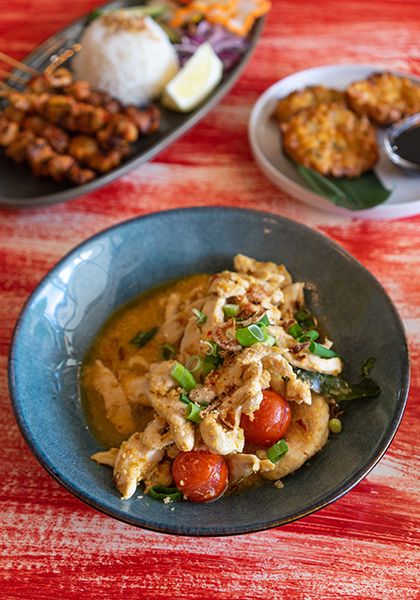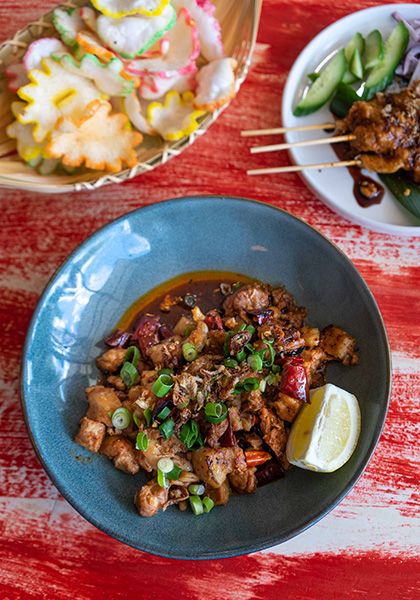 Although her customers bring so much joy, home is never far from Lily's mind. Her and Wayne look after 70 elderly people in her village, using their cafe earnings to buy food and ensure everyone can afford to get to hospital.
"This business is not just for us, it's for them too, for everyone," says Lily. "I'm very happy now. When you're happy, and you cook happy, the food will be happy, the people eating will be happy and the world will be happy."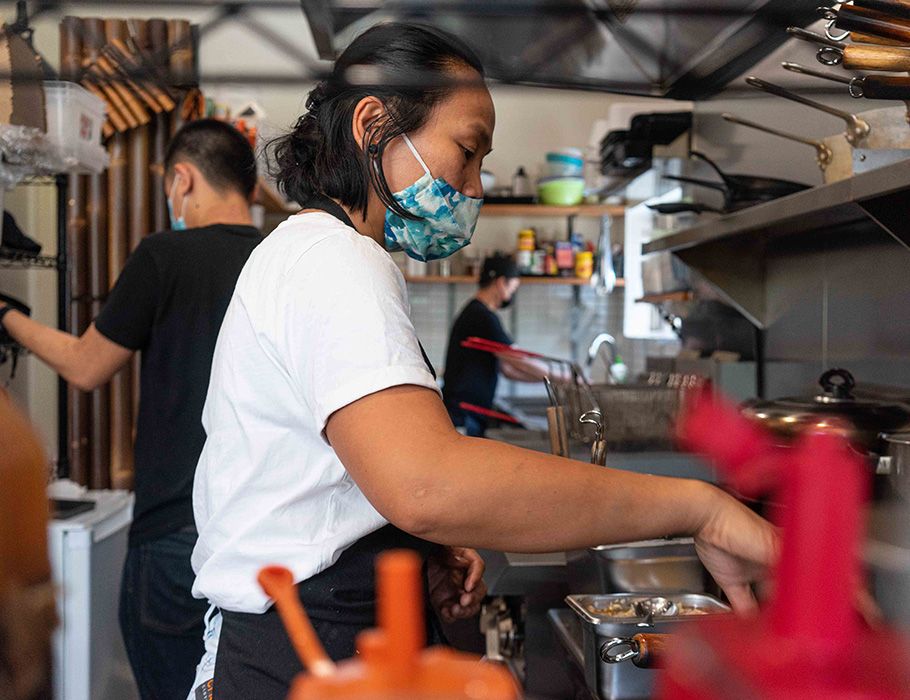 Around the World in 80 Lesser-Known Melbourne Restaurants
FREE food guide when you subscribe.