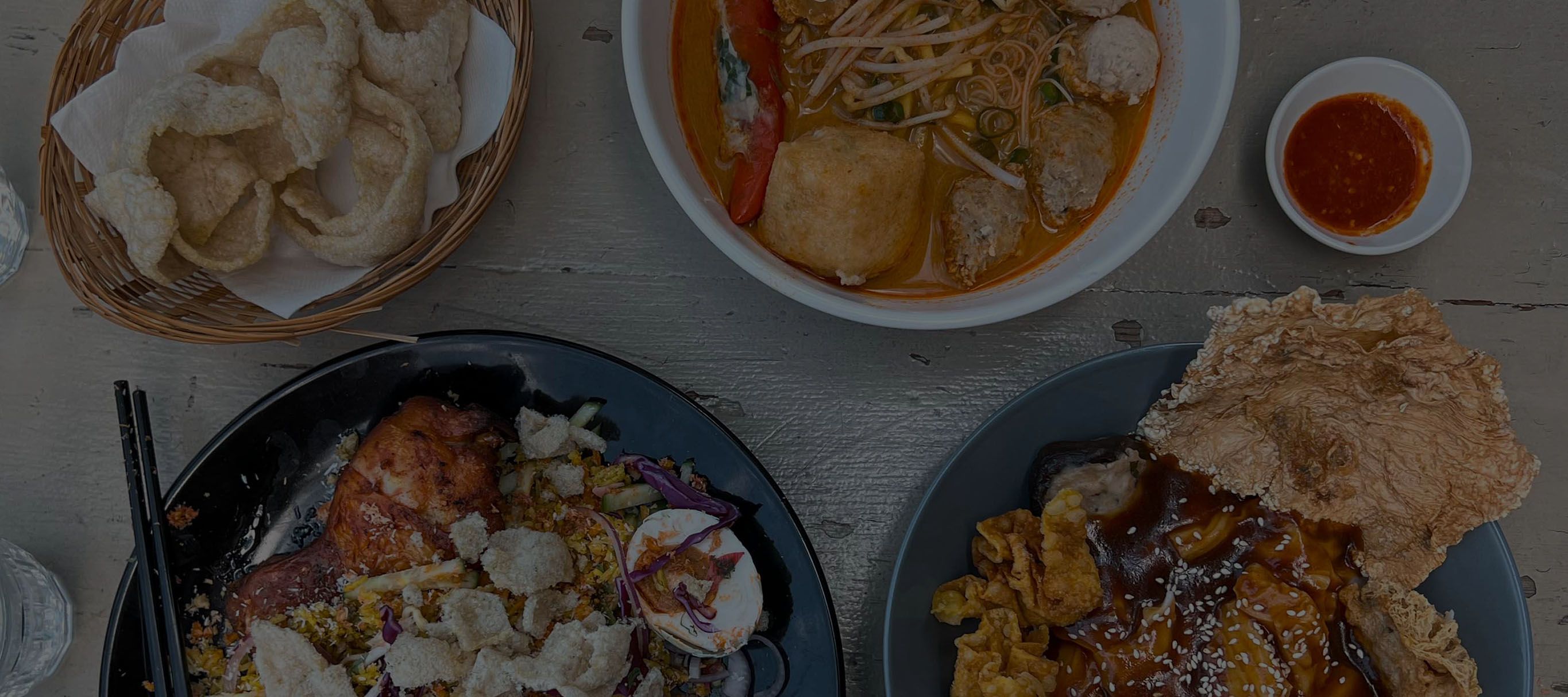 Myth Cafe,
West Melbourne
Tiny Myth Cafe serves Malaysian hawker food for breakfast
Words & images by Sofia Levin
Two former eBay employees have merged their lockdown side hustles into a Malaysian breakfast cafe. Now Melbourne can start the day with traditional yong tau foo and khao jam.
Myth Cafe opened in November 2021 beneath a residential apartment block in West Melbourne. It's a tiny spot specialising in Malaysian breakfasts, including homemade yong tau foo (tofu and vegetables stuffed with fish and pork paste that has Hakka Chinese origins) and khao jam (a colourful Malaysian rice salad similar to Thailand's khao yum). Myth stands for My Taste of Home.
Before it was a Malaysian cafe, it was a domestic food delivery business created to curb homesickness during lockdown. Myth Cafe's origin story is becoming increasingly common in Melbourne; as the door closes for one small business unable to weather the COVID storm, another opens for people who never previously considered a hospitality operation. A surge of small, diverse restaurants and cafes has risen from the pandemic rubble, and Myth Cafe is one of them.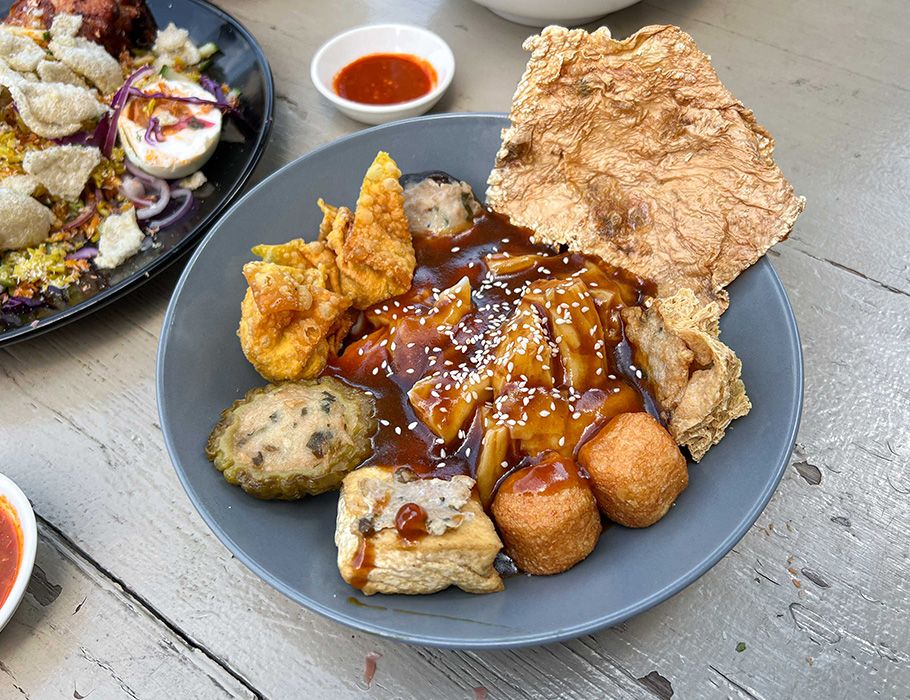 After a chunk of his team was made redundant from eBay and Lincoln Lee was forced to work at home, he started cooking yong tau foo. Word spread via Facebook marketplace and Instagram, so he moved to a commercial kitchen, which he shared with Laysee Koh, who he knew from work. She had been cooking and delivering khao jam rice salad.
Khao jam is a regional dish from her home in Kelentan, a northern Malaysian state that borders Thailand. She cooks white rice with more than 10 herbs until it becomes yellowish-green and fragrant. It's served with fish flakes, dried coconut, salted egg, shredded vegetables, spicy sauces and optional fried chicken. She'll instruct you to mix it all together and crush the fish crackers over the top if it's your first time.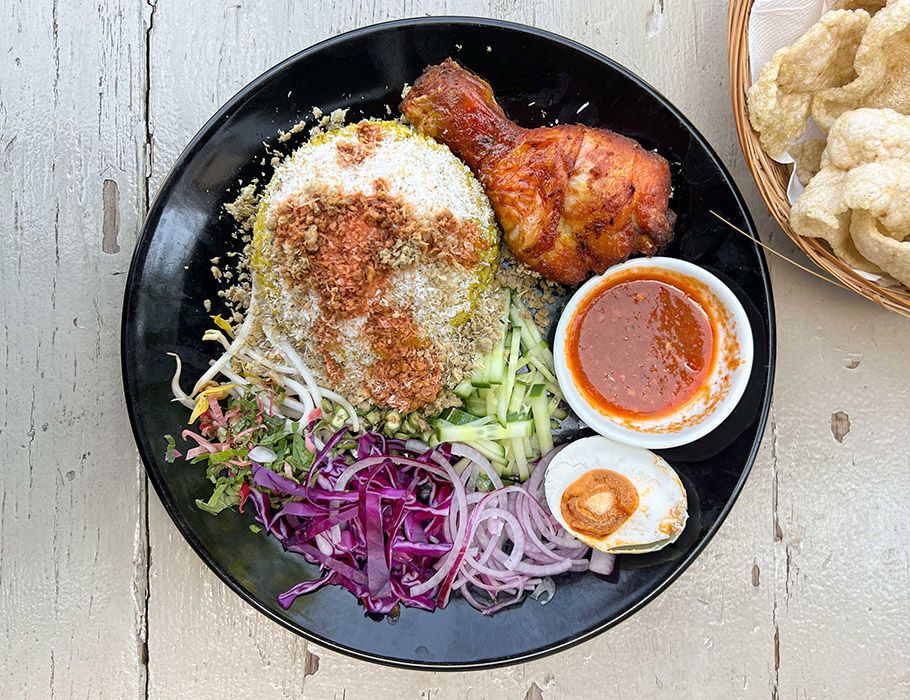 "We never expect this. So many people said they like and miss this food," said Lincoln. "We started delivery, but we were limited to 30 or 40 sets a day on the weekend because during the week we were still doing our job."
Following lockdowns, Lincoln noticed online buying and logistics slowing down at eBay as the city opened up. Encouraged by the demand for his yong tau foo and Laysee's khao jam, they took over a small cafe in West Melbourne that didn't survive lockdown, along with Michael Loh.
You'll find Michael making coffee from St. Ali beans and pulling Malaysian sardine curry puffs and fried vermicelli noodles wrapped in brown paper cones (meehoon bungkus) from the pie warmers.
"It's something different, not a brekkie roll. We try to bring our culture to the western people, because maybe some of them didn't try this Malaysian style breakfast," says Lincoln.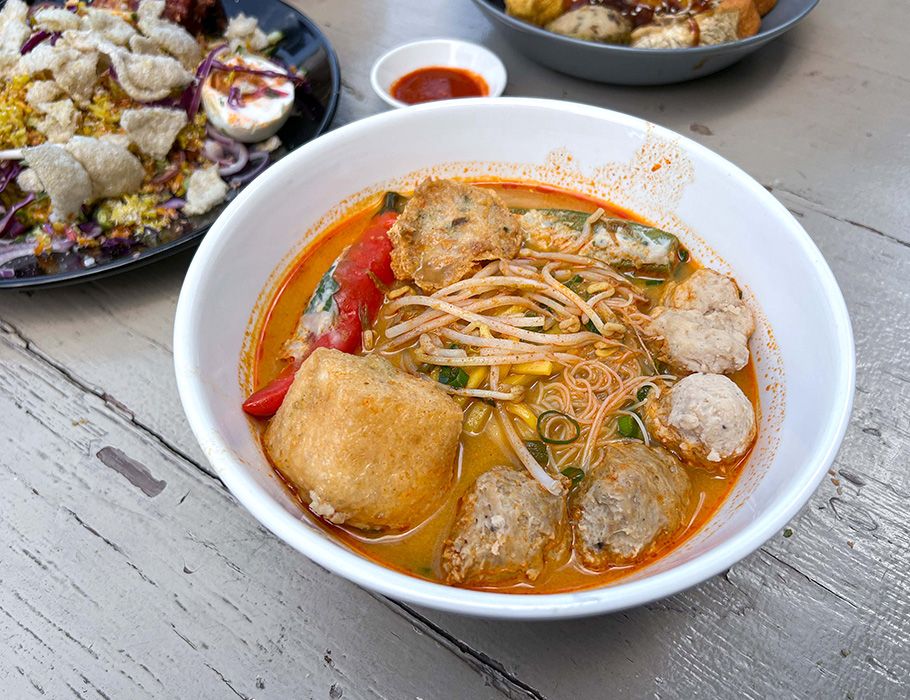 There are only half a dozen dishes on the menu at Myth Cafe, but each is highly specialised. Slippery rolled and steamed rice noodles come in a central jumble as chu cheong fun, served with a sweet prawn and bean-based sauce and surrounded by an assortment of yong tau foo.
Yong tau foo is available by the piece or as a platter, with 10 options from stuffed whole chillies and bitter melon, to okra and shiitake mushroom. There are also beef, pork and fish balls made in house. All ingredients are bought fresh from Queen Victoria Market.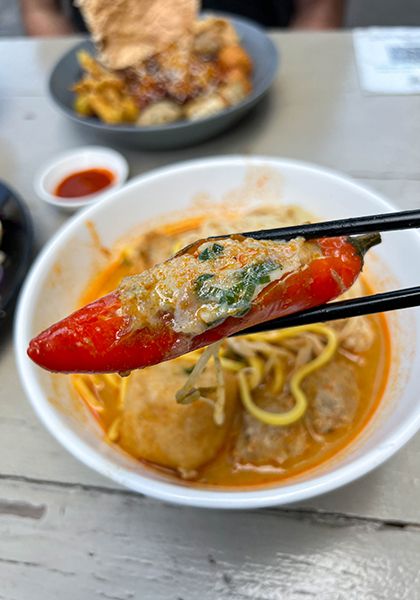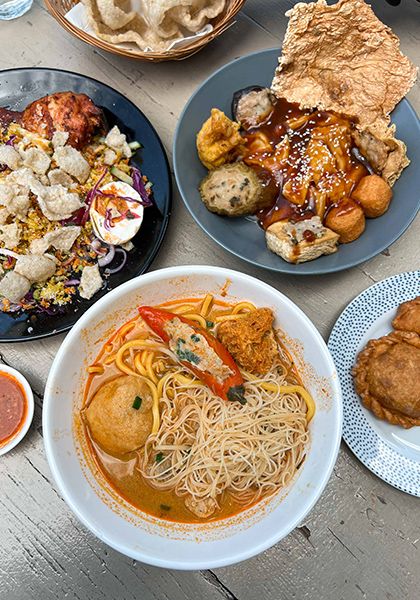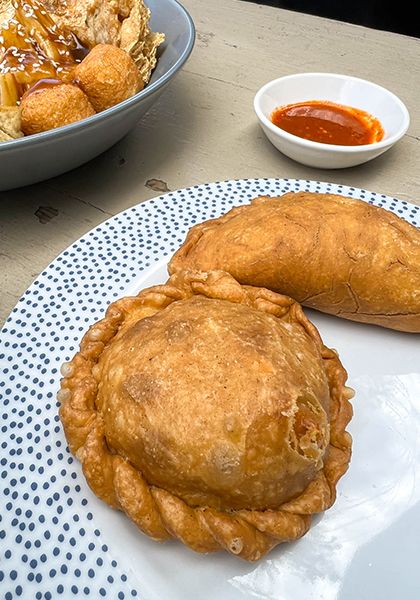 The "old school curry noodle" is a reference to what the Myth Cafe team grew up eating. The chicken stock is made from scratch with light coconut milk, seasoned with soy, dried shrimp and tomato, and served with bean sprouts, vermicelli and/or thick yellow noodles, and your choice of yong tau foo.
"We try to do Asian-style breakfast for people who miss Asian for the breakfast. Normally we have it on the roadside – grab-and-go – but this generation, most of them go into the restaurant and cafe now," says Lincoln. "We want to attract a lot of western groups, so maybe they will know about the Malaysian-style breakfast in Melbourne and try it."
Around the World in 80 Lesser-Known Melbourne Restaurants
FREE food guide when you subscribe.