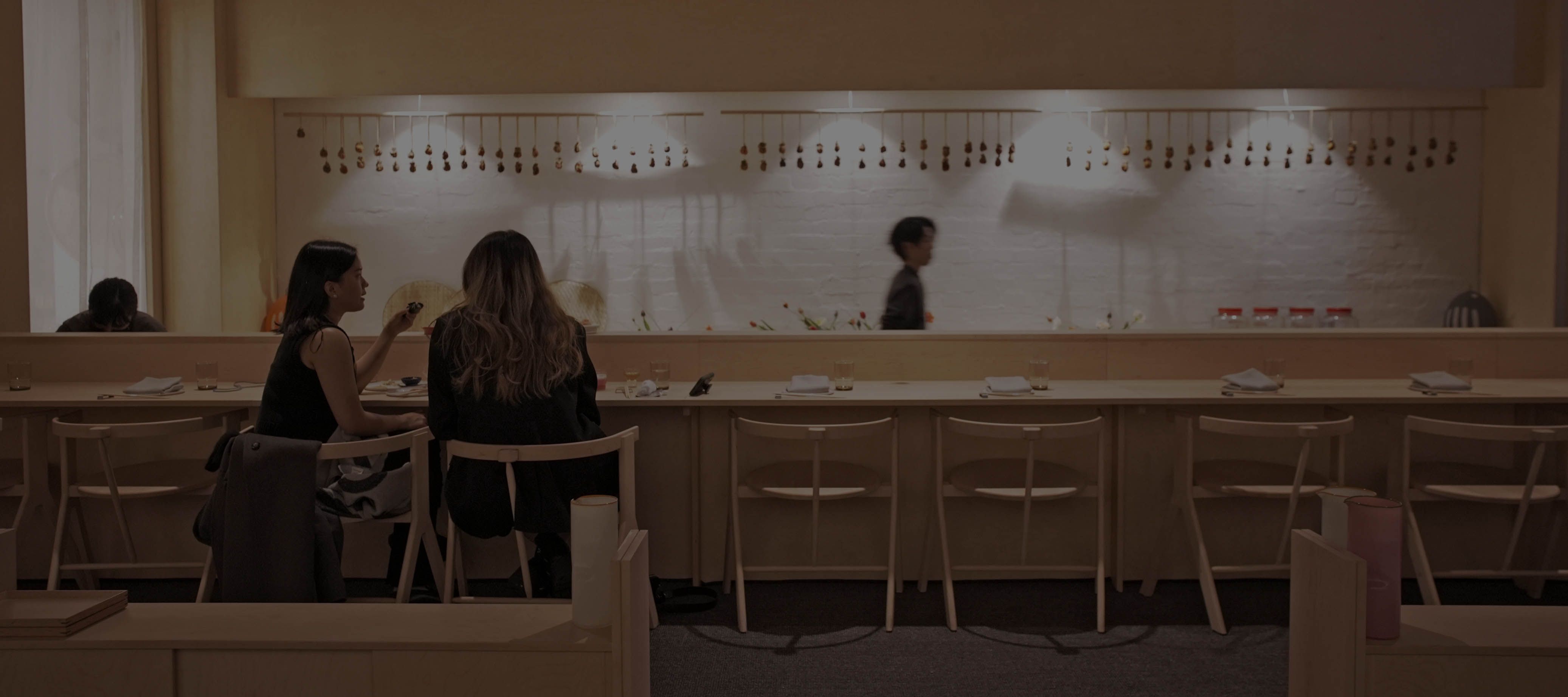 Leonie Upstairs,
Carlton
Leonie Upstairs is Melbourne's First Temaki Sushi & Sake Bar
Words by Sofia Levin
Images by Liam Neal
Kantaro Okada wanted Melbourne to experience temaki sushi, a popular dish eaten at home in Japan. His new restaurant, Leonie Upstairs, serves it wrapped with premium Australian seafood and more than 50 sakes by the glass.
While TikTok has been going mental over mochi-wrapped gelato at Hareruya Pantry, a Japanese bento and dessert takeaway store that opened in March 2022, everyone missed the restaurant above it that opened a month later. Enter Leonie Upstairs, a sake and temaki sushi restaurant from Kantaro Okada that overlooks a park, just off Lygon Street in Carlton. Kantaro is also behind 279 Cafe and is a co-founder of Le Bajo Milkbar, both Japanese concepts in North Melbourne.
Temaki sushi, or temakizushi, is sushi that's hand-rolled into a cone. The ingredients are usually prepared prior to mealtime, with everyone assembling their own.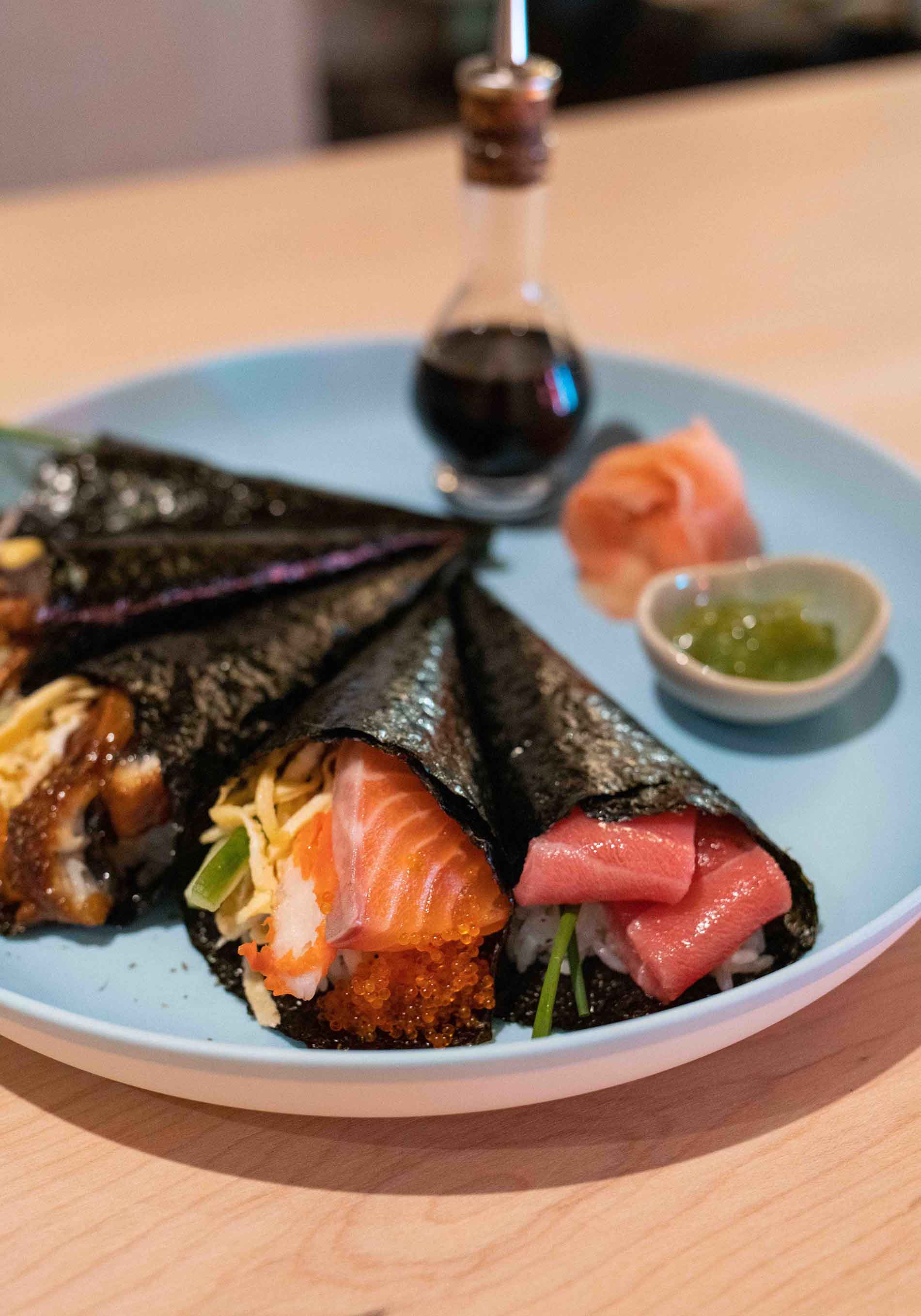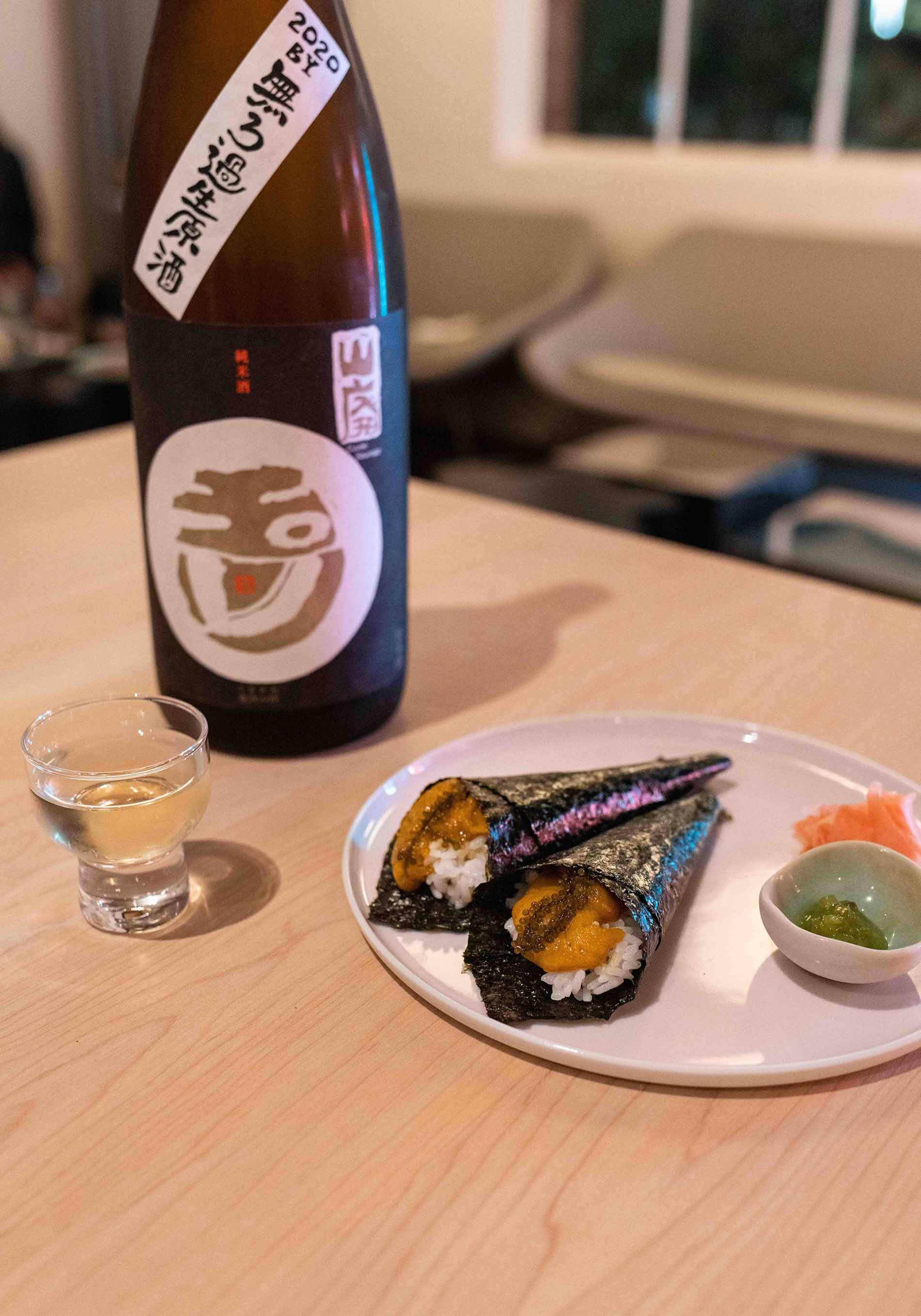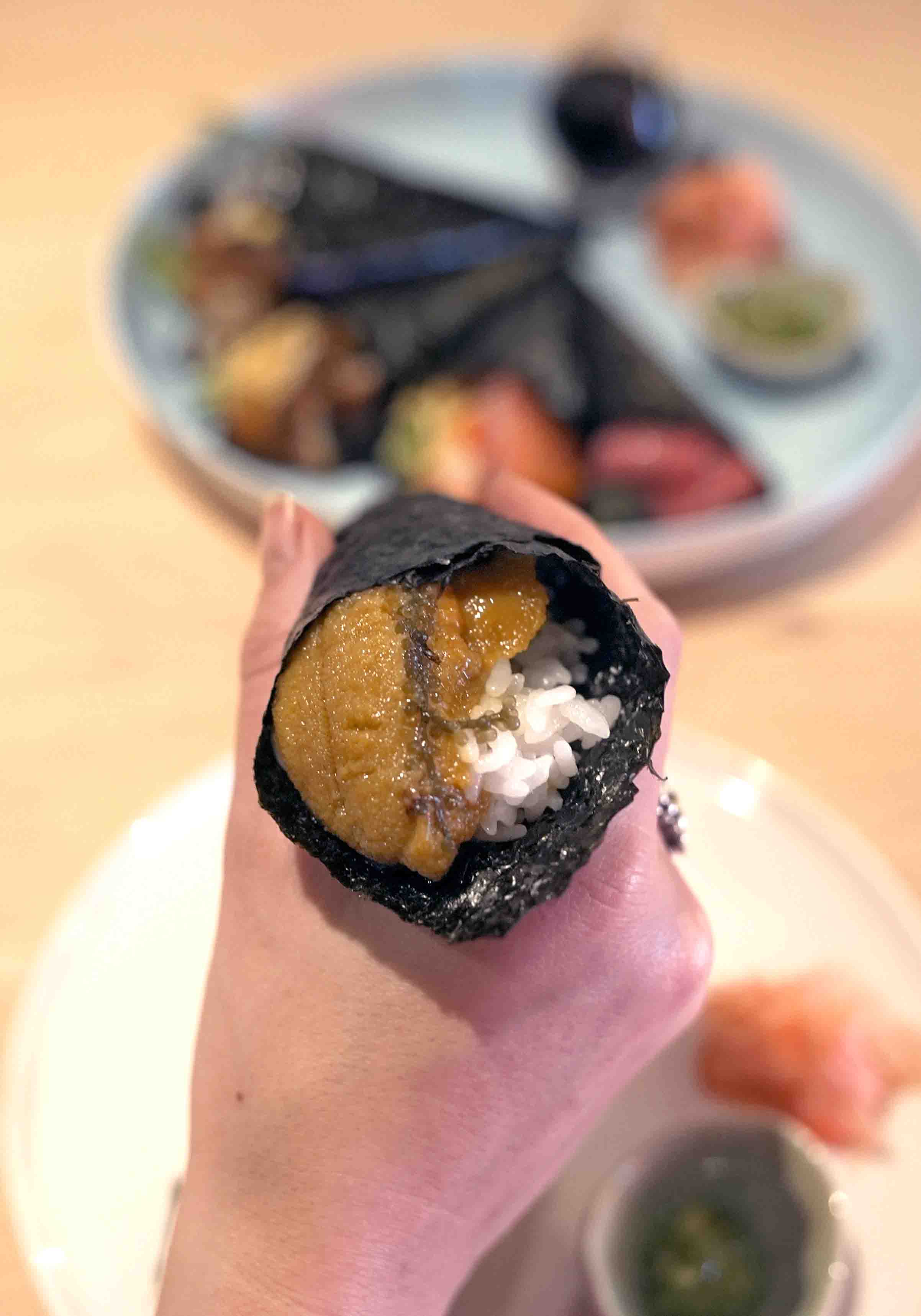 "Usually we make temaki at home. We buy fresh-cut sashimi, steam the rice then make temaki at the table with the family," says Kantaro. "You can't buy fresh-cut sashimi at the supermarket in Australia, so I thought we would recreate the experience here."
A $95 temaki set for two to four people is the best way to recreate the homely experience, but you can also order by the piece ($8 to $21). There are a dozen temaki to choose from, plus a nightly special. Fillings include otoro tuna belly, grilled eel with kinshi (shredded) egg and masago (fish roe), soft shell crab with curry mayo and uni with sea grapes.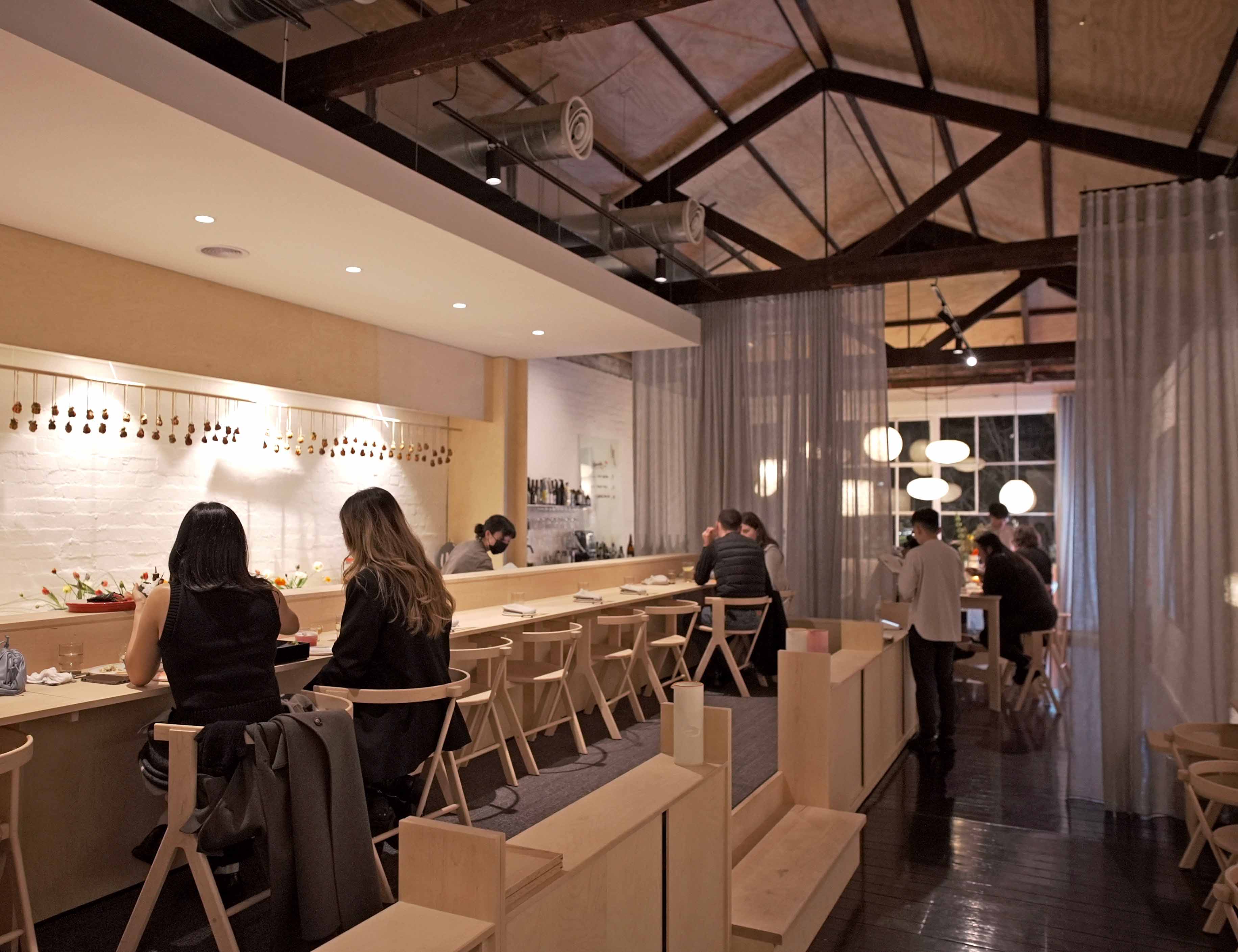 Leonie is named after Leonie Gilmore, a 19th century American editor and journalist who was also the lover of Japanese poet Yone Noguchi. She raised his son, sculptor Isamu Noguchi, alone. The ceiling lamps at Leonie Upstairs are based on Isamu's famed mid-century Akari lanterns.
"We thought we'd name this place Leonie because she played a big part in his life. He became an artist because of how she lived. Noguchi really watched her footsteps," says Kantaro.
There's deliberately not a single bottle of wine on the menu at Leonie Upstairs. Instead you'll find Japanese whisky, gins and beers; sochu and umeshu; Japanese spins on classic cocktails; highballs; and of course, sake.
"We are primarily a sake bar. We have 50-plus bottles by the glass. I can't think of anywhere else that does that many," says Kantaro.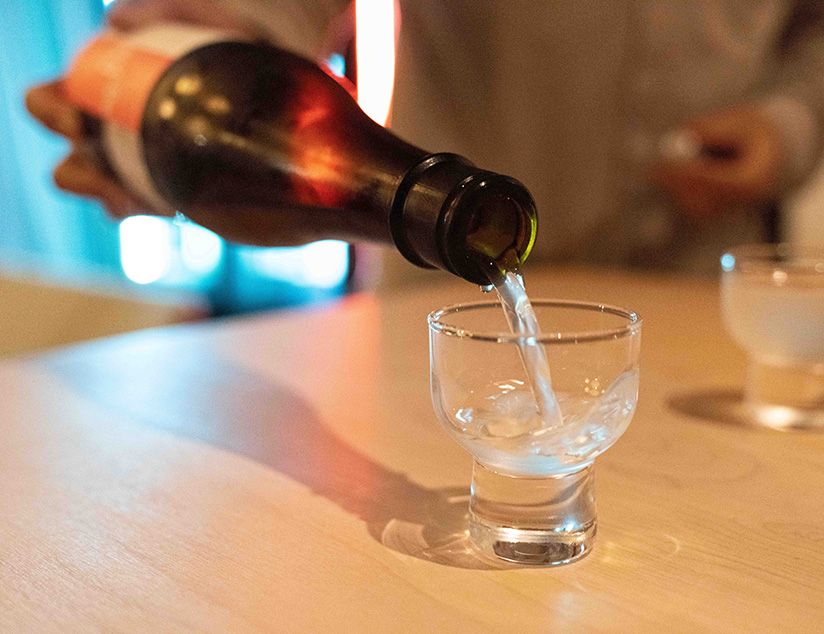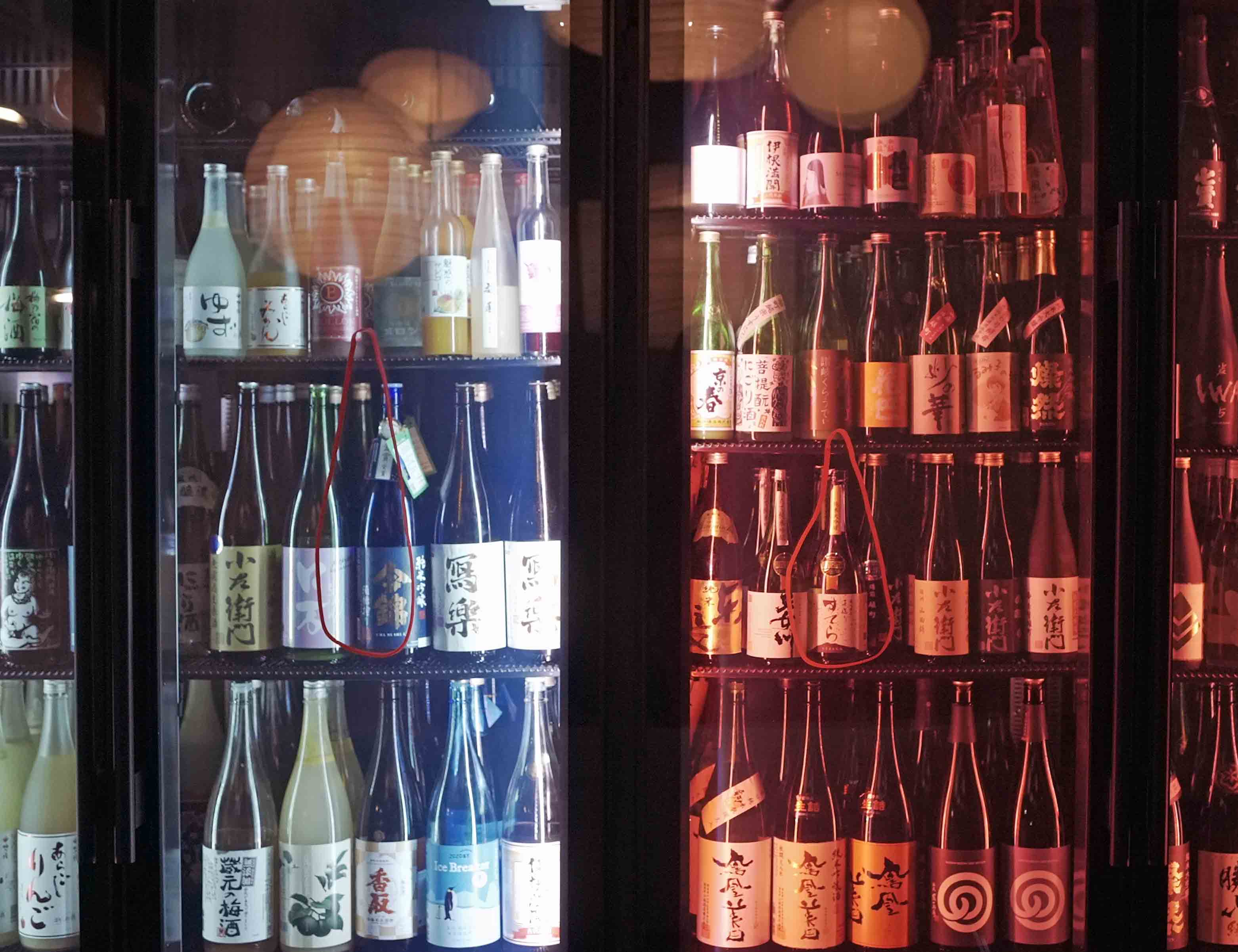 An umami-forward, wild fermented sake from Noguchi Naohiko, Japan's oldest toji (sake master), might be poured with oysters. They come fresh, baked with signature mayonnaise or steamed with ginger, rice noodles and spring onion.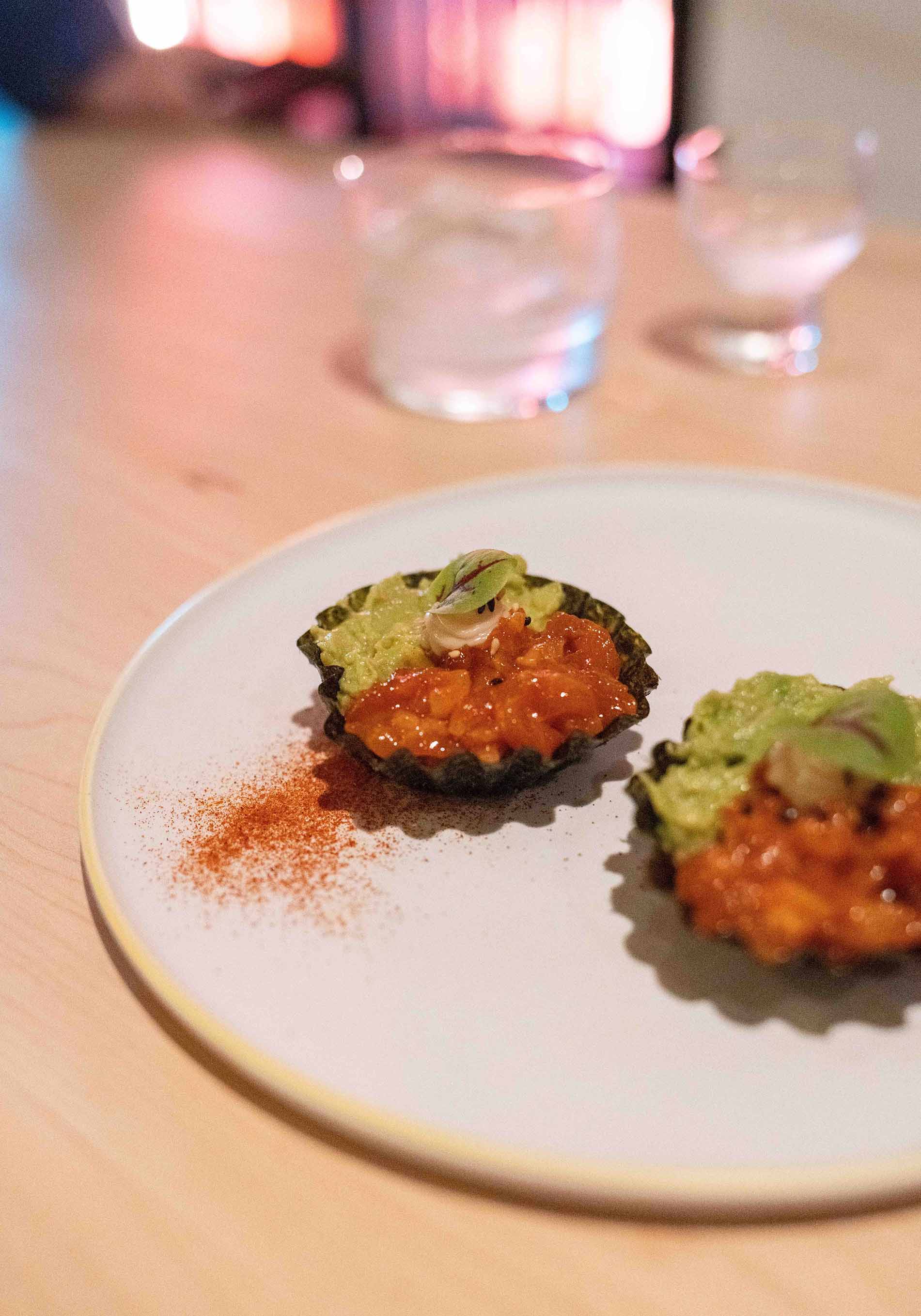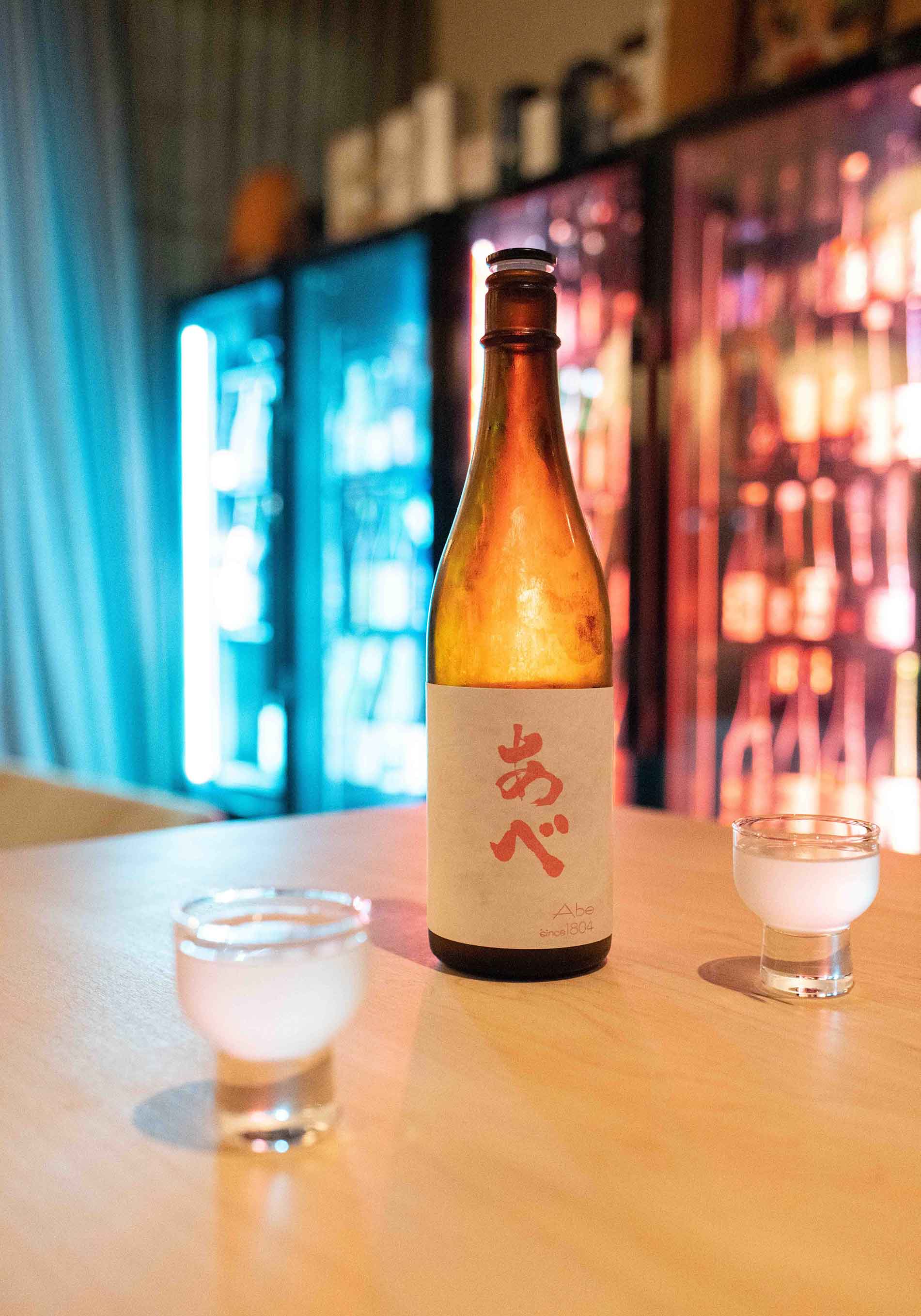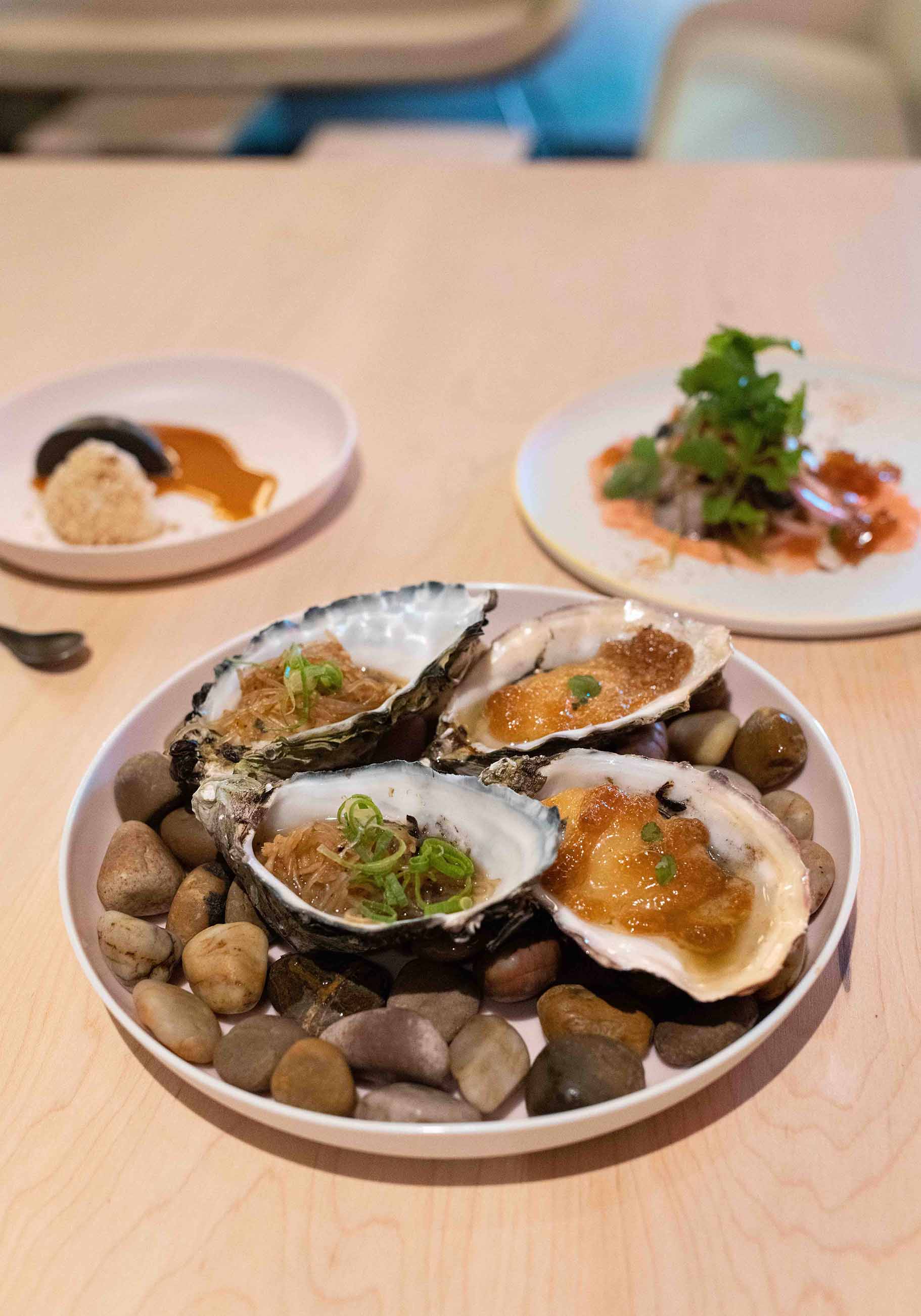 An unpasteurised ginjo-shu with a mushroom earthiness from father-son brewery, Abe-Shuzou, stands up against a platter of smoked ferments. It features pickled and smoked daikon filled with cream cheese, smoked egg tartare spooned onto parmesan crisps and cubes of cream cheese sticky with dried fruit and sweet miso.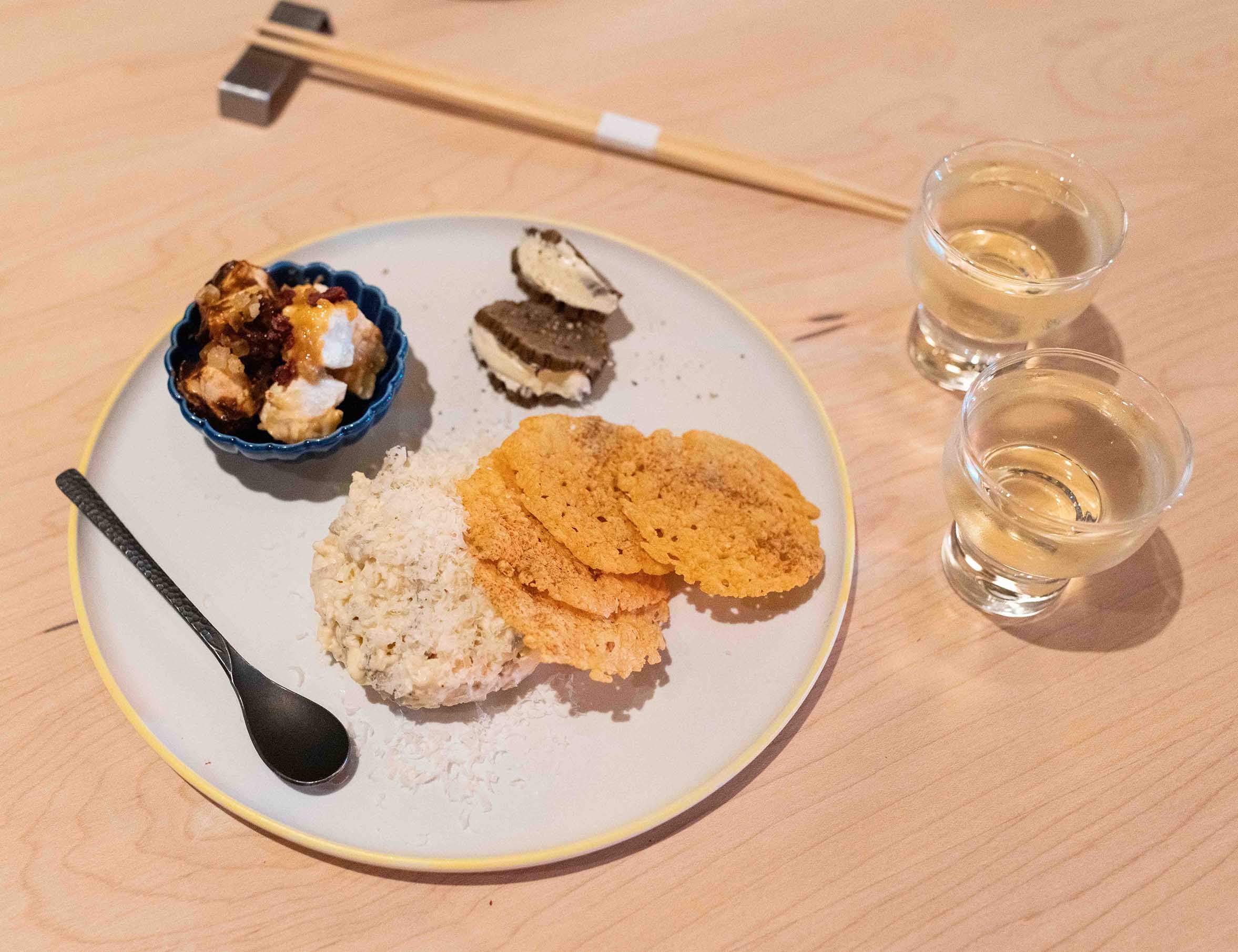 It also brings out the meaty, savoury flavours in the lucky dip of eel, prawn, scallop, chestnut and shiitake hiding in silky chawanmushi (steamed egg custard). There will be something lighter with the half-spheres of homemade sesame tofu in sweet miso that wobble on Japanese Arita porcelain, and more powerful with slices of cured mackerel that fold over themselves on pureed pink gari ginger with ponzu jelly.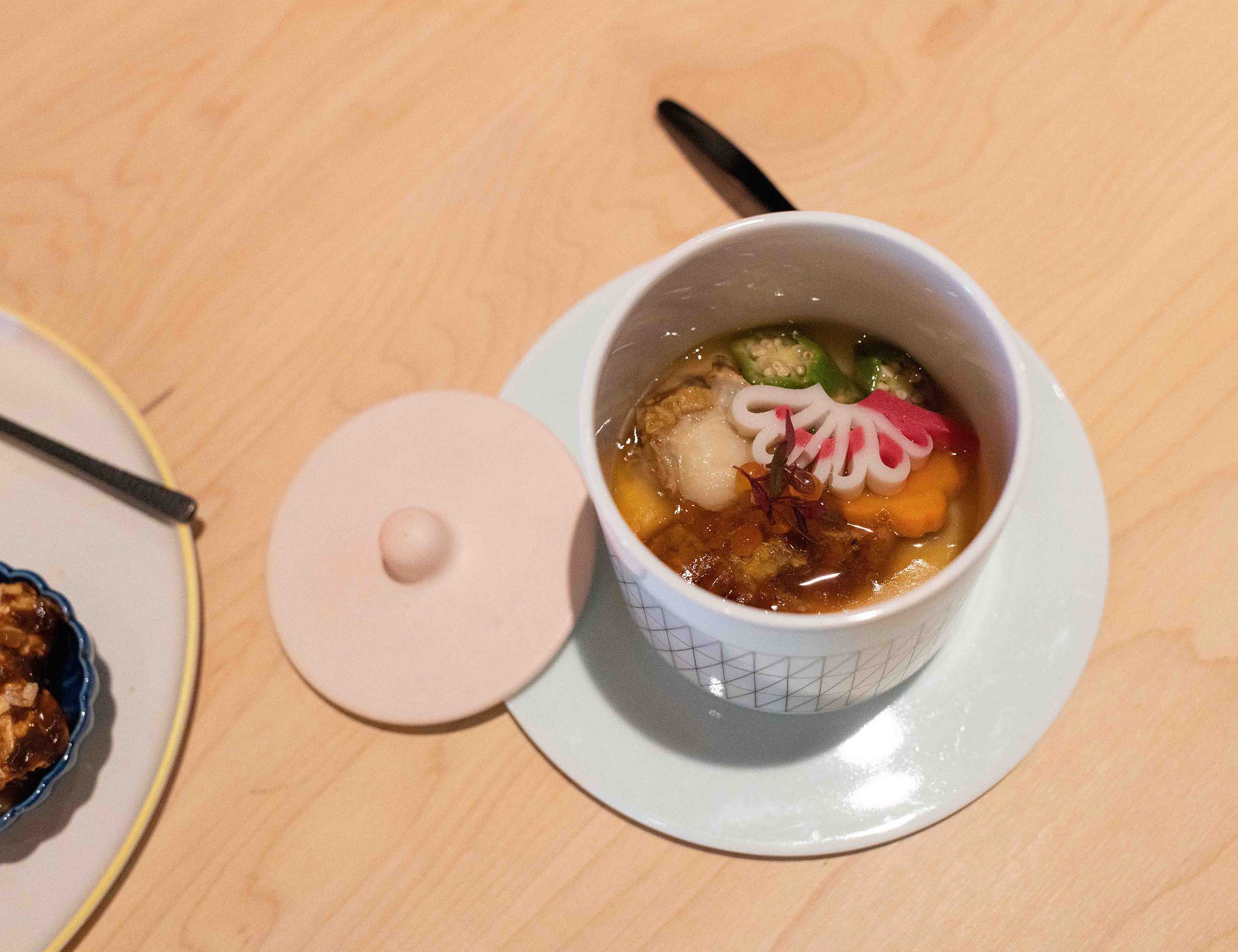 To get to Leonie Upstairs, you'll have to excuse yourself as you push in front of the queue that snakes from Hareruya Pantry. Enter through the unmarked black door in the left corner of the shop. At the top of the stairs, the room is divided with a sheer, slate-grey curtain into walk-ins and bookings.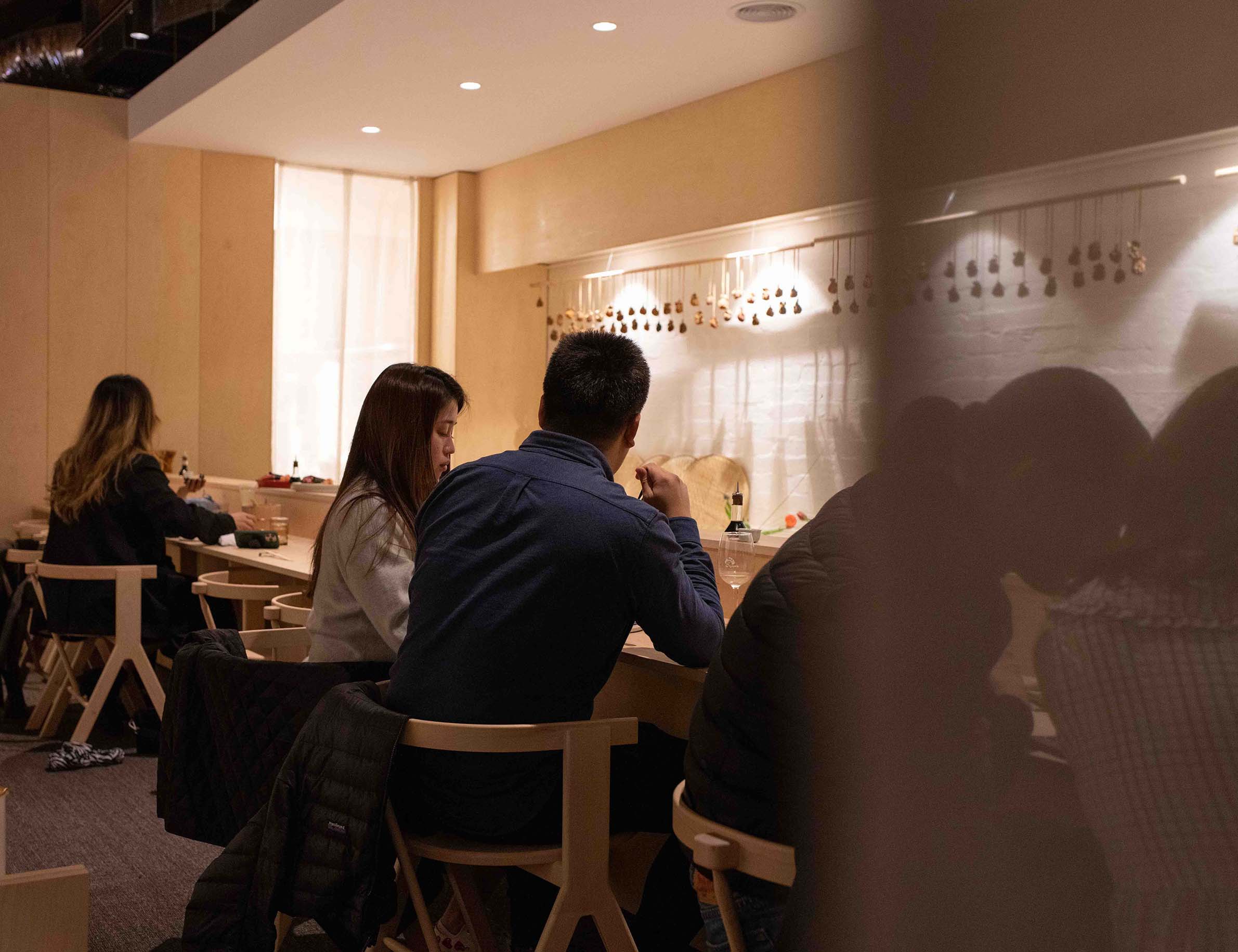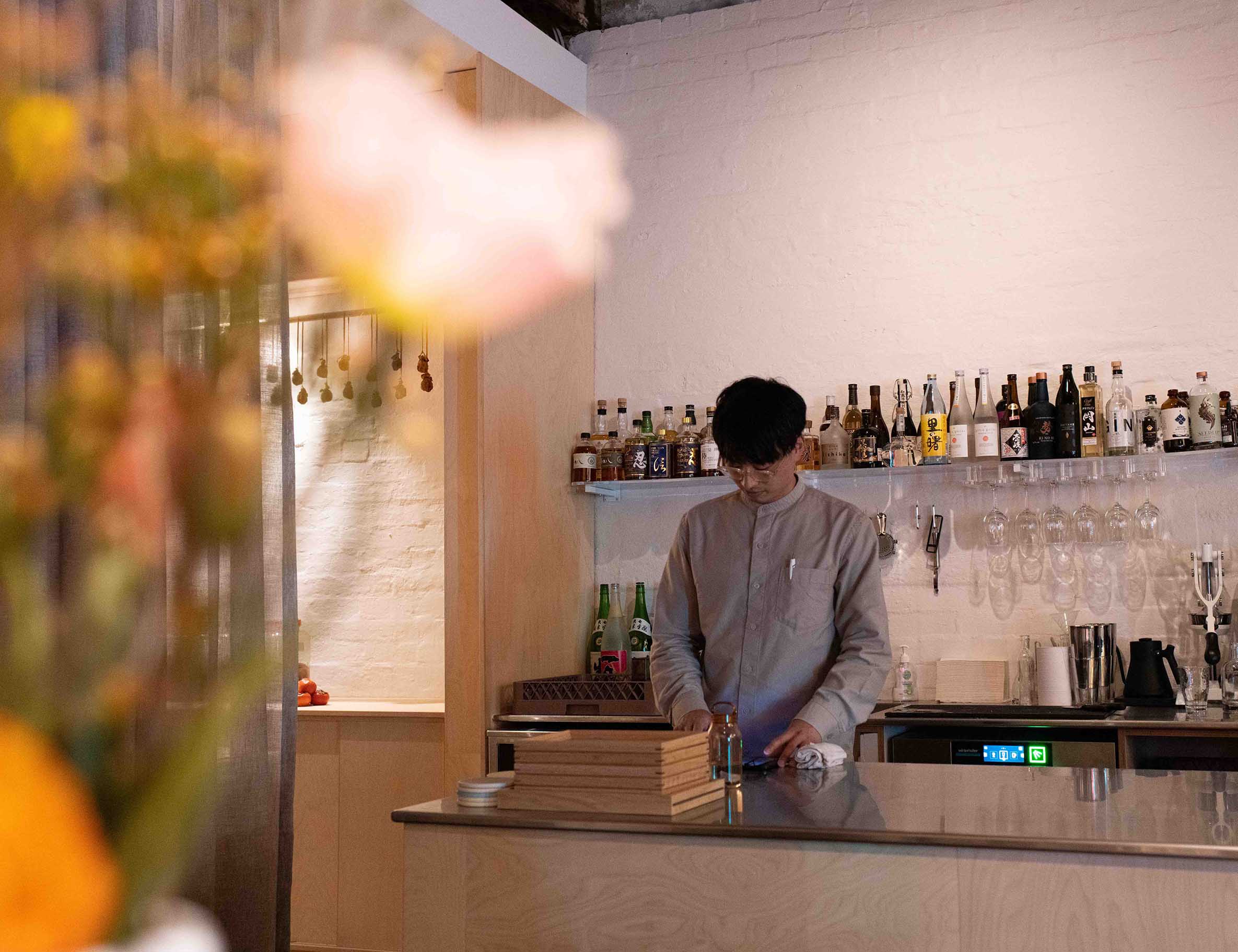 There are 10 bar seats at the temaki counter, strung with air-drying persimmons, plus room for another 10 at the dining tables opposite. Melbourne designers and makers ByDave customised the pale, timber furniture from American rock maple and birch plywood. To the right, walk-in diners snack from sculptural coffee tables – chrome cubes and black flowers – while Isamu Noguchi-inspired ceiling lamps hang like an art installation from the warehouse ceiling.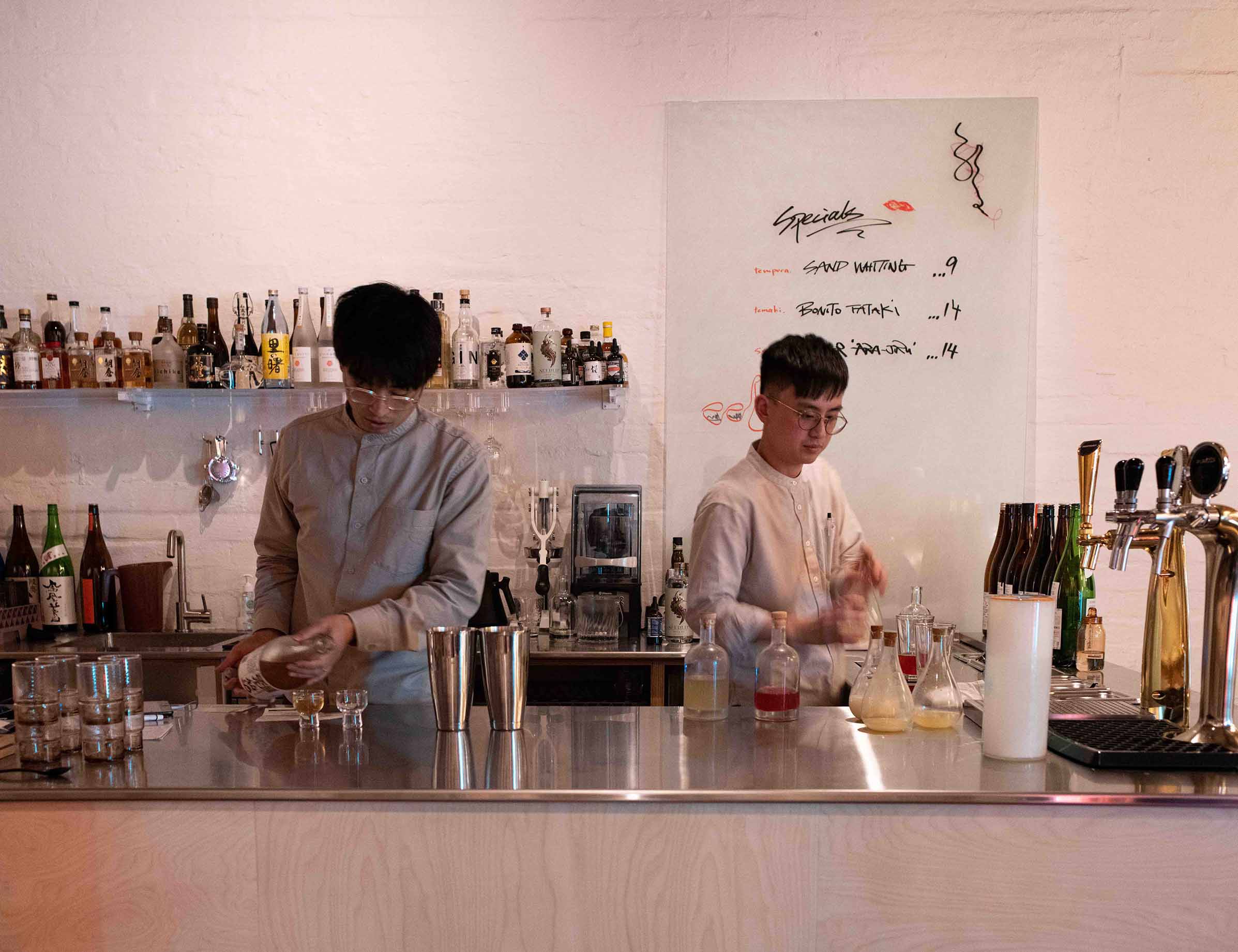 Just as Noguchi applied a modern touch to heritage Gifu lanterns, so too is Kantaro reimagining traditional Japanese fare and the environment in which it's eaten.
"We are trying to feature traditional Japanese food, but we always have that Australian touch, because we use Australian produce," he says.
Take dessert for example. While TikTok racks up views for gelato wrapped in mochi downstairs at Hareruya Pantry, upstairs at Leonie, the kuri no pavlova is begging to go viral. This take on one of Australia's favourite desserts sees a staff member arrive at the table with a Japanese contraption that pushes out chestnut cream in spaghetti-like strands. They're expertly swirled around a Japanese-rum infused sponge cake layered with chestnut paste, mochi and meringue until all you can see is a mini Mount Fuji of chestnut cream noodles.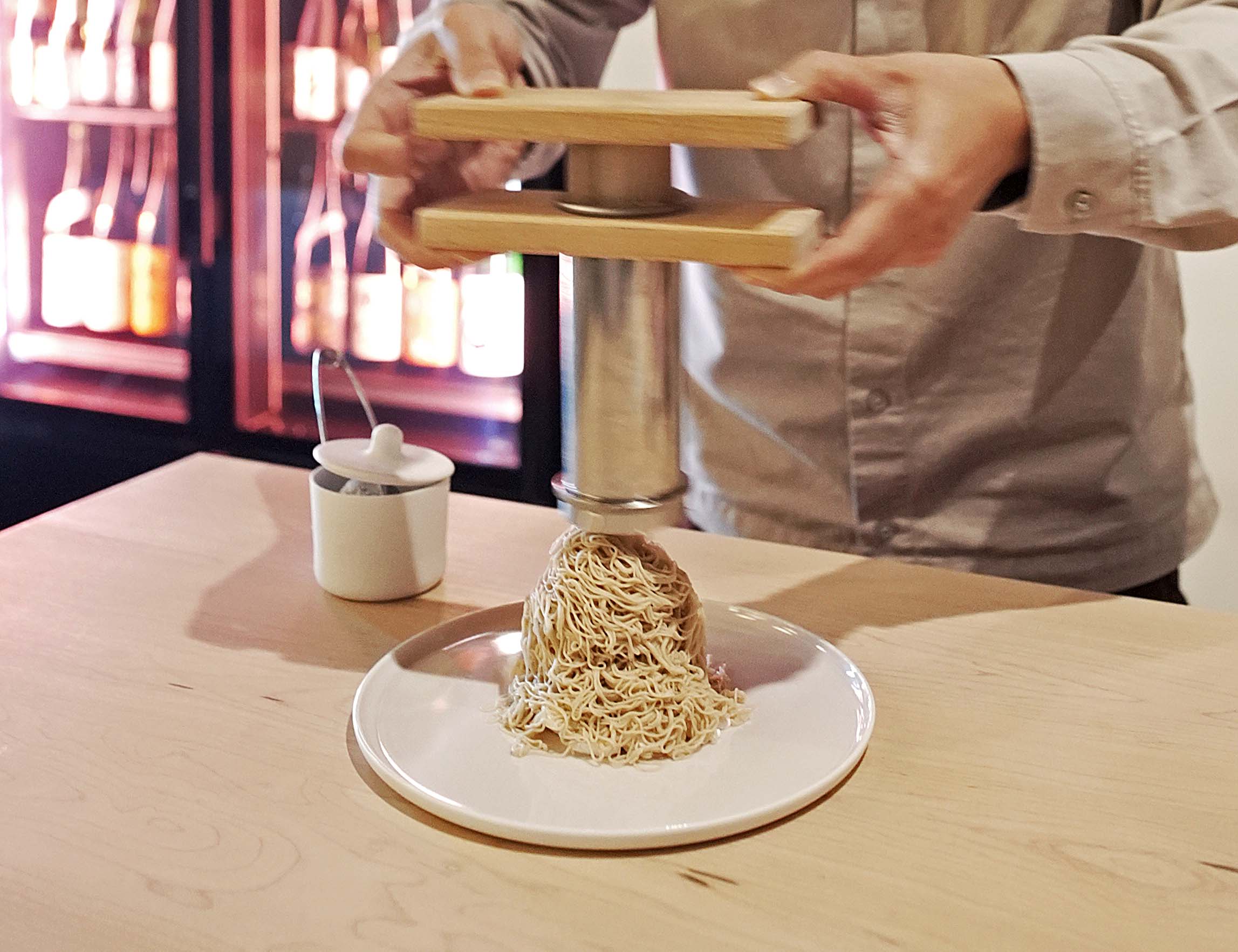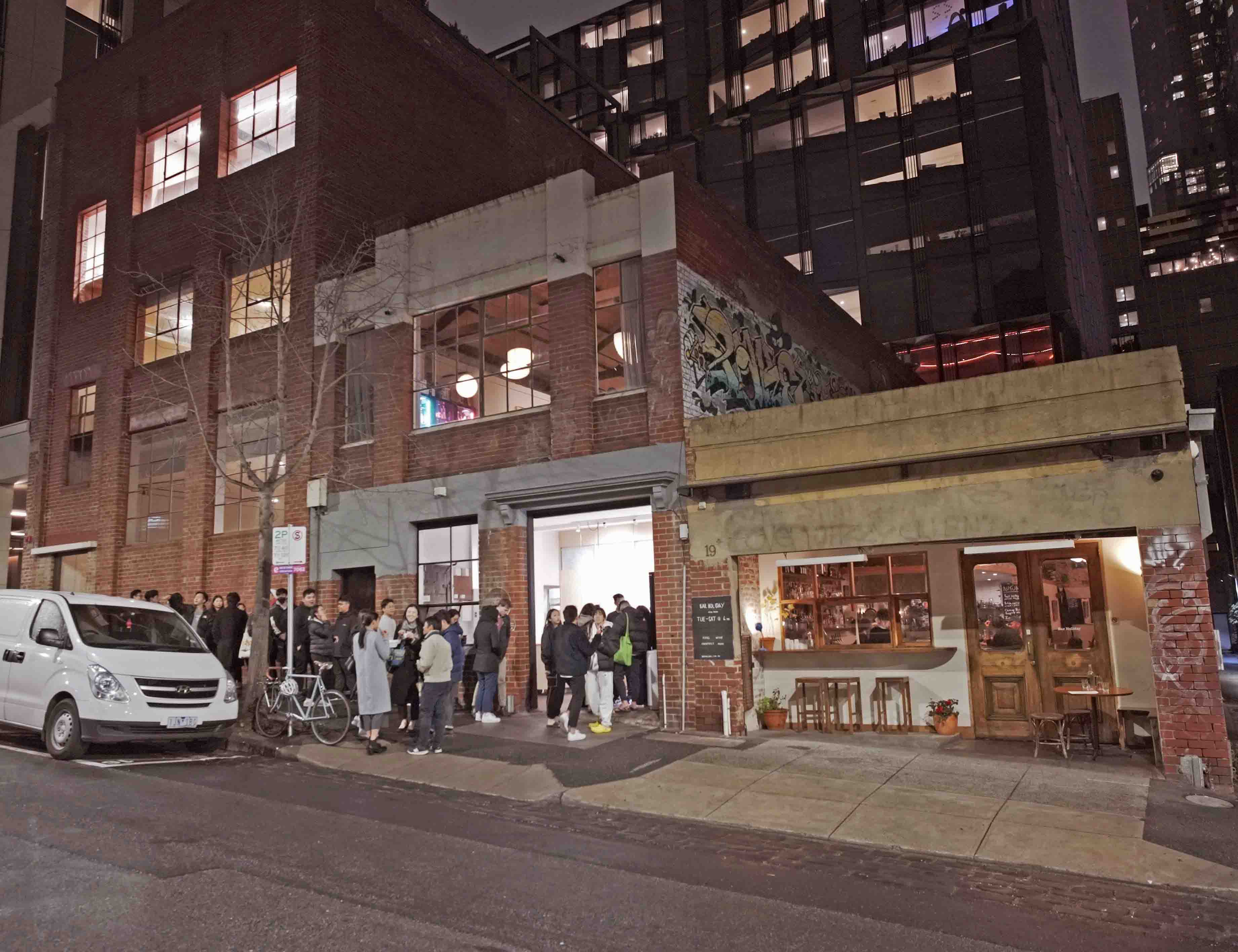 Around the World in 80 Lesser-Known Melbourne Restaurants
FREE food guide when you subscribe.