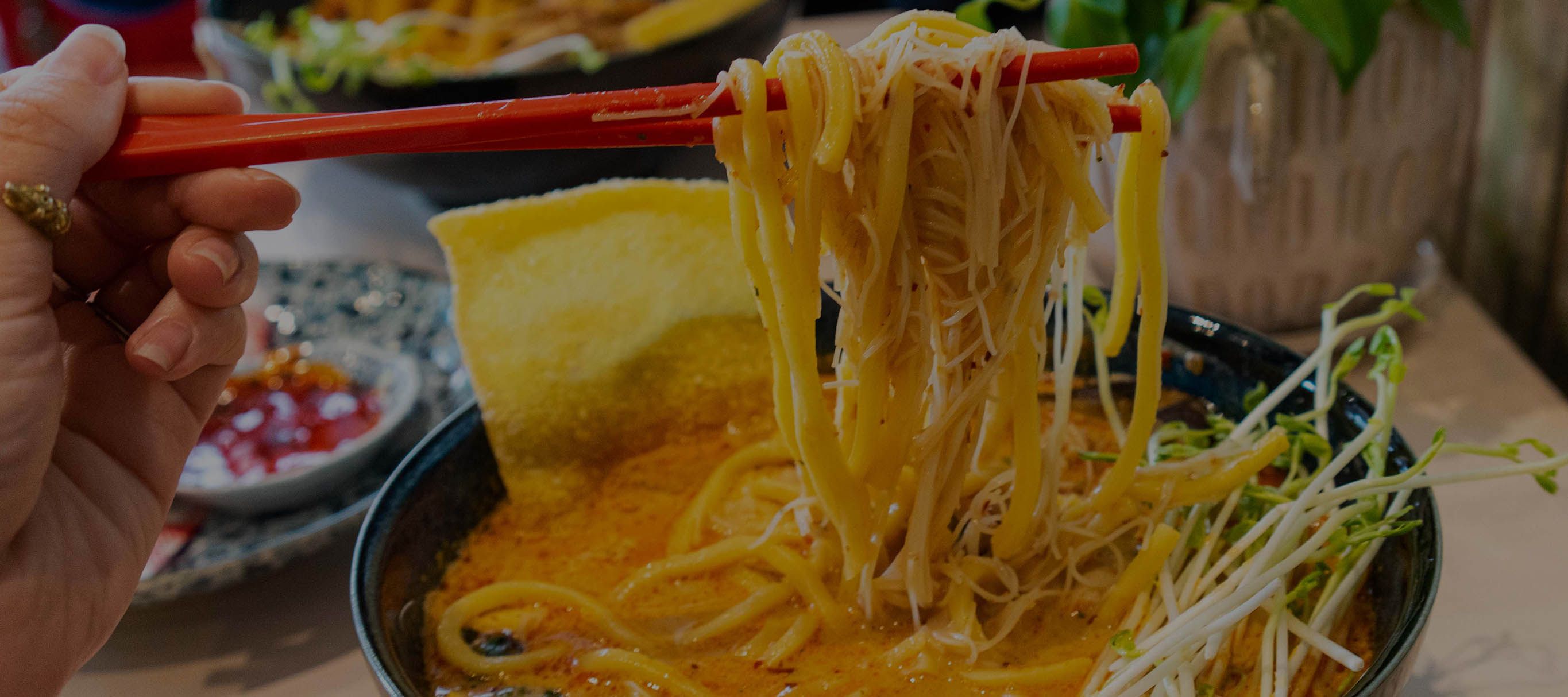 Kantan Malaysian Restaurant, Fitzroy
Traditional techniques for modern tastes at Kantan Malaysian
Words & Images by Sofia Levin
Kantan Malaysian restaurant brings vegan laksa that tastes like the real thing to Fitzroy, along with St Ali coffee and regional dishes you've probably never tasted.
Kantan Malaysian restaurant is the latest contender for Melbourne's best laksa – and it's vegan. You wouldn't know it from the spiced, coconut broth made with soy belachan (usually fermented shrimp paste), or the default bowl that bobs with a soft-boiled egg and steamed chicken. But the vegan version comes with mock char siu. It's all comfort and no animal product.
"If I don't tell people my laksa is vegan, they don't know," says owner Hisham Bin Abdullah. "When we started with laksa everyone kept asking for vegan and vegetarian. Malaysians love our meat, so I took it as a challenge to come up with something that they can eat. I try to create a vegan version of the original recipe as close in taste as I can."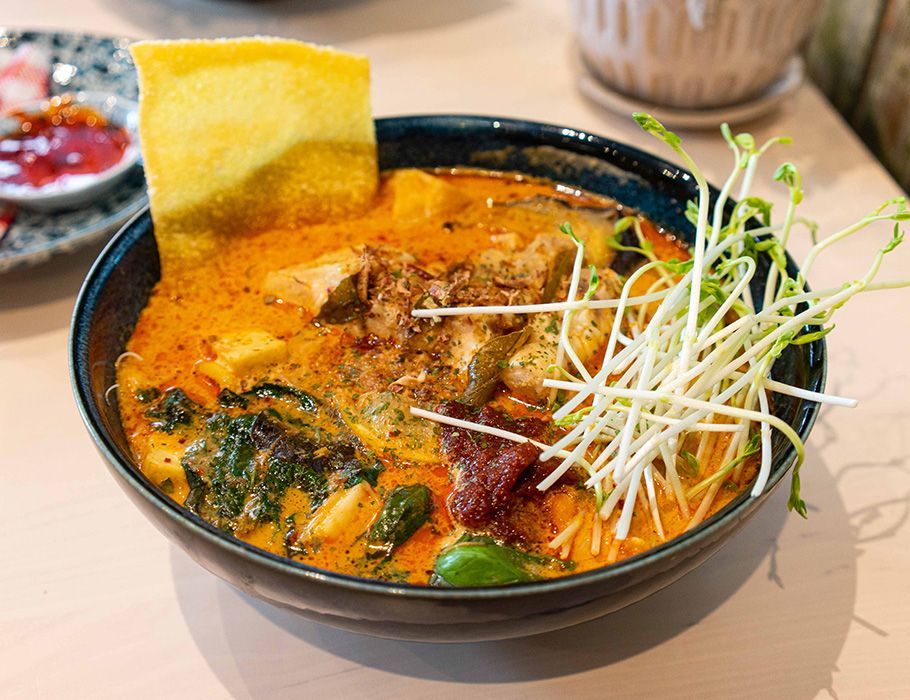 Hisham opened Kantan catering during Melbourne lockdown in 2020, initially selling just curry puffs, cheesecake and St Ali coffee. While he wants everyone to be able to eat his laksa, Hisham's mission is to share hard-to-find Malaysian dishes, such as roti jala (rolled up, latticed pancakes with chicken curry) and keropok lekor (a traditional snack of chewy fish and sago "sausages").
"When I talk to people about Malaysian food they always say curry laksa or char kway teow, but there are so many other dishes, and it's such a shame if you haven't tried them," he says. "I think it's my responsibility now to showcase what Malaysian food can be."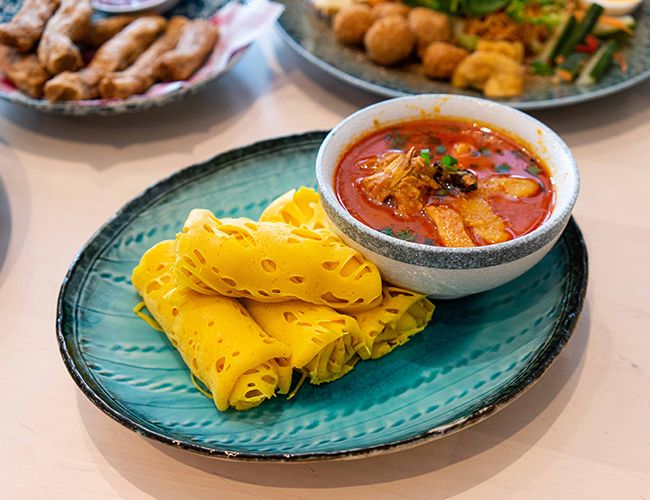 After working in the television industry for five years, Hisham came to Melbourne to study a double master's degree in marketing and commerce. He worked at a local telecommunications company for a few years, but quit when he realised the corporate life wasn't for him.
"I want to put a different side of Malaysian food on the map."
Hisham took some time off to figure out his next steps, making home-style Malaysian food for friends with the extra time. Word of his food spread quickly, and he realised he might be able to make a living cooking. He started an under-the-radar supper club from his small apartment in Carlton, testing dishes on his guests. Eventually. Hisham turned his attention to catering, which led to the Kantan opening in Fitzroy in September 2020. Many of his first supper club guests are now his customers.
"My mum used to make everything from scratch. Because I was exposed to that from such a young age, I really appreciate it," says Hisham. "If you came to my mum's house, the cooking you find at Kantan is exactly how she would make it."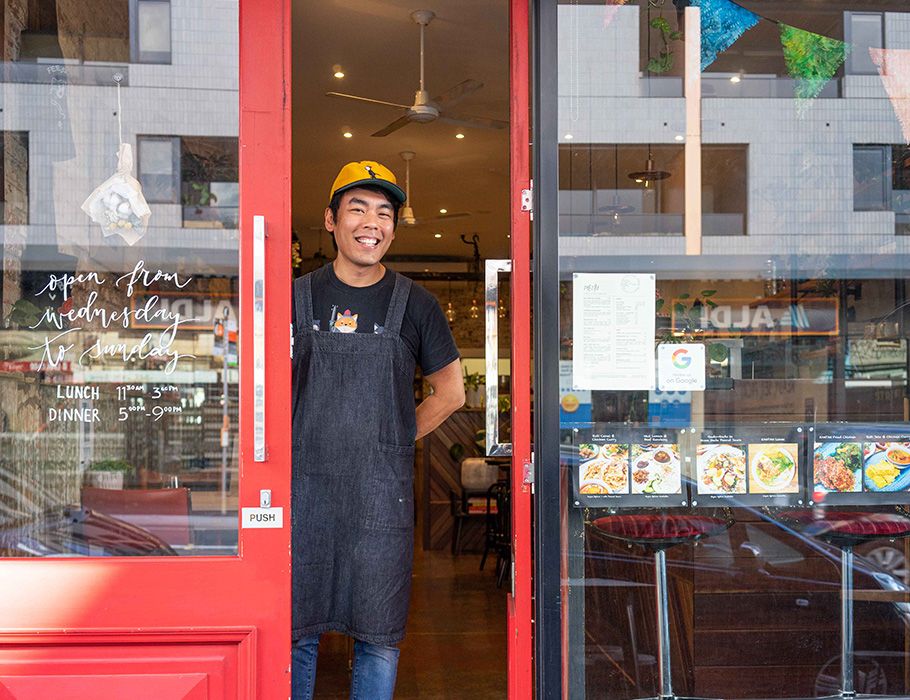 Hisham was born on the east coast of Malaysia. The food of his childhood was laden with seafood with a distinct, aromatic influence from neighbouring Thailand. Two of his favourite dishes are nasi dagang, a specialty from Trunganu where rice is cooked in coconut milk, fenugreek, shallots and ginger and served with a tuna curry, and nasi kerebu, where rice turns bright blue after being cooked in a herbal broth dyed with butterfly pea flowers. The latter is served with side dishes, such as chillies stuffed with fish paste and ayam precik, chicken marinated in turmeric and coconut.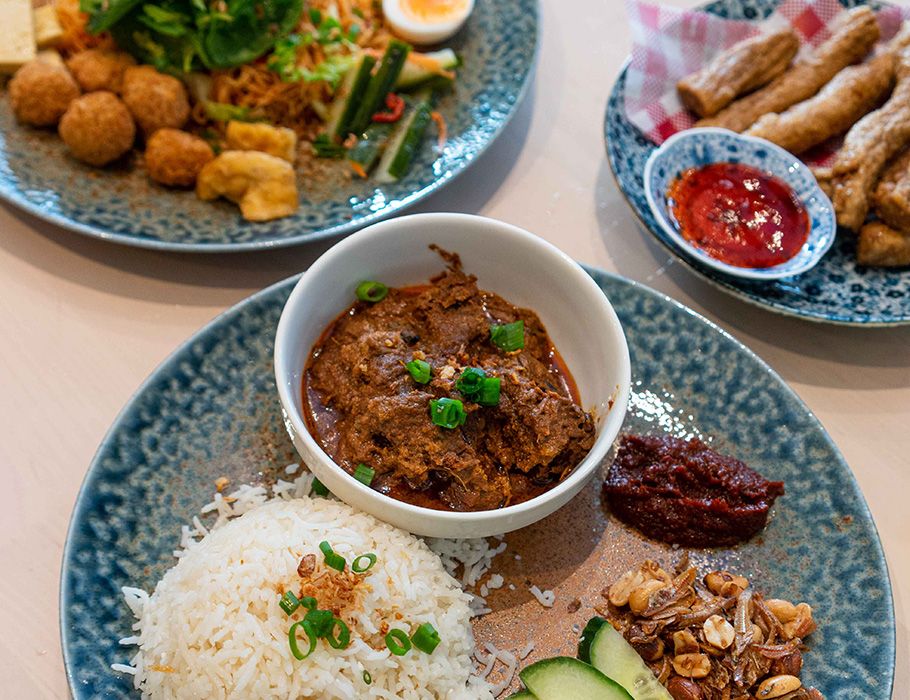 These regional dishes take a long time to prepare and will make it to the menu eventually, but for now, they're available through the catering arm of Kantan. Hisham makes everything from scratch, including seri muka, a layered kueh (Malaysian cake) with coconut sticky rice on the bottom and pandan custard on top, which took him a year to perfect. He's concerned that modern lifestyles are causing the next generation of Malaysian cooks to take shortcuts.
"I want to put a different side of Malaysian food on the map," says Hisham. "I want people to appreciate slow food again; the essential processes that are required to make these things. We need to appreciate these things before they're lost forever."
Details
256 Johnston Street, Fitzroy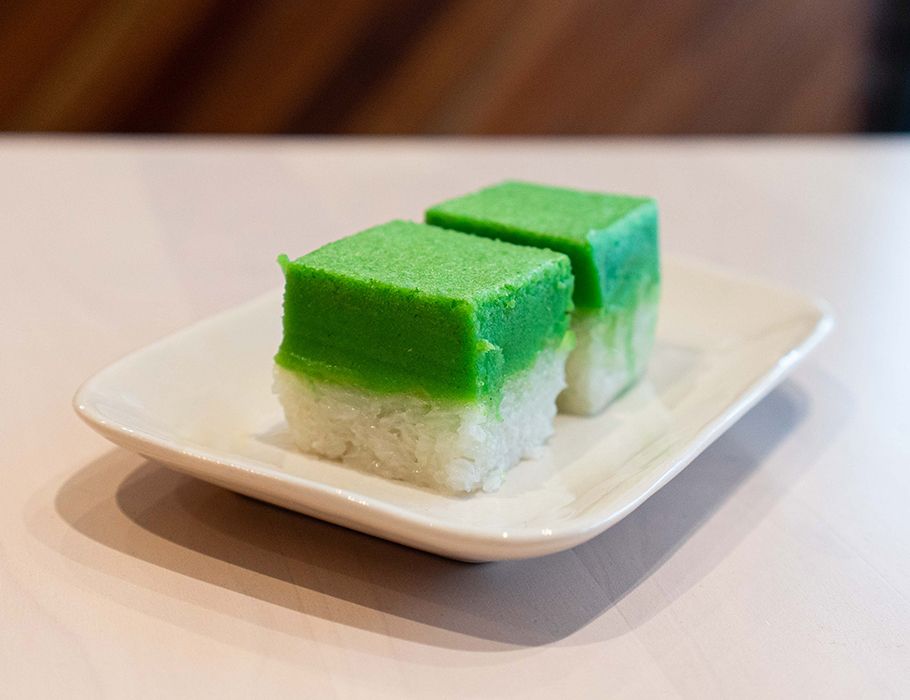 Around the World in 80 Lesser-Known Melbourne Restaurants
FREE food guide when you subscribe.