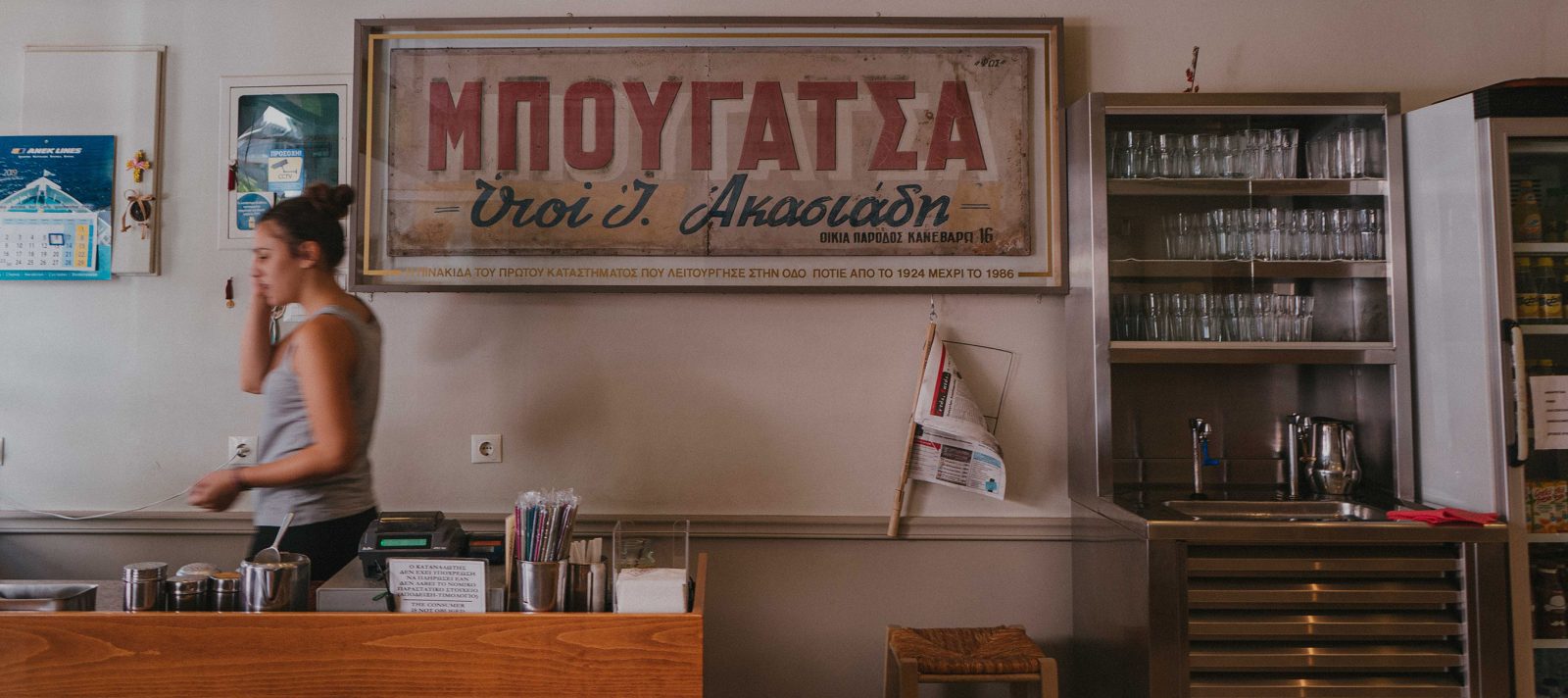 The Internet got Chania's best Bougatsa so very Wrong
Words & images by Sofia Levin
To everyone retracing the footsteps of Anthony Bourdain and Mark Weins to eat Bougatsa in Chania, Crete – you went to the wrong place.
It's hella confusing having two bougatsa shops 90 metres apart in Chania on the northwest coast of Crete. Bougatsa Iordanis is the more famous of the two because of its proliferation in guide books. You'll find it at Apokoronou 24. Bougatsa Chania, just up the street on the other side of the road, is at number 37. Bougatsa, for those catching up, is a traditional Greek pie usually eaten for breakfast with coffee. Fillings (usually cheese or custard) are folded in filo pastry stretched so thin you can see through it. Bougatsa can be sweet or savoury, but both versions have optional sugar granules and cinnamon sprinkled on top.
The dish dates back to the Byzantine period and became popular in Greece following the Greco-Turkish war in the early 1920s, when a population exchange saw Greeks living in Turkey returned to Greece, and vice versa. Flash forward to modern-day Chania and these two stores compete for the title of Best Bougatsa. Numerous TripAdvisor reviews of Bougatsa Iordanis see people cooing over the superior bougatsa, exclaiming that they watched Bourdain's No Reservations episode or chased it for breakfast after Mark Weins did the same, and by god, the experts were right! The problem is that everybody went to the wrong bougatsa shop. If you've visited either (or in my case, both), it only takes a quick look at the outbreak of online videos to see that both examples were both filmed at Bougatsa Chania. Let me settle this right here, right now: Bougatsa Iordanis may be the oldest bougatsa store in Chania, but Bougatsa Chania is the best. Here's a run down of the two.
Bougatsa Iordanis
Saving the best for last, let's start with Bougatsa Iordanis. I'm as much of a sucker for a story as the next person, and Iordanis has it made. Back in the early 1920s, a baker from Constantinople bought the bougatsa store from a Cretan Muslim who taught him how to make the breakfast staple. He then passed the skill onto his son-in-law. The store has been feeding locals since 1924, and tourists for the last couple of decades. Today it's run by the fourth generation and has multiple stores in the city. Here you can have your bougatsa sweet or savoury, the former with custard and the latter with myzithra, a local goat and sheep's cheese. Don't get me wrong; it's delicious – just not as delicious as Bougatsa Chania.
Apokoronou 24, Chania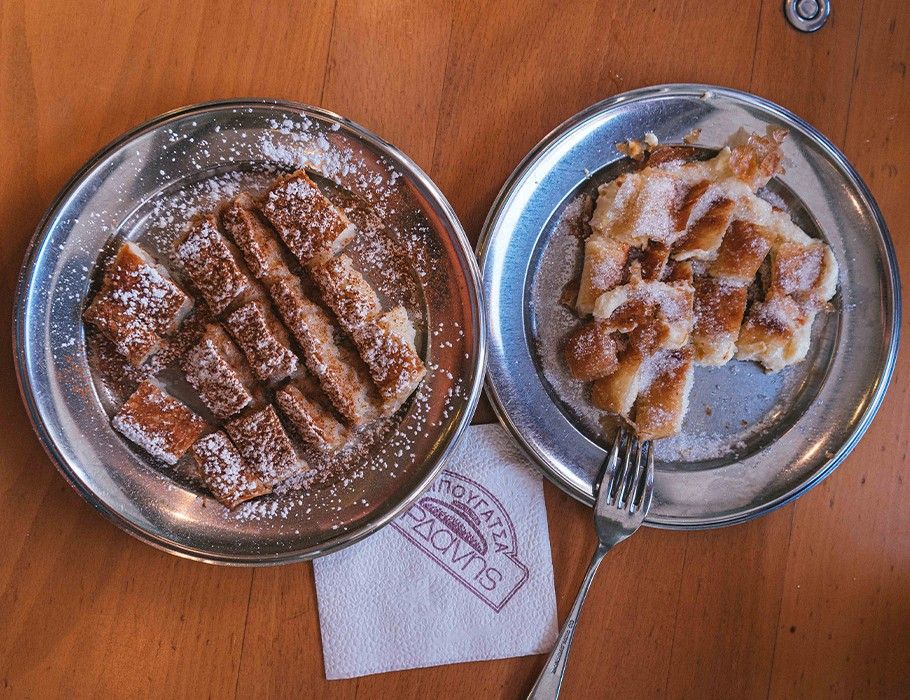 Bougatsa Chania
It may not be the oldest, but Bougatsa Chania is the best bougatsa in the city. You can only order one variety of bougatsa here, the traditional version made with myzithra. Ask for it without sugar and cinnamon and then add them to taste using the shakers provided. The filo pastry here is thinner and darker than at Bougatsa Iordanis, shattering on impact and not going soggy against the slightly sour, creamy filling. If you're more of a sweet tooth, Bougatsa Iordanis is a better bet, but if you only settle for the best, come here. Regardless of where you end up, don't get your bougatsa to go – it tastes best cut into small squares and served fresh.
Apokoronou 37, Chania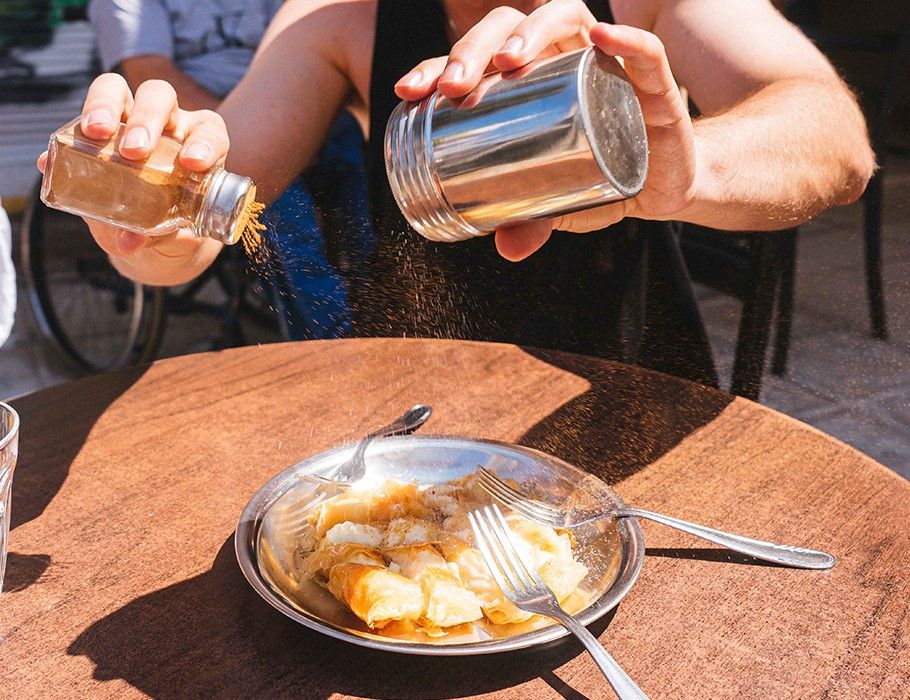 Around the World in 80 Lesser-Known Melbourne Restaurants
FREE food guide when you subscribe.