Kampot Kitchen,
Preston
Kampot Kitchen shares Cambodian culture through num pang baguettes
Words & Images by Sofia Levin
A Cambodian-born musician has opened Kampot Kitchen, Melbourne's first cafe dedicated to num pang baguettes.
Cambodian-born Jimi Lundy welcomed two babies in February 2021. Born the same week, his second son Ethan arrived first, followed by Kampot Kitchen, Melbourne's first num pang cafe. It's tucked beneath an apartment block beside Gertrude Contemporary in the inner-northern suburb of Preston.
Num pang is to Cambodia what banh mi is to Vietnam. Both are French-influence baguettes sold by street food hawkers, but where banh mi is usually filled with cold cuts, num pang is often stuffed with fatty pork. At Kampot Kitchen, sandwich fillings are inspired by traditional dishes and the eponymous native pepper, but you won't find anything like them on the streets of Phnom Penh.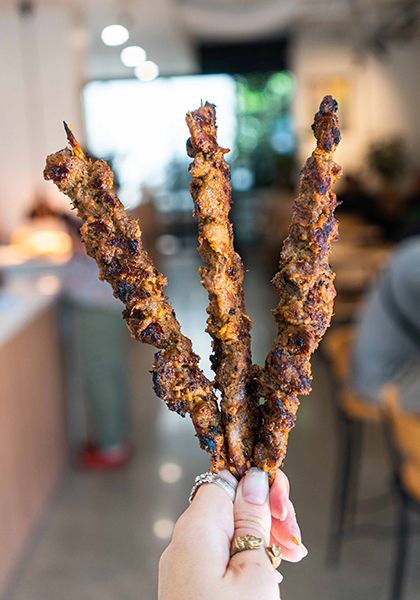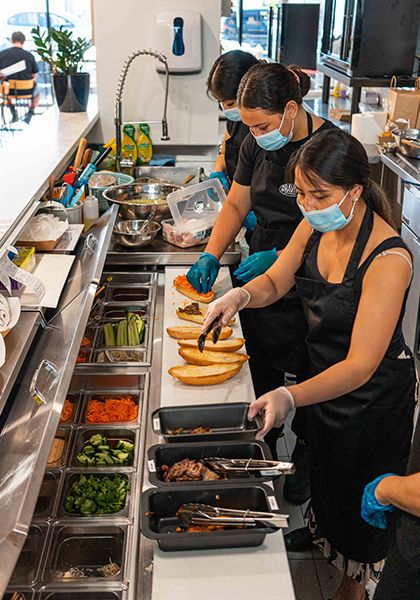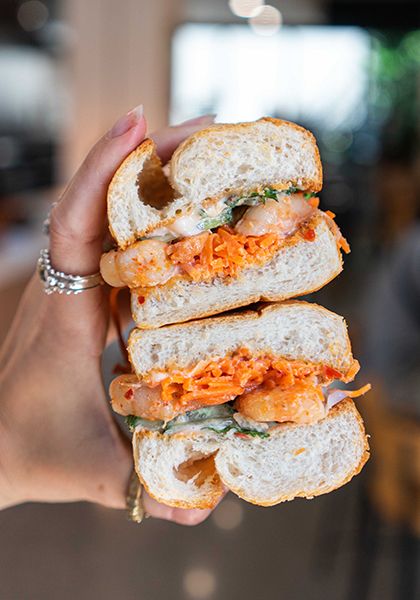 The original idea was to create a concept around sach ko ang, Cambodia's charry, lemongrass beef skewers. With the help of his wife, Sarann, Jimi decided to use the baguette as an entry point into Cambodian food. The menu lists nine num pang, and those beef skewers can be ordered either as a side or in a crusty baguette with creamy kampot pepper sauce.
"We wanted to do something to showcase some of our street food, our home cooked meals. If you went to a Cambodian person's home, 99 per cent of the time you'll get served the beef skewers," says Jimi.
There's also a dry, pulled version of koh ko, a soupy beef stew usually served with baguette on the side for dipping, as well as grilled prawns in coconut and kampot pepper sauce with roasted coconut flakes.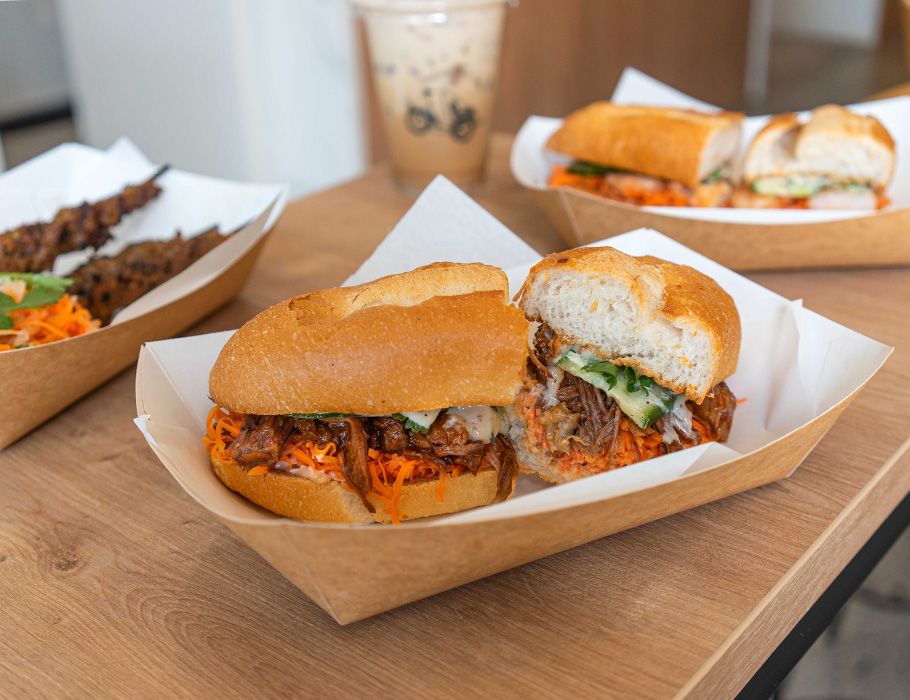 Kampot Kitchen is Jimi's first foray into hospitality. He's a singer-songwriter with an independent record label and runs a music school in Melbourne's northern suburbs, which explains his natural way with people. From around 11am, customers flow into Kampot Kitchen like the mighty Mekong. After just one month open, Jimi already greets almost everyone by name with a handshake and friendly pat on the back.
"We have plenty of Cambodian families who come and eat here, but we wanted something to attract some of the different cultures in Melbourne. We've had all different types of people come in and say we've never tried Cambodian; we want to give it a go. And so far, so good," he says.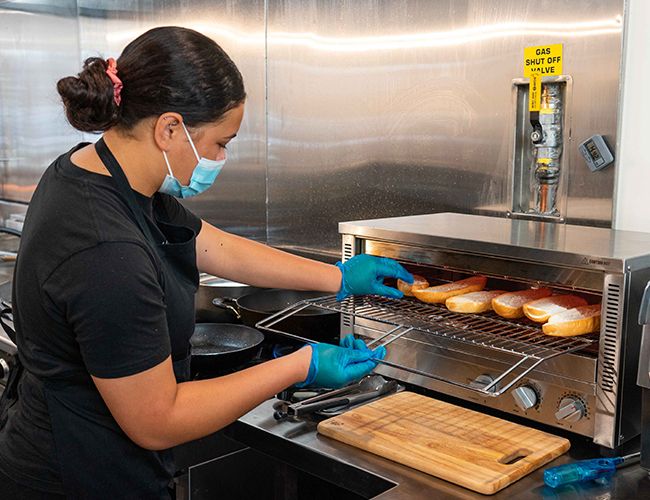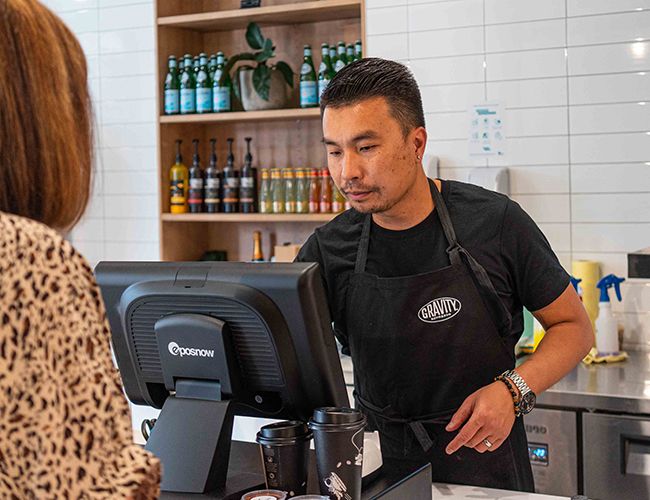 Although Kampot Kitchen has been embraced by locals, convincing his parents was a little trickier.
"They didn't get the concept in the first place. They were like, 'What's going on? What's this? Why is it in a baguette? That's not how we eat it.' Now they're excited about it, they say it's actually better than what they thought it would be," says Jimi.
Born in Battambang, Jimi's lived in Melbourne since he was three years old. He's mesmerised by Cambodia's streets when he visits, captivated by touting hawkers and people eating num pang or ka thiew (Cambodian pho) from 5am. Cambodian iced coffee, which Jimi also sells, is never far away.
"I don't think there's actually a concept of breakfast and lunch in Cambodia. It's just eat what you want, whatever you feel like it. They just eat all day, every day," says Jimi. "Food is just fresh all the time and accessible anywhere."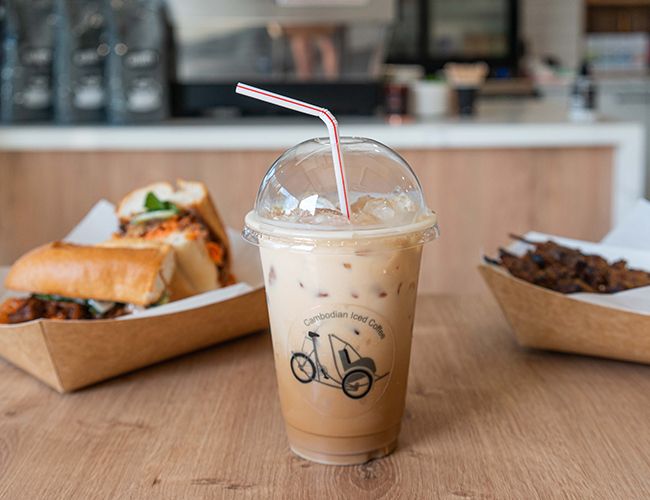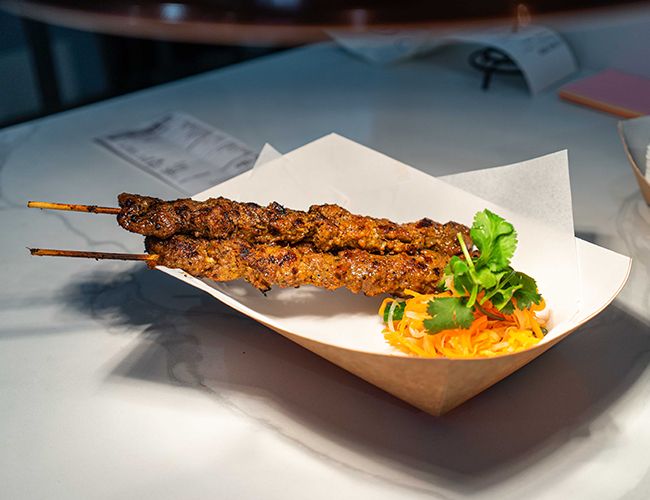 Having grown up in Australia in the '80s, Jimi only discovered kampot pepper later in life during trips back to Cambodia.
"I didn't know we had something that was world-renowned," he says. "It's got a beautiful aroma; the aftertaste just lingers. I always wanted to import kampot pepper."
Now he's doing exactly that at Kampot Kitchen, offering it to customers in 100-gram and 200-gram pouches. Sharing the pepper, both in its whole form and in the kitchen's signature num pang sauce, is Jimi's way of introducing people to Cambodian cuisine.
"Cambodian food is not that famous. We actually love the fact that people don't know much about it because when people are curious, they want to know more," he says. "That's the whole point of this, that's our aim, so I'm pretty happy."
Details
11 High Street, Preston
Facebook & Instagram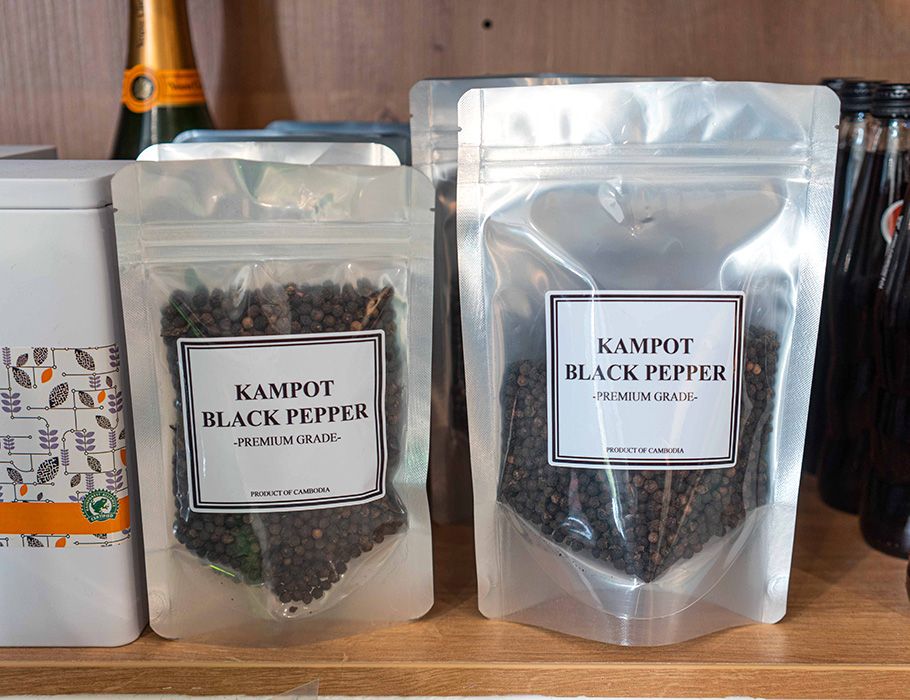 Around the World in 80 Lesser-Known Melbourne Restaurants
FREE food guide when you subscribe.