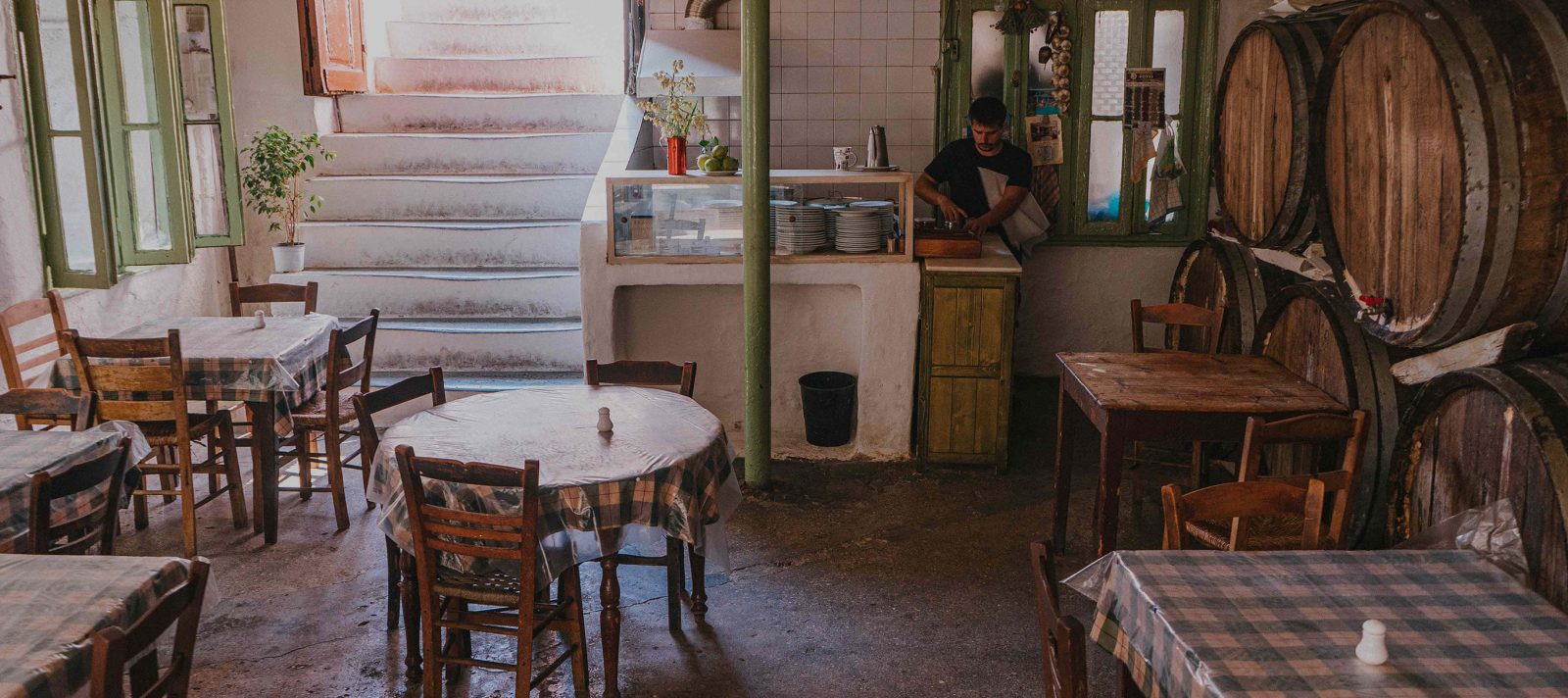 Diporto Underground Taverna, Athens
Diporto Taverna: too legit to quit for 130+ years
Words & images by Sofia Levin
Appreciate Diporto taverna for what it is instead gawking at its "authenticity".
It's our last meal in Athens and I'm nervous about my choice. We're only in the city for 48 hours, so there's no time to waste a single mouthful. When you Google the place I've chosen, it comes up listed as "Diporto - Secret underground restaurant". Not such a secret, then.
I keep digging. Some blogs and travel guides recommend Diporto, each with headings such as "The authentic guide of where to eat in Athens" and "The underground Athenian taverna lost in time". I press on, because as click-baity as the articles are, Diporto (it means "two doors") looks incredible. The taverna first opened in 1887, and there's not better restaurant citric than time.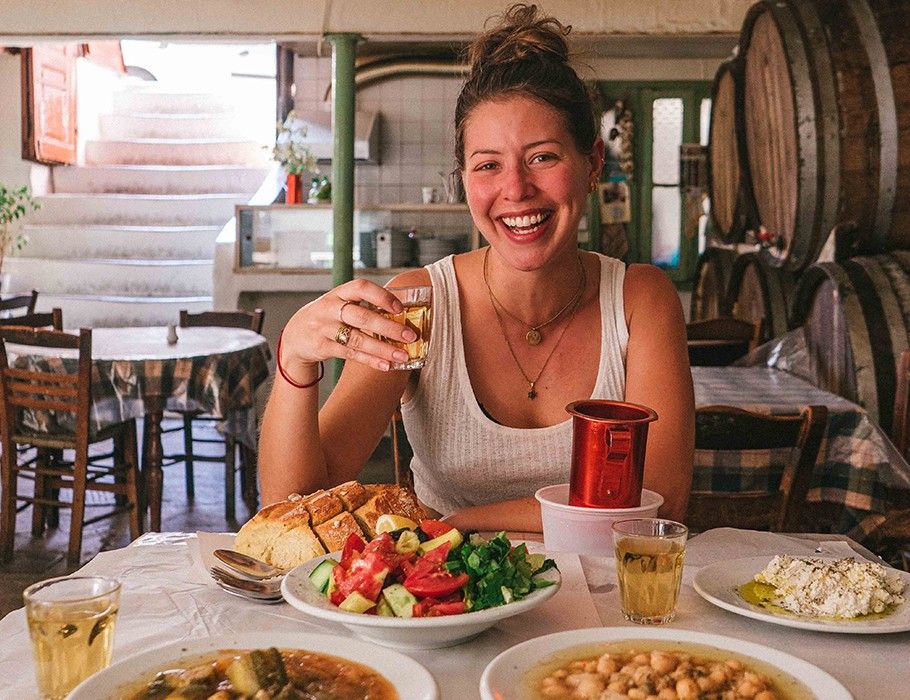 We head to the not-so-secret taverna, walking through the outdoor fresh produce section of Varvakios Central Market. Sure, 10.40am is a strange time to eat, but with a plane to catch the alternative is airport food. Outside the pinned address is an empty neoclassical building scribbled in lowbrow graffiti. The awning yearns for a time long past when it was cream and wooden window shutters are half disintegrated. There's no sign, but a metal trapdoor opens to steep stone steps, wonky from 130-something years of hungry workers trampling into the bunker-like taverna.
Inside are six tables, each with plastic blue and white gingham tablecloths and wooden chairs. It can't fit more than 20 people, which is why you sometimes end up sharing tables with moustached men from the market. Window frames and support poles are licked with pale green paint. Large wine barrels are stacked against the far wall and there's a marble workbench with an inbuilt tap that looks older than the building. There's no menu. No pleasantries. It's perfect.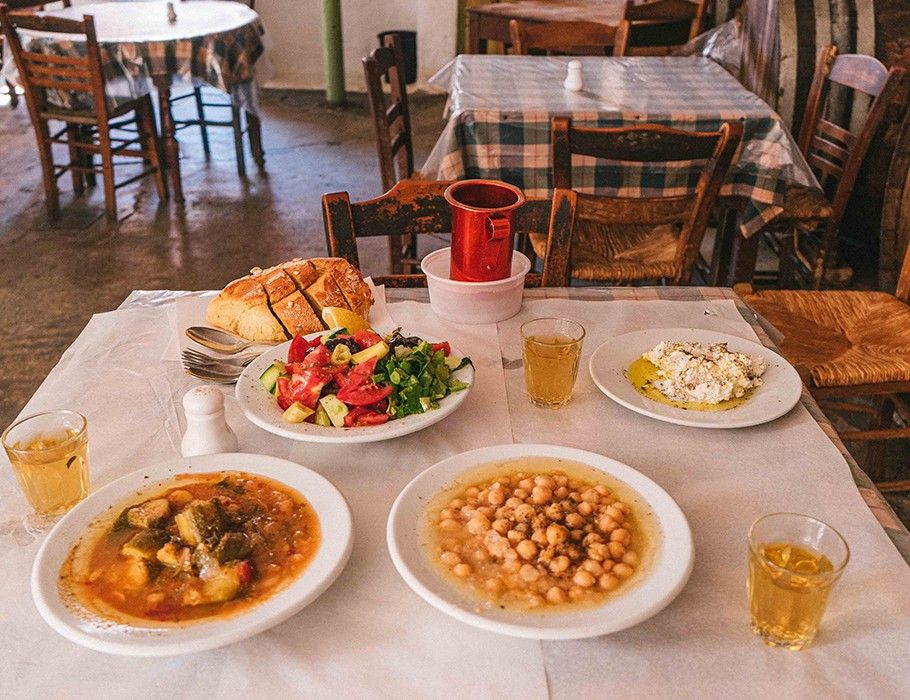 Someone fastens butchers paper to our table. He tells my Greek-speaking friend what's on the menu – it's more a courtesy rather than an inquiry into what we want. He does ask if we'd like wine. No brainer. He walks over to a tapped barrel and fills a red aluminium jug with cloudy retsina (white wine made with pine, a figurative and literal hangover from a couple of thousands of years ago when the ancient Greeks used it as a preservative), places it in a plastic bucket of ice and plonks it on the table along with some water glasses.
He serves bread straight onto the butcher's paper and brings plates of warm chickpeas drowning in oil, lamb and vegetable stew, a plate of cheese in olive oil and horiatiki salad of soft tomato quarters, black olives, onion, cucumber, shredded lettuce and hot green pepperoncini peppers. It's all market ingredients, lots of oil, plenty of salt and patience over a hot stove. Everything is remarkably simple, and simply remarkable.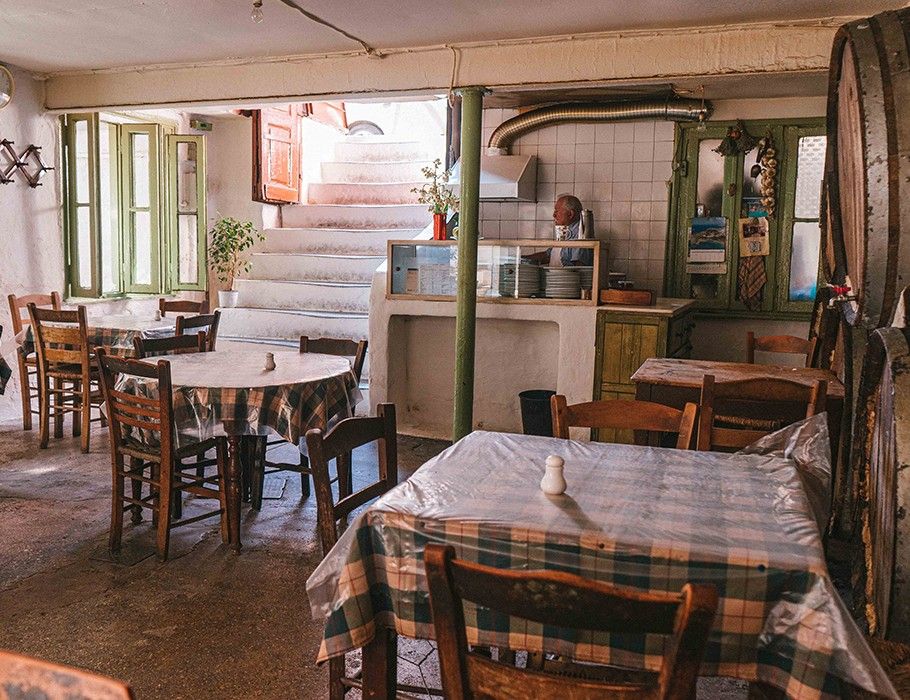 It comes to €10 per head, which seems about right given other tourists report paying €22 for two. Online you might read reviews of poor service, high prices and a small menu – but these reviews miss the point. The business ethos here has never been to romanticise hospitality, but to make sure the working class doesn't leave hungry – or sober. The two men running the taverna aren't here to serve you; they're here to feed you. Word got out and travellers came in, romanticising an authenticity that's increasingly hard to find. Then when the style of service was unfamiliar, they didn't like it.
At Diporto the service is brusque, not a word of English is spoken and the dishes won't change until one of the animals on it become becomes extinct. The food is fresh, there's no bullshit and you know exactly what you're getting. And that's why I love it.
Diporto Taverna
Sokratous 9 and Theatrou, Athens
Around the World in 80 Lesser-Known Melbourne Restaurants
FREE food guide when you subscribe.