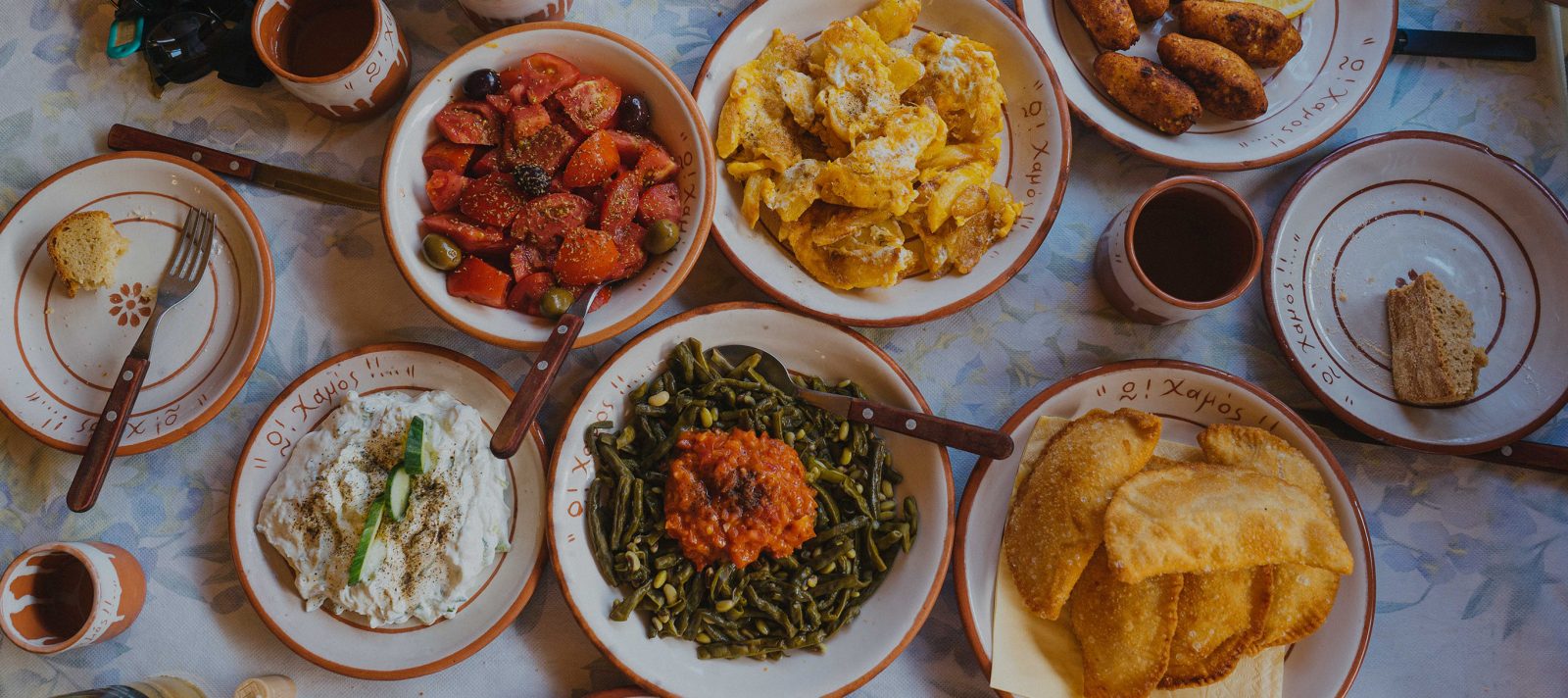 Where to Eat in Milos, Greece
A Guide to the Best Restaurants & Beaches on Milos Island
Words & images by Sofia Levin
With more than 100 restaurants and upwards of 75 beaches, this guide to the best of both will ensure you never waste a meal or miss a swim on Milos Island in Greece.
If you've been Googling "how many days Milos?" – the stunning Greek island in the Cyclades known for its dramatic landscapes, postcard-perfect fishing villages and food so packed with flavour it will bring tears to your eyes – the answer is as many as possible. Any fewer than five nights would be a shame. If you want to know where to stay in Milos, base yourself away from the port town of Adamantas, which might be popular for convenience but is nowhere near as atmospheric as staying in a windmill in Trypiti, or a traditional fisherman's house on Klima bay. All you need is a quad bike or scooter to explore the rest. This volcanic caldera is blessed with more beaches than you can possibly explore, but if you're a keen eater, this list will help you plan the important parts of your holiday – where to eat, swim and sunbake.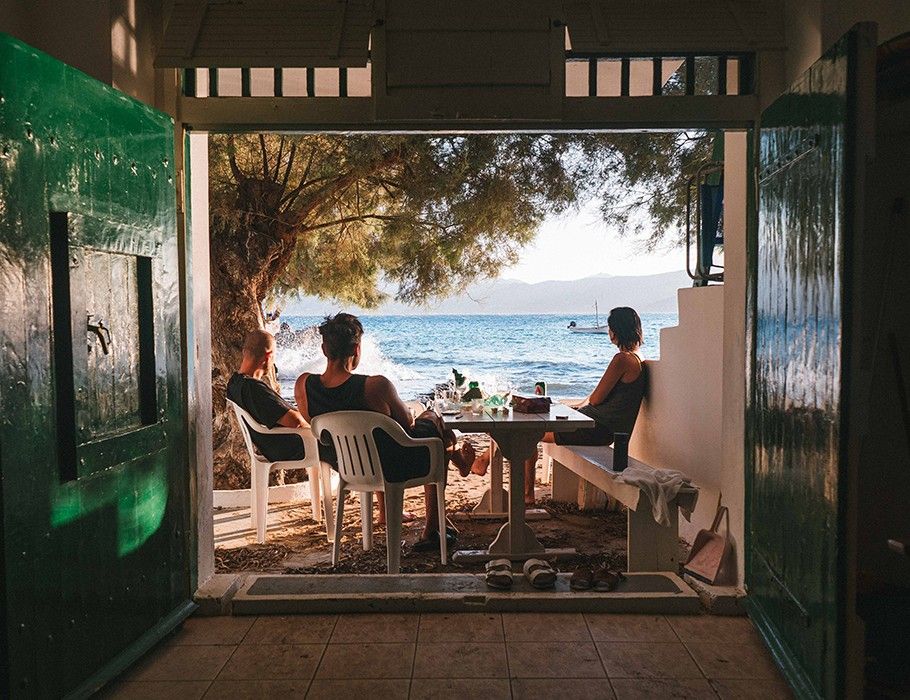 1. O Belivanis, Triovassalos
What is it about O Belivanis, a small roadside gyros taverna in northern Milos, that's so damn good? The location is nothing special; its neighbours are motorbike rental garages and convenience-style supermarkets. There's nothing to write home about when it comes to decor, and in the evenings you might have to wait for a table. Perhaps it's the €2.50 gyros you can glimpse from outside the kitchen, the best on the island wrapped up with just the right amount of thinly sliced red onion and fries. Come in the afternoon and kids order them as an after-school snack. It could be the owner, whose deeply furrowed face you'll recognise beneath his own portrait. No doubt it's good value, with skewers at €1.70, portions (massive piles of meat on chips with salad and pita that can feed two) for €9 and a litre of house retsina wine (made with pine) for €3.50. It's simple, really: O Belivanis serves good food. If your accommodation has a view, order your food and a plastic, two-litre bottle of wine to go.
When to go: if you're travelling from the main port town of Adamantas to Klima, Trypiti or Plaka (or in the reverse direction), you'll pass through Triovassalos. Stop on the way there or back.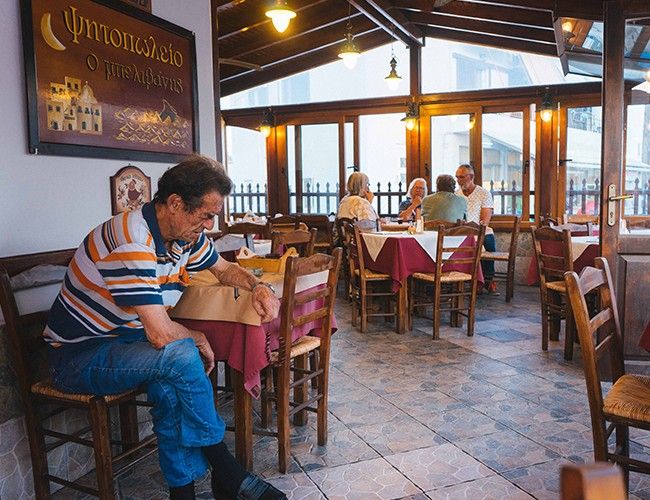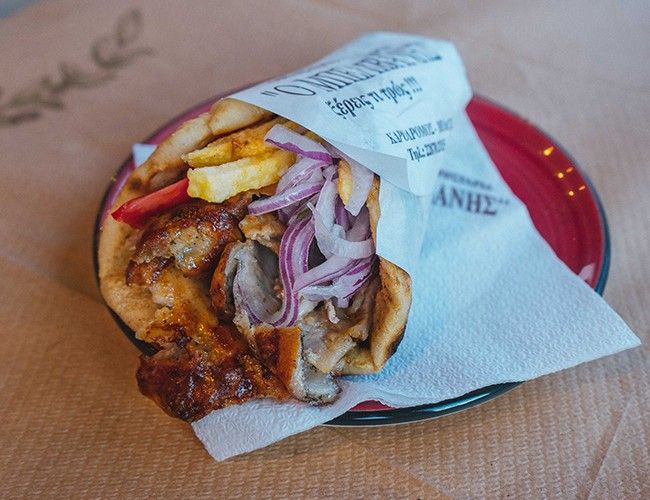 2. Plakiotiki Gonia Taverna Ouzeri
Set your standard to "homemade" instead of "perfect" and this cosy taverna will be just the ticket. It's not modern, nor is it fast, but Adonis and Flora will make you feel at home on their terrace, stopping to chat when it's not too busy in between puffs of a pipe and tending to octopus tentacles on the outdoor grill. In the middle of Plaka but away from tourist-trap restaurants, order dishes like Flora's meatballs, rabbit casserole, bakaliaros skordalia (fried salted cod with garlic and potato dip, the ultimate fish and chips) and pasticcio baked pasta with bechamel.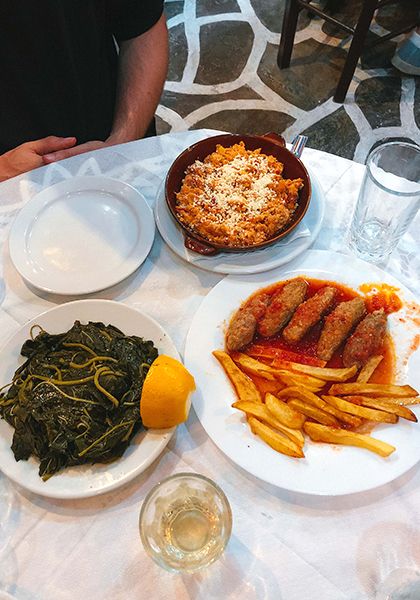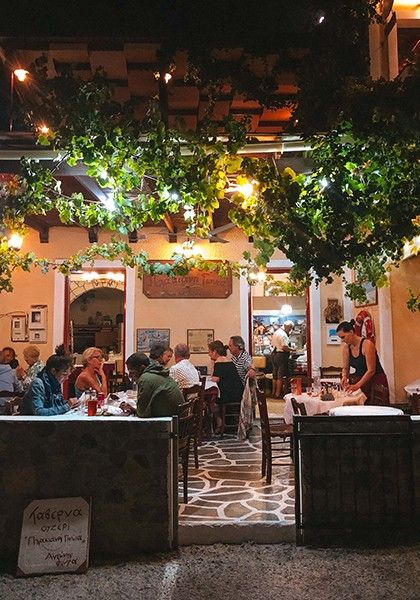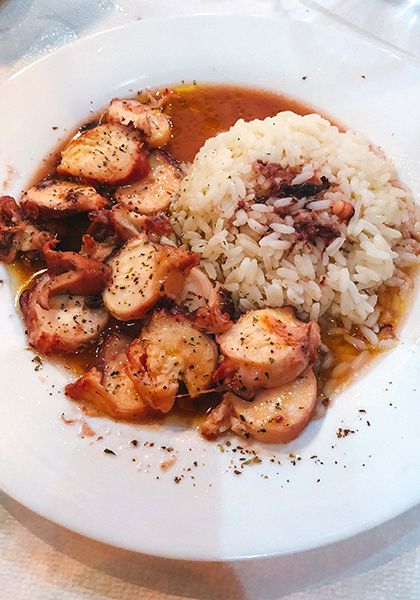 While you're here: Beautiful people battle for expensive cocktails and a cliffside terrace table at Utopia Cafe, thanks to the views across the Aegean. Instead, walk another minute to Verina Cocktail Bar, where they let you take your drink to the wall in front of nearby Panagia Korphiatissa church, which has the exact same view as Utopia but with a more celebratory (read: less sociality) atmosphere.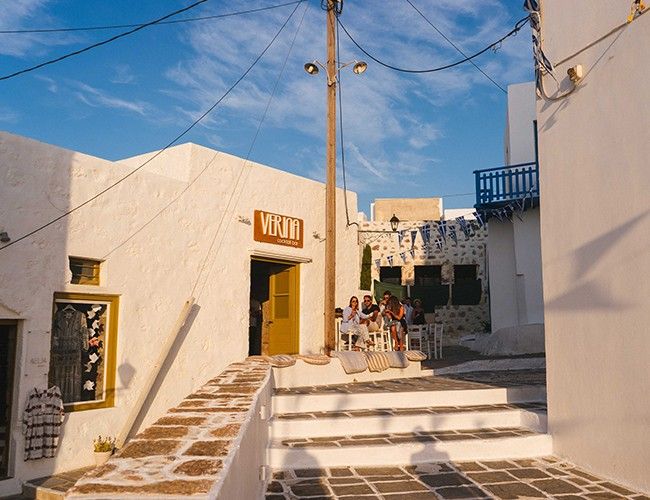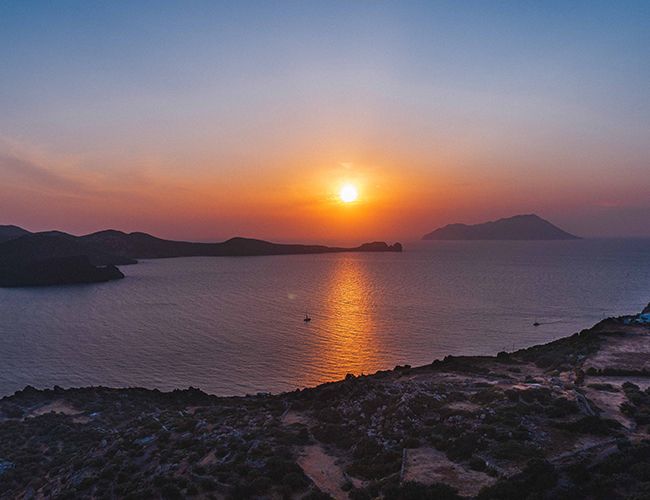 3. Kivotos ton Gefseon
Translating to Ark of Flavours, this cafe is the best spot to eat breakfast on Milos and pick up edible souvenirs. Owned by a beekeeping family, it has a gorgeous courtyard shaded by trees and studded with roses. The shop displays rows upon rows of salts, preserved seaweed, honey, jams and a plentiful selection of cakes and pastries baked that morning. Don't leave without trying karpouzopita, a local specialty of watermelon pie. You can read more about it here.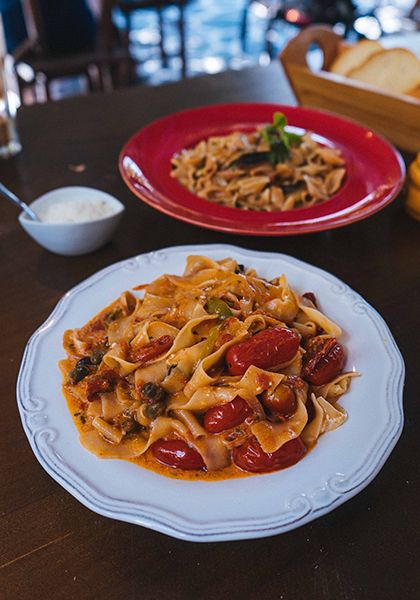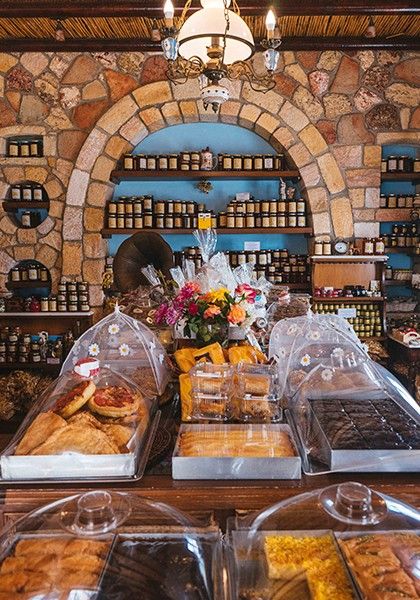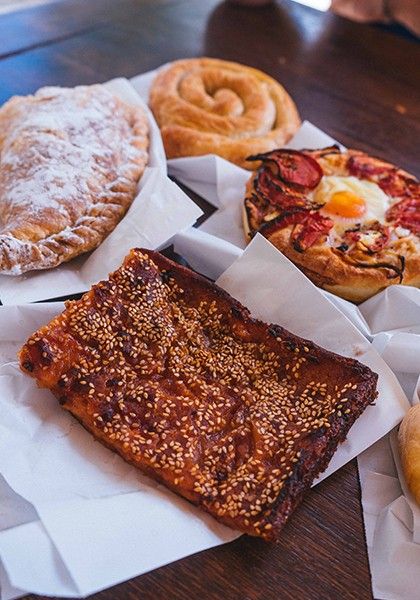 Nearest beach: Pollonia beach is peaceful and protected with shallow water, some tavernas and no waves. Bring snacks from Kivotos ton Gefseon and stick around for happy hour during tourist season. If you're staying in Pollonia and coming from the other direction, an even better option is heading to Kivotos ton Gefseon for breakfast on the way to Sarakiniko, Milos' famous moonscape beach, with rocks that have been rendered smooth and flat by the elements. It's less than a 15-minute drive from Kivotos ton Gefseon.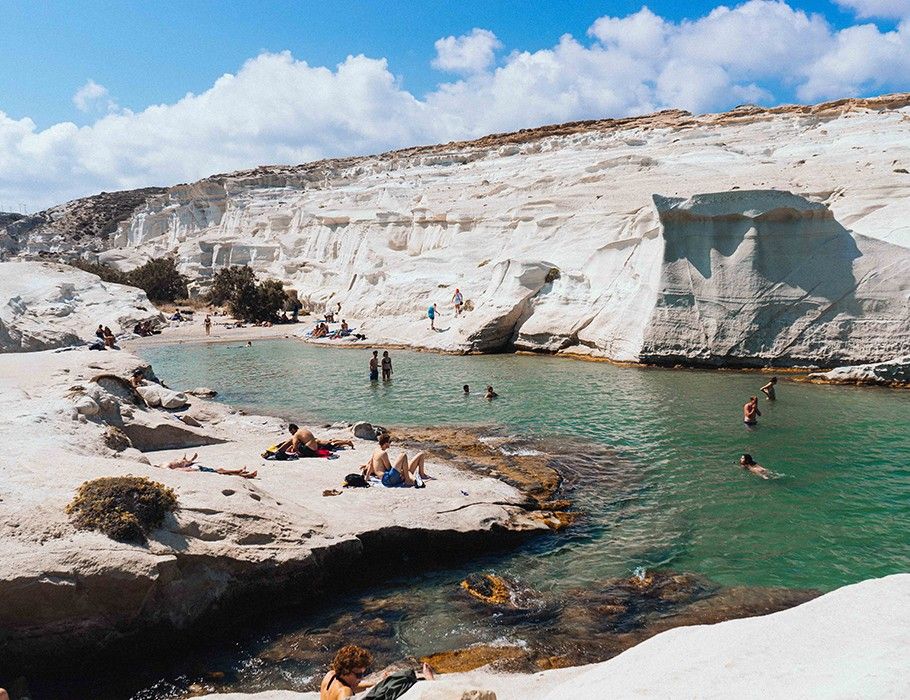 4. Tyrokomeio Milos Cheese Shop
The Charalampakis family has run this dairy since the early 20th century, making cheese from free-range goats. Milk is collected each morning and turned into cheese, which is matured in natural caves. Swing by the tiny shop at the front of the dairy, barely big enough for a few customers, and ask for a tour. You can try before you buy, or get someone to walk you through the products in the fridge. The freshest is manoura and the most mature is mileiko, aged for six months.
Nearest beach: Tyrokomeio is a five-minute drive from Pollonia and a 10-minute drive from Sarakiniko.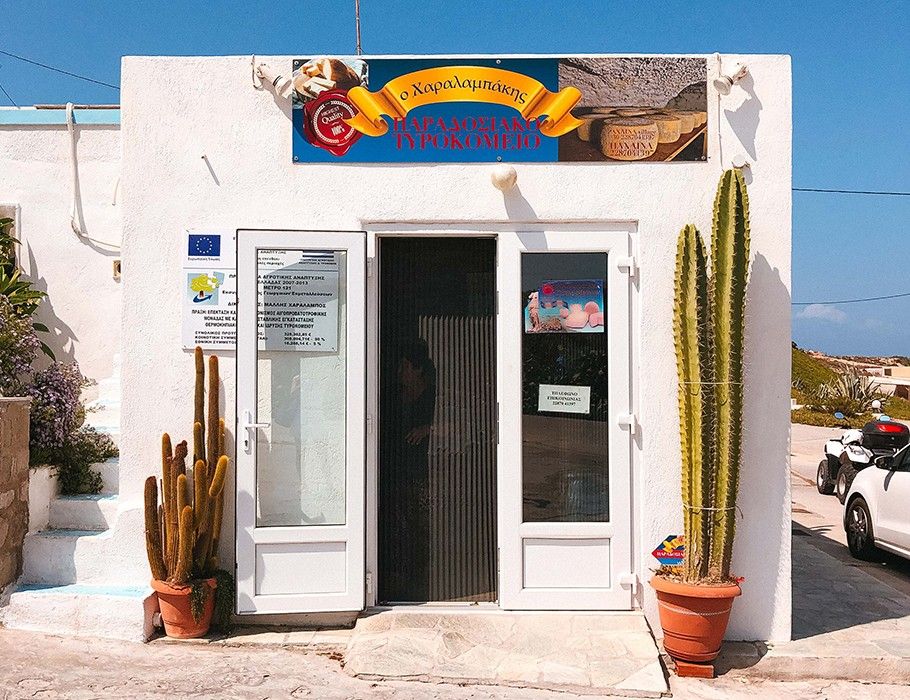 5. Astakas Cafe Restaurant
The only restaurant in the fishing village of Klima, Astakas is completely outdoors and set right on the water. Specialising in seafood, this is Milos' most romantic restaurant. As the sun sets guests watch the bay's traditional fishermen's houses turn golden and then eat dinner by candlelight. Try the taramasalata, clams with orzo (rice-shaped pasta) and cuttlefish dyed black with ink. If you want to spend less or don't eat seafood, visit in the morning for brunch – they open at 9am.
While you're here: you're in the middle of Klima village's strip of traditional fishermen's houses, so you might as well go for a stroll. The doors are painted different colours so they can be easily recognised by their owners. Each has two storeys with the bottom serving as boat storage and a kitchen, and the top floor for sleeping. You can stay in them via Airbnb. The best spot however are the chairs on the sand, perfectly positioned to watch the day as it slowly passes by.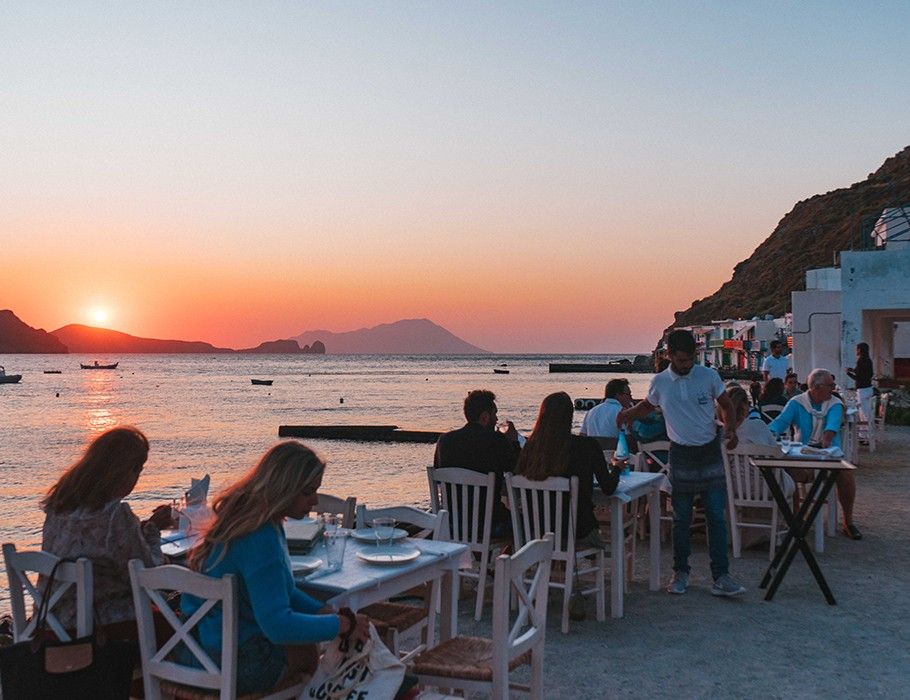 6. Ergina's
This is a wonderful spot to watch the sunset, with seating on a raised outdoor terrace with ocean views and Agios Nikolaos Church in the background. Don't be confused when you see "lazania" on the menu here, it's not lasagne but traditional homemade tagliatelle. Try the skordolazana, where garlic sauce stained pink from sun-dried tomato paste is spooned onto fresh pasta at the table. The extra sauce is left on the table, so make sure you order bread to make the most of it. Order a slice of cheese and onion pie and grilled manoura cheese stuffed with sun-dried tomatoes and capers, served hot and gooey.
While you're here: aside from being near the Catacombs and Roman Theatre, the area of Trypiti is dotted with beautiful windmills, some of which have been converted into accommodation. It can get gusty, but it's worth exploring the highest points for panoramic views. Down towards the shore, Klima fishing village is an eight-minute drive or 20-minute downhill walk.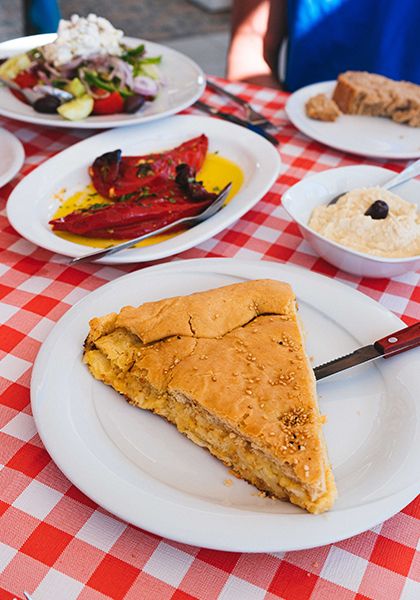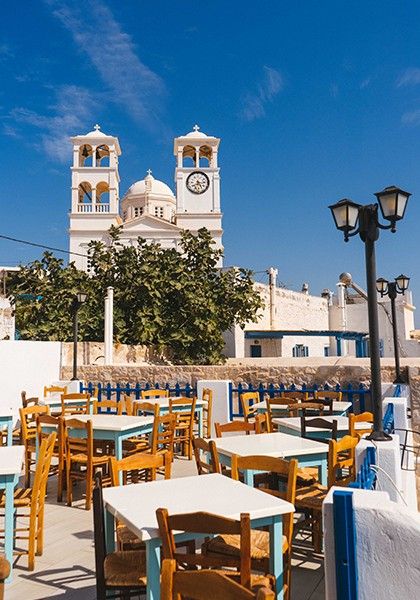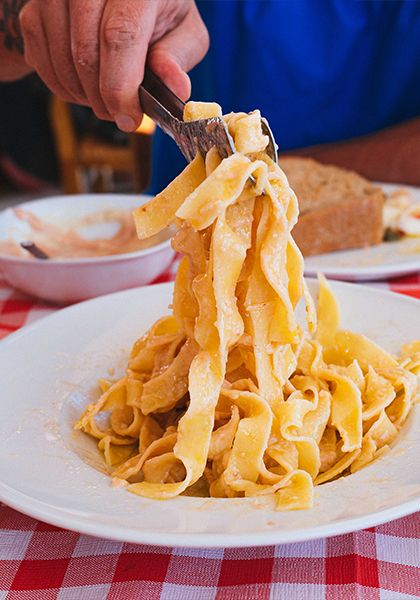 7. Medusa
Another stunning spot for seafood, Medousa is in Madrakia fishing village with views out to the Agean Sea. As it faces north, the strong meltemi winds can whip the taverna, but plastic windows roll down and protect diners. It's best on still days when tables are set just above the ocean, shimmering in every shade of aquamarine imaginable while octopus tentacles are strung up to dry like Christmas decorations. Try the swordfish souvlaki, smoked sundried eel in olive oil, lemon and herbs and the octopus.
Nearest beach: you can swim off the rocks just beyond Medusa and there's a small white beach at Mandrakia's harbour (more like a pier). The colourful syrmata of Mandrakia are also worth a photo stop. Less than 10 minutes away by car or quad bike is Firopotamos Beach, similar to Mandrakia but better for swimming thanks to a wider strip of sand with lounge cushions shaded by trees. Sarakiniko is equidistant in the opposite direction.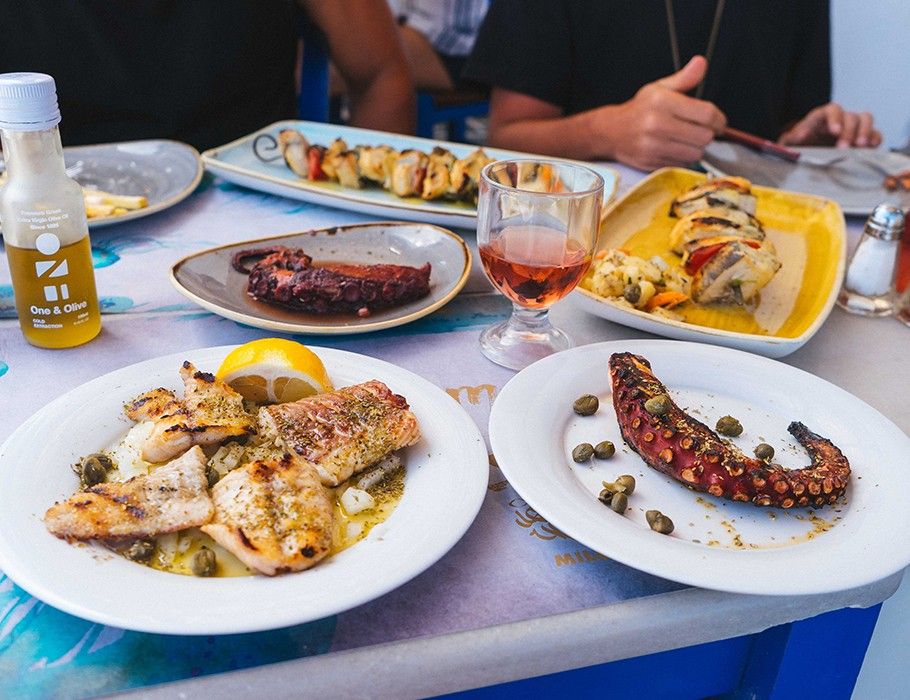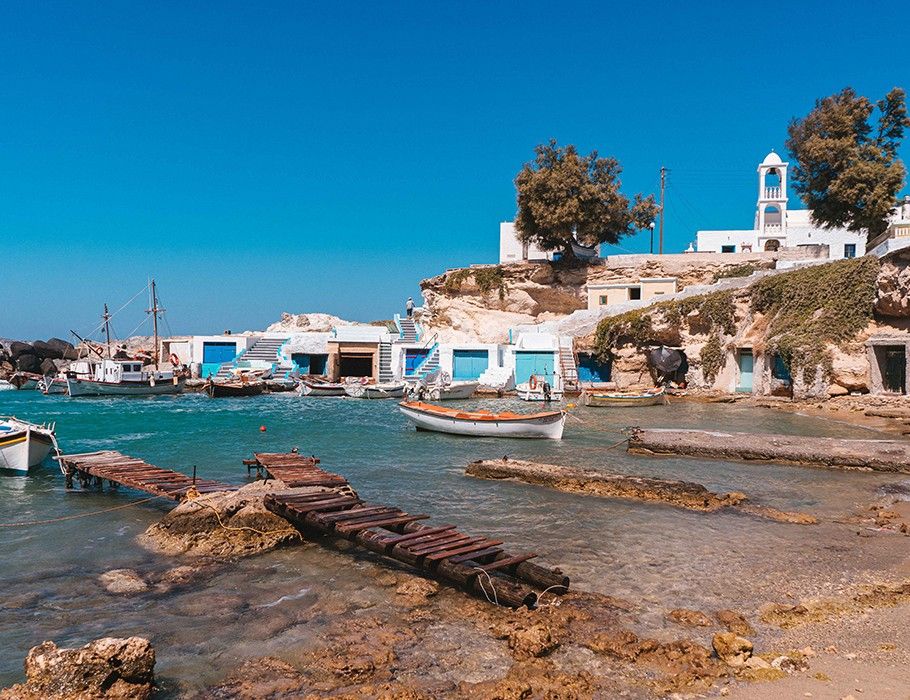 8. O! Hamos
This is Milos' most famous restaurant with good reason. Across the road from the beach in a leafy garden setting, it's been a family-run fixture since 1993, moving from the centre of Adamantas to its current spot down the road in 2002. The recipes originated with the owner's grandparents and visitors pen notes of admiration directly on the chairs. Consult the hand-written menu and look out for green bean fasolakia, pitarakia tis Giagias (Grandma's cheese pies with onion), halakokeftedes fried mizirthra cheese balls spiked with fresh mint and must-order gourounopoulo petimezato (sweet, slow-baked pulled piglet marinated in molasses, mustard and thyme).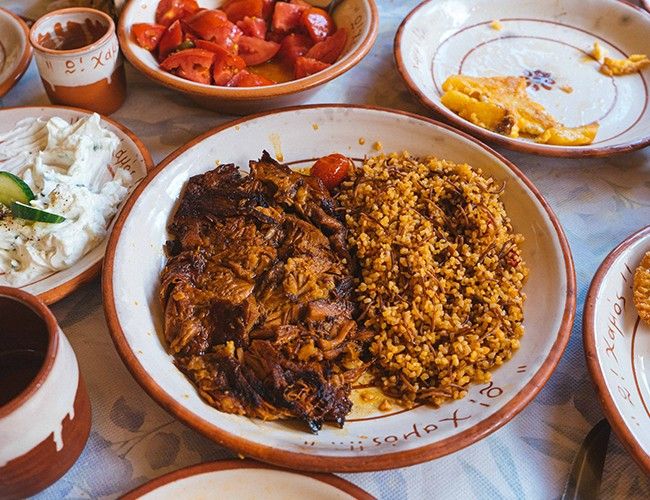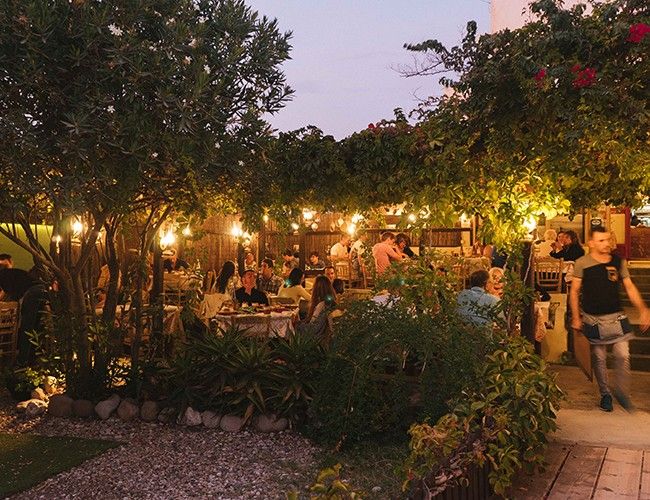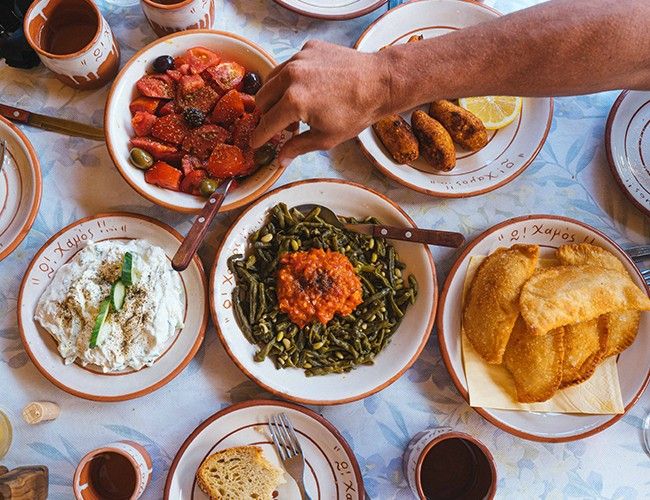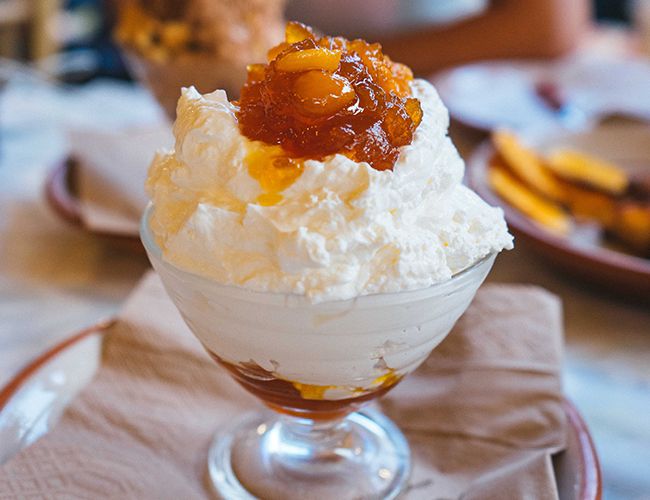 Nearest beach: the closest beach is right across the road, but it's nothing special. Drive 15 minutes and you can reach either Firiplaka Beach with it's calm waters and long stretch of sand backed by colourful rock formations (the further away you go past the big boulder in the ocean, the more nude people become) or Paliochori Beach, known for bubbling hot springs beneath the sand and plenty of sun beds for rent. Tsigrado Beach is near Firiplaka, but the only way to reach it is down a very rickety ladder. The sandbank is tiny, so it's often crowded and better seen by boat.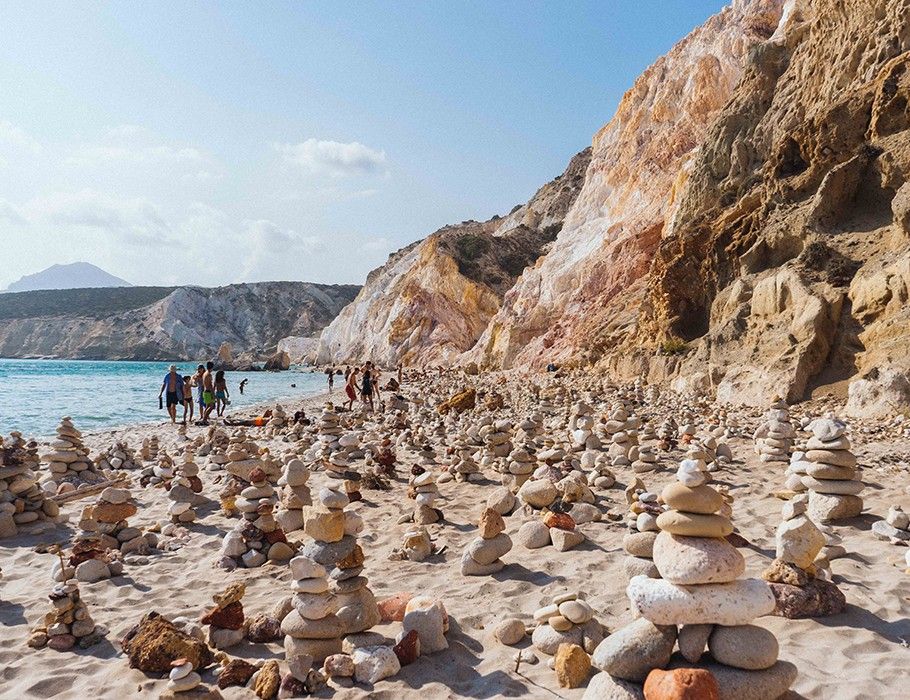 BONUS: Kleftiko Beach, boat tour & lunch
The Internet will tell you that you can't walk to Kleftiko Beach. Technically you can, but you'll need a four-wheel-drive car and some sturdy shoes for a 40-minute, one-way hike. You're better off seeing it by boat. Klefitko is one of many beach stops during the Milos Oneiro full-day boat tour. The route is weather dependant, but we explored white rock formations smoothed and layered by time, as well as caves once used as hiding places by pirates. You might also visit Sykia Cave for a swim with its incredible natural skylight, but being well fed and watered is a guarantee. When we toured, horiatiki salad, prawn pasta and Fix Hellas lager cans were on the menu, followed by afternoon snacks of grilled octopus tentacles, bertes me capari (a Greek version of bruschetta made with tomato paste) and ouzo.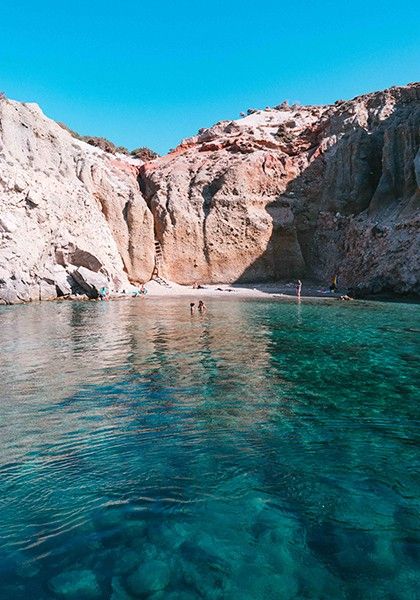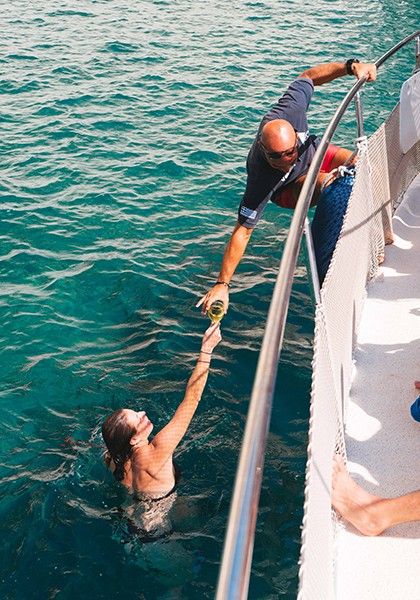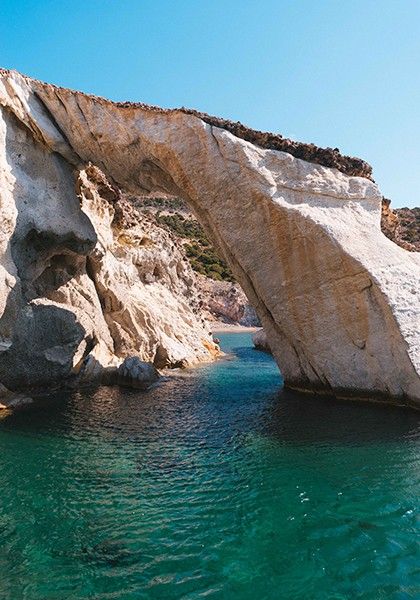 Around the World in 80 Lesser-Known Melbourne Restaurants
FREE food guide when you subscribe.