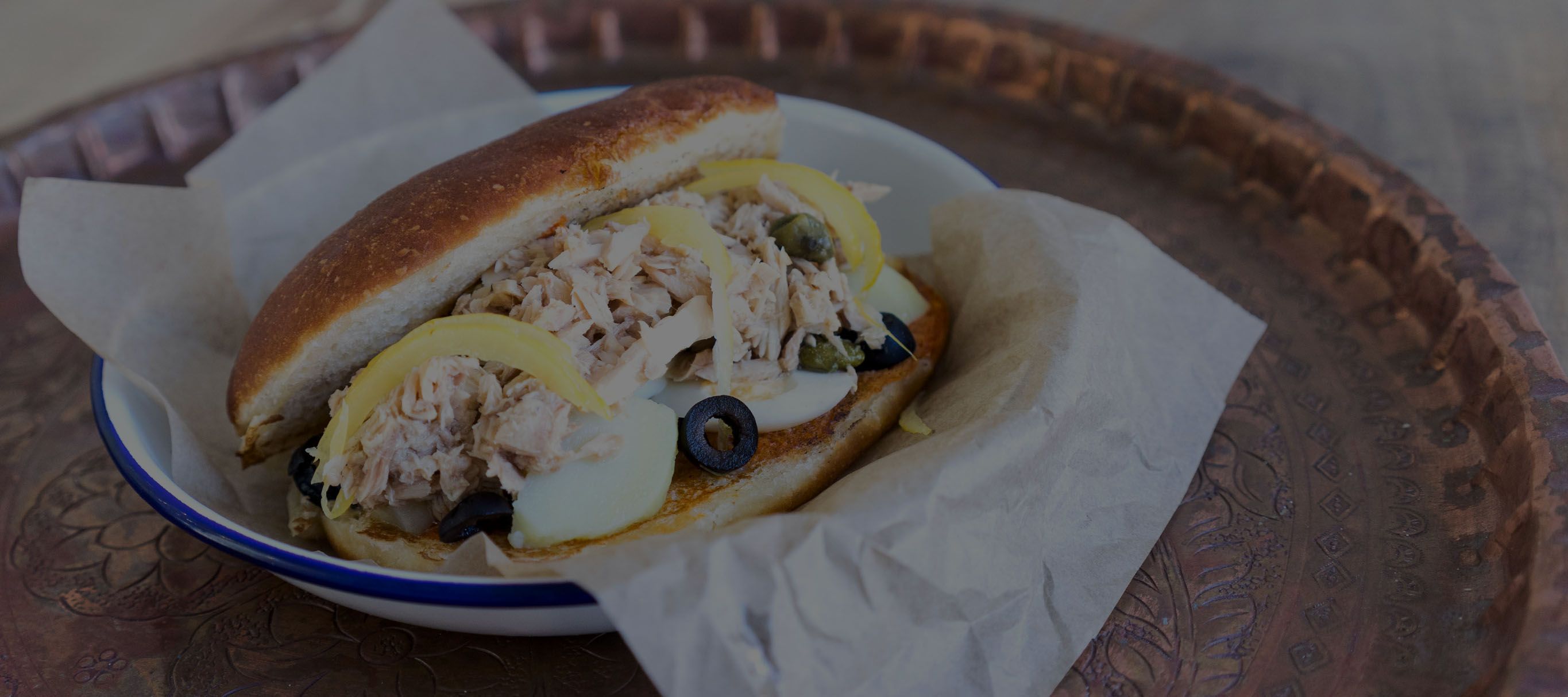 Melbourne's Best Sandwiches
18 Melbourne Sandwiches for the Travel Obsessed
Words by Sofia Levin
Images supplied
Can't wait to get on a plane? These are the Melbourne sandwiches you should be eating.
If there's one thing we've learned during lockdown, it's that Melbourne is mad about sandwiches. Chefs cook their own condiments, bake artisan bread and sometimes layer them together with ingredients inspired by cultural heritage. The Internet is abuzz with lists of where to get the best in Melbourne, but if you're seeking something beyond the best cheese toasties (Maker & Monger) and chicken schnitzel stacks (Nico's Sandwich Deli), this Melbourne sandwich guide is specifically for those harbouring wanderlust. If you've got itchy feet, there's a sandwich you can eat.
France Entrecote's steak frites baguette
There are steak sandwiches and then there's Entrecote's Mitraillette, a crusty Ned's baguette jammed with a grilled entrecote steak, loaded with fries and drizzled with green herb butter sauce. You'll need to do more than a lap of The Tan to walk off this bad boy.
Le Derriere by Entrecote, 119 Park Street, South Yarra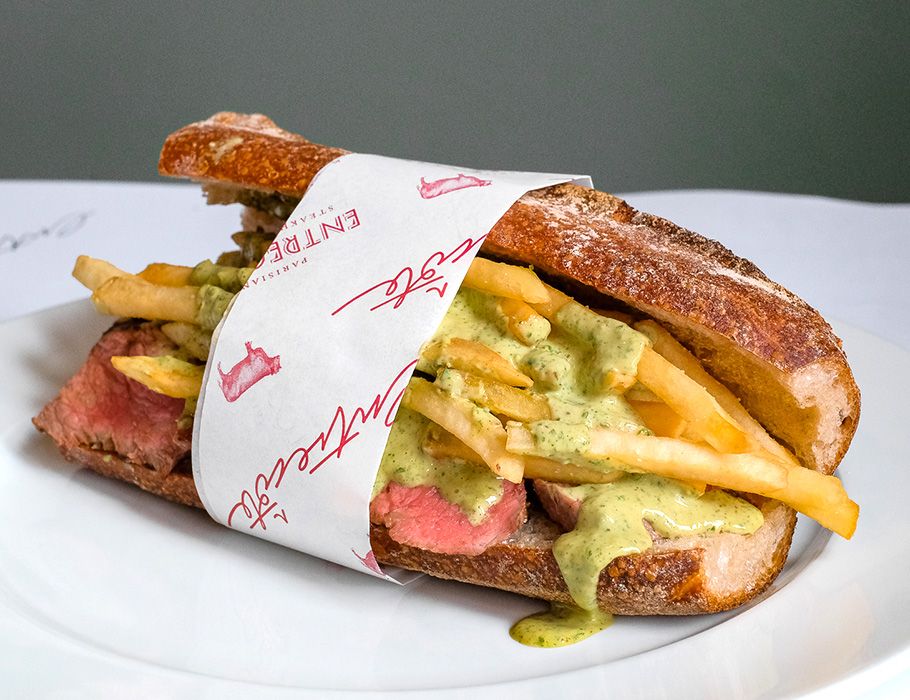 Turkey Tulum's fish sandwich
If you've been to Istanbul, you might have come across balik ekmek, the fish sandwiches vendors sell from moored boats rocking on the Bosphorus beneath Galata Bridge. Chef Coskun Uysal's version is even better than the original, made with molasses and sumac dressing and served with mixed salad in hot pide. Available Wednesday to Sunday. On weekends the team also grills chicken shish kebab over charcoal and slaps it between Turkish bread with sumac and red onion.
Tulum, 217 Carlisle Street, Balaclava
Egypt Cairo Nights' offal sandwiches
The family behind now-closed Casa Besta restaurant in South Yarra quietly opened Cairo Nights in the middle of Melbourne's Little Italy in June 2021. The Egyptian chef has nearly 35 years experience under his belt (and has cooked for both the former Egyptian president and Janet Jackson), so tradition comes first in this kitchen. That extends to sandwiches, including kebda iskandarani, an Alexandrian specialty of marinated veal liver and tahini in fresh bread, as well as dukkah-coated fried lamb's brains on a roll.
Cairo Nights, 5/252 Lygon Street, Carlton
Italy Heartattack and Vine's porchetta roll
This Venetian-style bar's porchetta roll has been a stayer since it opened in 2015. The free-range pork roast is displayed on the counter and sliced to order. It's added to a soft ciabatta roll with piquant salsa verde, dijon mustard and house sambal spiked with tamarind. It's a wonderful, juicy mess with plenty of crackling for crunch.
Heartattack and Vine, 329 Lygon Street, Carlton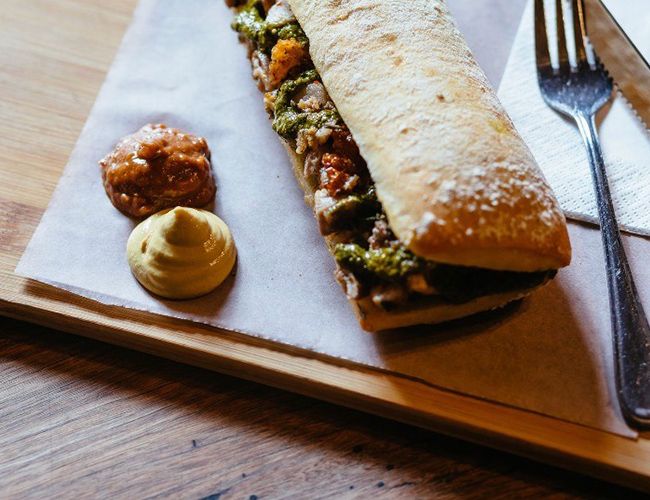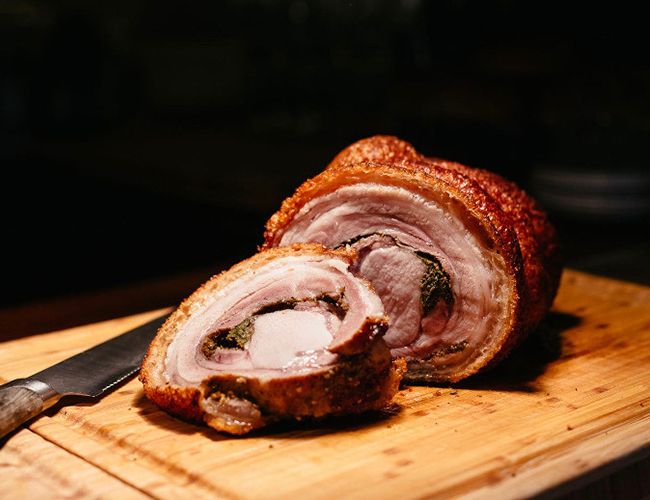 Mexico Frankies Tortas and Tacos' tortas
You'll likely spot the line outside this former kebab joint before you spot the Mexican taco and torta (sandwich) kiosk. Fillings are the same across both tacos and tortas: al pastor, crumbed beef milanese or asado mushroom. Oaxacan cheese is grilled onto large, fluffy white rolls spread with black bean paste, before being layered with your preferred filling, avocado, pickled onion, lettuce and coriander.
Frankies Tortas and Tacos, 384 Smith Street, Collingwood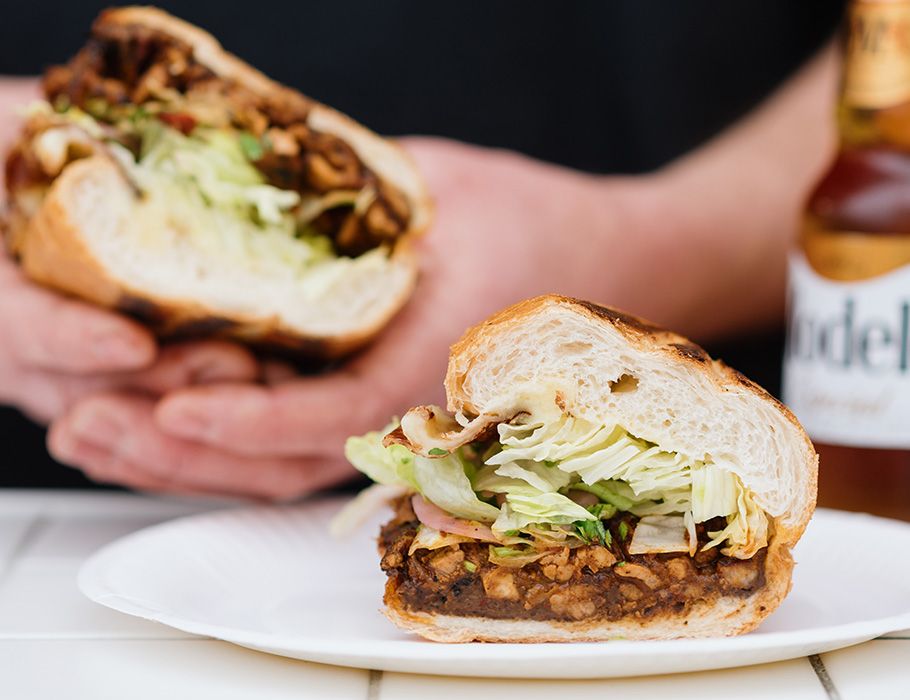 Indonesia Warkop's gado gado sandwich
Ever had Indonesian gado gado in a sandwich? Now you can thanks to Warkop, which takes the ingredients of the owners' heritage and serves it between bread. Along with the traditional dish of tofu, tempeh and bean sprouts in peanut sauce, they're also serving a take on ayam Taliwang on sourdough – chicken marinated in aromatic sambal originating in West Nusa Tenggara.
Warkop, 12 Risley Street, Richmond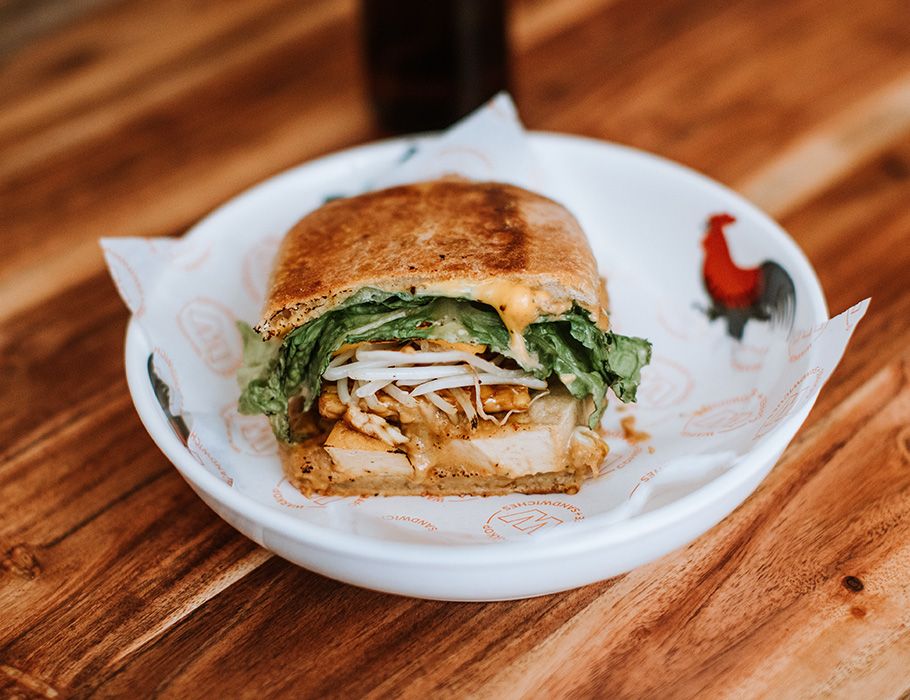 Japan Le Bajo's Fruit Sando
Le Bajo, despite being named after an Indonesian fishing village, is a Japanese cafe in a warehouse decked out in Australiana memorabilia. Shokupan (Japanese milk bread) is baked onsite and sold by the loaf or half loaf, served as toast, and wrapped around fried chicken as a katsu sando. What's harder to find around Melbourne are the fruit sandos, where whipped cream and sliced strawberries, kiwi and mango are encased by crustless shokupan.
Le Bajo, 8–14 Howard Street, North Melbourne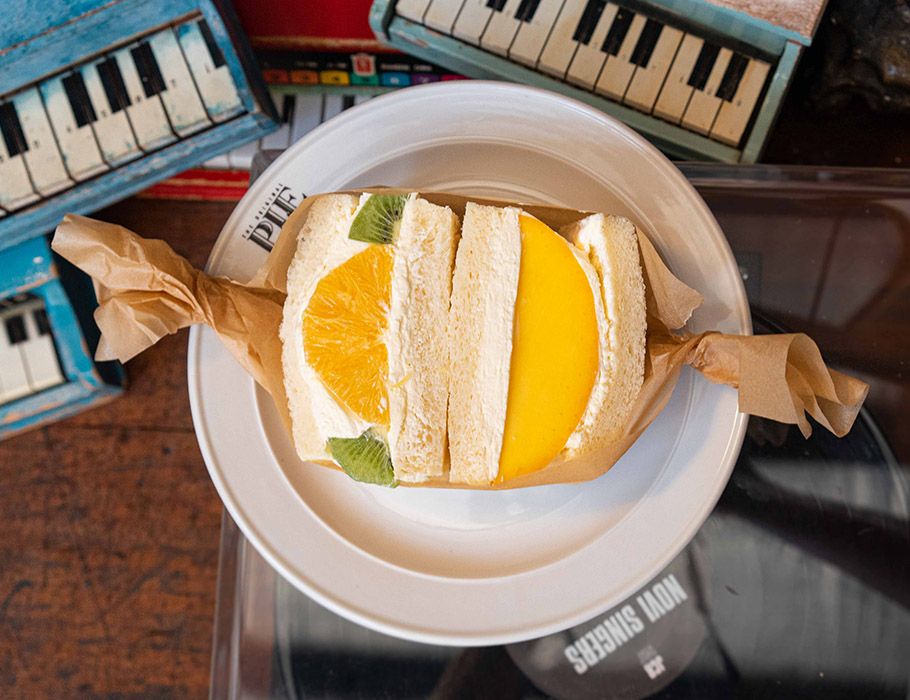 Korean Palette's hashbrown K-sandwich
Gilgeori toast (aka Korean street toast) is trending in Melbourne, but Palette introduced it to the city. It's usually a straightforward egg sandwich sold by street vendors, but hip neighbourhoods in South Korea serve them in minimalistic, designer cafes with specialty coffee and cake. Palette has a number of thick brioche sandwiches, but there's something about the hashbrown K-sandwich with its fluffy square omelette, served on plain white bread, that's just too nostalgic to pass up.
Palette, 610 Queensberry Street, North Melbourne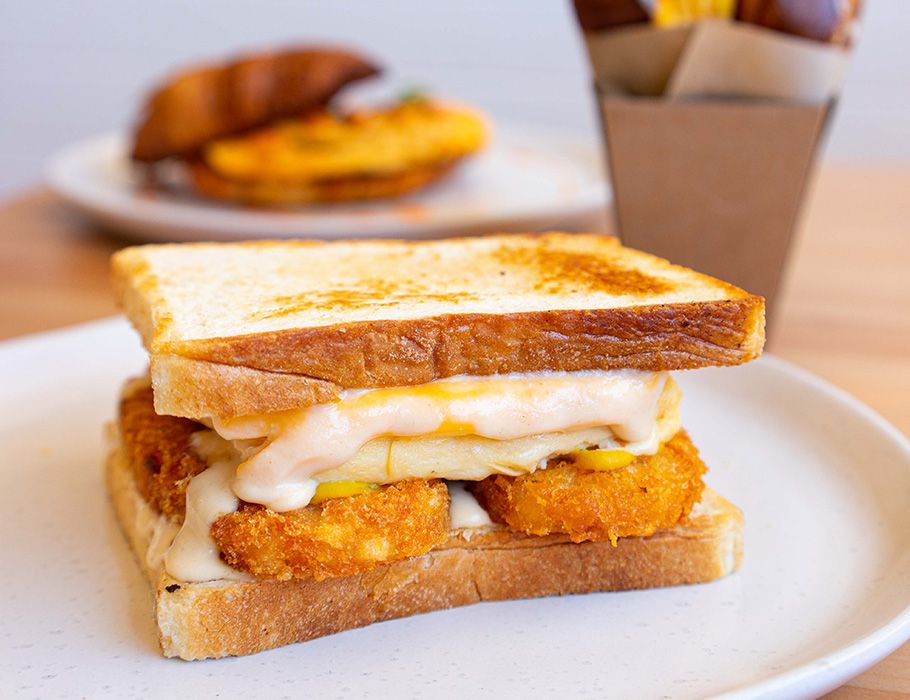 Israel New Jaffa's Tunisian sandwich
New Jaffa owner Moshe Ittah grew up eating fricassee sandwiches in Israel thanks to his mixed Moroccan and Tunisian heritage. Now he shares them with in-the-know Collingwood locals, who crave the pan-fried savoury doughnut bun that's smeared with house-made harissa mayonnaise and piled with tuna, egg, boiled potato, capers, sliced black olives and preserved lemon. This is the tuna sandwich to end all tuna sandwiches.
New Jaffa, 21 Stanley Street, Collingwood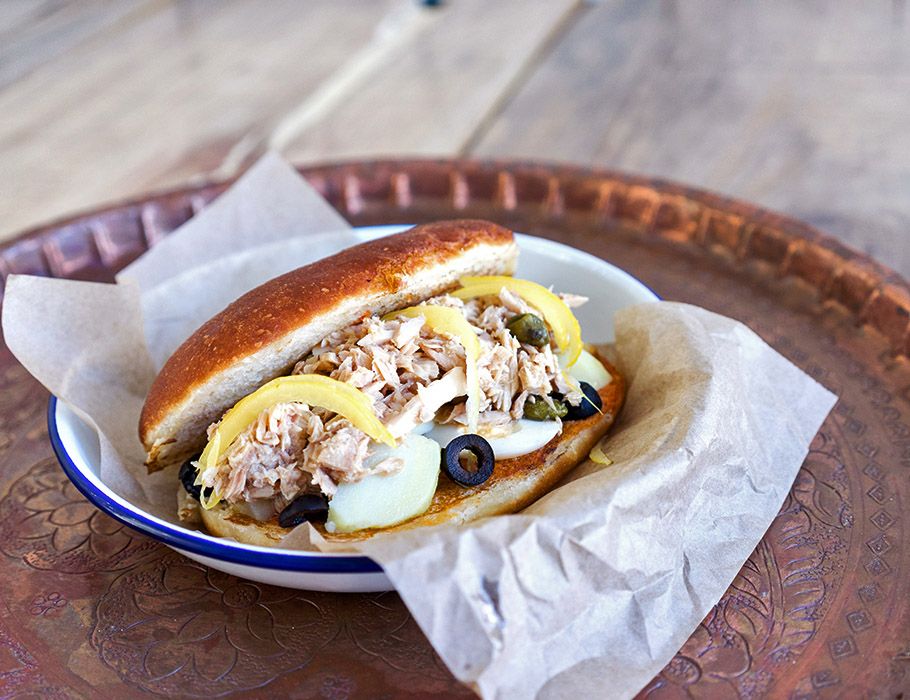 Vietnam Ca Com's pork sausage banh mi
Anchovy restaurant opened Ca Com banh mi bar next door after their Vietnamese rolls became hugely popular during the 2020 lockdowns (FYI, ca com means "anchovy" in Vietnamese). Expect cheffy techniques such as stuffing garfish with prawn mousse and turning Barongarook Pork into gio thu (brawn made from sliced pig's head, house rice wine and wood ear mushrooms). The house jungle spiced pork sausage banh mi is the ST pick.
Ca Com, 336 Bridge Road, Richmond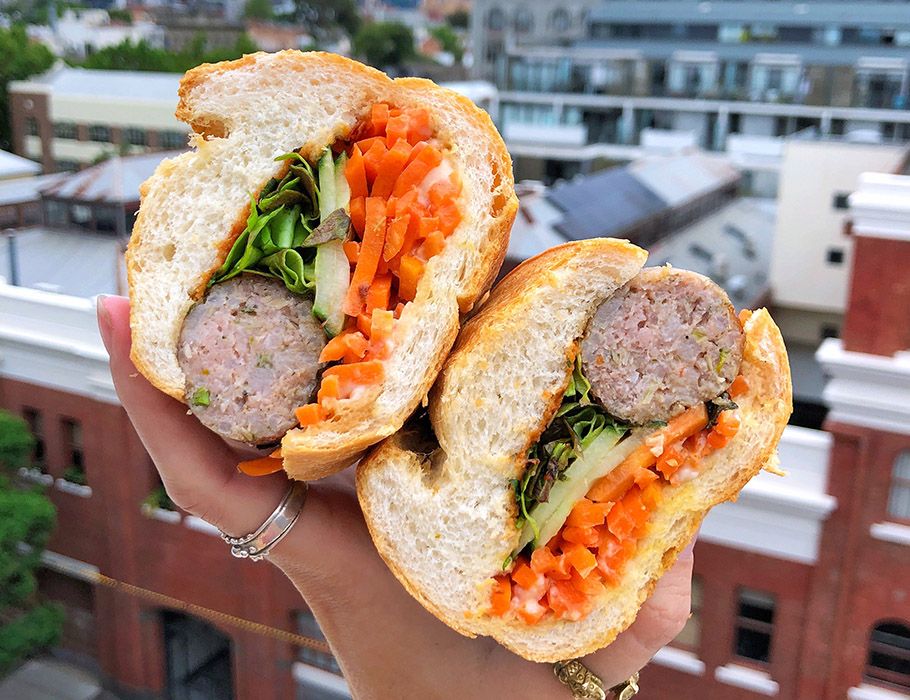 Cambodia Kampot Kitchen's num pang
Vietnam has banh mi, but Melburnians are far less familiar with Cambodian num pang. Both are French-influence baguettes sold by street food hawkers, and at Kampot Kitchen, fillings are inspired by traditional Cambodian dishes. Try the num pang with sach ko ang, Cambodia's charry, lemongrass beef skewers; or the dry, pulled version of a soupy beef stew called koh ko.
Kampot Kitchen, 11 High Street, Preston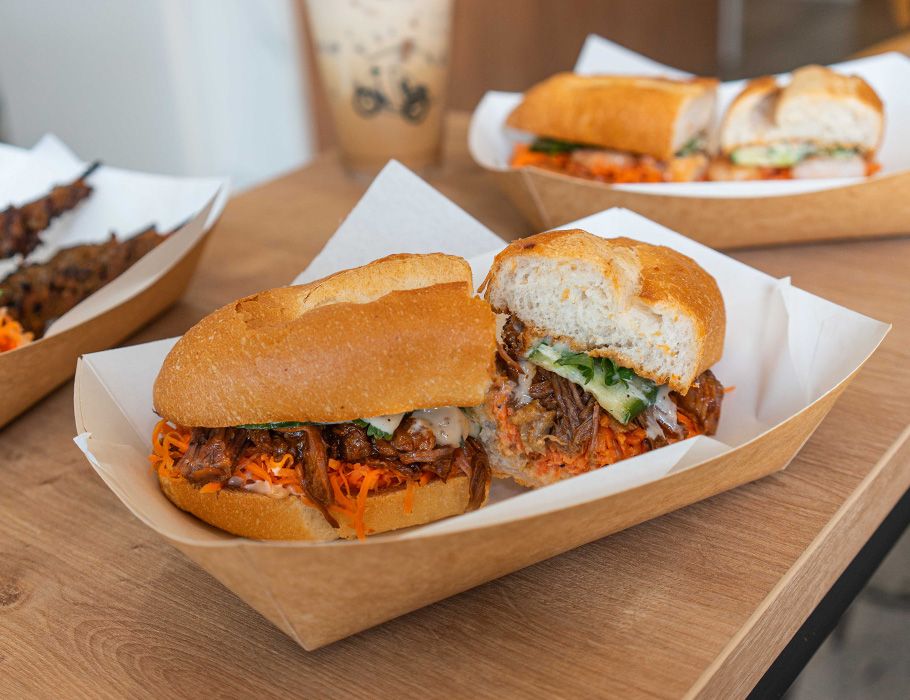 India Raju Omlet Centre
This Indian street food concept specialises in egg-based dishes and is usually geared towards students at Swinburne University across the road. The menu is heavily based on Gujarati fare from India's westernmost state and showcases a number of Indian sandwiches and rolls. The Mumbai omelette comes in a flat, glazed bun with spicy chutney, there are white club-style sandwiches loaded with packet mozzarella and vada pav buns with potato croquettes in the middle.
Raju Omlet Centre, 424 Burwood Road, Hawthorn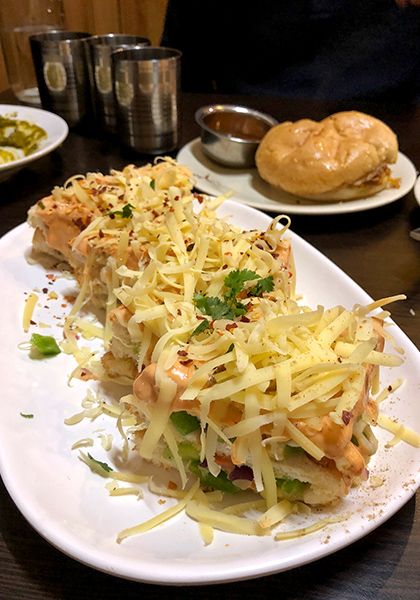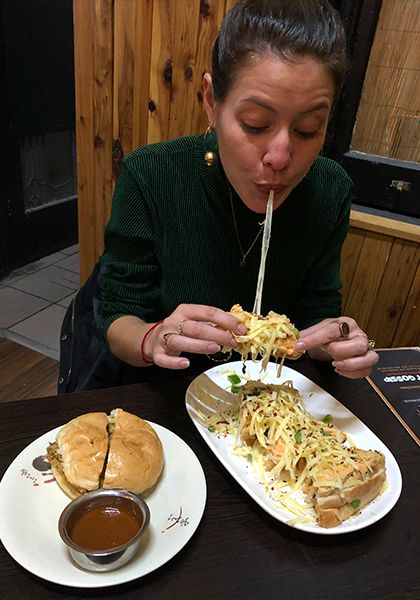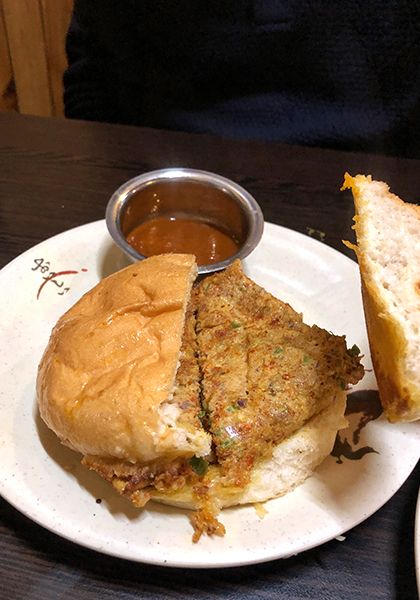 Chile Neruda's pancito
The traditional Chilean sandwiches at Neruda's are assembled using bread made from the owner's personal recipe. The favourite among locals and tradesmen is the filling churrasco – a steak sandwich with avocado, tomato and mayonnaise – but there's also the barros jarpa (ham and cheese), barros luco (beef and cheese), chacarero (steak and green beans), chemilico (steak and egg), milanesa al pan (schnitzel) and the Uruguayan chivito.
Neruda's, 6/210 Albion Street, Brunswick
Hong Kong Plus 852 Cafe's pineapple bun
Plus 852 Cafe is one of few cha chaan teng (Hong Kong-style cafes) in Melbourne, tucked away off Franklin Street in the CBD. After WWII, Hong Kong became increasingly influenced by industrialisation and western culture. That's why this tea house has spam and corned beef sandwiches on the menu, but there are also fluffy pineapple buns – sweet rolls named for their appearance with absolutely no traces of fruit.
Plus 852 Cafe, 5A/155 Franklin Street, Melbourne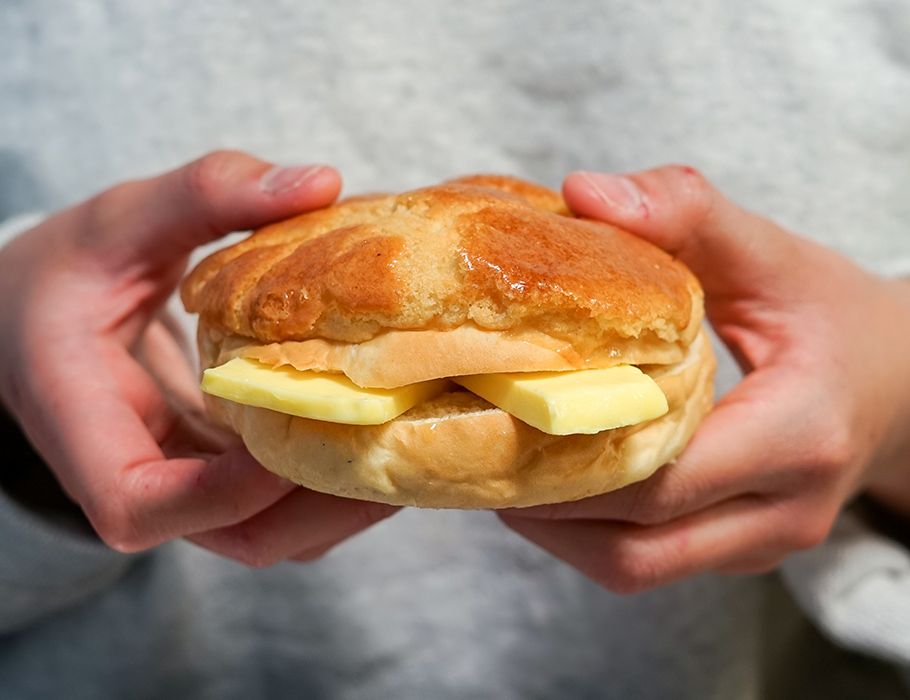 China Xi'an Famous Food's rou jia mao
This small Burwood restaurant is one of many around the world that's pinched the name of the cult chain in the United States. Rou jia mao are steamed, filled bun pockets, often described as somewhere between a burger and sandwich. At Xi'an Famous Foods, they come with stewed pork, beef or lamb seasoned with cumin, coriander and chilli. There are also vegetable and egg options. Look for the small door that shares a shop front with a Taiwanese dessert store.⁠
Xi'an Famous Food, 251/255 Burwood Highway, Burwood, no website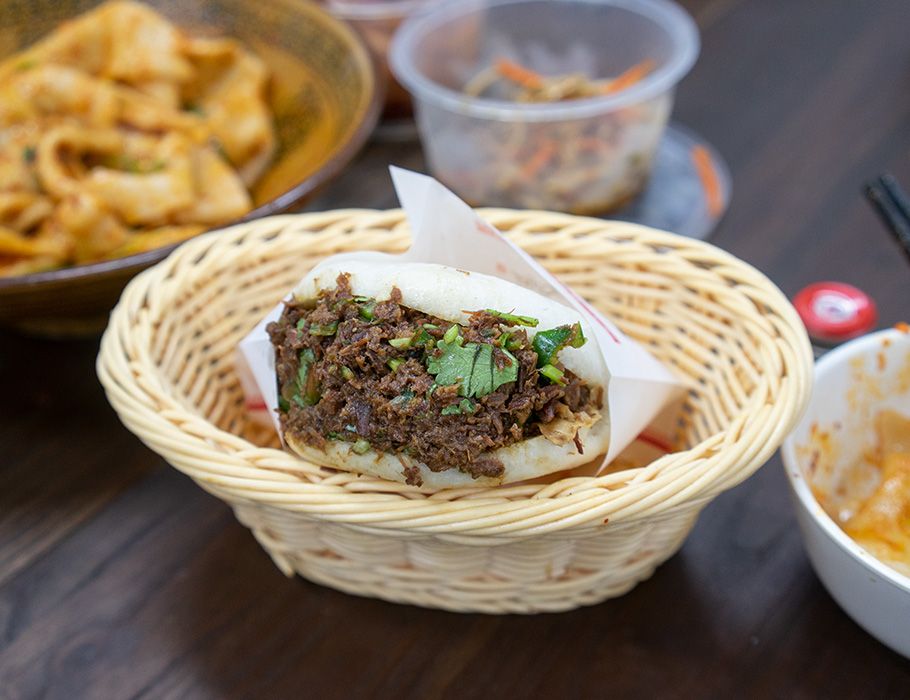 Bosnia Chevapi Grill's cevapi
Cevapi are skinless, smoky sausages that date back to Ottoman rule. They're a staple Balkan street food, made with beef mince, garlic, onion and paprika. At this South Melbourne chargrill restaurant you can order five cevapi in traditional lepinje flatbread with ajvar (roasted red pepper relish) and onion.
Chevapi Grill, 283 Clarendon Street, South Melbourne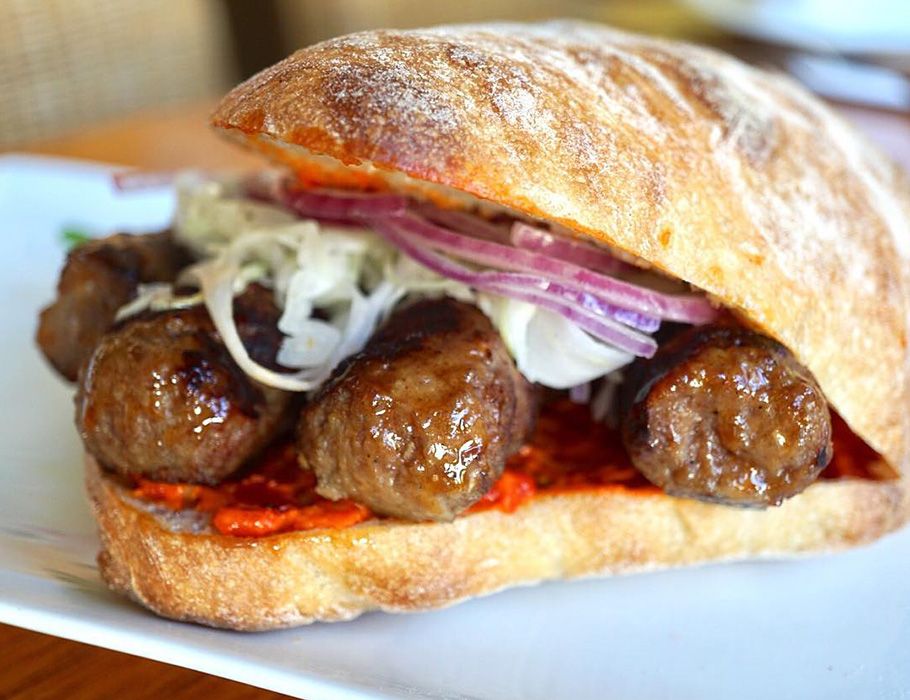 Texas Houston's BBQ's sliced brisket sandwich
Although they call it a burger, Houston's BBQ's offering is technically a sandwich by American standards (and they agree). There's pulled pork and fried chicken, but the sliced brisket option with 150 grams of meat, slaw and barbecue sauce on a ridiculously soft Martin's Potato Bun best shows off what could very well be the best Texas-style barbecue in Melbourne.
Houstons' BBQ, 99a Slater Parade, Keilor East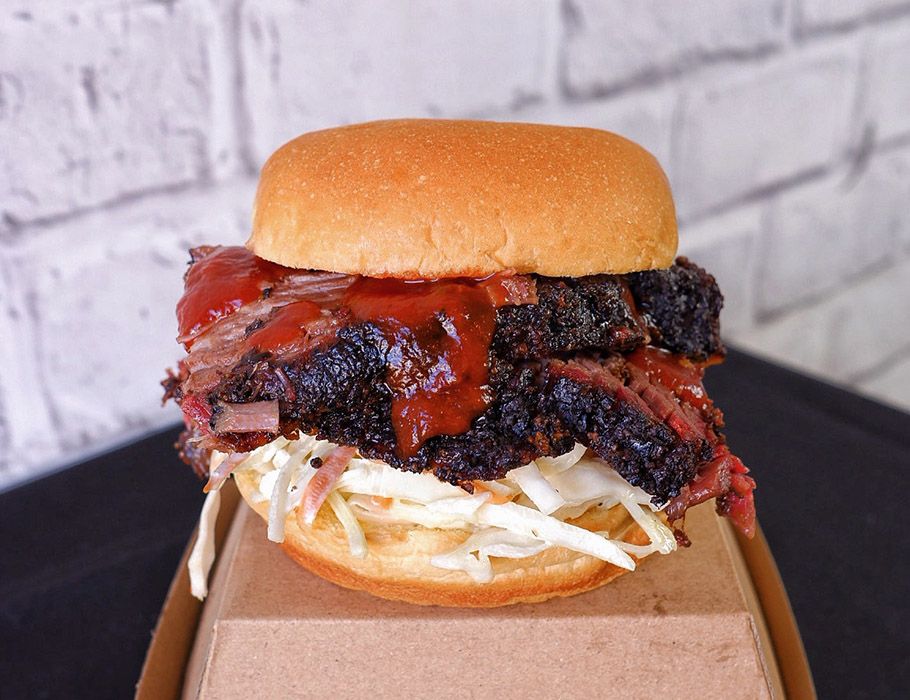 Philadelphia Sparrow's Philly Cheesesteaks
Hailing from Philadelphia, a cheesesteak is a sandwich containing thinly sliced beef and melted cheese in an elongated sub or hoagie roll. Sparrow's is the only dedicated cheeesteak venue, located both at The Catfish in Fitzroy and Welcome to Thornbury food truck park. There are nine on the menu, ranging from the classic to others with pizza sauce and even a vegetarian version made with smoked organic tofu.
Sparrow's Philly Cheesesteaks, 30 Gertrude Street, Fitzroy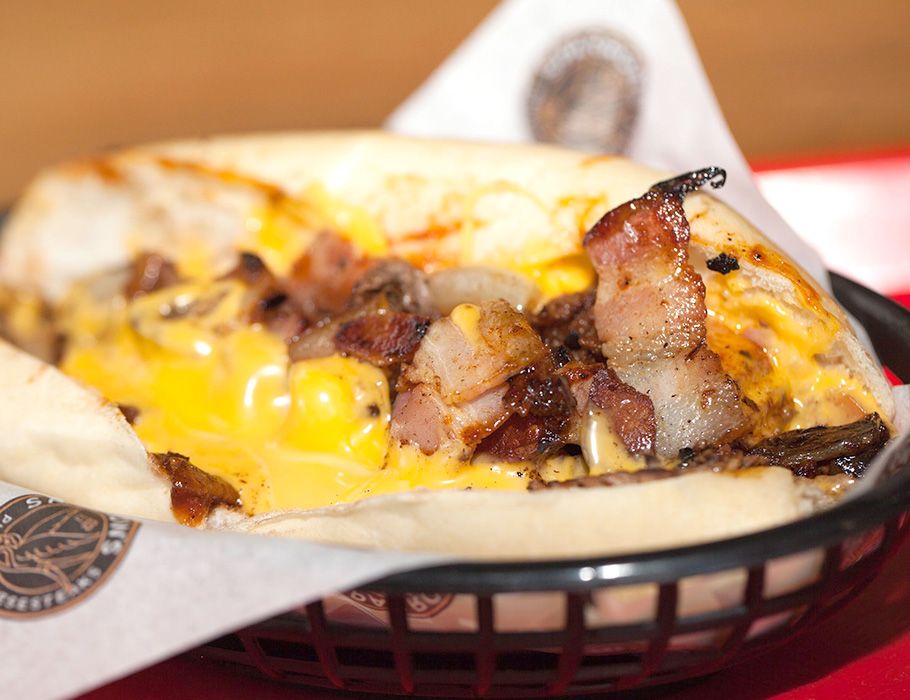 Around the World in 80 Lesser-Known Melbourne Restaurants
FREE food guide when you subscribe.