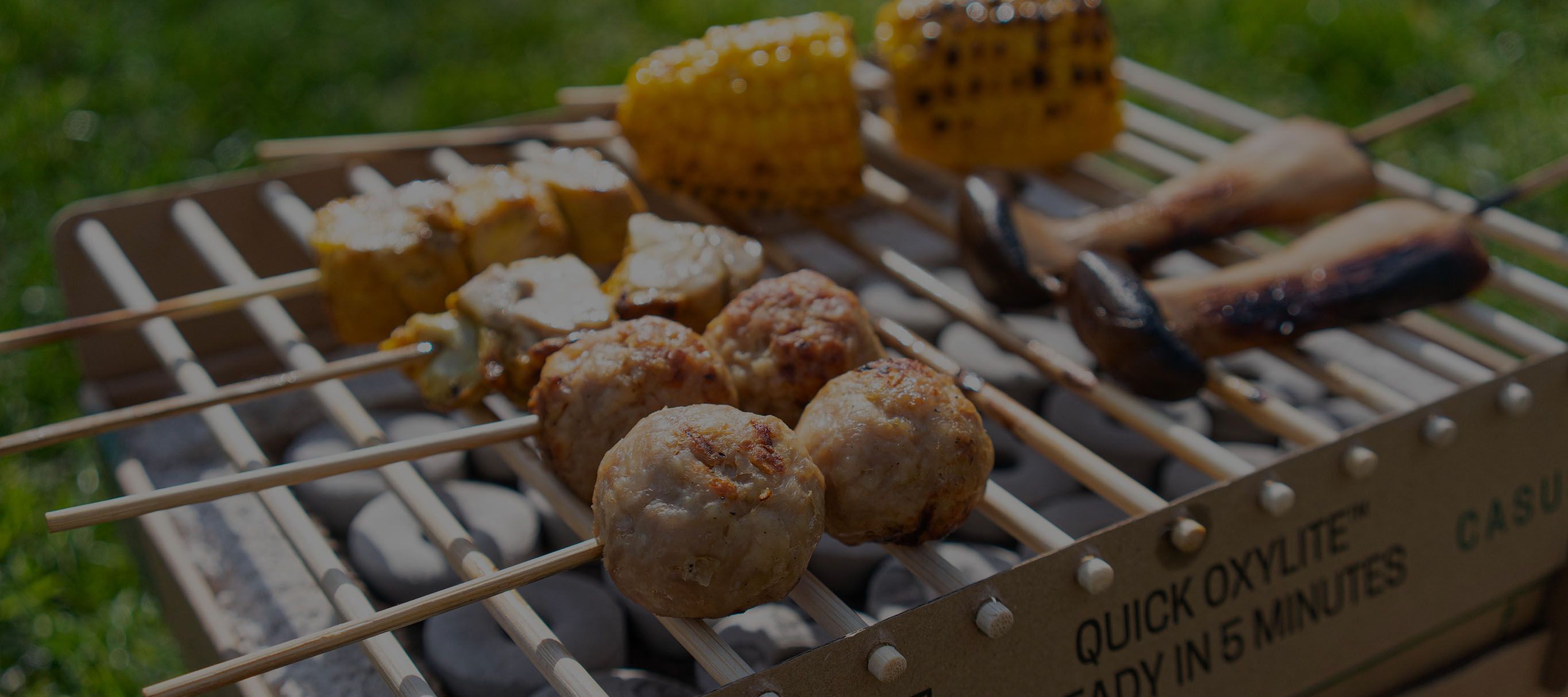 Worldly Melbourne Picnic Packs
Eat the World with these Melbourne Picnic Packs
Words by Sofia Levin
Images supplied
These Melbourne restaurants and cafes are heaping their heritage into picnic hampers, and there's not a frittata or finger sandwich in sight.
What could be more Melbourne than sitting in your favourite park nibbling on picnic food that transports you to another country? This city has the unique capacity to simultaneously make us feel at home while sharing a taste of someplace else. For your next Melbourne picnic, swap out those old favourites for something a little more worldly by ordering from the below venues.
Israeli
The Left Handed Chef in South Melbourne treats their packs the same way a Jewish bubbe treats her grandchildren: feed, feed and then feed some more. The Sunday Shuk Box was assembled to satiate customers when the restaurant is closed on Monday and Tuesday. It feeds a family over a few days for $150 and includes 10 pitas, three mini challah loaves, 20 falafel, eight schnitzels, two tubs of hummus, matbucha (roasted tomato and pepper), tahini, pickled red cabbage, schug (green chilli), a large tub of fried cauliflower and chocolate babka cake. If you're not picnicking on a Sunday, order the LHC Jerusalem Grazing Pack ($120) or the Israeli Feast for Two ($55). Pick up or check the website for delivery postcodes (currently evening delivery only).
Technically Tavlin's Shabbat pack is meant for Friday nights, but that doesn't mean you can't enjoy it as a picnic. On a Friday it comes with a loaf of challah; on other days four pitas. Add to that two dips of your choice, two large salads and six schnitzels and you've got prime picnic fare. You can add extra schnitties and falafel when you order to stretch it even further. Balaclava pick up or delivery within five kilometres from $5.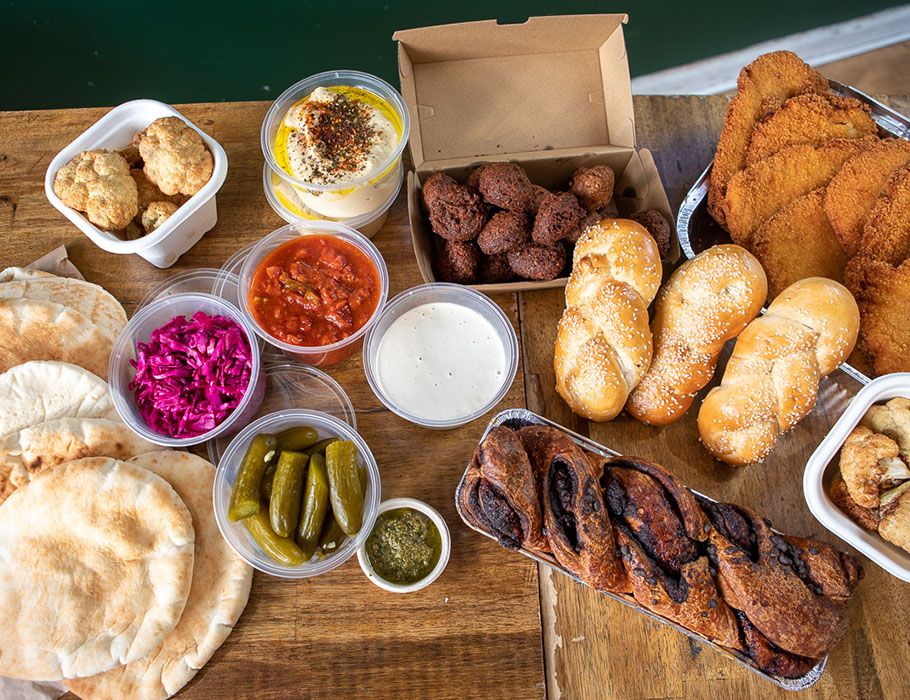 Indonesian
Rendang specialist Dale La Pau in Camberwell is open for takeaway, but they also deliver to all parks (and homes) within 10 kilometres of the shop (free with $80+ spends). The $56 family set is perfect for picnics and serves two to three people. It includes half a litre of sayur kapau (vegetable curry), 150 grams of beef rendang, two perkedel potato patties, sambals, crackers and your choice of either ayam bakar (grilled chicken) or ayam gulai (chicken curry). For single servings, try an $18.50 nasi rames (Javanese nasi campur/mixed rice) wrapped in banana leaf.
At Garam Merica on Queens Road in Melbourne, $16 scores you two meat and two vegetarian dishes wrapped in banana leaf as nasi bungkus, a dish originating in Tengal, Central Java. Choose from dishes such as beef rendang, ayam goreng (fried chicken) and gulai kikil (ox tripe curry) from the meat section, and marinated tempeh, stir-fried snake beans and green jackfruit curry from the veg department. Also check their Instagram stories for specials. Pick up is available Thursday to Sunday between noon and 1pm during lockdown, pre-order via WhatsApp (+61 488 586 486) or head to doodel.com.au for weekly delivery.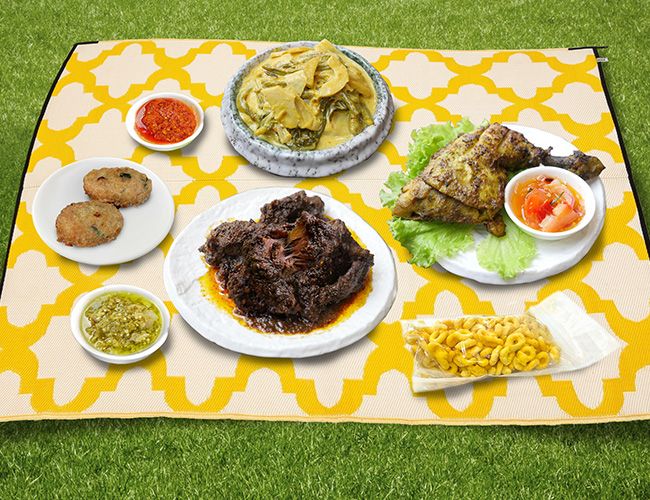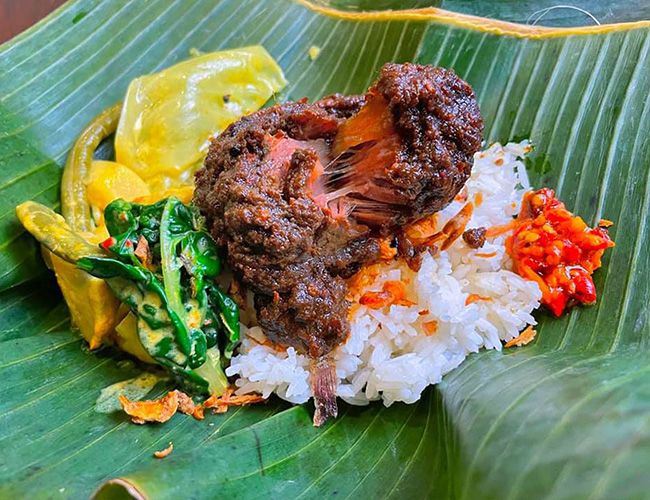 French
Take a trip to the most romantic city in the world with Entrecote's Parisian Pique-Nique. The two-person box is $94.90 and is available to pick up daily from Le Derriere at 119 Park Street South Yarra, right across from the Royal Botanic Gardens. Simply pre-order online and collect between 10am and 3pm. Inside you'll find a sourdough baguette and salted French butter, French onion dip, local camembert with seasonal fruit, a quiche lorraine, salad, chicken and tarragon terrine, salami, roast beef, smoked ham, a chocolate opera and passionfruit tart and accoutrements.
North of the river in Fitzroy, Bon Ap has a special le petit-dejeuner continental pack that can be picked up on Sunday when ordered 24 hours prior online. This French brekkie for two is $45 and contains two croissants, a baguette, french butter, two madeleines, salmon rillette, ham off the bone, gruyere, chocolate and two juices.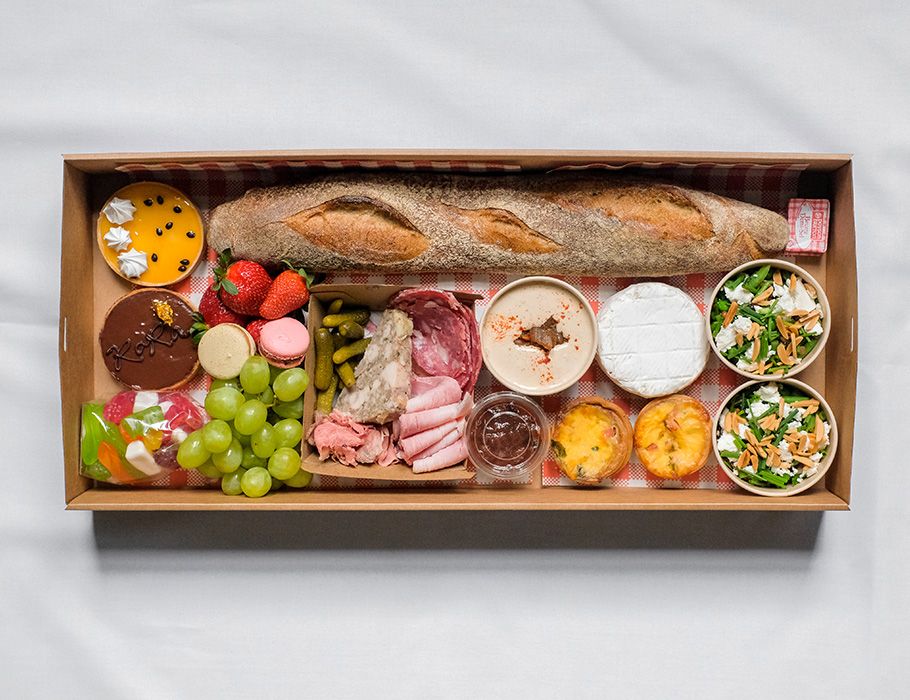 Japanese
There are a couple of restaurants bringing the Japanese yakitori experience to parks and balconies, thanks to portable, eco-friendly grills made from cardboard and wood that miraculously don't catch on fire. Eazy Peazy in Richmond has a $149 banquet box for two to three people with edamame, two serves of chicken karaage and four skewers each of chicken meatballs, spiced chicken thigh, wings, wagyu beef, king oyster mushrooms and miso butter corn (while stocks last). Free delivery within five kilometres, or $10 delivery up to 15 kilometres from the Swan Street store.
City newcomer Robata, opened by the San Telmo Group in July, also sells the disposable grills for $25 along with their "At Home" feasts. Available for delivery Friday to Sunday across selected metro suburbs.
For something lusher than sushi, Uni Boom Boom specialises in ready-to-eat sea urchin packs and premium ingredients. The Ringwood and Glen Waverley stores have flash sales every week (announced via Instagram). Think decadent sashimi platters and rice bowls with ingredients such as New Zealand scampi and caviar, abalone, Hokkaido scallops, blue fin tuna and Tasmanian urchin.
For something more affordable, the inner-north has a number of homely bento box options. Try Tamura Sake Bar on Gertrude Street in Fitzroy, or CIBI and Aka Siro in Collingwood. Hibiki Future in Camberwell is another option in the east.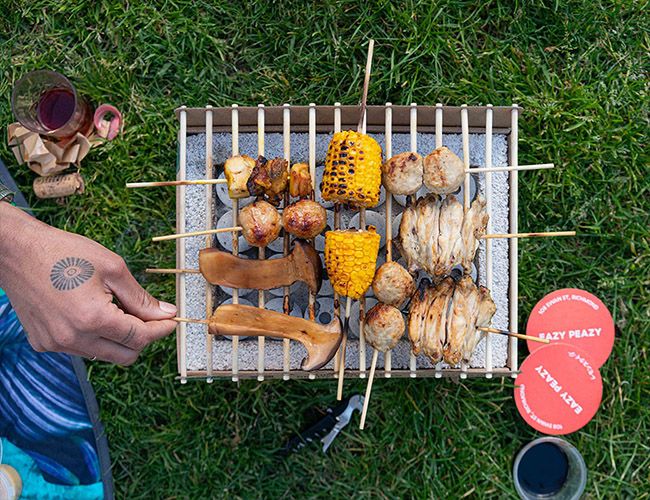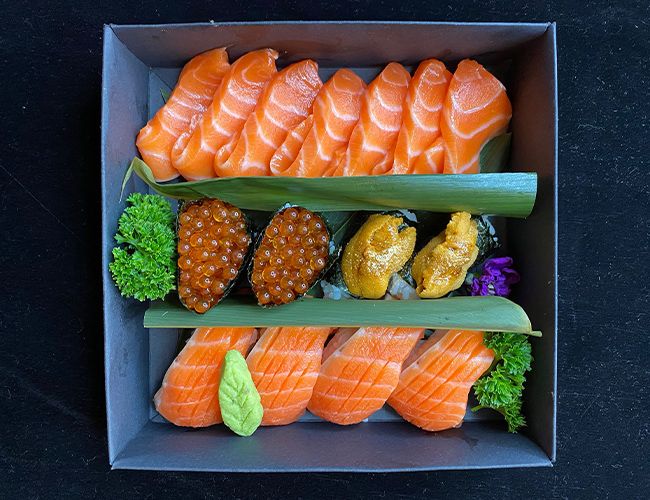 Turkish
First there was street food served from the Tulum cart in Balaclava, then fish sandwiches, and now they've added picnic boxes. Inside you'll find three dips, two salads, two freshly baked boreks, a simit (ring-shaped Turkish pretzel) and a zucchini tahini pie. Available Wednesday to Sunday for $40 per person, minimum of two (pick up only).
On the other side of the river, Anatolia Tantuni specialises in their eponymous street food wrap, but they also have homemade dips, gozleme (including a vegan range) and packs loaded with kofte, pilav rice, salad, chips and dip for $29. There's also a pack with three falafel, two dolmades, tabouli and a dip for $19.90. Pick up only, unless ordered through a third-party app.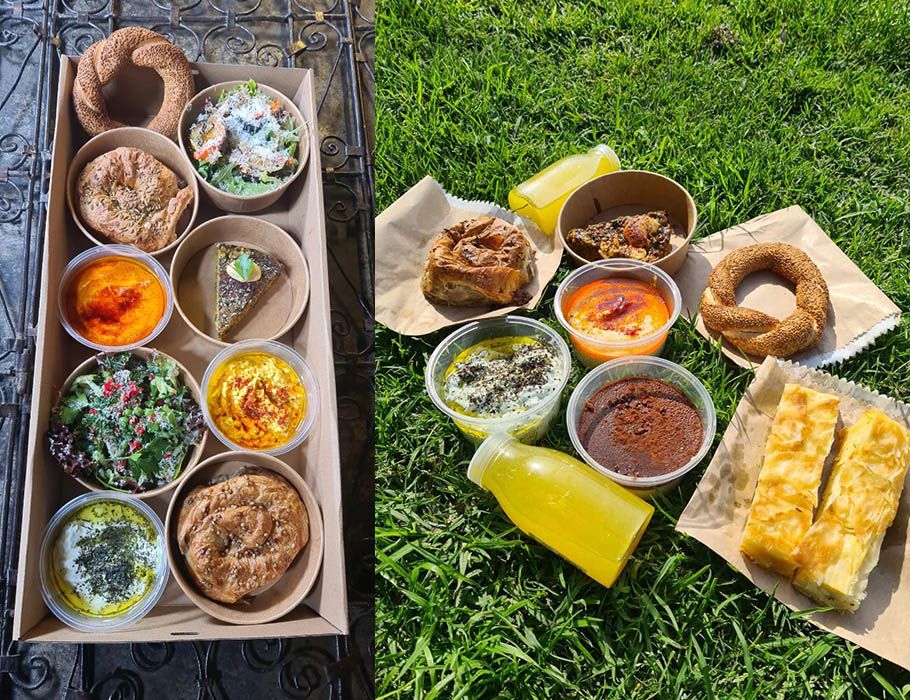 Filipino
Footscray modern Filipino restaurant, Chibog, offers weekly boodle/kamayan kits for two for $75, including delivery if you're in the right zone (check Instagram for delivery suburbs, otherwise pick up for $65 between Thursday and Sunday from West Footscray). There are about eight dishes in an elongated cardboard box, served on the quintessential banana leaf, including lumpia spring rolls, grilled pork belly, chicken inasal, garlic butter prawns and more. Call 0423 360 747 Tuesday to Sunday between noon and 5pm to order.
The Sari Sari box from Kariton Sorbetes is something very special for sweet tooths. For less than the price of five Magnums, you get five specialty, hand-made, Filipino-inspired gelati and sorbetti on sticks. They include Ube Halaytime (purple yam and caramelised coconut curd), YemaBon (egg yolk fudge), ChamTop (chocolate, salted caramel and fish sauce), Buko Pandamington (pandan and coconut) and KalamancyPole (gin and calamansi). Deliveries are divided into city councils (check the website for details) and are free when you spend over $80 (or $10 when you don't).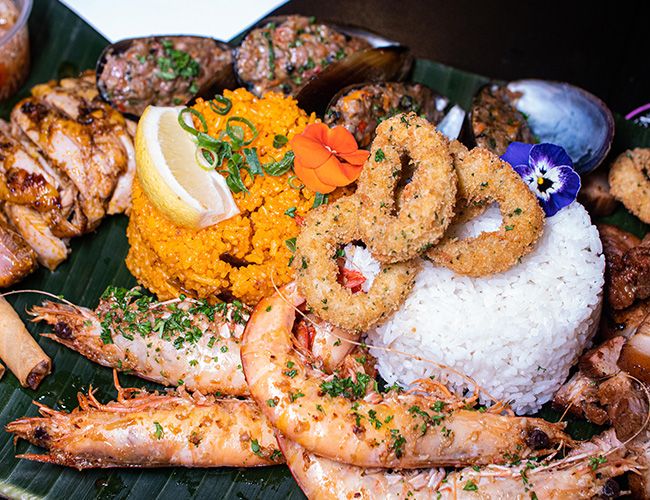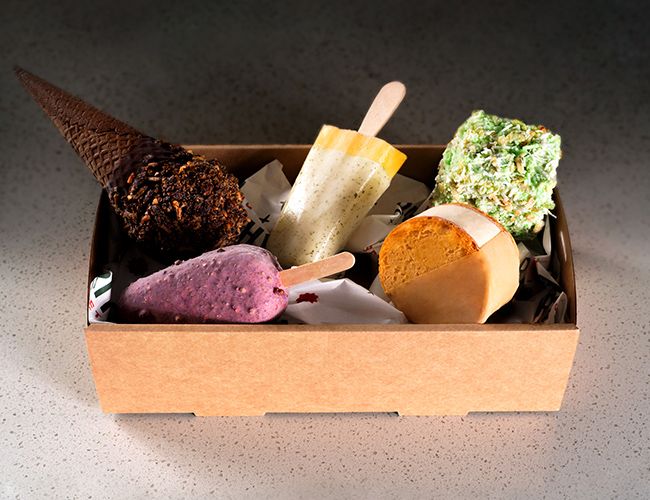 Korean
Gimbap is often likened to sushi, but this Korean snack stands on its own. Rice and various ingredients are rolled in seaweed, but the fillings are vastly different from Japanese sushi rolls (think: cheese, kimchi, luncheon meat, tinned tuna, beef bulgogi and more).
Sinjeon and Seoul Toast Bong in the CBD have a special offer aimed at picnickers: when you buy a K-sandwich from the latter, you can cross Healeys Lane to Sinjeon and pick up $5 gimbap. Fillings include beef bulgogi, spam egg, tuna mayo, tofu mayo and spicy cheese. It's right near Flagstaff Gardens, too.
Guksu, also in the CBD, has a great range of ready-to-eat takeaway Korean food, including gimbap, fried chicken skewers, tteokbokki rice cakes, pork hock salad and rice meals. Swing by to pick up, or order online from Market Seoul Seoul.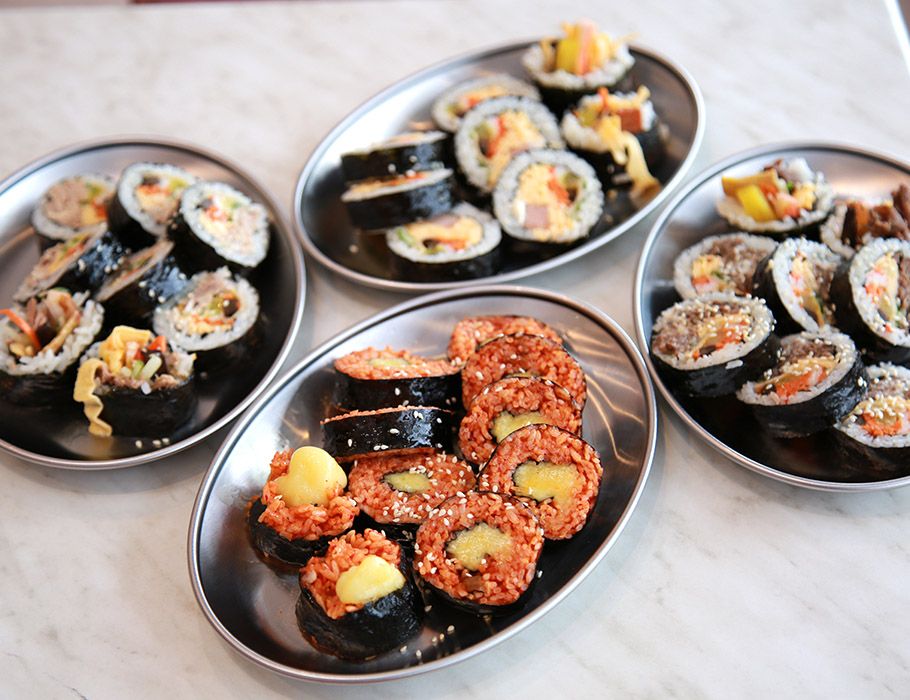 South American
El Toucan's Richmond and Maribyrnong stores have a number of meals that transfer well to a grassy lawn and checkered rug. They have a special picnic version of their picada, a $58 beer-and-hangover-friendly platter of fried street food that feeds two. It features the usual two empanadas, morcilla, chorizo, cassava chips, criolla potatoes, chunks of pork belly and chipotle mayo, but it also comes with two arepas, 150 grams of porterhouse steak, 120 grams of barbecued chicken and 100 grams of pork ribs. Other Colombian specialties are announced via Instagram.
For a bite of Brazilian, head to Bossa Nova in Carlton and stock up on hot coxinhas, tear-shaped arancini filled with shredded chicken and homemade requeijao (cream cheese). There's also a vegan version. If you've been tasked with dessert for a picnic get together, order Bossa Nova's carrot cake drenched in traditional chocolate brigadeiro sauce – it's life affirming.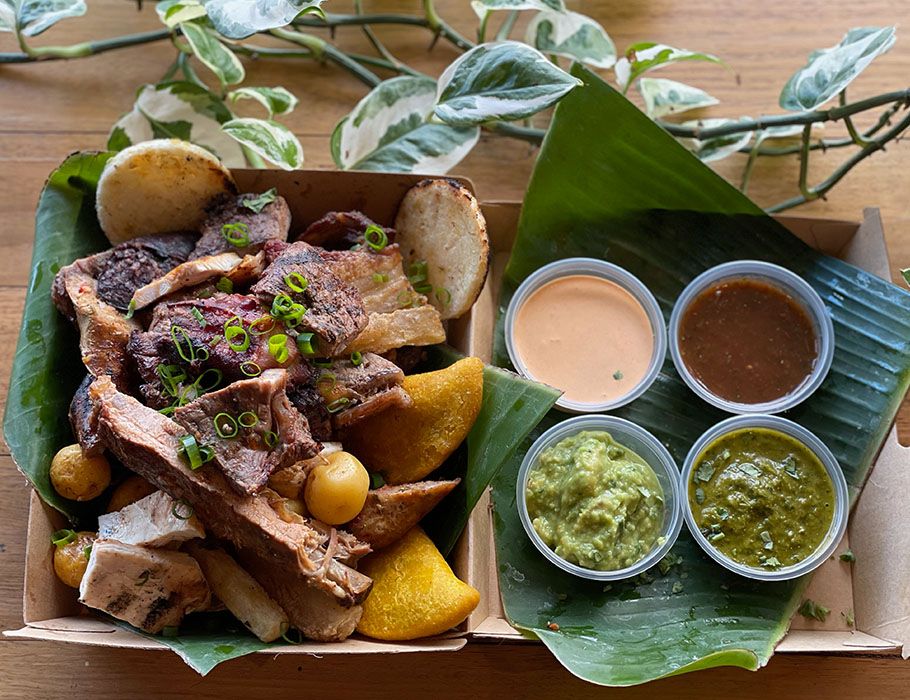 Vietnamese
Bia Hoi has two fantastic options for picnics. If you feel like grilling and chilling in the park, the BBQ pack includes a portable, disposable grill along with chicken wingettes, sate octopus, Alaskan king crab, nem nuong pork sausage, Hanoi fish, five-spiced chicken hearts, wagyu and veg for $120. It generously feeds two to three people. For ready-to-eat, the $55 picnic pack also serves two to three people and includes spring rolls, rice paper rolls, sugarcane prawns, fried chicken with fish sauce caramel, two mini banh mi and dipping sauces. Check the website for delivery suburbs or pick up from Glen Waverley.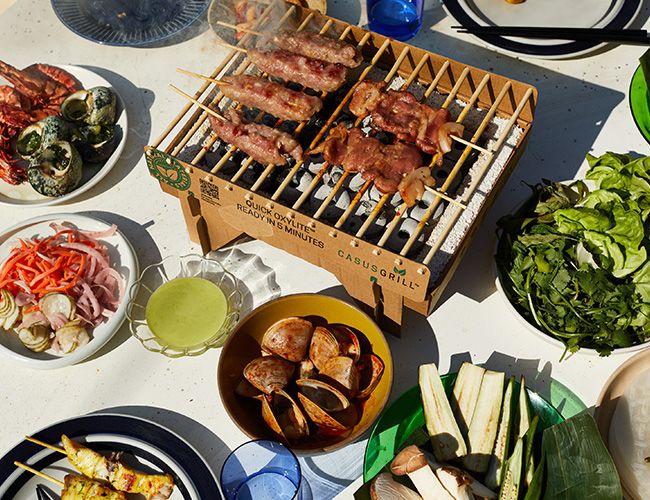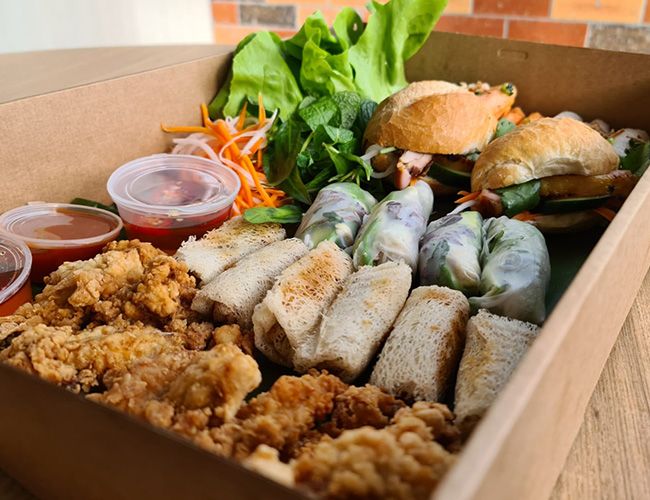 Around the World in 80 Lesser-Known Melbourne Restaurants
FREE food guide when you subscribe.