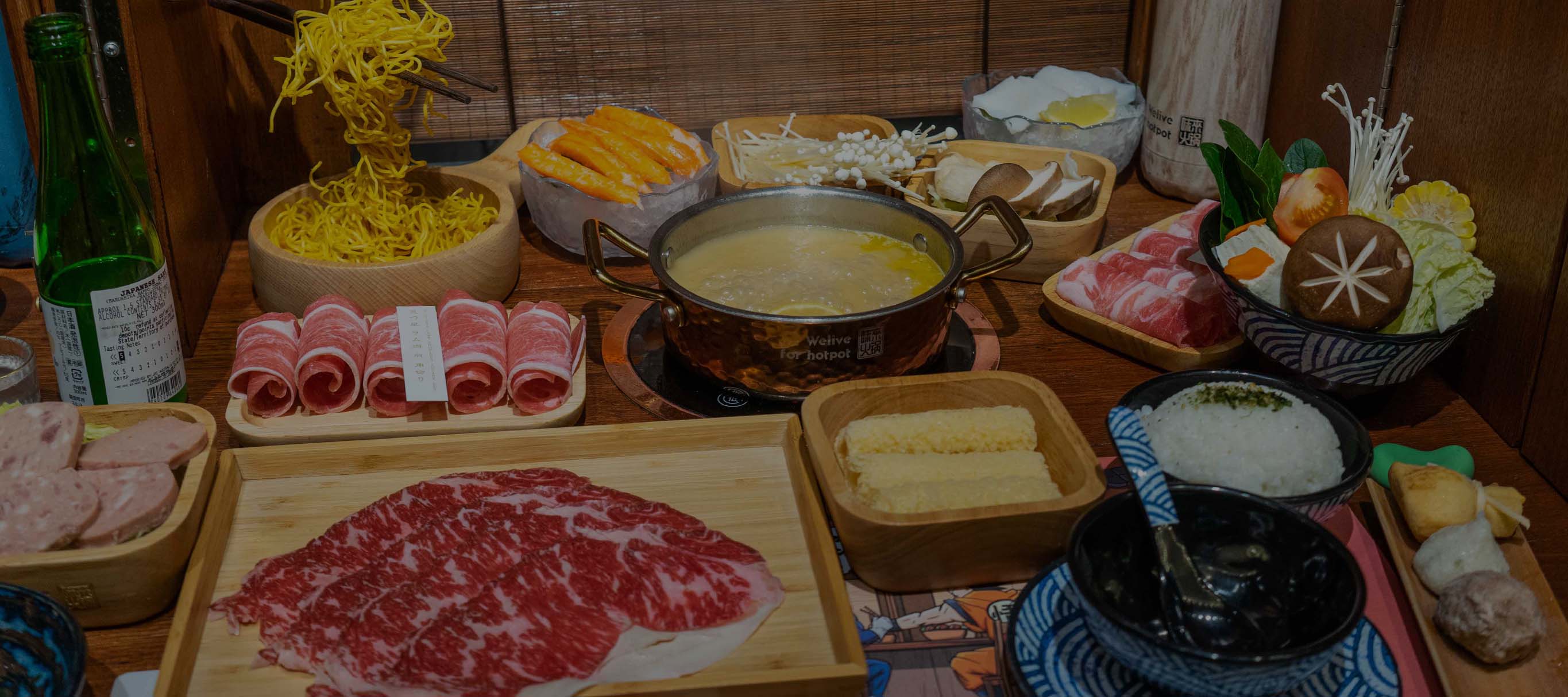 Melbourne
Hotpot Tour
Hotpot tour of Melbourne: 7 to try from around the world
Words by Sofia Levin
Images by Sofia Levin & supplied
With hotpot varying from country to country, there's a whole world of it to explore right here in Melbourne.
Melbourne is crazy for hotpot, but it extends far beyond what you might know from China. Dig deeper and you'll be rewarded with varieties from different countries that vary from region to region. Whether fiery hot, fragrant, slurped solo or with a group, there's one for every palette. Here are seven hotpots from around Asia, all within central Melbourne.
1. Japanese Hotpot shabu shabu & sukiyaki
There are two main types of Japanese nabemono (hotpot): sukiyaki and shabu shabu. Sukiyaki consists of ingredients such as beef, tofu, noodles and vegetables cooked in a shallow sauce of soy, mirin and sugar. They're then dipped in raw egg. Shabu shabu involves cooking raw ingredients in broth at the centre of a table, with a greater variety of dipping sauces. Sukiyaki is sweeter and more intense than shabu shabu, which usually has a milder kombu base.
Momo Sukiyaki & Shabu Shabu is the city's only dedicated Japanese hotpot restaurant. Shabu shabu bases include soy, konbu, tonkotsu and more; sukiyaki might be rooted in soy or tomato; and then there are wildcards like black truffle. Namoo Japanese Cafe on Queen Street has nine varieties of nabe. They range from neck clams and radish in dashi to motsunabe (beef intestine and vegetable). Try the oden fish ball soup, which comes on an individual burner.
For introverts, WeLive for Hotpot has timber separators and single serve hotpots. Takumi is better for feasting with friends, thanks to an all-you-can-eat $45 per person menu (minimum of two). There's a $20 fine if you leave more than 200 grams of food – essential to avoid wastage.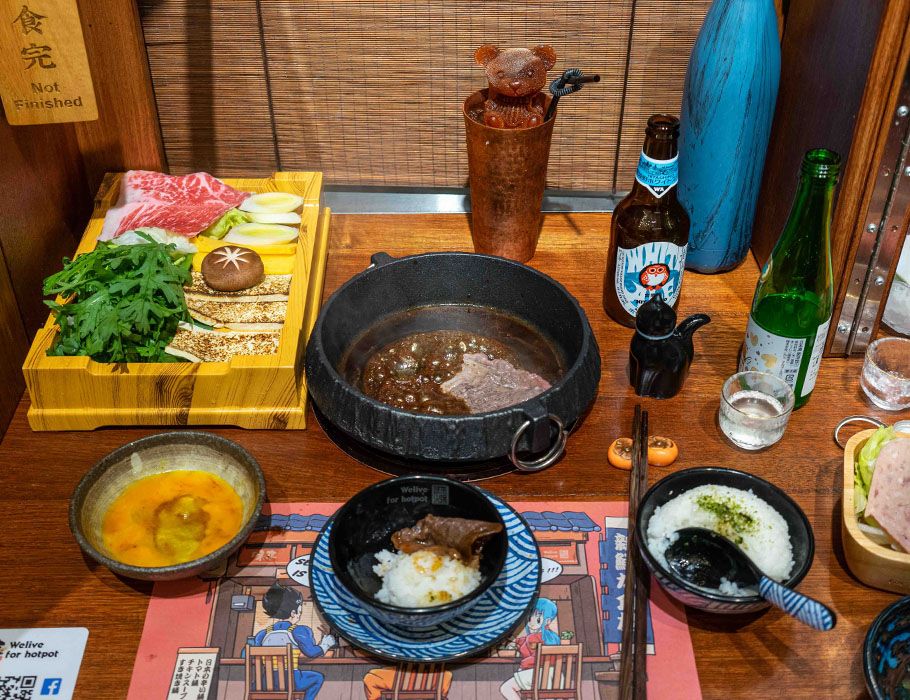 2. Vietnamese Hotpot lau
Lẩu, or Vietnamese hotpot, has Chinese steamboat origins. It's cooked fondue-style, with raw ingredients dipped into a central, simmering broth. The base might resemble pho, salted fish broth (lau mam), tamarind-spiked seafood stock (lau canh chua from the Mekong Delta region), or any number of other soups.
Find lẩu at Hawker Boys on Hardware Lane. It's a colourful spot with blue neon signage and bamboo baskets in the window, a modern-industrial fit out and laneway tables. Lẩu comes with rare sliced beef, mushrooms, fish cakes and seasonal vegetables. Vegan broth is also available.
At the west end of the city in a laneway off Little Bourke is District Mot. The space is designed to look like Ho Chi Minh, right down to the wires strung across the ceiling. Hotpots here come in big, silver cauldrons. There are five kinds, including bo nhung giam vinegar-based beef hotpot with pineapple and goat hotpot with egg noodles.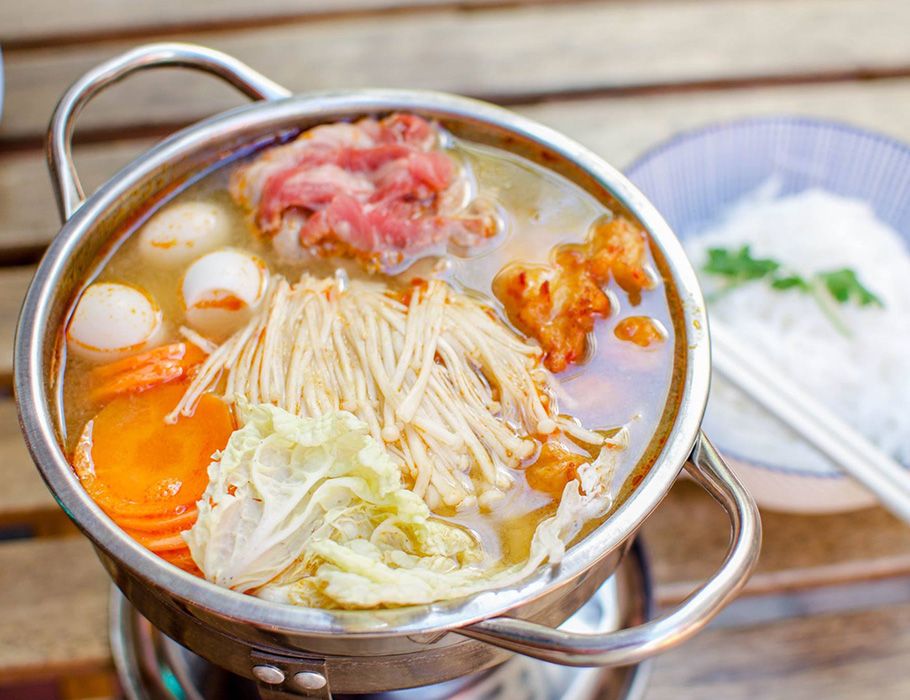 3. Thai Hotpot mookata
Mookata Thai hotpot comes on a gas burner with a raised grill plate in the centre of the appliance. Pros grease the grill with a chunk of lard and pour stock into the moat surrounding the grill. Crack in an egg, give it a stir and then add the vegetables and noodles. Meat and seafood are charred on the grill.
You can experience mookata at Nana Thai BBQ & Hotpot on Bourke Street and Soi 38, which is tucked away in the car park off Mcilwraith Place. Melbourne has other forms of Thai hotpot, too. Next door to Nana is Thai Tide, which offers giant tom yum and tom leng saap hotpots. The latter is a hard-to-find dish with meaty pork spines piled up in tangy broth with loads of makrut lime, lemongrass, and galangal. JiYu Thai Hotpot is another option, offering Chinese-style hotpot but with Thai soup bases.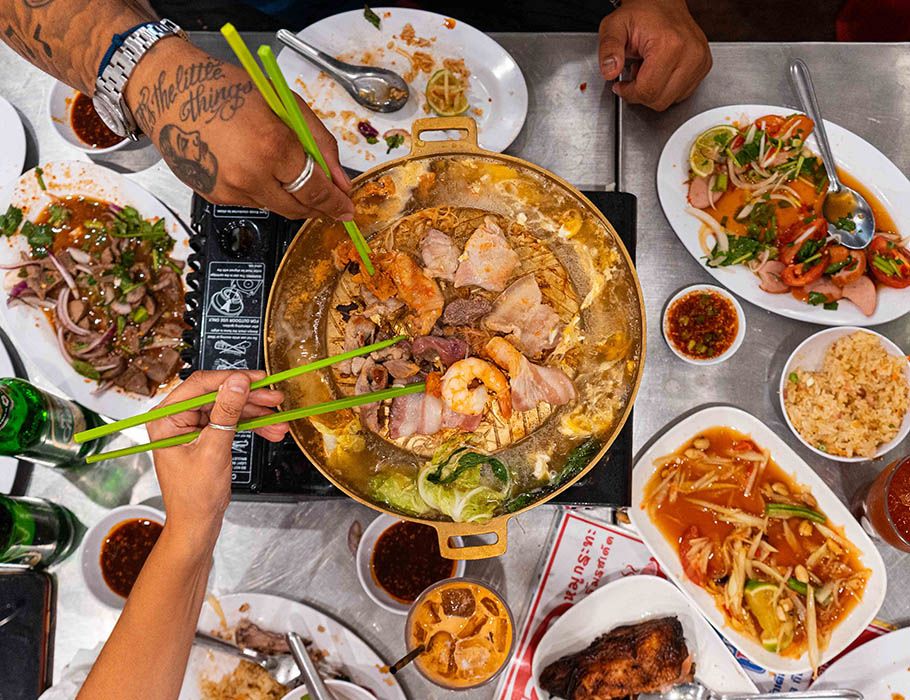 4. Korean Hotpot budae jjigae & jeongol
There are a handful of Korean hotpots, but the most popular are budae jjigae and jeongol. There are countless varieties of jjigae – a brothy, communal stew – but budae jjigae, aka army stew, is often served over a flame. It came about following the Korean War's introduction of processed ingredients. Now spam, frankfurts, instant ramen and cheese make their way into budae jjigae. Jeongol, traditionally reserved for the upper class, sees broth poured over ingredients such as sliced beef, seafood and mandu dumplings before they're simmered and shared at the table.
Most Korean restaurants in the city offer these dishes. For a mammoth army stew, try Darac on A'Beckett Street. The "small" feeds two to three people while the large will satiate up to five. Han Guuk Guan, tucked away near the corner of Victoria and Exhibition Streets, has a huge selection of traditional Korean hotpots. Think everything from sundae (Korean blood sausage) through to trotters with potato.
5. Mongolian Hotpot haluun togoo
Huo guo (Chinese hotpot) originated in Mongolia. The story goes that somewhere beyond the Great Wall more than 1000 years ago, nomadic Mongolian horsemen simmered meat and broth over fire in their helmets. Today, the main distinction is Mongolian hotpot's use of thinly sliced lamb instead of beef or seafood. At Happy Lamb on Exhibition Street, marrow is steeped in an eight-hour simmered broth, which allows the flavours to stick to the ingredients. There are six bases available and a selection of lamb platters, along with a range of handmade seafood balls and pastes.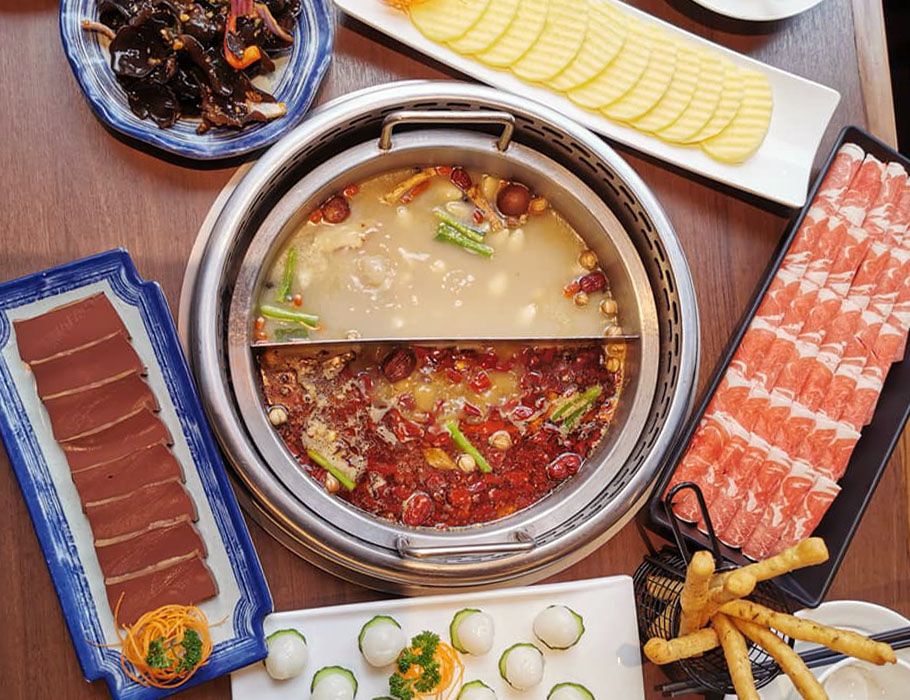 6. Northern Chinese Hotpot huo guo
Hotpots are completely different across China, with spices, add-ins and broth bases dependent on which part of the country you're in. In the north, lamb is more widely used, while in the south there's a tendency towards seafood. China's capital, Beijing, takes cues from Mongolia, traditionally using copper volcano-shaped pots. The main protein is mutton or lamb with sesame dipping sauce. At slick, industrial restaurant No.1 Delicious Hotpot & BBQ in Carlton, everyone gets an individual burner and hotpot, so you can double dip to your heart's desire.
7. Southern Chinese Hotpot huo guo & bian lu
In the southeastern coastal province of Guangdong (formerly Canton and home to Cantonese cuisine), seafood takes centre stage and soup bases are often seasoned with ginger, spring onion, soy and peanut oil. In Cantonese (as opposed to Mandarin), hotpot is referred to as bian lu. Wu Mi Zhou at the top end of Lonsdale Street specialises in mellow and comforting congee hotpots from the region.
In southwestern China, the Guizhou mountainous province also features lots of fish, but the broth has a unique flavour from Sichuan pepper and salty, pickled vegetables. The closest you'll get in Melbourne is from Sichuan restaurant Fish & Pickles Shan Cheng Wai.
Yunnan hotpot is different again, making use of wild mushrooms and flowers. They're dry when imported into Australia and then rehydrated for cooking. Expect fresher, more fragrant herbs and the rice noodles for which the province is famed. Visit Lost in Yunnan on Elizabeth Street or Colourful Yunnan in Carlton.
Sichuan is the most familiar kind of Chinese hotpot in Melbourne. Chongqing city, which hasn't technically been part of Sichuan since it split off in the '90s, is the hotpot capital of the world. Broths across the region are defined by a punch-in-mouth, numbing flavour from Sichuan chillies, known as mala. Butter adds an oily richness to the base, with sesame oil the preferred dipping sauce to curb heat. Dainty Sichuan Hotpot and Panda Hotpot are favourites for a reason.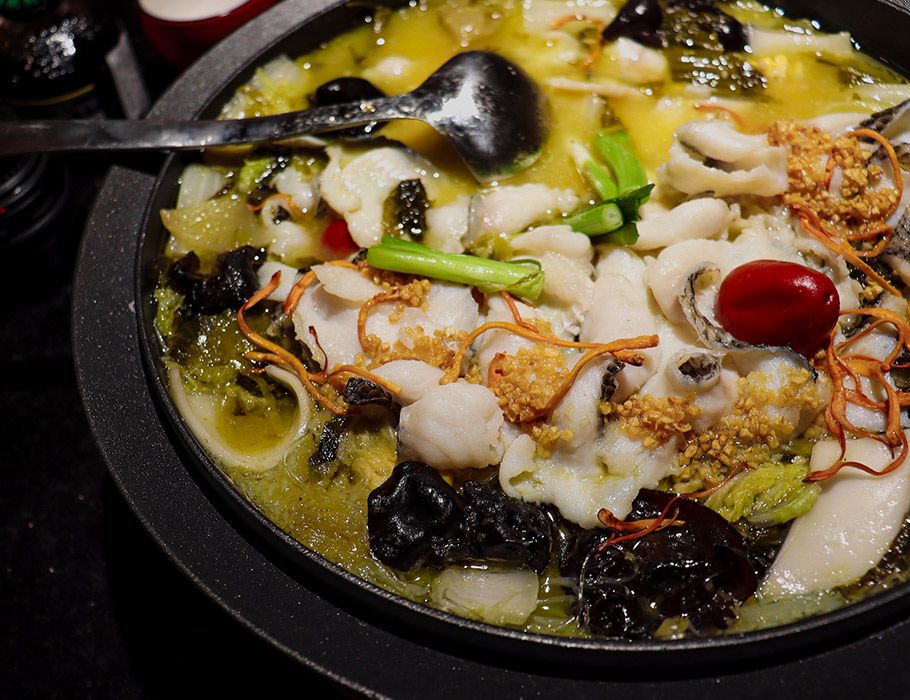 Around the World in 80 Lesser-Known Melbourne Restaurants
FREE food guide when you subscribe.