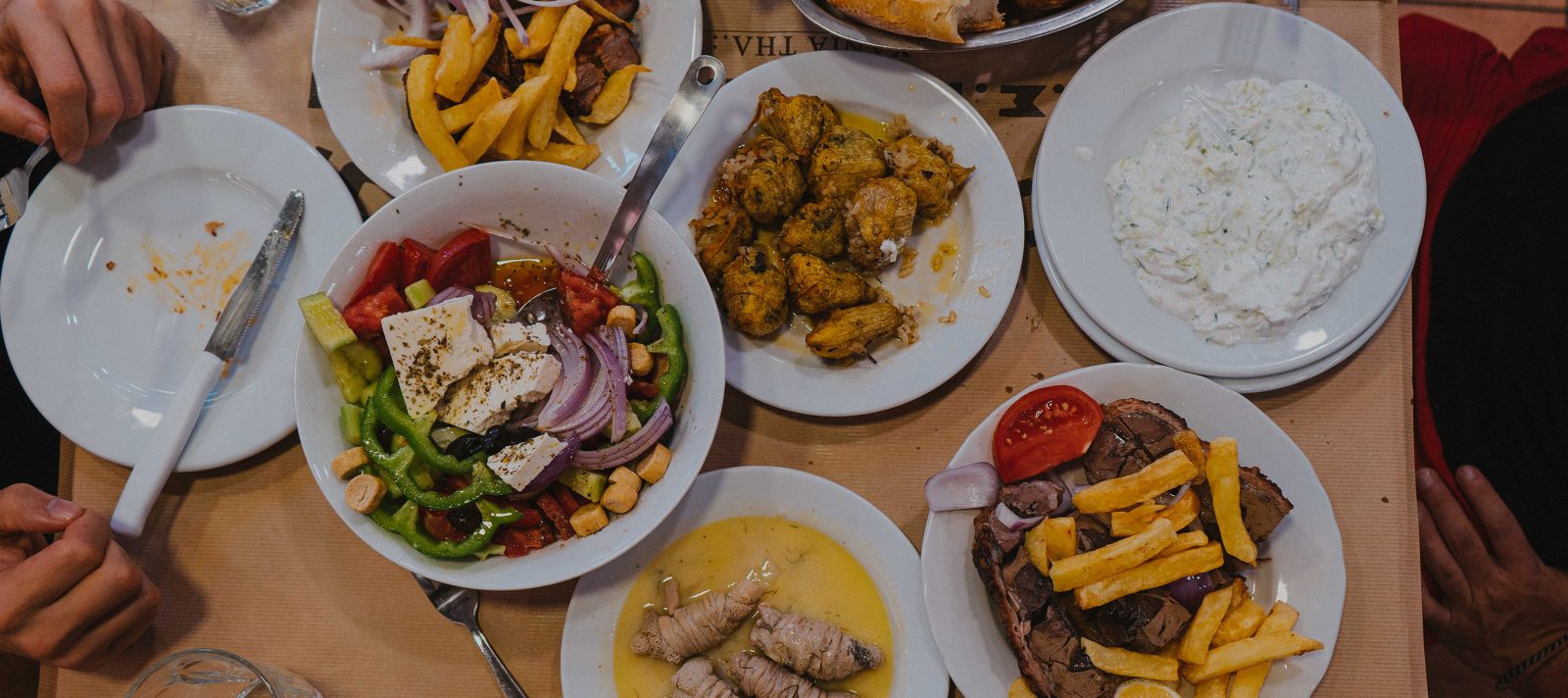 19 Traditional Cretan Dishes
19 Unique Dishes that prove Crete is Greece's Gourmet Island
Words & images by Sofia Levin
From wild weeds and sea urchin to snails and ancient barbecue, Crete's regional dishes make it the perfect Greek island destination in for food lovers.
The island of Crete is the largest in Greece, stretching from pristine coasts to fertile mountain ranges. It provides a bounty of seafood and edible wild weeds, the latter grazed upon by livestock whose meat becomes flavoured with a certain je ne sais quoi when slow cooked in traditional stews. This is a land that's produced olive oil for 3500 years and is currently responsible for a third of Greece's olive oil production. Nearly 20 food products and another dozen or so wines from Crete have Protected Designation of Origin (PDO) status.
If you crave real Greek cooking, history, immaculate beaches, shopping and nightlife, Crete is a better alternative to overrun Mykonos and Santorini. Tavernas here welcome you with a shot of raki, feed you dessert on the house and then send you off with another shot, because that's the hospitable thing to do. You'll need a few weeks to explore it all, otherwise base yourself in Chania for five days; stroll the 14th-century Venetian harbour, hire a car and visit postcard-perfect beaches and take Crete in one bite at a time. Forget gyros, souvlaki and moussaka – here's a guide to traditional Cretan dishes, as well as where to find them in Chania.
1. Dakos (barley rusk)
This is Crete's most ubiquitous starter. You'll find dakos on every menu in Chania. The foundation is a hard barley rusk (known as paximadia), similar in texture to what babies are given when teething. These are much more considered – twice baked and sometimes studded with aniseed or coriander seeds. Each husk slowly soaks up olive oil and the juice of chopped tomatoes, which are sprinkled with oregano and xinomyzithra (salted white local cheese). Try it anywhere, but To Steno does a good one; it's one of few tavernas near the port with an authentic, neighbourhood feel. It's also a social co-op. Sit at one of the outdoor laneway tables.
To Steno, Episkopou Dorotheou 26, Chania, Crete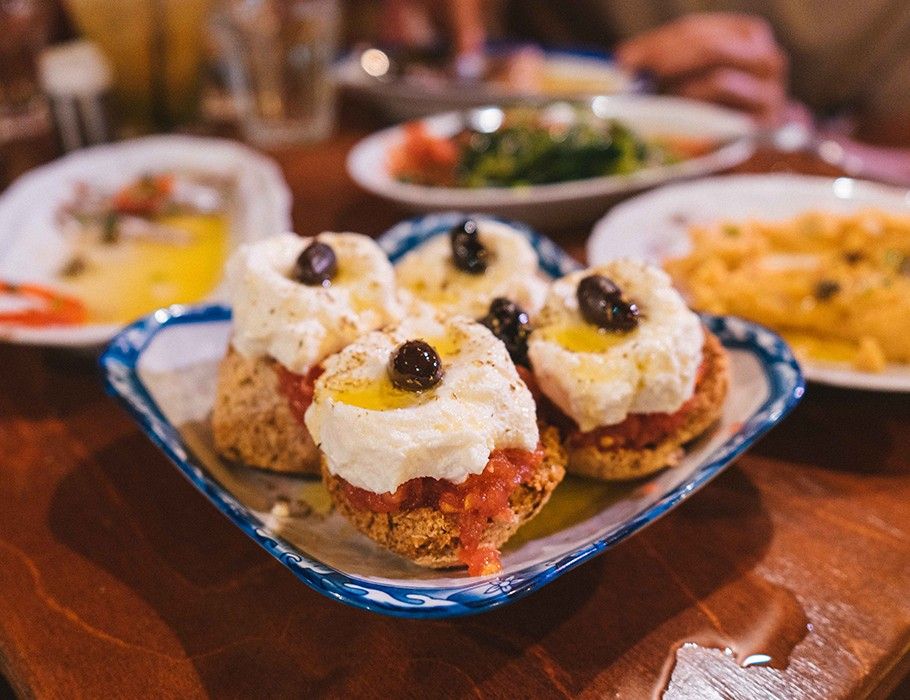 2. Cretan Cheese
Cretans adore their cheese and eat it by itself as meze, as an accompaniment, and stuffed in filo pastry. Myzithra is common and replaces feta in horitaki (Greek salad). It's made from whey and is almost ricotta-like. Xinomyzithra, mentioned above, is Protected Designation of Origin (DOP), while the unfortunately named malaka is milky fresh sheep's curd (sometimes made with a dash of goat's milk).
Try it: anywhere.
3. Stamnagathi (edible weeds)
Crete is famed for its edible weeds and greens called horta. You'll spot them in salads, stuffed into salty pies with cheese and offered as a side with meat. They're highly nutritious and are quite bitter, but they cut through fatty roasts and feel like they're doing you good. Stamnagathi, or cichorium spinosum, looks a little like tufts of roquette, and is a legitimate superfood filled with vitamins, potassium, calcium, magnesium, iron and antioxidants. It's served boiled and drowning in olive oil and lemon juice.
Try it: pretty much anywhere – though you might have to ask even if it's not written on a menu.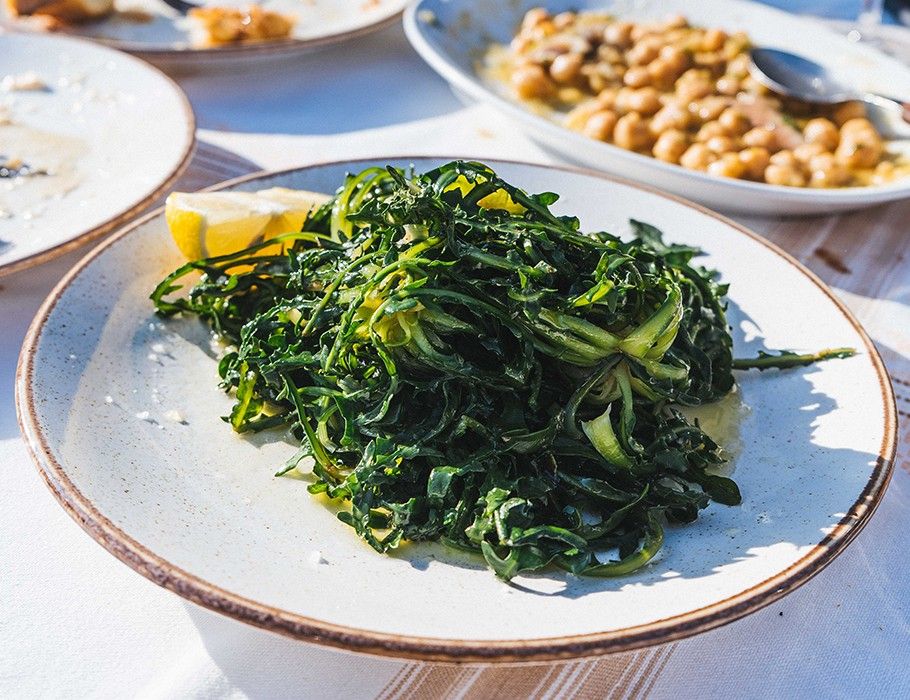 4. Askordoulakous (wild mountain bulbs)
These small mountain bulbs are gathered from hillsides and eaten with salad, boiled to remove bitterness and dressed with olive oil, and then stewed or pickled.
Try it at Thalassino Ageri: serves fresh seafood right on the water with a backdrop of old tanneries. Book ahead and ask for a "front row" table.
Thalassino Ageri, Vivilaki 35, Chania, Crete
5. Chochlioi Bourbouristi (snails)
Greeks have been eating snails since 2 AD. Locals forage for them in the mountains after it rains, but there are also snail farms. They're cooked in different ways, but they're best coated in a light dusting of flour, fried in olive oil and finished with salt, vinegar or wine and rosemary. While chochlioi translates to "snail" in local dialect, bourbouristi references the popping noise they make when fried. These molluscs are often cooked live, so if that's not your jam, check before you order.
Try it at Chrisostomos: dishes here are cooked in a wood-fired oven and influenced by the owner's homeland, Sfakia, in the island's southwest. Book ahead.
Chrisostomos, corner Dekaliaion & Ikarou, Chania, Crete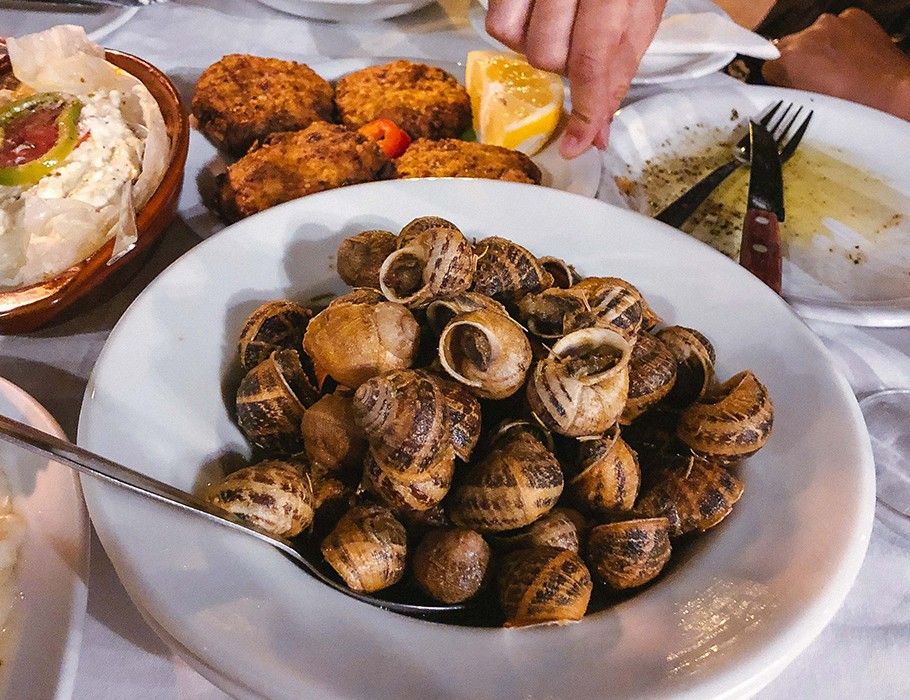 6. Staka Me Ayga (cream & eggs)
This Cretan dish – milk cream with eggs – was a dark horse during our travels. I never would have ordered it, but one of us doesn't eat meat, and I insisted on visiting the equivalent of a Greek barbecue restaurant. Staka me ayga is a simple dish where eggs (in this case, poached) are served on top of staka, a roux made from buttery local cream mixed with flour that's been seasoned with salt and pepper. It's extremely comforting and works as a spread, dip, side dish or even for breakfast.
Try it at To Antikristo: a 10-minute drive out of town, this is one of few spots to try meat cooked traditional Antikristo-style (see antikristo below).
To Antikristo, El. Venizelou, Perivola, Chania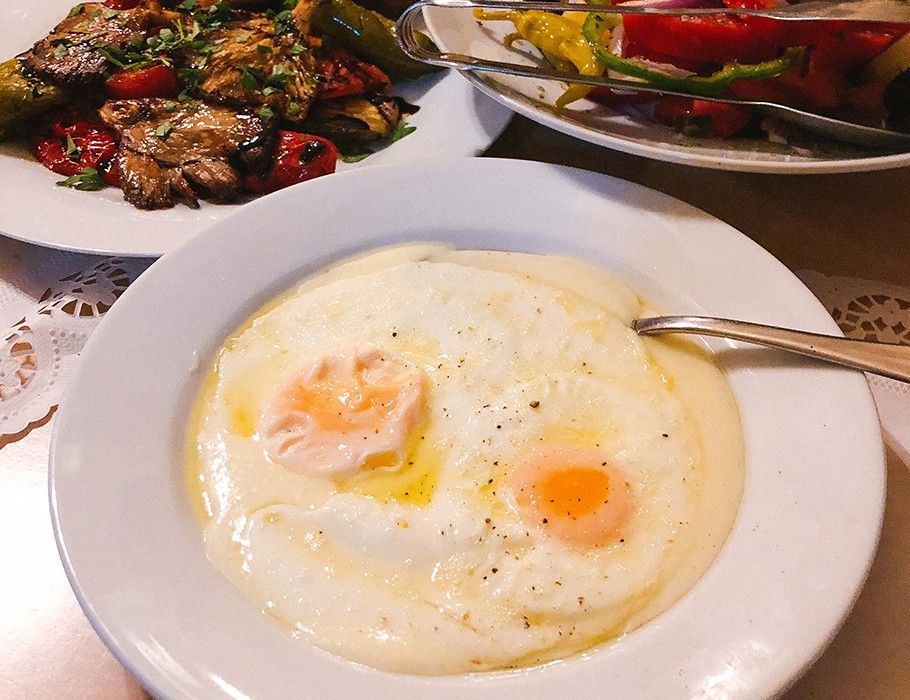 7. Ahinosalata (sea urchin)
I didn't know this dish existed until I ordered it on my birthday in Chania. I'm a huge fan of sea urchin, and it was only after I'd eaten ahinosalata that I realised it's actually Cretan specialty, not something created by the restaurant. Served as a meze, orange urchin roe is scooped into a bowl and flooded with olive oil, lemon juice and a splash of seawater.
Try it at Thalassino Ageri: see "askordoulakous"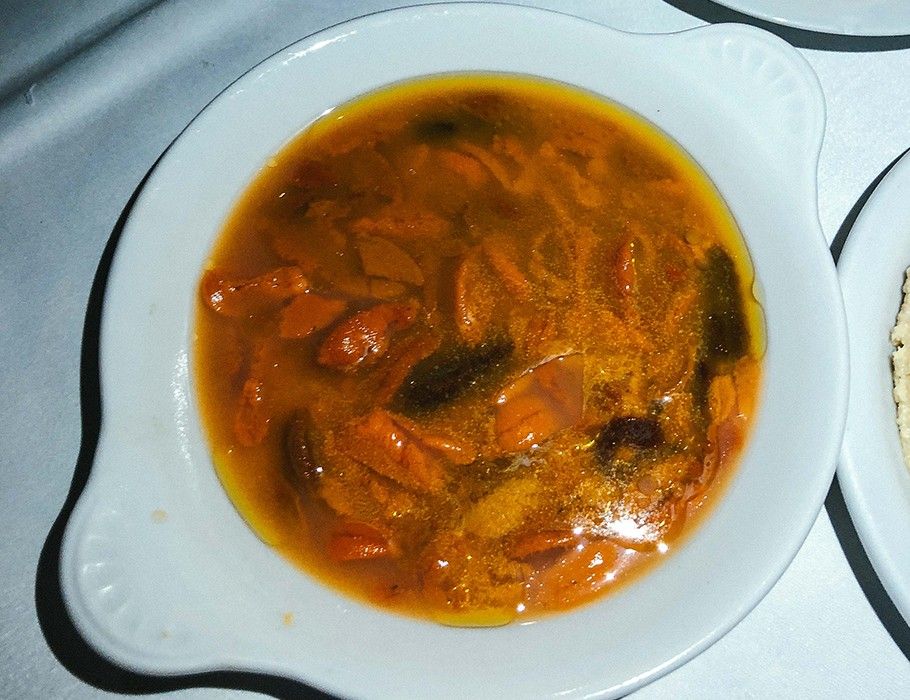 8. Apaki (cured pork)
Crete's answer to cured pork. Lean loin meat is marinated in vinegar for a few days and then smoked over wood and mountain herbs. It's then sliced into thin strips and finished in a pan. In Chania, you'll see it served by itself, in salads, with eggs and in other dishes.
Try it at To Antikristo or Spiliaraki: see "Staka Me Ayga" or "Kaltsounia"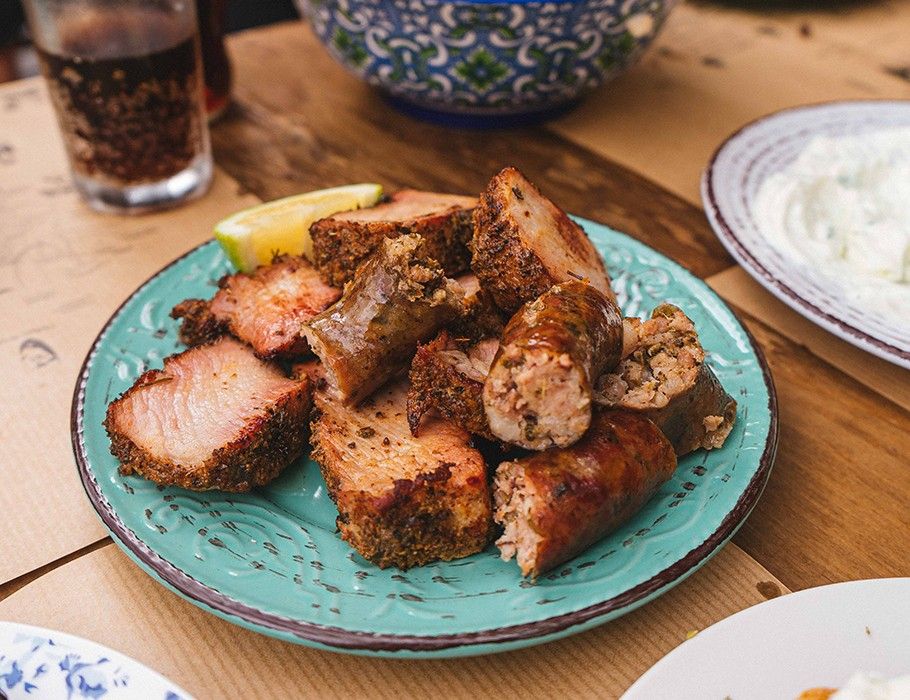 9. Antikristo (barbecued lamb)
A traditional way to barbecue meat, Antikristo sees lamb cut into four (called goulidia), skewered, salted and then arranged around a fire on a multi-tiered metal skirt. Traditionally cooked by shepherds in the mountains, it's difficult to find in Crete, but To Antikristo does it well, toasting the meat its own fat until the skin becomes brittle crackling.
Try it at To Antikristo: see "Staka Me Ayga".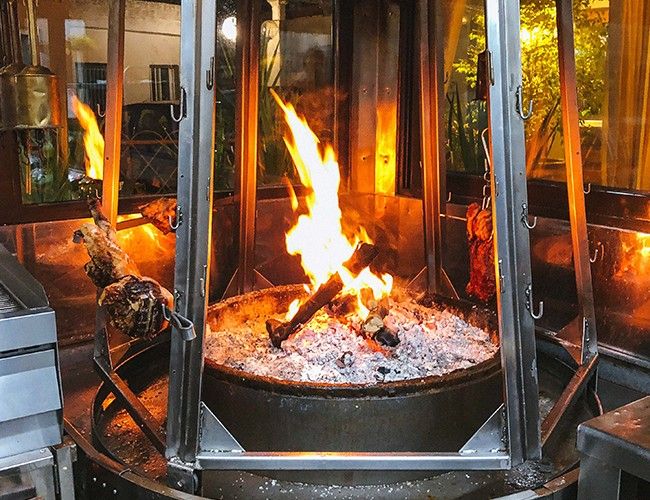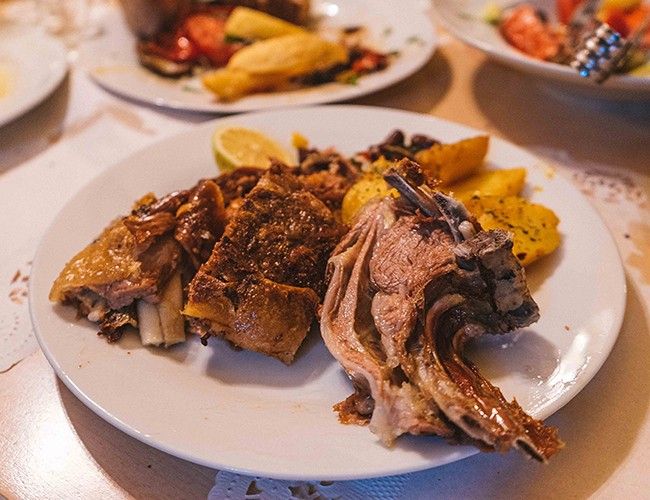 10. Kleftiko (baked lamb)
We have thieves to thank for this slow-cooked, oven-baked lamb dish. Keptomanic is derived from the Greek word kleftis or thief. Both pirates and Ottoman-era Klephts, Greek decedents who lived in the mountains to avoid Ottoman rule, stole livestock from Greek villages to feed themselves. Although usually made with lamb, you can find chicken and vegetarian versions of kleftiko seasoned with herbs and cooked with tomato, sometimes encased in pastry.
Try it at To Antikristo: see "Staka Me Ayga".
11. Gamopilafo (wedding pilaf)
If you need an incentive to get yourself invited to a Greek wedding, this is it. Gamopilafo is traditionally offered at Cretan weddings (gamo means wedding), but you'll come across it at larger, more tourist-friendly restaurants, too. Rice is cooked in stock made from slow simmered goat, lamb or chicken. Lemon juice and local butter is added to the rice along with the boiled meat to create a decadent sort of risotto or pilaf.
Try it at Leventis Taverna: a family restaurant in the hills, 10 kilometres from town, with stunning views and traditional food. Call ahead to make sure gamopilafo is on the menu. Stalos, Crete.
12. Gardoumakia (lamb belly & intestine)
One for offal lovers, lamb intestine is twirled around a piece of stomach so that it resembles a plump, grub-like sausage. It's cooked in red or white sauce, the latter in a puddle of lemon juice, oil and dill. It ain't pretty, but it's tender and textural. Close your eyes and give it a chance.
Try it at Stavros & Stamatis Taverna: a casual mageireio worker's restaurant in Chania Municipal Market that's been around since 1928. Municipal Market of Chania, Crete.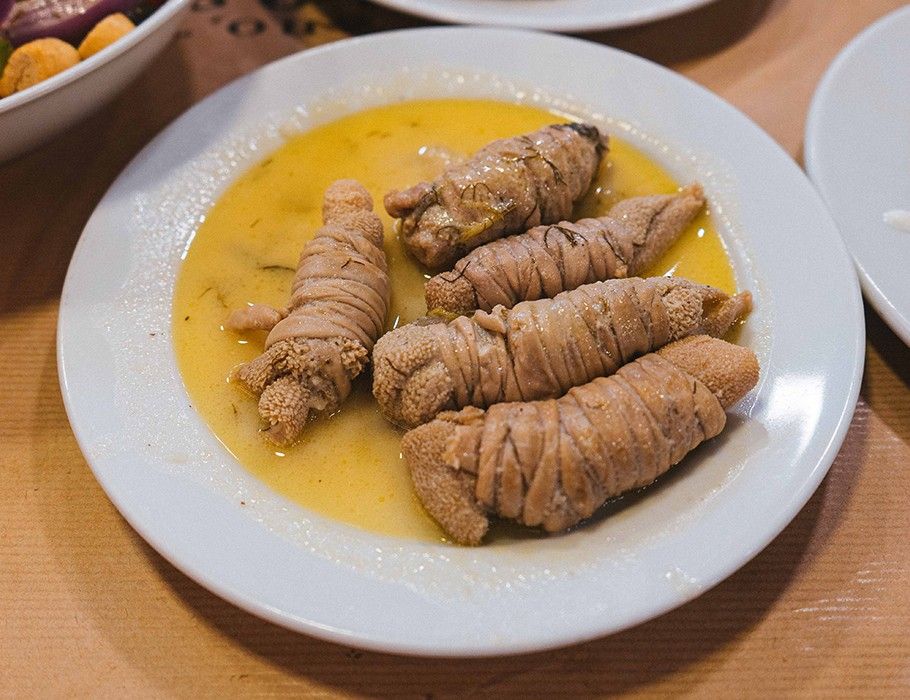 13. Kokoretsi (spit-roast lamb offal)
Like gardoumakia, kokoretsi is a traditional Greek Easter dish. The ingredients are similar – lamb or goat intestines wrapped around seasoned offal like heart, kidney and lung – but because it's cooked on a spit and more like a roast, it's less challenging than gardoumakia. Kokoretsi is rolled in like porchetta so that the exterior becomes like crackling, while the inside is firm and resembles different cuts of meat like a terrine.
Try it at Stavros & Stamatis Taverna (as above).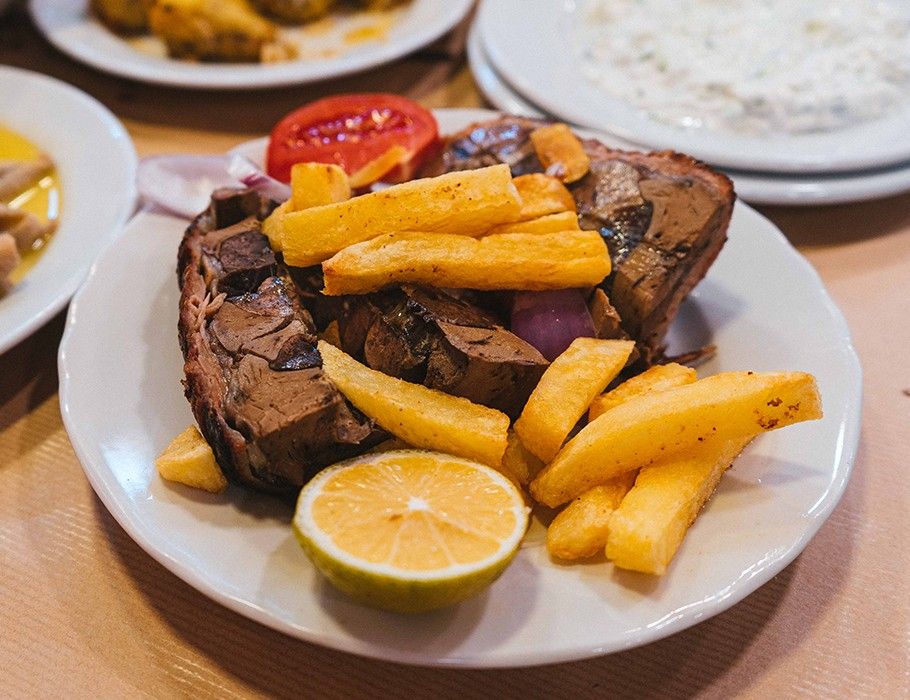 14. Stifado (stew)
A common Cretan stew made with beef, lamb, pork, snails, rabbit, tripe – you name it. You'll always find plenty of onion, garlic, tomato and either vinegar or wine, but depending on the cook, stifado can also be aromatic with the addition of spices and herbs like cinnamon, oregano and cloves. The flavours fuse together over a few hours in the oven. Usually served with bread.
Try it at Chrisostomos: see "Chochlioi Bourbouristi".
15. Lamb Tsigariasto (lamb on the bone)
This rustic and traditional cooking method results in full-flavoured lamb, served fatty and on the bone. Lamb (or goat) is cooked low and slow in olive oil, wine and its own juices and then piled on a plate to be devoured – simplicity at it's best. If you venture into the hills to try it at the restaurant below, be warned that there can be a lot of bees buzzing around that can detract from the setting and food.
Try it at Dounias: drive up winding slopes to reach this remote tavern, where everything is cooked over fire in clay pots and seasoned with mountain herbs. Main Road Drakona, Crete.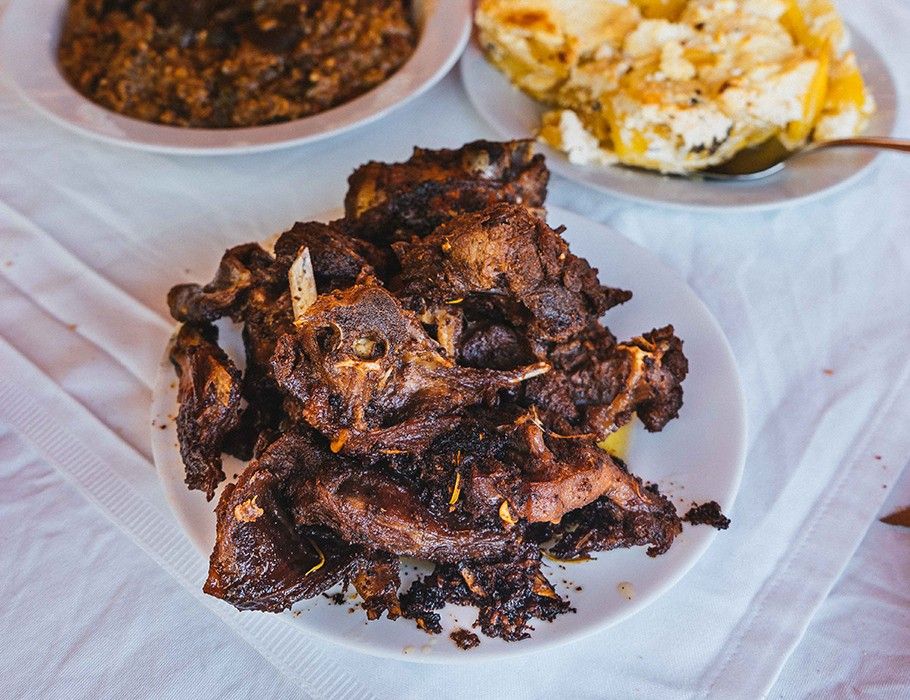 16. Chaniotika Boureki (potato & zucchini casserole)
Also known as Boureki from Chania and kolokithoboureko (don't worry, "Boureki from Chania" will do just fine), this is a fantastic vegetarian dish layered with zucchini, local cheese, potato and filo or puff pastry. Simplified as a zucchini pie, it's a little like lasagne with pastry in place of pasta.
Try it at Kouzina E.P.E.: a modern mayirefta restaurant with beautiful, fresh dishes and lots of vegetarian options. Daskalogianni 25, Chania, Crete.
17. Kaltsounia (cheese pies)
These little Cretan cheese pies are savoury, despite being served at the end of the meal. They look an awful lot like empanadas and can be spiked with thyme and drizzled with honey and cinnamon. Myzithra is the cheese of choice.
Try it at Spiliaraki: a stunning outdoor taverna with views over the hills and hammocks that specialises in traditional Cretan dishes. Eparchiaki Odos Kaloudianon-Chrisoskalitissas, Topolia, Crete.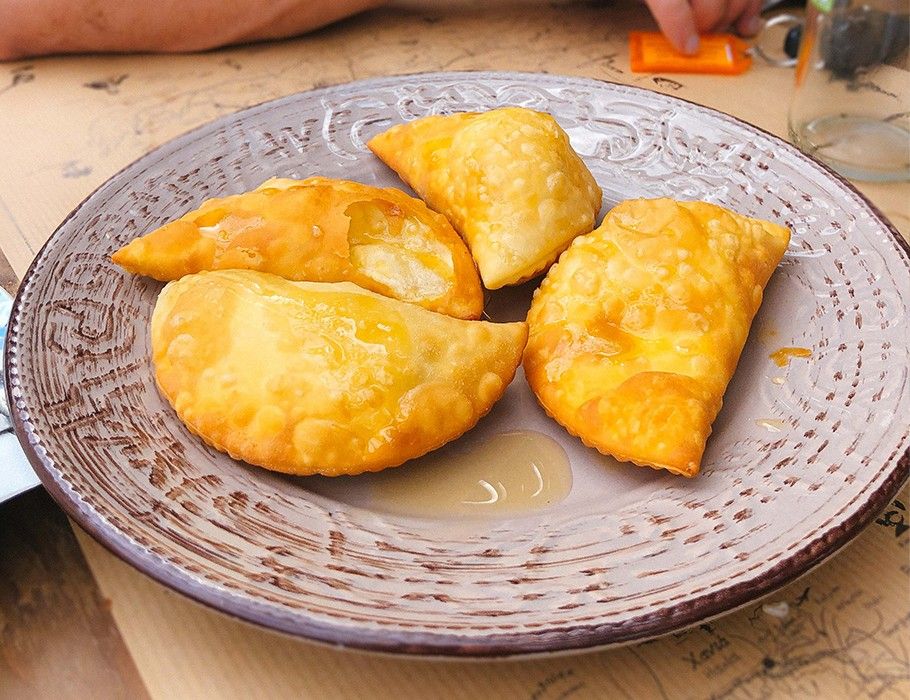 18. Sfakiani (thin pita pie)
More cheese-stuffed carbs, sfakiani sees flat bread stuffed with myzithra pan-fried until the outside bubbles golden-brown, before being drizzled with honey and served hot.
Try it at To Steno: see "Dakos".
19. Cretan Yoghurt & Honey
The best yoghurt I've ever tasted was outside of Chania on the way to Elafonisi Beach in hilly Topolia. Look for thick, Greek yoghurt set in terracotta pots served with local honey. It's so thick that it remains fastened to an inverted spoon. You don't know the true meaning of the word "creamy" until you try this.
Try it at Spiliaraki: see "Kaltsounia".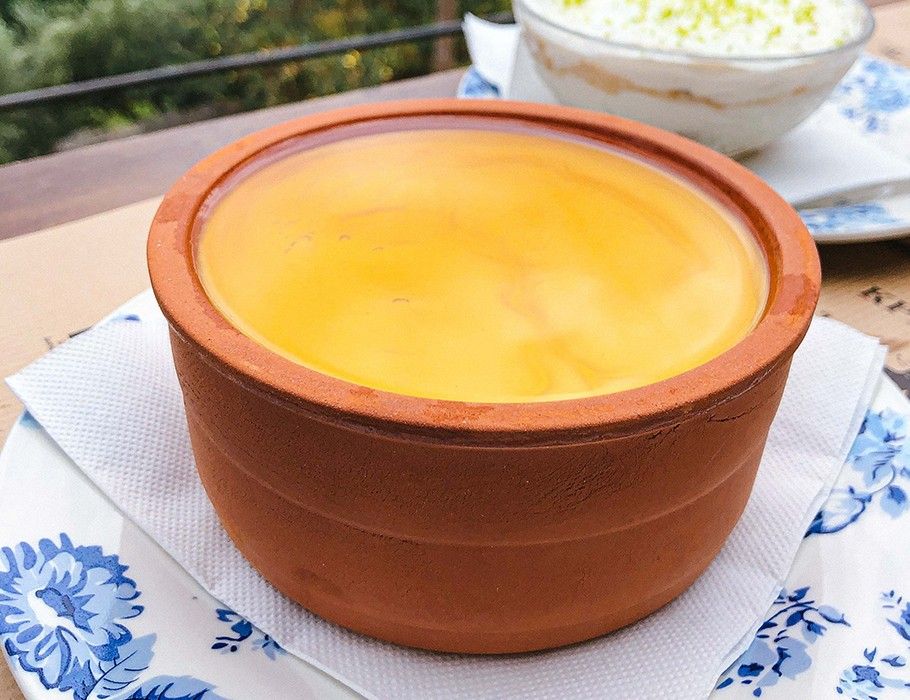 Around the World in 80 Lesser-Known Melbourne Restaurants
FREE food guide when you subscribe.