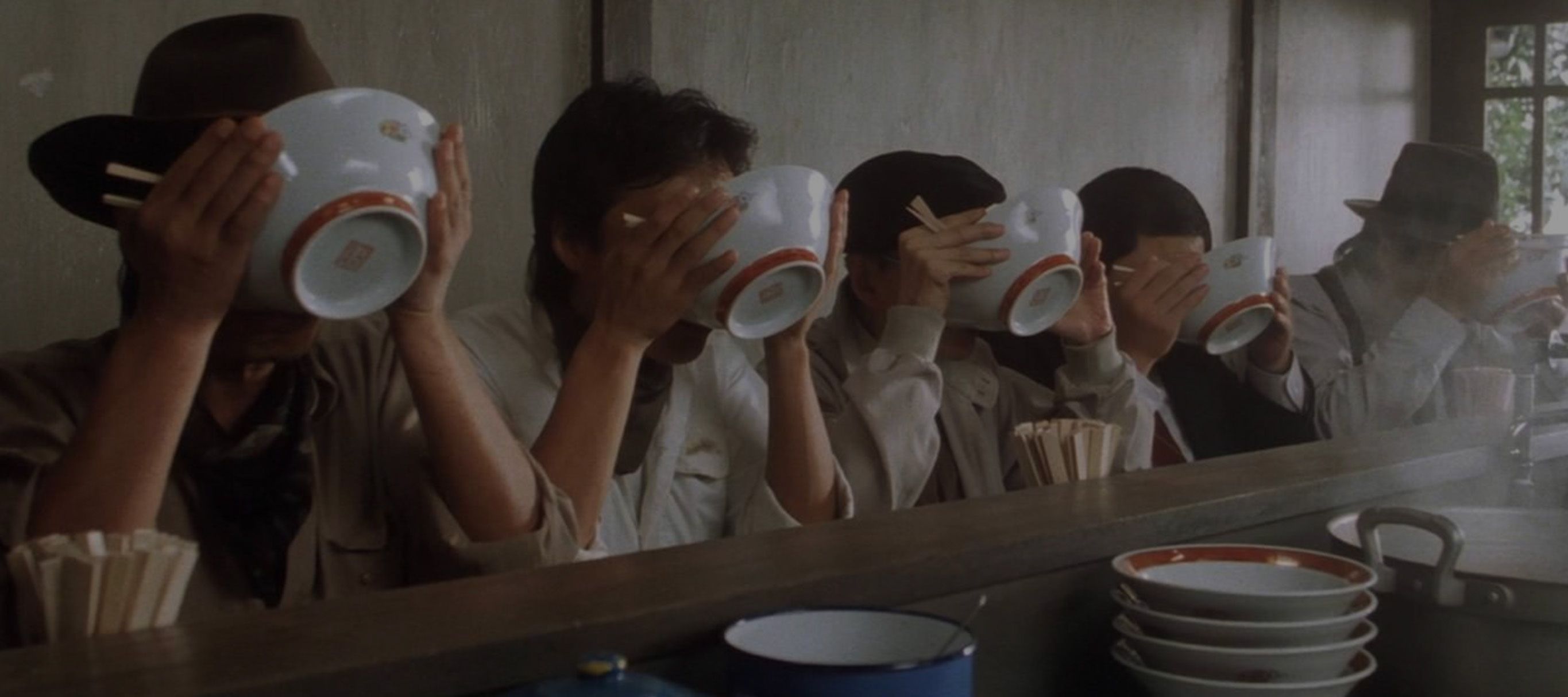 The Best Ever Food Movies
18 food movies matched with takeaway (plus 4 food series)
Words by Sofia Levin
Whether you're stuck at home, isolating or want a night in, this list of the best food movies (and what to eat while you watch them) will get you through.
Over the last 50 years, some of the most iconic films have been themed around food. From homely to decadent, each uses food to share stories of family, love, tradition, heritage and indulgence in all its forms. Whether you're stuck at home, isolating, or perhaps just want a night in, consider this list of 18 of the best food movies, plus four of my favourite binge-worthy food series. And if you're in Melbourne, I've gone a step further and suggested takeaway and delivery options to match each movie.
Italian Food Movies
Big Night (1996)
This is a heart-warming film about chef Primo (Tony Shalhoub) and businessman Secondo (Stanley Tucci), two Italian immigrant brothers who open their dream restaurant in New Jersey. The pair struggles to please the American red-sauce palette, but just as the restaurant is about to go under, they decide to have one final "big night", which features the famous timpano (a massive, layered pasta bake in the shape of a drum). One of the best food movies to work up an appetite for all things pasta and lasagne.
Dinner Rush (2000)
Described by critics as "The Sopranos meets Big Night", Dinner Rush combines the pressure of running a restaurant with the violence of the mob. When restaurateur-book keeper Louis Cropa (Danny Aiello) discovers that his gambling sous-chef (Kirk Acevedo) is up to his neck in debt, he has to stop gangsters (including Michael McGlone) from taking over the restaurant. Cropa must also appease a celebrity food critic (Sandra Bernhard) and battle his son and head chef (Edoardo Ballerini) on the topic of tradition.
What to order
Al Dente Enoteca, Carlton
Stunning, handmade pasta from ex-Grossi Florentino chef and COVID success story, Andrea Vignali. Pick up Friday between 9am and 2pm or order delivery within 25km for $100+ spends. Order here.
Mister Bianco, Kew
Get a little bit of Sicilian mafia into you by visiting Mister Bianco between 11am to 3pm this Saturday July 24 for hot toasted brioche stuffed with Piccolina gelato. Hot food pick up is also available, as well as delivery via The Italian Job.
Umberto Espresso Bar, Thornbury
This local favourite is hosting a panino-pop up this Saturday July 24 with roasted chestnuts and mulled wine to go. Delivery and takeaway are available in the evenings. Visit the website.
Taiwanese/Chinese Food Movies
Eat Drink Man Woman (1994)
Set in Taipei, Eat Drink Man Woman follows Mr. Zhu (Sihung Lung), a famous, semi-retired Chinese chef and widower with three daughters. He cooks for the girls on Sundays as a way to show love, but his daughters feel stifled in spite of the meticulously prepared feasts. The sizzle of just-caught fish in hot oil and rhythmic clanking of the cleaver on pork belly are mesmerising. Mr. Zhu's dining table is a space for discussion, love, heartbreak, conflict and laughter and the movie tackles the theme of tradition versus modernity. It also inspired the 2001 American film, Tortilla Soup.
What to order
Sunny Cafe, Springvale
My favourite spot for Taiwanese. This is takeaway only, but if you're within 5km of the area, pick up Taiwanese beef noodle soup, slow-braised pork trotters on rice, pan-fried buns and soup dumplings. Facebook page here.
Dainty Sichuan, South Yarra
Dainty's takeaway and delivery travels incredibly well. If you like it hot, explore the numbing, Sichuan flavours in dishes like fried chicken ribs and fish fillets in chilli oil. You can also try traditional soups to fit in with the homely film, such as pork rib with lotus root and ox tail and tomato. The menu is bigger when you call and order direct (or try this link), as opposed to third-party delivery.
Tuan Tuan, Carlton
Come for the comforting soups and congee, stay for the snow buns. Well, order them online to takeaway or get them delivered – but you get the drift. Also try the steamed fish and green beans with salted egg dip.
Japanese Food Movies
Tampopo (1985)
Tampopo is the tale of two truck drivers who stop at a roadside ramen shop and ultimately change the life of the widow who runs it. After having her cooking criticised, she embarks on a quest to learn how to make the best ramen. There's are some sweet subplots and vignettes that follow different characters and raise questions on class, family and gender roles, again through the lens of food. Dubbed a "ramen western", scenes humorously mimic those you might see in a spaghetti western.
Sweet Bean (2015)
The protagonist in this beautiful Japanese drama, Sentaro, is a middle-aged man running a tiny dorayaki (red bean pancake) shop in outer Tokyo. His regular customers are limited to schoolgirls and locals, but when he advertises for a worker, he can't possibly predict the success that follows taking a chance on elderly Tokue. Initially Sentaro rejects the woman in her mid-seventies, but when he tries her red bean paste, it changes his life forever. Beyond food and friendship, Sweet Bean also considers issues of prejudice, disability and the weight of one's past.
What to order
Fuumi Fuumi, West Melbourne
This new cafe and bakery is open for takeaway. Swing by and sip on spiced cinnamon apple tea and order a fresh loaf of shokupan milk bread plus housemade Japanese sweets to go. Try the purple sweet potato mochi bread and check Instagram for specials.
Tamura Sake Bar, Fitzroy
Shout out to one of my favourite locals. I had the signature ramen and chicken katsu just yesterday, and there's also vegan ramen available. Specials include a cheesy okonomiyaki pancake and chicken katsu sando. Takeaway only, visit the website.
Hakata Gensuke, around Melbourne
Pick up cook-at-home ramen packs and gyoza from the Russell Street store, or visit for both takeaway and delivery from all stores (Russell Street, QV, Carlton, Hawthorn). Order online or via third-party delivery partners. Website here.
Minamishima, Richmond
The most luxurious takeaway and delivery option in Melbourne, from our city's best Japanese restaurant. Pick-up and delivery is between Tuesday to Saturday when you pre-order. Think stunning chirashizushi, kushiyaki skewer sets and lavish shabu shabu with wagyu. Delivery to suburbs within City of Boroondara, Melbourne, Port Phillip, Stonnington and Yarra, plus postcodes 3079, 3084, 3105, 3106, 3017, 3108, 3109, 3128, 3129 and 3130. More information here.
Indian Food Movies
The Lunchbox (2013)
The Lunchbox is a story of unexpected friendship and romance. When lonely housewife, Ila (Nimrat Kaur), tries to rekindle her stale marriage by preparing a special tiffin lunch for her neglectful husband, the delivery accidentally ends up with Saajan (Irrfan Khan), a grumpy widower. Ila's husband fails to mention the lunch, so she adds a note to his tiffin the following day. This twist of fate results in a pen pal-friendship, cemented by the care that goes into cooking and propelled by connection. A truly beautiful food movie.
The Hundred-Foot Journey (2014)
Based on a novel by the same name, this gorgeous film stars Helen Mirren as Madame Mallory, the owner of a Michelin-starred restaurant in the south of France. After an election dispute sees the restaurant of the Kadam family firebombed, they end up purchasing a restaurant just 100 feet from Madame Mallory's venue. They call it Maison Mumbai, and a cold war of sorts erupts between the two. When it goes too far, Mallory allows the son of the Kadam family, Hassan Haji, to make her an omelette, which is how she hires her chefs. She invites him to be her apprentice, and Hassan's cooking evolves into Indian-French fusion that paves the way for the success, pain, romance and homesickness that ensues.
What to order
Daughter in Law, CBD
Takeaway, hot food delivered in an hour, or pre-order heat-at-home banquets for two to four people by 4pm the day before. The two-person banquet no. 1 is a selection of street food and a thali plate with five curries, rice, raita and naan. Veg or non-veg available. Check the website.
Horn Please, North Fitzroy
This restaurant is offering 30 per cent off curries and rice when you pick up direct, instead of handing over the commission to UberEats and Deliveroo. Along with this modern Indian food are meal deals, including vegetarian and vegan options. Order direct here.
Bhang, Brunswick
Order a la carte or the $100 thali feast. The latter gets you four house samosas, two choices of charcoal dishes (think rum-soaked braised beef ribs and lamb shank rogan josh), two curries (perhaps slow-cooked goat or Sri Lankan-Portuguese-style dark pork), biryani rice and four naans with cucumber mint raita. Pick up orders score a free cup of mulled wine. Order online.
Southall, ST Kilda
Affordable and traditional Indian food using local ingredients such as lamb from Gippsland, delivered southside. Choose from korma, saag paneer, chicken tikka with Vindaloo-influence slaw, Goan-style fish curry and more. Visit the website.
French Food Movies
Le Grande Bouffe (1973)
This cult film directed by Marco Ferreri is completely grotesque, erotic and over the top. A group of aging bourgeoisie friends rent a villa in the French countryside and set about eating and screwing themselves to death. From liver pate shaped like the Dome of Les Invalides and pudding resembling giant breasts, it's bizarre, kind of gag-inducing and a total romp. The satirical film is filled with gluttony, sex, shit and masturbation. Don't watch it with your children or parents.
Haute Cuisine (2012)
A French comedy-drama film based on the true story of Daniele Mazet-Delpeuch, who was appointed as president Francois Mitterrand's private chef (he was in power between 1981 and 1995). It follows Hortense Laborie (Catherine Frot), a renowned chef from Perigord, after the President asks her to be his personal cook. She takes on envious kitchen staff as she cooks her way firmly into the corridors of the Elysee Palace.
Babette's Feast (1987)
No list of the best food movies is complete without Babette's Feast, an absolute classic (though a touch slow). Two pious Protestant sisters Martine (Birgitte Federspiel) and Philippa (Bodil Kjer) are unmarried in their old age after their pastor father rejects their suitors. When he dies, the two are left to preside over a dwindling congregation. One day Philippa's former suitor sends a Parisian refugee named Babette (Stephane Audran) to be their family cook. When Babette wins the lottery, she decides to spend it on a lavish feast that tempts the congregation and blurs the line between pleasure and sin.
What to order
France-Soir, Toorak
Never did I think we'd see the day where France-Soir offered delivery and takeaway. Such are the times. Order a kilogram of moules mariniere with frites, a 250-gram entrecote, confit duck leg, lamb brains with caper sauce and more. If you can, why not add some sturgeon caviar with blinis and cream? Delivery available for $80+ spends for $10, or free if you spend $200+. Visit the website.
Philippe Restaurant, CBD
Order chef Philippe Mouchel's signature dishes to prepare at home. Highlights include rotisserie roast chook for only $55; Carcassonne-style cassoulet with Toulouse sausage, pork ragout and duck confit for $35; and charcuterie, cheese and wine hampers. Orders must be submitted by 3pm online for same-day pick-up, here. These dishes and more are also available delivered via Providoor all over Melbourne, including some regional areas.
Mexican Food Movies
Like Water for Chocolate (1992)
This film is based on one of my favourite books of all time by the same name. It's an award-winning romantic drama infused with as much magical realism as quail, mole, garlic and rose petals. Set in the early 1900s, the film follows Tita (Lumi Cavazos), who is forbidden to marry her true love, Pedro (Marco Leonardi). Pedro marries her older sister, and Tita's emotions surface in fantastical ways through her cooking, which brings people to tears, laughter and nudity.
What to order
La Tortilleria, Kensington
The best tortillas in Melbourne. Get hot food delivered within 3km of the restaurant, or pick up daily. There are tacos and quesadillas of course, but the fiesta packs supply everything you need to feed two to four people. Order online.
Mexican Street Food by Little Flock, Northcote
Hearty Mexican dishes for pick-up only. Think mole de olla (a rich vegetable and beef stew), chicken hominy (white corn) soup, pork and veal meatballs in chipotle broth with vegetables and then some. See the menu here.
Dessert Movies
Antique (2008)
This Korean film is based on the comic Antique Bakery by Fumi Yoshinaga and is about four men who run a cake shop. It starts with Jin-hyuk, who comes from family money and opens the bakery to attract women. He hires Sun-woo, a gay patissier who was in love with him in high school, ex-boxing champion Gi-beom as an apprentice, and dim-witted bodyguard, Su-young. Sprinkled on top is a kidnapping, romance and action in every sense of the word.
Chocolat (2000)
Is there anything better than Johnny Depp, Juliette Binoche, Judi Dench and chocolate? Based on the 1999 novel by English author Joanne Harris, Chocolat is a classic that tells the story of Vianne Rocher (Juliette Binoche). She arrives in a small French village with her young daughter at the beginning of Lent and opens a chocolate that sends the strict town into a spin. Slowly, she convinces them to follow their hearts and stray from their suffocating beliefs. Undoubtedly one of the best food movies ever made.
What to order
The Choux, Fitzroy/Abbotsford
Left without her hospitality job during COVID, Alexandra Cleanthous launched The Choux. She fills French pastry with new flavours each month (think gingerbread to cheesecake) and tops them with brown sugar craquelin. If you can't make The Fitzroy Mills Market on Saturday, order a box of six and pick up from the couple's Abbotsford home on Thursday or Friday. See the current flavours online.
Kitty Bakes, delivered
This former Lune, Dinner By Heston and Vue de Monde pastry chef has been running Kitty Bakes since she became COVID collateral damage. Kitty is currently offering gorgeous truffle cheesecakes, single-serve indulgences made with Will Studd's Le Dauphin double cream cheese that's infused with black truffle for 24 hours and served on top of an oat and wattleseed biscuit. She also offers taster packs and stunning celebration cakes. Message her on Instagram.
Kid-Friendly & Mainstream
If you're looking for a food movie to watch with kids, you can't go past Ratatouille (2007). It follows Remy the rat as he moves to Paris to follow his dream of becoming a chef and the challenges he faces along the way. It's just as good for adults.
There are also a handful of American food films worth watching. For feel-good vibes, try Julie and Julia (2009), Chef (2014) and Always Be My Maybe (2019). The latter is especially good for the Keanu Reeves cameo. Burnt (2015), starring Bradley Cooper, is the pick for something a little more serious.
Binge-Worthy Food Series
Sweetbitter (2018-2019)
This series follows starry-eyed Tess, who moves to New York, becomes a waitress and falls in love with hospitality. Anyone who's worked in the industry will recognise the appeal as she's introduced to oysters in the cool room, cocaine in the toilets, sex just about everywhere and the well-oiled machine that is fine dining.
Watch it on: Stan
Midnight Diner (2010-2019)
This is a Japanese anthology series centred on a 12-seat izakaya in Shinjuku that's open from midnight until 7pm. Each 25-minute episode follows a customer conflict and features a particular dish made by the proprietor, known simply as Master. Watch the whopping 50 episodes in any order.
Watch it on: Netflix
Foodie Love (2019)
In this eight-part Spanish series (it's far better than its name), a man and woman are matched on a dating app called Foodie Love. They get to know each other's qualities, faults and hang-ups over molecular gastronomy cocktails, ramen and fine dining, while both facing their pasts and insecurities.
Watch it on: SBS on Demand, HBO
The Trip (England 2010, Italy 2014, Spain 2017, Greece 2020)
This British television sitcom follows Steve Coogan and Rob Brydon, who play themselves, on fictionalised restaurant tours of northern England, Italy, Spain and Greece. All four series are also feature films. If you're anything like me, your cheeks will hurt from laughing throughout all 24 episodes.
Watch it on: Stan, ABC iView
Around the World in 80 Lesser-Known Melbourne Restaurants
FREE food guide when you subscribe.