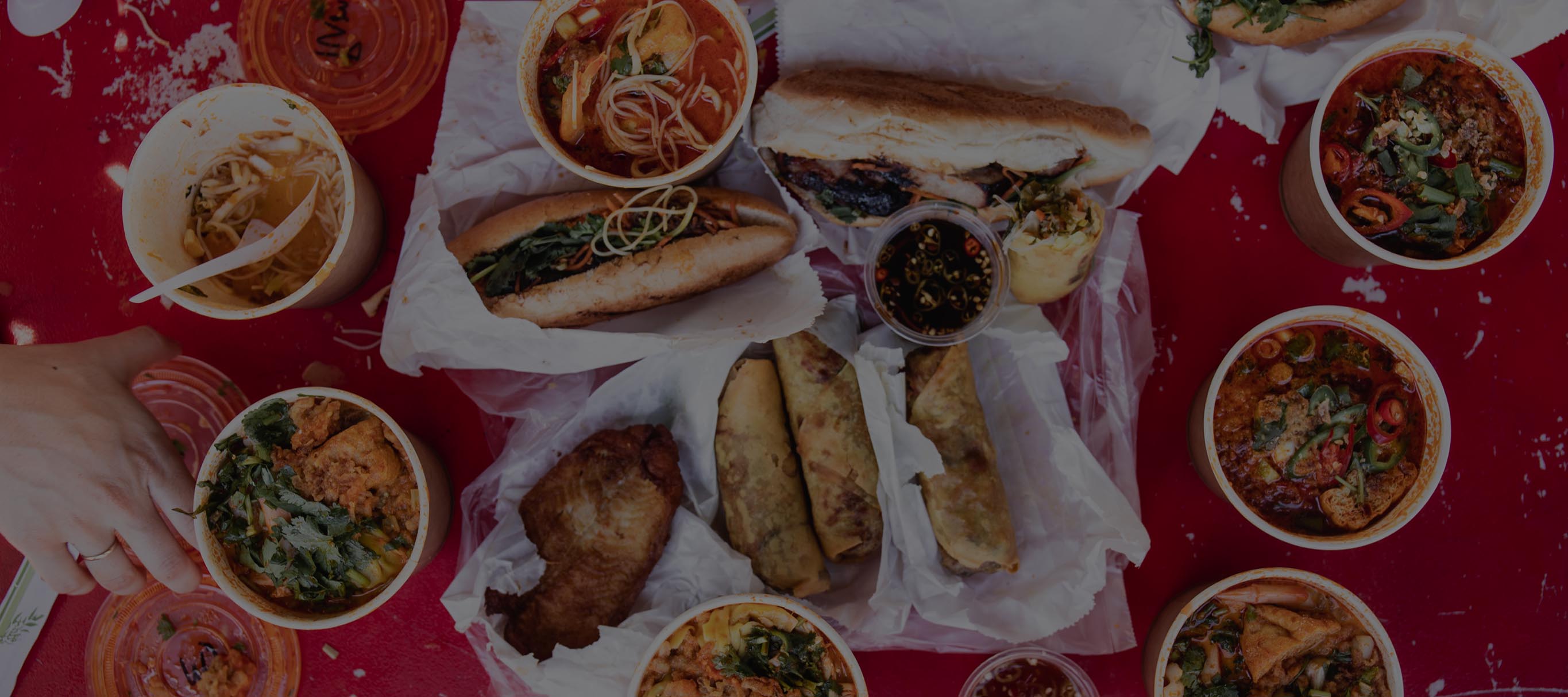 The Best Darwin Restaurants, Markets & Hidden Gems
Words by Sofia Levin
Images by Liam Neal & Sofia Levin
You won't believe you're in Australia when you eat at these Darwin restaurants and markets.
From the best laksa in Darwin, to the city's only Syrian restaurant and an Indonesian woman who grills "sexy chicken", this is the ultimate guide on where to eat curiously in Darwin.
Sit-Down Darwin Restaurants for curious eaters
Laksa House (aka Warung Ibu Amye)
Where do you start with Ibu Amye's Laksa House? First up, if there's one place you should go out of your way to visit, it's here. Amye Un goes by many names: Ibu, Laksa Queen and my personal favourite, Sexy Amye (because of her "hot, spicy chicken"). As well as a phenomenal laksa, it's this chicken that sets her apart. Her Indonesian ayam bakar is only available on Friday and Saturday nights, when she grills whole chickens on the barbecue beside her outdoor tables. The smoke wafting onto the street has a hypnotising effect, pulling people through her gate like a cartoon character to a pie on a windowsill. It's hot, sweaty and smoky – and it feels just like being in Indonesia. Just watch out for her wooden spoon.
54 Stuart Highway, Stuart Park, fb.com/laksahousedarwin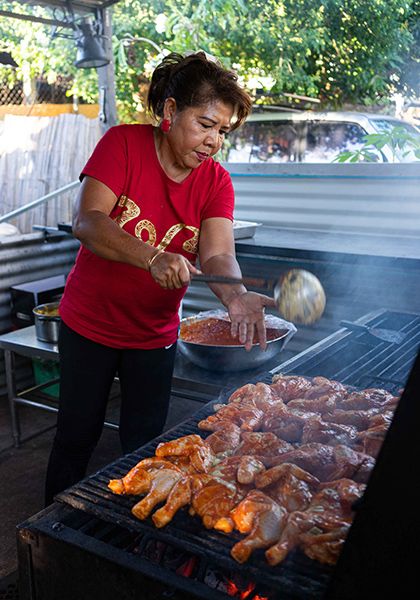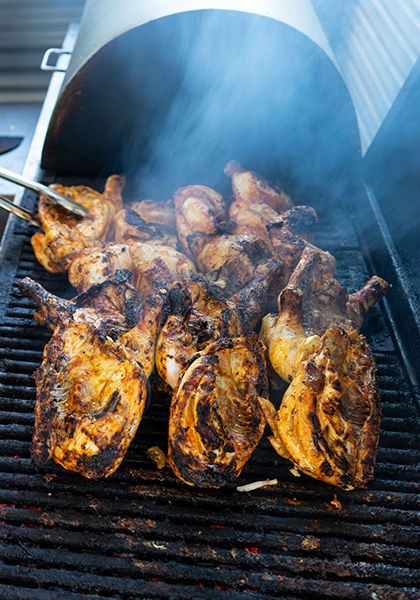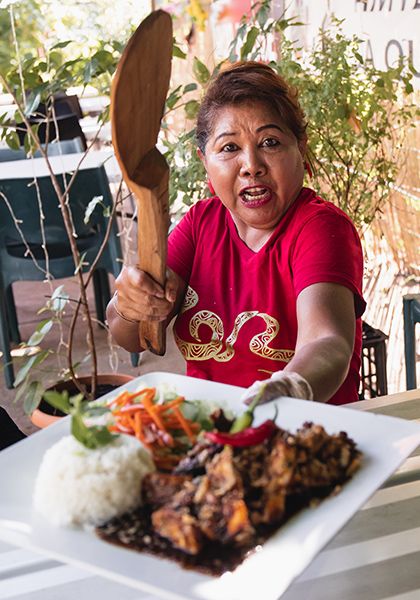 Damasquino
This is the only Syrian restaurant in Darwin. Owner Melham Radwan's mother had a restaurant back in Damascus, with the family working in hospitality since the 1950s. When they came to Darwin on refugee visas, they decided to give opening a restaurant another shot, this time starting from scratch in a brand new country. Melham will tell you he was nervous that Australians wouldn't take to Syrian food, but as it turns out, they loved it. His mother, in her early eighties, still cooks in the kitchen alongside his sister, moulding and deep-frying perfect falafels for huge platters (including a popular vegan option), folding sfiha mince meat-stuffed pastry, grilling kebabs and serving traditional sweets. FYI, there's a grassy hill behind the restaurant that looks out over the most jaw-dropping sunsets over the Timor Sea. It's the same view people crowd onto Mindil Beach to get, just a little further west and less crowded.
2/57 Marina Boulevard, Larrakeyah, fb.com/DamasquinoAustralia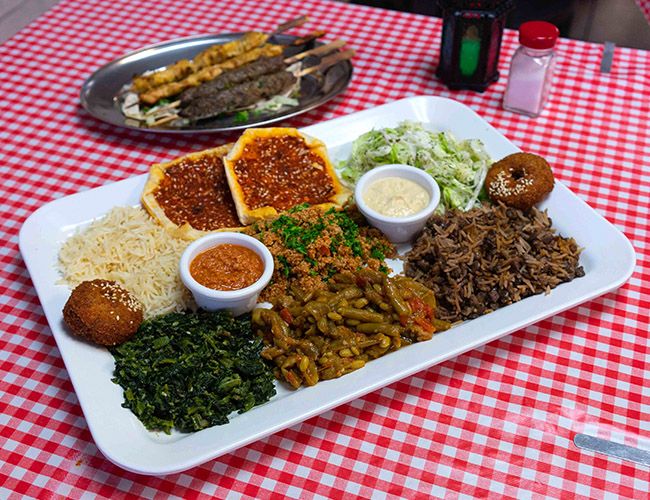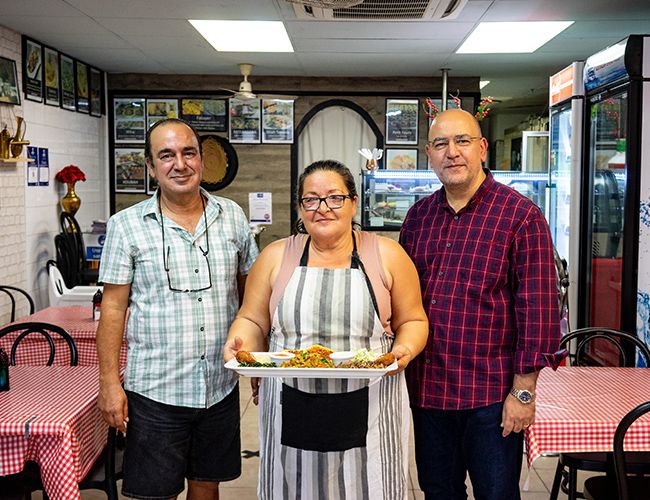 Hanuman Restaurant
Hanuman is one of Darwin's most lauded restaurants for a reason. It's as relevant as it was when chef Jimmy Shu first opened in 1992. Thirty years later, his Sri Lankan, Indian, Thai and Malaysian flavours have made it an institution. Start with the signature lemongrass-spiked oysters served on custom clay platters. Season permitting, order ahead for whole mud crab. It's at the top end of the price scale for this list but incredibly worthwhile (think around $27 to $38 for meat and seafood mains, like local prawns cooked in coconut and wild ginger curry). For something different, there's an Asian Sunday brunch with dishes such as masala dosa and duck laksa, priced from $12 to $18.
93 Mitchell Street, Darwin, hanuman.com.au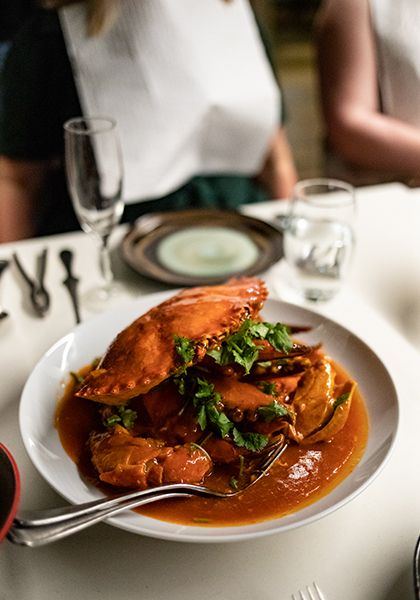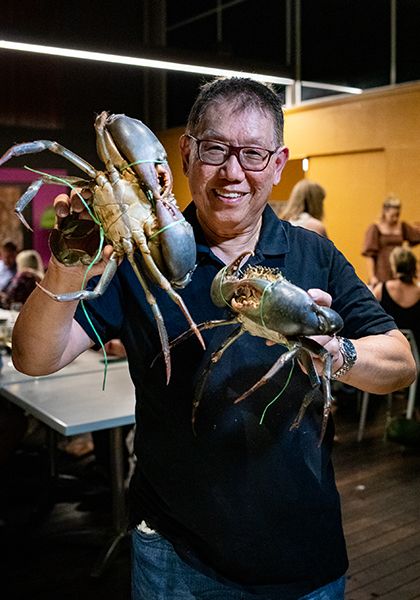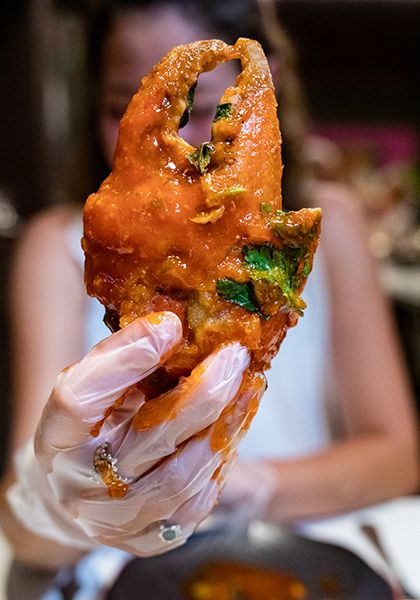 Rendezvous Cafe
It would be easy to walk past Rendezvous Cafe and dismiss it as uninspiring, given it's location at the bottom of NT House, but you'd be missing a business that's been family-run for more than 30 years. It serves Malaysian and Thai food with a Cantonese bent, which makes it the only place you can order laksa with wontons bobbing about in the fragrant broth, topped with house sambal. There's also yum cha on weekends and other mains such as beef rendang and nasi lemak.
22 Mitchell Street, Darwin City, rendezvouscafedarwin.com.au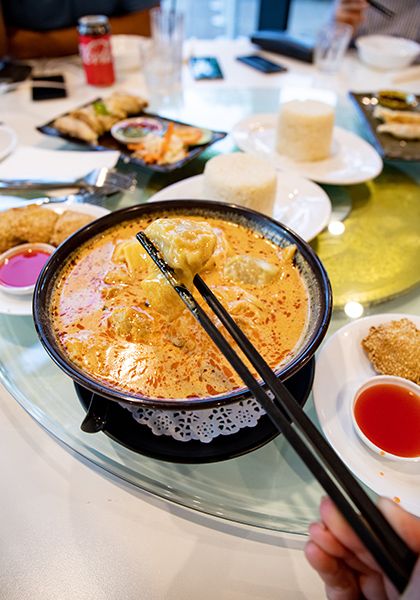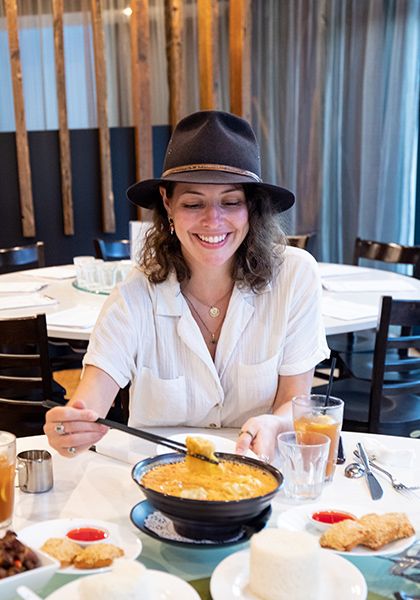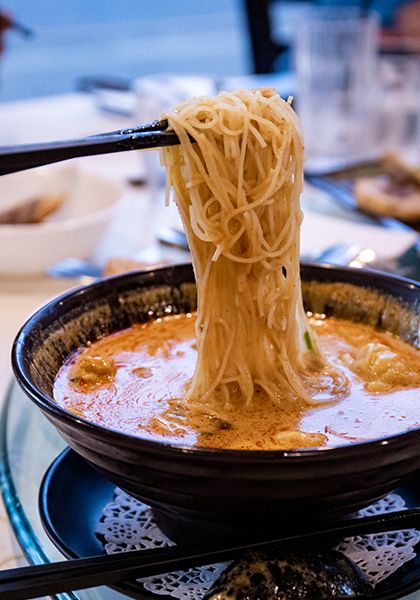 Darwin Quick Eats with culture & character
Stokes Hill Wharf Food Court
Home to the Royal Flying Doctor Service Darwin Tourist Facility and the jumping off point for Darwin Harbour cruises; Stokes Hill Wharf isn't generally considered a dining destination. It should be. Within the lofty shed is a food court that resembles Singapore's hawker centres. Inside the mostly Asian takeaway shops share tables and plastic blue chairs and there are seats outside beside the water, too. Paralysed by choice? Try Siam Thai, which serves pla tod (fried turmeric fish) made with local barramundi; rockling stir-fried with green peppercorns, basil and chilli; and pink yen ta fo soup with lots of water spinach and seafood. Top tip: the restaurant opposite Siam Thai serves crocodile schnitzel.
45 Stokes Hill Road, Darwin City, waterfront.nt.gov.au/stoke-hill-wharf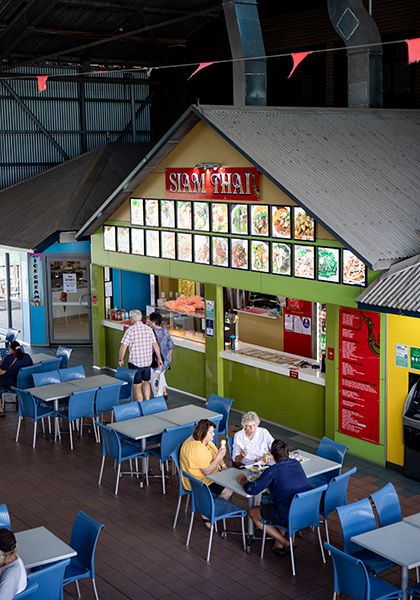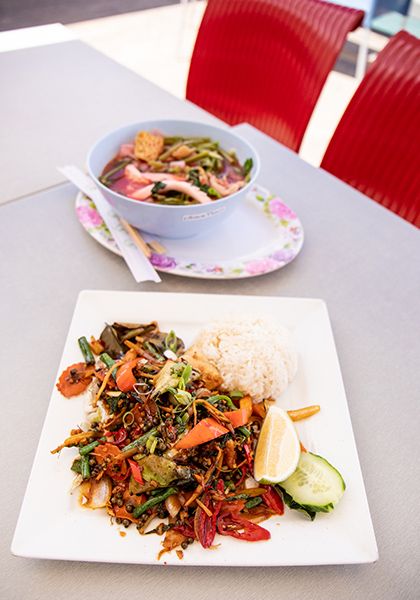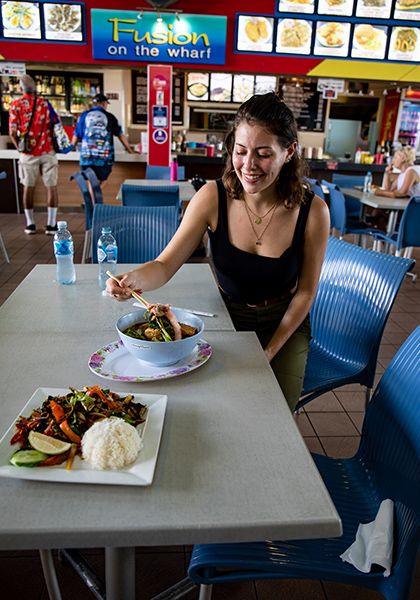 Sari Rasa
I have a theory that if you think, "surely this can't be right" when searching for a restaurant, and then you find said restaurant, it's almost always incredible. This certainly applies to Sari Rasa, a family-run Indonesian canteen off Cavenagh Street in the grungy, unassuming Arafura Plaza, which is where it's been for decades. It specialises in Central Javanese food, serving Indonesian dishes such as beef rendang, sambal telur (chilli eggs), tempeh, curries and more. The name translates to "Essence of Taste". You can also find Sari Rasa doing the rounds at markets with their sate stand.
6/24 Cavenagh Street, Darwin, fb.com/sarirasadarwin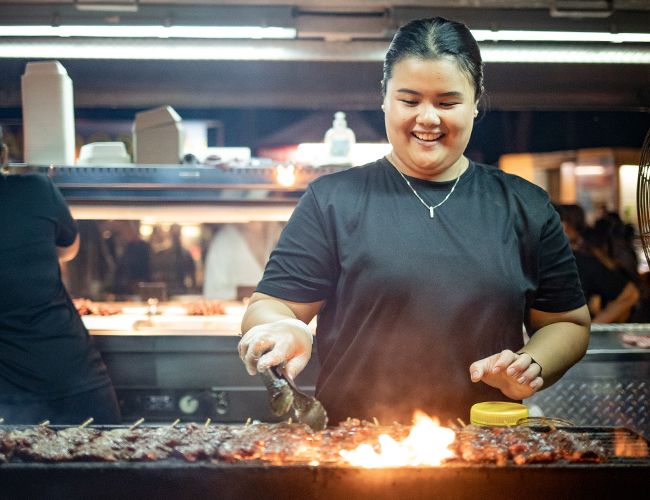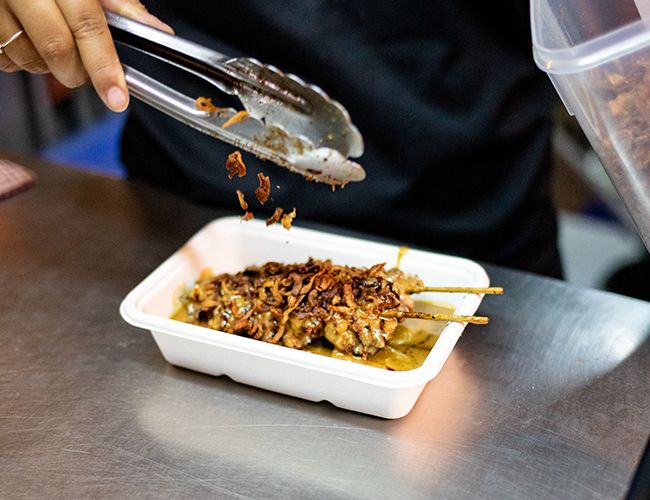 Transit Oriental Takeaway
With a Turkish kebab store on the corner of this laneway, an Italian restaurant at the far end and an Indian takeaway shop across the way, this Asian hole-in-the-wall is in delicious and diverse company. You'll find it off Mitchell Street, Darwin's party strip, but Transit Oriental Takeaway is more than just a booze-soaker. In-the-know locals come here for affordable takeaway lunches or to scoff a generous, creamy bowl of laksa at one of few tables. There's also smoky char kway teow and classic Chinese stir-fries.
17/69 Mitchell Street, Darwin City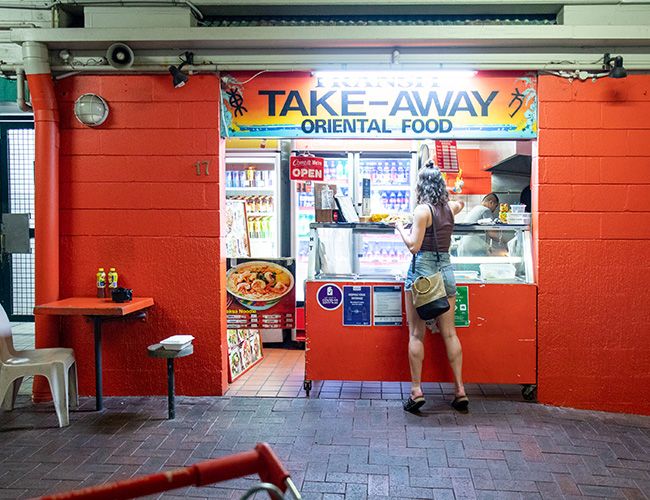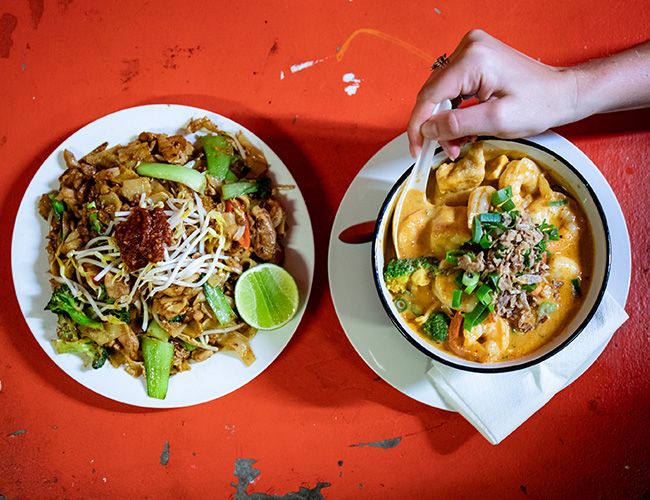 Darwin's Best Markets and what to eat
Rapid Creek Markets
Darwin's oldest market is also it's most underrated by visitors. It's about 10 kilometres from the CBD and opens between 7am and 2pm on weekends. That said, there are more food vendors on a Saturday. Spread throughout the Rapid Creek Business Village and car park, Rapid Creek feels like Asia's vibrant outdoor markets. You'll spot durian, dragon fruit, star fruit and more (one Vietnamese lady was even kind enough to provide tips on how to use tropical fruits as natural hair products). For breakfast, feast on tropical smoothies, banana leaf-wrapped sticky rice, Sri Lankan egg hoppers, Vietnamese food and Thai cuisine. Some of the smoothies and produce stores also hand-pound som tum (Thai papaya salad) to order in mortar and pestles. When they ask how spicy you'd like it, simply hold up however many fingers correlate to the number of bird's eye chillies you can handle.
Trower Rd, Rapid Creek, rapidcreekmarkets.com.au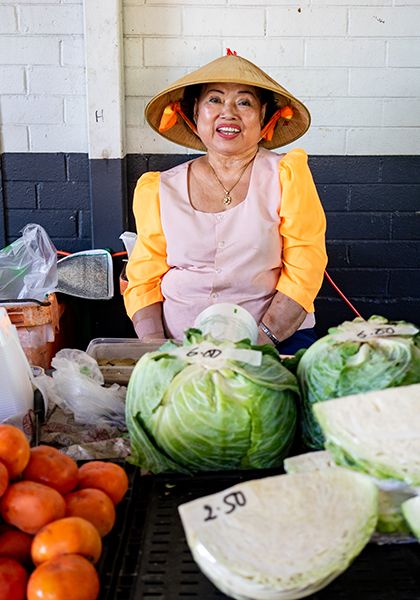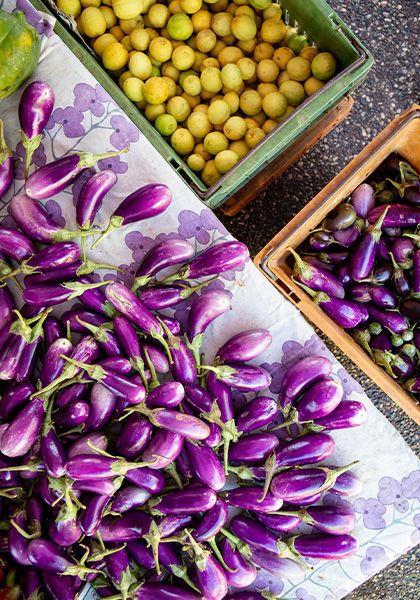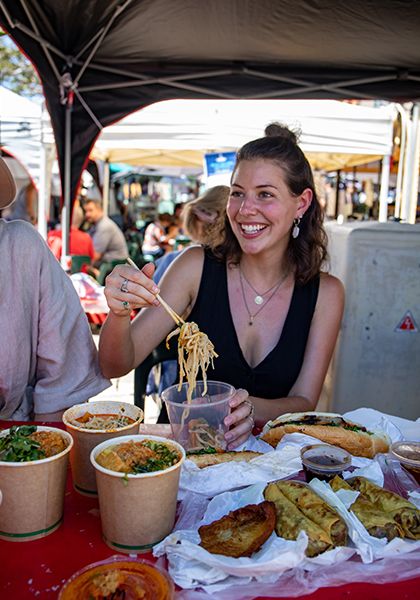 Parap Village Markets
Head to Parap Village Markets on Saturday between 8am and 2pm to compare laksa from stalwarts Mary's and Yati's. Mary has been ladling her soups for more than 20 years and has an uncanny ability to remember orders. Yati's is the under-appreciated competition, and the pick if you prefer your broth with a little more kick. Just as unmissable is a banh mi nem nuong (grilled pork ball roll) from the Vietnamese stand, Huong Viet. The elongated, juicy meatballs also come as bun (on rice noodles), though you'll be tempted to pinch them straight from the barbecue at the rear of the stall.
3/3 Vickers Street, Parap, parapvillage.com.au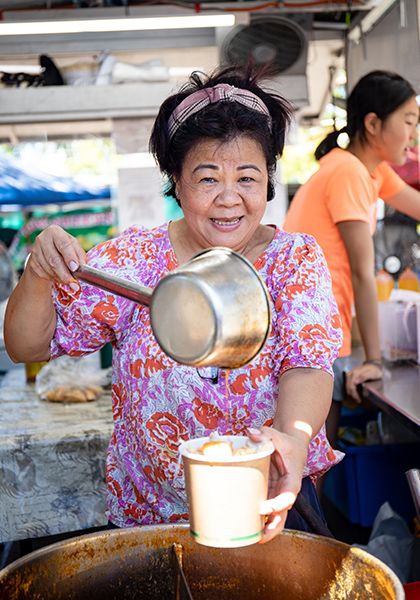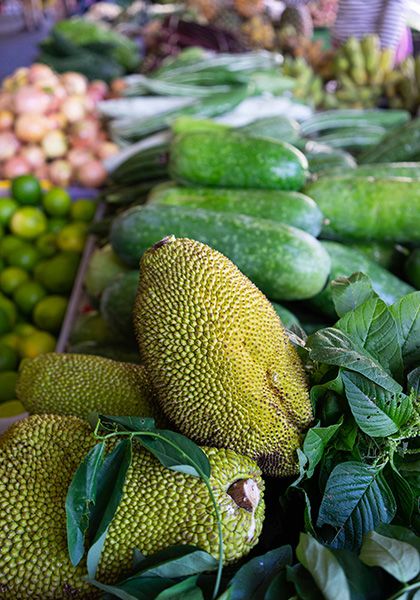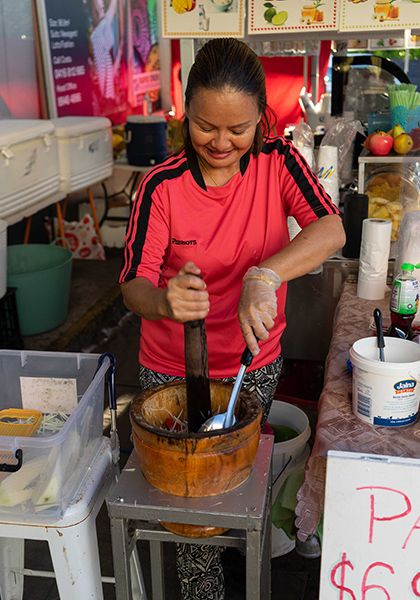 Mindil Beach Sunset Market
During April to October, crowds gather at Mindil Beach for the Sunset Market. I find it a bit touristy, though if you want to soak up the atmosphere I suggest heading there early, doing a lap of the 200-plus stores and food vendors, and then making a beeline for the Sari Rasa Indonesian sate stall for smoky, peanutty chicken and beef skewers, and Authentic Indian Foods for especially good vegetarian curries (try the beetroot). Take your food over the dune to the beach for sunset. There's no booze here, but BYO beach beers are encouraged.
Mindil Beach, Maria Liveris Drive, Darwin, mindil.com.au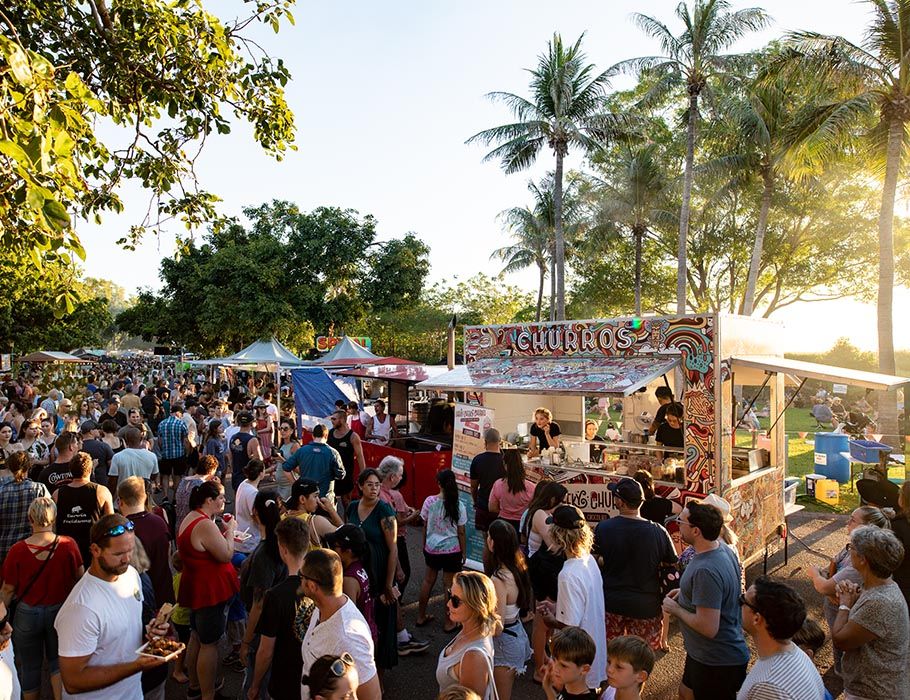 Around the World in 80 Lesser-Known Melbourne Restaurants
FREE food guide when you subscribe.