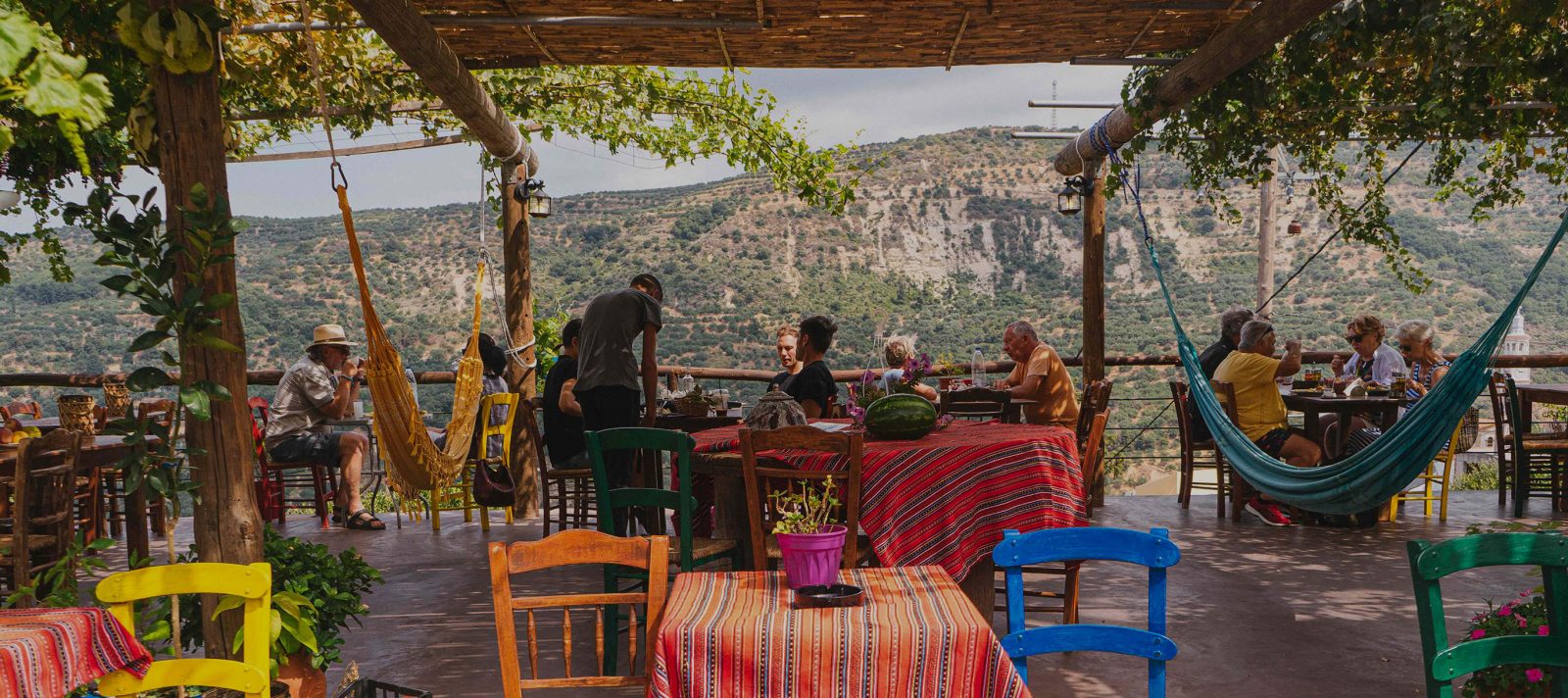 Chania Restaurants with a View
The Best Restaurants in Chania with a View
Words & images by Sofia Levin
Whether in the mountains or metres from the ocean, these tavernas in Chania on the Greek Island of Crete prove it's possible to find good food with a view.
"The better the view, the worse the food" is a rule that too often rings true. Major cities are the worst culprits (cue any rotating restaurant the world over), but in Greece I encountered many exceptions. I spent five days on the island of Crete based in Chania, a town on the northwest coast set on a 14th-century Venetian Harbour. Buildings turn pastel as the sun sets and couples watch the transformation from the iconic lighthouse. Sub-standard restaurants line the waterfront on the opposite side and are crammed with tourists. The best meals are down narrow laneways and without any glimpse of the Sea of Crete (try To Steno and Chrisostomos), but if you're willing to take a short journey out of town, you'll be rewarded with tavernas that not only have some of Crete's best food, but also the views to match. Here are my top three.
Thalassino Ageri, Fish Taverna Chania
Distance from Chania centre: 2km, six-minute drive or 25-minute walk
Obsessive research led to this staggeringly beautiful fish taverna. Upon seeing pictures of the isolated seafood spot framed by dilapidated tanneries, their mid-1800s shells reflected in the water, I bookmarked it to celebrate my birthday. There's seating inside, but if you're not directly on the gravelly sand embankment watching the sunset, don't bother. Ring a few days ahead to book a "front row" table and tuck into seafood with your toes practically in the ocean.
Must order: ahinosalata (sea urchin "salad" with olive oil and lemon), steamed mussels in olive oil and fried calamari.
Thalassino Ageri, 35 Vivilaki Street, Tabakaria, Halepa, Chania, Crete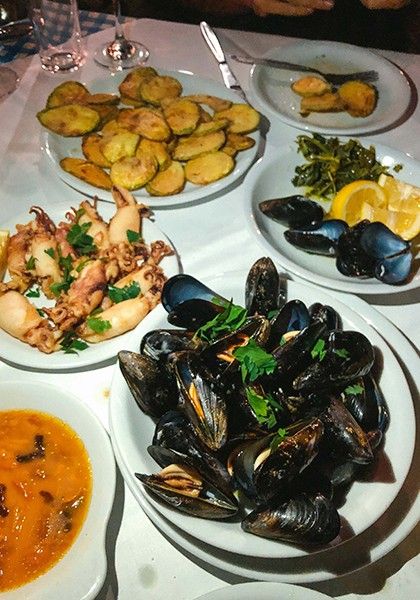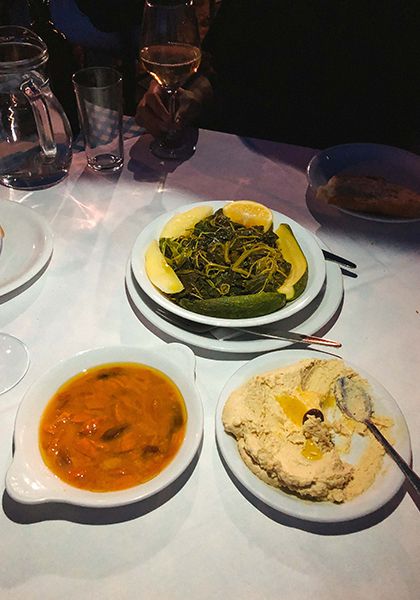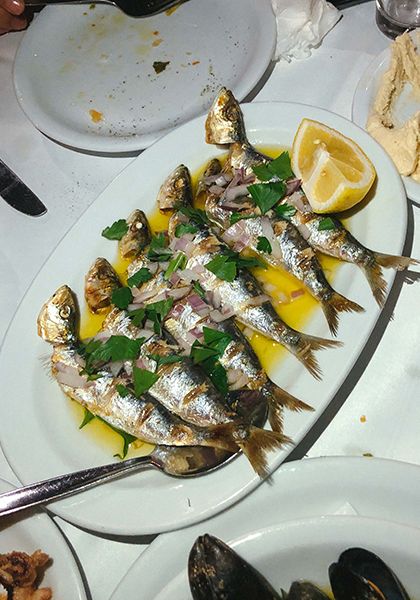 Spiliaraki
Distance from Chania centre: 46km, 45-minute drive
Hiring a car and visiting Crete's western beaches will be a highlight of your Greek travels, but it also presents an opportunity to stop somewhere for lunch that you might not otherwise visit. Spiliaraki is on the way to Elafonissi Beach (also suitable if you're heading to Kedrodasos Beach). Specialising in traditional Cretan cuisine using produce from the family's garden, the setting is utter magic. The taverna is elevated with a view across Topolia Gorge and down to a small church surrounded by fruit and olive trees. Outdoors but sheltered from the sun by vines, crickets stridulate when it's warm and hammocks tempt after a big meal. The yoghurt here, set in a terracotta pot with a lid of honey, is the best I've ever had.
Must order: apaki (smoked pork), moussaka, house loukaniko (sausage), yemista stuffed veg and that ridiculous yoghurt.
Spiliaraki, Eparchiaki Odos Kaloudianon-Chrisoskalitissas, Topolia, Crete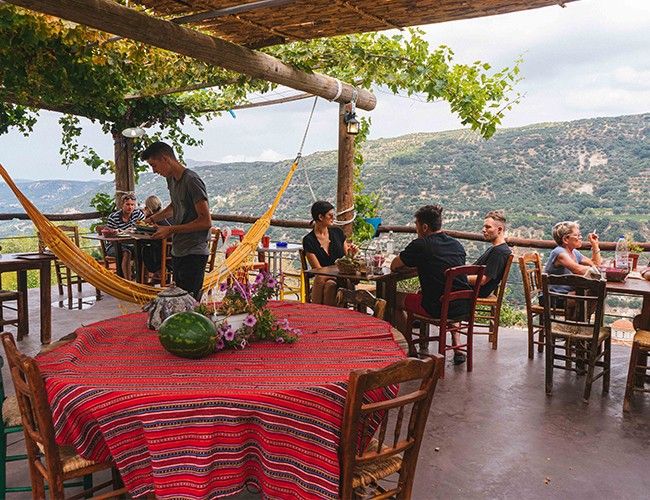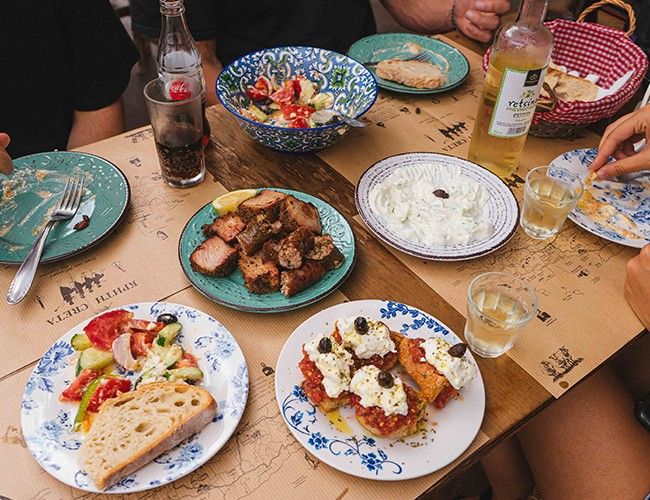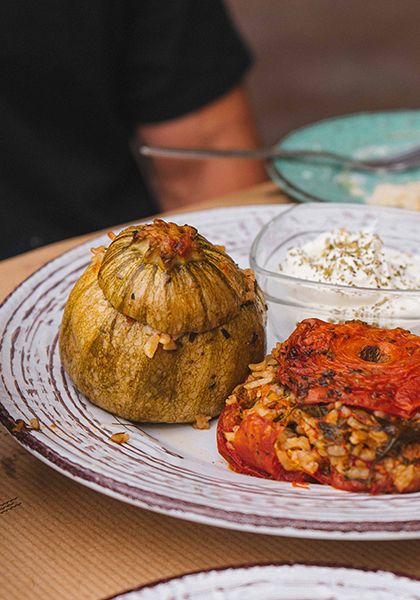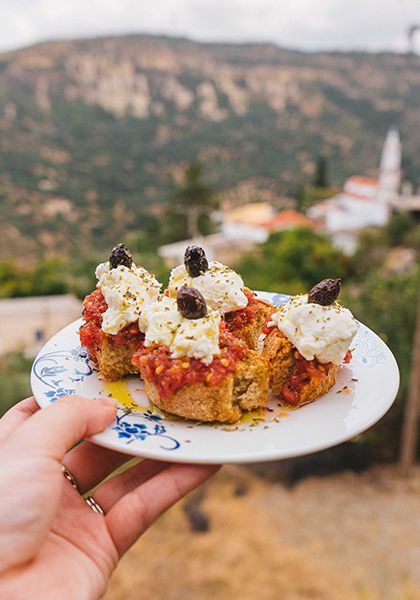 Dounias
Distance from Chania centre: 22km, 40-minute drive
You'll twist and turn your way up and around the mountains to get to this rustic restaurant. It's not just the recipes that are traditional, but also the cooking method – the owner makes everything in large clay pots over outdoor wood fires. This is as traditional as it gets, so if you prefer your meat lean as opposed to free-range, fatty and covered in mountain herbs, save Dounias for the rest of us. Animals, vegetables, olive oil and wine are all raised, grown and made on the property's farm. The outdoor rotunda dining room is surrounded by hills, and although there can be a lot of bees buzzing around; it's a sure sign of a healthy ecosystem.
Must order: ask to see what's cooking, but there will likely be goat or lamb available. Also try the snails and eggplant stew, if you can.
Dounais, Main Road Drakona, Crete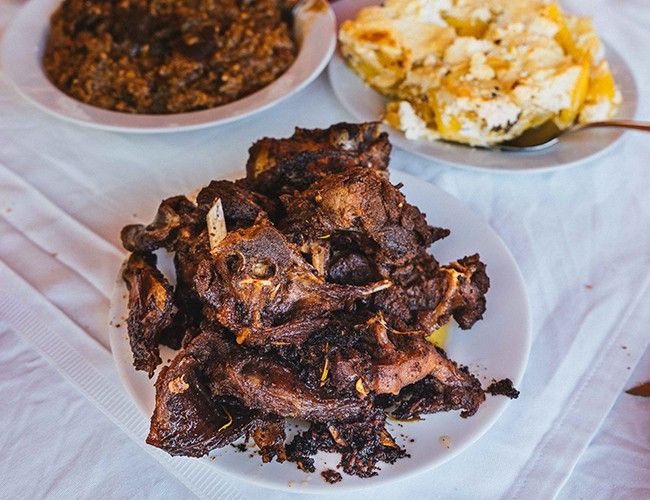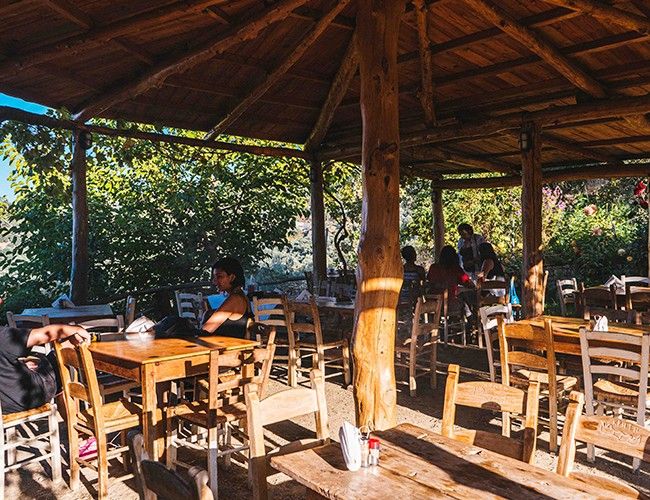 Around the World in 80 Lesser-Known Melbourne Restaurants
FREE food guide when you subscribe.