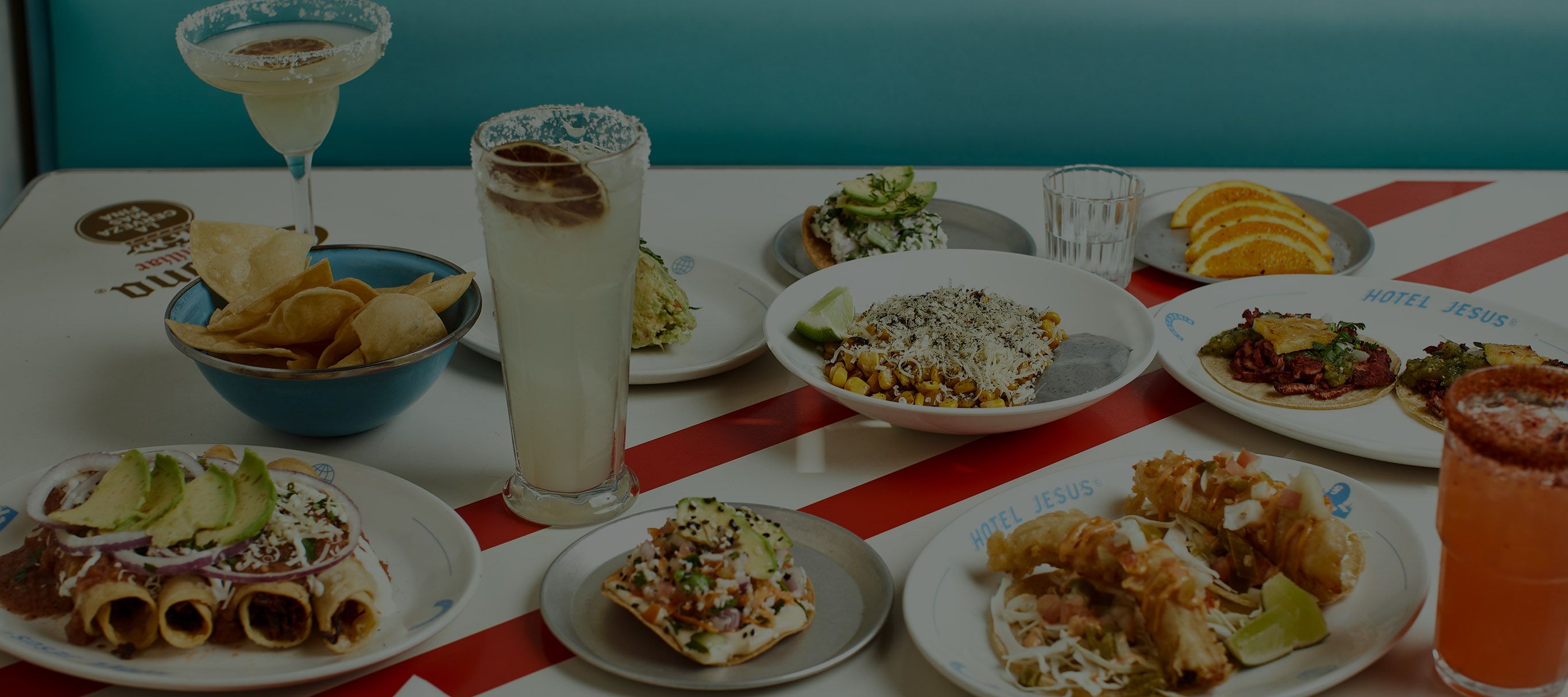 Best Mexican
Melbourne
Best Authentic Mexican Restaurants in Melbourne
Words by Sofia Levin
Images by Sofia Levin & supplied
From tortillas made using the ancient nixtamal method through to regional dishes, these cantinas and taquerias serve Melbourne's most authentic Mexican food.
1. La Tortilleria, Kensington
There's a reason Australia's top restaurants use La Tortilleria's tortillas. A fourth generation tortilla maker from Coahuila, Mexico, keeps the 3000-year-old nixtimal process alive. Whole Australian corn kernels from white field maize are dried in the sun, nixtamalised (cooked overnight in water and natural limestone) and then milled into masa (corn dough) on a volcanic stone mill before being pressed into tortillas. In fact, an Aussie eats a La Tortilleria tortilla every three seconds, but the best place to become a statistic is at the restaurant itself. Tucked away in the back streets of Kensington, you can't miss the bright blue building painted with a vibrant Mexican mural. Inside feels more like Mexico City than any other restaurant in Melbourne. Share quesadillas filled with nopales (cactus), beans or chicken cooked on the grill, and then order tacos: al pastor pork and pineapple, cachete slow-cooked beef cheeks with green tomatillo salsa, vegan chorizo with potato and more.
72 Stubbs St, Kensington, latortilleria.com.au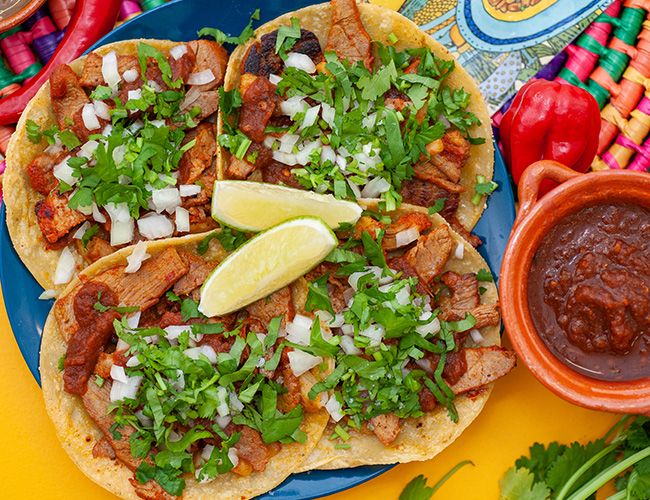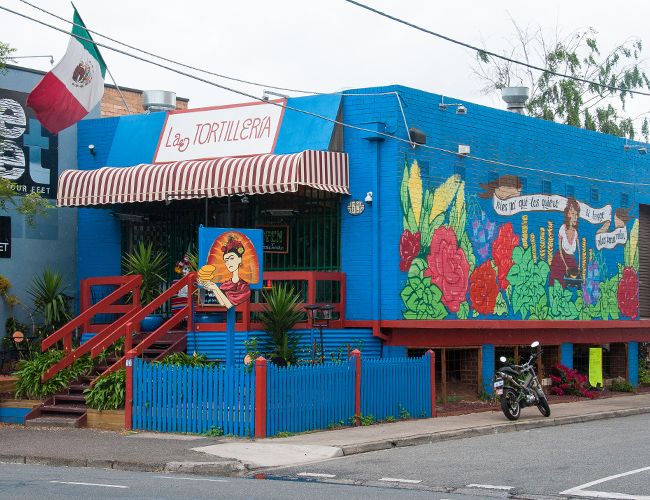 2. Tres a Cinco, Melbourne
Prior to lockdown, Tres a Cinco was MoVida group's Bar Tini. When lockdown hit in 2020, employee and chef Sarai Castillo took over the kitchen to prep Mexican meal boxes as a way of supporting international visa holders who weren't eligible for government support. Melbourne adored her food, which prompted owner Frank Camorra to open Tres a Cinco. Now Sarai serves small bites like kingfish aguachile and crab tostadas with avocado and charred corn; tacos (try the conchita pibil pulled pork shoulder marinated in achiote); and larger dishes like albondigas con chipotle (pork meatballs simmered in chipotle sauce). Oh, and there are eight margaritas to try, too.
3-5 Hosier Lane, Melbourne, tresacinco.com.au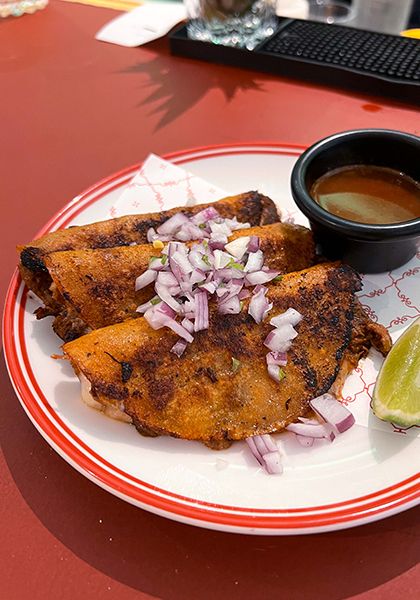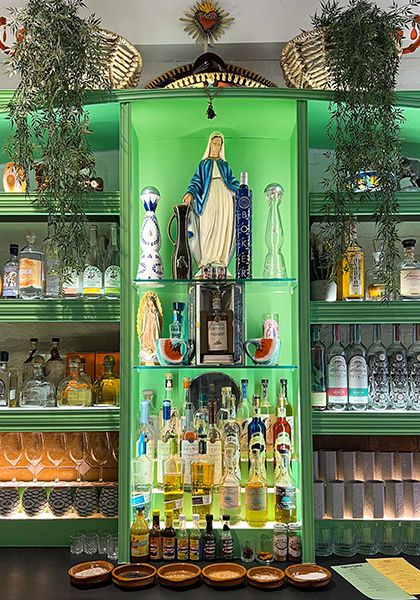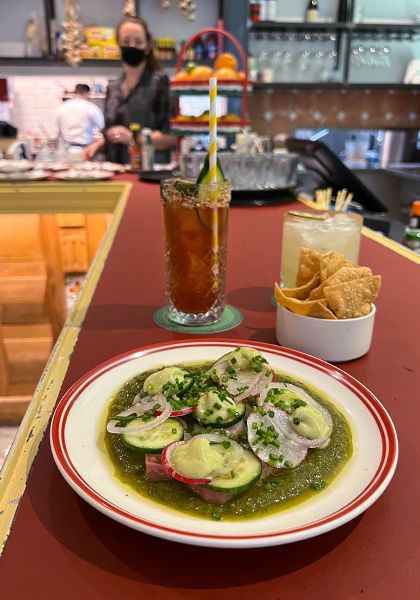 3. Mexican Street Food by Little Flock, Northcote
Little Flock locks people in with a top-value set menu for $40 per person. This enables them to serve seasonal dishes you rarely see on this side of the equator. You might start with huarache, thin ovals of masa mixed with beans and topped with salsa verde, peppers, onions, Oaxacan cheese and coriander named after Mexican sandals. Next you could be served elote corn on the cob and nopal cactus paddles with refried black beans. Pollo tinga molote, a double-fried Oaxacan empanada with shredded chicken, might round out mains. For a little extra, there's pastel de tres leches (three milk cake) and baked custard flan for postre. Ask for a seat in the sheltered courtyard.
81 High Street, Northcote, mexicanstreetfoodnorthcote.square.site
4. Dingo Ate My Taco, Food Truck
FYI, Tex-Mex is not a dirty word. In Texas it's a bona-fide cuisine introduced by Tejanos, the descendants of Mexican people who immigrated to the United States. Before mid-2020, Melbourne's Tex-Mex scene was limited to Taco Bill – until Dingo Ate My Taco food truck rolled up. Now you'll find them all over town making everything from scratch, including salsas and blue corn tortillas. The signature dish is birria quesa tacos. Birria is a soupy, meaty Mexican stew from Jalisco. For the taco version, Dingo Ate My Taco shreds beef and serves it in a tortilla fried in beef fat that's skimmed from the broth. That same broth is reduced to consomme for taco dipping. If you're curing a hangover, order the house chorizo made with pork mince, wild boar and wallaby in a taco, washed down with a dirty horcharta (a rice milk drink spiked with cold-brew coffee). You'll find Dingo Ate My Taco at night markets, their regular slot in St Kilda, popping up in Melbourne's inner-north and at festivals.
Check the website for locations: dingoatemytaco.com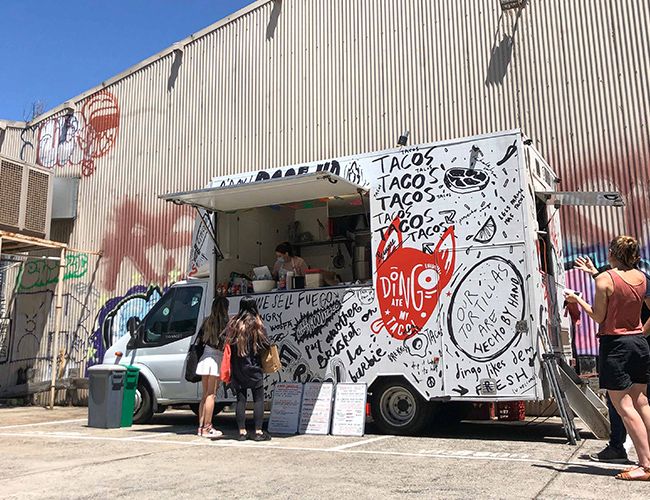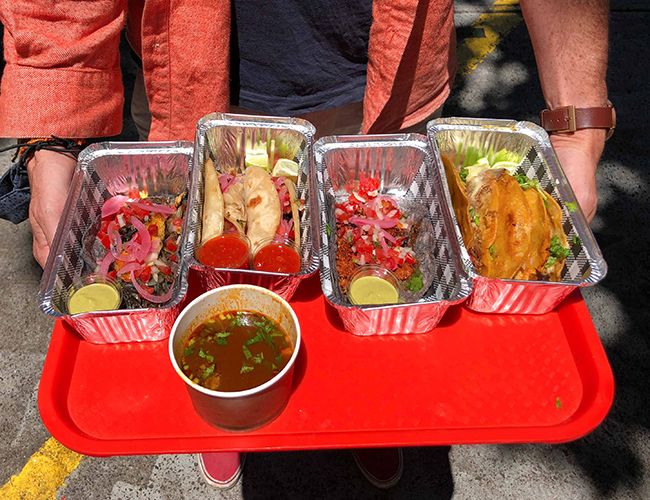 5. Frankie's Tortas & Tacos, Collingwood
This former kebab kiosk pumps on a sunny day, with locals eager to get their hands around tortas (Mexican sandwiches) and tacos. Choose from polo Milanese (crumbed chicken schnitzel), al pastor (pork and pineapple), fried fish or mushroom in the tortas. Oaxacan cheese is grilled directly onto the oversized white rolls, which are spread with black bean paste and layered with avocado, pickled onion, lettuce and coriander. There's usually a meat, veg and limited edition taco option available. Keep an eye on Instagram for specials such as breakfast tortas and tostadas with ceviche salmon and yuzu habanero dressing.
384 Smith Street, Collingwood, tortasandtacos.com.au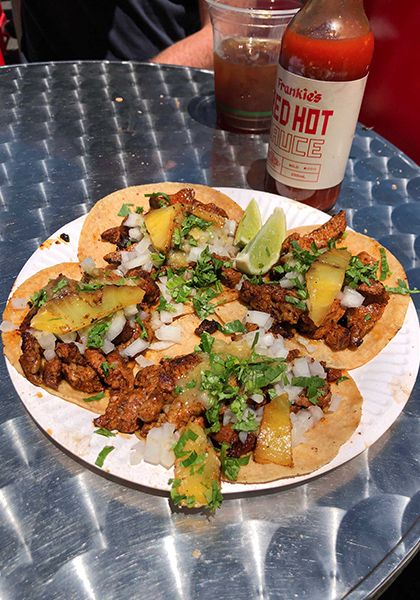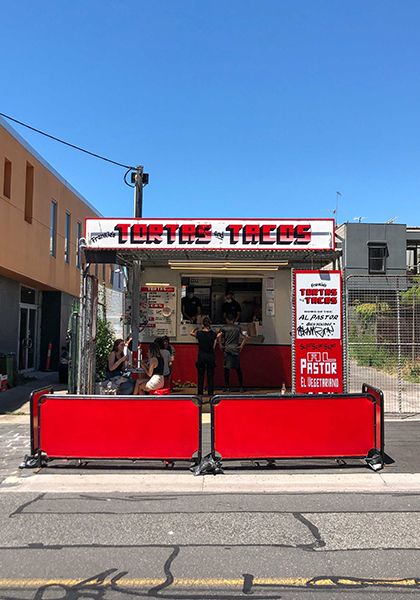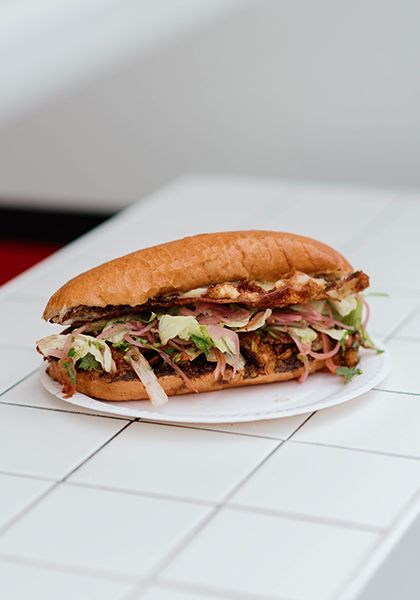 6. Superchido, Seddon
Melbourne's West scored a pink-tinged Mexican Diner in 2021 called Superchido. Opened by a former engineer who's been obsessed with Mexican food since visiting the Motherland, each dish pays homage to a particular region. That could be cochinita pibil pork belly slow-roasted in banana leaf with pilaf from Yucatan, Puebla's encacahuatado of seasonal roasted vegetables in peanut mole served with rice and tortillas, or scallop aguachile verde with habanero lime dressing from Sinaloa. To drink there are a dozen Mexican-inspired cocktails, such as spiced rum-spiked horchata and a margarita with house chamoy (fruit-based hot sauce). Super Hour is between 5pm and 6pm Tuesday to Sunday, with $12 cocktails and $6 house tequila and mezcal shots. On Wednesdays, two tacos are $10, as are desserts.
82 Charles Street, Seddon, superchido.com.au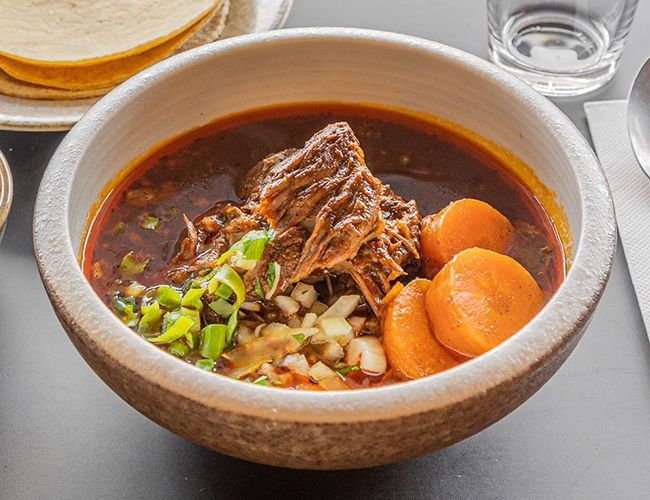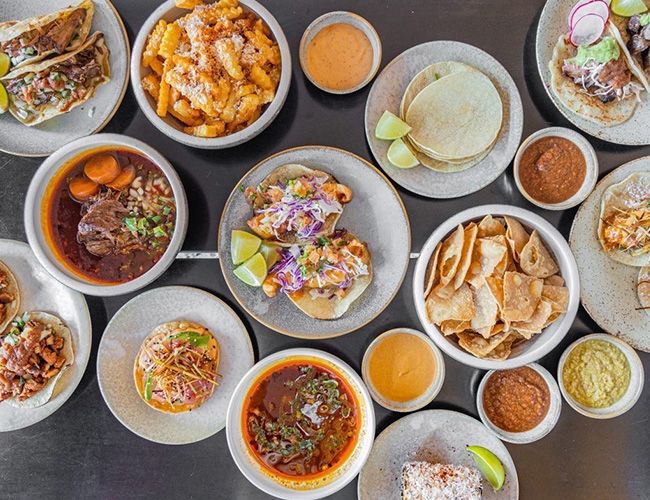 7. Mis Gueros, Brunswick
Open on Friday 4pm to 8pm and weekends from 11am to 4pm only, Mis Gueros is an understated Mexican food truck sharing family recipes from Lorenzo Martinez's abuela's (grandma's) kitchen. Lorenzo is 22 years old and has been cooking with his grandma since he was five. He quit his day job in retail to open Mis Gueros, which Lorenzo says is slang for "half-caste" or "foreigner", in November 2021 (he's born in Australia but is half Mexican and half Samoan). Mis Gueros is permanently located in Brunswick on a pedestrian area opposite Jewell Station, where Lorenzo smashes out a simple menu of tacos (vegetable, chicken or beef at 3 for $12), burrito bowls, burritos, loaded nachos and quesadillas. The secret is in the traditional cooking methods, where beef brisket and chicken are slow-cooked overnight and flavoured with chillies and spices from Mexico.
4 Wilson Avenue Brunswick, misgueros.square.site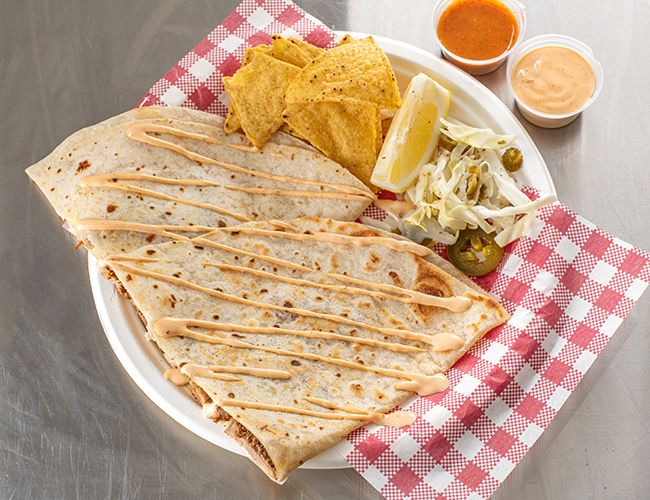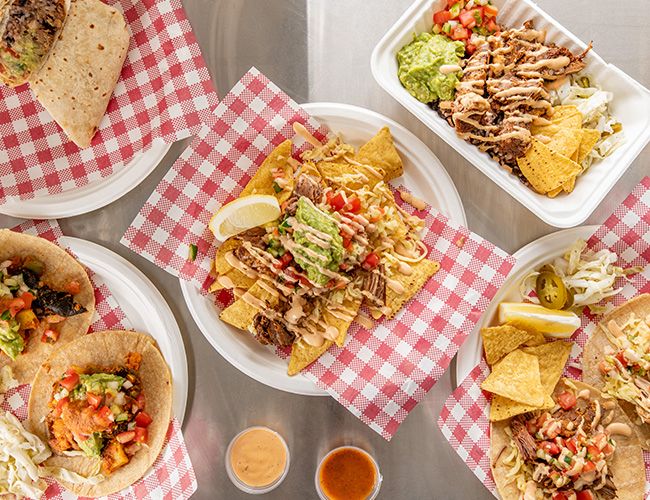 8. Hotel Jesus, Collingwood
A firm Collingwood favourite since the Mamasita team opened it in 2016, Hotel Jesus (pronounced "hey-Zeus") is a brilliant spot to catch the last rays of sun over a michelada (beer, tomato juice and lime) at its street-side tables. Inside it's arguably Melbourne's best-looking Mexican restaurant, the design inspired by Mexico city's taquerias in the '70s. Think tiles aplenty, blue and red steel chairs, and decorative light boxes. There are volcanes (fried tortillas with toppings) alongside tacos and snacky dishes like ceviche and grilled queso. Share plates might feature chicken mole and mussels in a clamato chilli broth, while on Friday and Saturday Hotel Jesus offers bottomless cocktails and tacos for $65 over 1.45 hours from noon until 3pm.
174 Smith Street, Collingwood, hoteljesus.com.au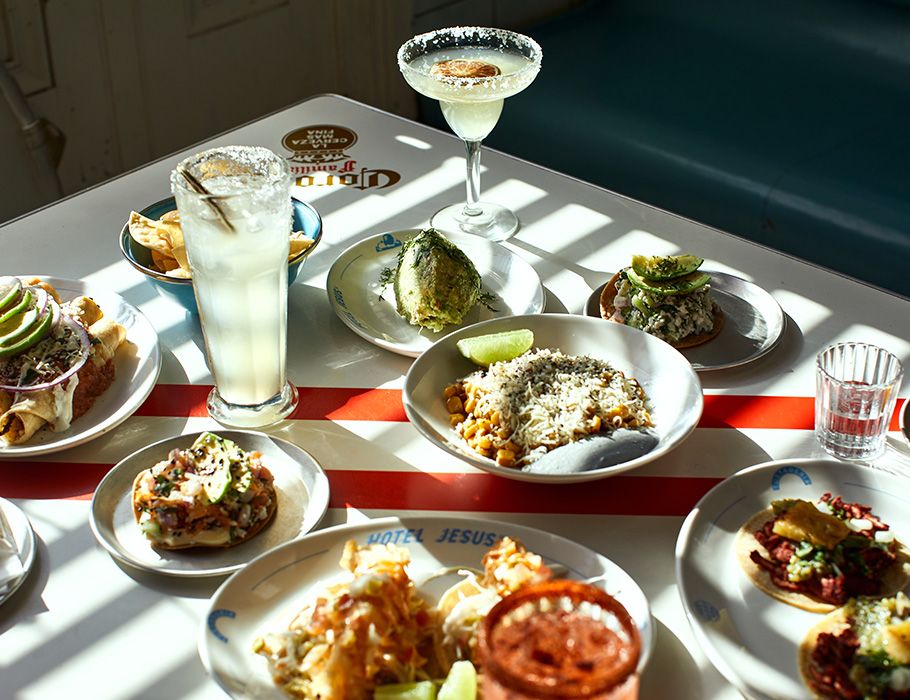 Around the World in 80 Lesser-Known Melbourne Restaurants
FREE food guide when you subscribe.