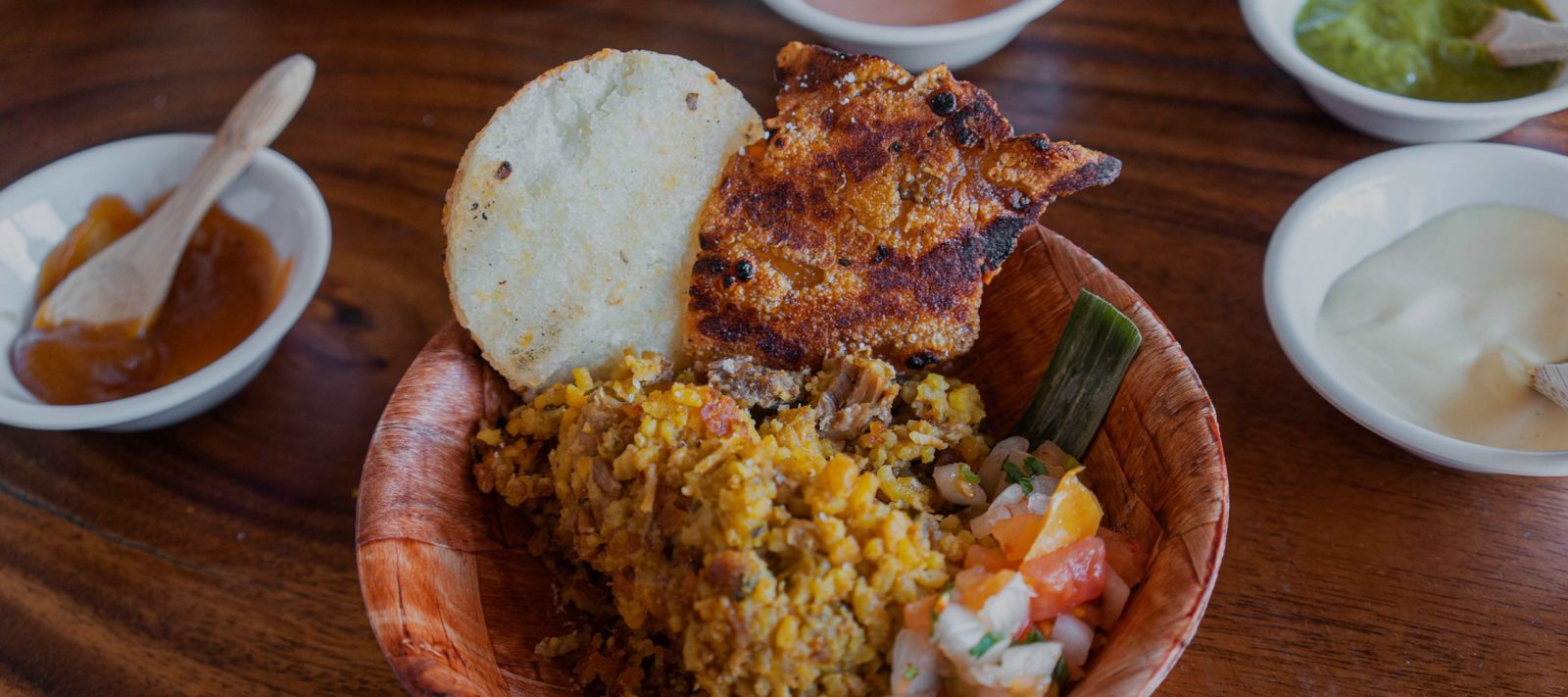 13 Must-Try Colombian Dishes
13 Traditional Colombian Dishes (& where to eat them in Melbourne)
Words & by Sofia Levin
Images by Sofia Levin & supplied
Whether you know your bandeja paisa from your pan de bono or you're new to the world of Colombian food, here are 13 of the country's most unique traditional dishes.
You might be familiar with arepas, but did can you name Colombia's national dish or the three unfamiliar ingredients on a Colombian hot dog (spoiler alert, one of them is potato crisps)? Read on for a snappy list of traditional Colombian dishes with suggestions on where to order them in Melbourne.
1. Arepas
Served with just about every meal in Colombia, an arepa is a disc of cornbread made from corn flour. They can be served plain, mixed with cheese or stuffed with ingredients like shredded beef and beans.
Order from: Arepa Days, Sonido, Berbeo Bros or Latin Cravings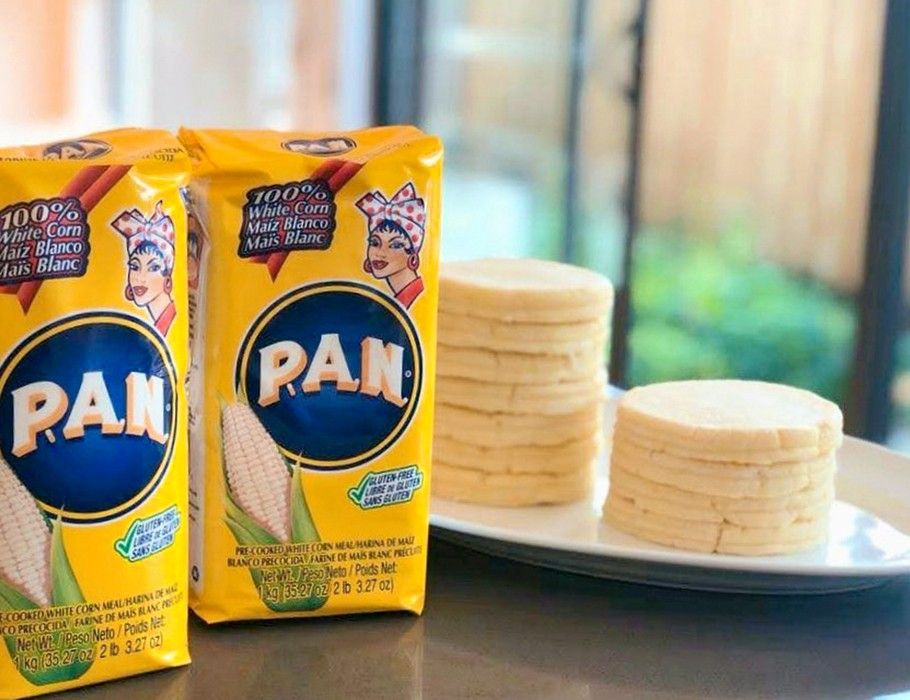 2. Perro Caliente Colombian Hot Dog
This might look like a standard, New York-Style frank, but a real Colombian hot dog always comes with pineapple sauce, quail eggs and crushed up potato crisps sprinkled on top.
Order from: Berbeo Bros or La Colombianita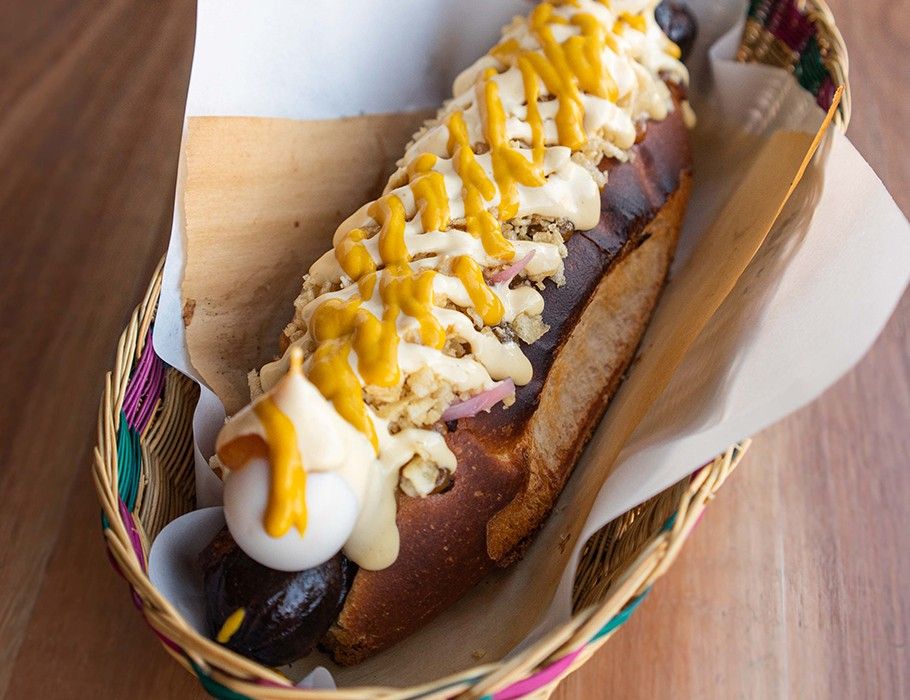 3. Calentado
Translating to "heated", calentado is a Colombian breakfast from the Andean region made from last night's leftovers. Usually that means refried rice and beans, served with a fried egg, arepa and a mix of meat – perhaps chorizo or ground beef. Enjoyed with coffee or hot chocolate, the latter of which can contain melted cheese.
Order from: Cento Mani, Club Colombia or La Colombianita
4. Tamales
In Colombia tamales are made from masa (maize dough) and wrapped in plantain or banana leaves. There are different varieties including Santafereños/Bogotanos style, which can be made with any combination of sausage, chicken or pork, egg, potato, vegetables and chickpeas; ball-shaped Tolimenses-style tamales from Tolima; and pork-laden Antioqueños from the Antioquia region, to name a few.
Order from: El Toucan (for Santafereños/Bogotanos style) and Berbeo Bros (for tolimenses style)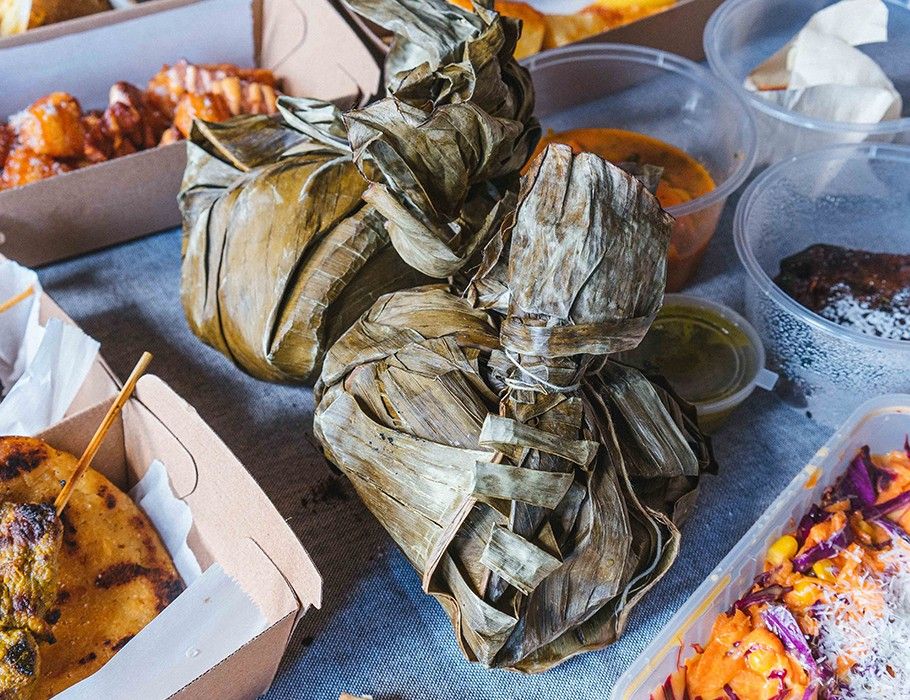 5. Lechona
Also known as lechon asado, this special-occasion dish consists of a whole pig, stuffed with rice, spices and vegetables and roasted in an outdoor brick oven for around 10 to 12 hours.
Order from: Berbeo Bros offers individual portions
6. Bandeja Paisa
Officially Colombia's national dish, bandeja paisa is also the country's most filling. Always generous, it includes a huge platter of red beans, pork, white rice, chicharron, minced meat, chorizo, morcilla, a fried egg, arepa, avocado and sauces.
Order from: El Toucan, La Tienda, Cento Mani, Club Colombia or La Colombianita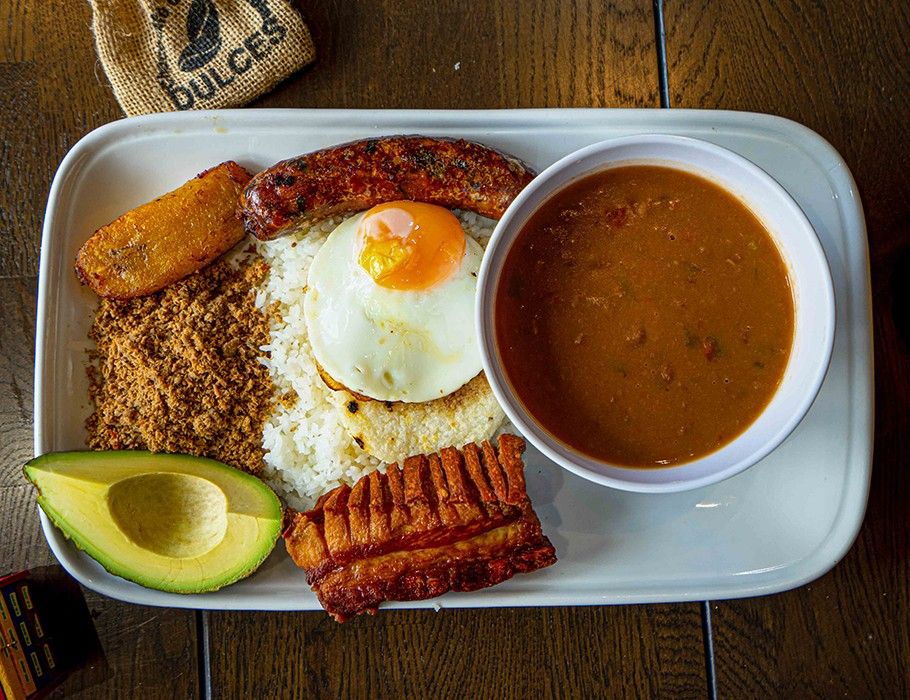 7. Ajiaco
A stew-like chicken soup that's especially popular in Botoga, where it's always made with three varieties of potato and guasca, a native herb that has been described as tasting like everything from grass to artichoke.
Order from: La Tienda, Cento Mani or Club Colombia
8. Picada Colombiana
A platter of grilled or fried (fritanga) food including pieces of steak, chicken, morcilla, chorizo, pork belly (chicharron) plantains (patacones), cassava and small yellow potatoes called papa criolla, served with arepa and avocado.
Order from: El Toucan, La Tienda or La Colombianita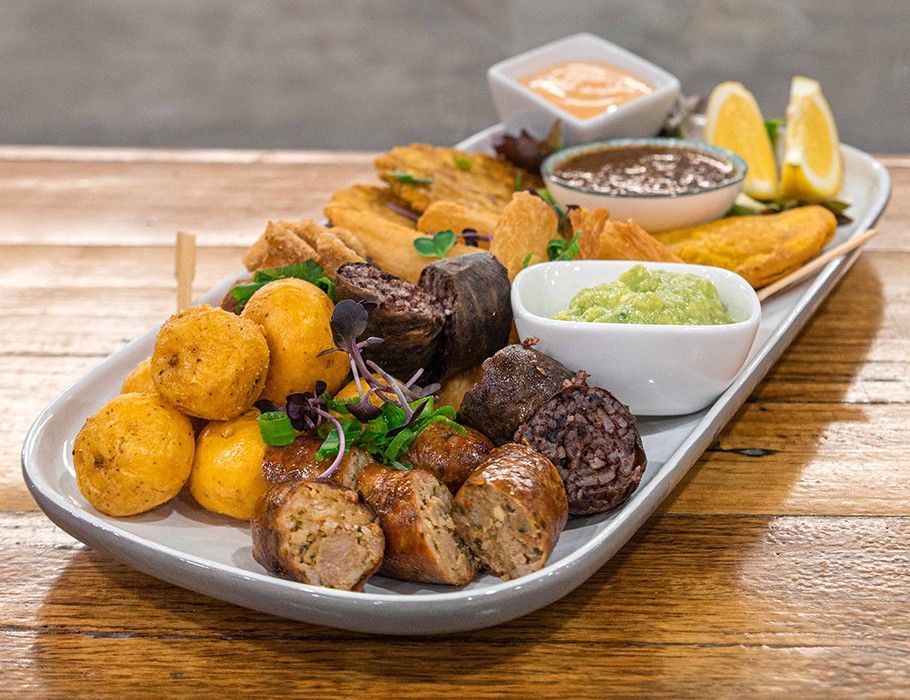 9. Cazuela de Mariscos
A Spanish-influence seafood stew made with coconut milk. Might contain any mixture of mussels, prawns, fish, clams and squid.
Order from: La Tienda
10. Mondongo
Spanish-influence beef tripe stew made with pork, coriander and vegetables such as peas, carrots, potatoes and onions. Hailing from the Andean region of Colombia.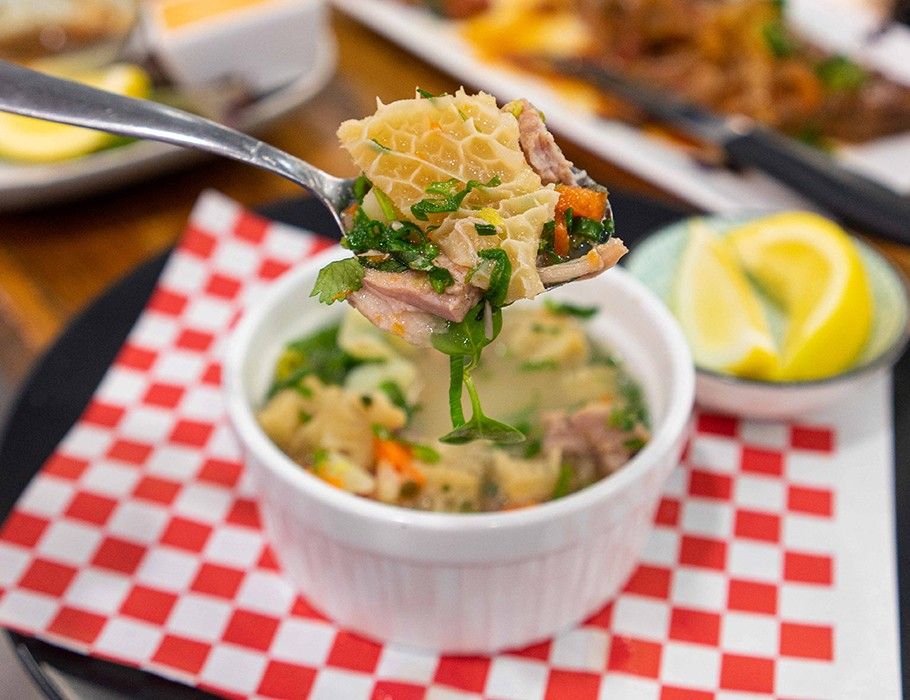 11. Empanadas
Colombian empanadas are made with corn flour instead of wheat flour and are deep fried. This makes them extra crunchy. Common fillings include minced beef and egg, chicken, beans and cheese.
Order from: Berbeo Bros, Arepa Days, Sonido, El Toucan or Latin Cravings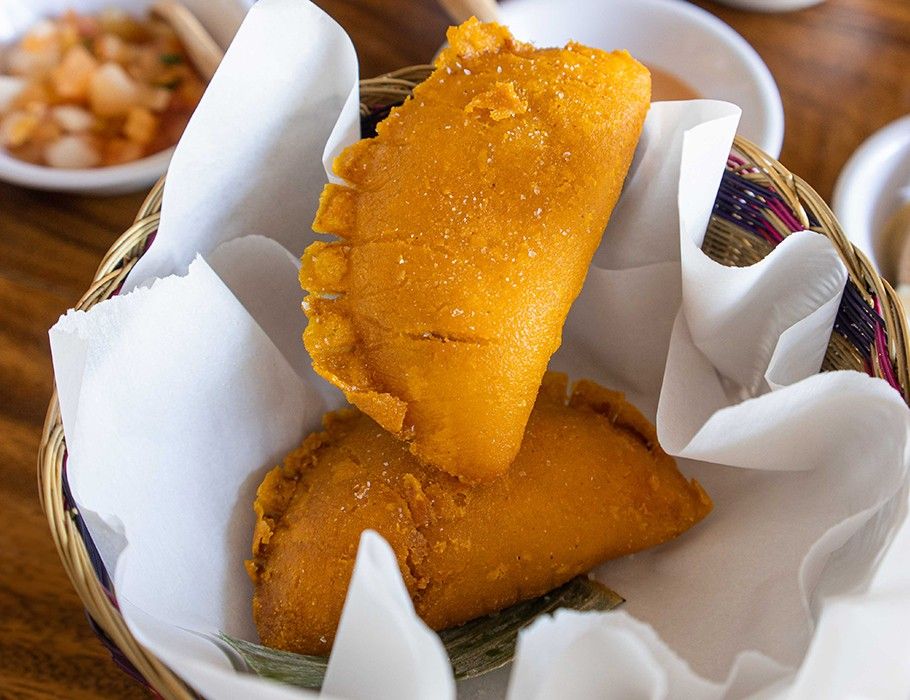 12. Pan de Bono
Also known as pandebono, this Colombian cheese bread is made from corn flour, tapioca flour and cheese. Some versions have bocadillo (guava jam) inside.
Order from: Latin Cravings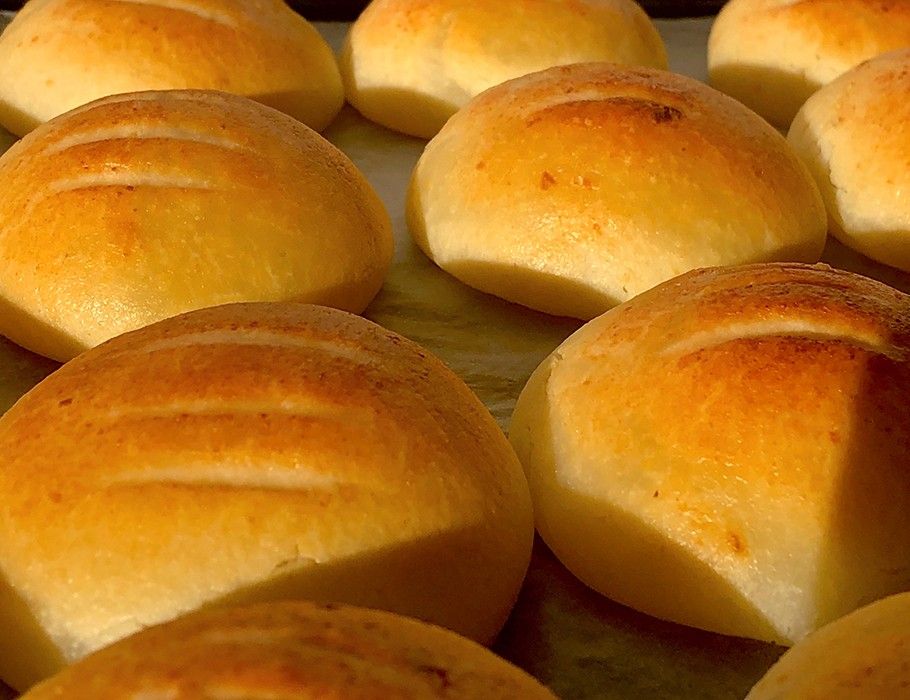 13. Buñuelos
With Sephardic Jewish origins, and often eaten during Hanukkah, buñuelos are deep-fried cheese balls, a popular street food in Colombia.
Order from: La Chismosa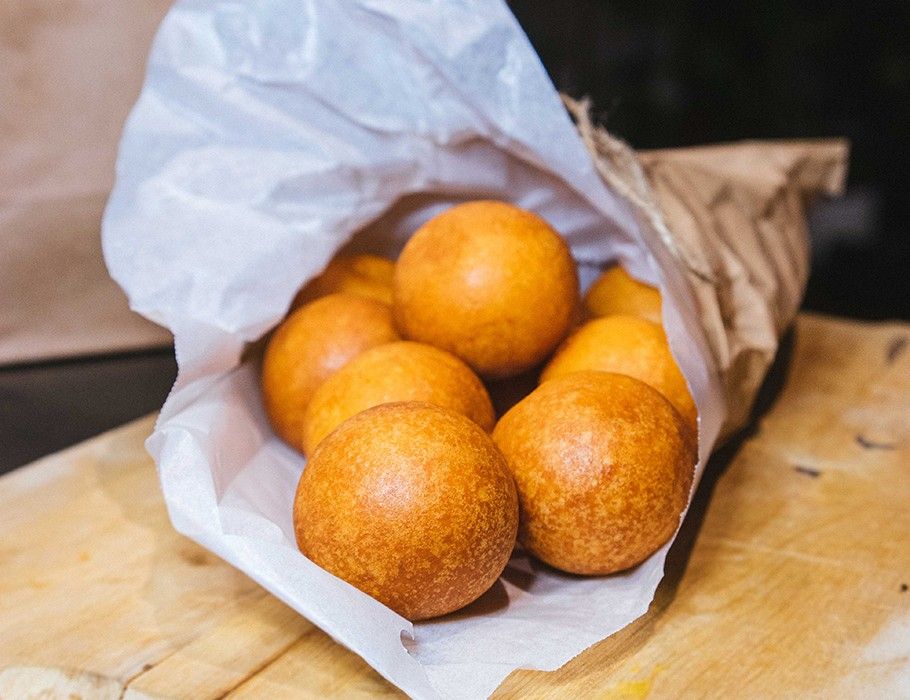 Around the World in 80 Lesser-Known Melbourne Restaurants
FREE food guide when you subscribe.