Viñales: Riding to Lunch in Tobacco Country
The Best Horseback Adventure in Vinales, Cuba, Ends in Lunch
Words by Sofia Levin
Images by Sofia Levin & Greg Levin
Eat roast pork, sip small-batch rum and smoke honey-dipped cigars overlooking the limestone hills of Valle de Vinales during a horseback tour.
"VA-MO!"
Joandi's voice rings out through the valley. It travels over dirt fields turned by men on buffalo-led ploughs and across flat-leaved tobacco fields to dramatic karst outcrops. If you've ever fancied yourself a Cuban coboy, a wide-brimmed hat on your head and a cigar dangling from your bottom lip – Vinales is the place to live out your fantasy.
A UNESCO World Heritage site since 1999 and national park since 2001, visitors to Havana make the mistake of travelling to Vinales on a day trip. Colourful, single-storey casa particulares line the streets in town, with colonial architecture in shades of pastel pink, green, yellow and blue. Metal rocking chairs sit on almost every terrace and residents wish passers by "buens dias" from conrete rooftops.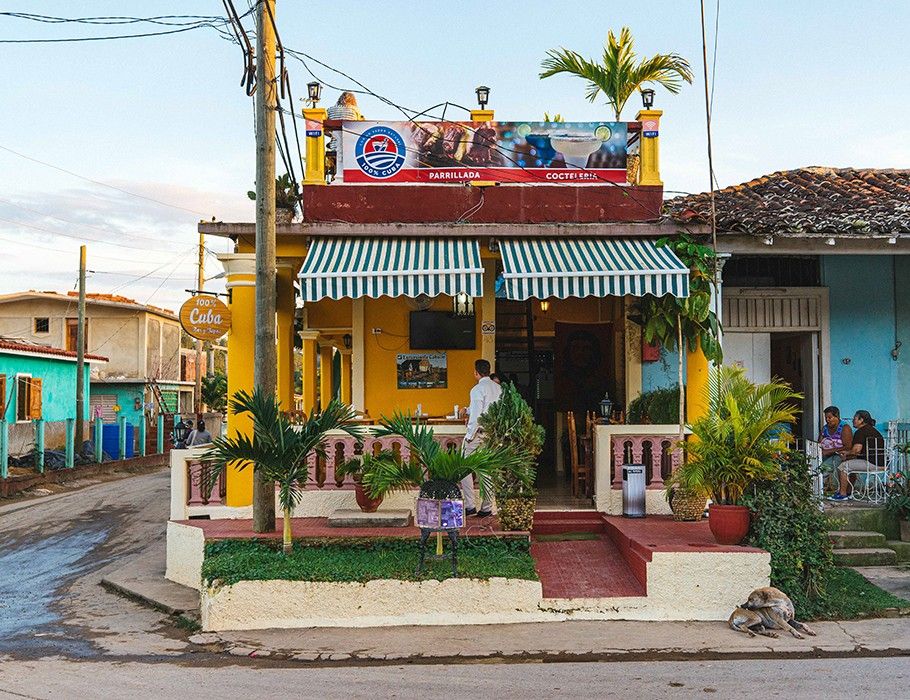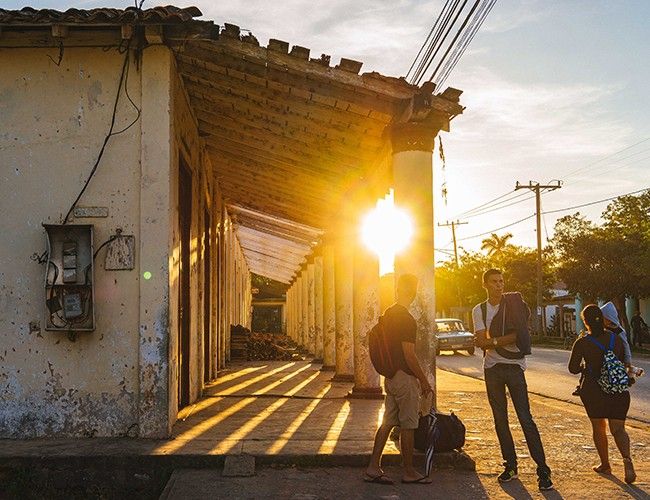 We deliberately spent the night in Viñales to make the most of a full day exploring by horseback. As the town yawns awake, we walk 10 minutes pass leather-faced men sitting on walls, a concerned bus driver inspecting the underneath of his parked vehicle and a stall doing a roaring trade in stale sandwiches swollen with unidentifiable meat to meet Joandi of Riding Viñales.
He leads us a little further to the horses, who are in the midst of having new shoes hammered on. Most of our group has never ridden before, but it doesn't matter; these animals are set to automatic. Once aboard, they lead us past small houses and vast fields, speeding to a trot every now and then and sharing an adrenalin rush. In the distance bulbous mogotes dominate the landscape, but up close we're distracted by blazing pink bougainvillea along the trail.
In Viñales, farmers tend to fertile soils using traditional methods that have remained unchanged for centuries. This includes growing and cultivating tobacco, which is easily damaged by machinery equivalents. Once tended by African slaves, more than 90 per cent of the land here is privately owned, although a large chunk of that belongs to the Asociación Nacional de Agricultores Pequeños (National Association of Small Farmers).
As we dismount our horses, we're met by dogs that seem torn between barking at the newcomers and humping each other. We're shown around a small tobacco farm, past thatched tobacco drying huts to a cigar-rolling demonstration. We're told the leaves in the middle of the plant can be damaged by sunlight, and the bottom leaves by soil. "The government takes 90 per cent of the leaves for Cuba's cigar manufacturers," we're told, "which leaves do you think the farmers keep?"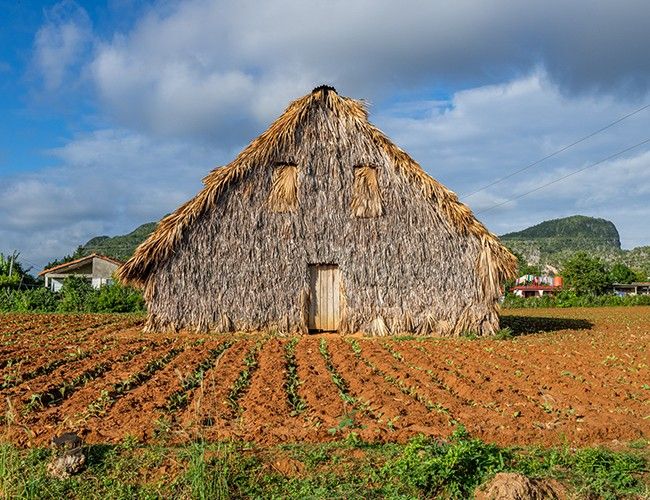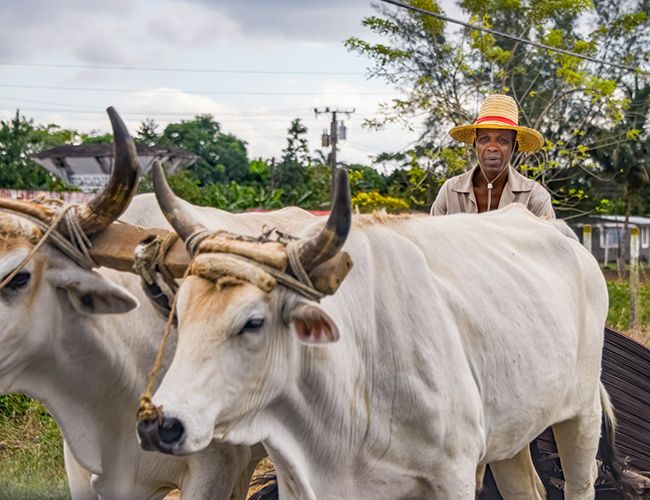 Once rolled, the campesino cigars are dipped in local honey and passed to us. They're fresher and milder than those I've tasted before, without any stuffiness, old man or mothball – the flavours and scents I usually associate with cigars. Orders are taken for cigar sales (4 CUC each for a minimum of 10) before a quick run through of colourful coffee beans. We finish on La Occidental Guayaba de Pinar, a rum-like drink made from tiny local guavas, honey and cane alcohol, of which only 8,000 to 10,000 bottles are made each year. According to our guide, it's "the best teacher of salsa."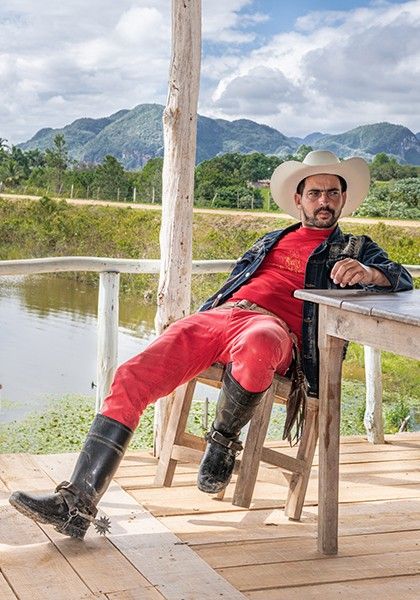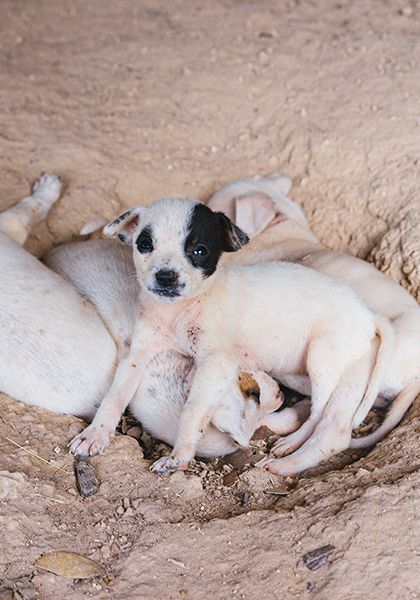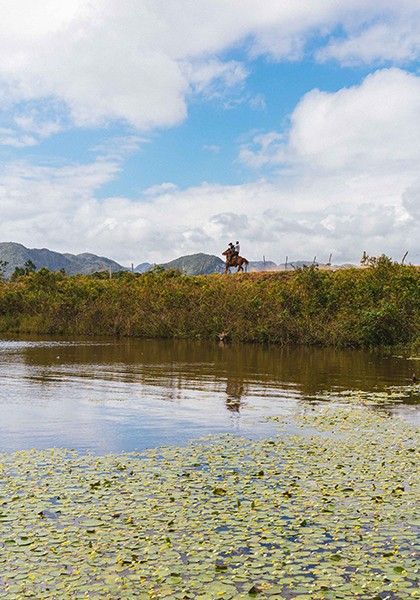 We ride onwards to a lake layered with water lilies. People were swimming, but we're happy playing with newborn puppies in the dust. Uninspired by the cafeteria menu, we take the long way back to the tobacco farm, enticed by the promise of asado lechon (roast pork) for lunch. It's a stunning trail, through a shallow riverbed past wild piglets frolicking in the grass – the irony of our impending lunch is not lost on me.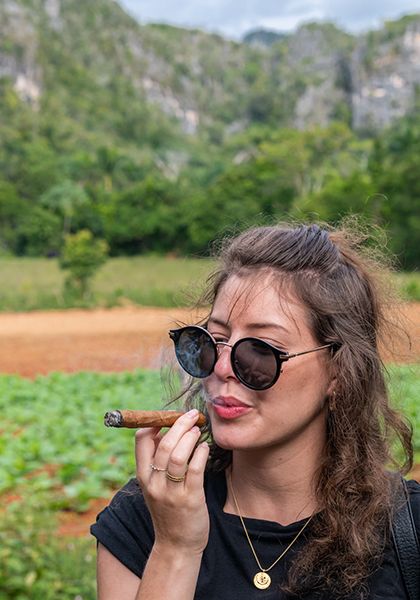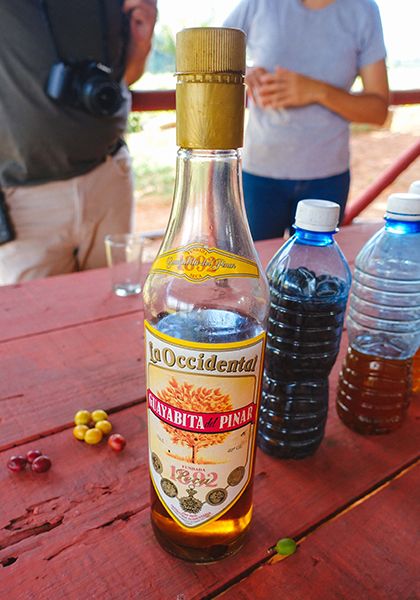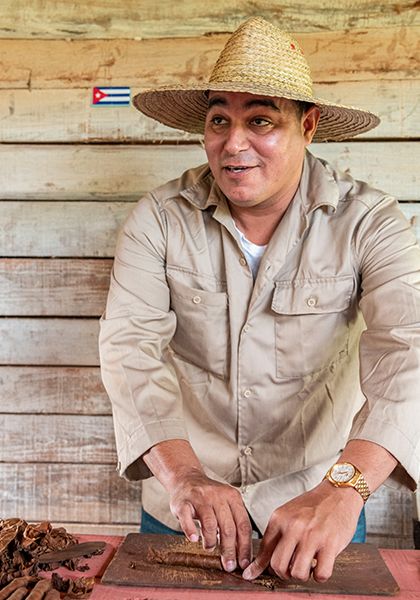 Back at the tobacco farm, one of the pig's long-lost relatives had been roasting in a chimney oven for hours. Plates of fried plantain crisps, black beans, rice and sliced tomato and cucumber are placed on the plastic green tablecloth, followed by the meat and starchy boiled yucca. Oddly, there's a disappointing absence of the golden crackling I saw in the oven. I sheepishly ask for piel (skin) and am rewarded with a generous plateful.
With full bellies, we climb back on our horses for the return journey.
"VA-MO," I say with false confidence. My horse remains at the rear of the group, but for once, I'm not in a rush to get anywhere.
A Note on Prices
Riding Viñales yours cost 5 CUC per hour, per person and last around five hours. There is no obligation to buy anything at the tobacco farm, but be prepared to pay 10 CUC per head for lunch. For those interested, here's the rest.
Cigars - 4 CUC each, minimum of 10 (they don't come with a certification, so these are strictly for smoking during your trip, not taking back to your country)
Rum - 20 CUC
Honey - 10 CUC
Around the World in 80 Lesser-Known Melbourne Restaurants
FREE food guide when you subscribe.