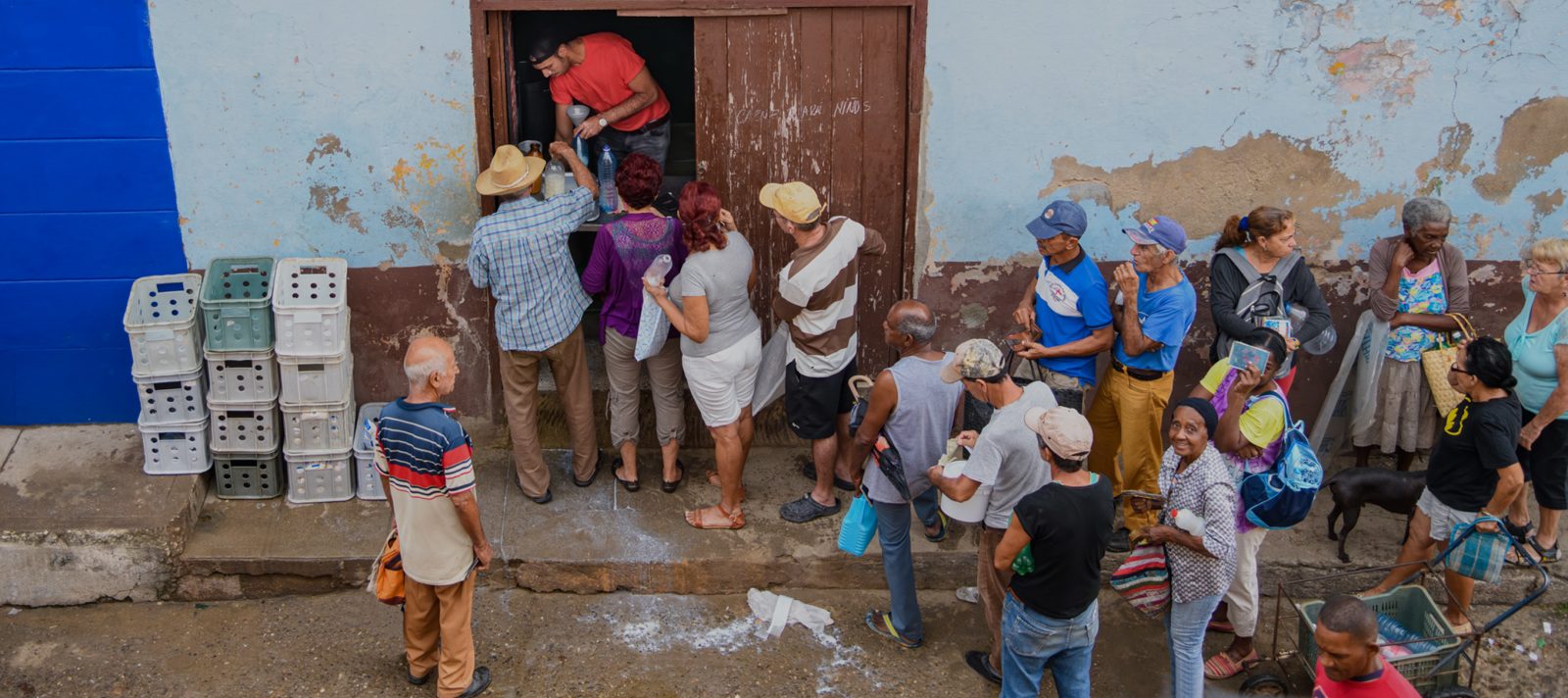 Why You Don't Want To Eat Like A Local In Cuba
Words by Sofia Levin
Images by Sofia Levin & Greg Levin
While tourists dine out on the cheap in Cuba, locals still rely on food rations to survive.
There's a saying in Cuba: the three greatest successes of Fidel's Revolution were health, education and sport. It's three greatest failures? Breakfast, lunch and dinner. But it was also Fidel who legalised independently owned restaurants, paladares, in 1993. It wasn't until 2010 under the presidential rule of Fidel's brother, Raul, that Havana's culinary scene began to boom. Prior to that you could employ a minimum of two relatives and seat no more than 12 people, but economic reforms saw self-employment rise and entrepreneurs trade with the state. More paladares opened, and these days you'll find Cuba's best food for less than 10 CUC, the equivalent of $10 USD, at these establishments.
Cuban people, on the other hand, rely on food rations to eat. Since 1962 the country has used La Libreta or Libreta de Abastecimiento (supplies booklet), a meagre food ration system that conjures times of struggle more than socialism. It was introduced to manage serve shortages. Today people line up with ration books at corner stores, if that's what you can call the dusty, bare-bone shops with manual balance scales. Per person, per month, the rations are about as follows: five eggs, one pound of dried spaghetti (about 450 millilitres or grams), a cup of cooking oil, a few pounds of sugar, seven pounds of white rice, less than half a pound of black beans, enough bread for one meal a day and coffee beans ground with dried beans or peas to make it last. Everything else is extra – if you can find it.
Pregnant women get milk, as do children under seven years old. Those younger than 13 years old also get a pound of meat. Special considerations are made for young children, seniors and those with health requirements. In true Cuban spirit, cakes, rum and beer are rationed out for birthdays. In 2015, The Guardian reported on smugglers who were caught not with drugs, but with eggs, and sentenced to a maximum of 15 years in prison. In Cuba, you can get more jail time for killing a cow than a person.
Locals will tell you the rations are, "No es suficiente." Since the collapse of the Soviet Union in 1991, Cuba has gone from between $4 to $6 billion in subsidies to spending $1 billion each year on la liberta. Those years are referred to as el tiempo de los flacos, "the skinny period", during which rations halved and the average person lost nine kilograms. Today, the rations continue to reduce. Prior to 2013 there were double the amount of eggs available, plus salt, potatoes, chickpeas, soap, detergent, toothpaste and at one point, cigarettes. Some want to see the end of the system; others survive because of it.
With little food available and even less money, paladares are a way for Cubans to earn income. With ingredients difficult to source and sometimes unavailable for weeks without explanation, necessity can become the mother of invention at paladares. In central Havana, touristic restaurants are more reliable as dining options, but don't exactly have that air of authenticity so often sought after by travellers. What's more important is up to you: stand at a bar and scoff small, doughy pizzas and bowl of just-boiled pasta with locals, or conform to a tourist trap. If you want something in between, dine at a casa particular in someone's home. I recommend doing all of the above for the experience.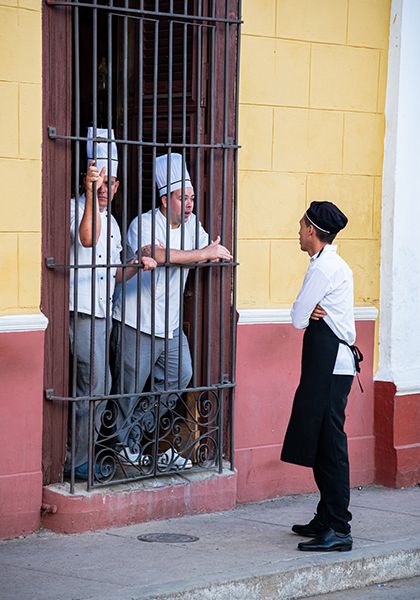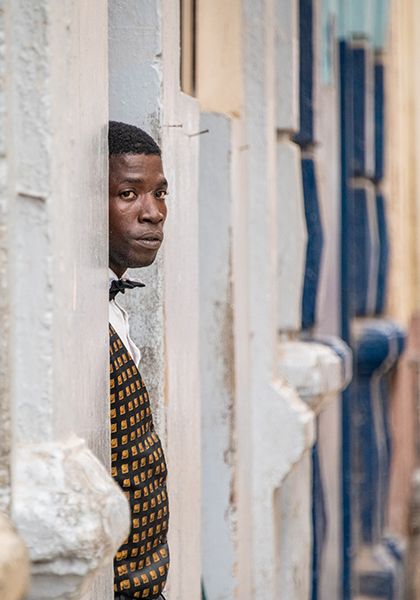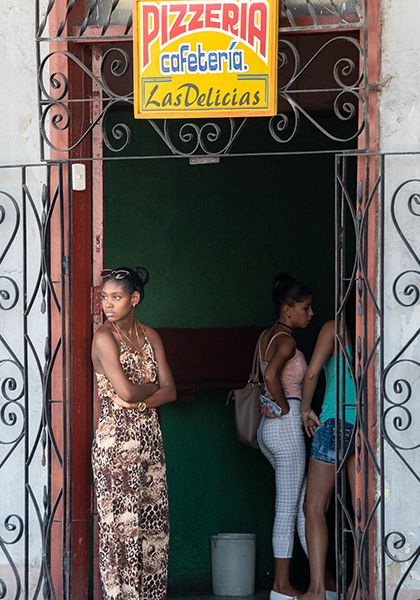 While there are more dining options than ever in Cuba, eating out is hit and miss. On every menu you'll find black beans and white rice (called Moros y Cristianos, named for when the Moors occupied the Iberian Peninsula), fried plantains and ropa vieja. The latter, which you can read more about here, is the national dish. During my travels it was my 'safe-choice' – anything cooked for that long is going to taste good, and it did every time.
Regulations announced at the end of 2018 mean that Cubans can now work in more than one self-employment category (for example, being a taxi driver, running a homestay and operating a casa particular). The 50-seat limit for private restaurants, cafes and bars has also been lifted, but others have been implemented to control growth. High-profit businesses now have to keep a special bank account with a minimum balance of two months' worth of tax in pesos and show receipts for products and ingredients – which can be tricky when you've turned to the black market to stay in business. Still, everyone I spoke to during my trip supported socialism, complaining – with an understanding smile – that it's a process to get it right.
When visiting a country other than your own, food is a conduit to society, culture and history. The contrast between how locals eat and how tourists eat in Cuba is vast. As a visitor, the best thing you can do is gain some context and support Cuba's cuentapropistas (self-employed) by dining at privately owned restaurants and buying food and snacks from street vendors, as well as people selling from windows, wherever you can. Talk to those who are willing when you're there – the rules are constantly changing in Cuba, and no one knows it better than the Cubans.
Around the World in 80 Lesser-Known Melbourne Restaurants
FREE food guide when you subscribe.