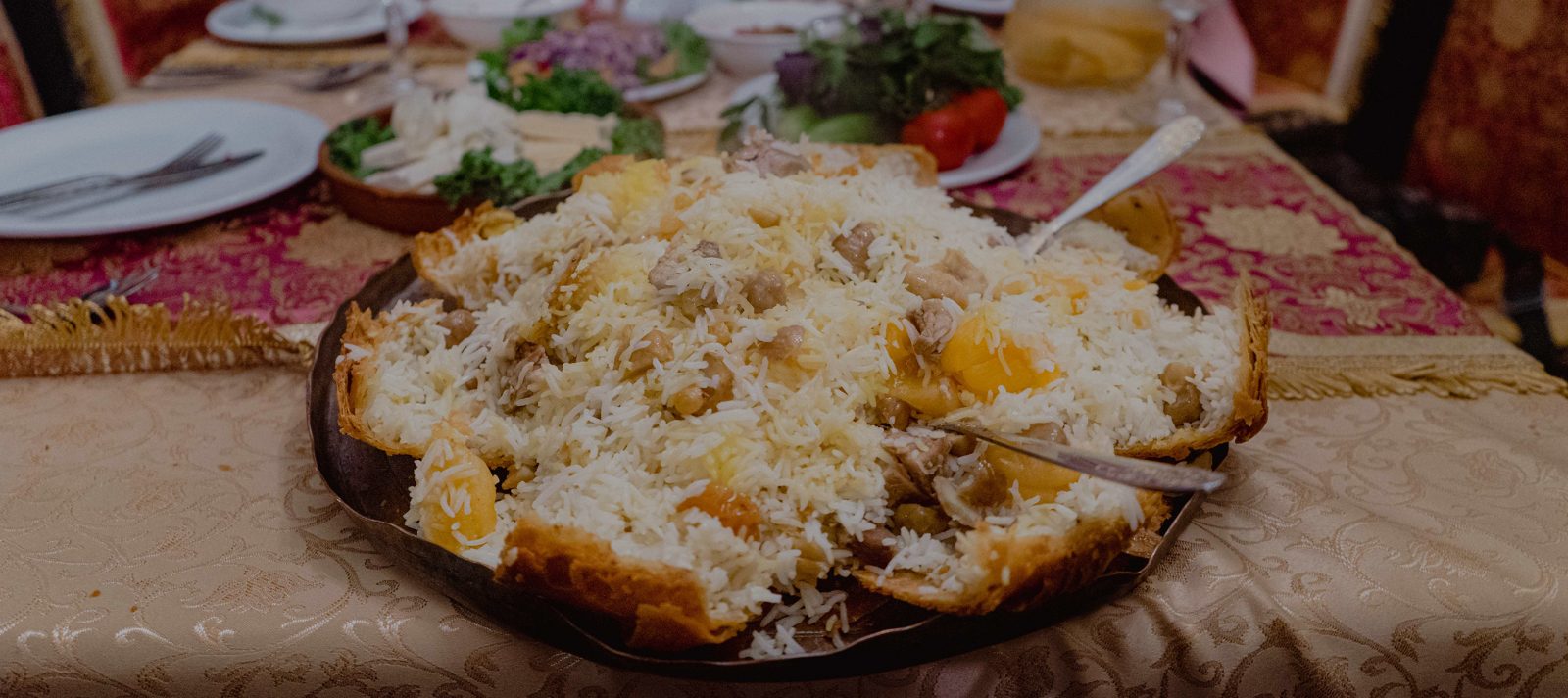 Is Azerbaijan's Shakh Plov the best rice dish in the world?
Words & images by Sofia Levin
If you go to Azerbaijan and don't eat this pilaf, did you even go to Azerbaijan?
From Iran to Uzbekistan, plov – also known as pilaf – has dominated the diet of people the world over. Its origins go way back to the Abbasid caliphate who ruled during the Golden Age of Islam from 750 CE to 1258 CE, establishing Baghdad in 762. Their method of cooking rice spread and its iterations are now familiar national dishes, whether Spain's paella or India's biryani. Fast-forward to today and there's a version of plov in the Middle East, Asia, Balkans, Africa and beyond. In Azerbaijan, the 7th century saw a massive boom in rice cultivation and has been a staple part of the diet ever since. Just recently Azerbaijani President Ilham Aliyev approved the State Program for Development of Rice Growing between 2018 and 2025, in order to further increase the production of rice. As it stands, Azerbaijan has to import rice to keep up with the population's demands.
A Feast Fit For Royalty
Some estimates put the number of different Azerbaijani plovs at more than 200, but the most lavish is Azerbaijan's national dish: shakh plov. Also called shah plov and khan plov, it translates to "crown pilaf". Basmati rice is half cooked in a large pot of water and then placed into a pot lined with lavash that's been drenched in butter. The rice can be infused with saffron and studded with lamb, chicken, nuts and dried mixed dried fruits, such as apricots, sour cherries, golden raisins and prunes. Baked whole so the spices and sweetness permeate the rice, shakh plov is the size of a small drum and eaten on special occasions. In Baku, the capital of Azerbaijan, it's available at most tourist-friendly restaurants, although you usually need to call ahead to order.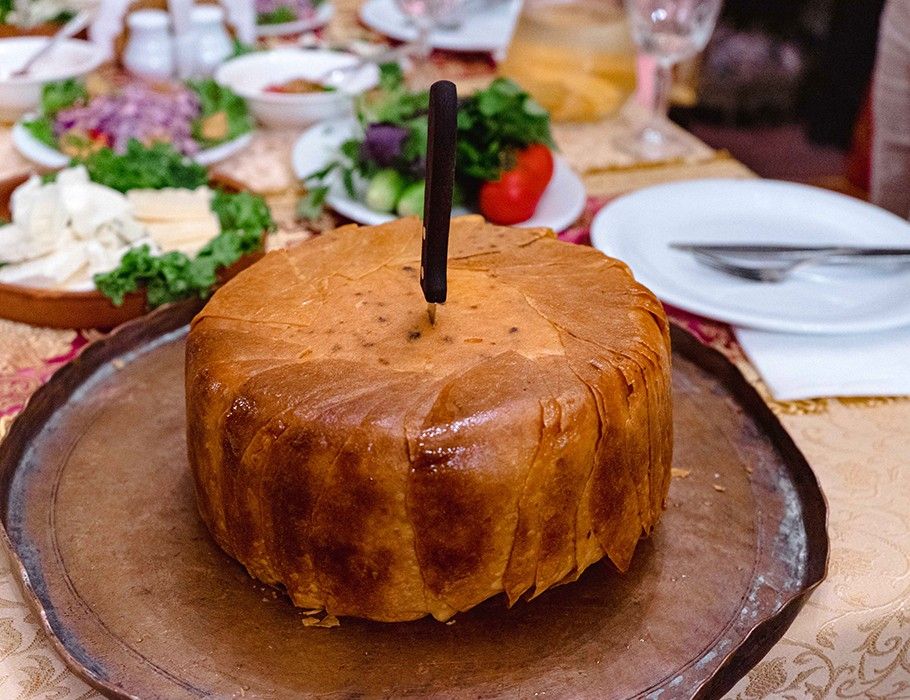 Eating Azerbaijan's National Dish
Shakh plov is presented with much fanfare on a platter, the lavash forming a golden pastry casing thanks to an improper amount of butter (it creates a brittle crust known as kazmag, or tahdig, if you're Persian). The heavy mass is inverted onto a platter with a deftness not afforded to the novice home cook. It's then sliced open with loud cracks and crunches far more satisfying than any back-of-spoon job on a creme brulee. The fragrant filling spills out the way one's belly might after eating too much and undoing a top button. There are ohhs and ahhs from the table – sometimes a cheer – but most importantly, the unmistakable expression of pride from the Azeri person serving the dish.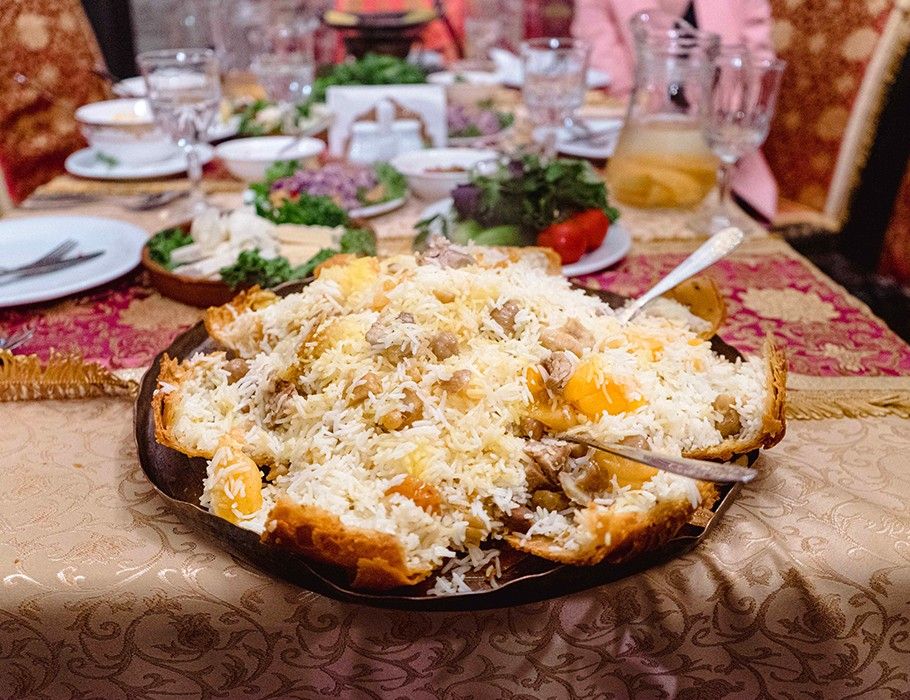 Where to try it:
Shirvanshah Museum Restaurant, 86 Salatın Əsgərova, Baku, Azerbaijan 
Sahil Bar & Restaurant, 34 Neftçilər Prospekti, Baku, Azerbaijan 
Firuze Restaurant, 14 Tarlan Aliyarbeyov, Baku, Azerbaijan
Restaurant Shah, 25А Nəcəfqulu Rəfiyev Küçəsi, Baku, Azerbaijan
Sofia Levin travelled with assistance from the Ministry of Foreign Affairs of Azerbaijan, but this article remains autonomous.
Around the World in 80 Lesser-Known Melbourne Restaurants
FREE food guide when you subscribe.