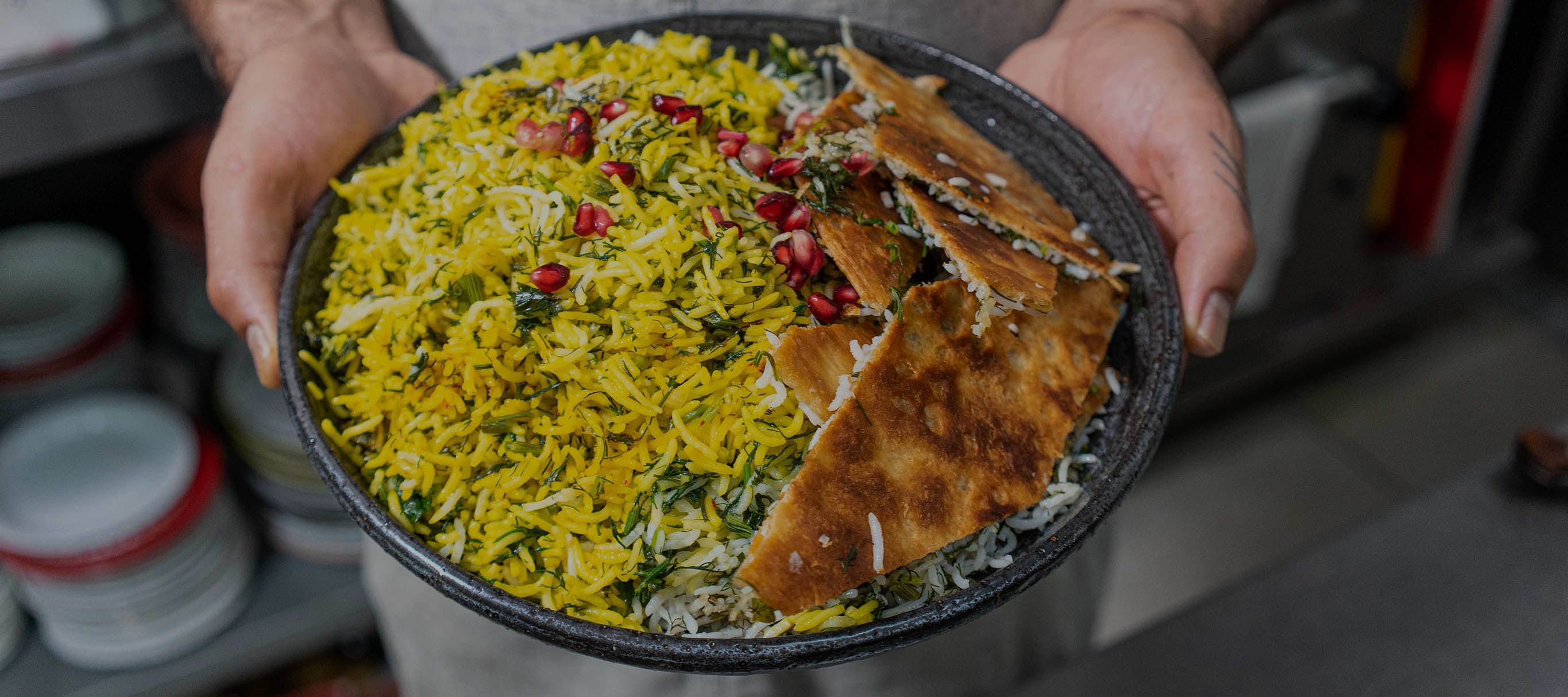 Recipe: Sabzi Polo Persian New Year
RECIPE » Iranian Sabzi Polo for Nowruz, Persian New Year
Words & images by Sofia Levin
Chef Hamed Allahyari from Cafe Sunshine and SalamaTea Restaurant shares his Nowruz (Persian New Year) traditions, along with his recipe for sabzi polo (fragrant herbed rice).
Every year on the dawn of spring in the northern hemisphere, Iranian families gather for Nowruz (prounced "no-rooz"), Persian New Year. The 13-day celebration stretches back thousands of years with roots in Zoroastrianism, an ancient Persian religion that's some 3,000 years old.
Hamed Allahyari of social enterprise Cafe Sunshine and SalamaTea Restaurant celebrated with his family in Iran before he arrived in Australia seeking asylum. Now he puts on a feast for his customers during special events and cooks the food he used to eat back in Tehran: sabzi polo ba mahi (herbed rice with fish, recipe below), kuku sabzi (herbed Persian frittata) and tea with ajil (mixed nuts) and shirini (Persian sweets).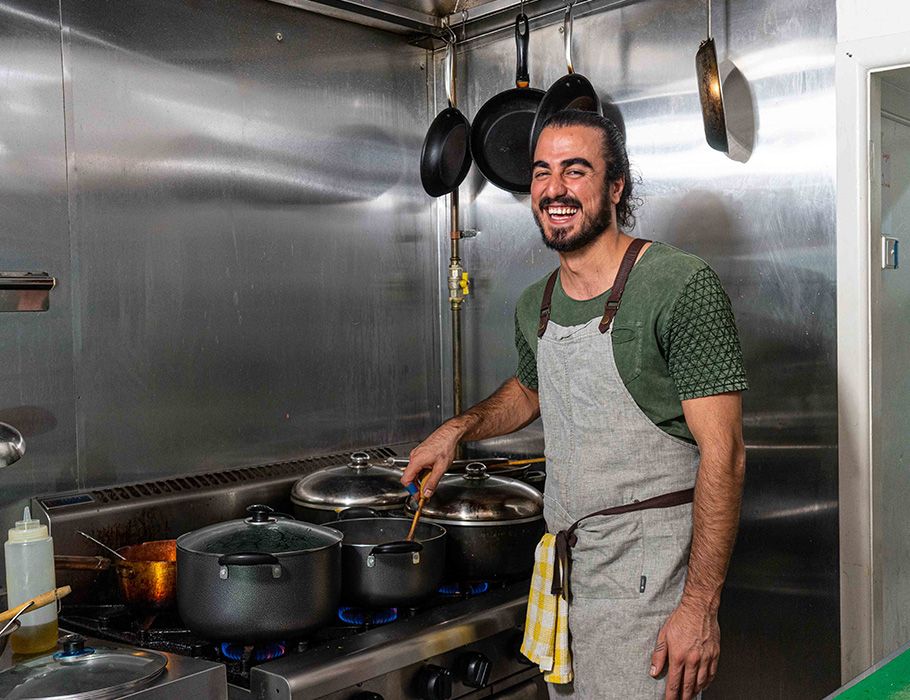 Hamed's sabzi polo is crowned with saffron rice and salmon baked in tahini, pomegranate molasses, garlic and lemon. His mum usually fries mahi sefit, a white fish from the Caspian Sea that's popular in northern Iran. According to Hamed, the best part is the tahdig, a fried, golden layer made for those who live to scrape the crispy bits from the bottom of a pan.
"We fight for tahdig, it's very important in our culture," says Hamed, laughing. "You won't find a person who doesn't like tahdig."
Another tradition called Haft-sin (or Haft-seen) sees a platter of seven symbolic foods left on the table throughout Nowruz. Each one starts with the Persian letter "س" pronounced "seen", which sounds like the English "S". They include somaq (sumac), seer (garlic), seeb (apple), serkeh (vinegar), sabzeh (wheat), senjed (a Pesian olive Hamed likens to a date) and samanu, a naturally sweet porridge made from sprouted wheat.
"Haft-sin is a symbol of Persian New Year. Every family, they have haft-sin on the table. It's not for eating, it's to bring a good year," says Hamed.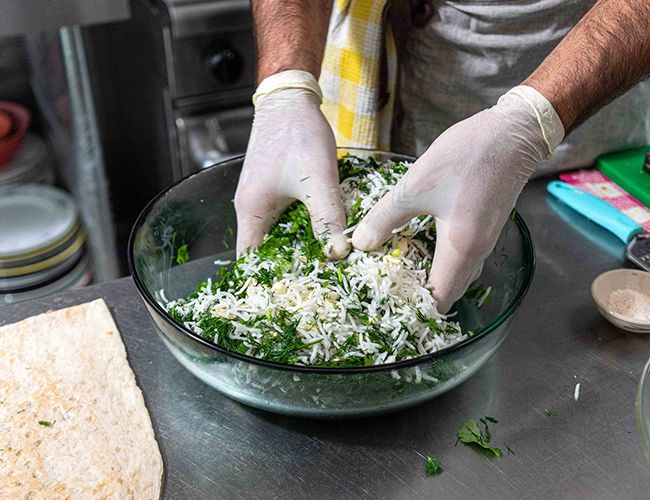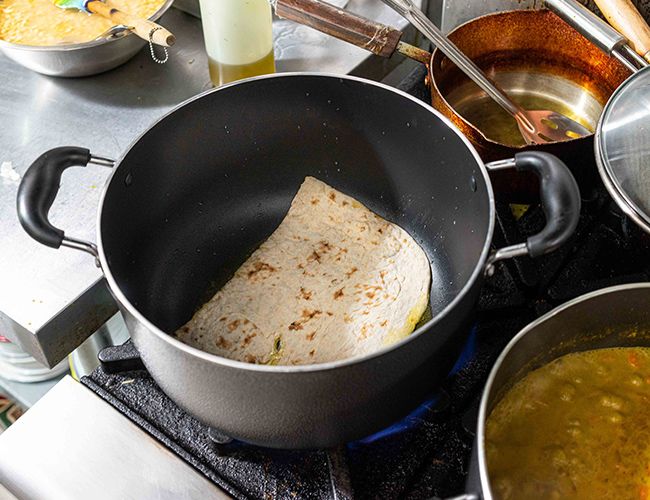 The final day of Norwuz is called Sizdah Bedar. Parks and riverbanks are crammed with families gathering on rugs, enjoying the outdoors with Persian barbecue over open flames. Ash reshteh is another Sizdah Bedar speciality; thick Persian noodle soup with reshteh (flat, starchy noodles) and kashk (dried yoghurt or whey).
"Every family is together – my uncles and my aunties from my mother's side and father's side, all the grandparents. We have a farm in northern Iran and we all go, maybe 30 or 40 people," says Hamed. "I was in charge of the barbecue, always. It's so fun; I really miss that to be honest."
Hamed's voice lights up when I suggest we organise Sizdah Bedar in Melbourne for Nowruz 2022, so make sure you're subscribed to the Seasoned Traveller newsletter for updates. Until then, give Hamed's sabzi polo recipe a go at home.
Persian Sabzi Polo Recipe With thanks to Hamed Allahyari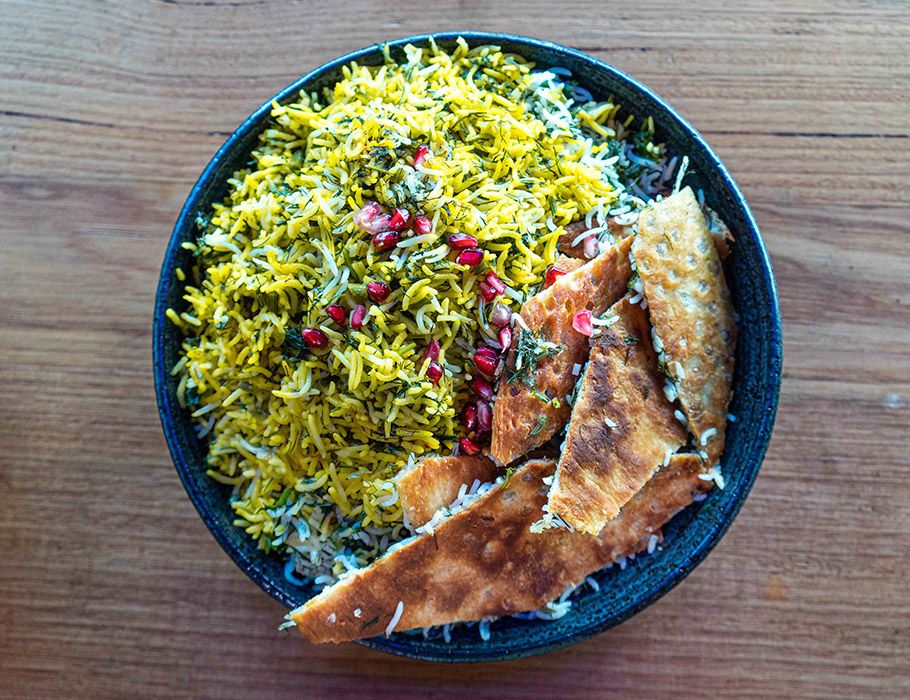 Serves "4 Persians, 6-8 Australians"
Ingredients
2 cups long-grain basmati rice
1 bunch coriander, finely chopped
1 bunch dill, finely chopped
1 whole garlic, finely chopped
100ml olive oil
0.5 grams saffron
1 tbsp white sugar
salt & pepper to taste
Optional pomegranate seeds or rehydrated barberries to garnish
Note: Add your favourite baked or fried fish, see Hamed's tips above.
Method
1. Wash and soak the rice in salted water for 2 hours prior to cooking.
2. Boil water in a large pot. Drain rice and add to boiling water for 5 to 15 minutes, until it's cooked (cooking time depends on rice freshness/storage).
3. Drain the rice and mix through garlic and herbs. Set aside.
4. Place a non-stick pot on a very low heat and cover the bottom with olive oil. Next, cover the base with thin flatbread. One big piece is ideal, it shouldn't overlap. This will form the crunchy layer known as tahdig. Add your rice mixture on top. Cover the pot with a lid and leave for 15 to 20 minutes.
5. While sabzi polo is cooking, grind saffron and sugar in a mortar and pestle or coffee grinder. Add 3 tbsp boiling water and dissolve to create saffron liquid.
6. After the 15-20 minutes is up, remove two cups of cooked herbed rice from the pot. Mix through with saffron liquid and set aside.
7. To serve, place herbed rice into a serving bowl. Add the saffron rice over the top. Cut the tahdig into pieces and arrange.
8. Add fresh pomegranate seeds or rehydrated barberries to garnish and serve with your choice of fish.
Around the World in 80 Lesser-Known Melbourne Restaurants
FREE food guide when you subscribe.