Recipe: Fool-Proof
Ma Po Tofu
RECIPE » Victor Liong's ma po tofu
Edited by Sofia Levin
Images supplied
In this simple, three-part recipe, chef Victor Liong from Lee Ho Fook restaurant shares how to make a big batch of his ultimate comfort food: ma po tofu.
"In terms of comfort cooking, any mince dish has to be a go-to. The ultimate in no-fuss eating is spoon food, in my opinion, and the best spoon food recipe I have is ma po tofu. I feel that comfort dishes should be easy to make and cooked in bulk, so this recipe is perfect: economical, quick and versatile.
Growing up, my mother cooked a very mild version of this without chilli; it was more a garlicky, soy-braised pork and tofu dish – funnily enough I was first taught this style of ma po tofu by iron chef Chen Kenichi, who was a guest chef when I apprenticed at Galileo in Sydney. This recipe is a slight variation of his.
Chef Chen uses beef mince and is much heavier handed with the spice and chilli oil than me. This recipe freezes really well (without the tofu) and makes for a really great sauce for noodles or pasta."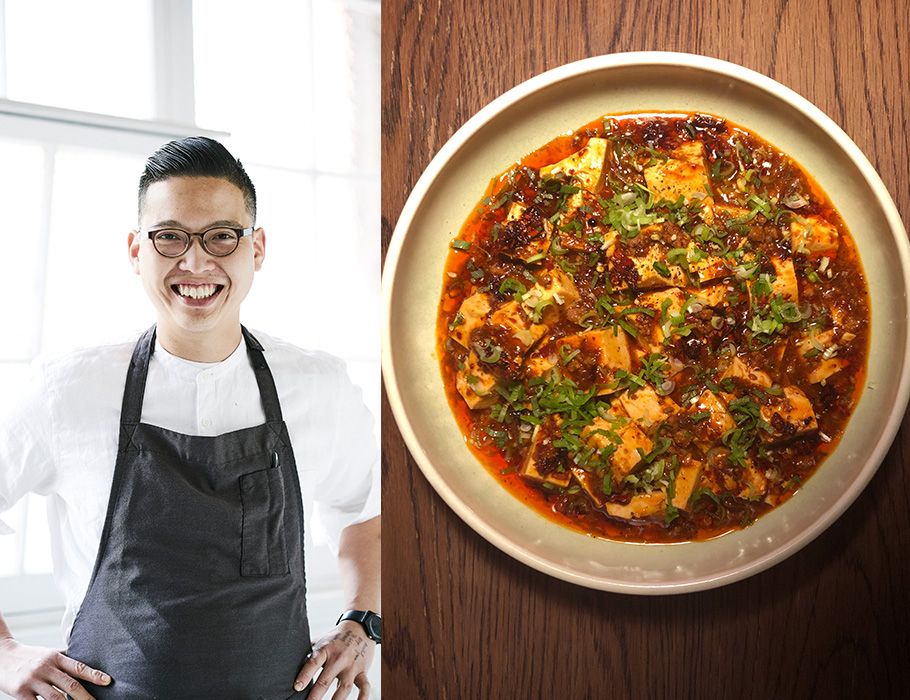 Ma Po Tofu Recipe With thanks to Victor Liong
Serves 8-10 people
Stage 1: prepare the dry mince
50g mild dried chillies, blended into fine powder (if available, use dried "heaven facing" chillies)
500g light soy sauce
65g Sichuan ya cai or preserved olive vegetable
6g salt
20g whole Sichuan peppercorns
1kg coarse pork mince
200ml vegetable oil
Heat vegetable oil, and cook off Sichuan peppercorns. Add mince and brown it, breaking it up well, and then slowly add everything else. Simmer for 5 minutes, or until the liquid has almost evaporated. The mixture should be quite oily. Set aside.
Stage 2: season the mince
40g chilli bean paste
40g chopped garlic
60g Chinese soffrito (see note*)
100g vegetable oil
1L water
200g soy paste
30g sugar
30g kuzu starch or cornstarch mixed with a little cold water
260g Lao Gan Ma crispy chilli oil
Heat oil and chilli bean paste and stir constantly, until the mixture starts to catch and caramelise. Add the Chinese soffrito and extra garlic. Cook over medium heat until it comes together like a chilli paste.
Add this to your pork mince mix, then add the water and bring the mince to a boil, simmering for 10-15 minutes on low until all the flavours get to know each other.
Next, stir in the soy paste and sugar and bring to the boil. Once the sauce is boiling, stir in the starch slurry to thicken and mix through the Lao Gan Ma.
Stage 3: finish with tofu
1kg tofu (I use soft momen tofu or silken, but you can use regular or firm)
handful sliced spring onions
chilli oil and ground Sichuan peppercorns to taste
Cut tofu into 2cm cubes. Bring a pot of water to a simmer and lower the tofu into the water. Allow to steep until the tofu is hot. Drain and add the tofu to any amount of your mince mixture that you like. Simmer together, stirring ever so gently so as not to break up the tofu too much.
Serve over steamed rice. Garnish with extra chilli oil, Sichuan peppercorns and spring onion.
*NOTE: Chinese soffritto recipe
1 part peeled ginger
2 parts peeled garlic
3 parts long red chilli
Blend chilli into a semi-fine paste then scrape out. Next blend ginger into a fine paste, then add the garlic and blend into a semi-fine paste. Mix with chilli.
Around the World in 80 Lesser-Known Melbourne Restaurants
FREE food guide when you subscribe.