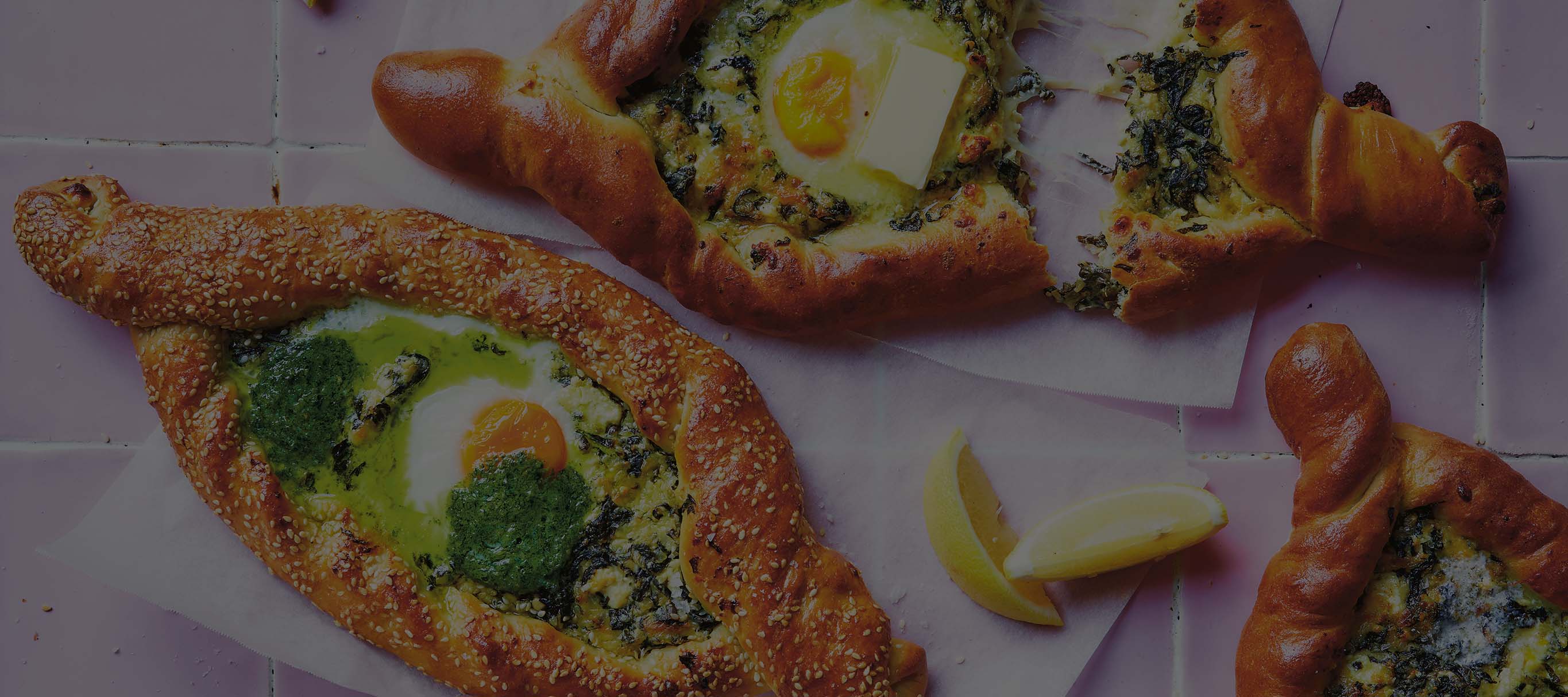 Recipe: Georgian Silverbeet Khachapuri
RECIPE » Alice Zaslavsky's silverbeet khachapuri
Edited by Sofia Levin
Images by Ben Dearnley
In Alice Zaslavsky's cookbook, In Praise of Veg, she dubs khachapuri "Georgia's greatest gift to the world". The food educator, author and proud Georgian-Australian shares her recipe here.
"This cheese bread (khacha meaning 'cheese', puri meaning 'bread') has over 20 different regional iterations, across a reasonably small country, which should give you a sense of how seriously Georgians take their food. Silverbeet is usually reserved for mkhlovana or pkhali dip – so I hope they'll forgive its addition to this adjaruli khachapuri, which is otherwise distinguished by its gondola shape, to reflect the port city's seafaring heritage, and coddled egg in the centre."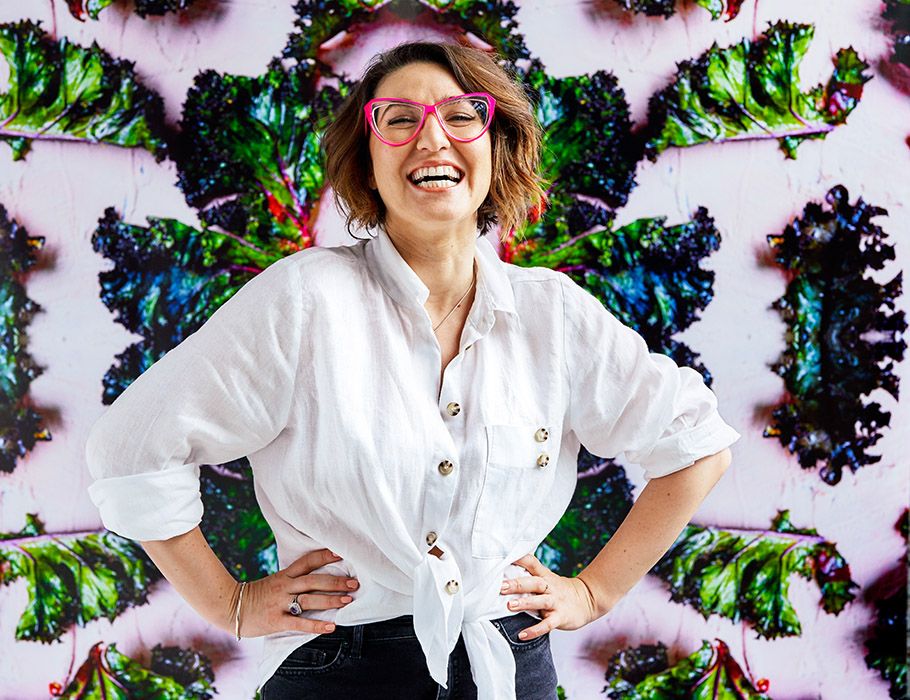 Silverbeet Khachapuri Recipe With thanks to Alice Zaslavsky
Makes 4
Ingredients
1 cup (250ml) milk, lukewarm
2 tsp (7g sachet) instant dried yeast
1/2 tsp sugar
3 cups (450g) high-gluten flour, plus extra for dusting
2 eggs 1/4 cup (60ml)
olive oil, plus extra for drizzling
1/2 tsp salt
sesame seeds, for sprinkling (optional)
40g butter, cut into 4 large slices
lemon wedges, to serve
Filling
1 tbsp olive oil
1 onion, diced
1-2 garlic cloves, roughly chopped
265g chopped silverbeet/swiss chard leaves (about 1 bunch)
200g cottage cheese
200g mozzarella, grated
200g feta
1/4 tsp salt (optional)
1/2 tsp ground fenugreek
4 eggs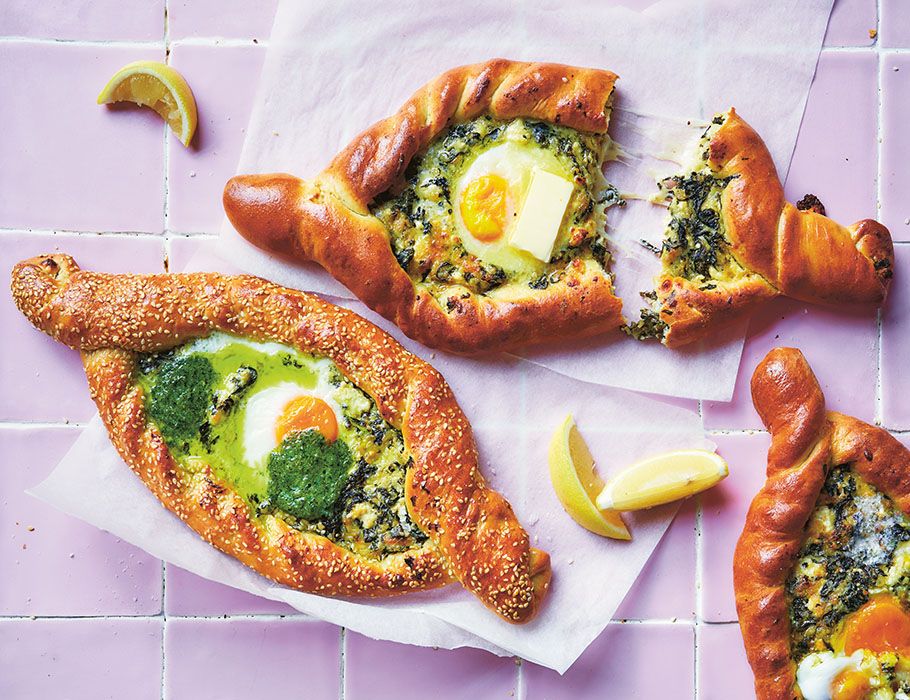 Method
1. Combine the milk, yeast and sugar in a bowl and set aside to dissolve. In a saucepan, combine 25g of the flour and 100ml water and stir over low heat for 1-2 minutes until a slurry forms. Allow to cool slightly, then add to the milk mixture, along with 1 egg and the olive oil, whisking to combine.
2. Sift the remaining flour into your biggest mixing bowl, or the bowl of an electric stand mixer. Sprinkle in the salt, then make a well in the centre. Slowly add the milk mixture, using a spatula or your hands to combine. Knead together with your hands in the bowl, or if using an electric stand mixer, keep it whirring until a soft dough forms; this should take around 5-10 minutes. Keep kneading the dough and pulling it apart until it stops tearing when you do this. You should be able to pull the dough apart and see some elasticity as the gluten begins to activate.
3. When the dough comes away from the sides of the bowl, turn it out onto a floured bench and give it some more kneading if needed. You'll know you've kneaded it enough when you poke a fingertip in lightly and it springs back. More is more here – you can't overwork this dough.
4. Sprinkle some flour into the bottom of the bowl and use this to scoop out any left-over dough bits – if they're crumbly, discard them; otherwise, incorporate them into the dough, folding it over itself a few times to ensure the bits are fully embraced.
5. Wipe the bowl out with paper towel or a tea towel. Now splash a bit of extra olive oil into the bottom of the bowl and pop the dough back in, turning to coat in the oil. Cover with a tea towel and leave to prove in a warm spot for 1 hour.
6. Meanwhile, make the filling. Warm the olive oil in a large saucepan over medium–low heat and sweat the onion for a few minutes, until it starts to break down. Reduce the heat to low, pop a lid on and sweat the onion for another 5 minutes or so, then remove the lid and sweat for a further 2–3 minutes, until translucent and glossy.
7. Stir in the garlic and silverbeet, mixing thoroughly. Pop the lid back on and leave them to get to know each other and get steamy for 5 minutes.
8. Tip the mixture into a fresh bowl. Add the cottage cheese and mozzarella to this bowl, then crumble in the feta and mix together well. Taste and season if need be. Divide into four equal portions and set aside.
9. Once the dough has doubled in size, preheat the oven to 240°C. Line two baking trays with baking paper.
10. Turn the dough out onto a floured bench and knock it back, by giving the squishiest bits a few satisfying fist bumps. Divide into four equal-sized blobs and shape into balls. If you're going down the sesame seed route, here's where you sprinkle some seeds under the dough, too.
11. Use a rolling pin to roll out the balls into oblongs about 17cm x 35cm in size. Imagine a football or rugby ball, and make a shape big enough to wrap up the sides of it.
12. Pop two oblongs on each baking tray. Scoop one portion of filling onto each oblong, to about 1cm from the edge, then use your fingers to fold and press the pastry over to form a 'fence', folding some mixture underneath it to create a stuffed crust. Pinch, pull and twist the top and bottom of the oblong so that it forms a boat shape. Cover with a tea towel and leave to prove for a further 15 minutes.
13. Lightly beat the remaining egg in the reserved milk-mixture bowl from earlier (to mop up any left-over liquid from before) and brush it over to glaze the dough crusts. Sprinkle the filling with fenugreek and salt, and the edges with more sesame seeds if desired.
14. Pop the trays into the oven. Reduce the oven temperature to 180°C. Bake for 10–15 minutes, or until the crusts are just starting to get a glow and firm up, swapping the trays halfway through for even browning if needed.
15. Crank the oven temperature up to 200°C. Use the base of a 1/3 cup (80ml) measuring cup to create a well for the egg in the centre of each khachapuri. One at a time, crack the eggs into a glass, sliding one into each well.
16. Bake for a final 10-15 minutes, until the eggs have just set and the crusts are golden brown. Top each hot khachapuri with a slice of butter and serve with lemon wedges, if you'd like … though my dad categorically disagrees with the lemon!
Tip: The khachapuri can be baked in advance, minus the eggs. Just before serving, crack the eggs in and bake in a preheated oven at 200°C for 10-15 minutes.
Shortcut: You can pop the same filling into shop-bought puff or filo pastry with equally delicious results – and leave the egg out for an even quicker zoom to the table.
Images and text from In Praise of Veg by Alice Zaslavsky (Murdoch Books RRP $59.99).
Around the World in 80 Lesser-Known Melbourne Restaurants
FREE food guide when you subscribe.