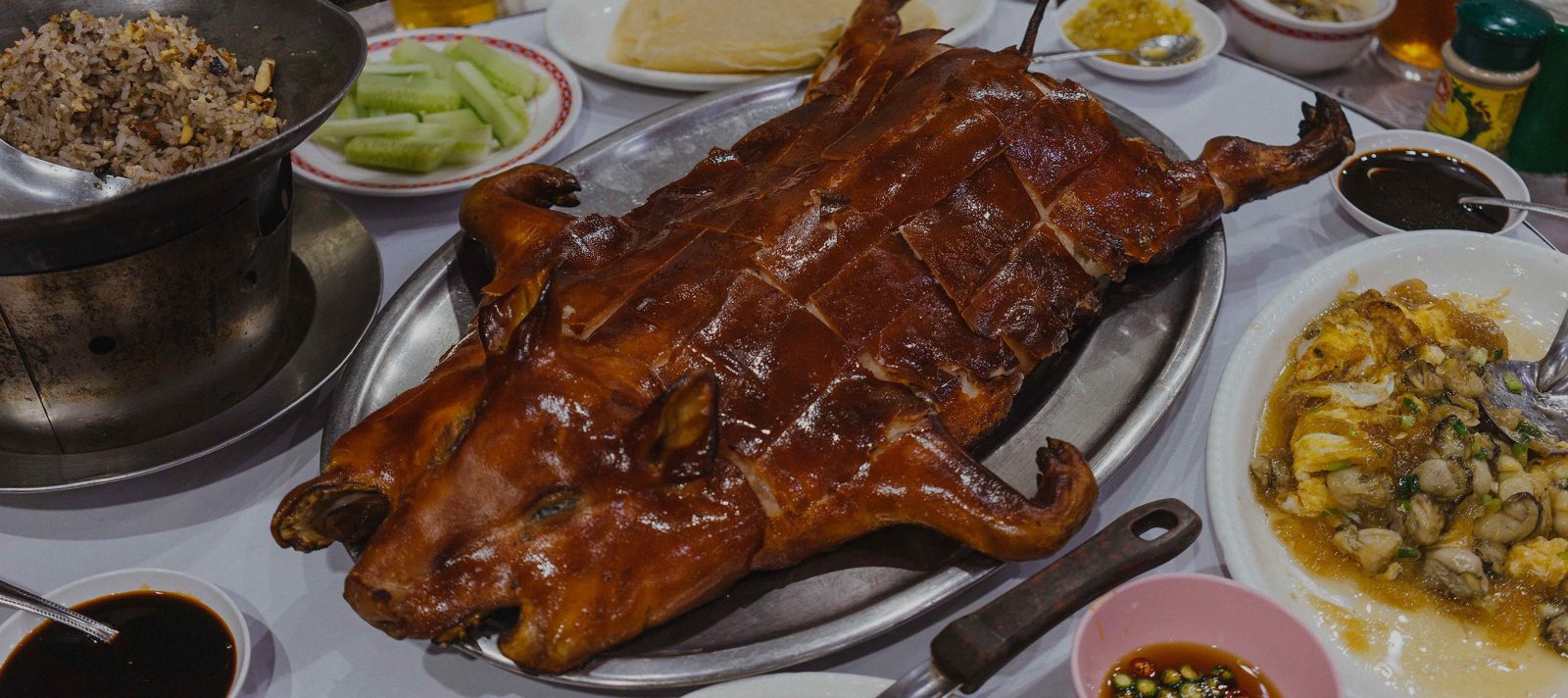 Tang Jai Yoo
Bangkok
You absolutely have to eat Whole Suckling Pig at Tang Jai Yoo in Bangkok
Words & images by Sofia Levin
At Tang Jai Yoo in Yaowarat, Bangkok, people come for affordable suckling pig praised by Anthony Bourdain and stay for a deep dive into Teochew cuisine.
Down colourful Yaowa Phanit in the middle of Yaowarat, Bangkok's Chinatown, is an unassuming restaurant façade flanked by live fish tanks and swaying Chinese lanterns. Eighty-year-old Tang Jai Yoo is dated in all the best ways. Thai-Chinese families confiscate bowls from children spinning glass lazy Susans like roundabouts. Clusters of men empty Jim Beam by the bottle and cheer as it spills on lacy white tablecloths. Guests in a second dining room watch a corner television as if they were on the couch at home, absentmindedly shovelling rice into their mouths.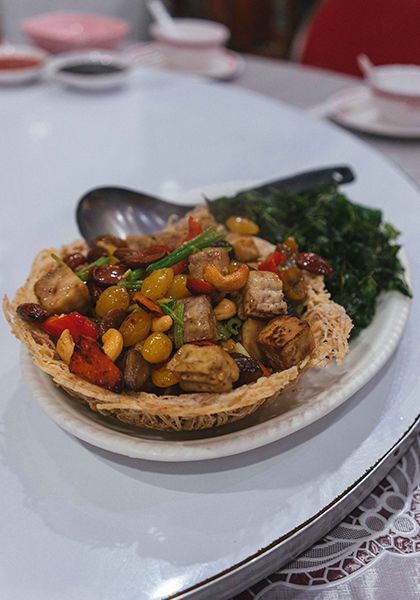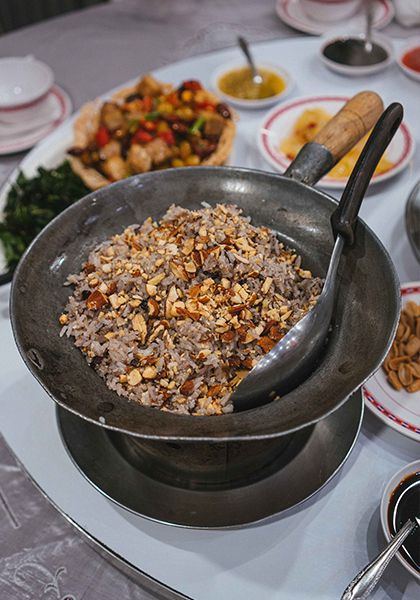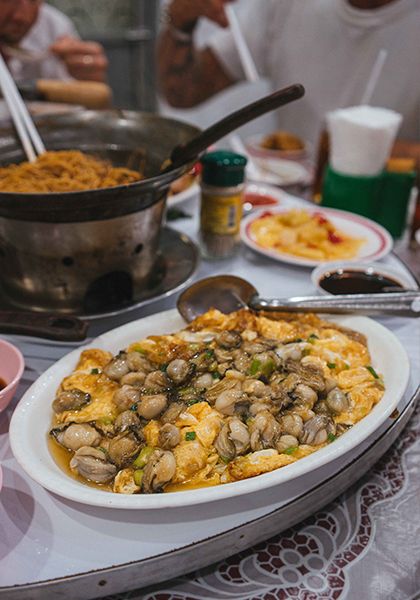 Tang Jai Yoo restaurant featured on Anthony Bourdain's No Reservations, so I'm surprised when we're the only table speckled with white diners. Doubts from the waitstaff dissipate when they realise how enthusiastic we are about the meal to come, starting with complementary salted peanuts. More nuts follow, this time a stir-fried medley of glistening ginko, cashew and peanuts interspersed with chunks of taro, capsicum and little batons of morning glory cuddled in a taro nest. Chunks of ham and shrimp are omitted to cater for the vegan at the table, but the fish sauce it's doused in proves problematic. Ah well, more for me.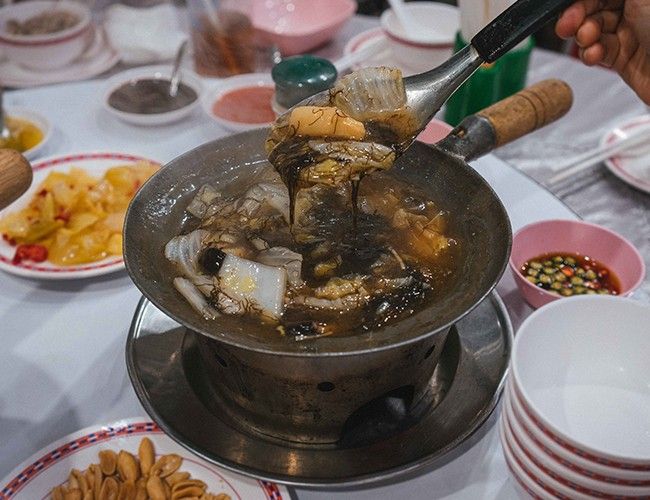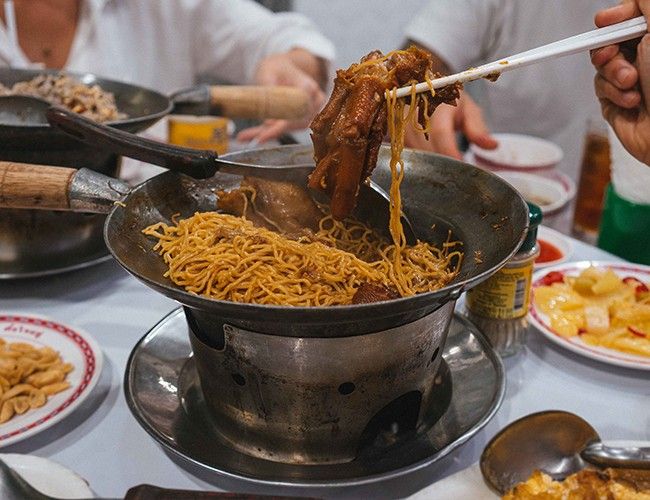 Two woks on charcoal burners are heaved onto the lazy Susan, one a metal rockpool of viscous seaweed soup and the other with alluring khao pad nam liap, black olive fried rice. Later, I'll read comments about the westernisation of this dish, but the elongated, salted black olives are typical of Teochew and Hokkien cusine. Tinged purple from the olives and with crunch from almonds, it's one of the better versions of fried rice I've tasted.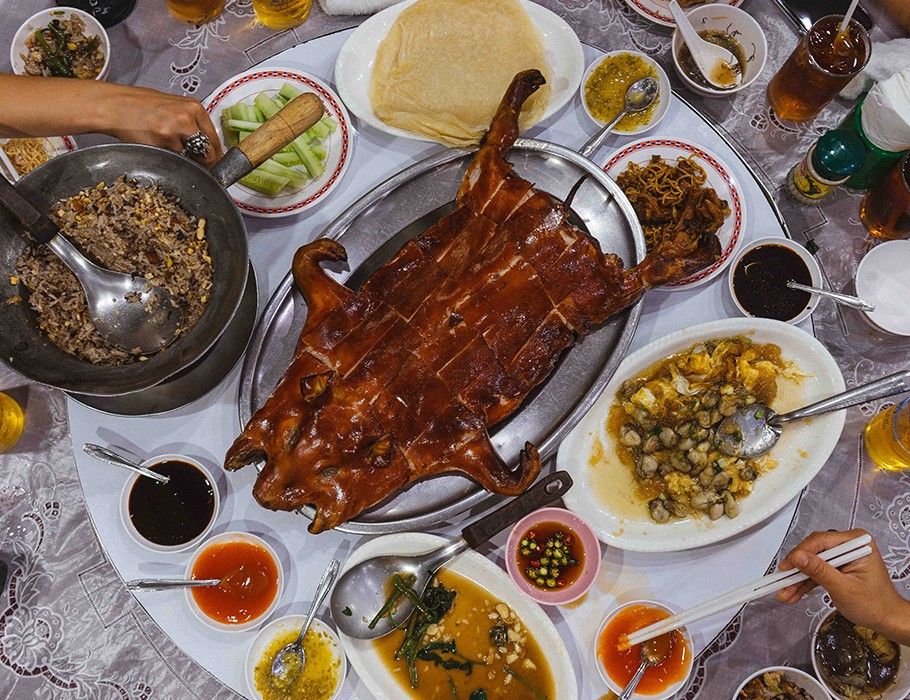 Another burner is escorted reveals braised goose feet and springy egg noodles, the former marinated in soy and spice. They're so tender we suck the flesh from the bones with little effort. A generous omelette bulbous with chubby oysters gives the one at Nai Mong Hoi Todd a run for its money, while kang kong stir fried in fish sauce is, gratifyingly, about 20 per cent garlic.
Kids stop playing with their food and the men cease pouring whiskey as the piece de resistance is wheeled toward us on a steel platter. A gentleman at the next table tips his drink towards me with a knowing smile and nod. The purple-uniformed waitress uniform hauls a whole roasted suckling pig onto the table as my friends frantically clear plates to make space. The deep caramel skin has been cut into rectangles, so all we need to do is reach over with chopsticks and remove a piece to add to a thin pancake with cucumber and hoisin sauce.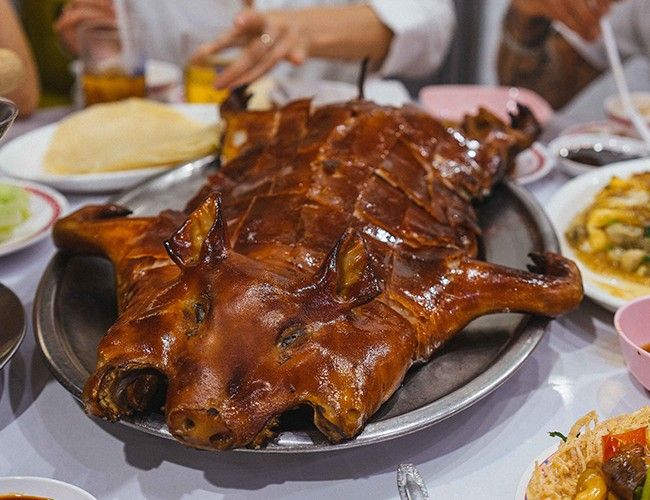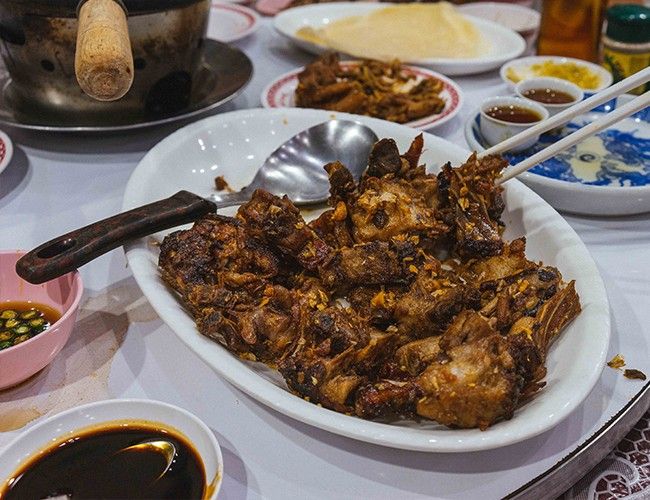 We polish off the crackling and start ripping into the small beast. The waitress returns looking somewhat nervous and explains that most people just eat the skin, and then the kitchen chops up the rest with a cleaver and fries it with chilli or garlic. We look sheepishly at each other and settle on the latter. Twenty minutes later, a knoll of pork returns, browned and mingled with crunchy fried garlic. The whole suckling pig, which easily feeds a group of six with a few extra dishes and sides, is 200 BHT.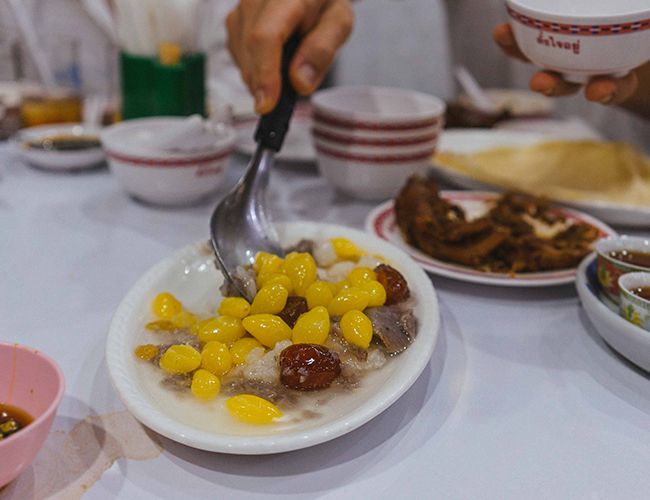 We're stuffed, but skipping dessert would be relinquishing an experience. The sweets are distinctly Teochew and served with strong, bitter tea that acts as a digestive. Orh nee (sweet taro paste) is scattered with candied ginko nuts, lotus seeds and red dates. Traditional sugared yam sticks are starchy little blocks coated in sugar, eaten with tiny, colourful snail forks with plastic handles.
At the end of our meal, the bill is scrawled on a single piece of paper ripped from a notepad – although some of our party speak and read Thai, the staff here write in Chinese. It's an even 5,000 BHT, which is AUD $40 per head for a whole suckling pig, beers, an assortment of shared dishes, sides and dessert. Prep begins for the next day's service before we depart. As I ogle hefty cubes of deep-fried tofu drying on a table covered in butcher's paper, I hope our taste for tradition never wavers, and Tang Jai Yoo never changes.
Details
Dishes 300 BHT to 600+ BHT (suckling pig 2000 BHT)
85-87 Soi Yaowaphanit, off Thanon Yaowarat, Samphanthawong, Bangkok 
Around the World in 80 Lesser-Known Melbourne Restaurants
FREE food guide when you subscribe.