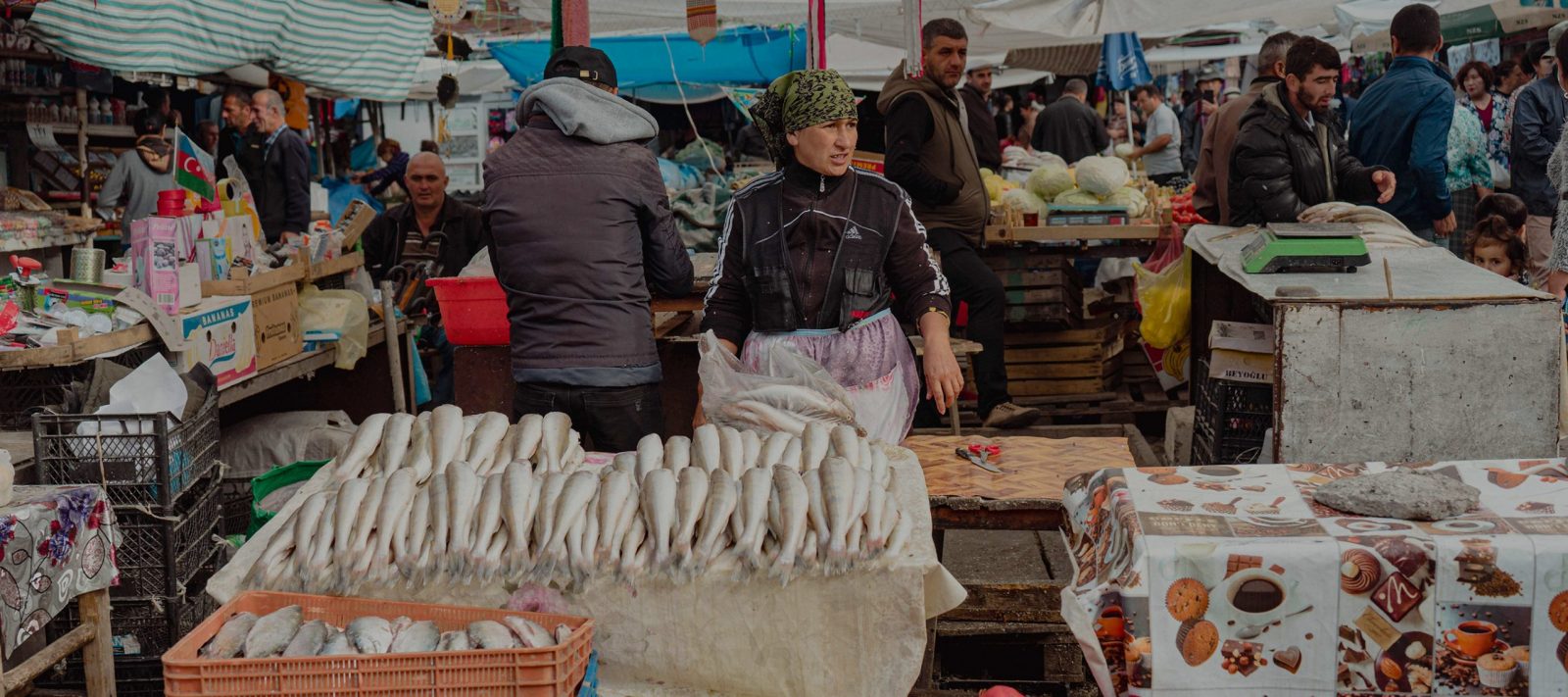 The Real Azerbaijan is at Sheki's Local Market, Teze Bazar
Words & images by Sofia Levin
There's warm hospitality wherever there's food in Azerbaijan, but if you don't mind the sheep's heads at Sheki Market, the people's smiles here are as broad as they come.
"How was the food, did you get sick?"
That's the first thing I'm asked after returning home from Azerbaijan.
They say that ignorance is bliss, but it often borders on bigotry. Assuming illness from the name of a country you know nothing about is akin to culinary xenophobia. I've put together a list of 31 Azerbaijani dishes, as well as given some background of the landscape and what grows in this beautiful country (hint: it's a lot!), but the best way to understand a cuisine is to start with the raw materials. There's no better place to do this than at Teze Bazar, the local market in Sheki.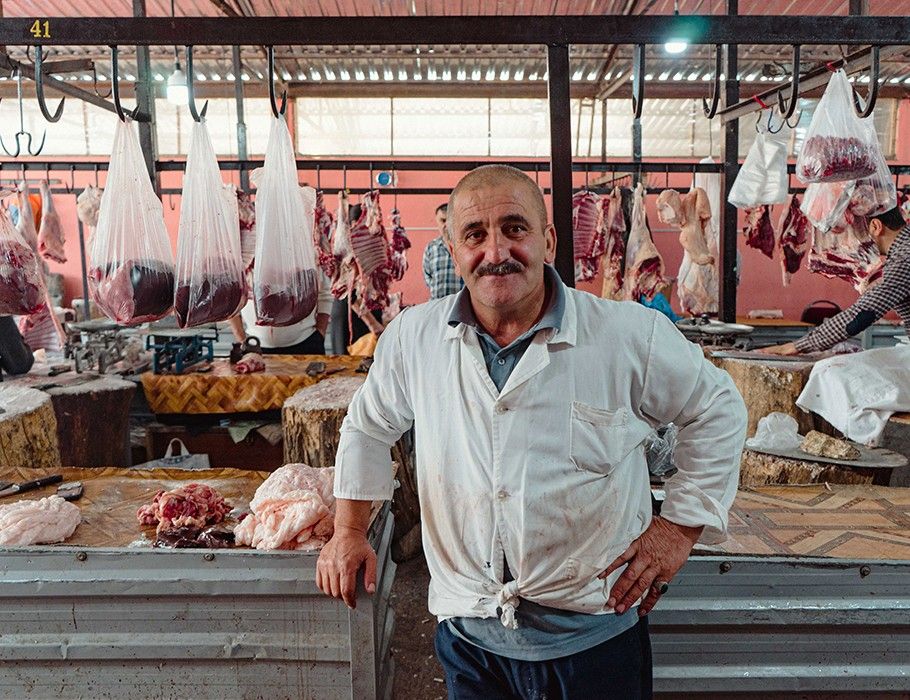 "Let's turn down there," I say at the sight of some fresh food off the main drag.
Beneath a ceiling of crooked tarps and wonky umbrellas, stalls start to fill every line of sight; some no more than cardboard boxes and heavy-duty sacks, but all heaving, if not overflowing, with leafy greens, herbs, fruit, vegetables and grains. They're stacked in such a way that I feel shrunken, ambling among a soaring canopy of produce. I find myself unconsciously categorising vegetables according to printing varnishes: glossy eggplants, matte zucchini, satin tomatoes. Cherries sparkle blood red, speckled yellow and off-white. Beans don't limit themselves to green, with purple creeping up their casings.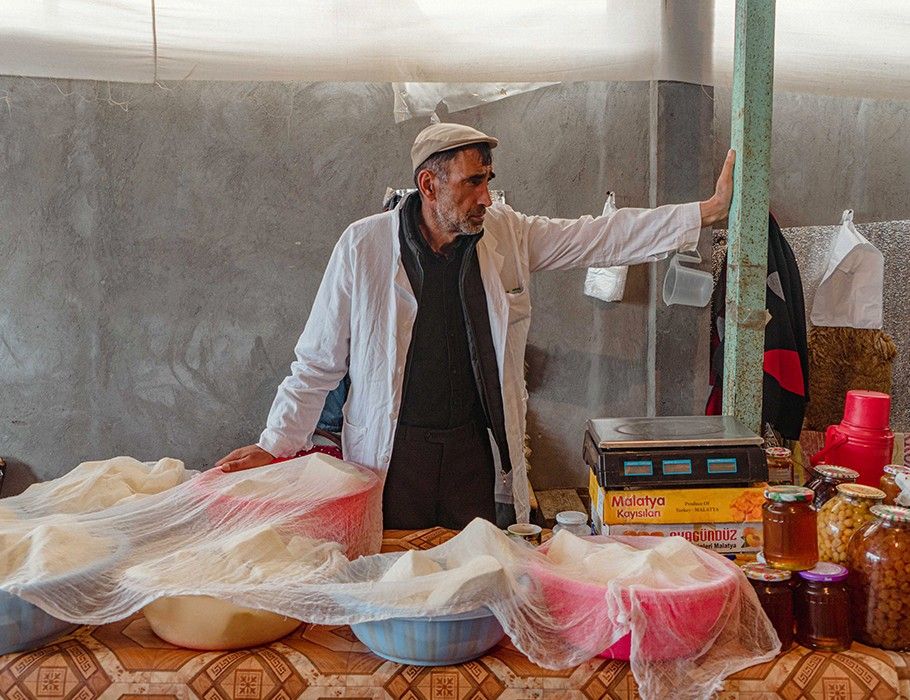 I've see more women in 50 metres here than anywhere else in Azerbaijan – back in the streets of central Sheki it's as if they don't exist. They perch beside their wares with headscarfs tied under their chins, flashing gold teeth when they spot the camera over my shoulder. Cardboard poses as tablecloths. Muslin sheets and plastic bags protect buckets of cheese from flies. Men walk up and down the haphazardous aisles with tandir flatbreads and trays of bulbous armudu glasses, tea sloshing over their rims.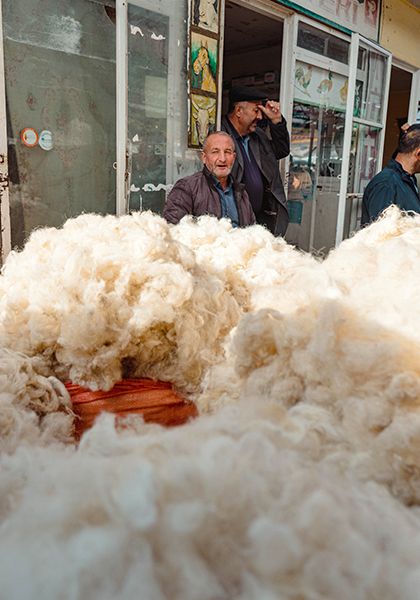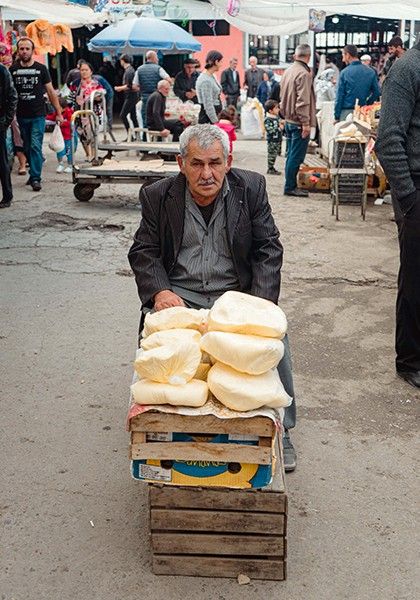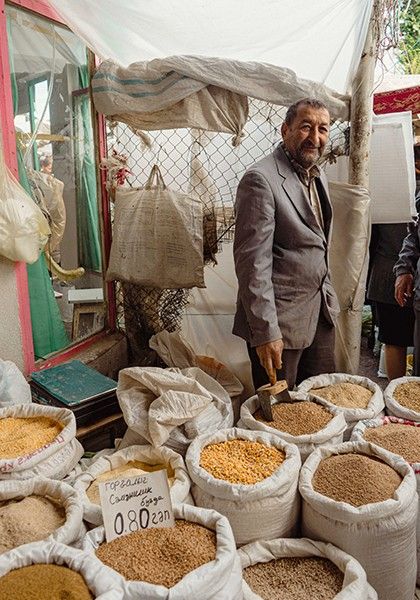 Flies dart towards desserts dripping with honey, including the famed Sheki halva, and hover around giant jars of colourful jams that are far too big to take home – still, I decide that one speckled with perfect little mulberries resembling witchetty grubs will have a place in my carry-on luggage on the journey back to Australia.
Near a stall that sells brooms made from tightly bundled sticks are sacks of wool for stuffing cushions and bedding. Opposite are rows of people selling poultry; boxes crammed with chickens and ducks, some held upside-down by their feet for display. It's a narrow walkway and punters pushing past flapping birds add to the atmospheric marketplace chaos.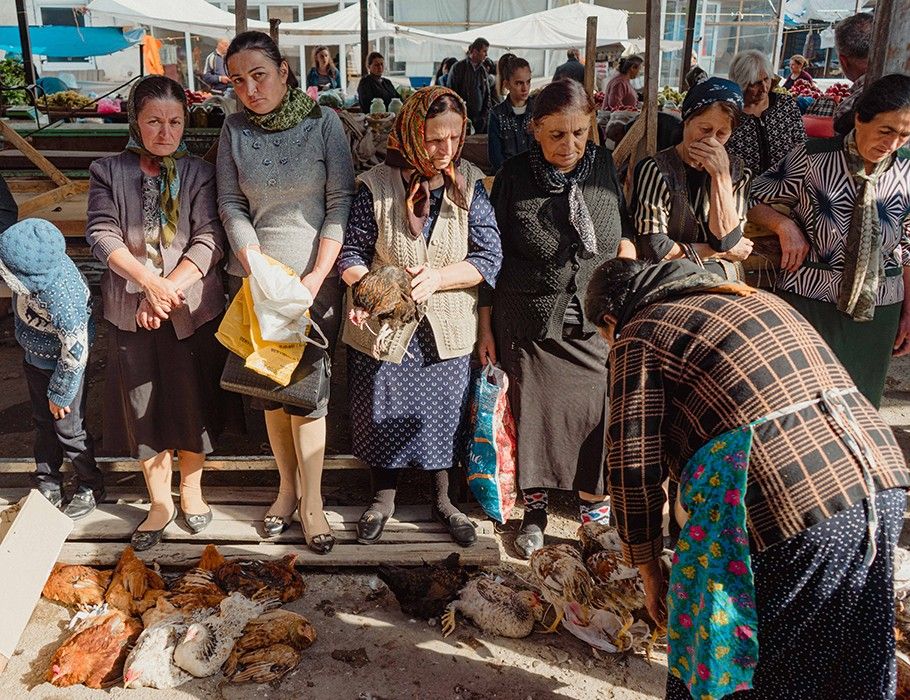 Perhaps the most intense section of the bazaar, and also the most interesting, is the butcher area. Beneath a large, walled space with a corrugated iron roof, sheep carcasses hang from hooks along with the prized fat from local lamb's tails. Whole sheep's heads – wool and horns intact – are lined up like dolls from a horror movie in front of one stall, while above it a butcher cracks the jaw of a skinned head with his bear hands and begins dissecting it with a sharp knife. This is where meat comes from, I think. Turning away is turning towards ignorance.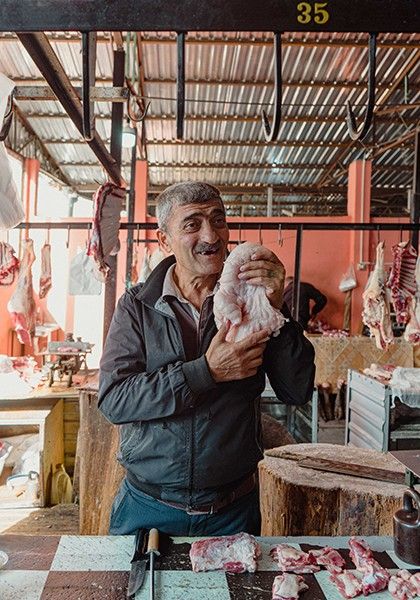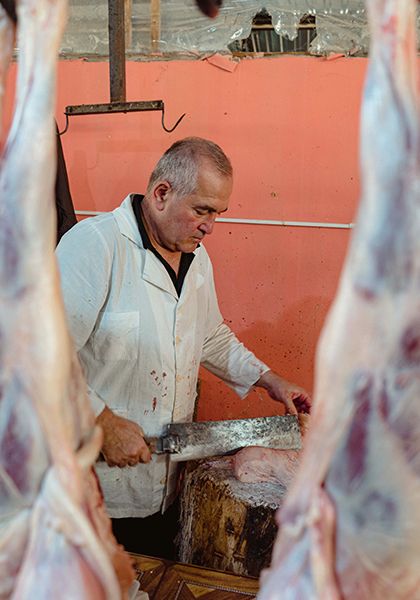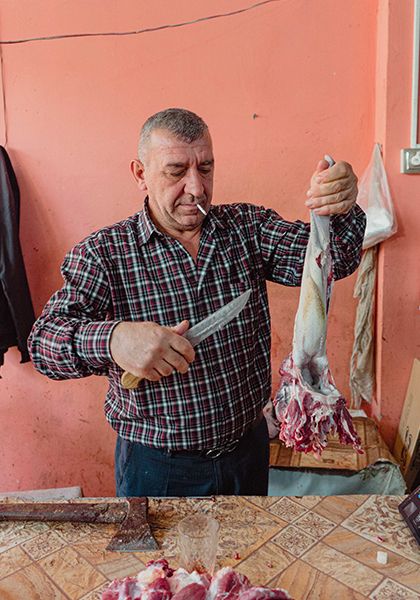 The butchers are as interested in me as I am in them. With a few gestures, we exchange names and I'm asked to take their portraits, and then to stand beside them while my friend takes a photo of us together. There's a shout, and my new buddy passes his mobile phone to a friend. The hands that have just been decapitating animals rest gently on my shoulder. He points to the camera, indicating for me to look, and his gold teeth disappear behind a stoic pose. The moment the cameras are away, the teeth reappear.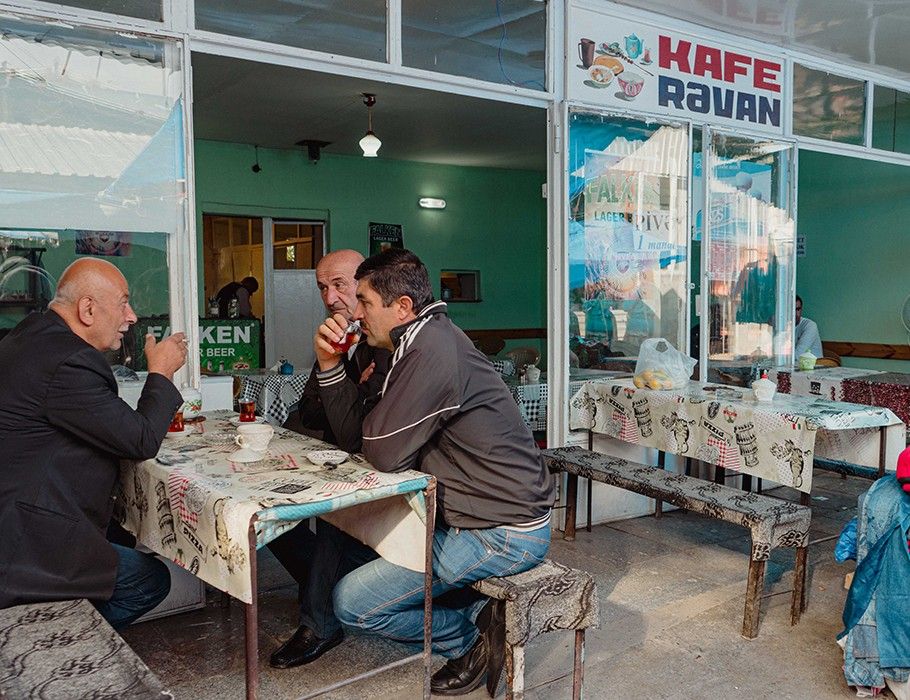 I wish I could stay longer, but our excitement and tendency to split up and explore has our host in a panic. I tuck my heavy jar of mulberry jam under my arm and say sağ olun (goodbye), heart full to bursting.
Details
Təzə Bazar, 70 Salman Mumtaz, Sheki, Azerbaijan
Sofia Levin travelled with assistance from the Ministry of Foreign Affairs of Azerbaijan, but this article remains autonomous.
Around the World in 80 Lesser-Known Melbourne Restaurants
FREE food guide when you subscribe.