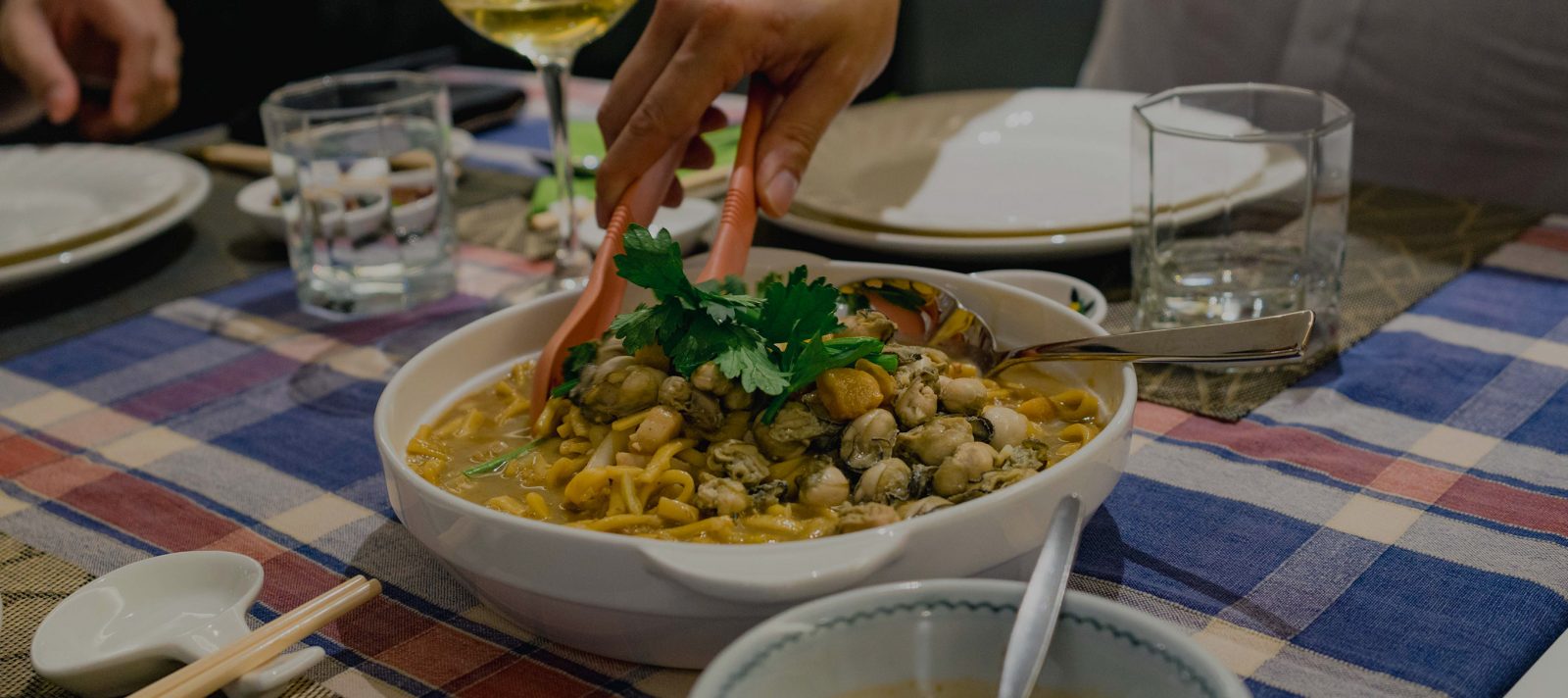 Peranakan Home Dining, Singapore
Meet the retired Cantonese chartered accountant preserving Peranakan Food in Singapore
Words & images  by Sofia Levin
Welcome to the world of Singapore's private home dining, where guests pay home cooks to host dinner parties that are a far cry from the hawker centres and fine dining famous in the city.
I'm standing outside a modern house in Bukit Timah, a residential area west of Singapore's centre. The number matches the address we've been given, but I can't help but feel the unease that bubbles to the surface when you picture yourself pushing the wrong doorbell. As I consider the button, the gate slides open, revealing a front door left ajar. I leave my shoes beside the pile at the entrance.
"Come in! Welcome!" a voice rings out from down the tiled hallway. At the other end a long white table is set for our group of 10. Dishes rest on geometric placemats and paper napkins alternate pops of chartreuse and purple. Raymond Leong and his son, David, are fussing in the spotless white kitchen, ready to cook a Peranakan feast for a group of strangers the way they do five nights a week.
Raymond opened his home to diners in 2017, a natural extension from his catering business that's been running since 2008. While there are hundreds of private dining experiences to choose from (the Dine Inn app has 800 registered cooks as of 2020), few offer traditional Peranakan cuisine. The term Peranakan refers to the decedents of Straits-born Chinese people with mixed Chinese and Malay or Indonesian heritage. Their roots can be traced back to the 15th century when their Chinese ancestors married locals in what are now known as Singapore, Malaysia and Indonesia. A Peranakan man is known as baba and females as nonya. When you see a restaurant or menu offering Nyonya cuisine, it's synonymous with Peranakan cuisine.
Raymond, who has become renowned for his Peranakan cooking and books out a month in advance, is Cantonese. He's also technically retired. Turning 73 in 2020, cooking became a hobby when he was studying to be a chartered accountant in London and couldn't afford to eat out. When he came home, the corporate world didn't allow for much spare time and he became a "weekend cook".
"It was only when I retired from the corporate world in 2000 that I started to look around, find things to do, and at that time cooking was still a hobby," explains Raymond.
In 2003, Raymond left for Kuala Lumpur to learn how to cook from a 71-year-old, fourth-generation Peranakan man from Penang who had 50 years experience researching and teaching Peranakan cuisine.
"It was one of the best times of my life, pursuing my hobby to a higher level. You don't have any Peranakan schools either in Singapore or Malaysia, because Peranakan cuisine is based around the home. You learn from your mother or your aunty or your grandmother."
In a similar way, Raymond's son is learning from him. David, who is 29 years old, joined his dad after graduating from criminology at Monash University in Melbourne, Australia. "I want to preserve the legacy and that's why I challenged my youngest son when he graduated from Melbourne and he was looking for a job. I said, 'Why don't you join me and we will do it on a more professional basis?' And now it's his full time job."
In Raymond's family home on Jalan Ampang, the pair cooks a repertoire of around 35 Peranakan dishes. Guests can book for lunch (six dishes, $60 per head, minimum eight people) or dinner (nine dishes, $100 per head, minimum 10 people) and bring their own alcohol at no extra cost. Penang Peranakan food has more of a Thai influence because of its proximity to Thailand, while Singapore and Melaka Peranakan cuisine carry more Indonesian flavours.
One of The Ampang Kitchen's most popular dishes is the beef rendang, an Indonesian dish originating from West Sumatra, where beef is slow cooked in coconut milk and aromatic herbs for hours. "I look around and there are not that many Peranakan dine-in places, I can only think of two or three, because Peranakan cuisine is very labour intensive, and if you are not comfortable doing a lot of work, you might prefer to do pizza and pasta because it's easier. But for me it's not very attractive doing pizza and pastas because there are hundreds of other restaurants doing it," says Raymond.
He adds that people are coming to understand that to experience authentic Peranakan cuisine, you have to pay a little more. Labour costs are high because these traditional dishes take so long to cook, but as Raymond puts it, "people don't see how long it takes".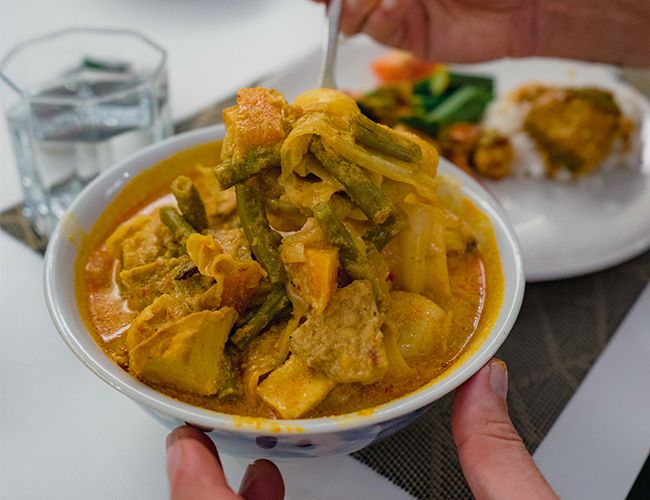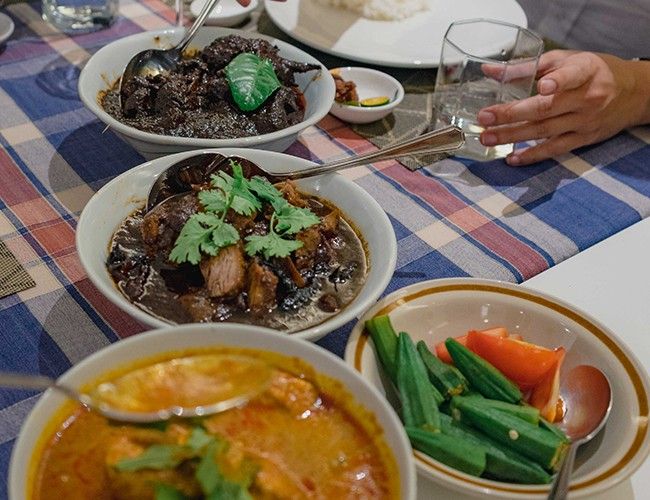 Around our table are Australians, Singaporeans, Chinese and Americans, all linked through friends and all food aficionados. Each of us taste a new dish for the first time that night: bakwan kepiting, a pork and crab meatball soup usually reserved for special occasions; Melaka fried oyster Hokkien noodles with small cubes of fried pork belly and plump oysters swimming in gravy; babi cincalok, a sour stew of pork belly and capsicum cooked with cincalok (a condiment made from small, fermented shrimp); and ayam buah keluak, chicken in a thick, muddy sauce made from buah keluak, a deadly nut from Indonesia that results in something between black bean and chocolate (think Peranakan's answer to Mexican mole).
"Ayam buah keluak is relatively unknown outside Peranakan circles," says Raymond. "The black nut from Indonesia is very bitter and has to be processed. When it drops down from the tree, it's toxic, so the locals gather it and store it in ash for about a month to let the toxins leak out. I have to soak it in water for three days to soften the nut before I can crack it to extract the meat. It's a very laborious dish, but it's very popular – you either love it, or are crazy about it," he laughs.
Raymond believes that home dining has increased in popularity over the past few years because there's a low barrier to entry compared with opening a restaurant or cafe. Rents are expensive and hiring staff is difficult, with government regulations in place that require business owners to employ a certain number of Singaporean natives before hiring someone from a different background, which can be prohibitive if you're looking for someone with particular culinary skills. Private Peranakan dining is popular among food lover because it's truly an experience, not just a meal out.
"The real test is when we clear the plates and the bowls and we see what is leftover – or what is not left over – then you know what they've enjoyed it," says Raymond.
Details
facebook.com/TheAmpangKitchen
Around the World in 80 Lesser-Known Melbourne Restaurants
FREE food guide when you subscribe.