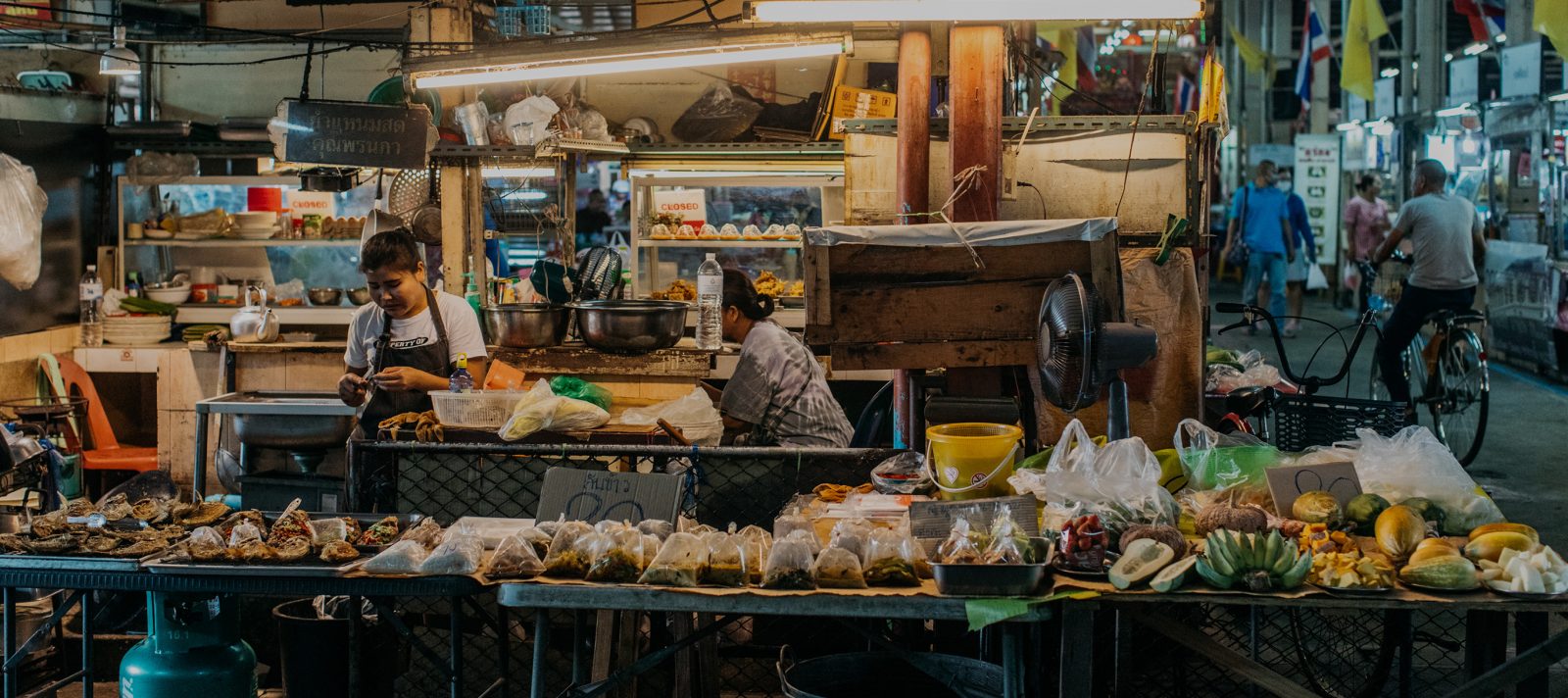 Nang Loeng Market,
Bangkok
Nang Loeng is Bangkok's best Market for Traditional Food
Words by Sofia Levin
Photography by Kitti Gould & Sofia Levin
Go for the endless assortment of traditional Thai-Chinese dishes at Nang Loeng Market, stay for a slice of Bangkok history.
For just a moment, time stops in Nang Leong market. Out of the corner of my eye I catch a mass of goldfish orange and turn to see a monk standing opposite a khanom wan (Thai dessert) vendor. They both close their eyes and raise their hands in prayer. After something between a nod and bow, she passes him a bowl of sweet mung bean porridge with coconut cream. While it's tempting to get swept up in the action – men shouting as they push giant carts of food, motorbikes impossibly navigating through crowds and the sizzle of woks – stand still for just a moment and you'll realise the best thing about Nang Loeng is that you can glimpse into the worlds of others.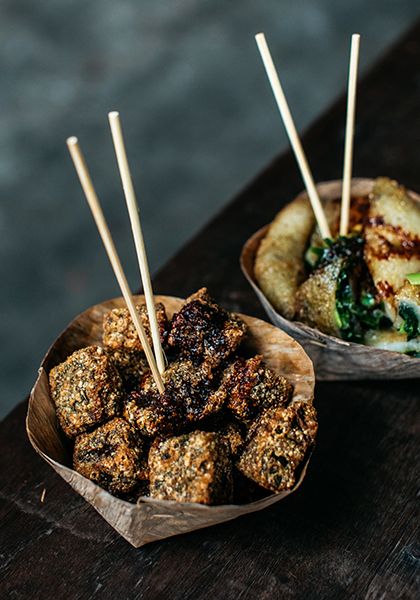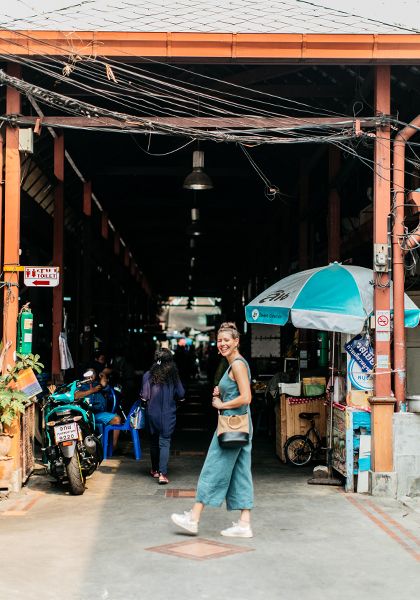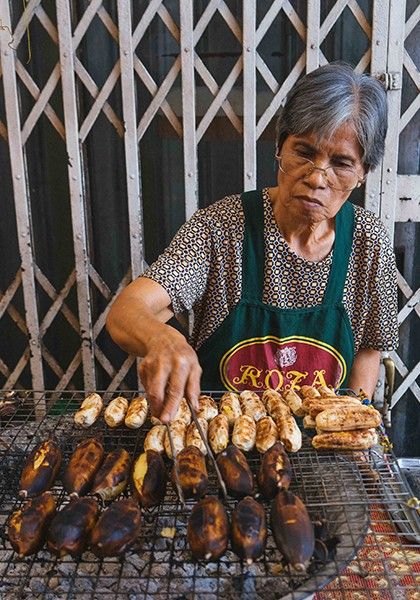 I leave my camera hanging by my side as the monk and dessert vendor have their exchange. Her corner stall is the closest to the Chinese shrine dedicated to Chumphon Khet Udomsak, who established the modern Thai navy. It's newer than the 120-year-old market, which officially opened in 1900, and while the central dining area was renovated in 2006, its charm remains. The area is home to multi-generational Chinese families (as well as others from Cambodia, Vietnam and Lao), which explains why the food here is so diverse – and so damn good. I walk past a woman whose cart is crammed with plastic bags of ready-to-eat made: dried noodles, whole fish marinated in lemongrass and chilli and creamy yellow soup with a top layer of chilli oil.
Behind me at MaeSa-ing Sago Pork Balls a young man in a blue apron ladles a thin mixture of sago starch and rice flour onto small steam holes covered by muslin cloth. He briefly places conical lids over them and then slices the pancake into three. A ball of pork mixture goes on each, before they're folded into khao kriap pak maw with the flick of a wrist and placed on a tray lined with banana leaves. I wonder if the smiley matriarch of the business is also his mother, then invite myself in to watch two more women making sakoo sai moo – the same filling wrapped into sago dough balls that become translucent when cooked. The end result looks a nucleus in an oversized cell.
I order both and she scoops them into a plastic container with lettuce and tiny, fatally hot green chillies. I sit on a wooden pallet beside my friend, who's just ordered from the vendor across from us. I'm wrapping the pork balls in lettuce – I can taste palm sugar, garlic and peanuts – when she brings over fried dumplings filled with bright green garlic chives. We hear a repetitive thunk and turn to see an elderly man sitting one pallet away, his crutch to one side and more than a few teeth missing from a smile so big it should belong to someone else's face. He holds up his garlic chive dumplings with one hand, says something in Thai, and beams.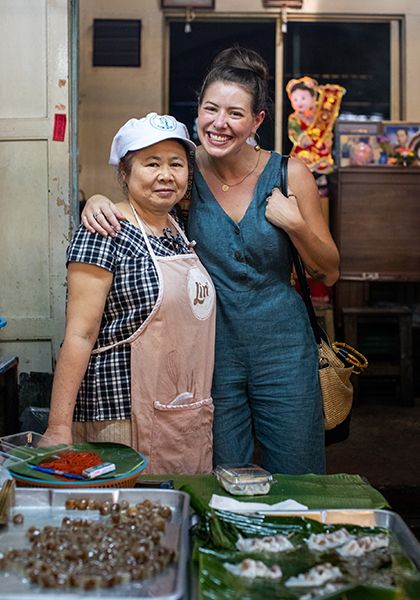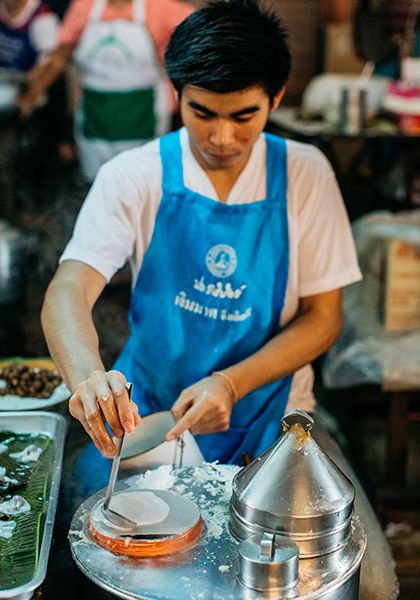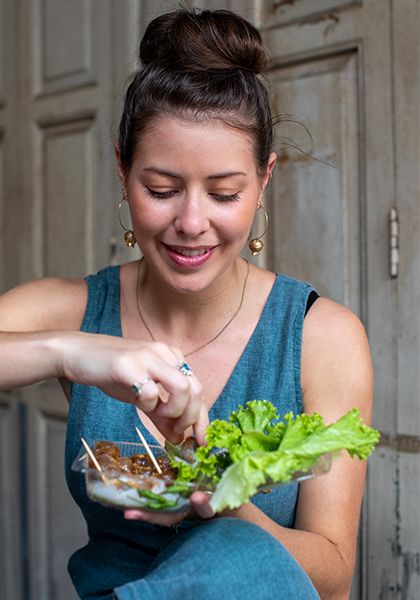 I do another lap of Nang Loeng Market past Hakka-style egg noodles with handmade meatballs, Vietnamese banh xeo crepes, sai krok pla nam (rice sausage eaten with dried fish crumbs and wrapped in lettuce) and an assortment of desserts. I'm drawn to the crowd gathered around a corner vendor. There are multiple tables overwhelmed with stainless steel bowls and trays, each with a different curry, stew or braise. I steal a glance at one of the outdoor tables to see what they've ordered. A young Thai guy catches me and says in an International accent, "If you walk past this place, you're seriously missing out."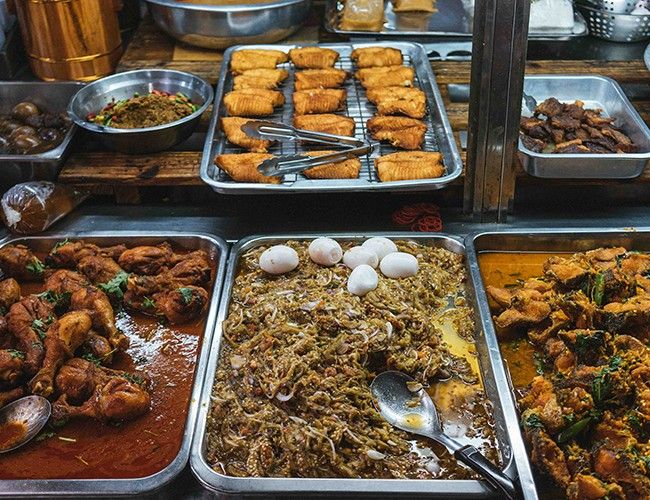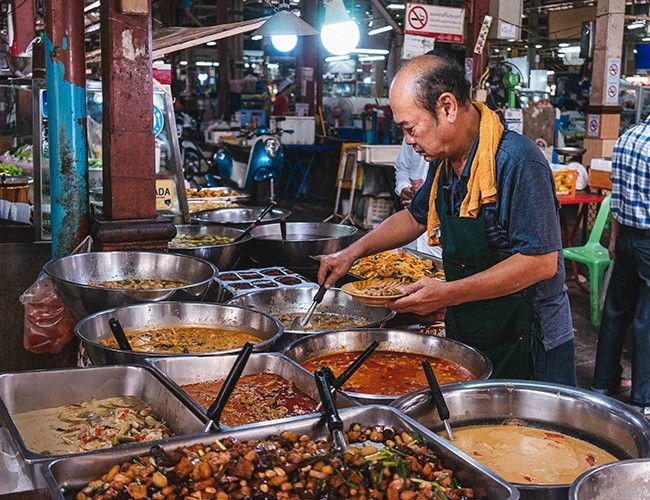 I realise he's leading a private food tour for the couple seated opposite and cheekily ask to borrow him for two minutes. He's unsure, but follows me to the front of the shop, Khao Gaeng Rattana Rice and Curry, and proceeds to explain each dish (there are more than 20 available each day). I'm told gaeng kiew wan (green curry) is the signature and order one with beef and eggplant, as well as yam makeua yao (eggplant salad). The boss asks me in English if I'd like a soft-boiled egg. Sure, why not? It arrives on the side of my rice, funky with fish sauce and dried shrimp, balanced with lime. My green curry is fragrant with kaffir lime and coconut and I greedily douse it with extra chilli from the table – my tolerance is already up after 48 hours in the country. Later, I learn that the owner's grandfather cooked for the Thai Royal Palace.
Unable to eat more but eager to finish with something sugary, I order tannic Thai milk tea poured from a plastic jug, sweetened with condensed milk. I could spend a whole day here and find myself looking around to see what I've missed, to try to catch another moment like the monk at the dessert stall. On the way out, I see one of the women from MaeSa-ing Sago Pork Balls taking a break on a red plastic stall, laughing with a woman eating congee. There's something about the pale blue walls and unstable fan that make me nostalgic for something that was never mine. I'm barely standing there for five seconds when she looks up and waves. Suddenly I'm no longer a voyeur. This is my moment, too.
Around the World in 80 Lesser-Known Melbourne Restaurants
FREE food guide when you subscribe.