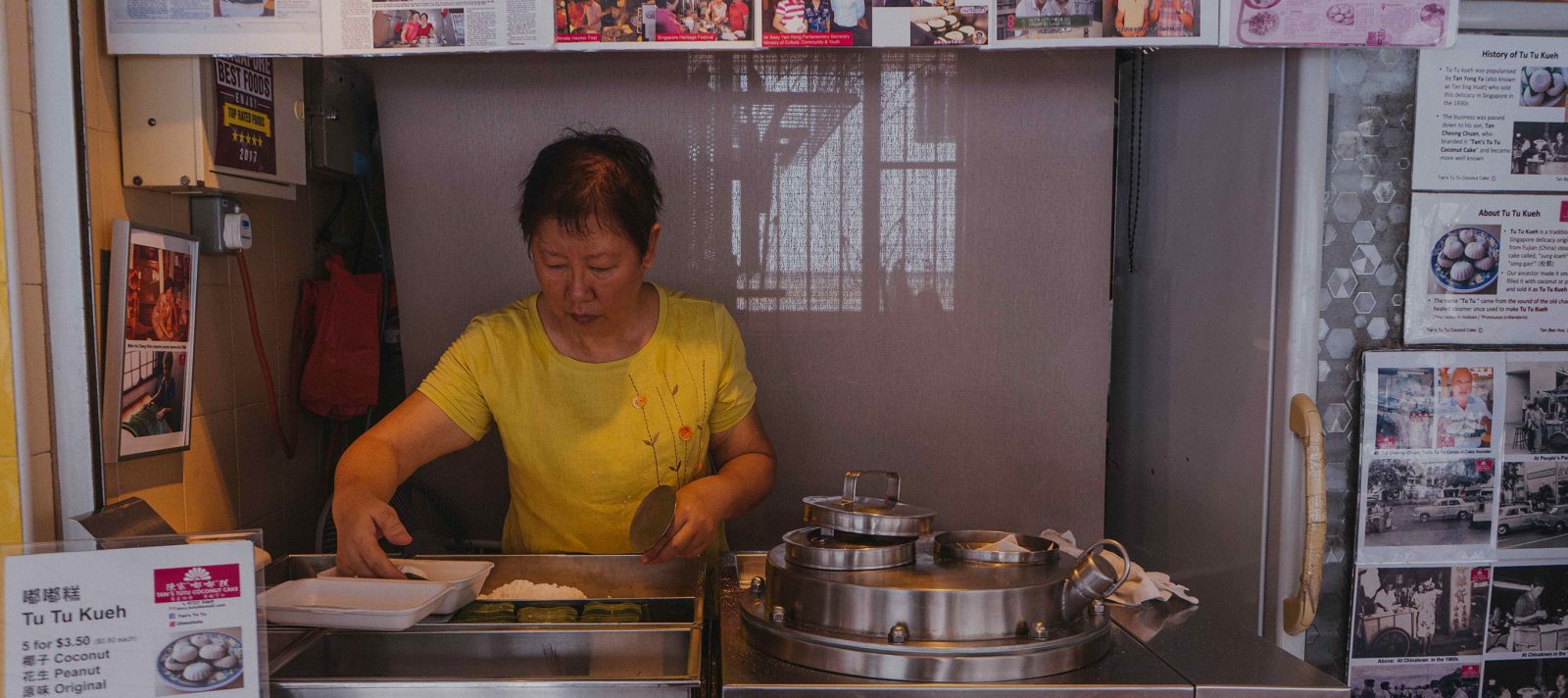 Kueh Tutu:
80 Years in the Making
The $0.80 Singapore Dessert with 80 years of History
Words & images  by Sofia Levin
Eat the kueh tutu steamed rice flour cakes at Tan's Tu Tu Coconut Cake and support one of Singapore's dying arts.
Like many of the world's great dishes, the story behind this uniquely Singaporean dessert is one of heritage and hard work. Tan Yong Fa was born in Fujian, a southeastern Chinese province directly across the China Sea from Taiwan. He immigrated to Singapore in 1932 and began selling song gao (plain steamed rice cakes, also known as sung kueh) in the 1950s. Later he added a twist – filling the rice cakes with crushed peanuts or moist shredded coconut and palm sugar – and kueh tutu was born. His son took over the business in the '70s and now his daughter and her sister-in-law run two branches, one at Havelock Road Cooked Food Centre and the other in Clementi.
The name "tutu" originates from the sound made by the old charcoal steamers, now replaced with more modern equipment. Tan's Tu Tu Coconut Cake is a rarity – although rice cakes of many iterations are popular in Singapore, here everything is made by hand with the exception of the flour, which is ground from jasmine rice using machinery. The family rises early to cut and shaping pandan leaves, roasting peanuts and frying the coconut filling in gulum melaka (palm sugar). Handmade kueh tutu is a dying art, with many shops buying ready-made ingredients. More recently, the family has added a third filling to keep the next generation interested: chocolate.
Watching Tan's daughter work is mesmerising. She scoops rice flour into moulds with a flat, metal tool, adds the filling and then a little more flour. She gently presses the ingredients into the mould, being careful not to condense it too much should the finished product lose its fluffiness, and then flattens the top. The little cake is tipped onto a piece of baking paper and placed under a rounded steamer lid. When the kueh tutu are ready, the paper is replaced with a pandan leaf and then arranged in a box to takeaway. Dive in right away – a warm kueh tutu is the best kueh tutu, although more than 80 years of history might also have something to do with it.
Details
5 kueh tutu for SG $3.50-$4 or SG $0.80-$0.90 each
Address
449 Clementi Avenue 3, Singapore
22B Havelock Road, Singapore
Around the World in 80 Lesser-Known Melbourne Restaurants
FREE food guide when you subscribe.