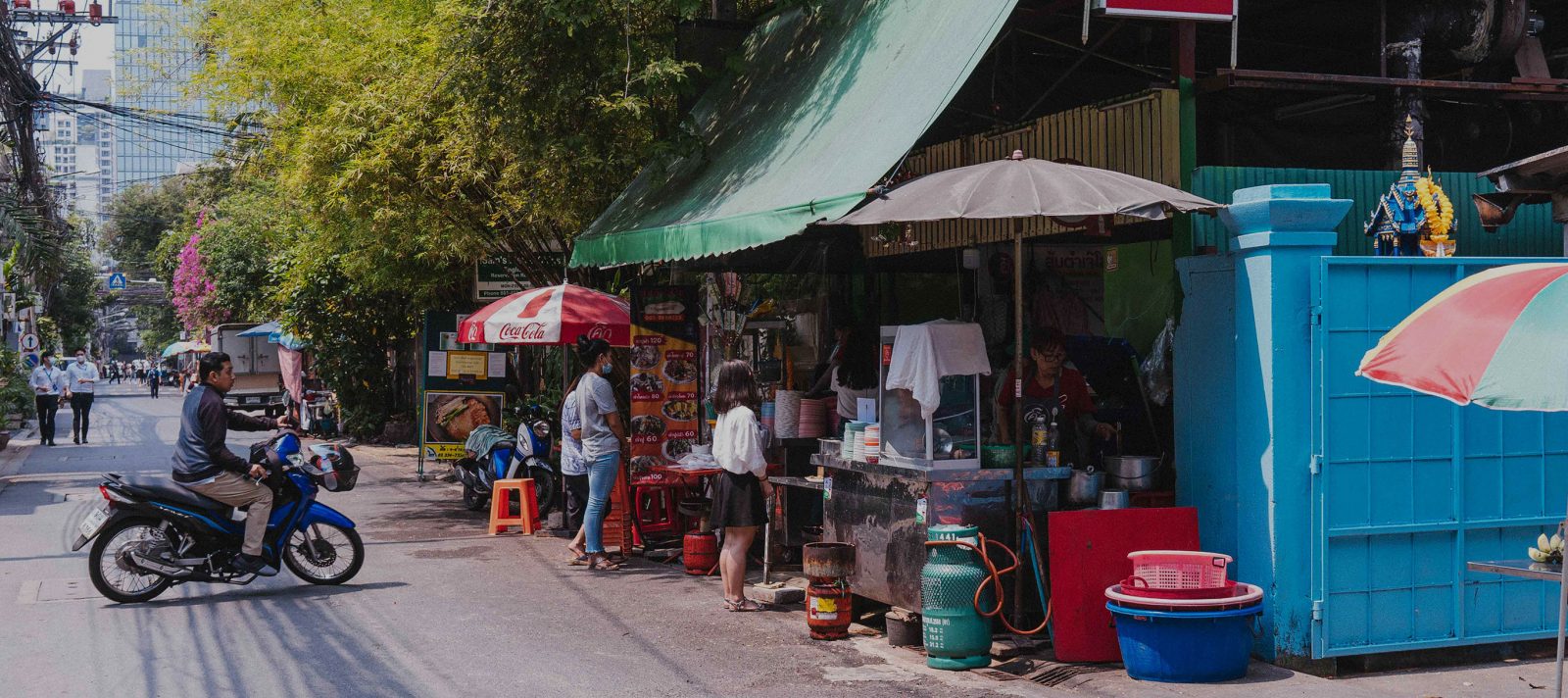 Som Tam Jay So
Bangkok
Real-Deal Isaan Food at Som Tam Jay So, Bangkok
Words & images by Sofia Levin
For traditional grilled chicken, green papaya salad and an authentic taste of northeastern Thailand, laid back street-food restaurant Som Tam Jay So in Bangkok is hard to beat.
Isaan is a region in northeastern Thailand known for its love of spice and fermented ingredients. The cuisine is characterised by sourness, chilli and heavy-handed use of herbs, lime, dried shrimp, fermented fish sauce and sticky rice. Som tam (spicy green papaya salad) and larb (minced pork with lime juice, fish sauce and herbs) hail from Isaan and are especially good at Som Tam Jay So in Bangkok's Silom business district.
Armed with the information that Som Tam Jay So often sells out prior to lunchtime, we arrive as plastic orange stools are being unstacked. Office workers dressed scrupulously in polyester uniforms that make them look like air hostesses pause at the street-side takeaway table to order som tam to go. It's scooped into plastic bags and fastened with air inside, each a small balloon filled with food instead of confetti.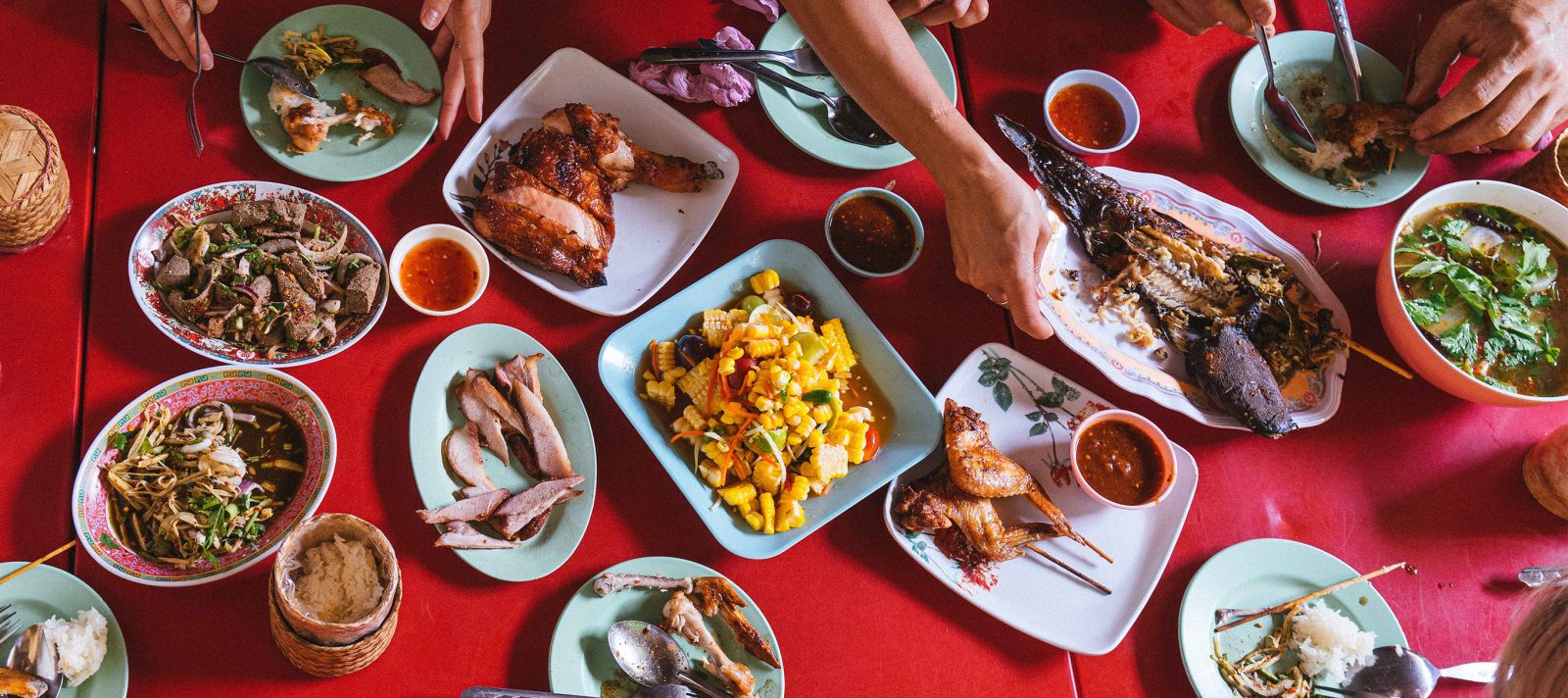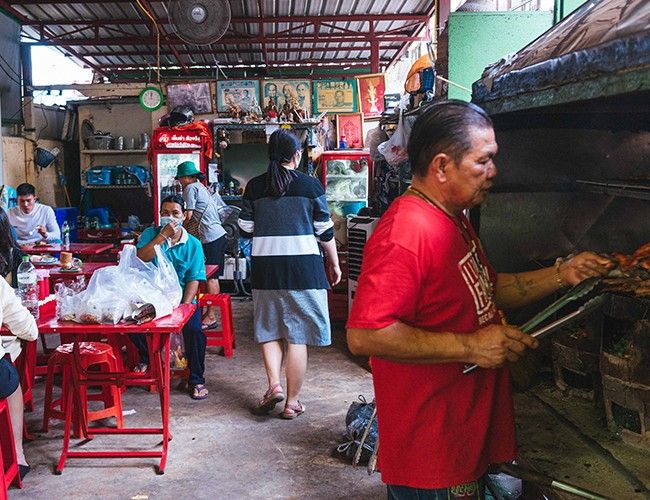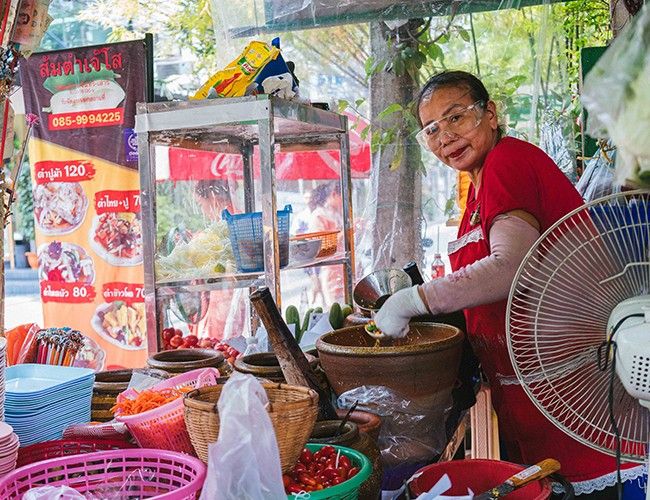 Beneath the dusty green awning the matriarch is already pounding chilli, garlic, cherry tomatoes, dried shrimp and herbs in a giant mortar and pestle, assembling som tam from matchsticks of green papaya. I notice the grill; four vats of glowing charcoal capped with racks of quartered and butterflied chickens. With no air conditioning and a few fans, the scent of caramelising meat, garlic and sour herbs swirls in the air, causing involuntary release of saliva glands within a 20-metre radius.
We sit at one of the red aluminium tables. Each has a check-box paper menu written in Thai. Little effort is made to accommodate English-speaking foreigners in that wonderful, no-bullshit, business-to-run kind of way. Pointing would have done the trick, but luckily one of our party is Thai and able to communicate that yes, we really do want the regular version of the dishes, and no, it isn't a problem if they're spicy.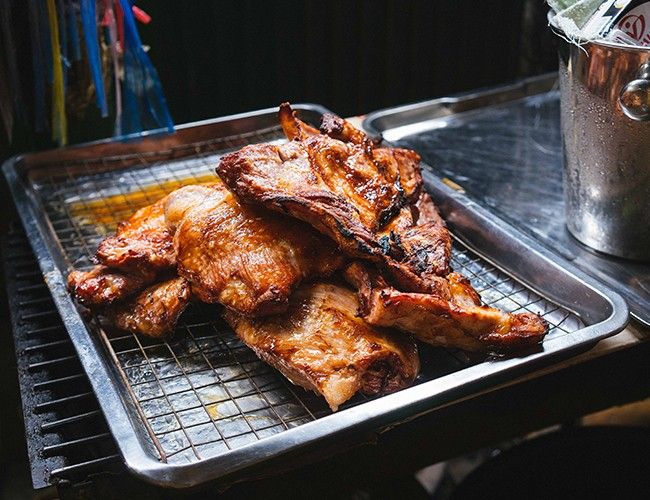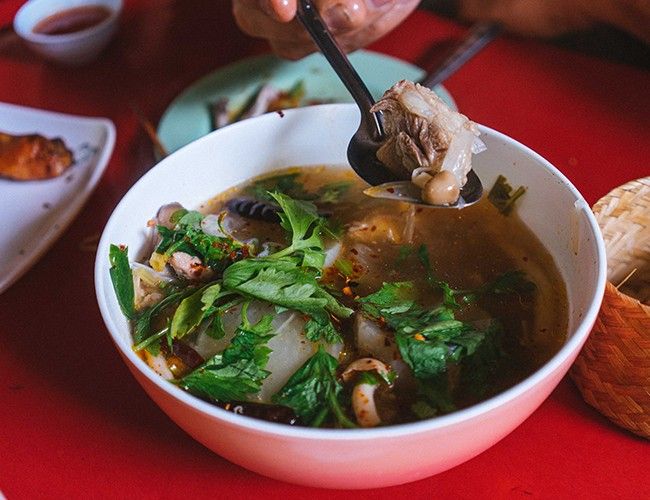 They arrive quicker than we can eat them. First from the grill: gai yang (grilled chicken marinated in garlic, fish sauce and herbs), a quarter chook and pik gai yang (wings on skewers). Catfish stuffed with lemongrass and grilled until near black on the outside, it's fragrant flesh remaining delicate and soft, is a surprise favourite. Small baskets of sticky rice arrive soon after, along with variations of som tam, one with tiny, fermented crabs lurking in the jumble of ingredients. More salads next – one with liver and another with corn and lotus root – and then kaw moo yang (fermented strips of grilled pork) and tom saeb moo (sour soup with lemongrass, galangal and kaffir lime).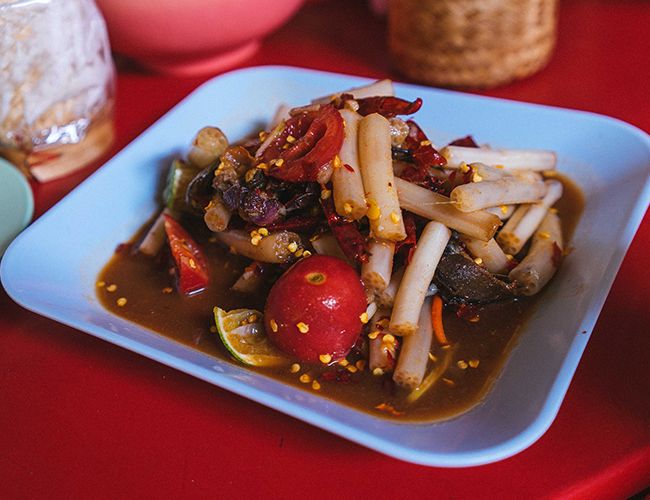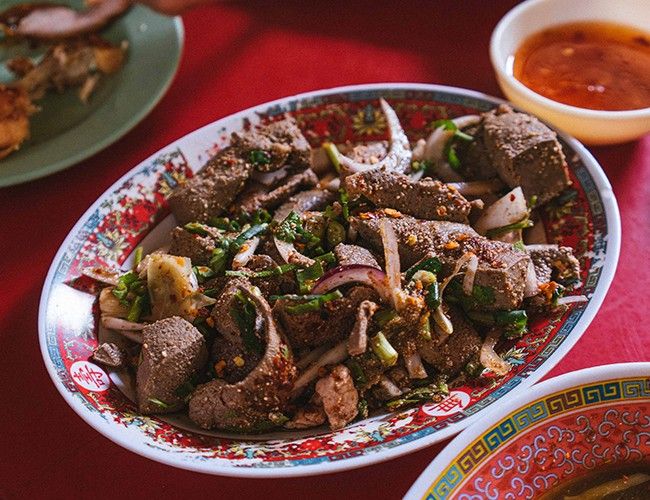 It's difficult to describe what separates Isaan cuisine from food in Bangkok without eating both, but after a short sitting at Som Tam Jay So filled with tingling tongues, pungent flavours and a sense of invigoration not dissimilar from plunging your body into cold water, I can taste it.
Details
Dishes 40 THB to 80 THB
Phiphat 2, Silom, Bang Rak, Bangkok 10500, Thailand
Sofia Levin travelled with assistance from Palisa Farm, the Tourism Authority of Thailand and Thai Airways, but this article remains autonomous.
Around the World in 80 Lesser-Known Melbourne Restaurants
FREE food guide when you subscribe.