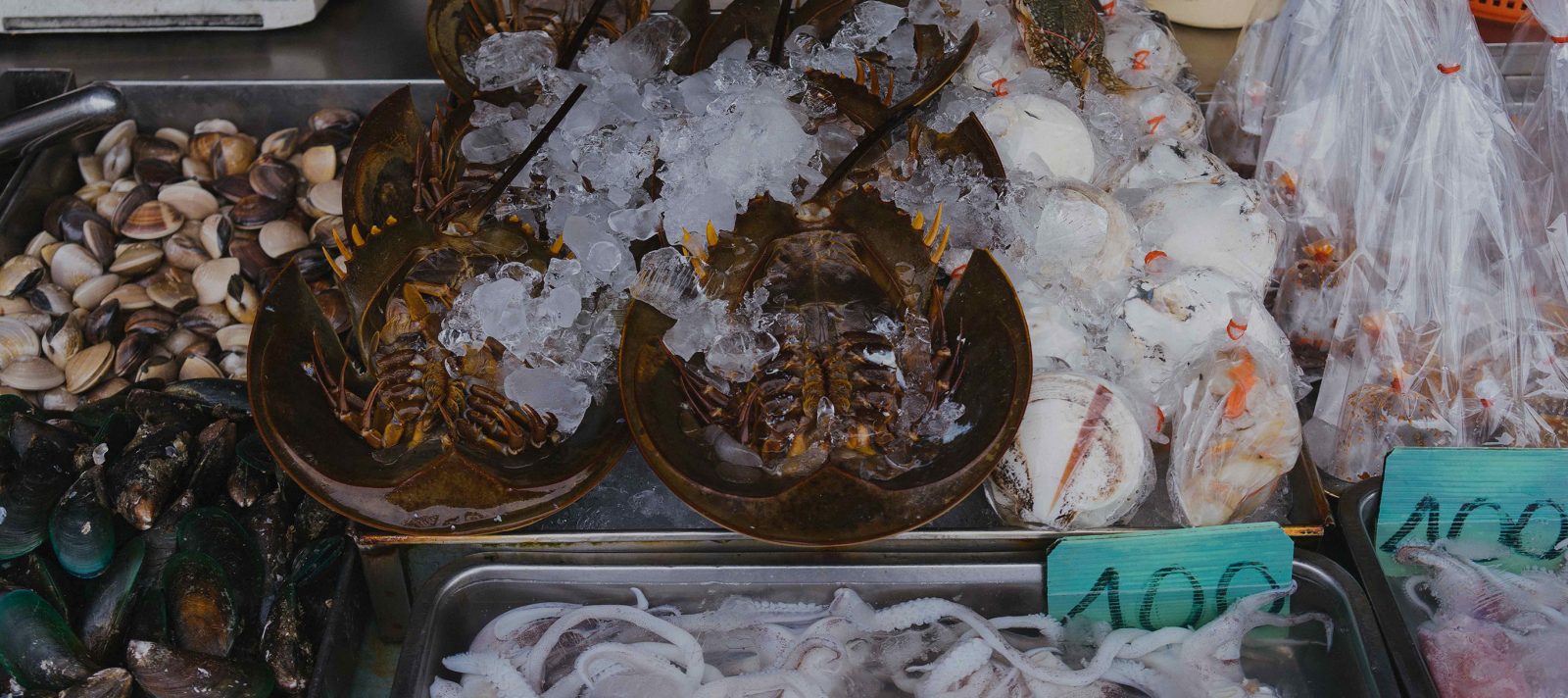 Khao Takiab Seafood
Market, Hua Hin
The Local Seafood Market Hua Hin Tourists are Missing
Words by Sofia Levin
Images by Kitti Gould & Sofia Levin
Eat the catch of the day at rustic shops at this local seafood market in Hua Hin while monkeys munch on crabs and fishermen untangle their nets.
About eight kilometres south of Hua Hin is a fishing village called Khao Takiab, or Chopstick Hill – and where there's a fishing village, there's a seafood market. Khao Takiab Seafood Market hugs an unassuming road that curves around its namesake hill to Chinese-influence Thai temple, Wat Khao Takiab. There's a view back across the town and beach, but if you're anything like me, you'll be far more excited by Khao Takiab, frequented by holidaying Bangkokians eager to swig scallops from their shells and gouge roe from crab carcasses. It's rarely on the radar of international tourists, who make a beeline for Hua Hin Night Market or the weekend Cicada Market instead.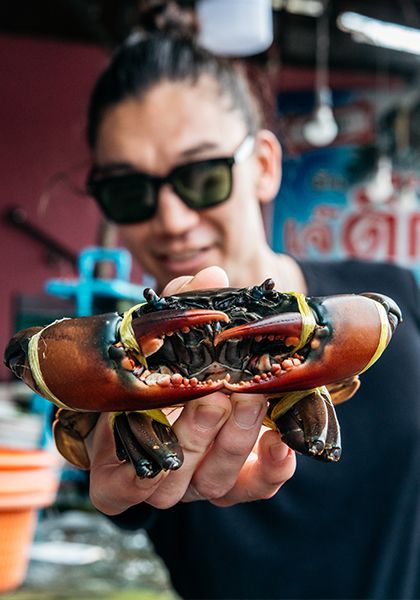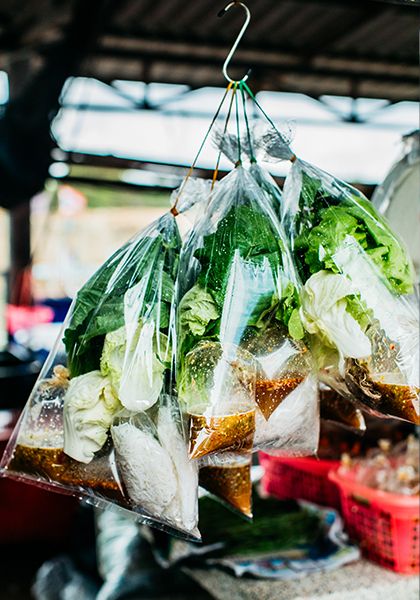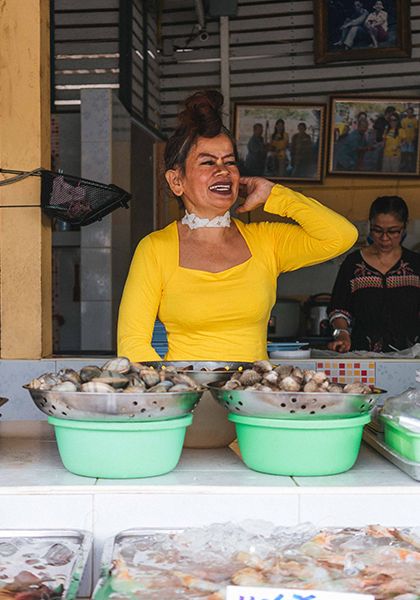 Wooden fishing boats come into view as we drive up to the market; each one painted in bright shades of blue and aquamarine with red and burnt orange trims. Every morning fishermen haul in their catch before the rest of the town stretches awake, selling only what the sea has provided. When we arrive it's 10am on Saturday morning and I can count the number of market customers on one hand.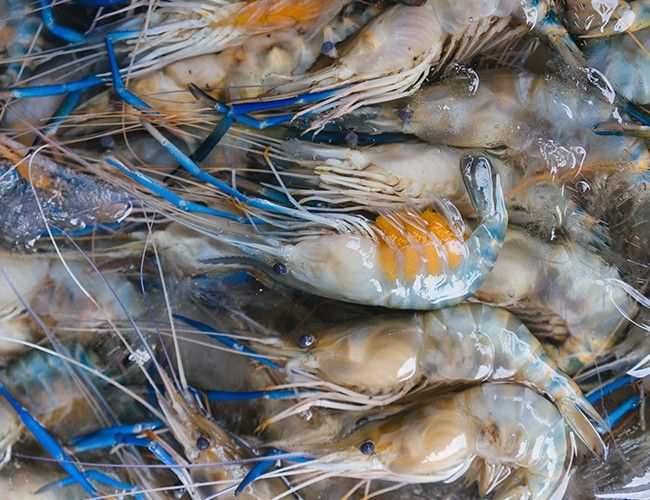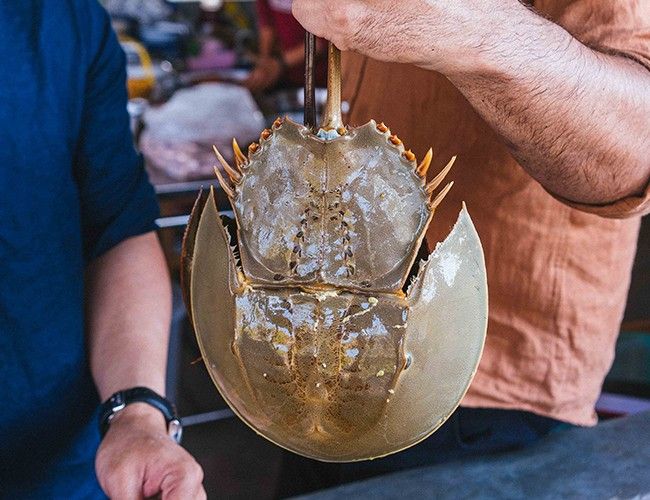 On the other side of the land mass that separates Khao Takiab Beach from the southernmost point of Hua Hin Beach is a soaring golden Buddha facing the ocean, said to protect the fishing boats from unruly weather and bring prosperity. It certainly paid off this morning. Slipper lobsters scurry over each other in water-filled tanks and stainless steel tubs are already packed with ice and crustaceans – the negotiations clearly took place hours ago. Now the fishermen are off to the side, untangling and mending billowing blue fishing nets with the assistance of family.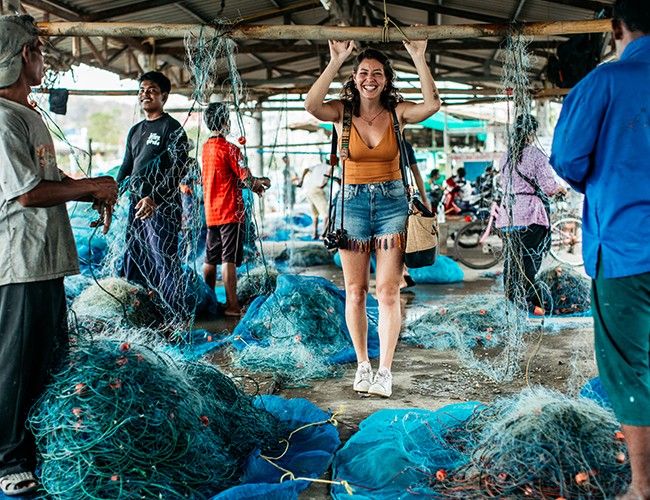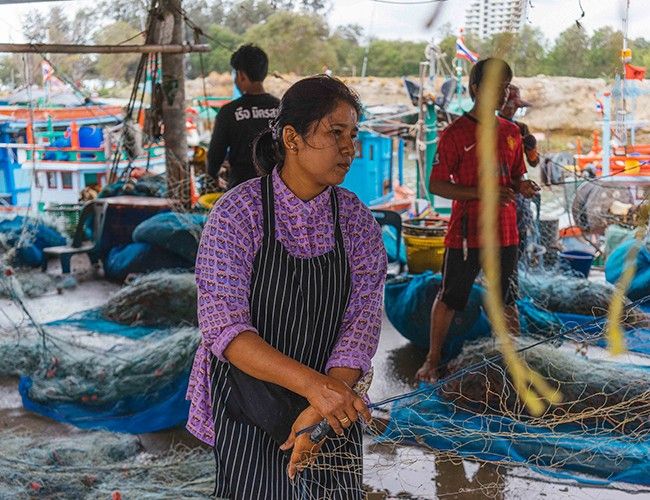 I'm told that restaurants three hours north in Bangkok source seafood from Khao Takiab, but the first thing I notice doesn't have scales or gills. Darting in between the fishing nets and expertly gnawing on stolen crabs are families of foraging macaques. They crack open crustaceans with their molars and suck out the white flesh better than any human. If you don't want to mimic the scavenging monkeys, most stalls have plastic-chair restaurant set ups and will cook seafood straight from the tanks.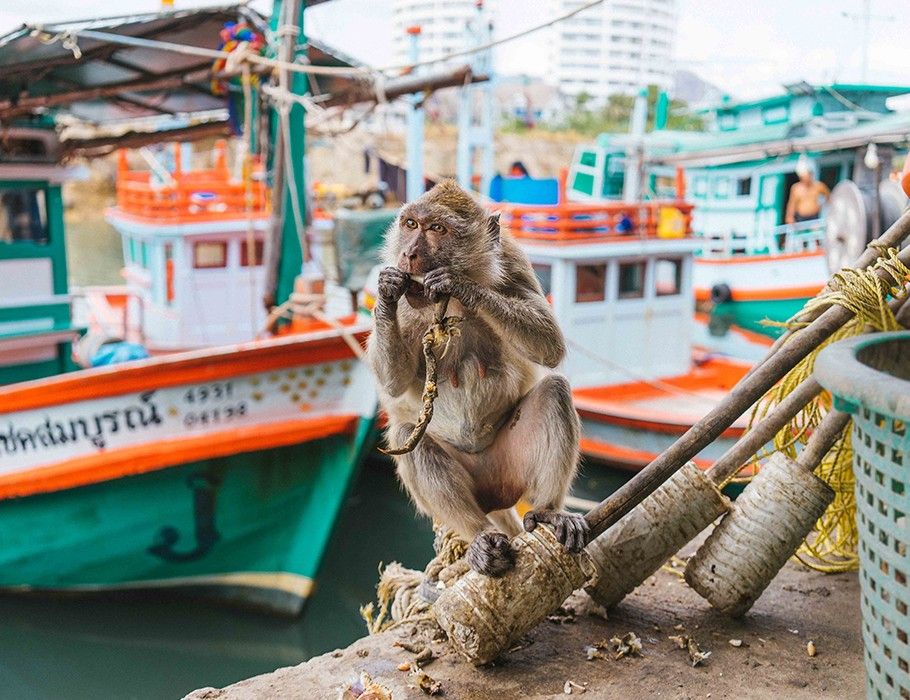 We browse displays with eyes far wider than kids in a candy shop, talking over each other to ask our Thai-speaking travel buddies how do you cook this, which part of that is poisonous and what the hell is that, anyway? There are electric-blue prawns with legs twice the length of their bodies and bellies bulging with orange roe; oysters that barely fit in hand; multitudes of sea snails with speckled, spiral shells; clams, scallops, cuttlefish, squid, blood cockles and alien-like horseshoe crabs.
Along with fresh seafood are stalls overflowing with plastic bags of sun-dried fish, shrimp, squid and stingray strips, along with tubs of pungent nam prik gapi, a fermented shrimp condiment eaten with fresh vegetables, like cabbage and cucumber.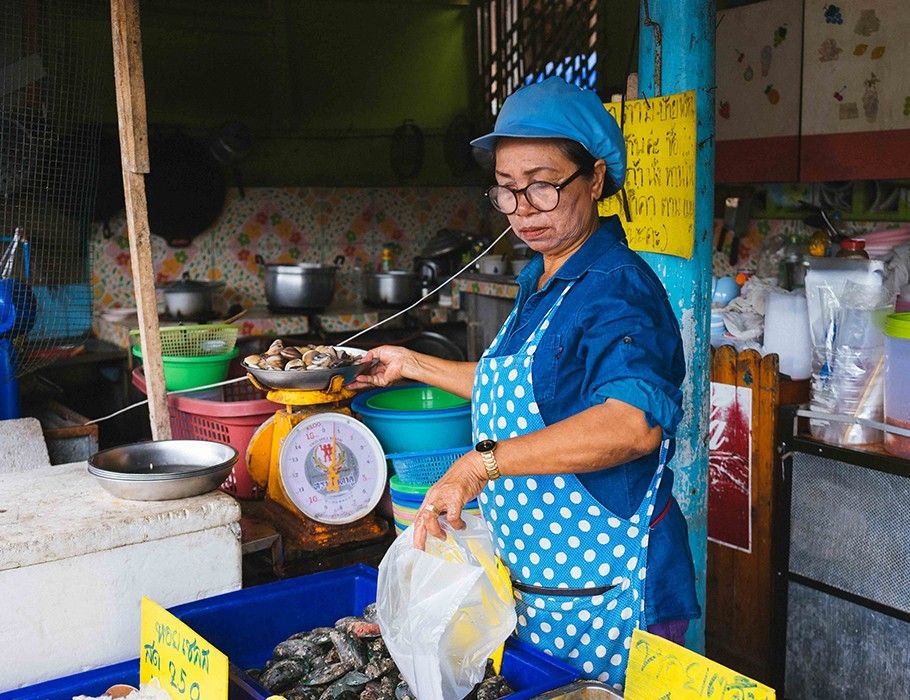 While international visitors tend to stick to more comfortable beachfront restaurants with higher price tags, the seafood is exactly the same. Khao Takiab Seafood Market is a more immersive way to see how people live. Next time I'll visit at dawn to see the fishermen in action, and stay for breakfast.
Details
เขาตะเกียบ Nong Kae
Hua Hin District, Prachuap Khiri Khan, Thailand
Sofia Levin travelled with assistance from the Tourism Authority of Thailand and Thai Airways, but this article remains autonomous.
Around the World in 80 Lesser-Known Melbourne Restaurants
FREE food guide when you subscribe.