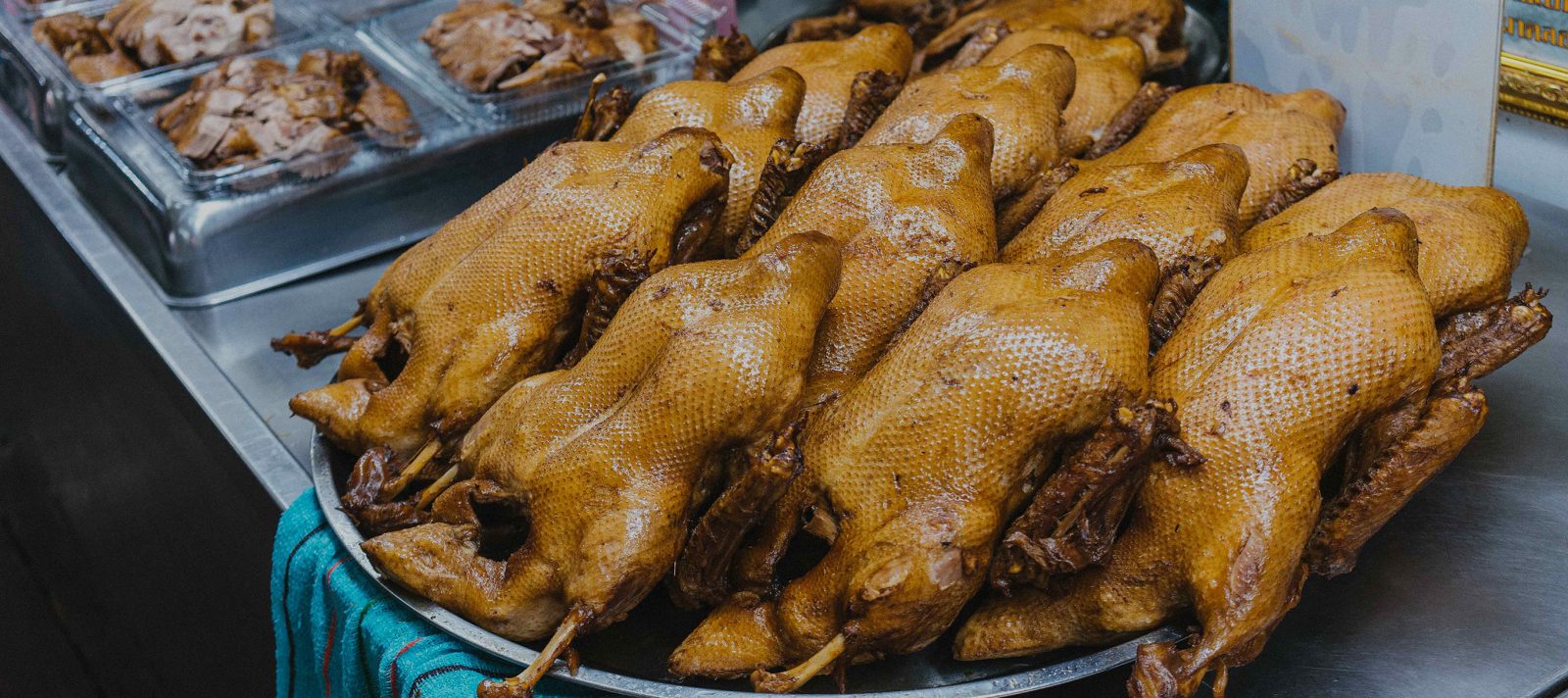 Duck Noodles at
Don Wai Market
Unmissable Duck Noodle Soup at Don Wai Floating Market
Words by Sofia Levin
Photography by Kitti Gould & Sofia Levin
These famous duck noodles at Don Wai Market in Bangkok not only have a riverside view, they're a culinary marker of Thailand's Chinese immigrants.
You couldn't replicate Ped Palo Nai Nub, a Thai market restaurant specialising in duck noodles, if you tried. First there's the anticipation of the journey – travelling 30 kilometres west of Bangkok to Don Wai Floating Market in Nakhon Pathom province. Then you walk there's the walk through temple grounds and a dizzying array of fresh food stalls, where locals shop for ingredients like lotus root coils, bitter Siamese neem, sea grapes and chom cham moonflower buds. Next you'll pass the vendors frying coconut into pancakes and chopping barbecue pork, until the walkway narrows and you're met with a dead end. Turn left and you'll continue to explore the market, turn right past pots of congealed duck blood and plucked birds bobbing in rusty-brown stock towards the river and you'll end up at the edge of the open-air dining room.
My perception is momentarily distorted as carpets of water hyacinth speed past on the current and give the impression the restaurant is moving. I'm sitting on a table that practically hangs over the Tha Chin (aka Tha Jeen) River. A woman in a traditional bamboo hat, a jackfruit and abundance of green leaves in her wooden boat, rows slowly against the current and realigns my vision. I focus on the menu: half a dozen snacky starters on one side and duck or pork noodles on the back. My Thai-speaking companions ask if I'd prefer broth or no broth and thick rice noodles, thin rice noodles or egg noodles. I put in an order for a duck egg noodle soup.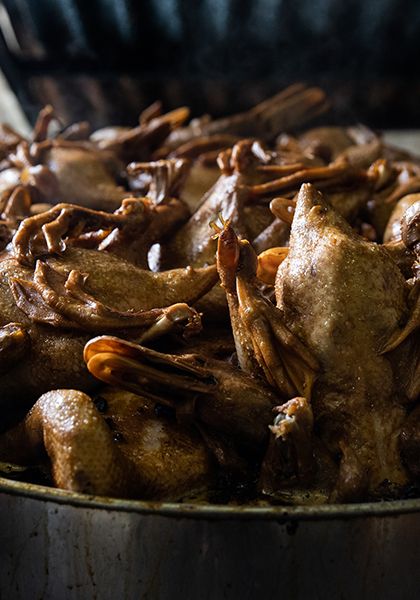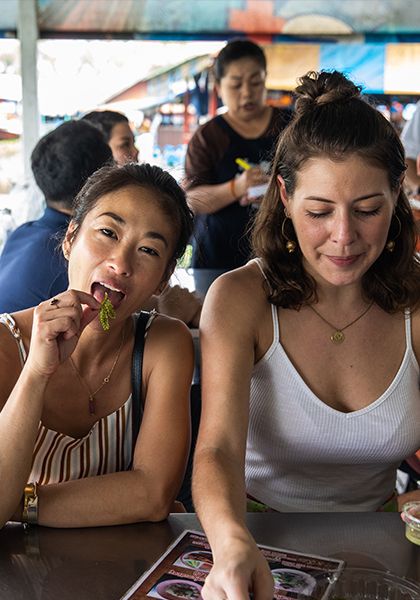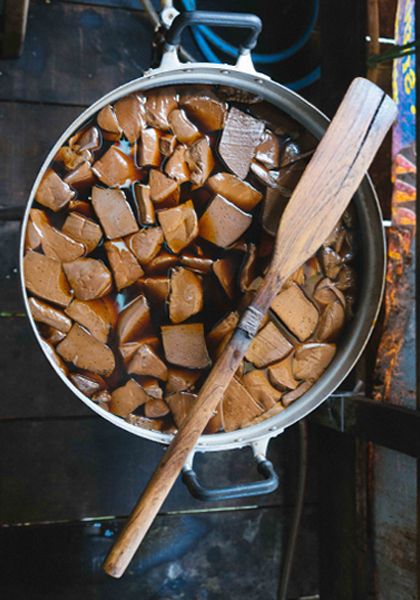 A couple of versions of hor mok come out first: firm white fish ground into a paste with coconut cream, mixed with spices and steamed in banana leaves to create a firm, savoury custard. One has strips of soft coconut inside and the result is akin to a tropical seafood mousse with the subtle sweetness of the banana leaf just detectable beneath the coconut. Then come plates of stewed duck blood, gizzards and liver. The gizzards have a metallic quality, while the liver is richer and fattier.
"There's nothing appealing about how the blood looks: hefty, umber slabs that wobble at the faintest touch."
Biting into the first mouthful I'm surprised at how firm it is, and how good it tastes compared to more acrid versions I've had in the past. This is more like tofu with personality, one that went through a phase of listening to heavy metal and finding itself.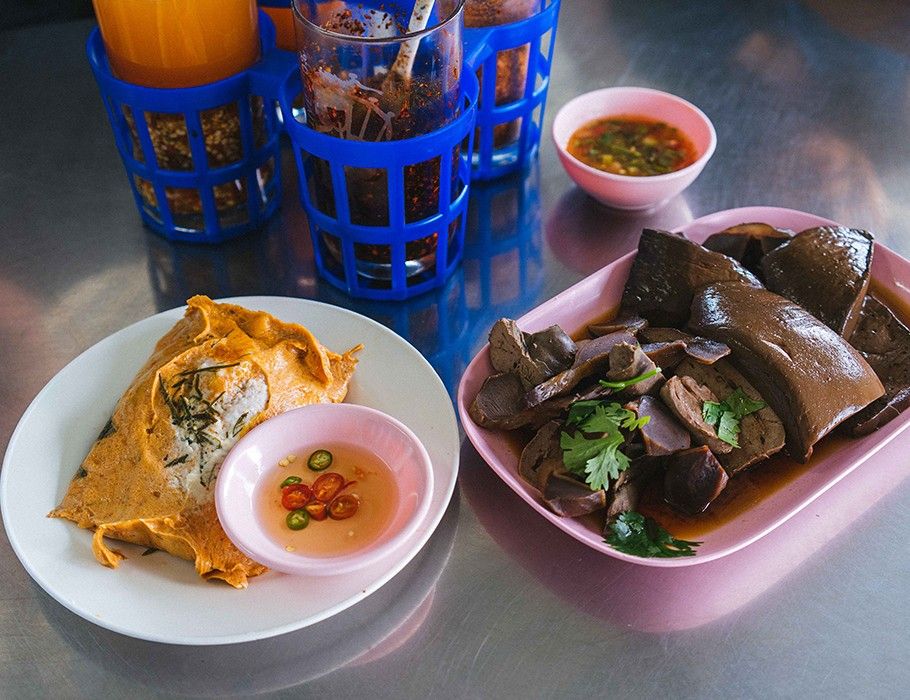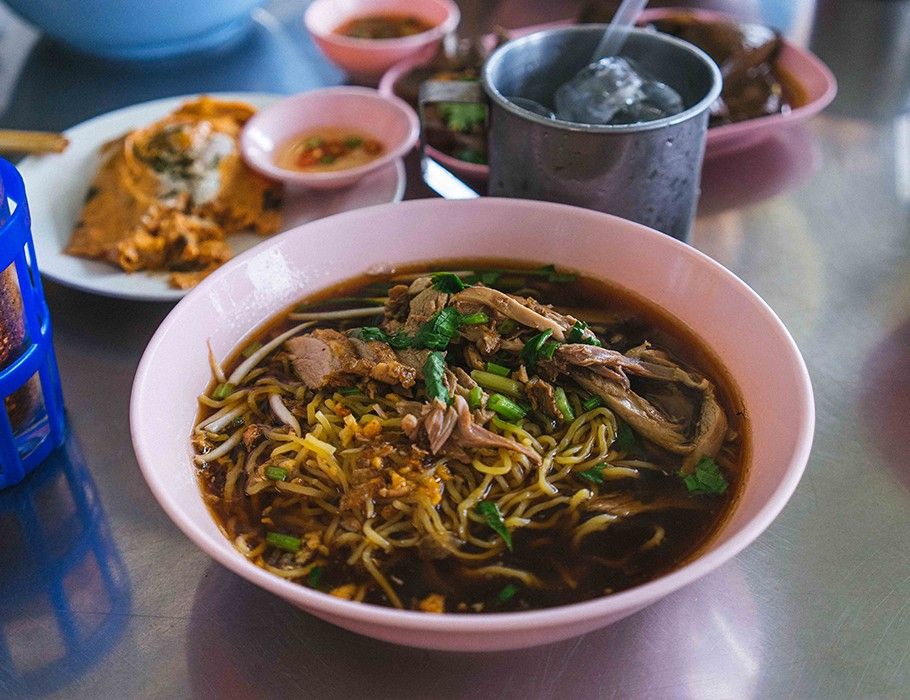 As I'm blissing out on duck blood, trays of duck noodles arrive: dry, wet, thick noodles, thin noodles, egg noodles. We claim our bowls and I ask why Thai people eat noodle soups with chopsticks and everything else with fork and spoon. I'm told it's the Chinese influence, with Thailand having the largest Chinese population outside China. It's also the oldest and most integrated overseas Chinese community. Tasting the broth, thickened with blood so it leaves what the wine world would call "legs" on the side of the bowl, I'm hit with a touch of cinnamon and star anise, which subside and leave a Sichuan hum. It's classic five spice – my duck noodles migrated from China in the early 19th century and have been adopted by Thais over hundreds of years.
I point to the plastic blue condiment caddy, a common holder that usually contains some version of fish sauce, sugar, dried chilli and chilli vinegar and ask the best way to approach it. "In Thailand we don't say this is too bland or this is too salty, we just add what we need," says one of my dining buddies. "It's one dish, but on the table everyone can make it how they like."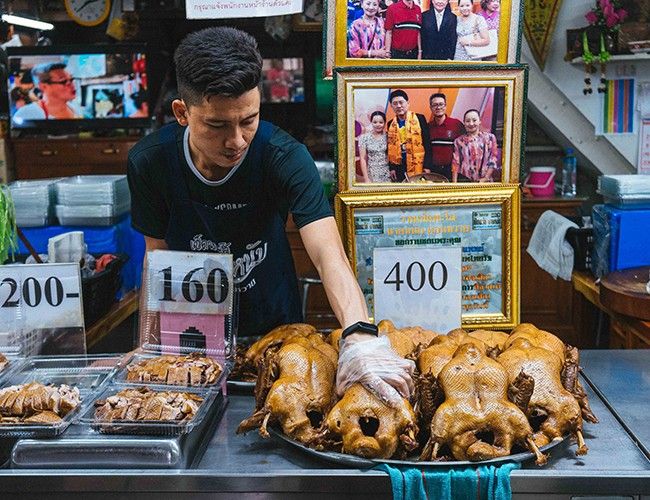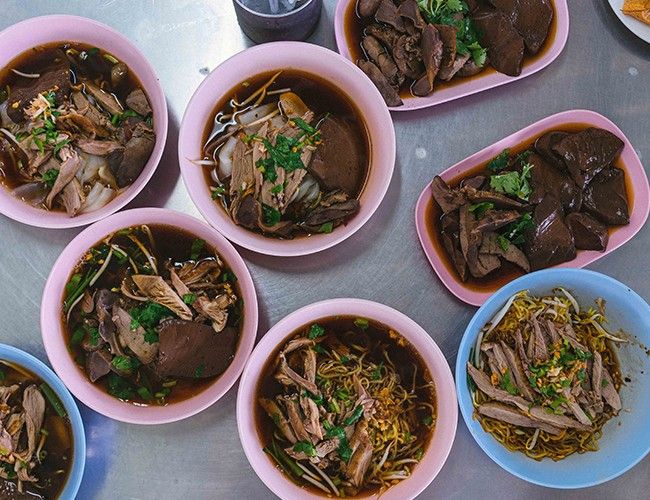 On the way out I notice a row of enormous pots opposite the entrance to the restaurant and wonder how on earth I missed them in the first place. Each is filled with stewing ducks. A man in a blue apron stirs them slowly with a huge wooden stick, and then begins transferring them to a stainless steel container that can fit at least a dozen of the birds. Each is stained golden brown from soy and spice, ready to be carried to the kitchen to be chopped and served. People might add a touch of chilli vinegar and a sprinkle of sugar, but right now, they look perfect to me.
Sofia Levin was a guest of Palisa Farm, the Tourism Authority of Thailand and Thai Airways.
Around the World in 80 Lesser-Known Melbourne Restaurants
FREE food guide when you subscribe.