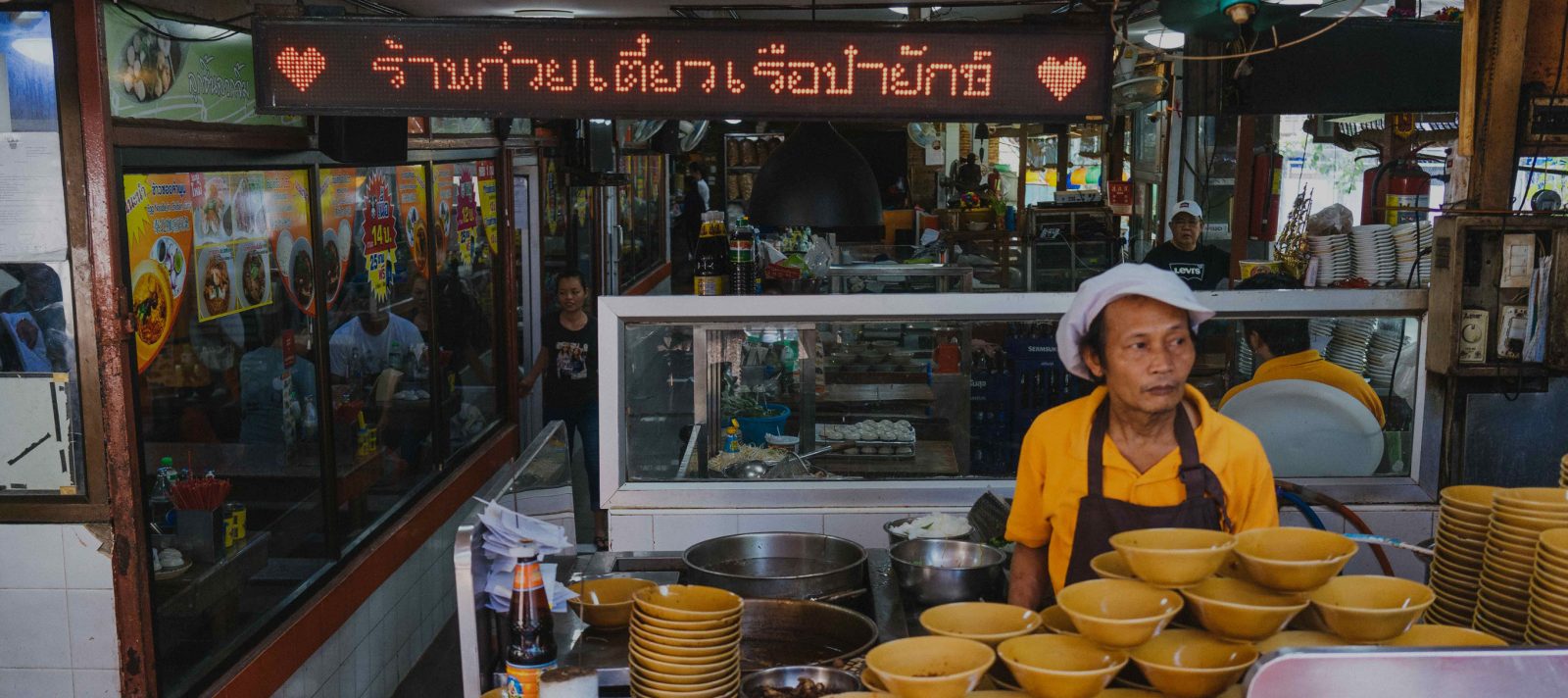 Boat Noodle Alley
Bangkok
Bangkok's most "Authentic" Boat Noodles are not what you expect
Words & images by Sofia Levin
If you visit the famed Boat Noodle Alley in Bangkok on the hunt for atmospheric noodle shops, you're in for a shock. But what's there is just as important.
Pad thai might be Thailand's most famous noodles, but those living in The Land of Smiles are more likely to slurp kuay teow reua (boat noodles). In the late 1700s Bangkok's canals were trade and transport hubs. Vendors in wooden canoes paddled up to potential customers offering shallow bowls of noodle soup, filled as such to avoid spillage. Over time the metropolis grew and the canals shrank, and by the 1970s boat noodle vendors had no choice but to permanently migrate to land. Today, boat noodle restaurants line a section of Khlong Samsen, the canal just north of Victory Monument. The strip along the water is known as Boat Noodle Alley and is frequented by locals and visitors who travel stomach first.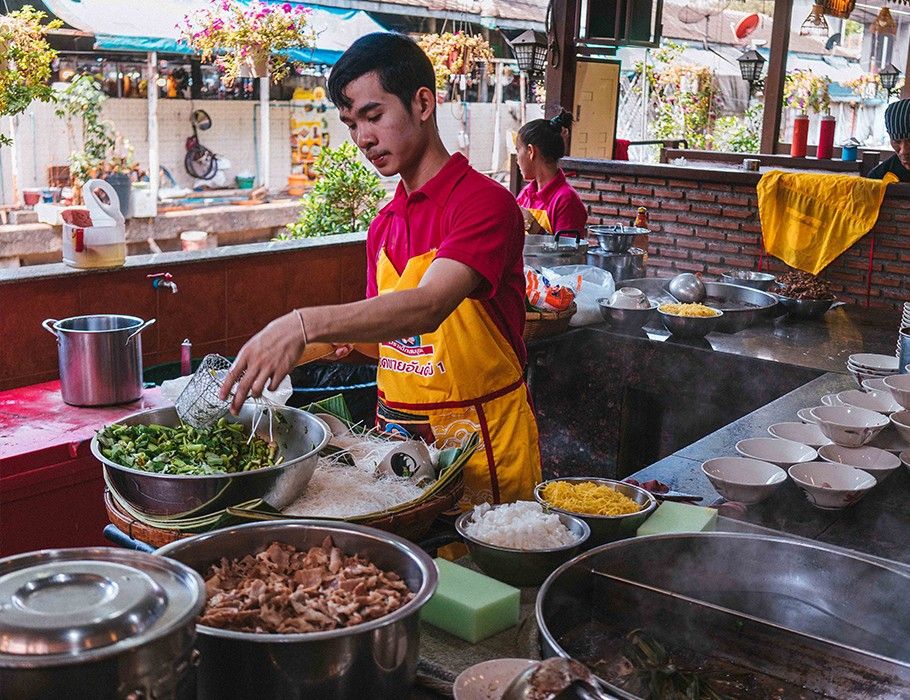 I pause at the intersection of a pedestrian bridge over the canal and look for the busiest boat noodle shop. Beneath Thai signage is one that reads "THE BESTOF NOODLE BOAT". A young man in an orange t-shirt is tossing noodles, ladling broths, gathering meatballs and sprinkling greens with such speed he gives the illusion of having a third arm. More orange t-shirts ferry bowls to a small restaurant to the left. It's full. I follow. Inside students hunch over faux brown marble bench tables stacked with empty bowls – if you polish off 20, a free Pepsi awaits. This might not be the kind of "authentic" noodle experience travellers expect, but what could be more authentic than slurping fast food beside students? This is what eating like a local really looks like.
The next step is ordering like a local. No one at Pa Yak Boat Noodles asks for a single bowl of boat noodles. Starting at 10 BAHT, the serves are deliberately small so you can slurp a selection. My plastic tabletop menu reads: pork (which are meatballs made from mince, plus slices of liver and roasted red pork), beef (stewed chunks), tom yum and yen ta fo (fish balls in pink, fermented tofu broth). Another orange t-shirt appears and gestures to a segmented plastic container with noodle samples. My choices are sen lek, sen yai or baan mee (thin firm rice noodles, wide soft rice noodles or chewy wheat noodles).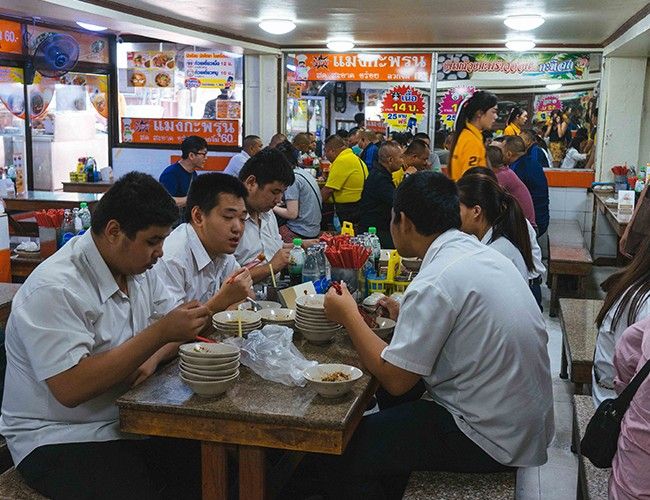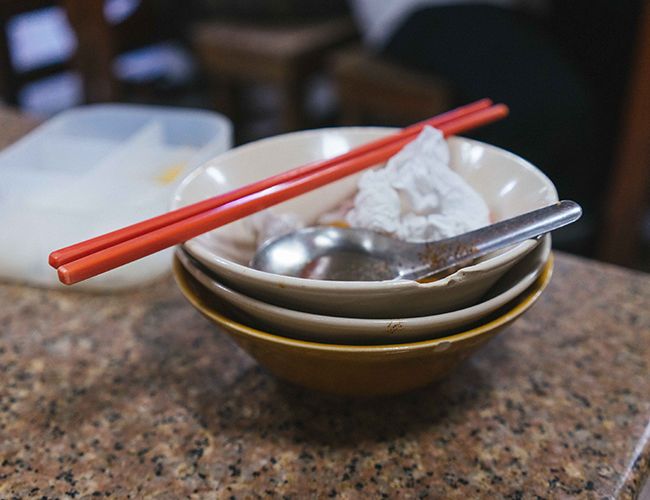 Each broth is as turbid as the canal, rich and complex with herbs and spices like cinnamon, star anise, coriander, lemongrass, galangal, kaffir lime, pepper and additions like garlic, soy and – crucially – nam tok (cow's or pig's blood, which acts as a thickening agent and adds richness). Every noodle joint in Thailand has a condiment caddy on the table so you can add fresh chilli, chilli vinegar, sugar and fish sauce to taste. At this particular spot, a pile of shallow dishes filled with khanom thuai (coconut custard) is beside the condiment caddy. Help yourself and pay when the bowls are tallied up.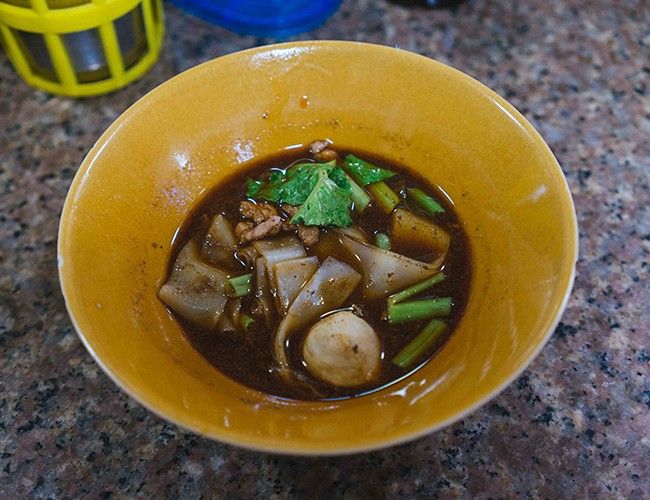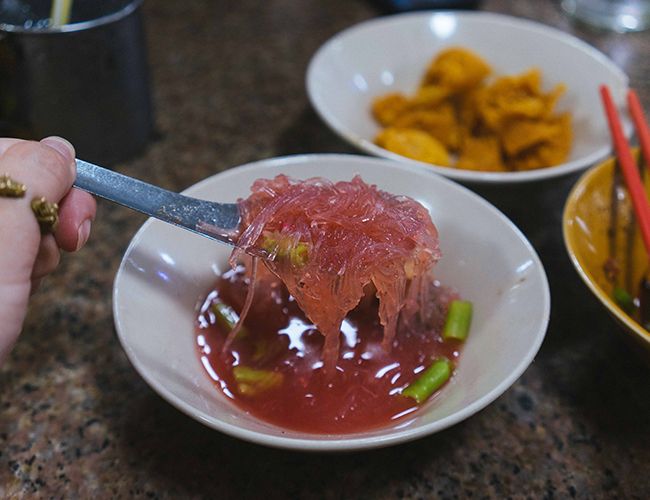 Pa Yak Boat Noodles is likely popular because it has air-conditioning. The mirrored walls are splashed with starburst decals in pink, red and yellow. Combined with the energetic atmosphere, it's clear that this is Bangkok's version of fast food, and it's as "authentic" as any market or street food dining in this city.
That said I prefer the boat noodles about a kilometre west of Boat Noodle Alley along the canal at Doy Kuay Teow Reua. It's a more traditional experience, though no more or less authentic. You can read more about it here, but my advice would be to visit both.
Details
Boat noodles 12 BHT to 14 BHT
Pa Yak Boat Noodles – Boat Noodle Alley, Samsen Nai, Phaya Thai, Bangkok
How to get to Boat Noodle Alley
Follow the long, elevated walkway over the Victory Monument roundabout and walk down the flight of stairs overlooking the canal. Boat Noodle Alley is north off Ratchawithi Road along the Samsen canal or Khlong Samsen, but if you put the following in Google Maps, you'll end up right outside Pa Yak Boat Noodles: 2/16-18 Phahonyothin Rd, Samsen Nai, Phaya Thai, Bangkok.
Sofia Levin travelled with assistance from the Tourism Authority of Thailand and Thai Airways, but this article remains autonomous.
Around the World in 80 Lesser-Known Melbourne Restaurants
FREE food guide when you subscribe.