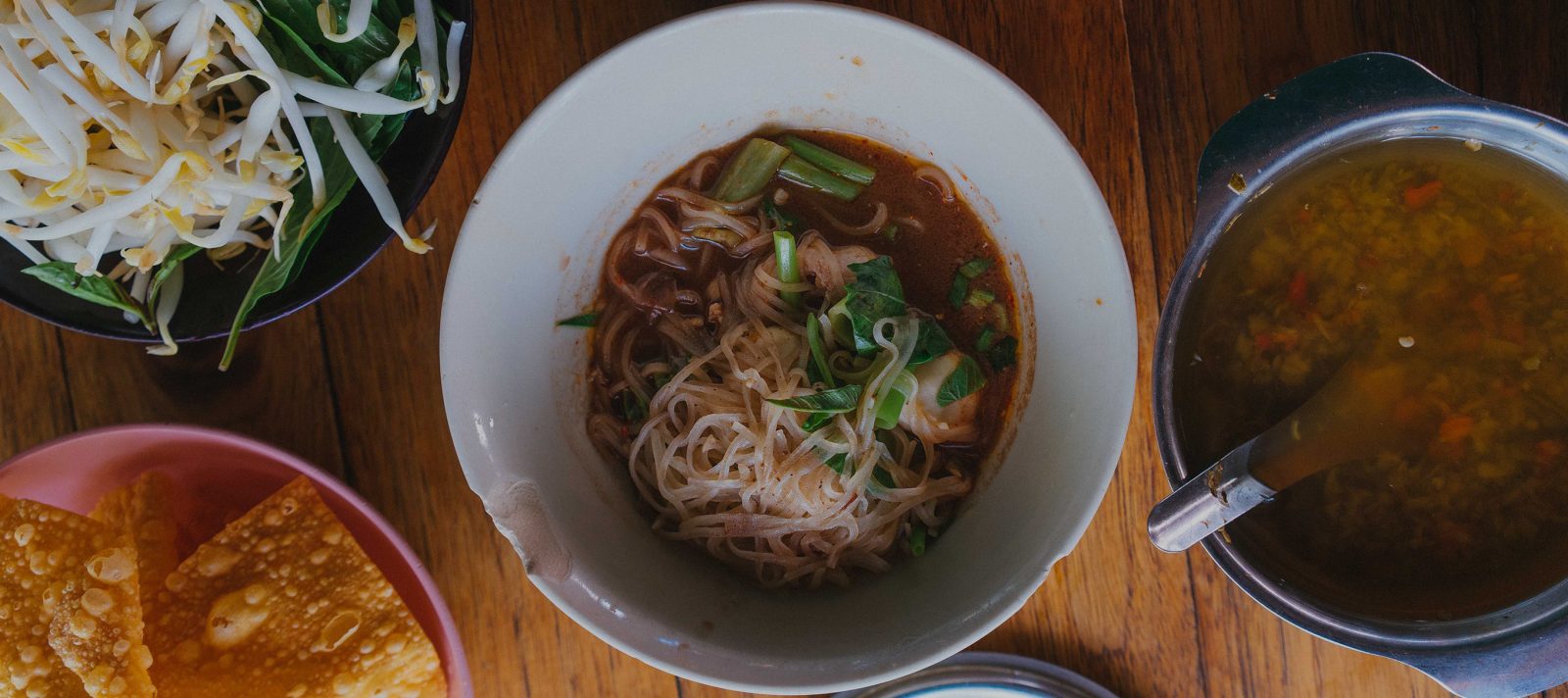 Doy Kuay Teow Reua
Boat Noodles, Bangkok
Traditional Boat Noodles at Doy Kuay Teow Reua
Words & images by Sofia Levin
If you only have time to visit one boat noodle spot, skip Bangkok's famous Boat Noodle Alley in favour of lesser-known Doy Kuay Teow Reua, which serves the best traditional boat noodles in the city.
Tucked behind a temple on a laneway dotted with vendors selling moo ping (pork skewers) and fresh fruit, Doy Kuay Teow Reua is the kind of local, open-air restaurant I froth over when travelling. Under the cover of corrugated iron are long tables with plastic Coca-Cola coverings with help-yourself bottled water, tissues, pork rinds, fried wonton skins and khanom thuai – they're added to your bill at the end.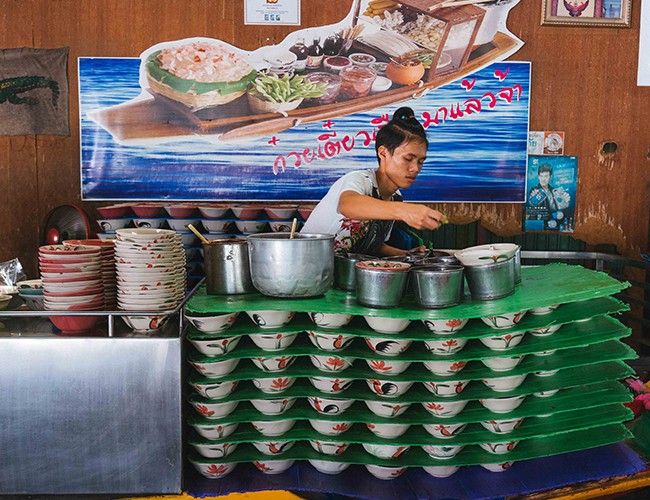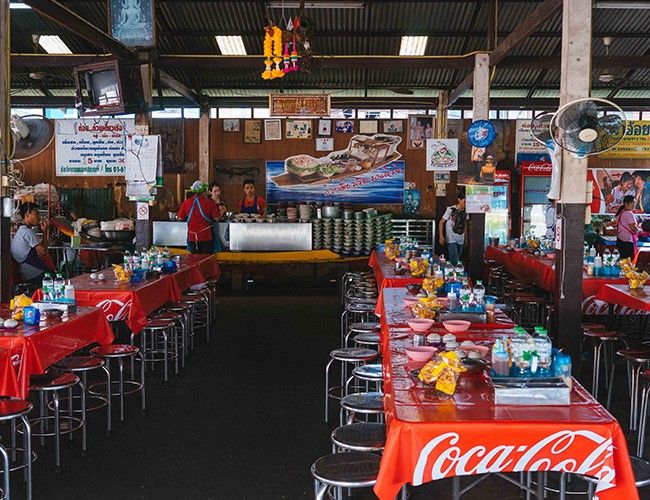 The serving station is a mille-feuille of bowls layered with green plastic sheets, stacked on an old wooden boat that pays homage to the dish's history. There's a shout somewhere behind me, and a boy who looks about 10 years old is dispatched to deal with hungry-looking, English-speaking woman. "Pork or beef?" he asks. The right answer is both. The default noodles here are thin rice noddles and both versions come with another of fresh herbs and bean sprouts. In my opinion the broth at Doy Kuay Teow Reua is far superior to the more modern set ups along Boat Noodle Alley; thick and dark enough to leave a muddy residue on the sides of the bowl as the liquid level drops. There's less of a need to consult the condiment caddy, and the pork has slices of liver alongside the meat.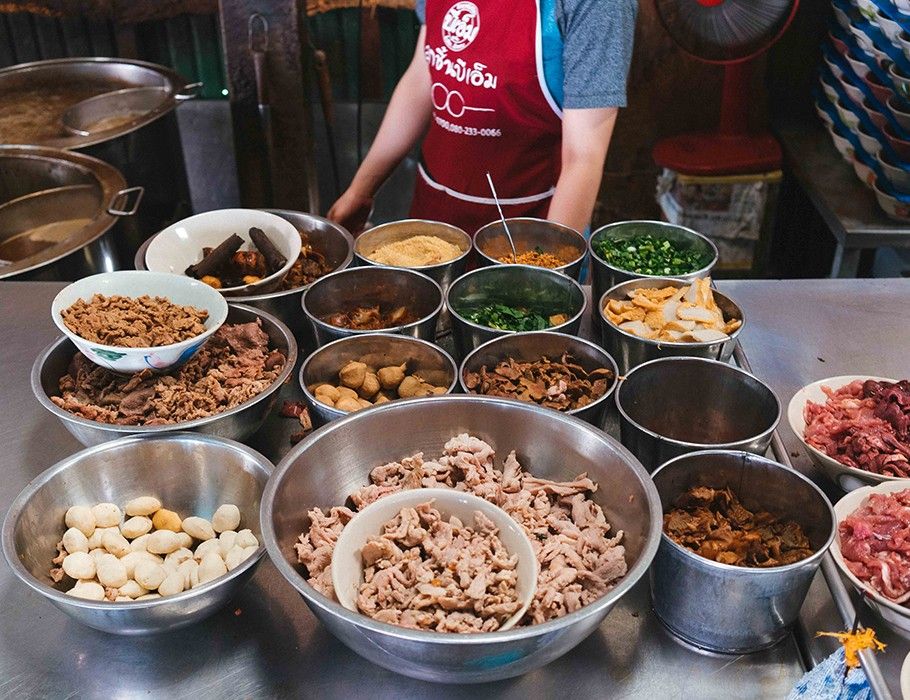 Focused on my food, I look up to see a giant monitor lizard meandering along the narrow path separating Doy Kuay Teow Reua from the canal. Usually I'd arm myself with my camera and snap photographic proof, but with perfect boat noodles in front of me, my priorities have changed. I watch the lizard pass by and return to my bowl.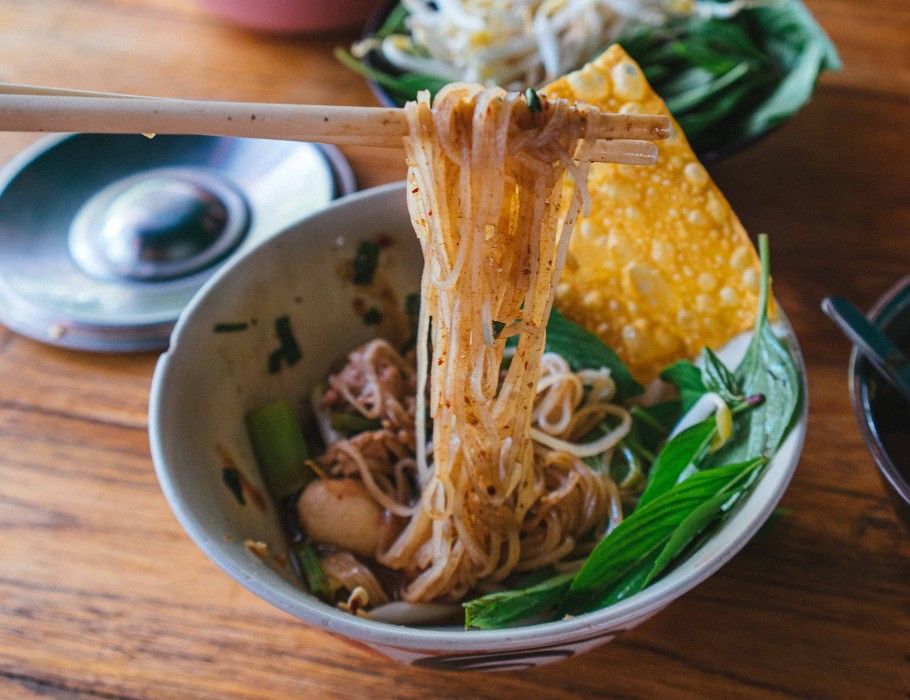 Details
Boat noodles 15 BHT
Alley off Soi Ratchawithi 18, Thung Phaya Thai, Ratchathewi, Bangkok
Doy Kuay Teow Reua Facebook page
Around the World in 80 Lesser-Known Melbourne Restaurants
FREE food guide when you subscribe.