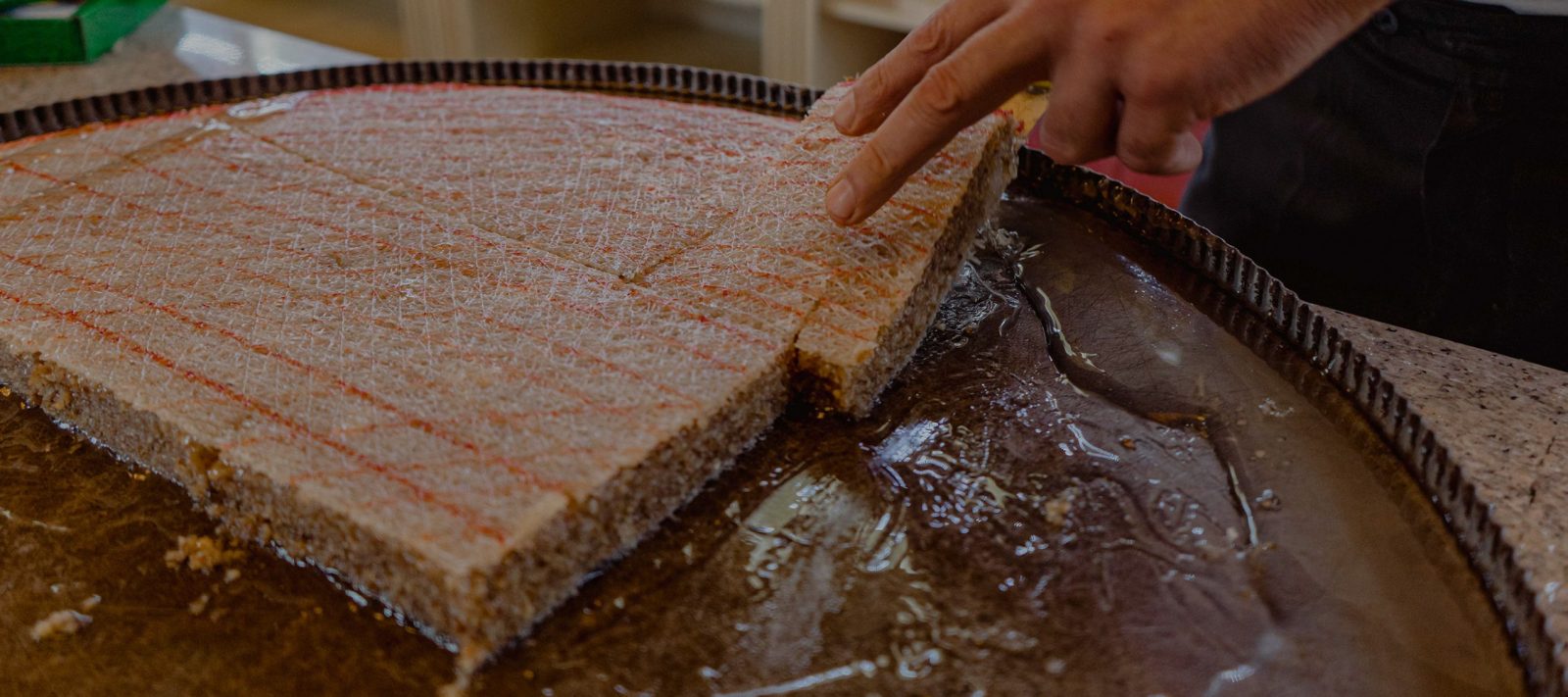 People Travel from across Azerbaijan for this decadent Dessert
Words & images by Sofia Levin
Azerbaijan's most famous regional dessert, Sheki halva, takes generations to perfect and moments to devour.
There's a lot to love about Sheki (Şəki), the ancient town 300 kilometres north of Baku in Azerbaijan. It's a tranquil reprise from the city, burrowed in the leafy foothills of the Caucasus Mountains and split by the Gurjana River. In Sheki I feel calmer, lighter – that is until I taste Sheki halva for the first time and develop an instant sugar addiction. Sheki halva is a regional baklava (or pakhlava in Azerbaijani). Just as it takes an artist to craft the shebeke (şəbəkə) stained glass windows of the Palace of Sheki Khans, so too does the best Sheki halva require a steady hand, lifetime of practice and a closely-guarded, multi-generational technique.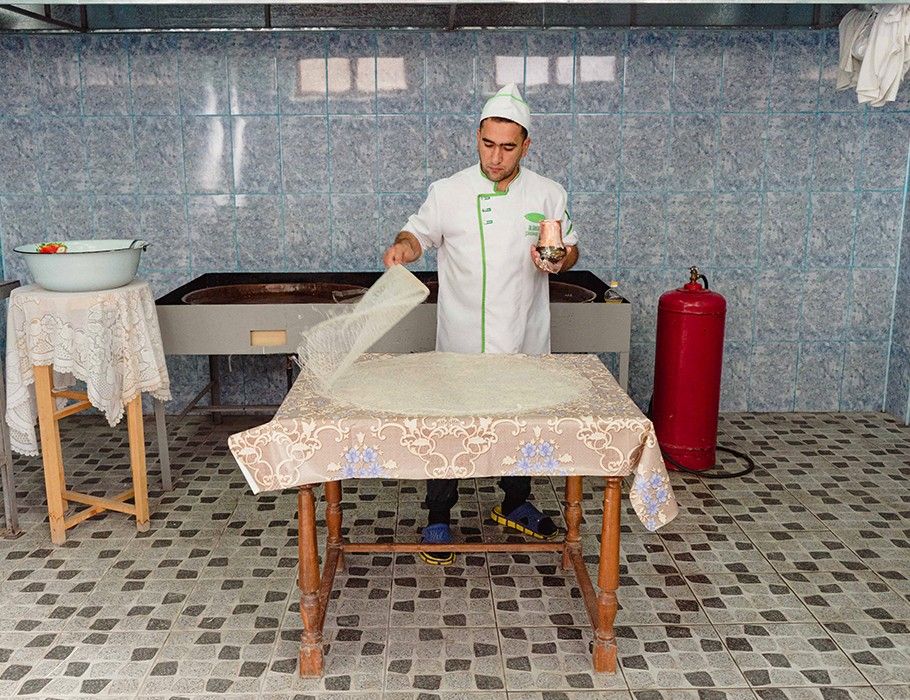 Rumour has it the Sheki Khan had a sweet tooth and demanded that his cooks create something extraordinary, sparing their lives when they succeeded by inventing Sheki halva. I'm more inclined to believe that it was brought to Azerbaijan from Tabriz, a city in northwest Iran that was previously within Azerbaijan's borders. Sheki halva is a syrupy, baked baklava slice made with layers of rice paper, chopped nuts and spices like coriander seed and cardamom. Each layer is cloaked with sugary rice-flour lattices called rishta made by criss-crossing liquid from an 11-holed funnel over an enormous, circular pan until it forms a gauzy net. Before it's baked, each sugary disk is hand-painted with vibrant red dye made from beet juice and saffron.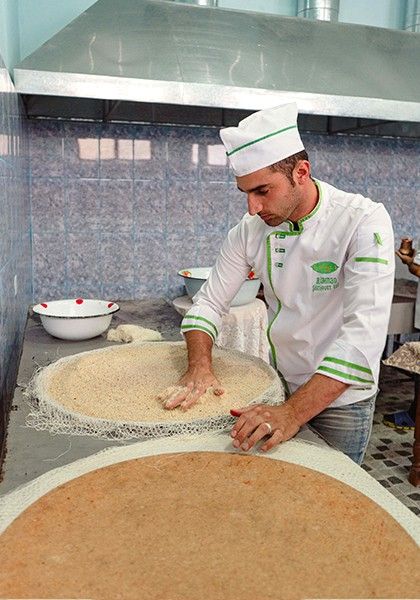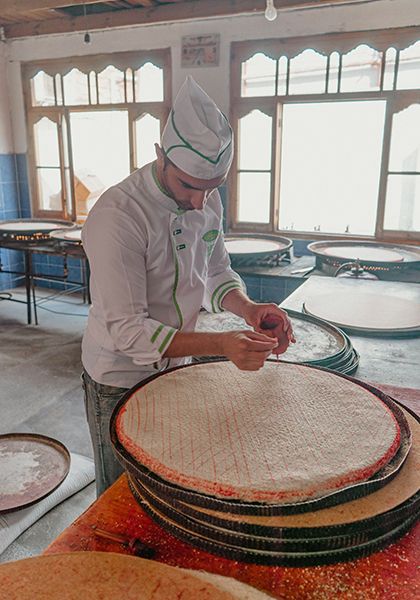 The recipe has been passed on between generations of halvachi families for hundreds of years. Eliehmed Shirniyyat EVI, established in 1950, is widely known as the best place to buy Sheki halva (Google "Aliahmed Sweetstore Sheki"). Out the back, the kitchen is a dedicated Sheki halva room with mottled blue tiles. Working quickly between the two rishta pans, one man creates the lace-like rice paper layers, lifting one with a stick as soon as it's cooked and placing it gently on a table behind him, before doing the same with the other. Beside him, another man is in charge of assembly. For each Sheki halva, twelve gossamer rishta are layered with nuts and spices, baked and then hand-painted with saffron and beet juice, either in a fine criss-cross pattern or with customised phrases, like ad günün mübarək (happy birthday) and nuş olsun (bon appetit).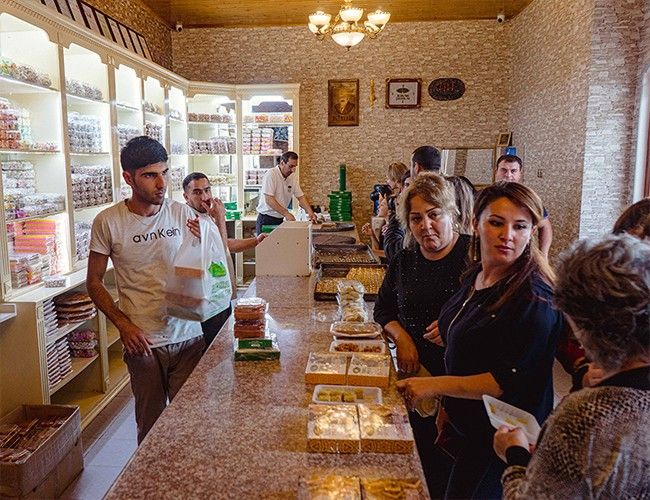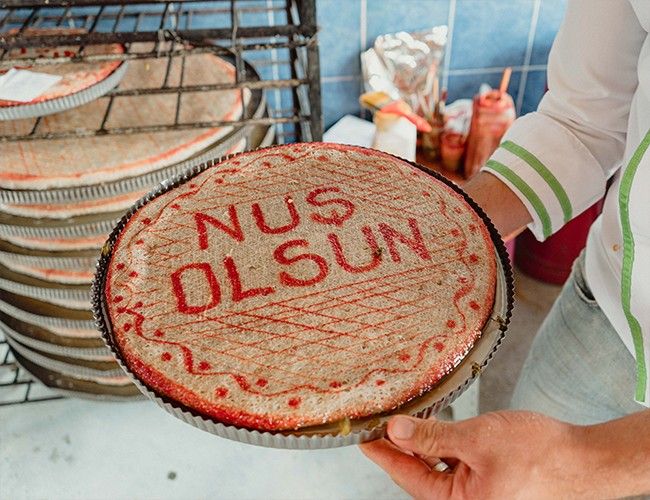 At the front of the shop there's sweet rose syrup sherbet in a water cooler for people to help themselves to while they decide what to order, but most customers know exactly what they want when they walk in. A variety of pakhlava and sweets are displayed side-by-side on the grey marble bench, but Sheki halva gets the best workout. A fellow with an impressive black moustache and an air of performance wields a palette knife, deftly lifting squares of Sheki halva from a giant disk into branded green gift boxes lined with thin plastic. He gathers the thick, honeyed syrup from the bottom of the pan and spreads a thick dollop on top of each serving, folding the plastic sheet over the top before weighing the box on vintage green scales. I'm in awe of how many boxes customers walk out with, but it makes sense when our Sheki halva doesn't survive the return trip to Baku.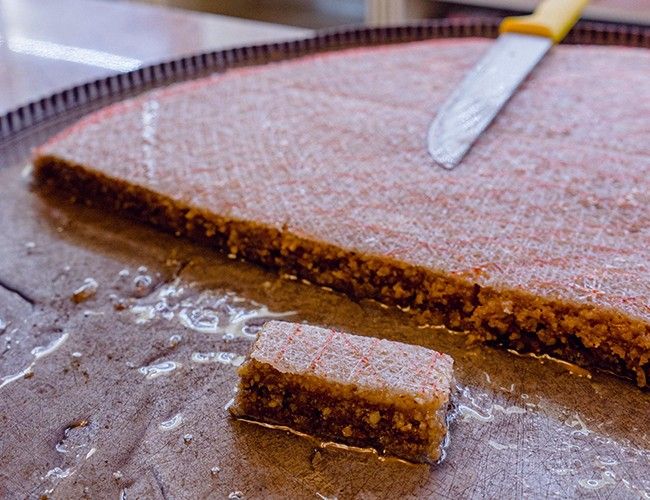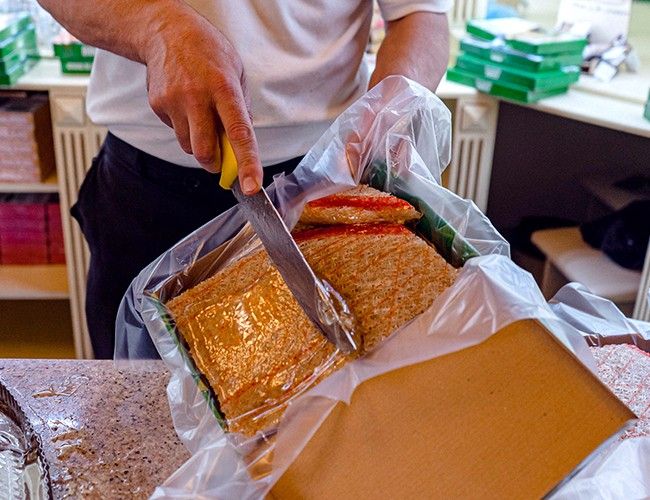 Details
Eliehmed Shirniyyat EVI (Aliahmed Sweet Store), 122 Mirzə Fətəli Axundov Küçəsi, Şəki, Azerbaijan
Sofia Levin travelled with assistance from the Ministry of Foreign Affairs of Azerbaijan, but this article remains autonomous.
Around the World in 80 Lesser-Known Melbourne Restaurants
FREE food guide when you subscribe.