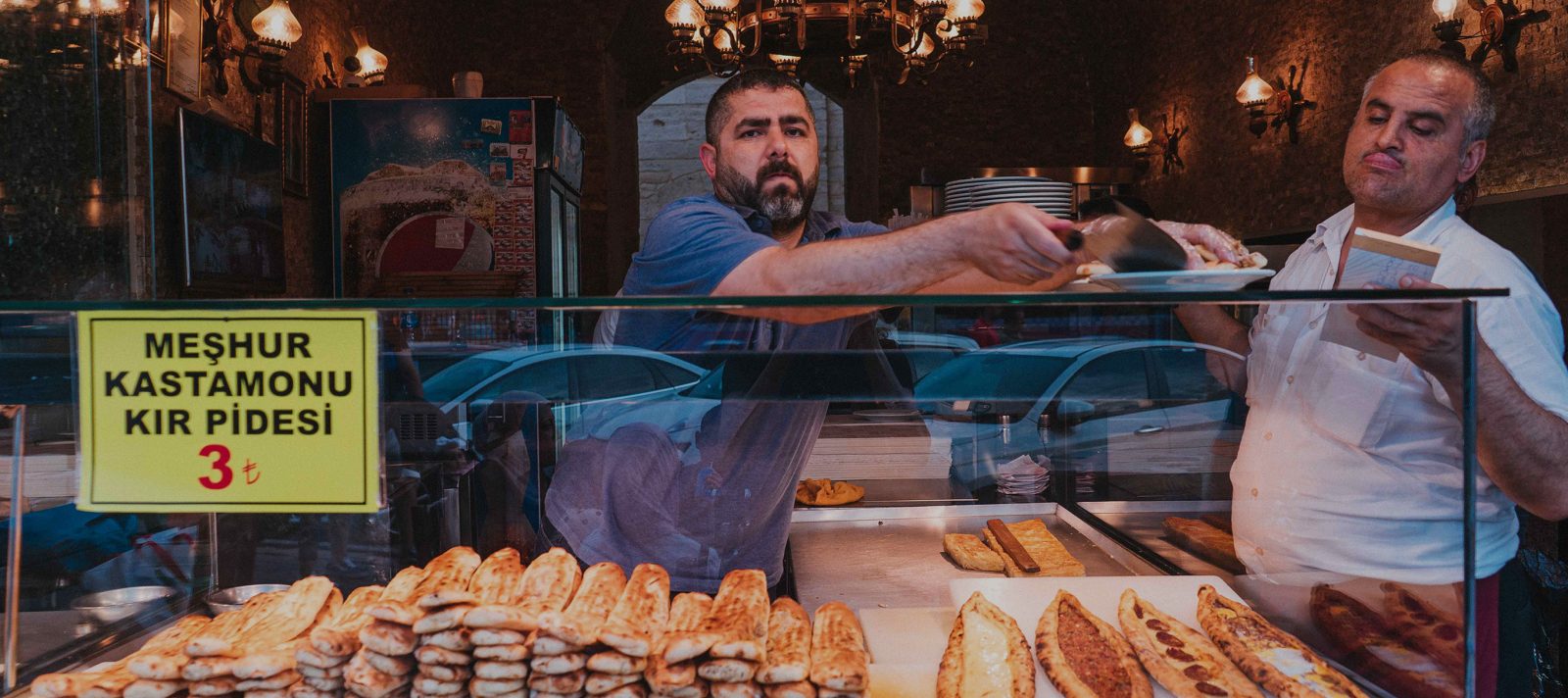 Eatinerary
Istanbul, Turkey
Istanbul Eatinerary: A Lesser-Known, Food-Focused 24 Hours in Turkey's Capital City
Words by Sofia Levin
Images by Sofia Levin, Liam Neal
& Justin Meneguzzi
Want to immerse yourself in the food and culture of Istanbul? This is the 24-hour itinerary for you.
Disclaimer: you can't conquer Istanbul in a single day, but you can give it a solid crack. Every "must-do Istanbul" list on the Internet will tell you to hit the main sights (the Blue Mosque, Hagia Sophia, Basilica Cistern and Topkapi Palace are within walking distance and require at least half a day, while the Galata Tower is on the other side of the bridge and best visited when exploring the Karaköy neighbourhood), but this itinerary starts in the less-often visited area of Balat, takes you through bazaars to the top of the city for the view form Süleymaniye Mosque, and then finishes with a choose-your-own-adventure dinner via street snacks in Eminönü and Karaköy. Rest up; you're going to need the energy.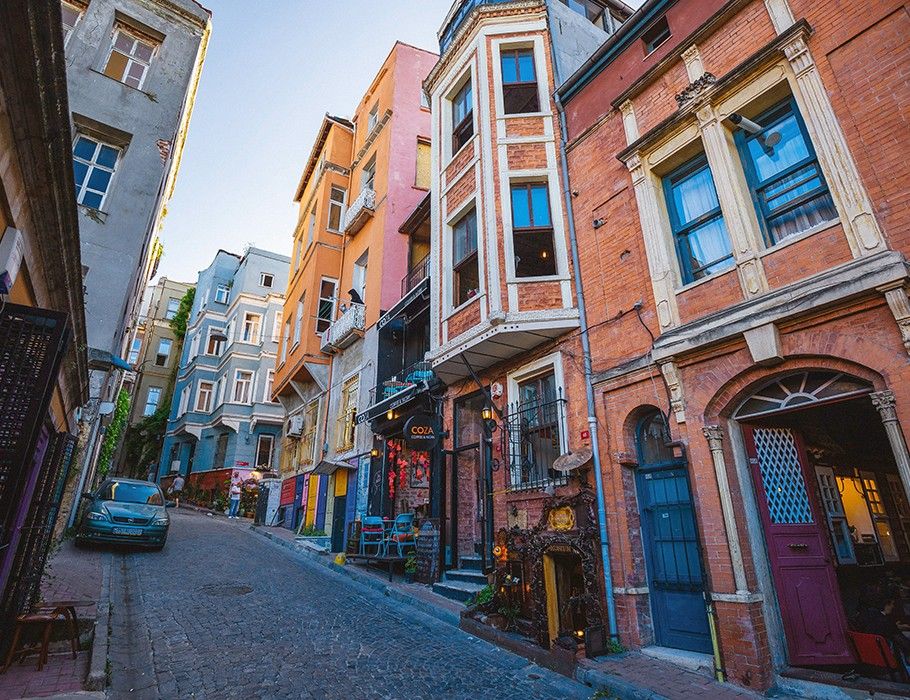 8am Traditional Turkish Breakfast
Start the day with intestine soup or a traditional Turkish breakfast spread –or both. If you're feeling under the weather or have a killer hangover, make like a local and slurp işkembe çorbası (tripe soup) at Meşhur Fetih İşkembe. This casual eatery specialises in soups served with different parts of offal, as well as kokoreç (lamb offal kebab cooked on a horizontal spit) liver kebab and lamb's head (full portion, half portion, with or without brain). If that's all too much, try a Turkish breakfast spread at Balatkapi, with a variety of egg dishes, herbs, fresh vegetables and fruit, Turkish cheese, honeycomb, jams, olives and breads.
Meşhur Fetih İşkembe – Ayvansaray, Leblebiciler Sokak no. 6, Fatih
Balatkapi – Balat, Yıldırım Caddesi no. 61/A, Fatih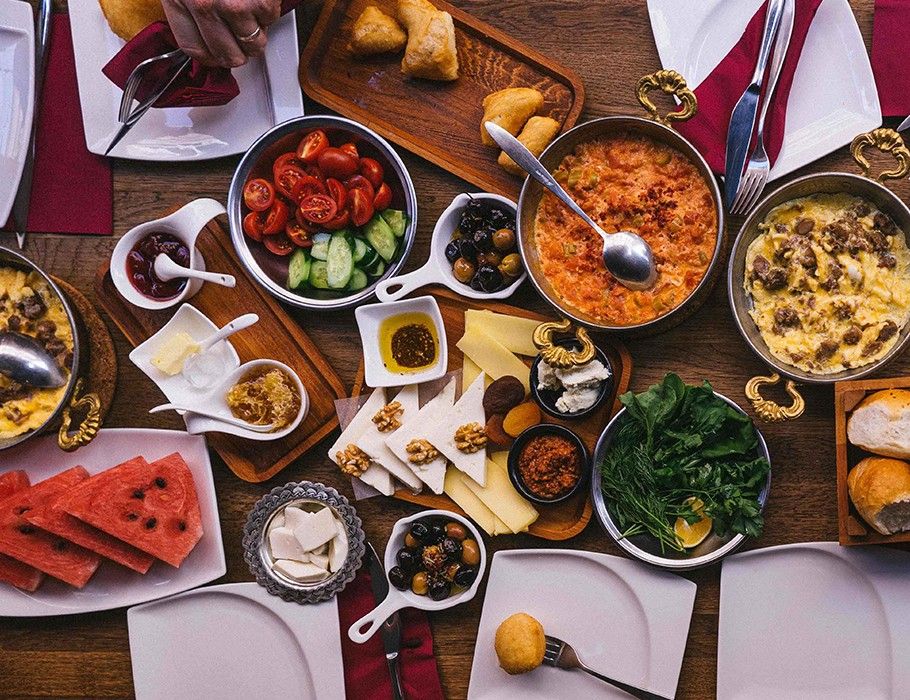 9am Explore Balat's History
Balat is one of the oldest districts in Istanbul and has been both a Jewish quarter and Greek quarter – the neighbourhood was traditionally reserved for minorities. Regardless of whether you start your day out of the above, the Bulgarian Church of Saint Stephen is either a three- or six-minute walk away. Known as the Iron Church, the Gothic Revival-style structure is worth a look for its stunning gilded iron screens, intricate columns and stained-glass windows. From there, walk 500 metres to the bottom of Kiremit Caddesi, a street known for its colourful, pastel houses. Dodge Instagrammers on your way up the hill until you reach Nakkaş Haydar Sokak. Turn left and you'll soon reach Phanar Greek Orthodox College or kırmızı kale (the red castle), dating back to the 1880s. The red-brick building is still a functioning school, but there are barely any students due to the dwindling Greek Orthodox population.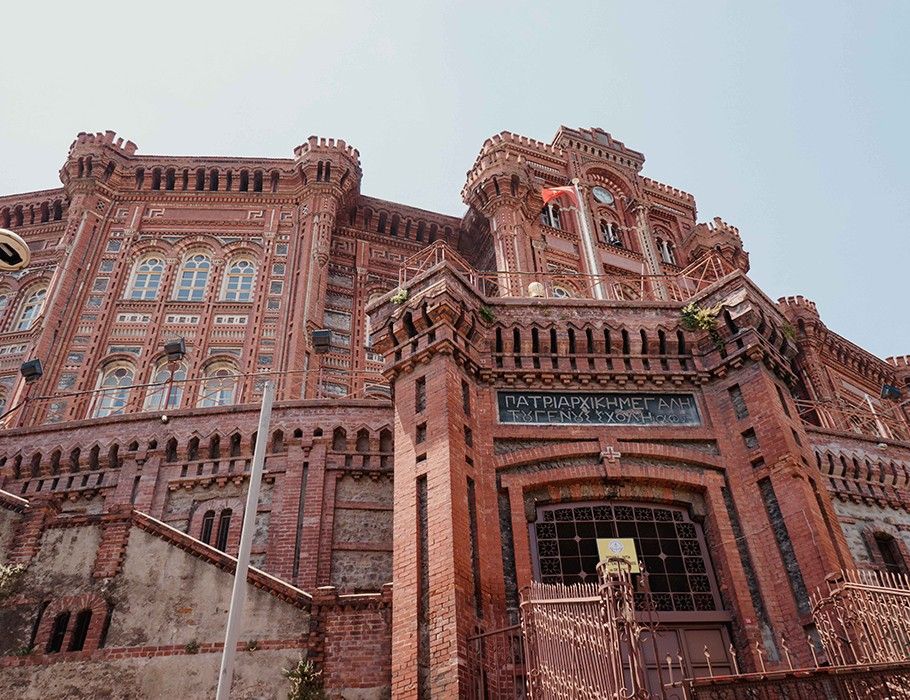 10.30am Refuel in a Quirky Cafe & Browse Antique Auction Houses
Continue downhill until you reach İncir Ağacı Kahvesi, arguably the city's most Instagram-friendly cafe complete with a rainbow staircase and friendly cats. Take a left at Vodina Caddesi, browsing the shops and cafes as you go. If you need to refuel, stop by Maison Balat for a coffee or homemade cherry juice and a bowl of manti (Turkish ravioli in yoghurt sauce) under the striped awning, and browse the poky antique shop inside. There are more cafes, vintage clothing stores and antique shops along parallel Yıldırım Cadessi. Most antique auctions happen around 3pm on different days, so be sure to check while you're there.
Maison Balat – Balat, Vodina Caddesi no. 50, Fatih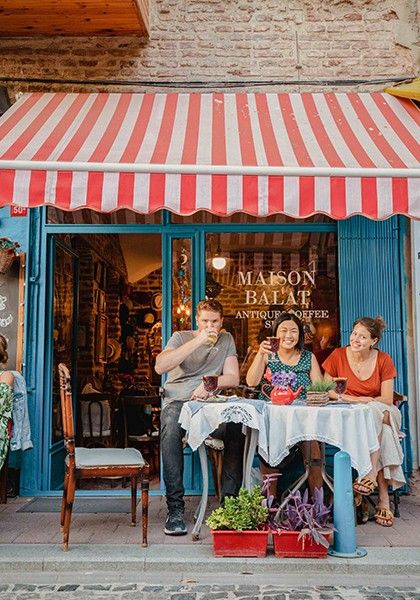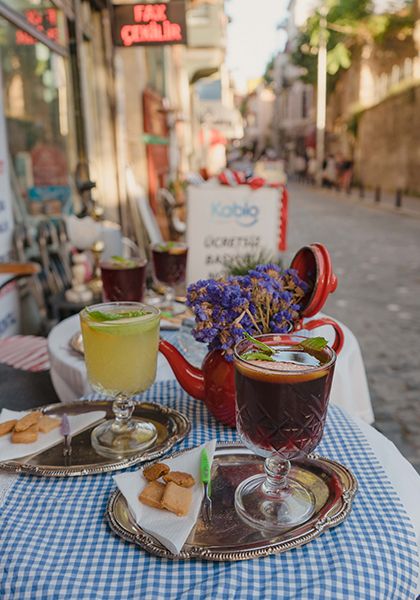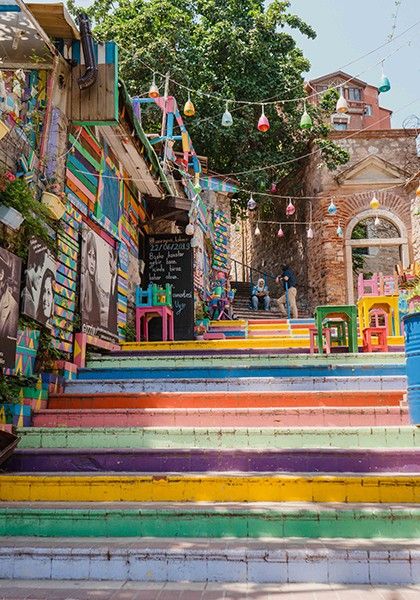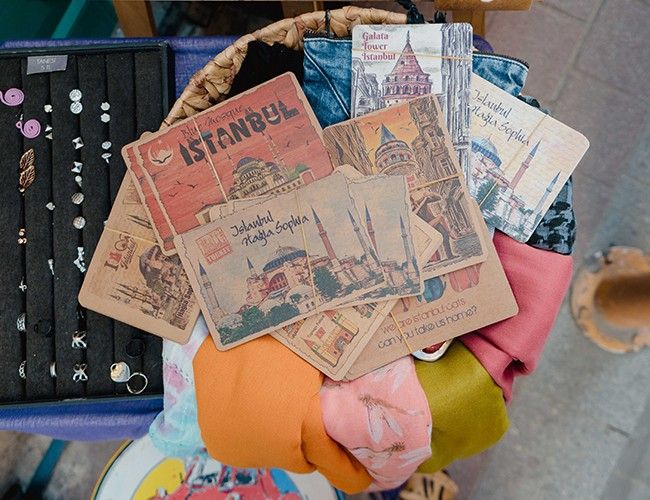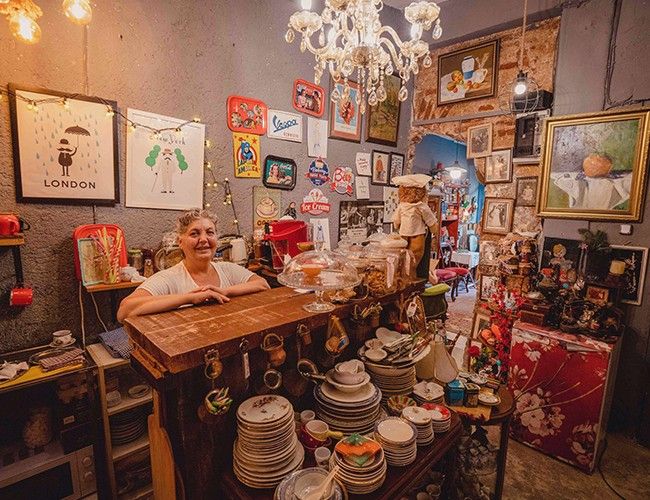 11.45am Hit the Grand Bazaar & Spice Bazaar
The Spice Bazaar is not to be missed and can be conquered in under an hour, if you don't plan on shopping too much (the wares are better value a few blocks away). It's a hallway of colourful spice pyramids, impossible structures made from Turkish delight, vibrant dried tea flowers and signs touting natural Viagra. Istanbul's Grand Bazaar is walking distance from the Spice Bazaar, and while people set their sights on it to pick up Turkish teacups and lights, don't overlook the food. You'll find small, local restaurants serving dolmasi (stuffed vegetables), kebabs a plenty, durum (wraps) and pide, as well as street vendors and coffee houses.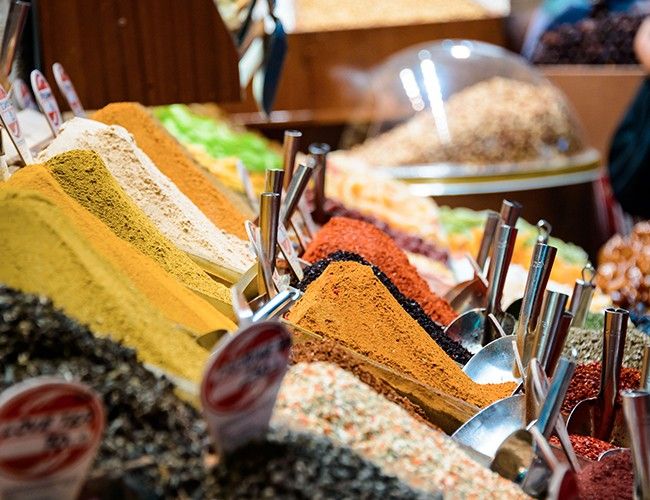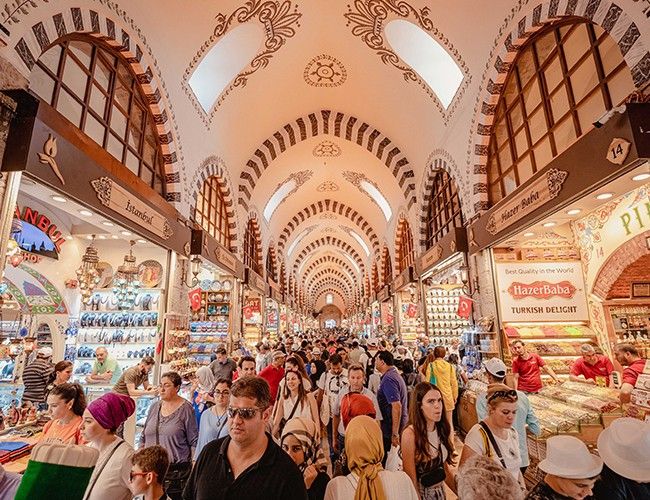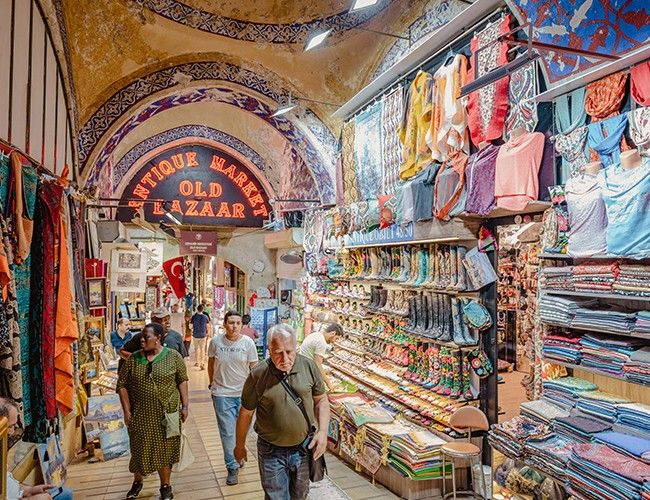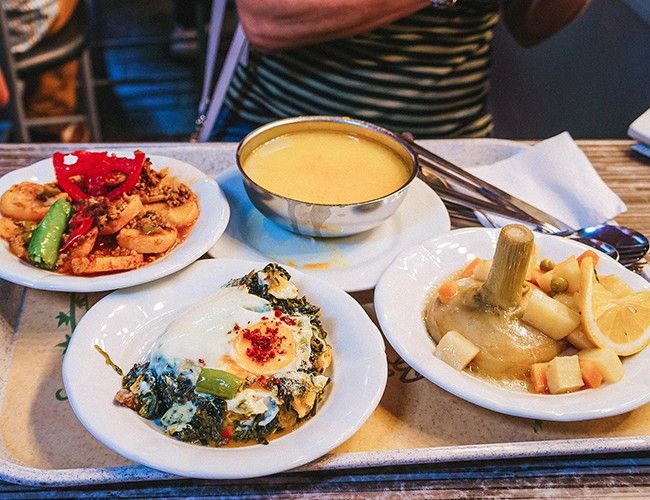 2.30pm Süleymaniye Mosque & Snacks
It's a steep incline but not far on foot to Süleymaniye Mosque. At the top of the hill, it provides a stunning view of Istanbul, while from the bottom it's an integral part of the Golden Horn backdrop. Built in the 1550s, it's one of the bigger, more beautiful Ottoman mosques with impressive minarets. Inside is as striking as outside, where visitors photograph the view and relax on manicured lawns. On the way back down, head towards Bol Kepçe Köftecisi for kofte, Tarihi Eminönü Börekçisi for pide and Altan Şekerleme for lokum (Turkish delight) – they're all right near each other.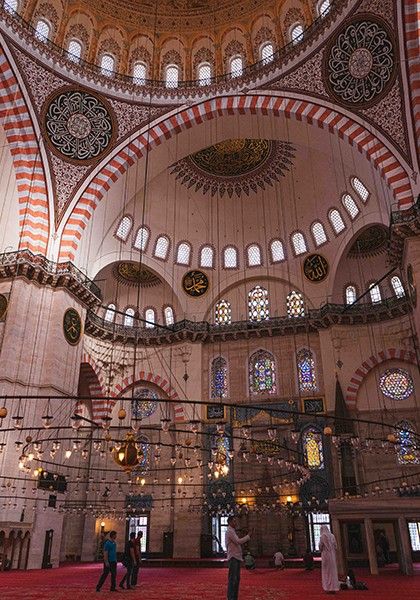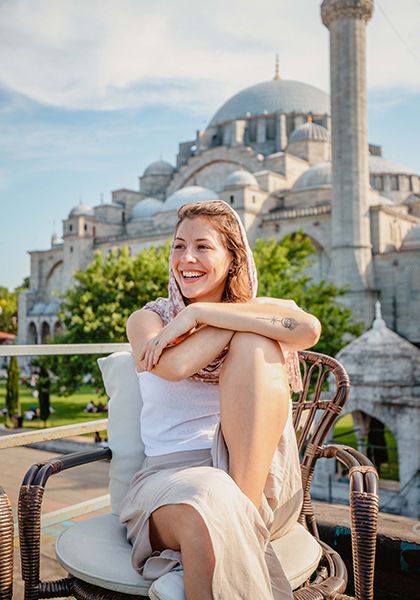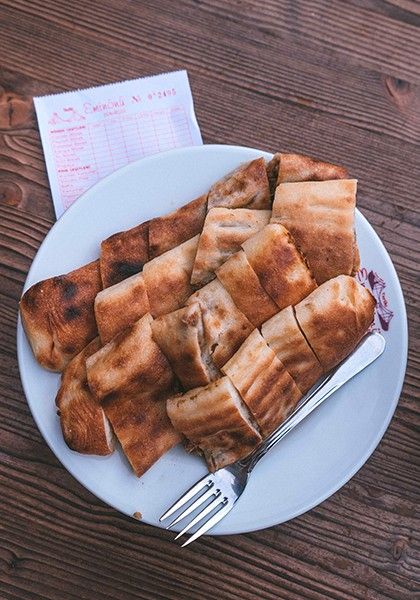 4pm Eminönü Street Food & the World's Best Fish Wrap
Head east for about 500 metres and you'll hit the Eminönü side of the Galata Bridge. There's plenty of street food sold here, including midye dolma (stuffed mussels), pickle juice, corn on the cob, roasted chestnuts and simit, but avoid the famous fish sandwiches sold from the boats – they're filled with bones and average at best. Instead, walk over the Galata Bridge past local fisherman and above the ferries. On the other side, turn right into Necatibey Caddesi and then right at Mailye Caddesi. Take another left onto Mumhane Caddesi, a gentrified street in Karaköy with popular restaurants and bars. You can visit them at your leisure, but first make a beeline for Balık Dürüm Mehmet Usta, a small vendor selling life-changing fish wraps – bone-free and dripping with pomegranate molasses. It's a one-kilometre walk here from the Eminönü side of the Galata Bridge.
Balık Dürüm Mehmet Usta – Kemankeş Karamustafa Paşa, Mumhane Caddesi no. 37 D:b, Beyoğlu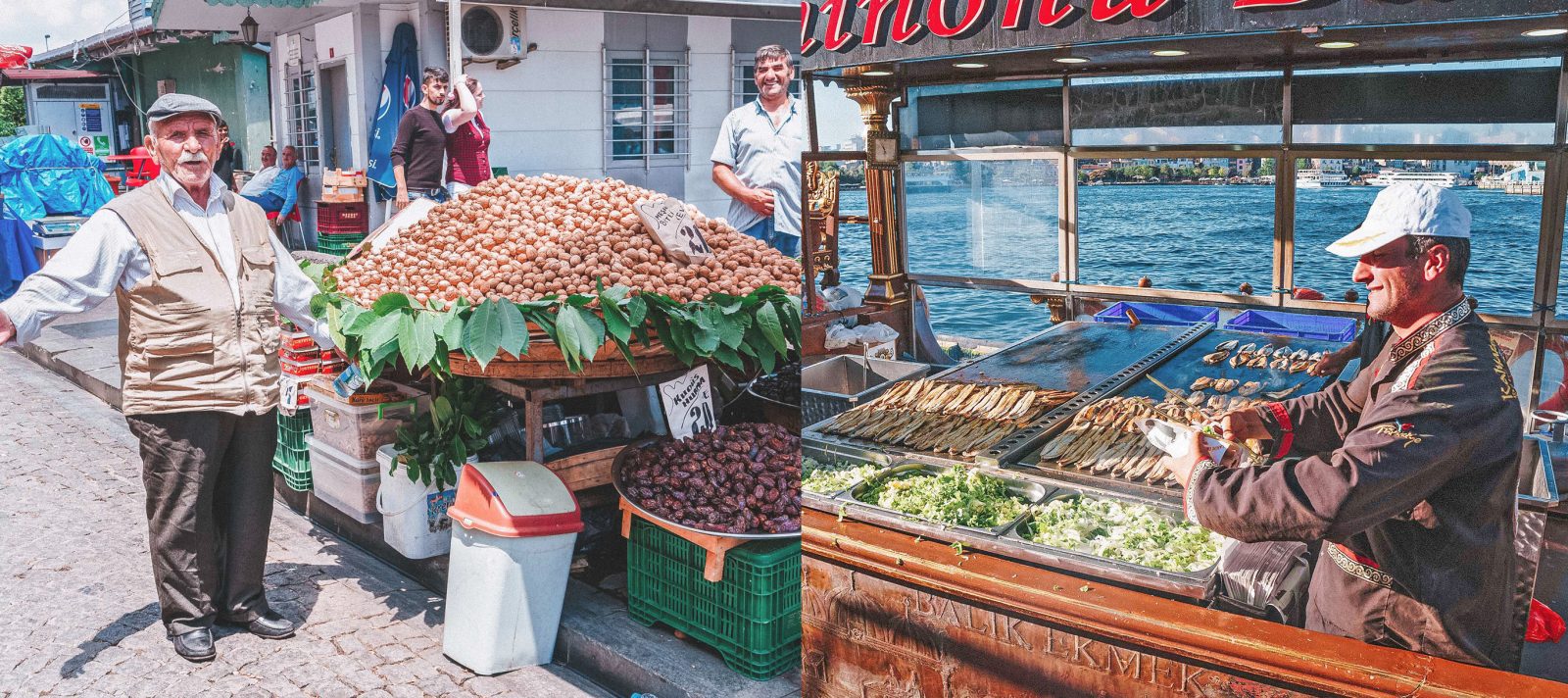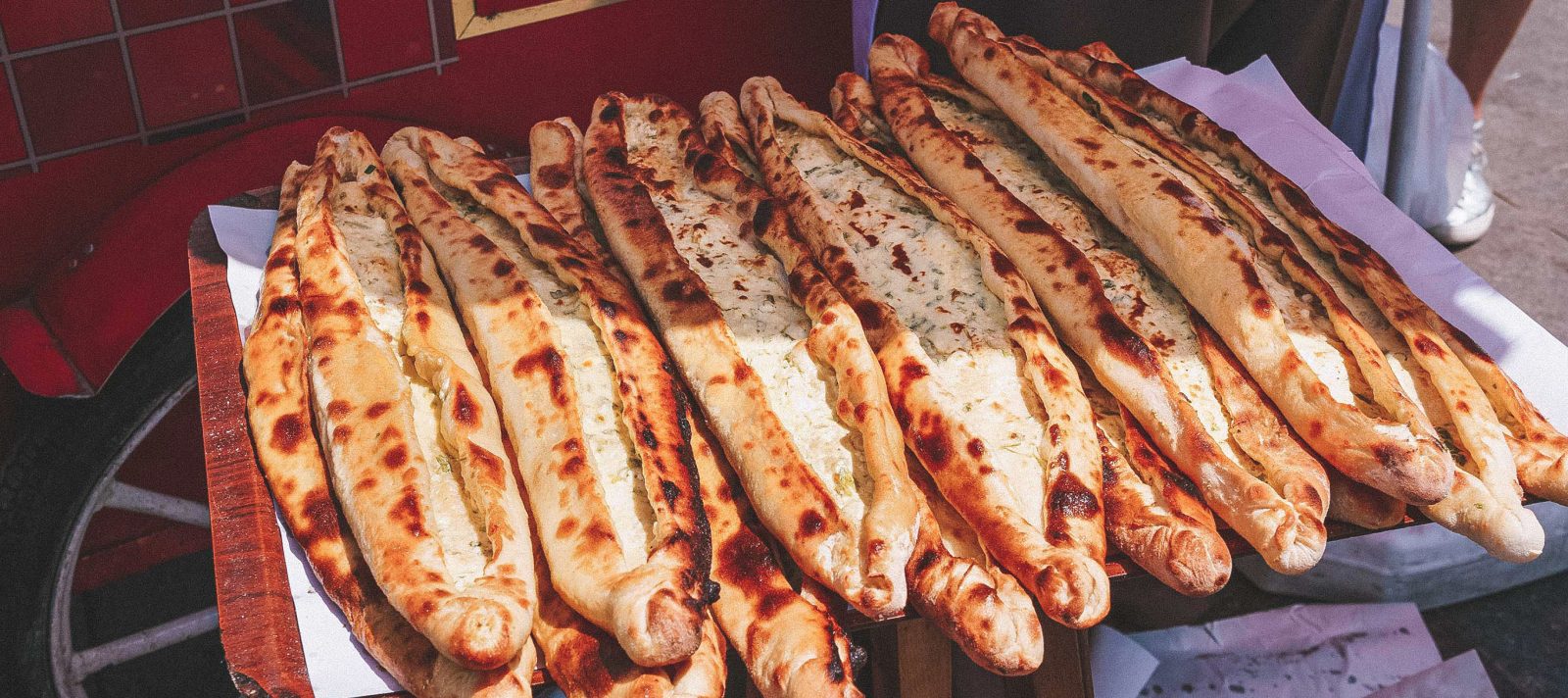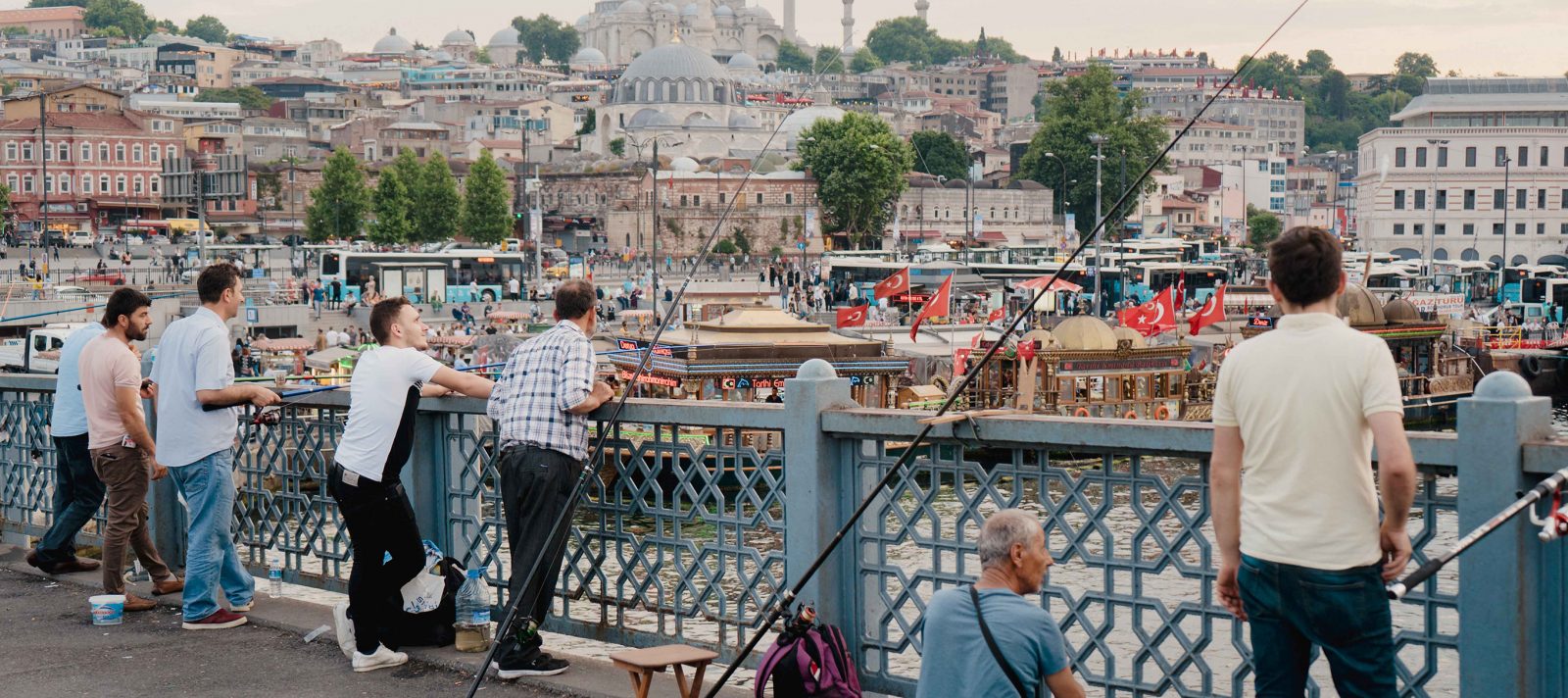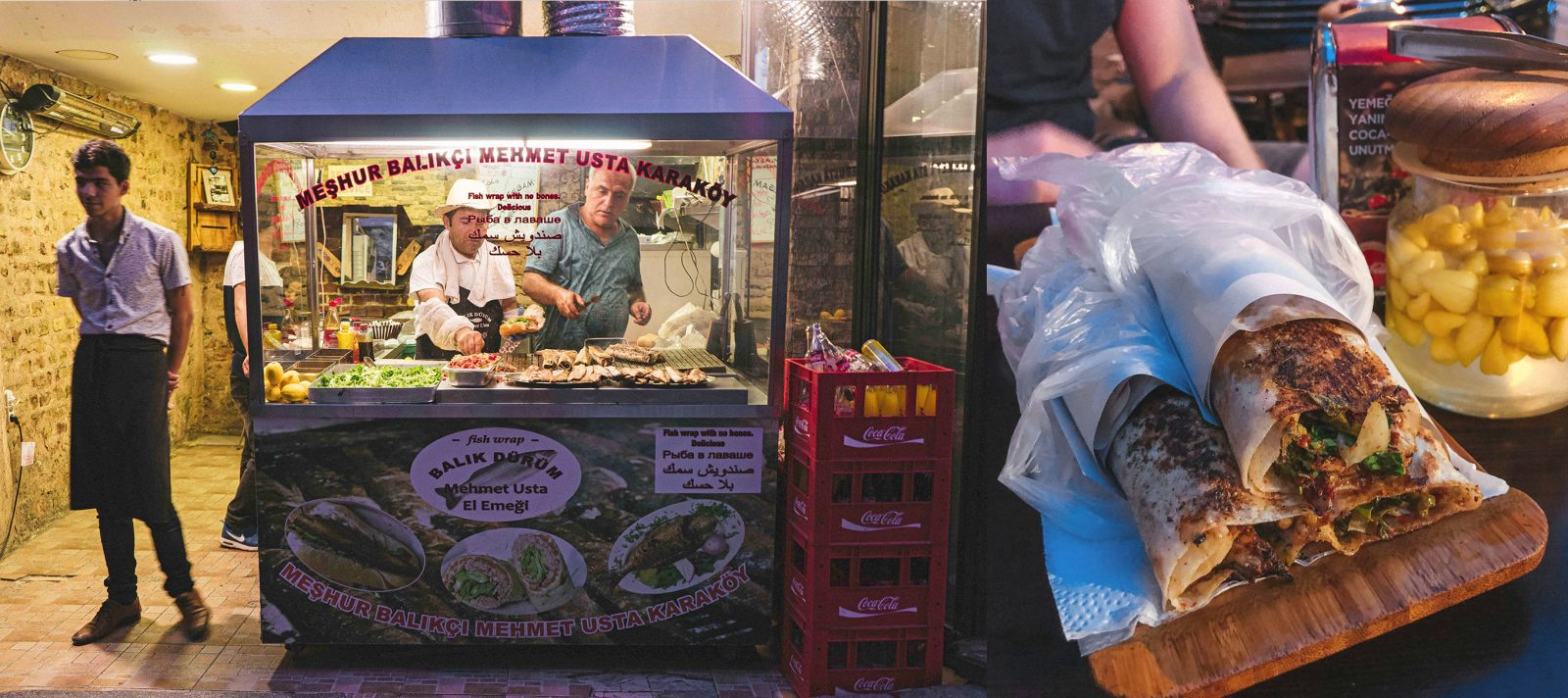 6pm Dinner: Local Seafood Meyhane or Food Tour
Depending on your mood and where you're staying, you have two choices for dinner. Choice one: head back to Balat where you started your day and join the locals at Balat Sahil Restoran, a meyhane (a restaurant that serves alcohol) specialising in seafood meze, such as plates of fish cooked and cured in oil, citrus and mustard and interesting vegetable and pickle dishes (read more here). Or, if you're feeling energised, take a food tour with Urban Adventures. Its Night Tasting Trail will introduce you to an array of street food dishes in one hit while exploring small streets and bustling hotspots.
Balat Sahil Restoran – Balat, Mürselpaşa Caddesi, no. 245, Fatih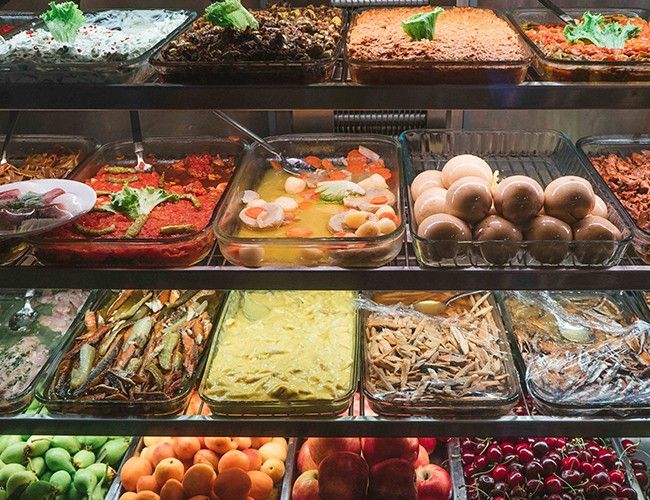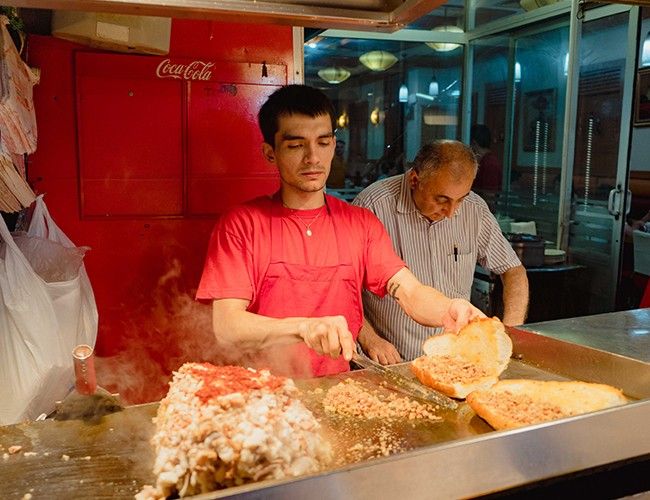 Sofia Levin travelled with assistance from Intrepid Travel, but this article was researched and published independently. For small group tours to Turkey, click here.
Around the World in 80 Lesser-Known Melbourne Restaurants
FREE food guide when you subscribe.