An Eater's Guide
to Singapore
I Ate and Drank at 33 Places in Singapore in Five days. You Can, Too.
Words & images  by Sofia Levin
"Five days is far too much." That's the unsolicited advice I was continuously given when telling people how long I planned to stay in Singapore. In their defence, they don't really know what kind of person I am.
I'm the kind of person that has to bite my tongue instead of correcting their grammar ("five days is far too many, mate"). I'm the kind of person with a painstakingly researched Google spreadsheet listing 67 places to eat, excluding hawker centres and bars. The kind that maybe (definitely) sends said spreadsheet to Singapore natives for second opinions. Five days is nowhere near enough when travelling stomach-first in Singapore.
Your best bet is to break the city into suburbs, drop pins on a Google map and conquer as many locations as you physically can before you A) fall into a food coma; B) throw up or C) die. I'm happy to report I encountered neither B nor C and managed to push through A. Here is every one of the 33 places where I snacked, feasted and quenched my thirst over five glorious days in Singapore.
Maxwell Food Centre
In the middle of Chinatown in central Singapore, Maxwell Food Centre is one of the city's most accessible hawker halls. No exaggeration – I checked in at my hotel, dumped my bags and headed straight there. Some stalls have better reputations than others, but I urge you to check out some of the vendors that are lesser-known – you never know what you might discover.
1. Oyster omelette, Maxwell Food Centre
An acquired taste, oyster omelettes, or orh luak, are best left to oyster lovers. A good one will have browned, crisp edges with hot, fleshy oysters. If oceanic slime that you can chew isn't for you, stick to something else and leave more for the rest of us.
1 Kadayanallur Street, Singapore
2. & 3. Hainanese chicken, Maxwell Food Centre
One of Singapore's most famous dishes, wars are waged over who makes the best version of this lustrous Chinese poached chicken. Ah Tai and Tian Tian are often said to be Singapore's best and are just stalls away in Maxwell. I tried Ah Tai and Uncle Sky. Controversially, the latter was my pick. The chicken was moister and I could feel each perfectly cooked grain of rice on my tongue.
Ah Tai, Stall 01-07, 1 Kadayanallur Street, Singapore, facebook.com/AhTaiChickenRice
Uncle Sky, Stall 01-02, 1 Kadayanallur Street, Singapore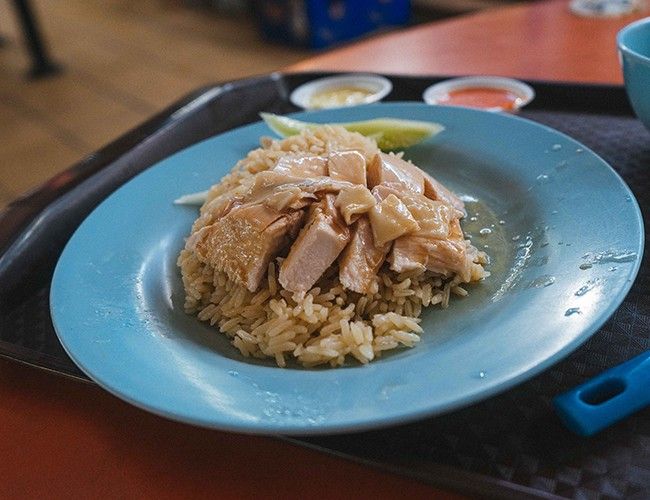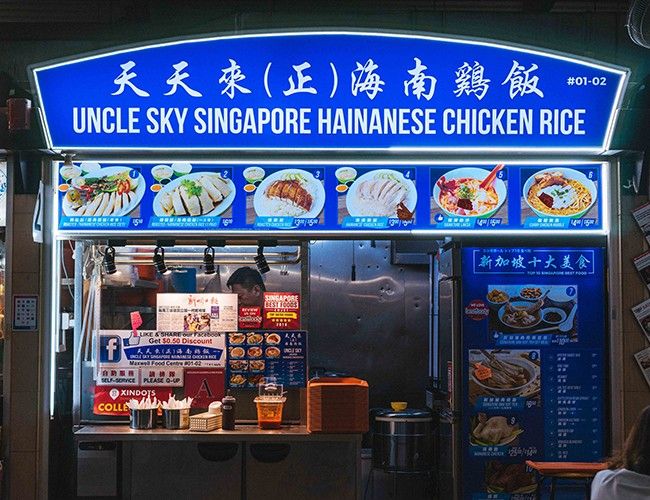 4. Zhen Zhen Porridge, Maxwell Food Centre
Eating congee for breakfast is a must in Singapore. Zhen Zhen Porridge has been doing it right for nearly 40 years. I ordered a fish, chicken and century egg version for SG $3 (it was the "small" size) and could only just finish it. Smooth, thick and almost soupy, it comes with fresh sliced chilli and soy on the side.
Stall 01-54, 1 Kadayanallur Street, Singapore
Hotels
5. Breakfast at Six Senses Duxton
I was hosted at the character-filled Six Senses hotels during my Singapore stay and was frustrated by my commitment to eat a hotel breakfast onsite at Yellow Pot when I could have been exploring more of Maxwell Food Centre. I ate my words – and all my breakfast – when I saw the most perfect, buttery French omelette heaped with picked chilli crab and served with fluffy white mantou buns in place of toast.
88 Duxton Road, Singapore, sixsenses.com/en/hotels/duxton/dining
6. Tiffin Room at Raffles Hotel
When the iconic Raffles' hotel reopened in 2019, the restored Tiffin Room was unveiled. Part of the establishment since 1892, it's open for breakfast, lunch and dinner – but if you're partial to a buffet, visit for lunch. The North Indian food is prepared with fresh spices and there's a thali experience, where staff appear regularly with stacked copper pots, each containing a different dish, and top you up at the table. The best parts are the cheese-stuffed Indian flatbreads that make repeated rounds – and pushing aside any twirling influencers that come between you and the condiment station.
1 Beach Road, Singapore, raffles.com/singapore/dining/tiffin-room
Geylang (Red Light District)
My first night in Singapore consisted of a four-hour walking food tour of Singapore's red light district, Geylang. For more on the area and the Sins and Salvations Food Tour, click here, otherwise meals 7 to 10 are summarised below. The rest I went back for.
7. Ho Kee Pau, Geylang
A franchise that stays open 24 hours and is known for dim sum dishes, in particular its pau (fluffy white Chinese buns). Order via a tick-box menu.
43 Lor 27 Geylang, Singapore
8. Geylang Famous Beef Kway Teow
This corner shop, also known as Geylang Lorong 9 Beef Hor Fun, is one of the best places in Singapore to try kway teow, fried rice noodles and suspiciously tender beef slices slathered in gravy.
237 Geylang Road, Singapore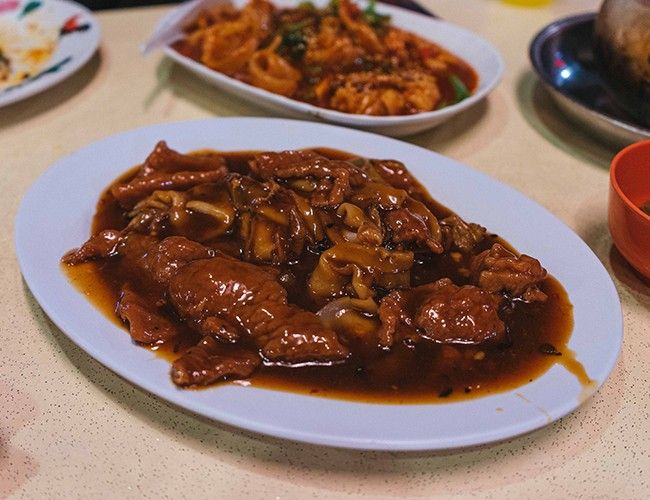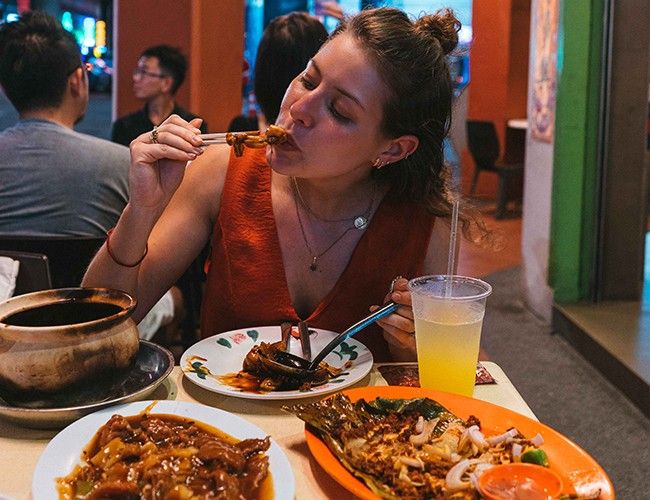 9. Geylang Lorong 9 Fresh Frog Porridge
Right next door to Geylang Lorong 9 Beef Hor Fun is this frog porridge spot. Think of the dish as a stew, fragrant with ginger and tiny segments of soft chicken, because that's what frog tastes like. It's just the ticket if you've had a little too much to drink.
235 Geylang Road, Singapore, geylanglor9.com
10. Wonderful Durian
Located on the corner of Lor 17 and Sims Drive, I had a fantastic experience cracking open and sharing a whole durian here, but make sure you read my handy guide to selecting durian before you visit this store or one of the durian shops near it.
147 Sims Ave, Singapore
11. No Signboards Seafood
A reliable spot to dig into chilli and white pepper crabs – and by reliable I mean it's been open for 50 years. Don't overlook other dishes, like razor clams and Chinese-style steamed egg custard.
Visit website for branches: nosignboardholdings.com
12. JB AH Meng
Know as a late-night chef hangout, this hectic spot has perfected white pepper crab and cooked-to-order san lou bee hoon – rice vermicelli noodles mixed through with shrimp and squid and then fried until it becomes a crisp, thick pancake-like disc.
534 Geylang Road, Singapore
Australian Restaurants
13. Burnt Ends
Most people think of a sausage (or shrimp) on a grill when someone utters the phrase "Australian barbecue". I think of Burnt Ends. From Aussie chef Dave Pynt comes this uber popular restaurant with 18 counter seats and no reservations, unless you book for noon or 12.30pm on Friday or Saturday, or Dinner Tuesday to Saturday at 6pm or 6.30pm. You might start with a version of steak tartare – dollops of raw beef and caviar on squares of potato fried in fat; continue with Dave's take on congee, its nucleus a vibrant orange egg yolk with a flurry of thinly sliced shiitake; use your hands to rip apart king crab claws in garlic butter; or perhaps share the 45-day dry-aged beef rib. The surprise winner for me was the bone marrow bun, cooked in a brick kiln and presented in foil. The charred crown is pre-cut with decadent marrow stuffed between each incision. Phwoar.
20 Teck Lim Road, Singapore, burntends.com.sg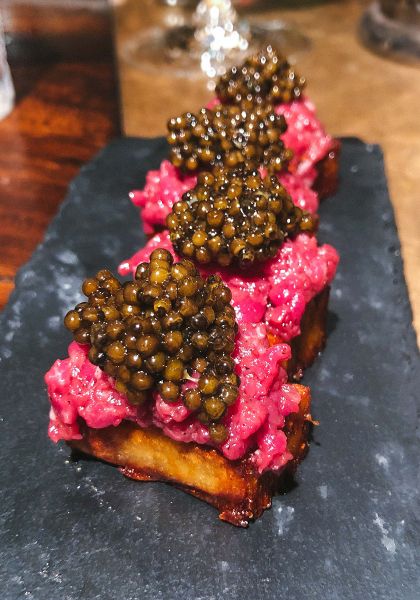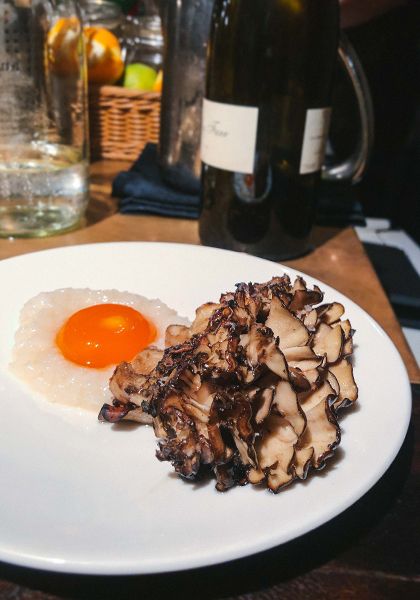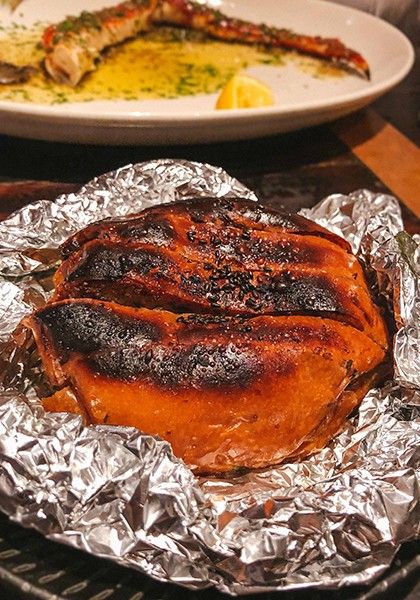 14. Cloudstreet
Named after the novel by Australian writer Tim Winton, Cloudstreet is the kind of restaurant you want representing your country in someone else's. Sister restaurant of Cheek Bistro, chef Rishi Naleendra runs the kitchen and Gareth Burnett the floor. The chef's counter is the best place to sit and watch Rishi inject his Sri Lankan heritage, experience in Australia and creativity with seasonal ingredients into dishes like king crab curry with tamarind and coconut broth, grilled lamb with young jackfruit, and petit fours dubbed "Vegemite on Toast". The Singapore stout and liquorice bread is good enough to make you teary. Or maybe that was just me.
84 Amoy Street, Singapore, cloudstreet.com.sg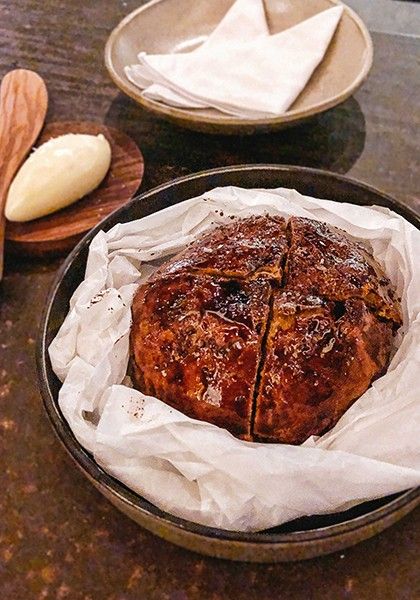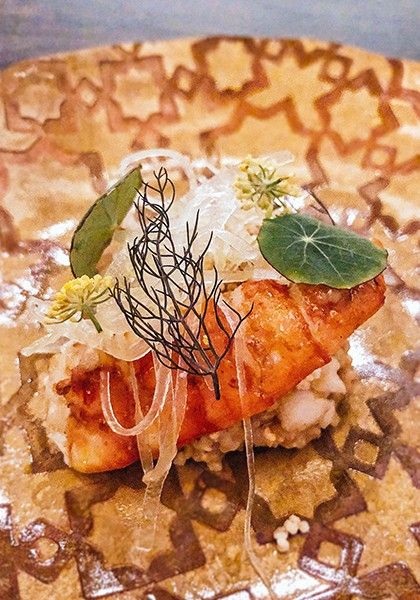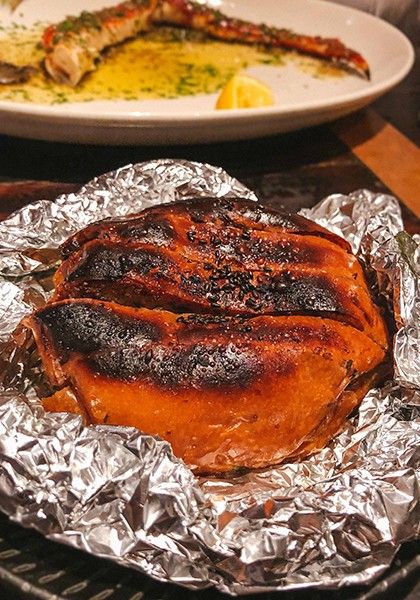 Kampong Glam
Also known as Kampong Gelam, this Singapore neighbourhood is centred on the Muslim Quarter and has the food to prove it. Mixed in among places to eat, traditional shophouses and the gold dome of Sultan Mosque is Haji Lane, lined with kitschy boutiques and girls posing with hands on straw hats for their social media followings. These shops are average at best, but food in the surrounding streets is brilliant at worst.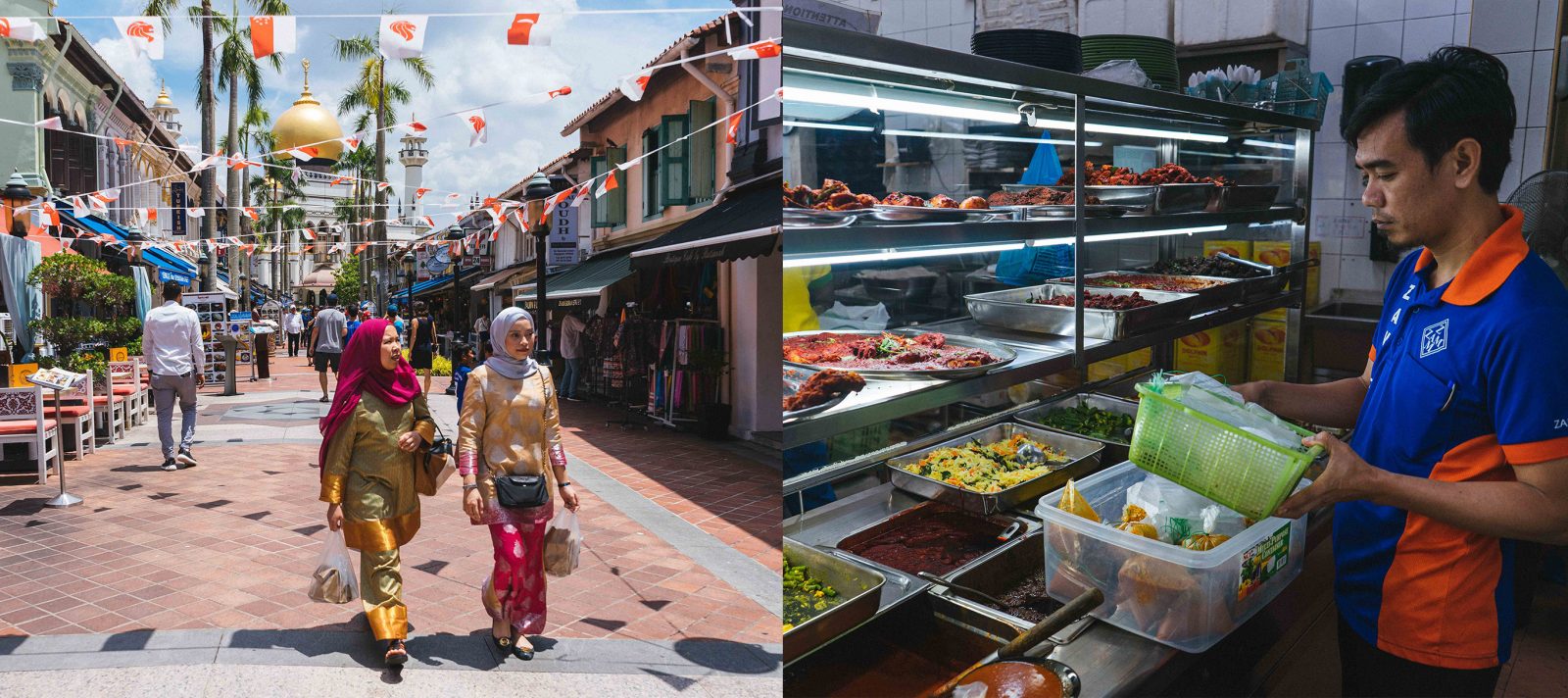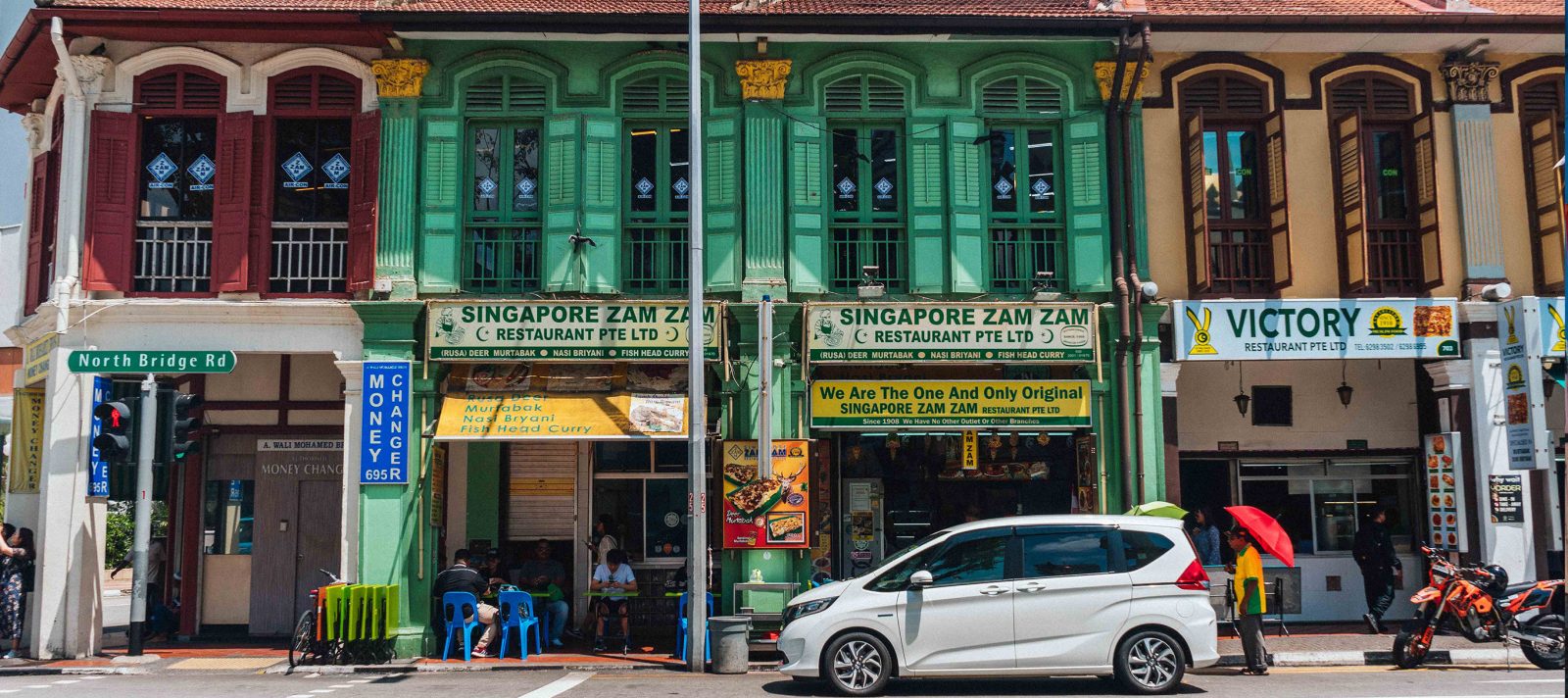 15. Singapore Zam Zam
Originally catering for the Indian-Muslim population, but now with a broader clientele thanks to delicious, affordable food backed by guidebook recommendations, Singapore Zam Zam has been around since 1908. Across the street from Sultan Mosque, there's a takeaway display and murtabak station downstairs and fluro-pink tables spread over two levels. Come here for roti prata, biryani and of course, murtabak, which comes flaky and browned stuffed with egg, onion your choice of chicken, mutton, beef, sardine or deer. No prize for guessing what I chose.
697-699 North Bridge Road, Singapore, zamzamsingapore.com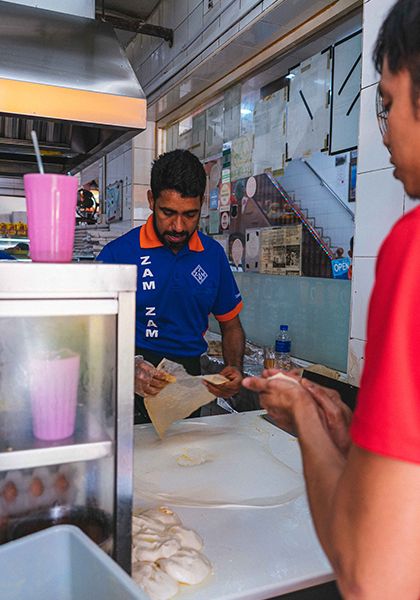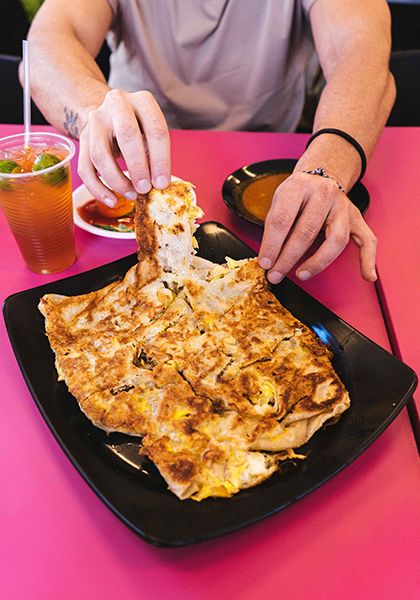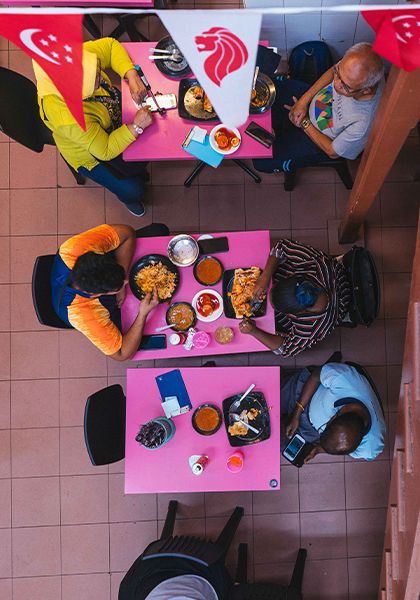 16. Hjh Maimunah Restaurant & Catering
Dishes from the glass counter cost between SG $1 and $4 at this tasty Malay nasi padang place. Choose from jackfruit curry, brittle fish skin and ayam goreng (fried chicken), to barbecued fish, tahu telur (bean curd omelette) and beef rending. A la carte, the oxtail soup is popular. Many of these dishes are spicy and if you're noticeably struggling, the gorgeous girls behind the counter will stifle giggles.
20 Joo Chiat Road & 11 & 15 Jalan Pisang, Singapore, hjmaimunah.com
17. % Arabica Coffee
If this designer coffee shop looks like it's straight out of Japan, that's because it is. Hailing from Kyoto, it roasts its own house blend inside its minimalist-chic, concrete-floored, white-walled shops. At $8 for a signature latte, it ain't cheap, but damn, it's pretty. Here a "Spanish latte" is what I know as Vietnamese coffee – i.e. one made with condensed milk.
Visit website for locations: arabica.coffee
18. 75 Ah Balling Peanut Soup, Golden Mile Food Centre
If you've been making glutinous rice balls since 1947, it's likely you've mastered the craft. What started as a street cart on Jalan Sultan is now a third-generation business with three outlets. These balls are traditionally eaten during Winter Solstice or Lantern Festival, but you can try them here any time, filled with peanut, sesame, yam, red bean or matcha. For the soup, pick between peanut, ginger, almond milk or red date. Interestingly, the 75 in the name pays homage to the year Ah Balling transitioned from street cart to Golden Mile Food Centre – it's a coincidence that the stall number is 01-75.
Golden Mile Food Centre, 505 Beach Road, Singapore, 75ahballing.com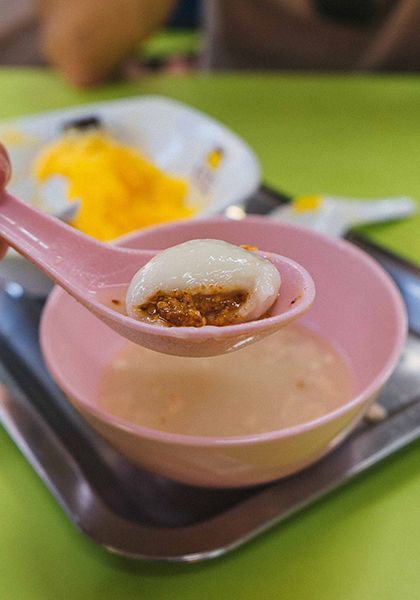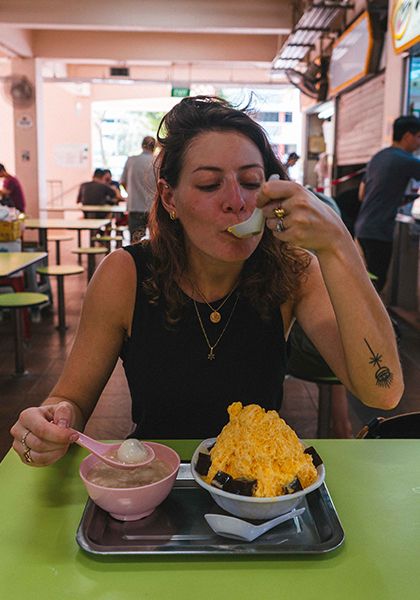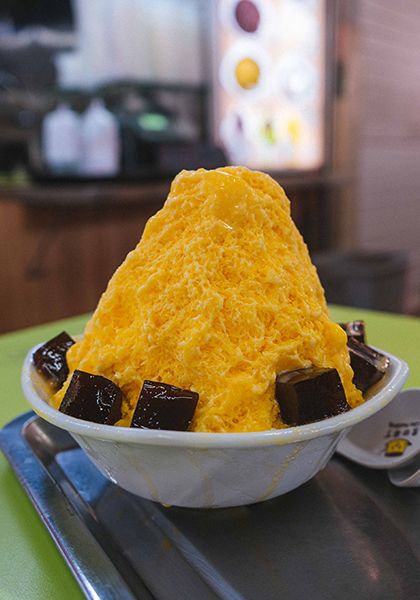 19. Shaved ice dessert stall, Golden Mile Food Centre
If you're facing Ah Balling, its neighbour to the right offers a selection of cold desserts and puddings, including snow ice, which they shave on a machine and flavour with fresh mango when seasonal.
Golden Mile Food Centre, 505 Beach Road, Singapore
Chinatown
20. Tong Ah Eating House
One of the city's most iconic kopitiams (coffee houses), Tong Ah Eating House originally opened up the road in 1939. Come here for sweet kopi and extra crunchy kaya toast, stay for affordable and homely tze char dishes. Visit for breakfast if you want to eat like a local.
35 Keong Saik Road, Singapore, facebook.com/TongAhEatingHouse
21. Foong Kee Coffee Shop
From noon, tables are crowded and queues form outside this unassuming spot. One of the best places for roast meats, you can order duck and pork chopped and dished up on platters, on rice or with springy egg noodles. Char siu roast pork belly can be ordered lean or fatty (or both) and plates come with a cleansing bowl of broth.
6 Keong Saik Road, Singapore
22. Song Fa Bak Kut Teh
Man might have landed on the moon in 1969, but it was also the year Song Fa launched as a humble street pushcart on Johor Road. These days there are about a dozen outlets in Singapore, plus another 20 throughout Asia. The peppery and herbal pork rib soup is the signature dish (bak kut teh) and comes in two sizes. Snacky nibbles like salted green pickled veg and braised sides are worth ordering, too. I love the mini bins on each table and the packaged wet wipes, encouraging patrons to eat with their hands.
Visit website for locations: songfa.com.sg
Joo Chiat & Katong
This Peranakan pocket in eastern Singapore is a wonderful place to explore heritage shophouses, buildings heavy with history and family-run food businesses big on upholding tradition. For more detailed coverage, click here.
23. Original Katong Laksa, Roxy Square
Not to be confused with popular 328 Katong Laksa, the Original Katong Laksa is, well, the original. Look for the revealing yellow sign that reads, "More than 50 years experience in serving best Nonya laksa". Use the spoon provided for the creamy, aromatic broth – the noodles are pre-cut so chopsticks are moot. Along with the prawn, fish cake, bean sprouts and minced pork that comes in the laksa, buy otah from Bei-ing Wanton Noodles next door to add to the mix.
Roxy Square, 50 East Coast Road, Singapore 
1 Queensway, Queensway Shopping Centre, Singapore
331 Upper Paya Lebar Road, Singapore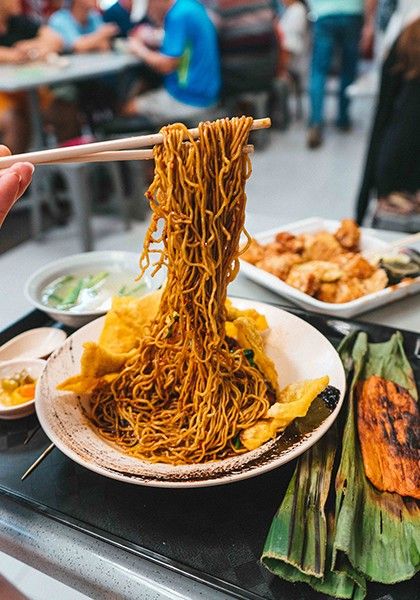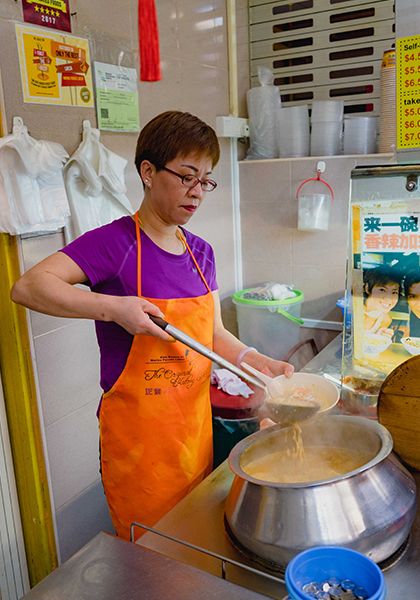 24. Bei-ing Wanton Noodles, Roxy Square
Order the famous wanton mee and take a number. Your noodles are cooked fresh while you wait, sometimes 20 minutes, but you won't miss the call when the owner shouts your number with such volume and staccato that diners visibly jump on their plastic stools. The noodles come with char siu and both deep-fried pork and steamed wontons.
Roxy Square, 50 East Coast Road, Singapore, facebook.com/being1ton
25. Kim Choo Kueh Chang
Heritage Peranakan kueh (cakes) since 1945. Known for sweet and savoury Nyonya sticky rice dumplings, which you'll spot hanging in bunches. Match the colour of the strings to the different fillings, or go for sweet kueh piled in plastic containers. If you only have enough stomach space for one sweet,
click through
to find out my favourite.
Visit website for branches: kimchoo.com
Havelock Road Cooked Food Centre
26. Guang Fa Laksa, Havelock Road Cooked Food Centre
Uncle Tan makes his own chilli paste and his laksa broth is full of flavour as a result. Just the right amount of coconut comes through the broth and it's not too oily. I love the bouncy fishcake, and you can opt in or out for cockles.
Stall 01-08, 22B Havelock Road, Singapore
27. You Yi Fish Soup, Havelock Road Cooked Food Centre
Clean and spicy tom yum broth, thoughtfully served with meaty, deep-fried fish on the side so it doesn't go soggy. Comes with yam and vegetable rice on the side, as well as chilli sauce and fresh sliced chilli.
Stall 01-30, 22A Havelock Road, Singapore
28. Meng Kee Fried Kway Teow, Havelock Road Cooked Food Centre
A popular spot that often makes it to "best of" kway teow lists, this stall has been passed from father to daughter. The slippery rice noodles have intense wok hei, umami from being fried in pork fat and are coated in sweeter-than-average sauce. Served with crunchy bean sprouts, egg, lup cheong and fat, juicy cockles.
Stall 01-07, 22A Havelock Road, Singapore
29. Tan's Tu Tu Coconut Cake, Havelock Road Cooked Food Centre
This is Singapore's original kueh tutu store, kueh tutu being small steamed rice flour cakes filled with peanut and moist, shredded coconut sweetened with caramelised palm sugar. In existence for more than 80 years, click
here
to learn more about these cakes and the man who invented them.
449 Clementi Avenue 3, Singapore & 22B Havelock Road, Singapore
The Rest
30. The Ampang Kitchen, Bukit Timah (make a special trip)
One of the most interactive and involved ways to try Peranakan food in Singapore is in with a private dining experience at someone's house. The cuisine, which you can read more about here, is traditionally only cooked at home. At Ampang Kitchen it's available to those who book a month ahead and visit as a group, plus you can bring your own alcohol at no extra cost. "Retiree" Raymond Leong and his son, David, run it. You'll struggle to find these dishes elsewhere.
39 Jalan Ampang, Singapore, facebook.com/TheAmpangKitchenSingapore
31. Nylon Coffee Roasters (400m from Foong Kee Coffee Shop)
Hidden at the bottom of Everton Park, a 1960s housing estate, this tiny coffee shop roasts beans from around the world and pours them black (espresso, long black, filter brew), white (three, five or seven oz) or iced (black, white or brewed) to an achingly-cool, coffee-loving crowd that leans nonchalantly at the standing communal table.
Block 4 Everton Park, 01-40, Singapore, nyloncoffee.sg
32. Atlas Bar (200m from Zam Zam, visit after Kampong Glam)
This is the best gin bar in Singapore, and quite possibly the world. Art Deco-style Atlas opened inside Parkview Square office tower in 2017 and has one of the largest gin collections in the world – upwards of 1300 bottles in an imbibing bible, sourced from Estonia to Ecuador. Drink a martini from every decade from 1910 to 1990. They start at $250, with $25 knocked off every 10 years added. The drinks list here took two years to curate and the prime bottles sit behind the bar in a soaring tower. Mop up that booze with plates like mini croque monsieurs.
Parkview Square, 600 North Bridge Road, Singapore, atlasbar.sg
33. Rochor Original Beancurd (1.3km from Zam Zam, visit on the way to Kampong Glam)
This shop is so simple it almost looks temporary, but it's been around since 1960 – totally my vibe. I tried soybean milk with pearls, two silky bean curd puddings (one with sweet syrup), a deep-fried sesame ball and an egg tart. It was too much, but YOLO. Side note: family favouritism and rivalry led the four siblings in this bean curd family to part ways, and now each has opened their own bean curd store. One used to be next door, while another is Beancurd City, where I'd originally tried to go but found it closed. A kind Grab driver suggested this as an alternative.
2 Short Street, Singapore, Facebook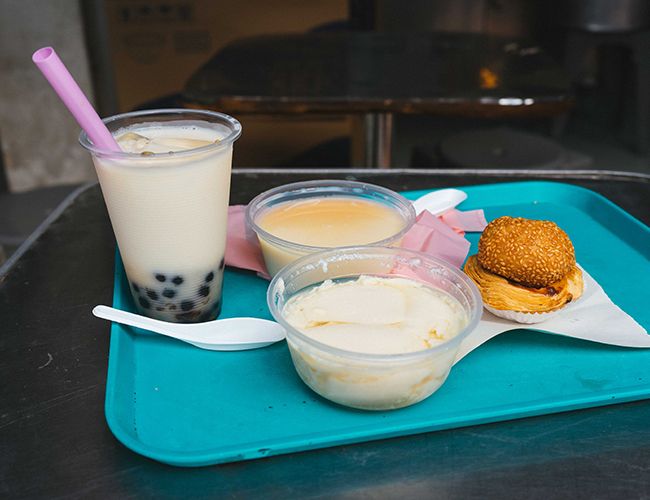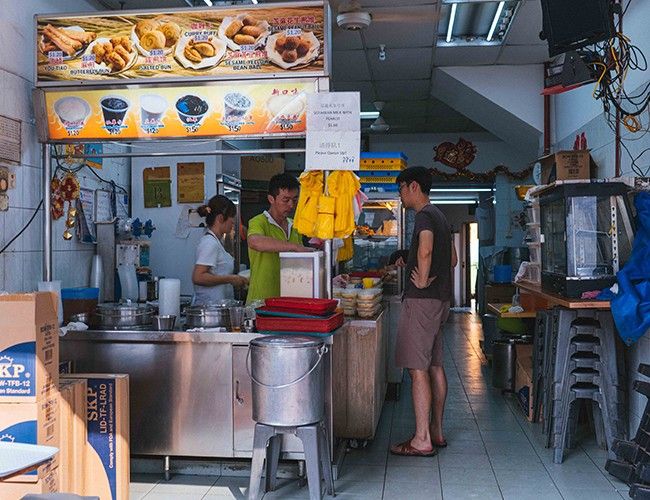 Around the World in 80 Lesser-Known Melbourne Restaurants
FREE food guide when you subscribe.