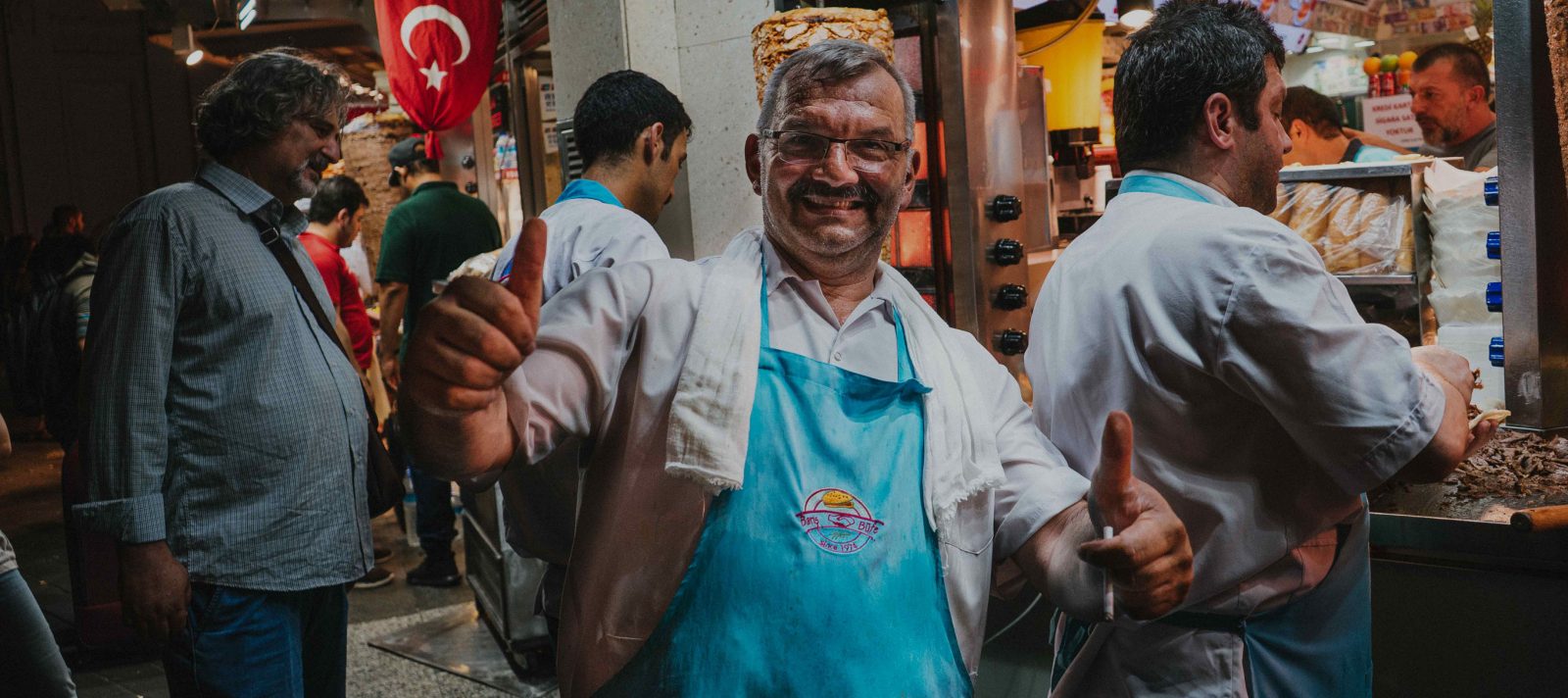 Istanbul's Late-Night Eats
How to Eat like a Local after you Drink like a Local in Istanbul
Words by Sofia Levin
Images by Sofia Levin & Justin Meneguzzi
"Do you know what we eat after a big night out in Australia?" I ask my guide during a street food tour of Istanbul. He shakes his head.
"Doner kebab!"
He looks at me, a perplexed furrow creeping across his brow. "We only eat this for lunch," he says. "It's prepared in the morning, and by the afternoon, it's all gone. Sold out."
After rattling off a list of below-average food consumed by Australians after we've been boozing (soggy pizza from a bain-marie, McDonald's and Halal snack packs), I ask him what Turkish locals eat in Istanbul after a night on raki. Here's his local knowledge, and where to try each dish.
İşkembe Çorbası (Tripe Soup)
Çorba translates to soup, and this particular version is made from tripe. It's the most popular late-night snack and also a hangover remedy, as it has been since Ottoman times. Offal is slow-cooked until soft in a thick soup made from milk, flour, butter and egg yolks, seasoned with a condiment made from garlic and vinegar, or a concoction of lemon juice and egg yolk.
Where to try işkembe çorbası:
Cumbalı Kahve – Balta, Ayvansaray, Leblebiciler Sokak no. 6, Fatih
Karaköy Çorba Evi – Kemankeş Karamustafa Paşa, Mumhane Caddesi no. 35, Beyoğlu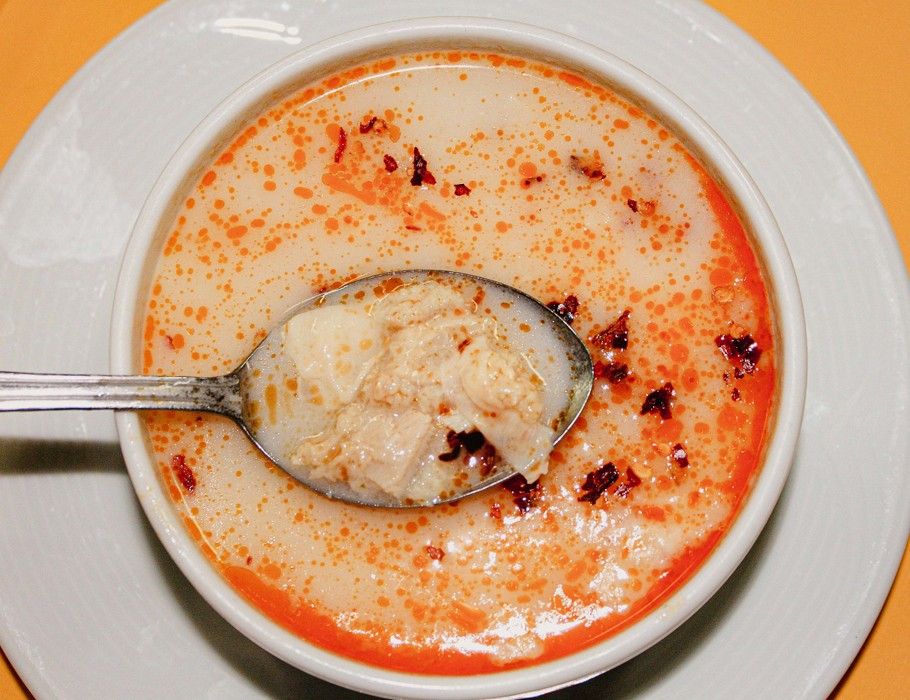 Kokoreç (Grilled Offal Rotisserie)
Another offal dish, kokoreç is the ultimate version of an alcohol-absorbing sandwich. Vendors wrap seasoned lamb sweetbreads, heart, lung and kidney in the animal's intestines and cook it over charcoal on a horizontal spit. It's either sliced (İzmir style) or chopped into tiny pieces that sizzle and splutter on the grill (Istanbul style, and my preference). The latter is a variety of meaty textures, from soft through to crackling-crisp. You can have it on a platter, but usually it fills a white roll warmed on the oily griddle.
Where to try kokoreç:
Mercan Kokoreç – Hüseyinağa Mahalle, no. 5/A 4/A 4/B, Beyoğlu
(Multiple branches and in operation for nearly 60 years)
İzmir İşi – corner Karaali Kaptan Sokak and Mumhane Caddesi, Karaköy
(Fast food, open late and also specialises in midye dolma stuffed mussels)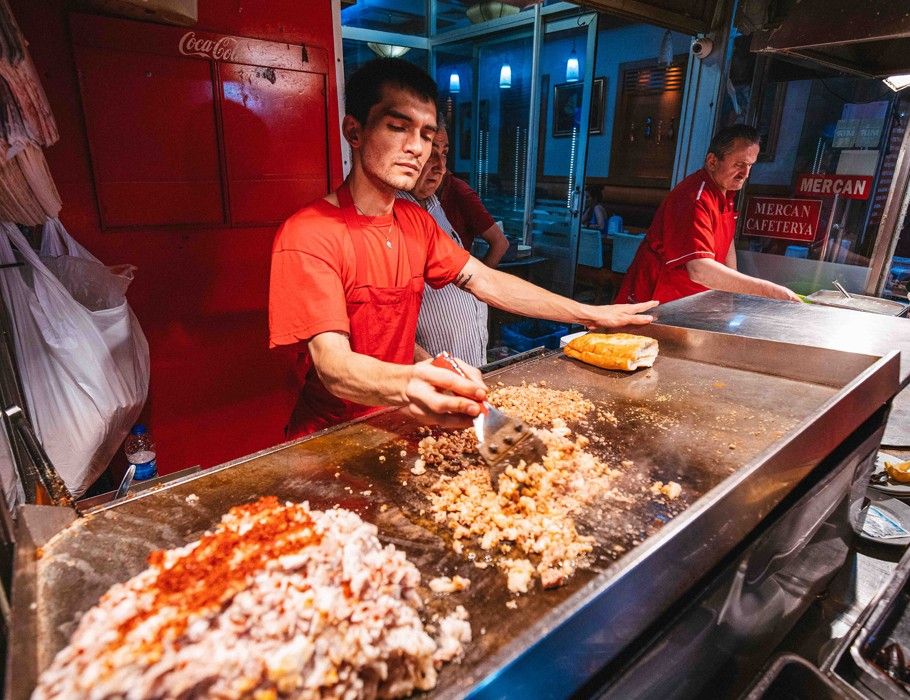 Islak Hamburger (Wet Burger)
The name doesn't do this late-night snack any favours, but this burger-sloppy-Joe hybrid is everything a meat eater could ever want after an evening of drinking. Found in bustling Taksim Square, they're piled up in sweaty glass displays, but move fast. They're cooked in milk and garlic, attacked with more than a dozen herbs and spices and served on a soft white bun that's steamed and slathered in sauce made from garlic, tomato and yoghurt. You'll want at least two.
Where to try a wet burger:
Shops surrounding Taksim Square near the corner of Sıraselviler Caddesi and Tajsun Caddesi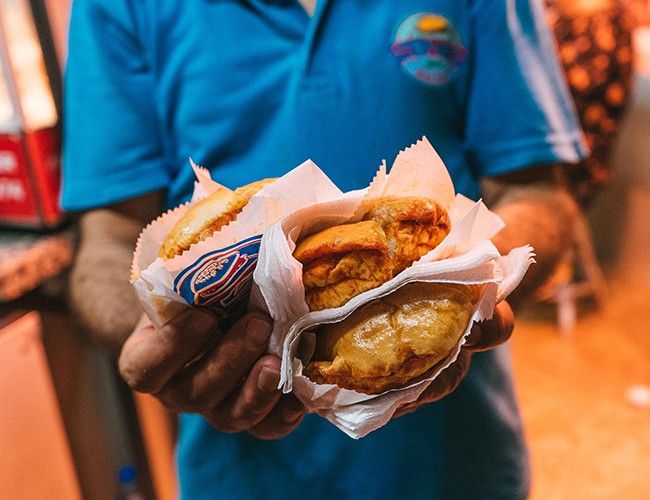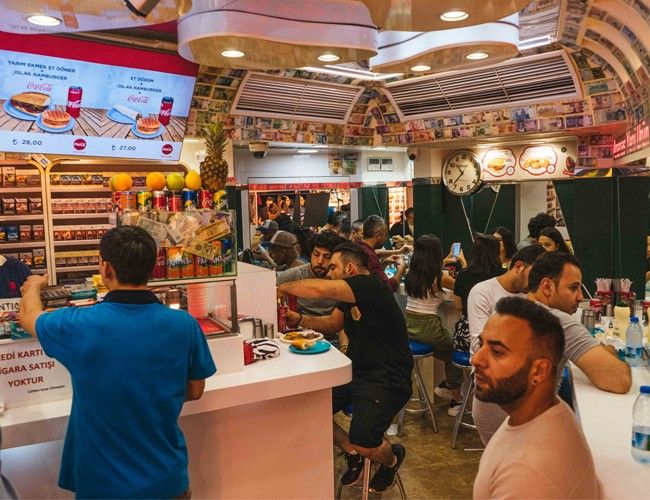 Sofia Levin travelled with assistance from Intrepid Travel, but this article was researched and published independently. For small group tours to Turkey, click here.
Around the World in 80 Lesser-Known Melbourne Restaurants
FREE food guide when you subscribe.