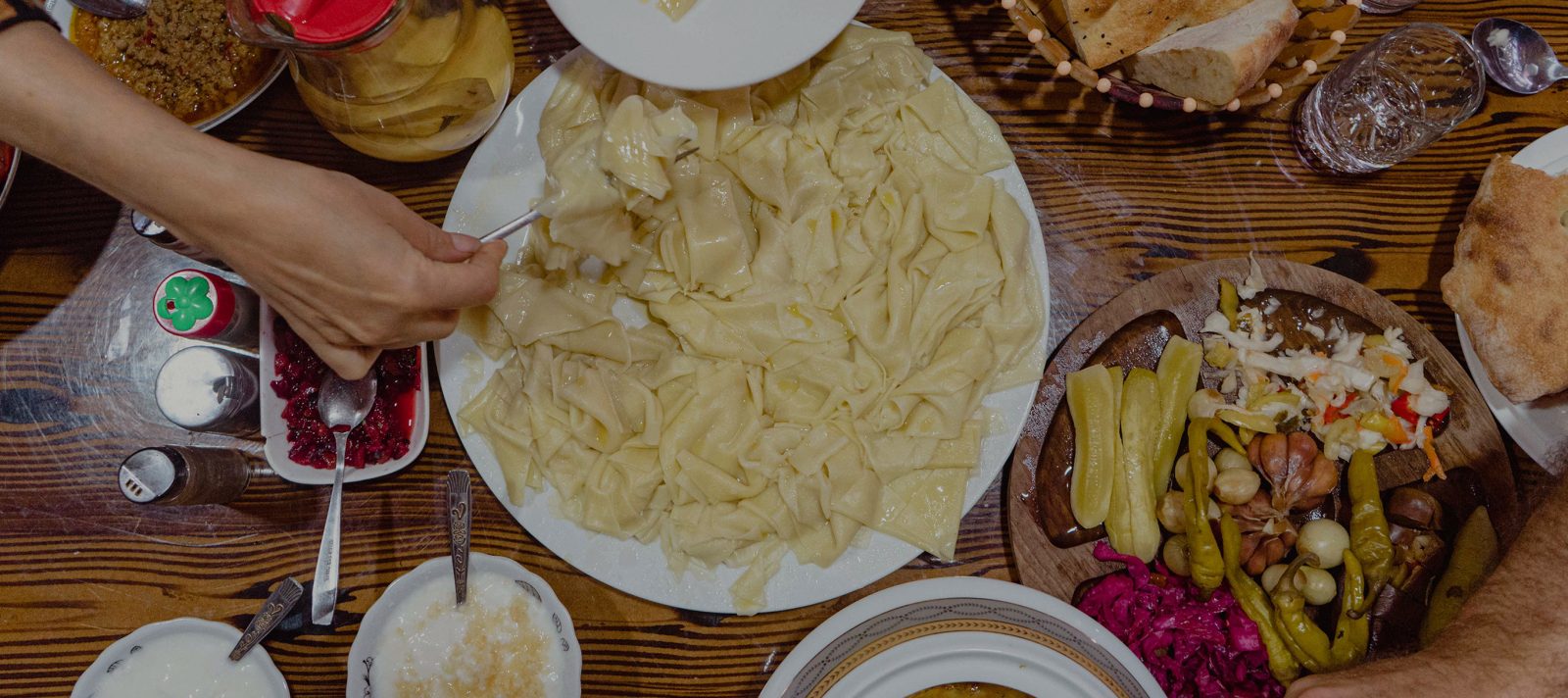 Azerbaijan:
A Food Guide
31 Unmissable Dishes in Azerbaijan
Words by Sofia Levin
Images by Sofia Levin & Kitti Gould
Welcome to the most comprehensive guide to Azerbaijani food and drink on the Internet, with no fewer than 31 dishes you need to try when visiting this unique country.
Few people can point to Azerbaijan on a map, let alone describe the cuisine. Bordered by Russia, Armenia, Iran and Georgia, you'll recognise Persian and Turkic influences, whether fruit-studded pilafs, vine leaves swaddling meat and rice or various iterations of flatbread. Out of a possible 11 climate zones on Earth, Azerbaijan has nine. Its mountains, pastures and sea-flanked land grow fresh herbs, fruit and vegetables and raise a particular breed of fatty-tailed lamb incorporated into many traditional dishes. Technically at the far eastern side of Europe, Azerbaijan is the gateway to Asia, Europe and the Middle East. For centuries it was in prime position for traders journeying along the Silk Road. Spices abound as a result, but no matter where you're from, food in Azerbaijan will simultaneously remind you of some place else and make you feel at home. Here are 31 dishes, desserts and drinks to try when you visit Azerbaijan.
1. Raw vegetables & fresh herbs
It's easy to fill up on the veggies and verdant herbs that arrive at the table before a main meal in Azerbaijan. The diverse climate makes for fertile soils and ideal growing conditions; although you'll be familiar with cucumbers, tomatoes and radishes, they almost seem to burst with more life and flavour here. Herbs like tarragon, purple basil and parsley are piled on plates and picked at raw. Other accompaniments might include pickled cucumbers, cabbage, onion, garlic and a medley of olives.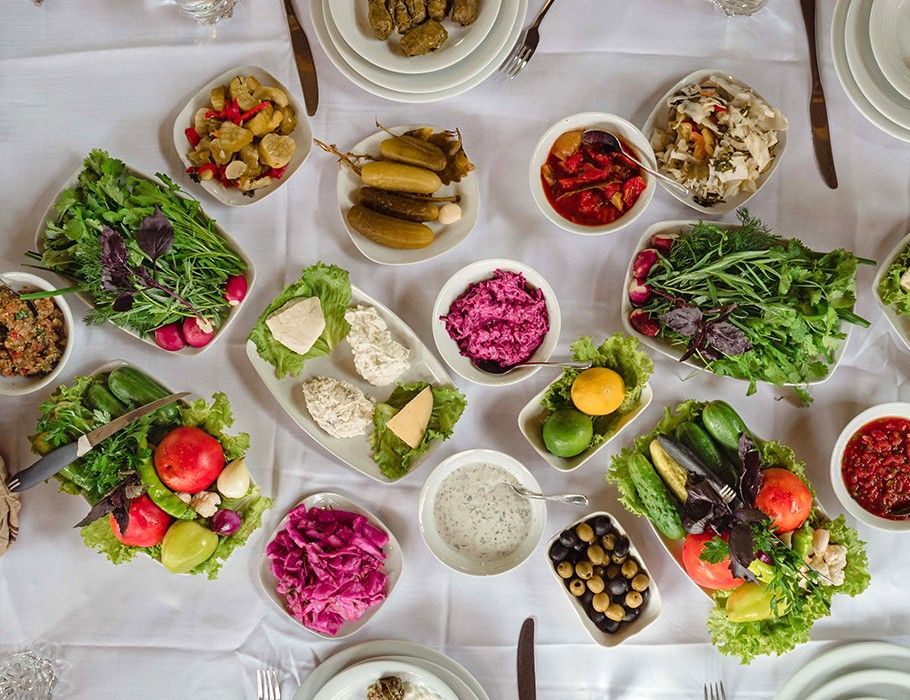 2. Mangal salad
Served as a starter with the mini oasis of herbs and vegetables mentioned above, mangal is a chunky, garlicky eggplant salad that better resembles dip. Similar to caponata, roasted aubergine, capsicum and tomatoes are grilled over an open flame, their skins removed and flesh diced before being seasoned and mixed with olive oil.
3. Motal pendiri
The final piece of the puzzle that precedes a meal in Azerbaijan is cheese. The most famous is motal pendiri, made in the mountains from sheep's or goat's milk (sometimes a mix) before being matured inside sheepskin and hung to dry. It's crumbly and salty like feta, but more intense. Break a bit off and pair it with fresh herbs.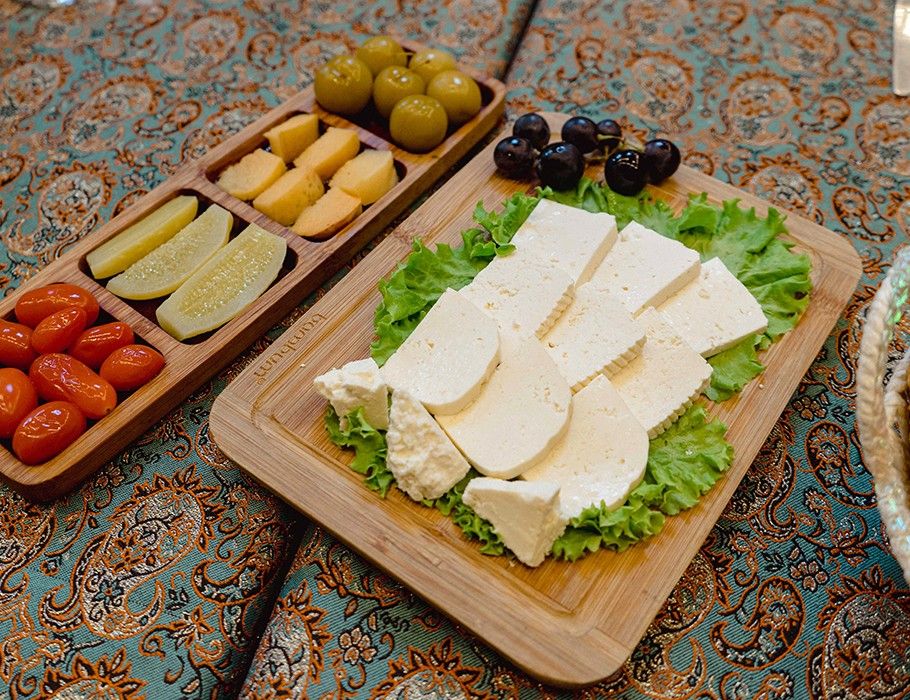 4. Plov
There's a version of plov, or pilaf, on just about every continent, but Azerbaijan has more than 200 varieties. They can be mixed through or piled with chicken or lamb, are fragrant with spices and often studded with dried fruit that plumps during the cooking process. If you can only try one, make it the national dish, shakh plov, which translates to "crown pilaf". It's moulded into a drum and encased in golden pastry.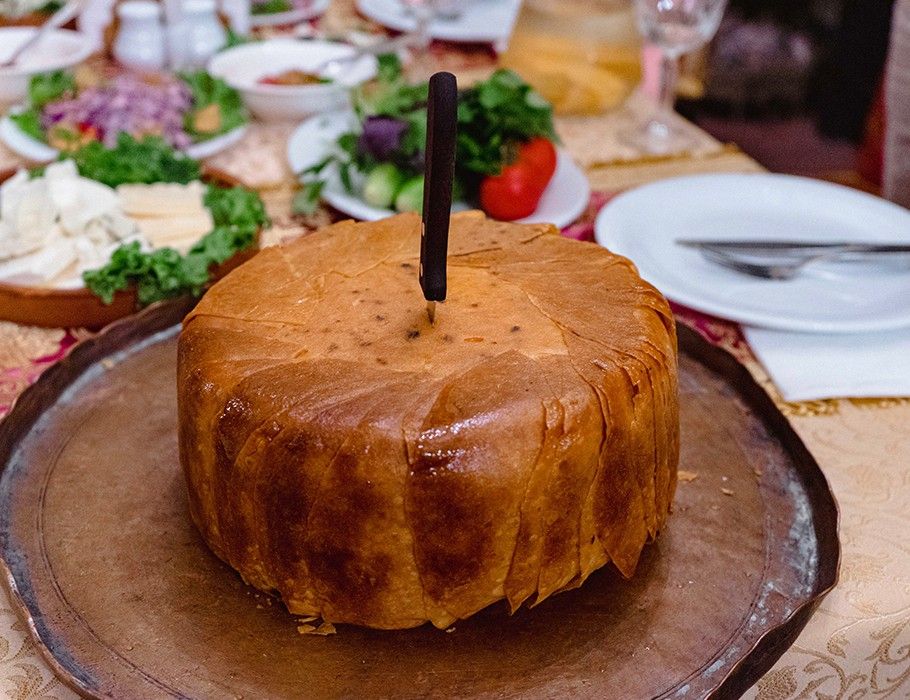 5. Piti
About that lamb – it's also the main ingredient in piti, a regional stew particular to Sheki, an ancient, 2700-year-old UNESCO-listed city famed for the Kas church that's home to human skeletons measuring up to 2.3 metres. Lamb, its fat, onion, chickpeas, chestnuts, plums, lamb stock, saffron and sumac are slow-cooked for around 12 hours in earthenware pots. When you order piti, the pot is brought to the table, its broth poured into a bowl to be supped or dunked with bread, and then the stew is mashed inside the piti. It's extremely rich, so best shared if you're not used to the intense fatty flavours.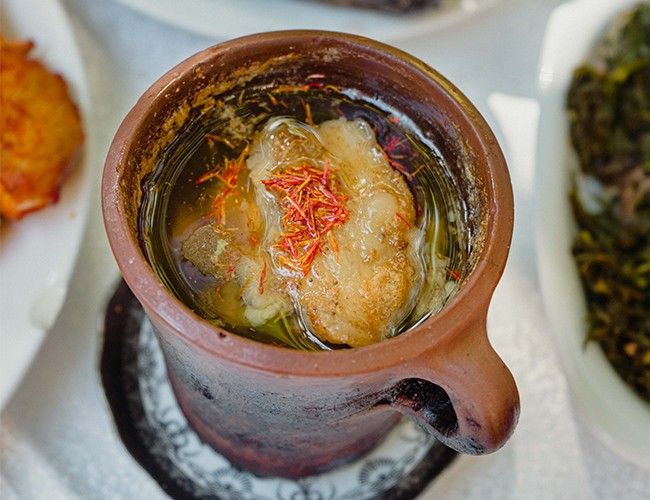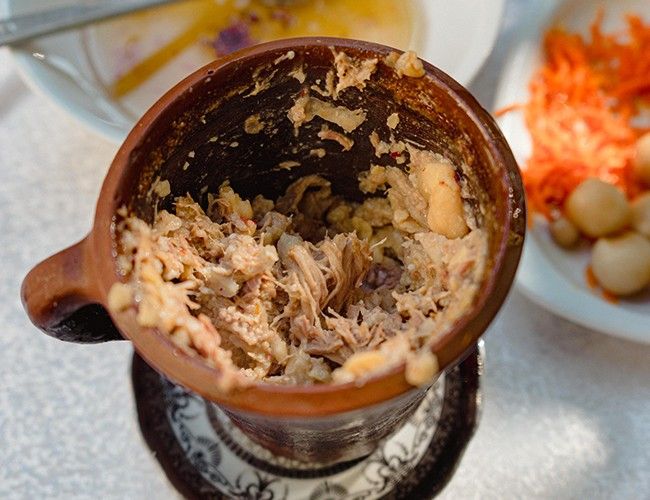 6. Dolma
Ubiquitous across Azerbaijan, dolma refers to any leaf or vegetable stuffed with a rice mixture, usually with minced lamb, herbs and spices. Depending on the season, you might encounter vine leaves, similar to what you'll eat in Greece or Turkey, cabbage leaves, eggplants or peppers. There's a particular bread of fatty-tailed lamb in Azerbaijan that makes the dolma here richer and more decadent than what you might be used to elsewhere. The lamb fat is referred to as guyrug.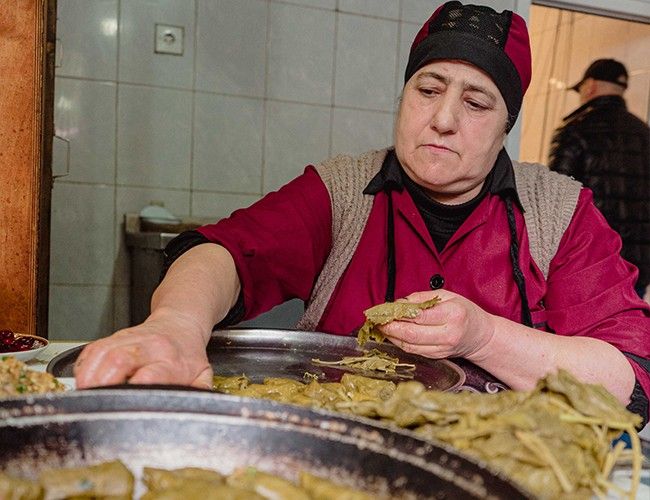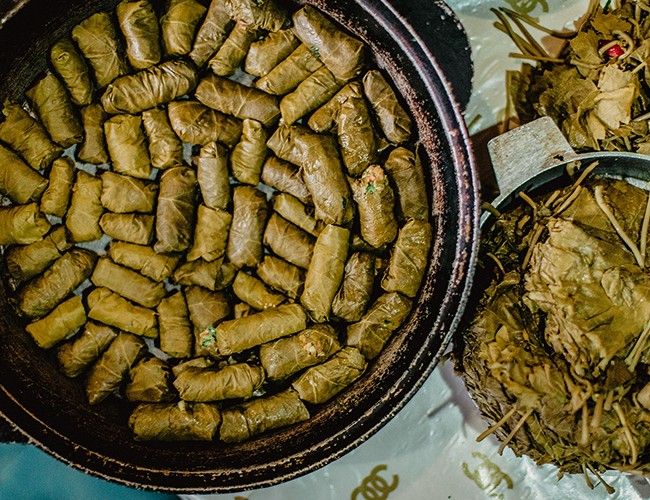 7. Dushbere
Dushbere (or Dushbara) is Azerbaijan's answer to ravioli en brodo, or tiny wontons in soup. These miniscule dumplings filled with a smidge of lamb mince and plopped in clear vegetable broth are reminiscent of both European and Asian dishes. Given Azerbaijan's location at the crossroad of these continents, it's a little bit of both, but still entirely its own. Experts will tell you that the best dushbere cooks can fit a dozen of the dumplings on a single spoon.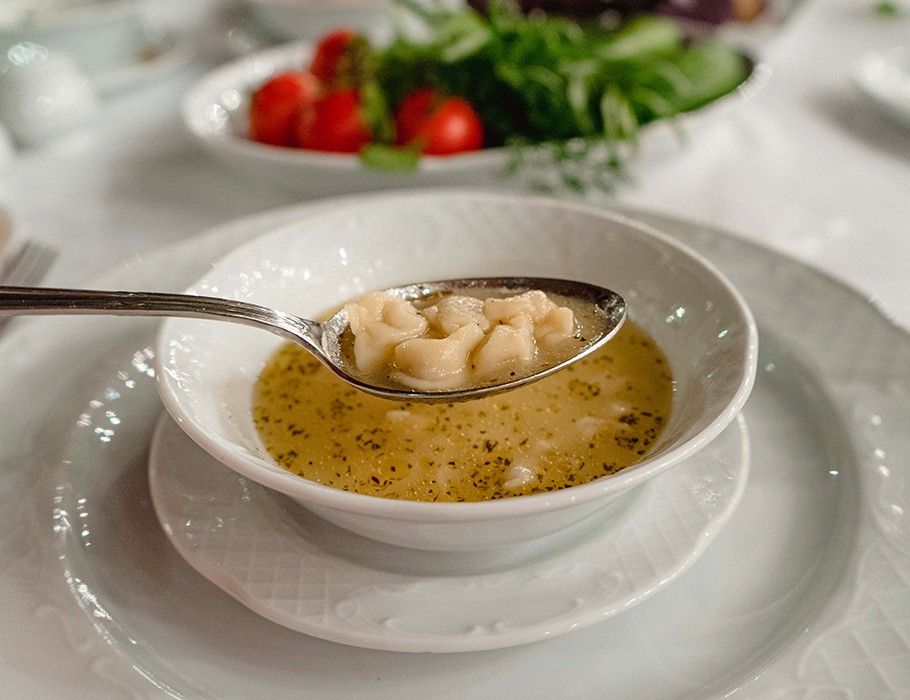 8. Çığırtma
The word çhigirtma disturbingly translates to "screaming", thanks to the noise made when the ingredients of this soup hit hot oil during cooking. The ultimate version of chicken soup, hunks of tender chicken and fluffy wads of omelette float in the nourishing broth, which is almost fluorescent with marigold and saffron.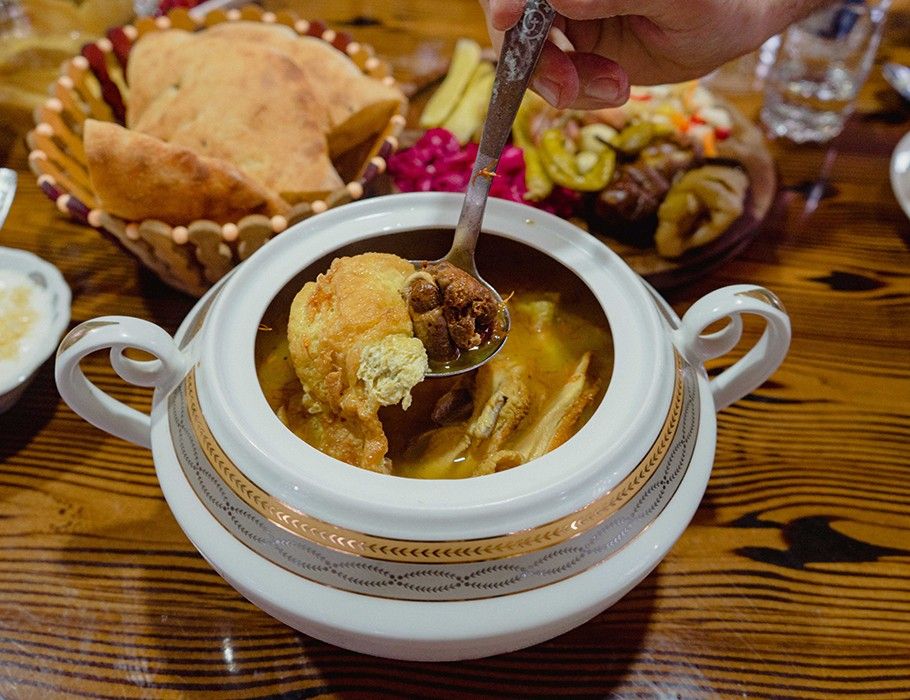 9. Dovga
Dovga is a traditional yoghurt soup that can be served hot or cold. Some fancier restaurants will serve the cold version in a glace, laced with herbs to whet your appetite, while the warm version is bulked up with rice and chickpeas.
10. Xəngəl
Whether you spell it xəngəl, xengel, xingal or khingal (the latter is how it's pronounced in English), this is a dish that you can get around regardless of where you're from. Perhaps the most accessible to those not used to the cuisine, it's Azerbaijan's version of bolognese. Thick, flat wheat noodles, usually made on the premises and cut by hand, are served with lamb mince lushed up with extra fat and tomato, crowned with garlic-infested yoghurt.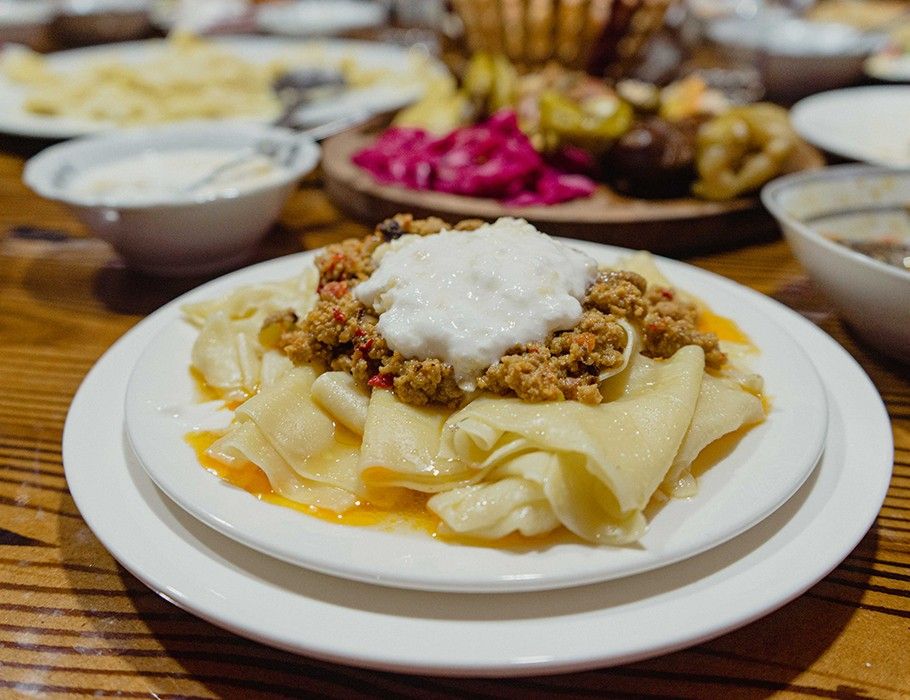 11. Saj
Saj (or sadj) is the name of the large, shallow copper vessel traditionally used to make this dish. These days saj is made by frying lamb (or another protein) and sliced vegetables (eggplant, potatoes, peppers, tomatoes) in guyrug (lamb fat) in cast-iron over coals. Thin lavash flatbread accompanies saj and dipping it in the juices and leftover fat is a rite of passage.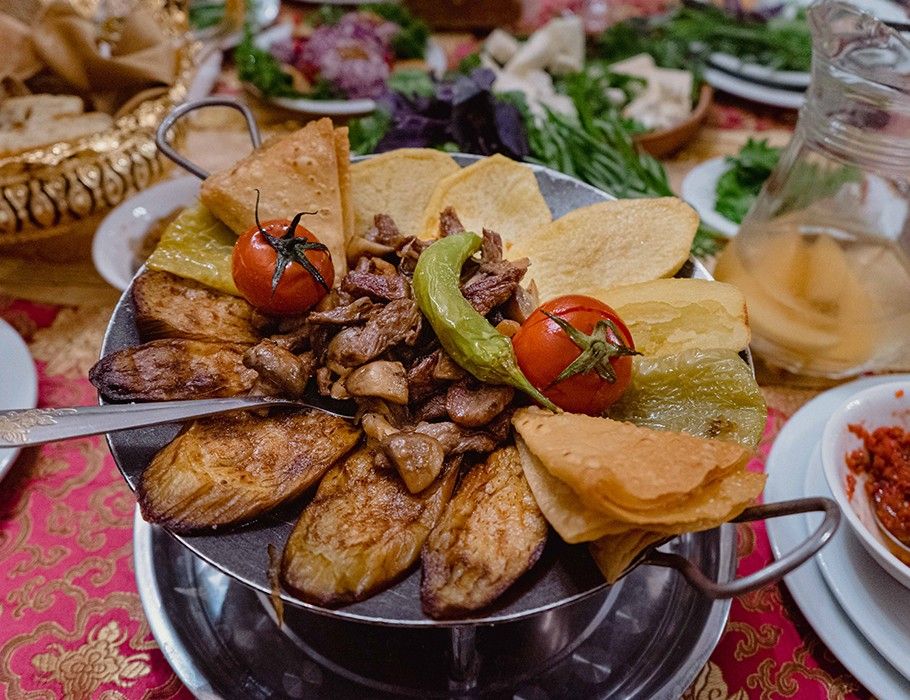 12. Kebab
One of the most common dishes on menus in Baku and beyond is the kebab. Called shishlik in Azerbaijan, a reference to the shish (metal skewer) on which ground, spiced meat is cooked, you can find just about anything on a kebab in Azerbaijan, from ubiquitous lamb to baliq (fish) and vegetables. Meat skewers are cooked on a mangal, a coal barbecue that imparts a charry flavour. Note that kebabs don't always come on a skewer, with the meat often served on a platter, too.
13. Fisinjan
The most interesting thing about this dish is the cooking method. With Persian roots (in Iran it's called fesenjan), meat is slow cooked in a sweet, tangy and sticky sauce made with pomegranate molasses, plums and walnuts until thick and dark. To make the sauce even darker – midnight black – a horseshoe is sometimes placed on an open flame until piercingly hot, then added to the sauce to rapidly increase the temperature and darken the colour. You can find it with lamb or beef meatballs or chicken. It's usually served with a simple plov, all the better for mopping up leftover sauce.
14. Yanar Dopu
If you've ever been to Cappadocia in Turkey – the place where Instagrammers are so concerned with taking selfies in front of hot air balloons that they miss the actual experience – you might have stumbled across testi kebabs, meat cooked in ceramic vessels that are sealed and cracked open at the table. Yanar dopu is Azerbaijan's version of a pottery kebab, most often made with lamb.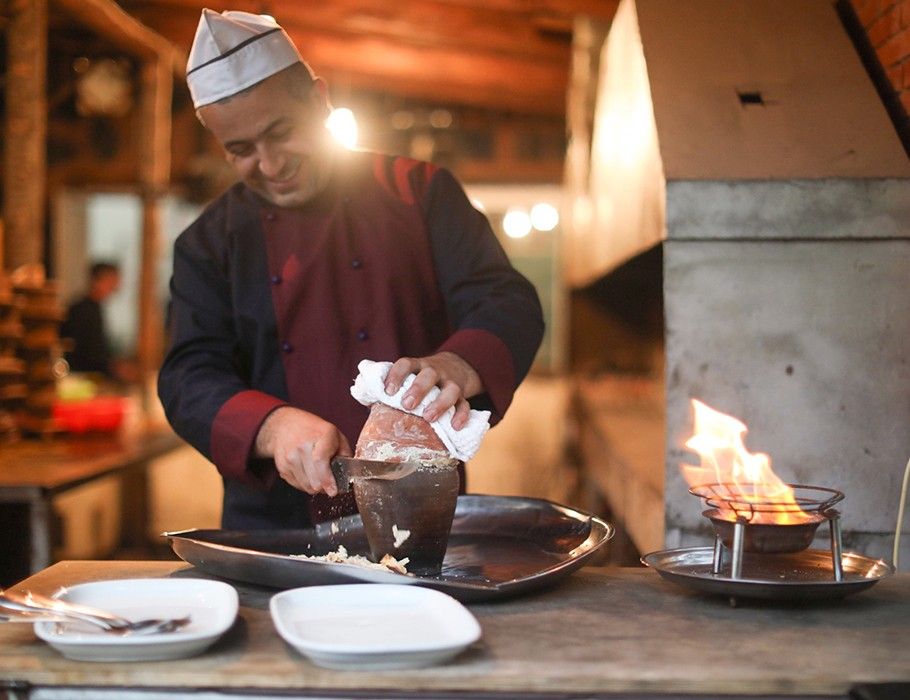 15. Ciz-Biz
Pronounced "jizz-bizz" (really), this dish is an offally version of a fry-up or hash. Bits of lamb liver, heart and lung are chopped and fried with onion and potato. They're cooked until crispy and, along with cubes of potato, are cooked in lamb fat to create a rich, oily and beautiful mess. If nothing else, it makes a killer hangover cure and would go down a treat with a fried egg thrown over the top.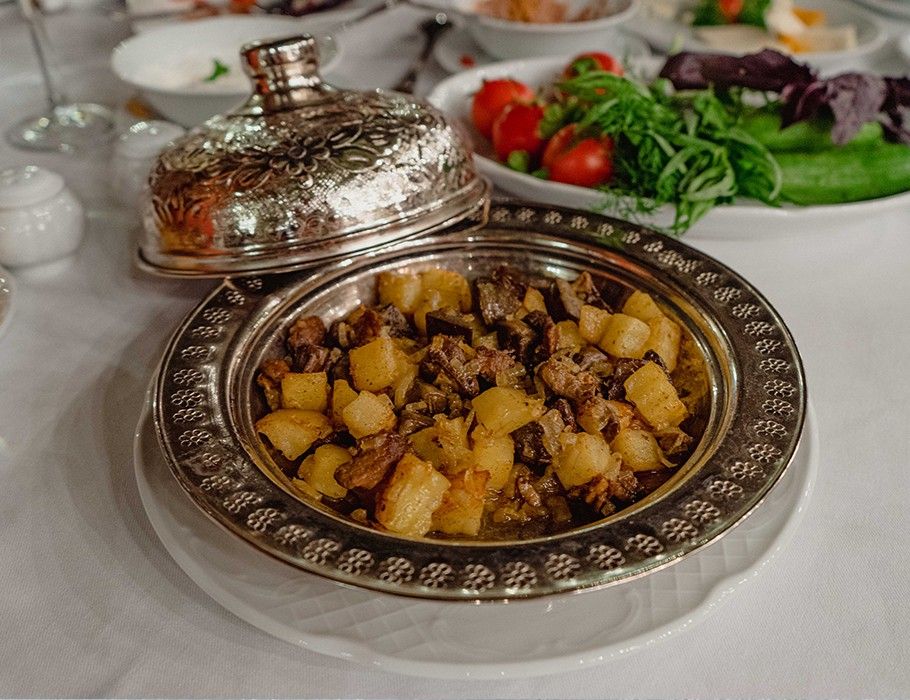 16. Lavangi
Love a roast? Look no further than lavangi, a mix of chopped walnuts, onions, herbs and mixed dried fruit like sour cherries, prunes, pomegranate and apricots, all stuffed inside either chicken or fish before being roasted whole. Sturgeon and carp are usual for the latter, and while you can find all versions easily enough in restaurants in the capital of Baku, lavangi originates in Azerbaijan's south.
17. Gyurza
Also spelled gyurze, spotting these lamb dumplings on a menu or plate is likely to conjure thoughts of Japanese gyoza. They're served in rich lamb broth, elongated with an intricate, plaited pattern that runs along their spines, thanks to a finessed pinching technique.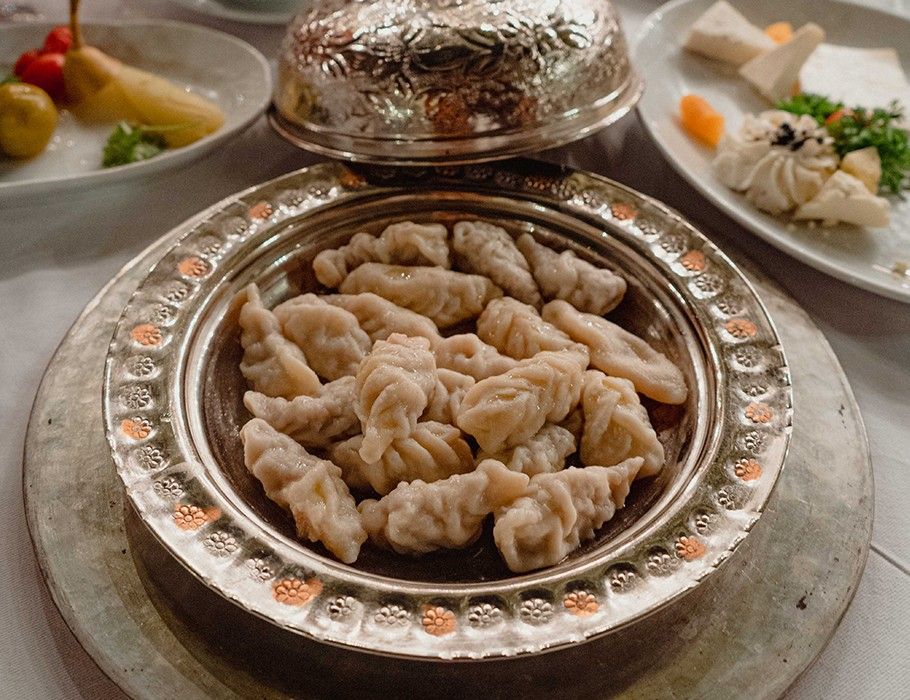 18. Qutab
The flatbread to end all flatbreads, qutab (also kutab), is similar to Turkish gozleme or Indian naan. In Azerbaijan, dough is rolled out until thin; brushed with plenty of butter; coated with lamb mince, local cheese and spinach or pumpkin; and then folded over to form a half circle. The finished product is cooked on a convex griddle until it browns and blisters. It's then brushed with more butter, sprinkled with sumac and served with yoghurt. It's an extremely affordable street food, starting at around one manat (AUD $0.80).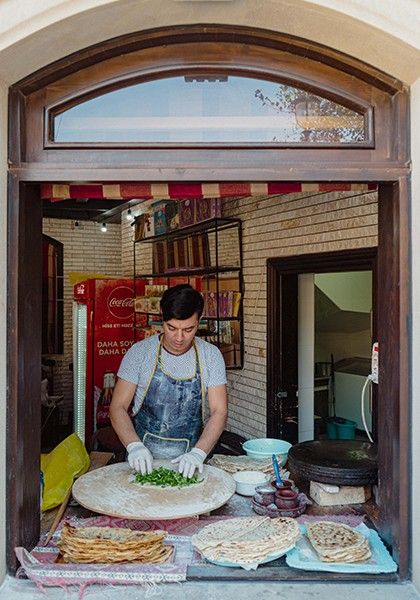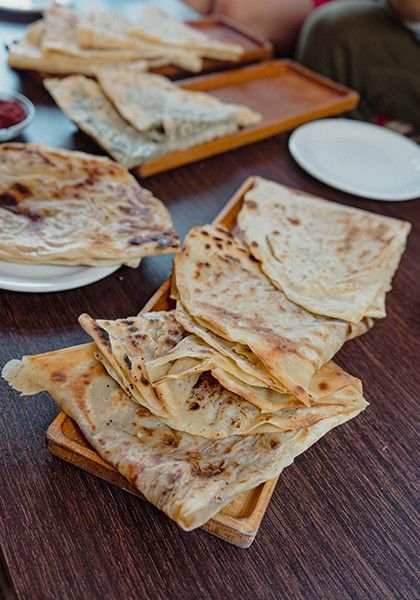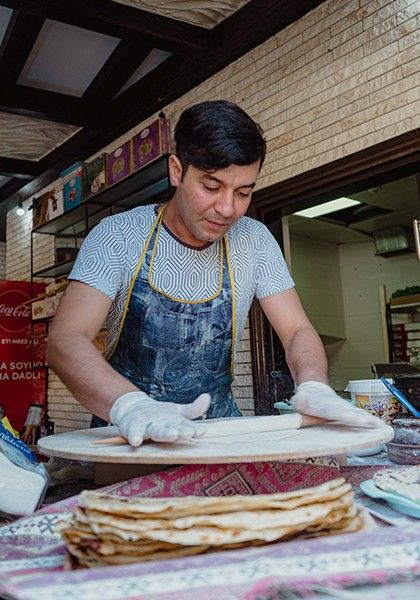 19. Tendir Chorek
You can spot the Indian influences in tendir chorek, a plainer, puffier bread than qutab. The clay oven is near identical to an Indian tandoor and the bread, which is slapped against the inside, is cooked in the same manner. FYI, bread is somewhat sacrosanct in Azerbaijan, treated as a symbol of abundance that's highly respected and hence rarely thrown out or wasted.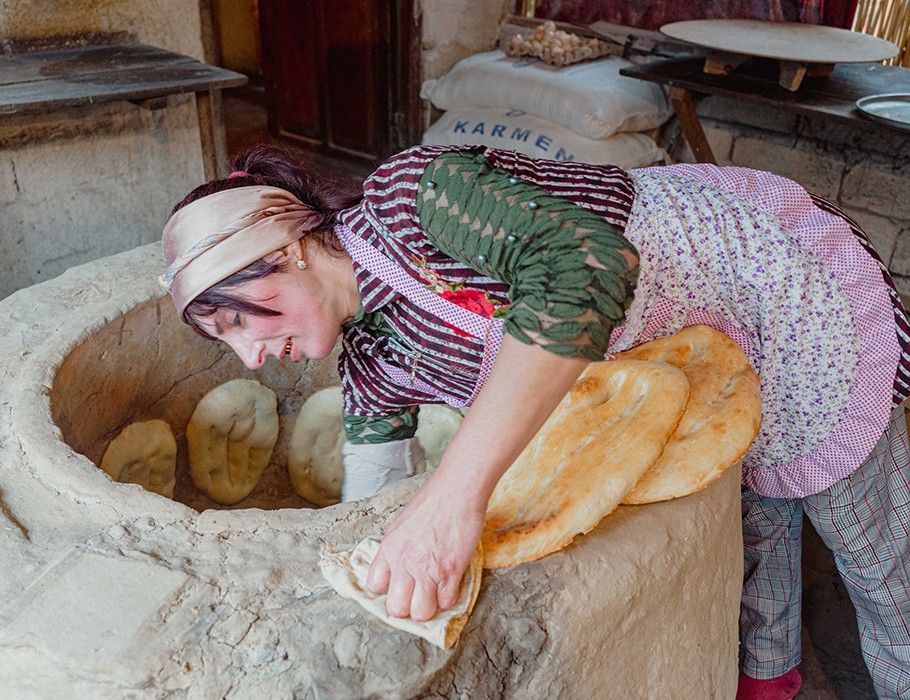 20. Baliq
Given Azerbaijan is bordered by the Caspian Sea to the east, it's little surprise that fish – or baliq – is a common dish, especially in Baku city, which juts out into the water. Sturgeon is marinated with lemon juice, salt and fresh herbs; grilled and then served with sour-plum sauce. Perfect for pescatrians and seafood lovers. Keep an eye out for Azeri kuru (Azerbaijani caviar), too.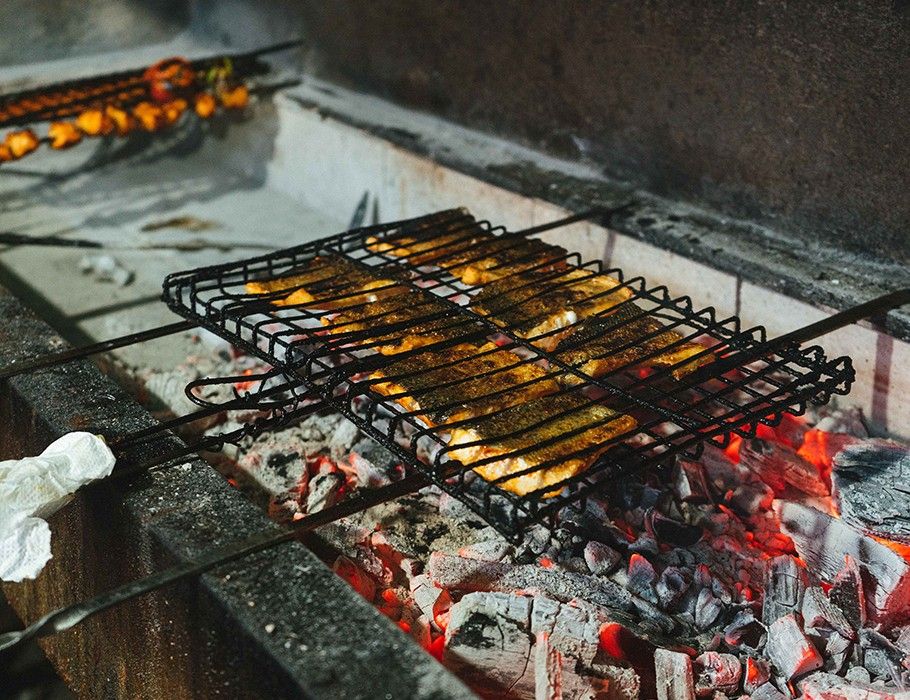 21. Kufta Bozbash
Aside from sounding like a grumpy cartoon character (go on, say it out loud), kufta bozbash is a traditional meatball soup from Azerbaijan. Stock is made from mutton bones and served with potatoes, carrots, chickpeas and large lamb meatballs. Kufta comes from kofte and bozbash translates to "grey head", which gives you some idea of the size and appearance of these meatballs. More upmarket and ceremonial versions incorporate saffron in the broth.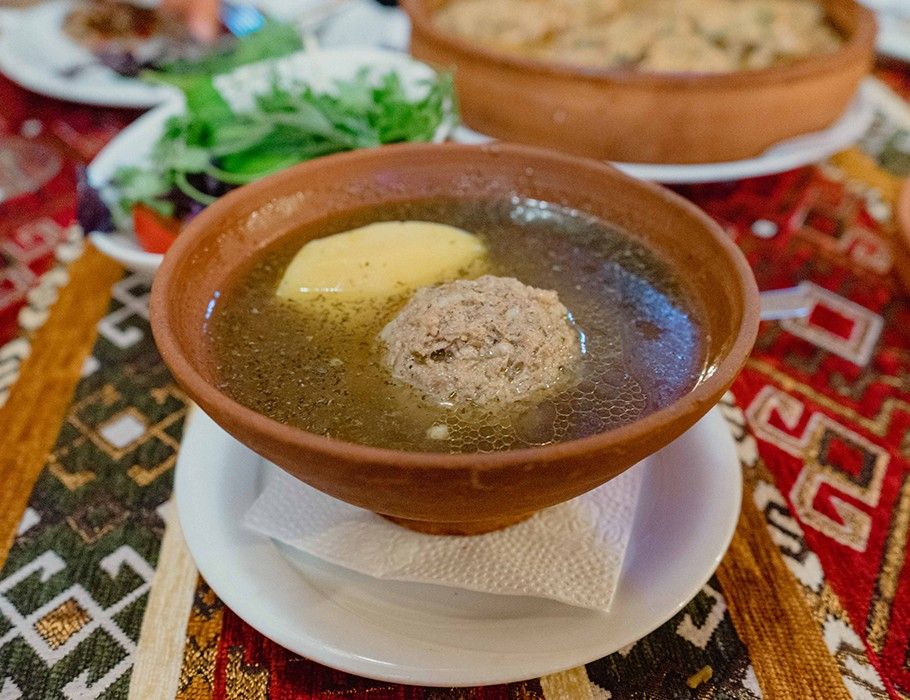 22. Lavash Turshu
If you explore local markets or drive around Azerbaijan, you'll see colourful, semi-opaque discs pegged to wires on the side of the road. Lavash turshu are dried, salted roll-ups made from pickled fruit or vegetables that are much sourer than what westerners used to get in their school lunchboxes. They can stay on the side of the road for quite some time, so if you're eager to try them be sure to avoid any that have faded in the sunlight.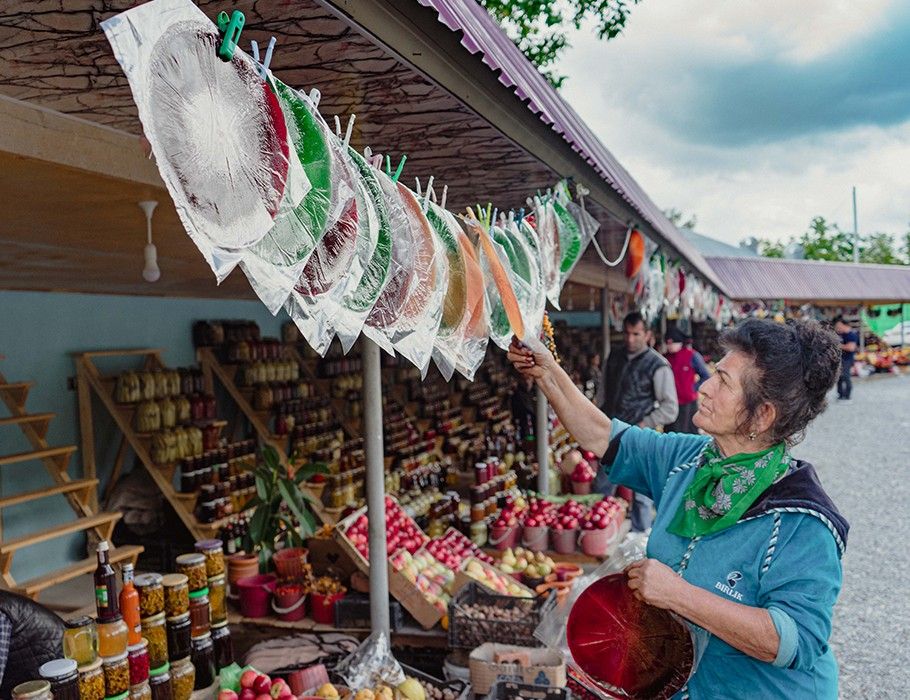 23. Tea & Jam
Tea and jam might seem like a cop-out inclusion for an Azerbaijani cuisine guide, but it's as much a part of daily life as going to the market, sleeping and breathing. In Azerbaijan, you should always accept an offer of tea and go about your day with loose time frames to allow for such invitations. Black tea is served in pear-shaped glasses called armudu, without sugar but with jam. To consume it like the locals, take a spoonful of jam, then sip a little tea, have another spoonful, take another sip, and so on. It's not uncommon for a few people to finish about 300 grams of jam in a single sitting! The jam in Azerbaijan is some of the world's best (they even have a jam festival) and usually contains whole fruit, making it more like a candied treat than a condiment. Expect whole walnuts, rose petals, dogwood berries, white cherries, sour plums, pomegranate, pears, apples, pumpkin, watermelon, eggplant, olives and more.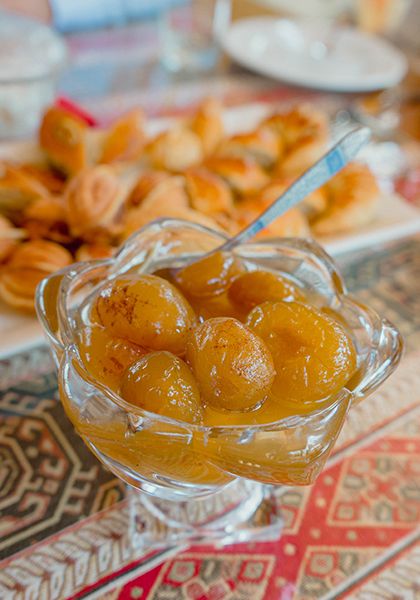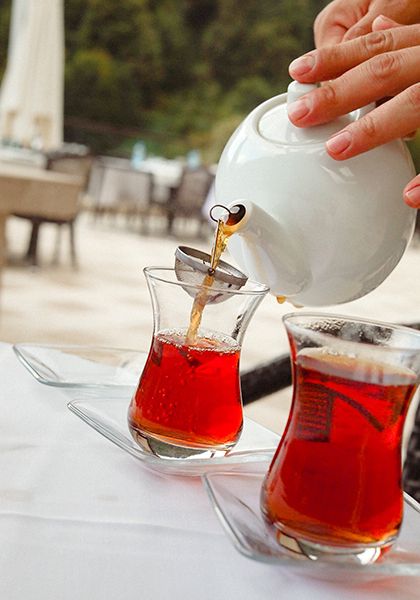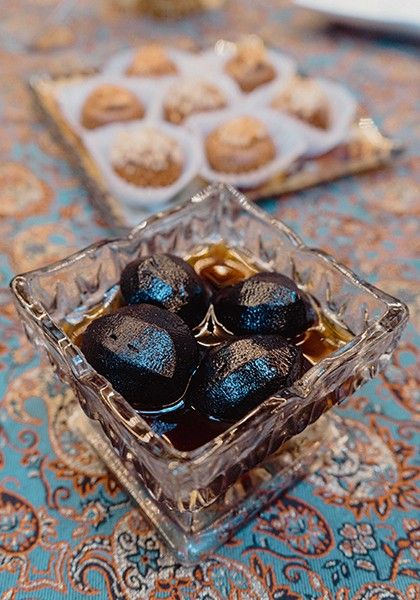 24. Azerbaijani Sherbert
In case you doubted the Azeri sweet tooth, you're likely to come across sherbert in Azerbaijan – fruits, herbs and spices are mixed with a heap of sugar and boiled water, chilled and then served. It tastes like the super concentrated cordial your parents always forced you to dilute before consuming.
25. Local Wine
There are two types of wine in Azerbaijan: those made from grapes (sharab) and those made from fruit (nabiz). Sweet pomegranate wine is common. You can try both at Baku wine bar NEFLI. Although Azerbaijan is one of the oldest wine regions in the world, Soviet rule interrupted its development. While Georgia's vino reputation has improved tremendously over the years, Azerbaijan had to start fresh. During Soviet rule, most wine was exported to Russia, slowing entirely when Gorbachev banned alcohol in the 1980s. Since independence in 1991, wine production has steadily increased, with government programs to increase the land used for growing grapes and the amount of wine produced and exported.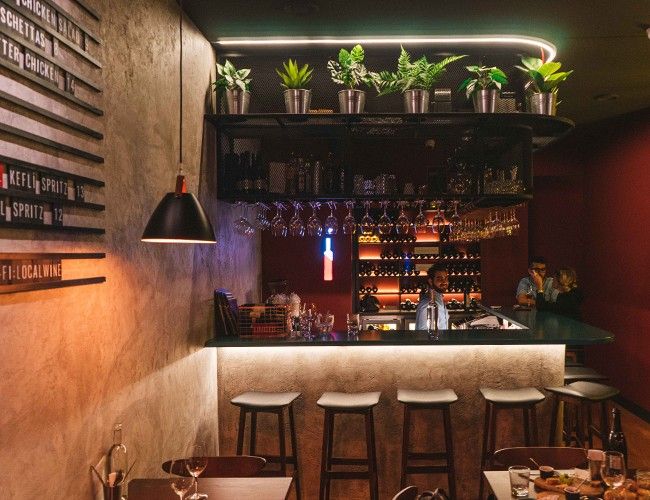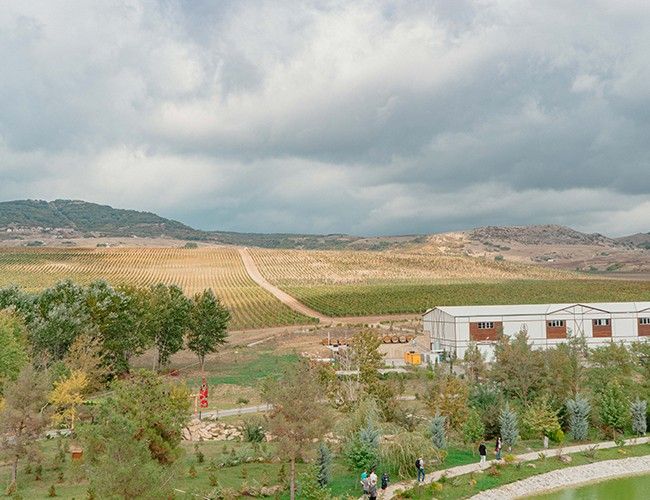 Looking for the last six dishes? Click through to find them here and learn about the beautiful countryside town in Azerbaijan that's famous for sweets.
Sofia Levin travelled with assistance from the Ministry of Foreign Affairs of Azerbaijan, but this article remains autonomous.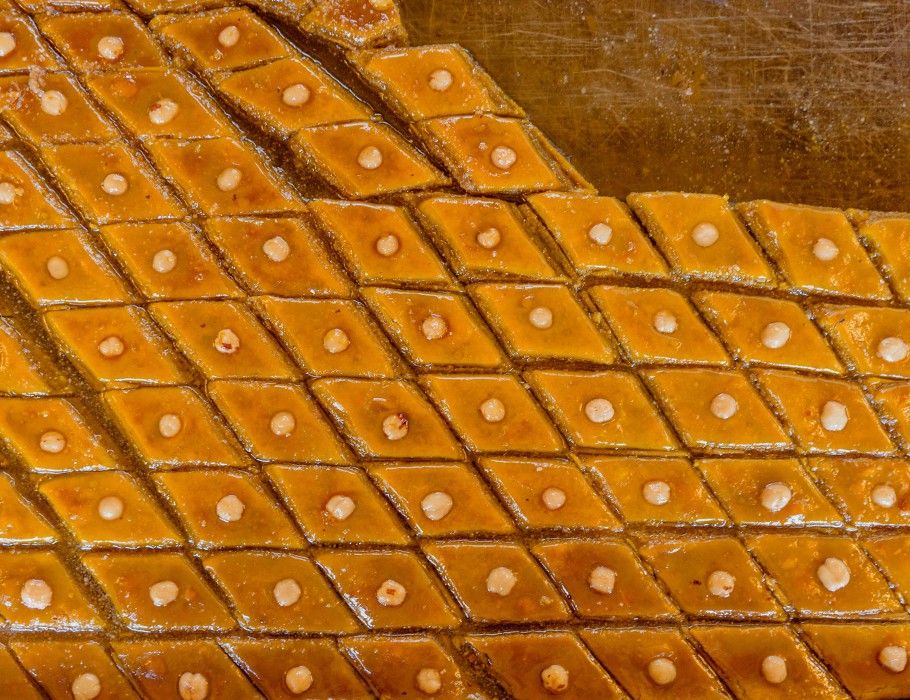 Around the World in 80 Lesser-Known Melbourne Restaurants
FREE food guide when you subscribe.