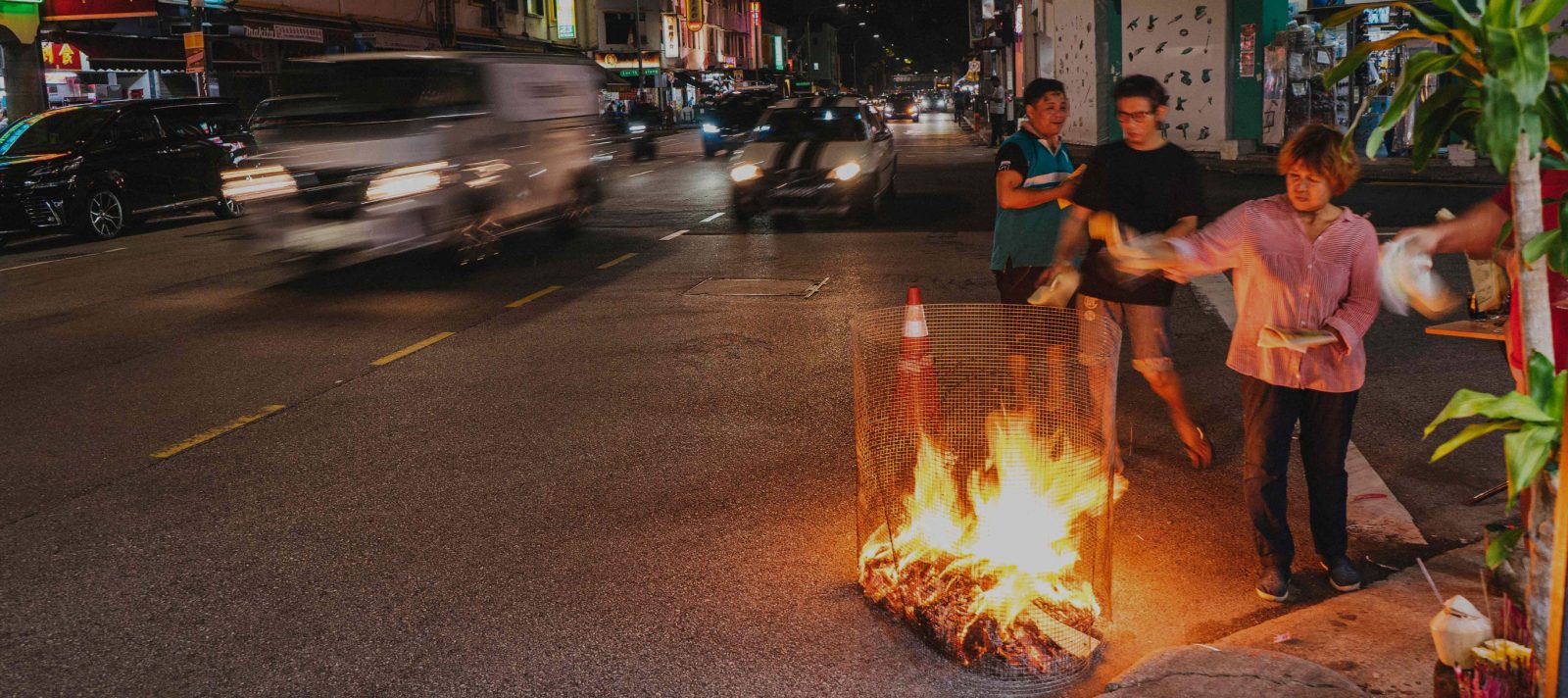 Eating in Singapore's Red Light District
Hookers & Hawkers: Singapore's Delicious Underbelly
Words & images  by Sofia Levin
Geylang is a melting pot of cultures and religions, where brothels are within illegal spitting distance of colourful shophouses, 24-hour supermarkets, beauty parlours, cult-status restaurants and a bevy of durian stores. This is where you'll find the best food in Singapore.
It's important to get your laneways right in Geylang. Stroll down odd-numbered lorongs and you'll find some of the best food on the island. Venture up an even-numbered lorong and you're in Singapore's thrumming red light district. Illegal stalls set up near intersections selling stamina potions, sex toys and untaxed cigarettes. You might see sellers hastily swipe their goods into a bag and sprint down the street at the first hint of a police patrol. Brothels have to be licensed by police – although the process is murky – and those working them carry little yellow identification cards; proof they're up to date on HIV and STI health checks. Anyone soliciting on the streets is breaking the law. Hustling side, Geylang remains one of the best neighbourhoods for eating in Singapore.
History
Geylang's history is characterised by colour. The Brits first dispersed Malays and Orang Laut (Malay for "sea people") to the area in the 1840s. A tramline once ran to a lemongrass-processing factory where locals now shop at Geylang Serai Market. By the early 20th century, Malays populated the eastern side (Geylang Serai) in traditional houses, with the western area divided into lorongs, where Chinese residents lived and set up shops. Singapore's rapid economic development lead to a booming sex industry, and although British colonial powers banned selling women during WWI, and brothels became illegal in 1930, prostitution itself remained permissible. By the 1950s, wealthier Chinese residents moved out and more Malays moved in. Blocks of flats popped up in the mid 1960s as part of the Geylang Serai Housing Scheme, which saw new apartments, malls and the Geylang Serai Market spring to life.
I explored Geylang both with Betel Box's Sins & Salvations four-hour food and culture tour, as well as on my own. Our guide, Leong Woon, was extremely knowledgeable, explaining the history of the area, ordering interesting dishes at each food stop and letting us know when it was appropriate (or otherwise) to take photos.
"This place is like a city that doesn't actually sleep," he told us, "it comes alive between 2am until about 6am."
You can rely on this guide, your nose and clusters of customers to denote the best places to eat – but without Leong, we wouldn't have walked back alleys where illegal punters set up sic bo gambling tables or fully understood the cultural relevance of the area.
"This is another side of Singapore that you don't really see or hear about in the guidebooks because no one advertises it, but all locals know about this area," said Leong. "There's more to this district but as tourism comes, it's going to change in a bit."
Although Geylang's underbelly is quickly disappearing due to regular police raids and the ease at which "services" can be sold with the swipe of a smartphone, there will always be instant gratification when it comes to food.
Ho Kee Pau
Once a small food stall, Ho Kee Pau now has franchises all over Singapore. Not only is this one the biggest, it's near a train station and is open 24 hours – extremely convenient for Geylang night owls. Its pau (fluffy white Chinese buns) are famous, but you can also find decent dim sum like dumplings, bean curd rolls and chicken's feet, which you order via a tick-box menu. Try the steamed Malay-Chinese cake, ma lai gao.
43 Lor 27 Geylang, Singapore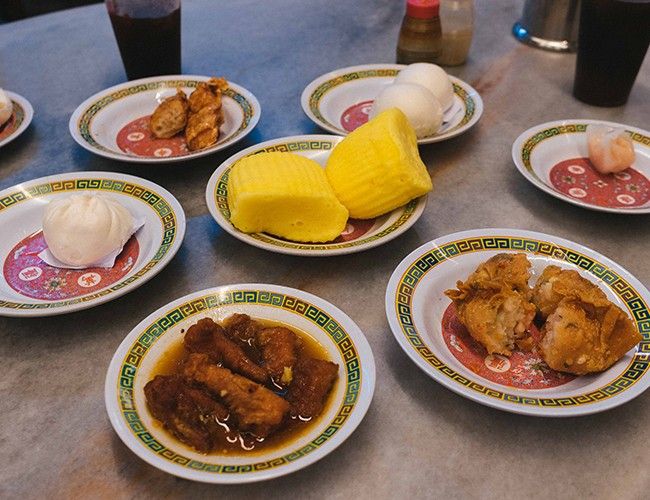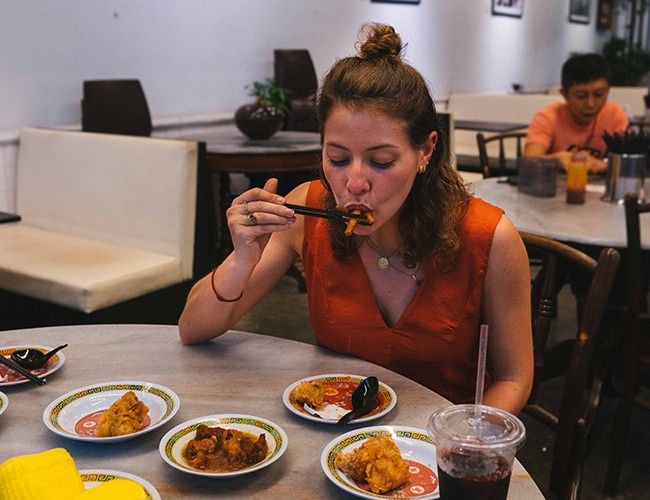 Geylang Famous Beef Kway Teow
Also known as Geylang Lorong 9 Beef Hor Fun, this corner shop is recognised as one of the best places to eat beef kway teow, a fried rice noodle dish slathered in gravy with plenty of wok hei (the hallmark, charred aroma from a searing-hot cast-iron wok). It goes through 200 kilograms of beef a day, but sambal stingray and fried prawns coated in salted-egg and cereal are other standouts.
237 Geylang Road, Singapore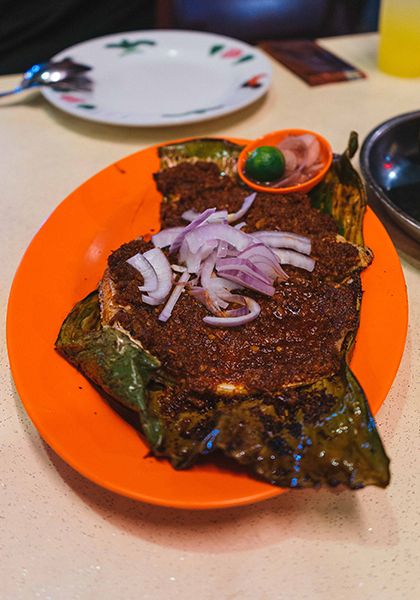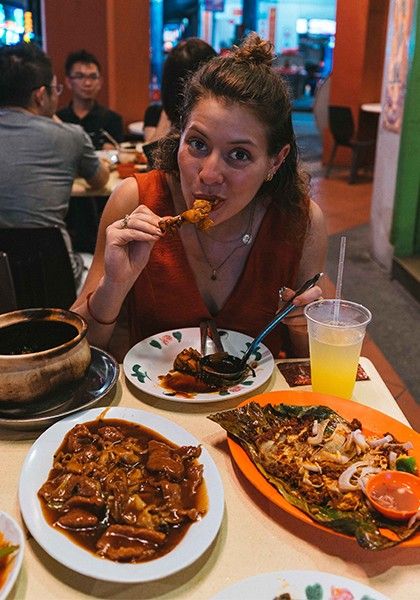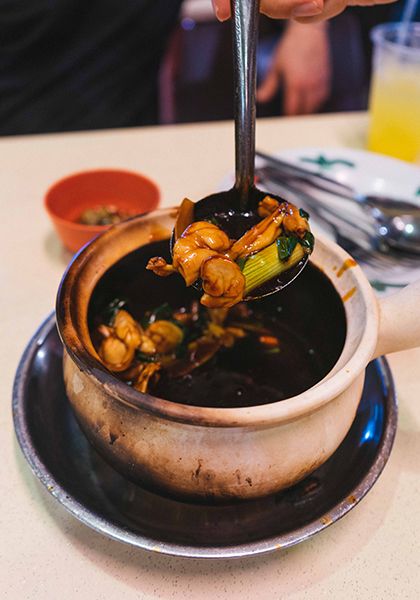 Geylang Lorong 9 Fresh Frog Porridge
Next door to Geylang Famous Beef Kway Teow is the spot to try frog porridge. A Cantonese-style dish, it's sweet, fragrant with ginger and spring onion and viscous in texture. Choose how spicy you like it and suck the supple frog flesh straight from the bone. It wasn't awarded a Michelin Bib Gourmand for nothing. No sweat, if this is your first time eating frog ­– it really does taste like chicken.
235 Geylang Road, Singapore, geylanglor9.com
JB Ah Meng
Highly recommended by all my chef friends – not to mention Anthony Bourdain, Ferran Adria and Gordon Ramsay – this pumping, plasticky tze char restaurant often has lines of hungry people eagerly awaiting its white pepper crab and cooked-to-order san lou bee hoon, rice vermicelli noodles mixed through with shrimp and squid and then fried until they become a crisp, vermicelli pancake. The salted egg prawns here are the pescatarian version of popcorn chicken, while the ice plant succulent salad is a unique way to get your greens in. The chaotic atmosphere is contagious – waitstaff rush between customers dumping plastic pink plates filled with food onto tables, and then scrape off the dregs into stainless steel bowls as they finish.
534 Geylang Road, Singapore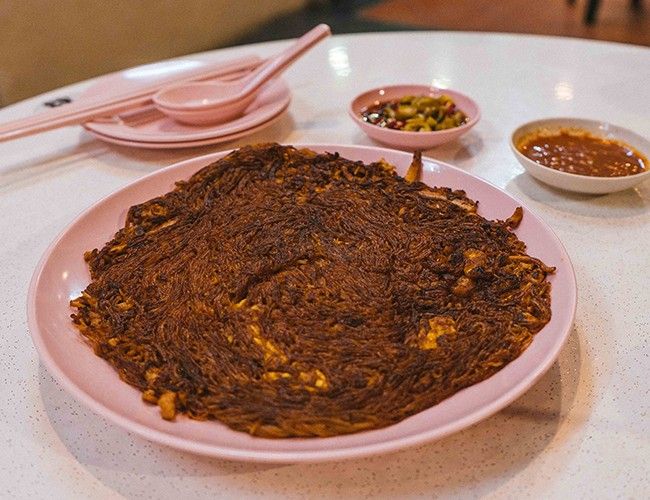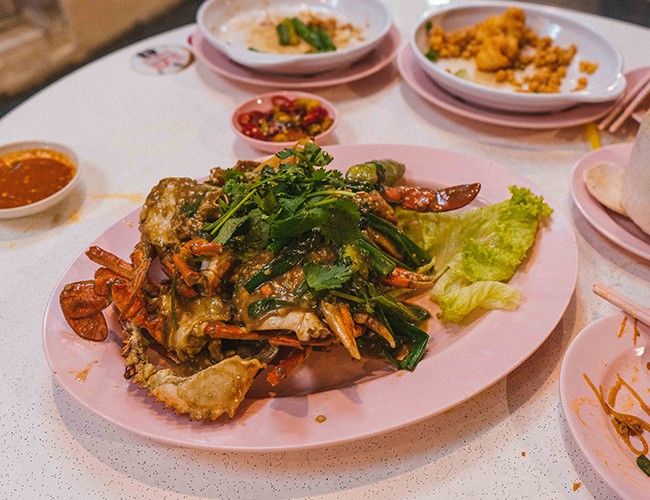 No Signboard Seafood
With four restaurants in Singapore (and one in China), No Signboard has been a treasured place to eat chilli and white pepper crab since it was founded in 1970. Indoor tables in the manufactured breeze of the air conditioning book out quickly on weekends, but there are plenty of tables in the kitschy, car-park-like space out front. Use fried mantou buns to soak up gravy left over from the crab and order Chinese-style steamed egg custard and razor clams, too.
Visit website for branches: nosignboardholdings.com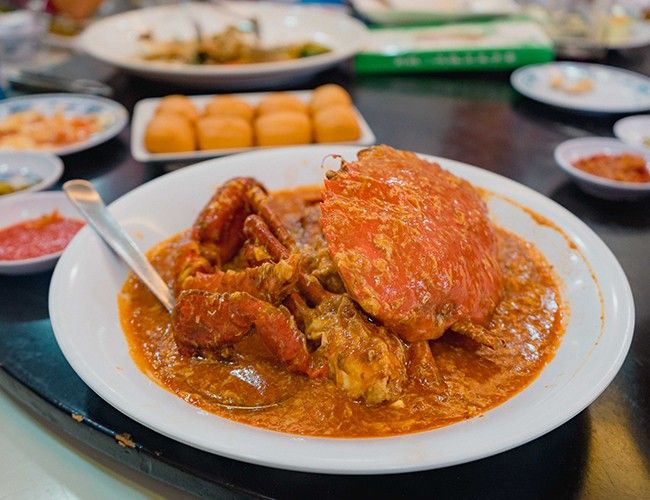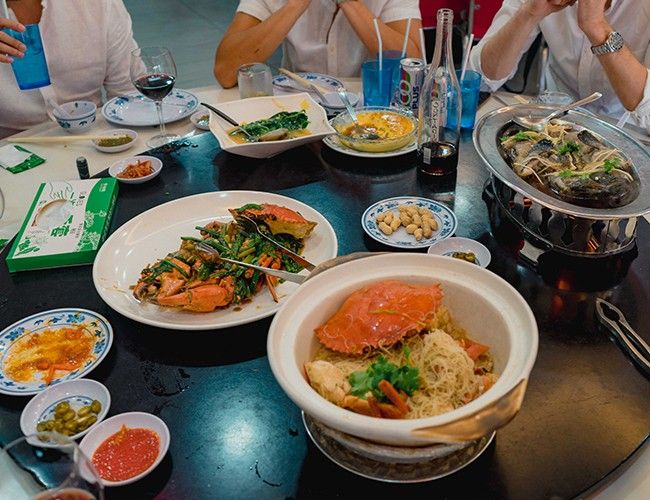 Durian on Lorong 17
This is the street known for durian – and you'll smell it before you see it. Despite some pretty discouraging reviews online, I couldn't fault Wonderful Durian on the corner of Lor 17 and Sims Drive, although visiting on a Betel Box Sins & Salvations tour perhaps made a difference. When going it alone, follow this guide to making sure you pick a ripe durian and avoid getting ripped off. The one I tasted was the best I've ever had with sweet, soft flesh – like custard you can pick up and eat.
147 Sims Ave, Singapore
Around the World in 80 Lesser-Known Melbourne Restaurants
FREE food guide when you subscribe.