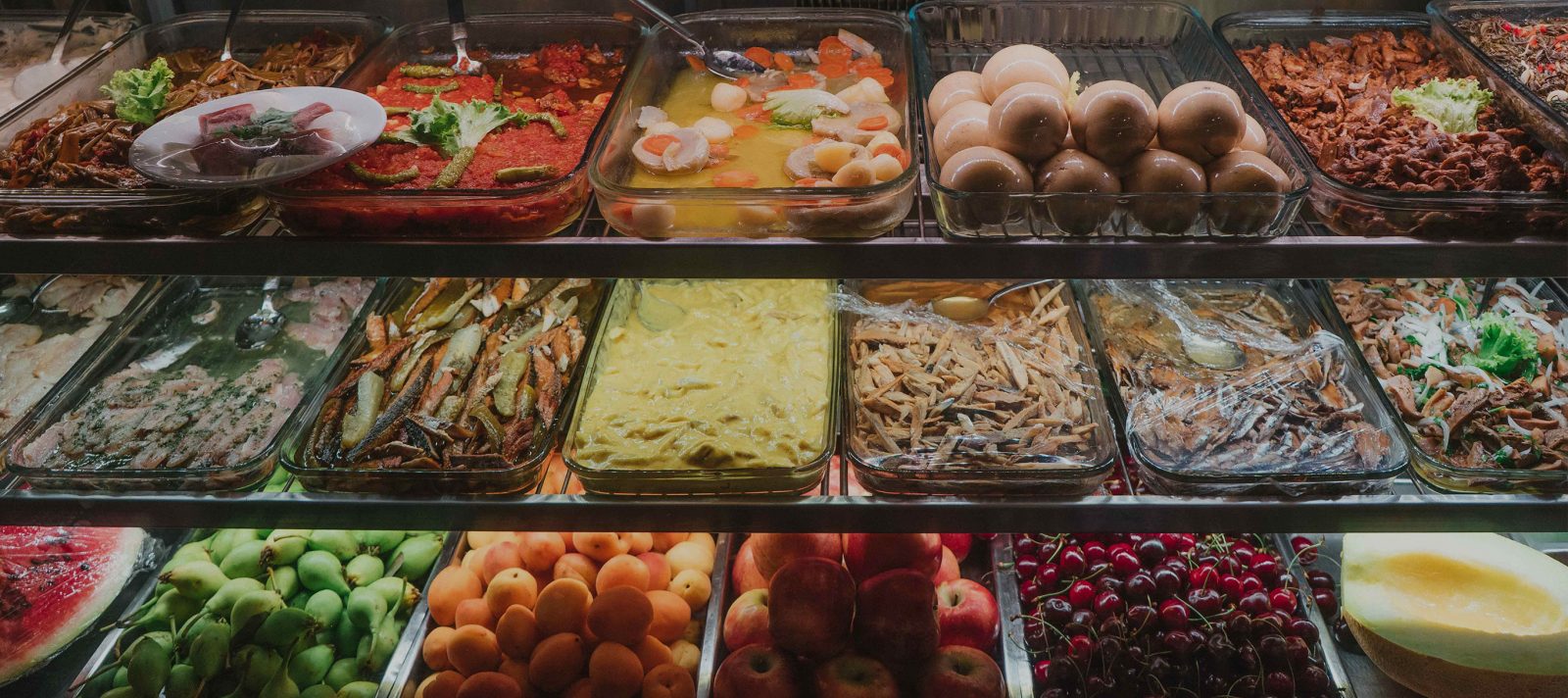 Istanbul: Where the Locals Eat
Eat like a Local at these Old-School Istanbul Restaurants
Words by Sofia Levin
Images by Sofia Levin, Liam Neal
& Justin Meneguzzi
A restaurant that's 30 to 100 years old might seem rare where you come from, but in Istanbul there are plenty, and they're all powered by locals.
Did you know the döner kebab is one of Turkey's more recent dishes? Not only that, but the fellow who purports to have invented it in 1971, Mehmet Aygün, did so in Berlin. The exact origin is highly contentious, but the point is that much of the Turkish food we know and love is relatively new.
Turkish cuisine was already well established in the 1400s during Ottoman rule. Fish, poultry, fruit, vegetables, spices and other ingredients were easily accessible, courtesy of the Mediterranean climate and control over major trade routes. Add to that hundreds of palace cooks from varied backgrounds, employed to feed tens of thousands of people including finicky sultans, as well as influences from Russia, Spanish Jews, Turks and waves of refugees from the Soviet Union, and the culinary diversity is endless.
Here are six restaurants approved by locals that welcome visitors.
Balat Sahil Restoran
Located in the atmospheric streets of Balat since 1989, this meyhane (a restaurant where people generally eat with an alcoholic beverage in hand) specialises in seafood meze. At Balat Sahil, grumbles of men smoke outside and dig into small plates of fish cooked in oil, citrus, pesto and mustard, while inside shelves of empty rakı bottles share ornate blue-and-white walls with Atatürk's framed mug.
One of the signature dishes is not seafood at all, but "topik", a smooth, Armenian-Turkish ball of spiced chickpea dough stuffed with onions, tahini, nuts and currants that's warmed until toasty, mashed open and doused in oil before arriving at the table with bread. It's velvety enough to pass as dessert (look for the shiny spheres in the counter). Other highlights include giant artichoke hearts, salty sea asparagus, a melange of pickled mushrooms, cured sardines and perfectly grilled levrek (sea bass) with nothing more than a little seasoning and lemon.
Balat, Mürselpaşa Caddesi. no. 245, Fatih/İstanbul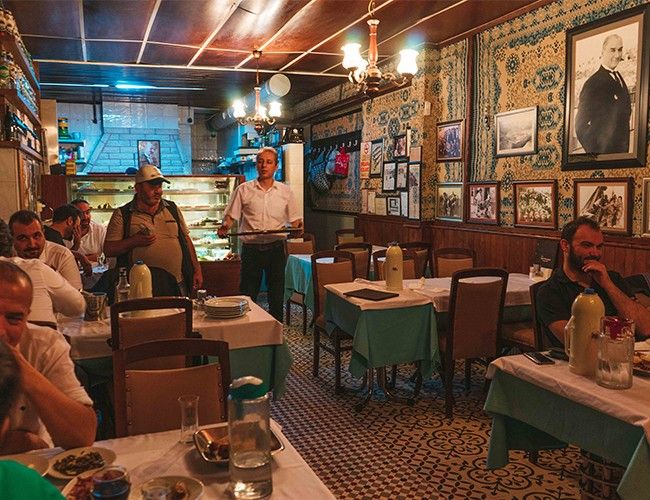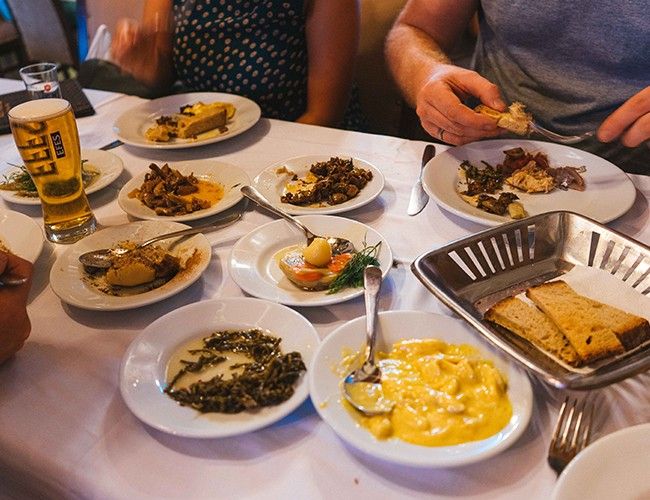 Nato Lokantası
Named in homage to Turkey's entry into the western alliance six decades ago, this esnaf lokantası, a homey restaurant for workers craving a hearty meal, has been around since the early 1950s. You'll be seated in the wooden dining room and given a paper menu with hand-written dishes. The later you visit, the more of them will be crossed out – stews, soups, slow-cooked meats and pilafs are made fresh each morning and when the popular meals are gone, they're gone. Still, your best bet is to approach the kitchen, where hot food called hazır yemek (ready-made food kept hot in pots and bain-marie dishes) steam up the glass display cabinet.
Someone nearby will be able to lead you through each dish in broken English, but you can always point. Order bir porsiyon (one portion) or yarım porsiyon (half portion) if you want to try more. The spinning döner near the entrance attracts crowds and can also be ordered for dine-in, along with dishes like kuru fasulye (white beans stewed in tomato), kofte meatballs, braised greens, soups, dolma and more.
Kemankeş Karamustafa Paşa Mahallesi, Necatibey Caddesi Karanlık Fırın Sokak no. 4, Karaköy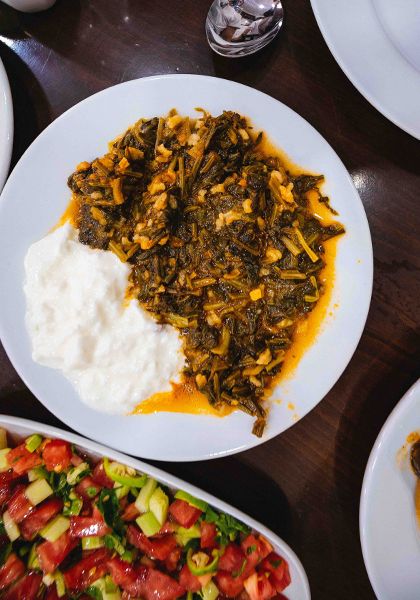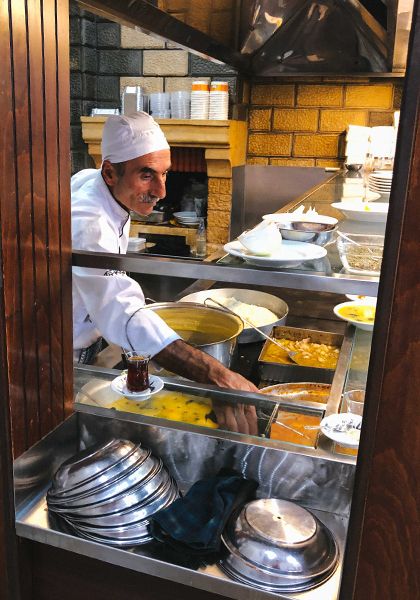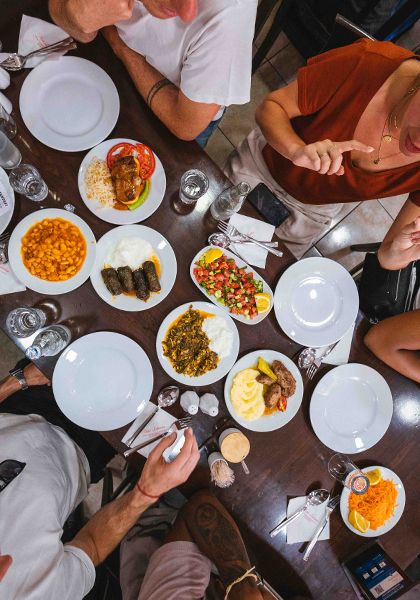 Lades Muhallebi Menemen
In existence since 1969, locals stop by this little cafe before work, squeezing lemon juice into hot bowls of tavuk suyuna çorba (chicken soup) and tearing apart crusty bread with their hands. The shop is known for menemen, creamy, fluffy scrambled eggs mixed through with diced capsicum and onion, sucuk (Turkish sausage), pastrami, chicken or a little of everything. It comes with pul biber (Aleppo pepper) for sprinkling, and if you really want to mimic the locals, order çay (tea) instead of coffee. Those who believe in "breakfast dessert" should try bal kaymak – an indulgent clotted cream eaten like yoghurt that's made from water buffalo milk in a pool of local honey.
Katip Çelebi Mahallesi, İstiklal Caddesi, Sadri Alışık Sokak no. 11, Beyoğlu
Galata Simitçisi
If you walk down Mumhane Caddesi late at night, the comforting smell of baking bread will lead you nose-first to Galata Simitçisi, established in 1980. You won't be able to visit until first thing in the morning (it opens at 5.30am daily except on Sunday), when locals swing past to buy simit fresh from the brick oven. In fact Galata Simitçisi is little more than an oven and workspace inside, with a few tables on the street. Simit are Turkey's answer to the bagel; a thinner version coated in sesame that provides it with an air of pretzel. Scholarly articles suggest that simit date back to around 1525 during the Ottoman Empire. You'll also spot them being pushed across Istanbul in street carts. They're best when just baked, with a crusty exterior and chewy middle. Try them plain or with fillings like salty local cheese, tomato and herbs. 
Kemankeş Karamustafa Paşa, Mumhane Caddesi no. 47/A, Beyoğlu/İstanbul, Turkey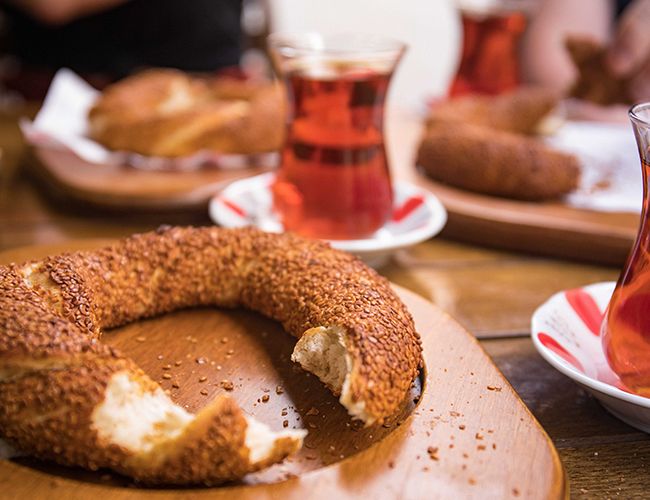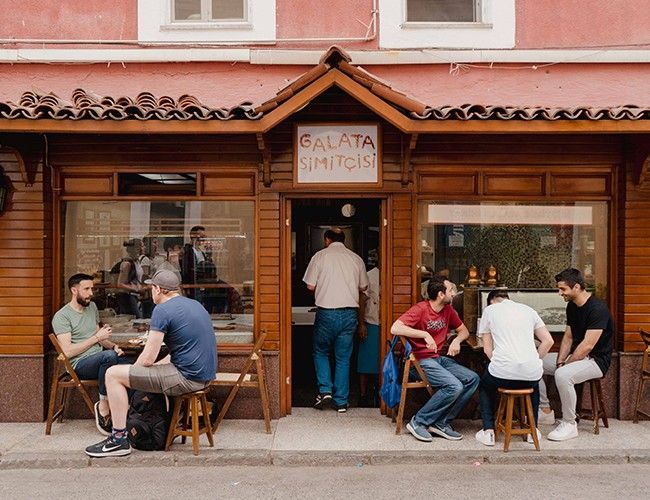 Hacı Hasan Fehmi Özsüt Muhallebicisi
Run by a family of Albanian immigrants since 1915, this muhallebicisi pudding store is famed for its water buffalo milk products, like rich kaymak (clotted cream) yoghurt and milk. The family sources milk from their farm, makes the buffalo sausages you see hanging above the counter, gathers the eggs and makes the butter. If you're not into dairy, there's also menemen (baked eggs with tomato, pepper, spices and often cheese or meat), yumurta (eggs) and omelettes. You can also try traditional desserts here, like fırın sütlaç (baked rice pudding), aşure (also known as Noah's Pudding, sweet porridge with mixed nuts, grains and fresh and dried fruit) and tavuk göğsü, milk pudding thickened with undetectable chicken breast.
Şahkulu, İstiklal Caddesi. no. 261, Beyoğlu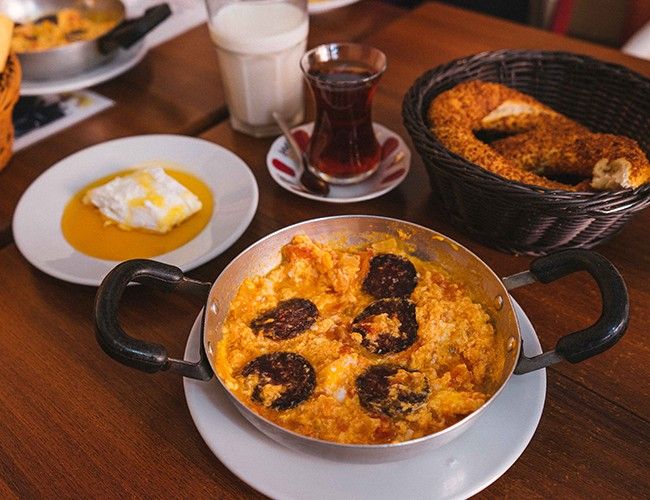 Köşkeroğlu Karaköy
Split into a restaurant, cafe, patisserie and deli over an entire, 3000-square-metre block, Köşkeroğlu takes inspiration from 1000 years of Turkish cuisine. It's been feeding people sweets since it was founded in Gaziantep (previously Antep) in 1946. The first Istanbul branch opened in 1986. Walk around the block and you'll see both locals and tourists tucking into everything from lahmacun Turkish pizzas and kebabs to brunch and cold cuts – but dessert is what it's known for. The baklava section has a separate shop, Köşkeroğlu Baklava, and is a wonderful way to try edible souvenirs before you buy them. As well as old favourites flaky with pastry and leaking honey, sarma, the pistachio roll, is soft, rich and harder to find back home.
Katlı Otopark Altı, Kemankeş Karamustafa Paşa Mahallesi, Mumhane Caddesi no. 2/3, Beyoğlu/İstanbul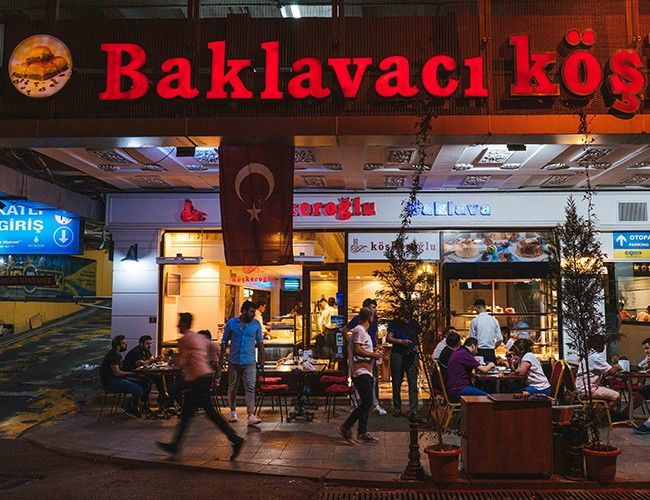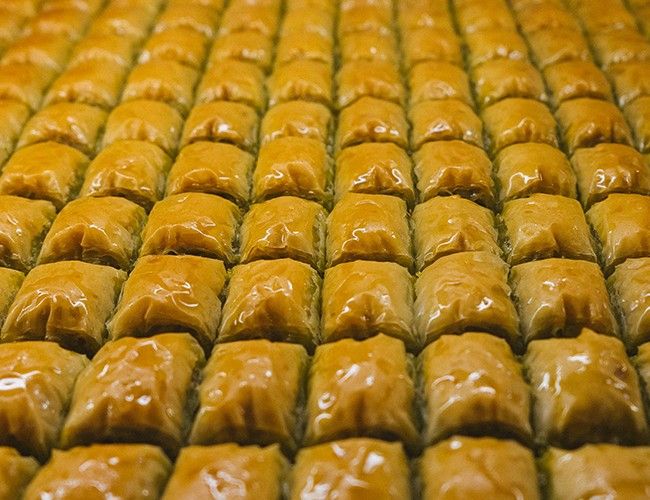 Sofia Levin travelled with assistance from Intrepid Travel, but this article was researched and published independently. For small group tours to Turkey, click here.
Around the World in 80 Lesser-Known Melbourne Restaurants
FREE food guide when you subscribe.